The right choice for the kitchen - plastic or MDF ?
at choosing kitchen, it is important to pay attention not only on its size and appearance, but also the material, from which it is made. It is not necessary to save on kitchen furniture, because in the future you will regret. High humidity, always gets the hot oil on kitchen set - all this quickly spoil furniture, if it is not sufficiently high quality.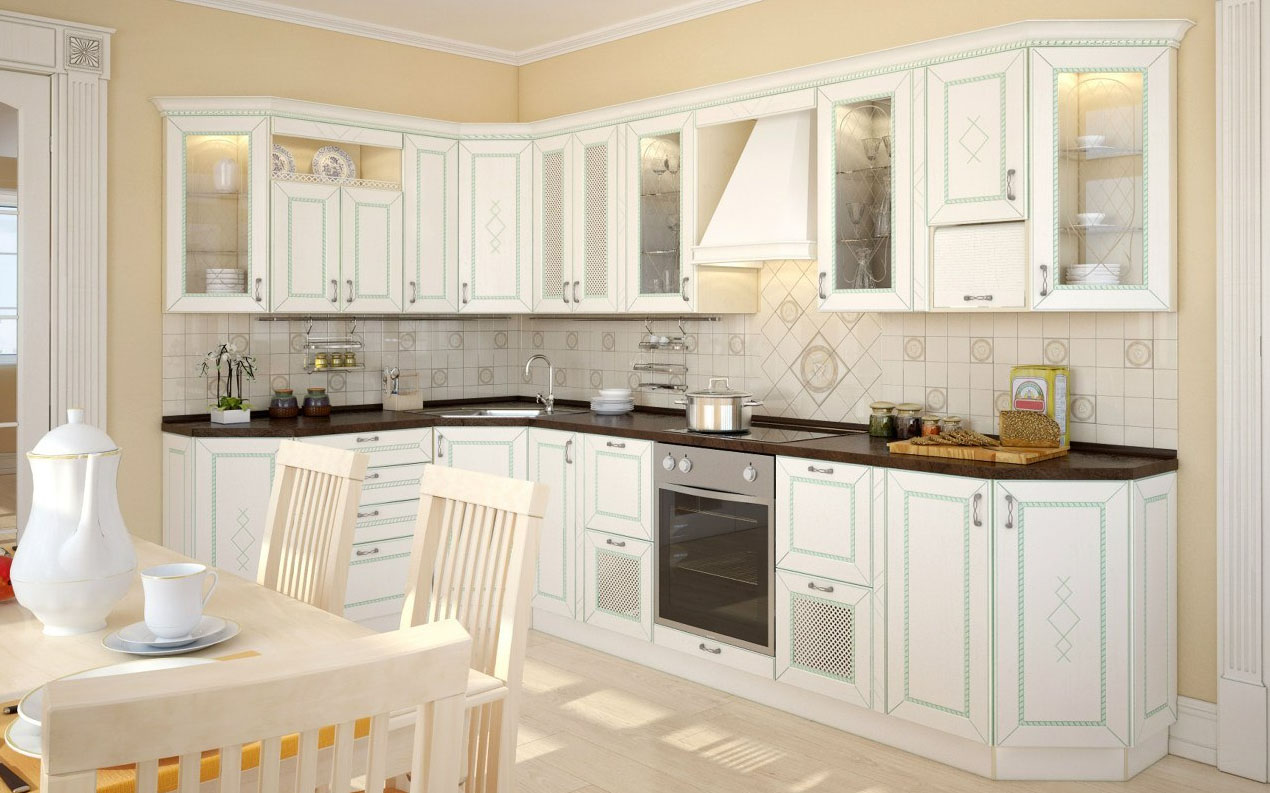 Before you decide, it is better to MDF or plastic, you should consider all the pros and cons of these materials. If you are not sure, that will be able to make the right choice, refer to the professionals. It is important to know, what furniture made entirely of plastic does not exist, since for these sets used basis of MDF or particle board. So the question, what's better - MDF kitchen plastic or plastic, sound is not quite correct.
facades painted, or prepared under coloring
First of all a better look MDF kitchens, because today they are at the peak of popularity. The main advantage of such kitchens - large selection of colors, if the choice is already painted facades. But this list does not end with the pros:
All colors from the palette can be easily combined with each other.
MDF painted easy to clean without the use of additional funds.
The opportunity to custom design - arched or rounded facade.
Poor absorbs moisture and odors, which is important for kitchen furniture.
Great choice of coating - Matt, gloss or pearlescent.
But do not forget, that MDF kitchen has its drawbacks:
After a certain time, the paint fade and lose their former attractiveness.
Kitchen from MDF - it is expensive. Such furniture misses the budget options.
The coating is very easily soiled and it constantly remain prints from fingers. Kitchen looked to tidy, It needs to be regularly cleaned facades.
A material resistant to mechanical damage.
The reverse side of white fronts, and over time it will lose its whiteness.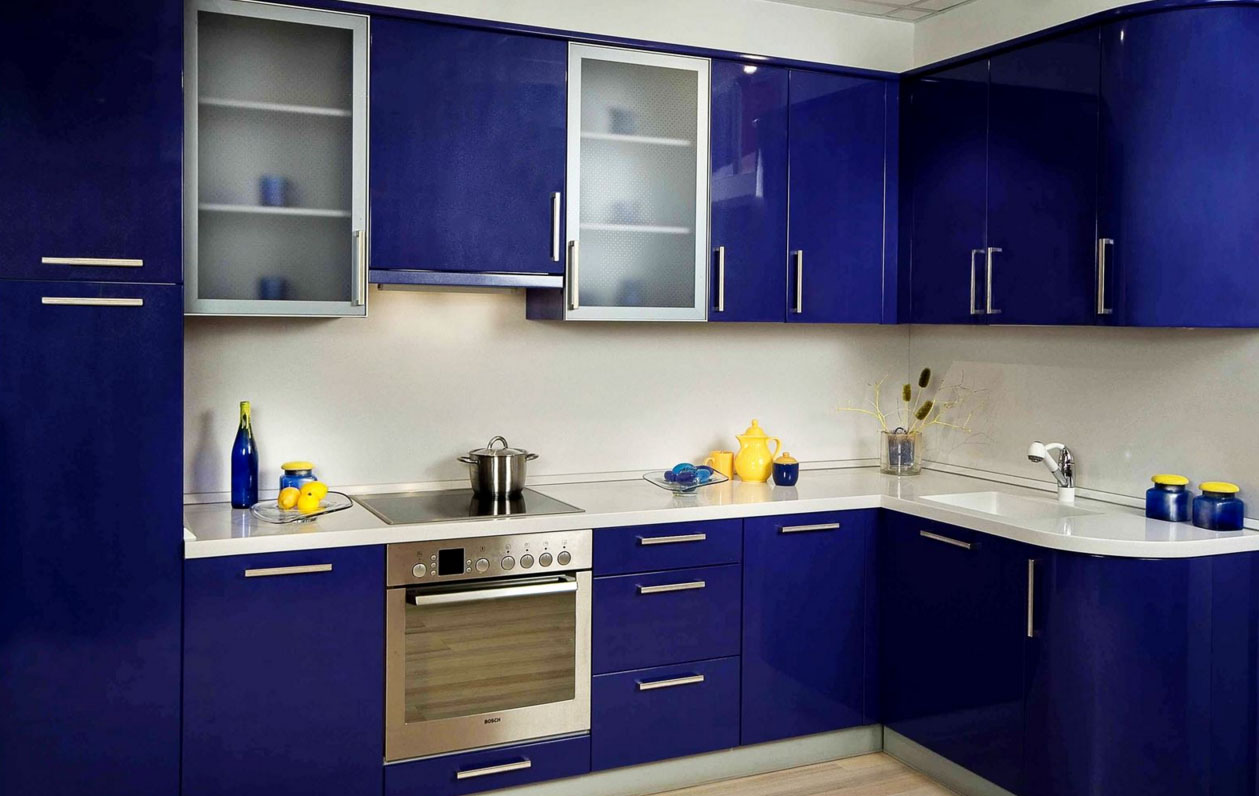 Colour kitchen units - this is important in kitchen design, as this part brings together all design ideas. In the market represented a great facades choice. painted MDF kitchen facades more popular, than those, who just prepared for painting. but, if you want yourself to find the right shade, it is better to choose the second option.
If you plan to paint the facades of their own in MDF, then consider all the nuances in preparation, choice of colors and materials. Advantages prepared for painting facades:
Unlimited choice of color palette.
Selection of any coating - matt or lacquered.
Wide range of paint.
It does not require additional process details.
It is important to take into account, that the durability of the selected coating depends on you, on exactly how many complied with dyeing technology. Choosing paints, pay attention to:
decorative. This is an important condition to create a stylish interior.
The service life of the material.
Design Type of kitchen units.
coating thickness.
Council: If you are in doubt, what material to choose for a particular product, better to see a consultant at the store. He will tell you about all the advantages of each paint and how, how they differ from each other.
Important characteristics of the coatings are:
Environmentally friendly. The structure of most paints include harmful and toxic substances, which are not suitable for painting furniture for the home. Prefer SAFE.
drying time. This parameter determines the, how fast you finish work on coloring of facades. However, keep in mind, that time, indicated on the jar, usually do not correspond to reality. Drying time depends on the temperature and humidity.
Hiding power. This parameter defines the, how many layers of paint required for a smooth coating. Choose those coatings, which are applied in a single layer.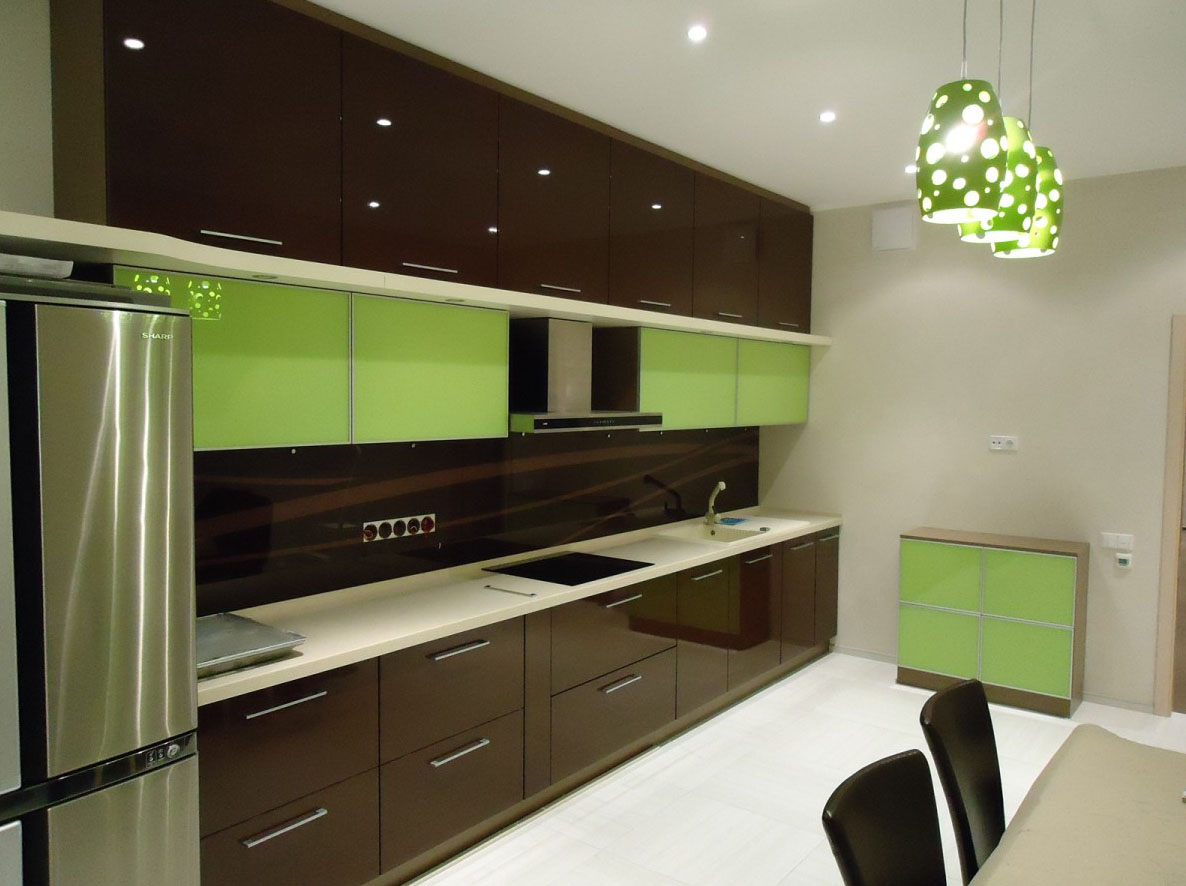 facades, coated with PVC film
Often, the market can find kitchen sets from MDF with PVC film coating. Such a film is capable of completely simulate any coating, even the most expensive and elite tree. For this reason, this technology and is popular. Before you give preference to this option, Consider the advantages and disadvantages.
disadvantages:
The back side of the white - fade in the sun and poorly laundered.
The film upon prolonged contact with water, hot steam begins to flake and bubbles appear on the surface, that spoil the appearance of the kitchen unit.
If we consider the furniture up close, it is still significantly, it is not a natural material, and imitation.
Benefits:
Kitchen with a film coating will cost you much cheaper, than with painted facades.
PVC film simulates any coating.
Environmentally friendly. Besides, The film is resistant to mechanical damage.
The facades are made of any size and shape.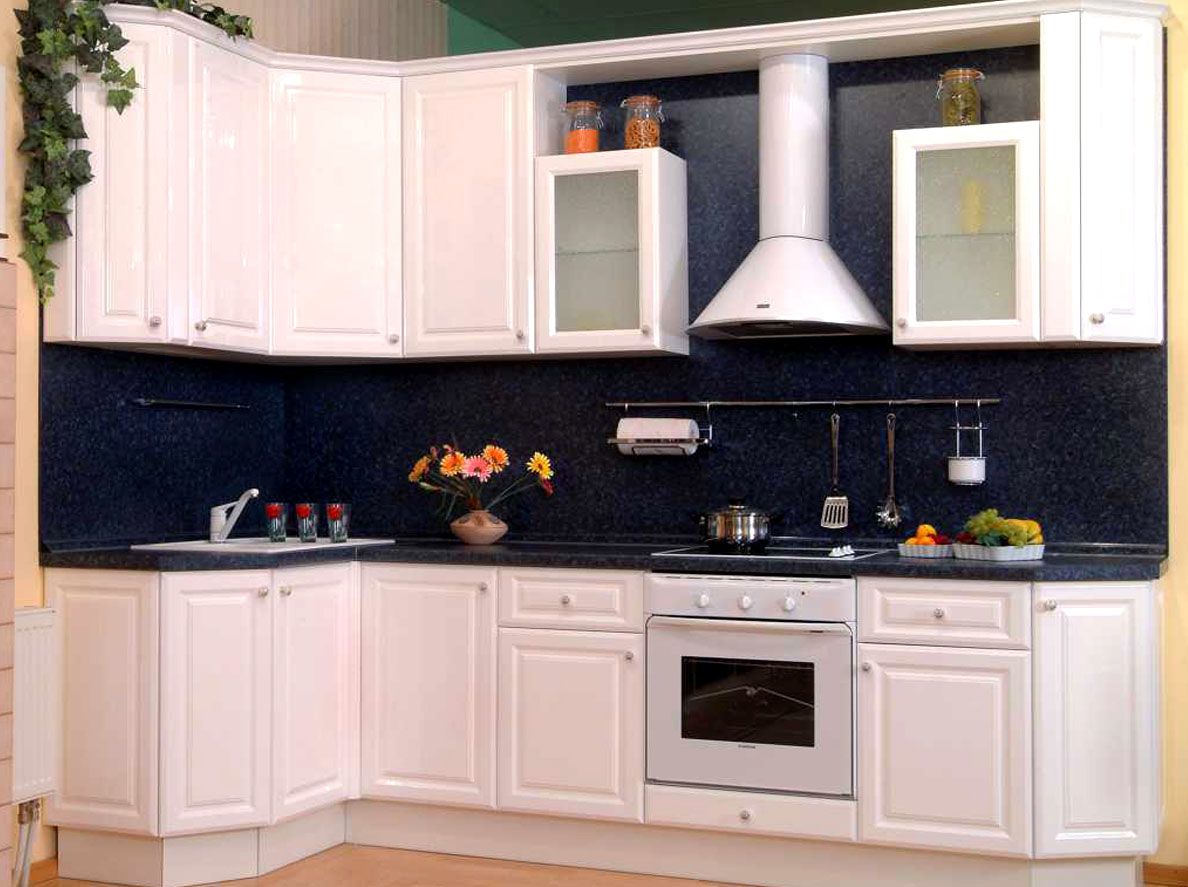 About plastics
MDF material for the kitchen - it's a great solution, especially when there is such a choice. However, it is worth considering the kitchen of plastic, to make a final decision. To start pay attention to the positive aspects:
kitchen, which are made of plastic,, possess high levels of wear resistance.
durable coating, in the sun, they do not fade and does not lose color. Not afraid of moisture and steam.
For cleaning using any detergents, after all plastic kitchen unpretentious.
Suitable for different budgets. On the basis of MDF - a more expensive option. With the DSP - the budget.
disadvantages:
Matt surfaces require special care.
plastic facade easily soiled. On the surface, remain prints from fingers.
The inner sides of the walls - white.
Sometimes facade cent distorted picture. This happens through the fault of technology.
Plastic facades for kitchens It performed in three main stylistic directions:
Classic style. To realize this design idea uses simple and uncomplicated form, neutral shades and at least parts.
Empire. This style has various patterns and decorations. The color scheme is light and delicate. Forms a thin and smooth.
High-tech. Popular style for today. It uses a set of elements is not only made of plastic, but also metal or glass. The choice of colors is organic - Black, white or red. Sometimes used metallic shades.
This nuance is important to consider, choosing, what's better, MDF or plastic kitchen. Yet little plastic limit you to create unusual design.
As can be seen, Kitchen made of plastic, MDF will virtually equivalent in their characteristics, so make the choice difficult. choosing, what food is better, plastic or MDF, Repellent primarily on their personal preferences, or consult with a professional designer. Experienced specialist, taking into account all the nuances, It helps you decide.