Electric meat grinder Russian production
Reliable grinder - a good helper in the kitchen. Gradually fading hand-held devices, that it was necessary to turn the whole hour, to get the right amount of stuffing. With grinder can be prepared in seconds liver, the juice, forcemeat, sausage, vegetable puree. The review of low-cost models of household appliances.
Most Russian producers
Today in the shops you can find a large number of appliances from different manufacturers. Basic shelves occupy global brands and Chinese producers. Also a lot of the stores trusted Russian brands.
The main advantage of the domestic producers - capable price. Russian brands have the support from the state, pay less in taxes, and therefore, can please customers constant sales and discounts. And it's not the only benefit, many housewives to assess the reliability and quality of Russian household appliances.
What should I look for when choosing
Household grinder work on the same principle, that hand. Knives comminuted meat and is pushed through a membrane. The result is a minced, which can be used for meatballs, zrazy, meatballs and other dishes.
It is important to choose a reliable device, which will serve you for years to come. To do this, refer to the following criteria:
Power. The greater the power of home appliances, the higher its performance. A good inexpensive grinder has a capacity 500-800 Watt. It can grind 1 kg of empty space 1 minute. More expensive models have a capacity of 1000-1500 watts and ground 1,5 kg of empty space 1 minute. The higher performance, the easier the veins and cartilage through a screw mechanism.

Material. Low-end models always have a plastic housing. That's not bad, but increases the risk of breakage. It is better to give preference to the metal gears, in spite of the higher cost. They take up more space in the kitchen, but they have a longer life and better performance.

Engine protection. The meat can easily fall into the motor. In that case, the manufacturers provide for emergency shutdown. In the low-end models burst sleeve and locks the engine work. After that, the grinder has to be repaired. The expensive models provided for opening the electric circuit. After stopping the meat and continue to work to remove stuck enough.

mode. Conventional models have two operating modes - speed and reverse. Powerful grinder run without reverse.

Equipment. The grinder should be the standard of the membrane for different pieces of minced meat, pushers, trays for feeding products. In addition, the nozzle can go for sausages, juice, cutting vegetables.
Ranking of the best domestic meat grinders
The store can be difficult to choose a grinder Russian production due to the large range. Therefore, before going to the store better to choose a model based on the reviews and ratings. See the video on the Review of the Russian production of meat grinders.
Grinder with squeezer for tomatoes
The ratings grinder home always includes Chudesnitsa model. when power 1500 W it can process 0,6 kg per minute. In addition there is the nozzle-juicer for fruit and vegetables.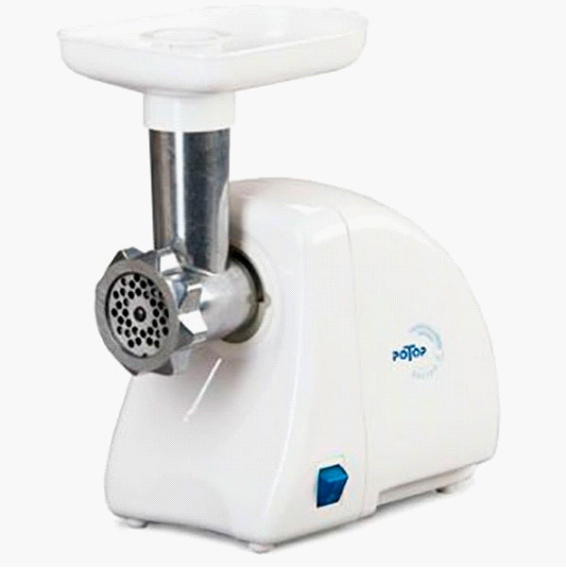 Has similar characteristics Soviet Grinder rotor Alfa. She performed for decades and this time found a lot of fans. Includes tips for stuffing, chopping vegetables, Juicer for tomatoes, grater for vegetables and fruits.
Grinder with nozzles and knives for vegetables and fruits
Best budget grinder with nozzles for vegetables - it Axion M 25.02. This model is a grinder, juicer and vegetable cutter. It saves power when cooking different dishes. The kit includes various nozzles for stuffing. For an hour, this model can make 90 kg minced. For chopping vegetables and various nozzles provided, to obtain pieces of various shapes and sizes.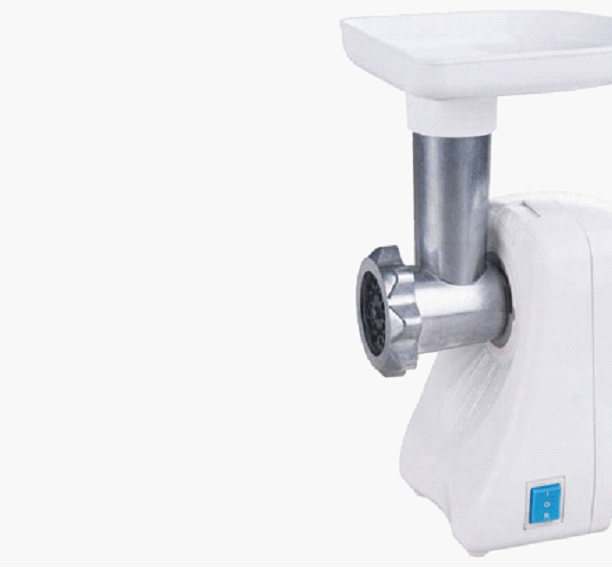 A simpler option - a rotor Extra. It includes tips for grating and cutting vegetables, as well as juicer. for 10 minutes it is possible to scroll 5 kg minced, judging by the reviews of consumers. Negative quality of this model - high noise at work.
Grinder with metal gears
Metal gears - a benefit of any grinder. They last longer and rarely break. Such a device has a model M52 Ladomir. One of the main advantages - small size. It does not take much space even in a small kitchen. Includes tips for sausages.
Good build quality has a model of the Belarusian producer Belwar Assistant. It has only two nozzles - for stuffing and sausages. Performance 0,6 minced kg per minute.
Grinder with vegetable slicers: prices
Good chopper function vegetable cutter - Rotor Extra P 35/250-3. The kit includes different tips for shredders, Tossed, squeeze juice from fruits and vegetables. Power 250 W provides performance 0,6 kg of minced meat per minute. An important advantage is the low price from the competition - 2600 rubles.
Best electric grinder home: reviews
Best grinder for home price and quality can be called a rotor Diva. It has a high power 1500 W, that provides high performance 35 kg during. In addition, the kit includes a nozzle for shredding and juicer. The model has a small size, It does not take up much space in the kitchen.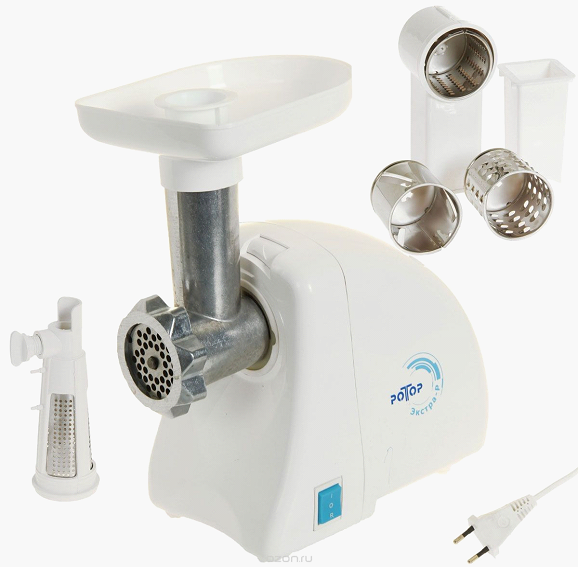 More budget model from Barnaul plant - Rotor Maxi. when power 300 W, it has the same performance 35 kg empty space in time. It includes citrus press.
The most reliable Grinder
Ranking of the best grinders for the house is not complete without the appliance Axion M 31.04. At maximum power 1500 W it can twist 1,6 kg of meat per minute. It has a plastic housing and reversing system. A special feature of this model are rubber knives, to cope with tough, sinewy meat and cartilage. Grinder has an additional nozzle squeeze juice from fruits and vegetables.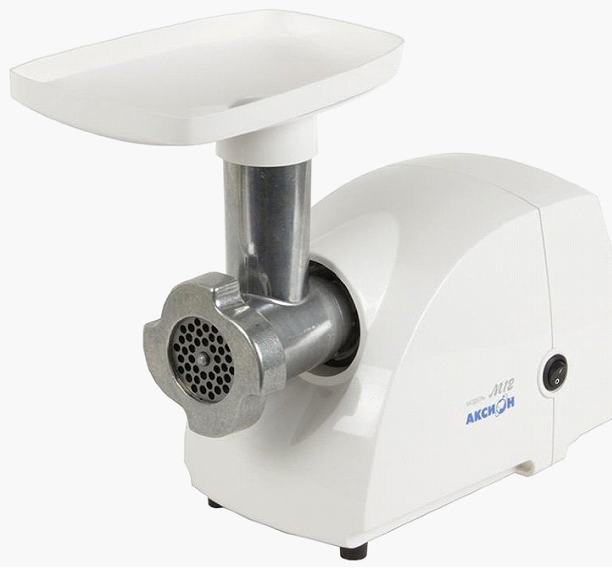 A more recent model Axion - M 41.02. It has a capacity of 1700 W, which allows it to cope with 2 kg of meat per minute. Corpus she, too, plastic, but high quality, that provides greater strength. This model has many more features: vegetable cutter, meat grinder, juicer, device for sausages.
What technique buy
Domestic grinder have increased capacity and significantly save time cooking. Grinder with nozzles for fruits and vegetables will help you to quickly cut into slices of vegetables for salads and soups. The main advantage - you do not need to exert physical effort, as is the case with manual meat grinder.
When choosing a grinder with metal gears is best to be guided by feedback and acquaintances to read the recommendations in the Internet. So you can appreciate the views of different people and make your choice. If you do not pay attention to reviews, you can spend the money wasted on low-quality goods.
Now you know, what is good and inexpensive grinder on the Russian market. An important parameter in the selection - this performance. Determine, like a lot of meat and vegetables you want to twist, Based on this model, choose.