Small kitchen - a problem of many Russian homes. Housewives have to use various tricks in order, to break down all the utensils for small cabinets. If the pan can be put one into another, the lid take up much too much space. Many housewives are dreaming of supports for lids, which would save space.
Proper and improper storage of lids from pots
The usual way to store pots - to put them in a row and cover. It's comfortable, if you have a spacious wardrobe, and the number of pots are no longer 5. But even in this case the space is consumed wastefully.
The second option - to put the pots one on another, covering them with lids. Cover at the same time can be flipped, to lever does not interfere. Such an embodiment is more compact, but it works in the case of a small number of utensils.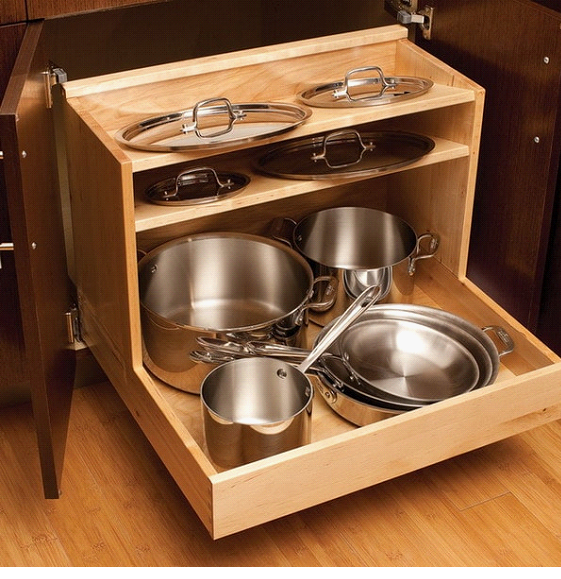 Just insert a little smarter in large pots, and the cover stored separately.
Producers of goods for home long ago solved the problem, inventing special holders for caps. And, There are different types of, every woman can choose to fit your cabinets.
horizontal storage
Horizontal stand for the cap - the most convenient storage option. immediately obvious, where that is, you can not waste time searching. Typically, horizontal storage organized in a drawer of kitchen units.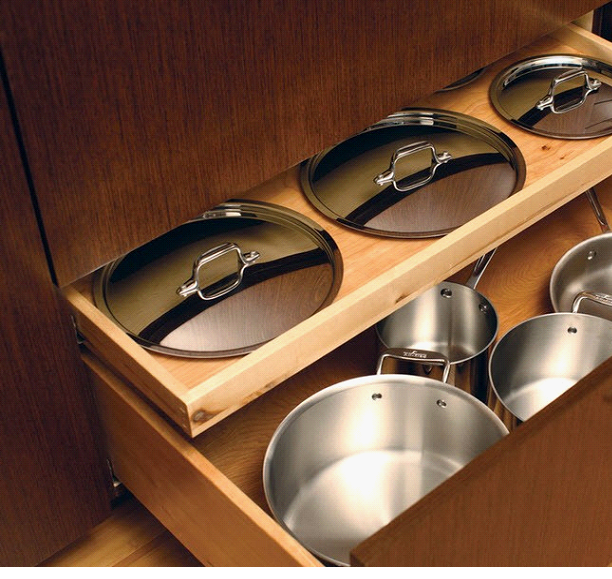 The method is suitable only for large kitchens, where there is a spacious deep drawers. In this case, you will not be difficult to single out one organizer for lids from pots.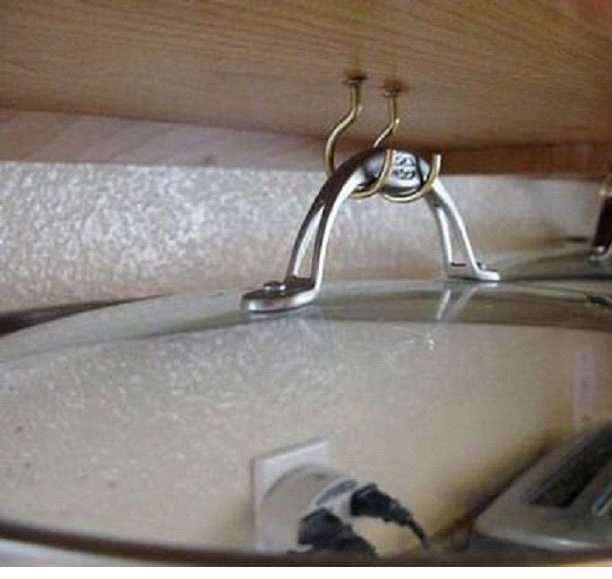 Another way to horizontal position - it hooks under the hanging cabinets. If the knobs on the cover is made in the form loops, they can just hang on a hook.
vertical storage
Vertical supports under the lid of the pans are suitable for small kitchens. The most popular are in the form of the tray. They can dry the dishes or to store it permanently. The tray can stand on the table, working surface or deep inside the box.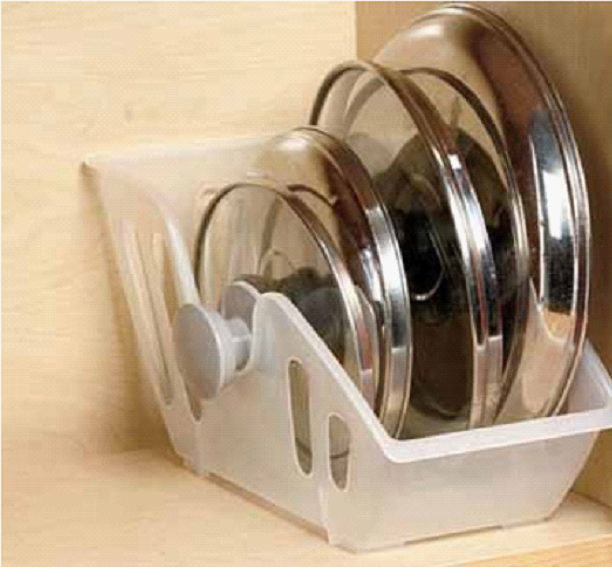 Interesting idea of ​​vertical storage - a rack with fastenings. Covers of pots hung on clips and take up little space. The preferred to put a rack on the working surface of the plate around the kitchen units.
Another popular option - keeping the covers on the wall or on the inner surface of the cabinet door with pots. In any hardware store you can buy fasteners, or make them yourself from hooks.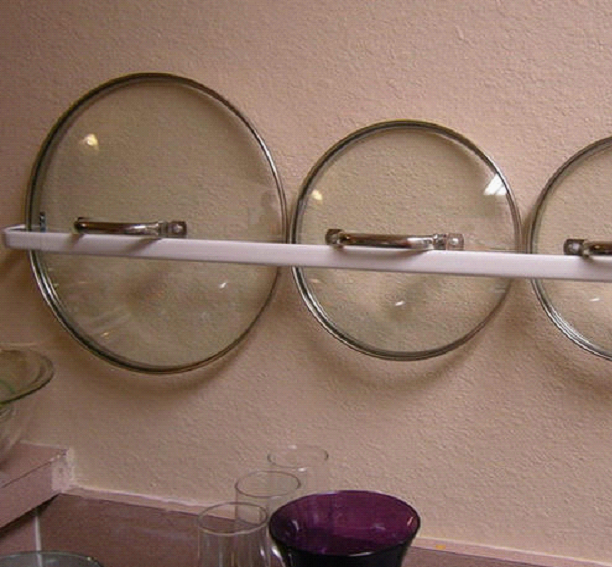 Under the vertical storage can be adapted towel. Attach them to the wall or the inside surface of the cabinet and insert into the cover.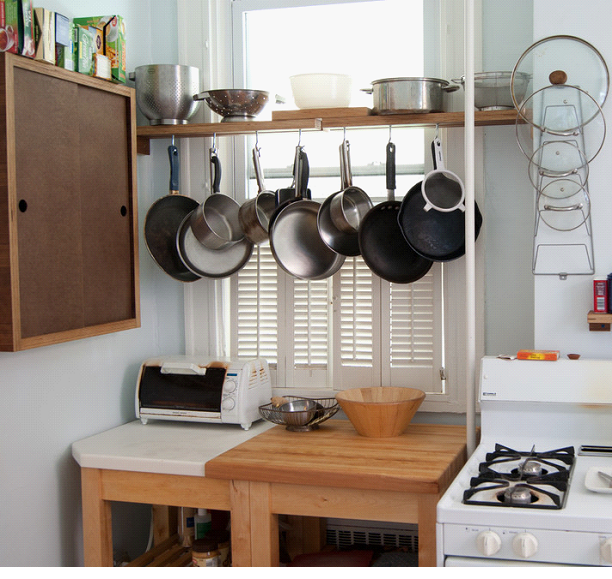 Kitchen designers today do not seek to hide all the dishes in the cabinets, often hung on hooks or are placed on the shelves. If you have a free corner in the kitchen, You can use this technique. Hooks hanging woks and small pots, and next to the horizontal beams laid cover.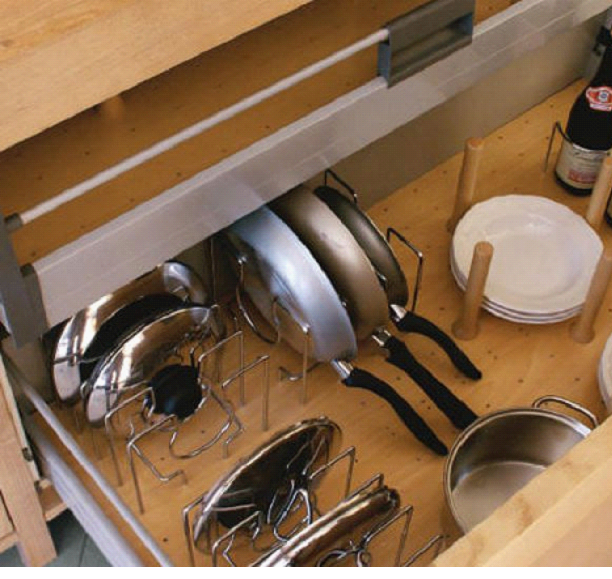 If you keep the dishes in the deep drawers, using a small wooden partition can be separated space covers. These compartments can be provided, if you are doing the kitchen to order.
types of stands
Stand for pots caps should occupy little space in the kitchen, be comfortable for the hostess and beautiful. It is important for every woman, to her kitchen look neat, if unexpected guests will glance. Designers of household goods are constantly developing new tools, to make life easier and more convenient.
Stands for hot spoons and lids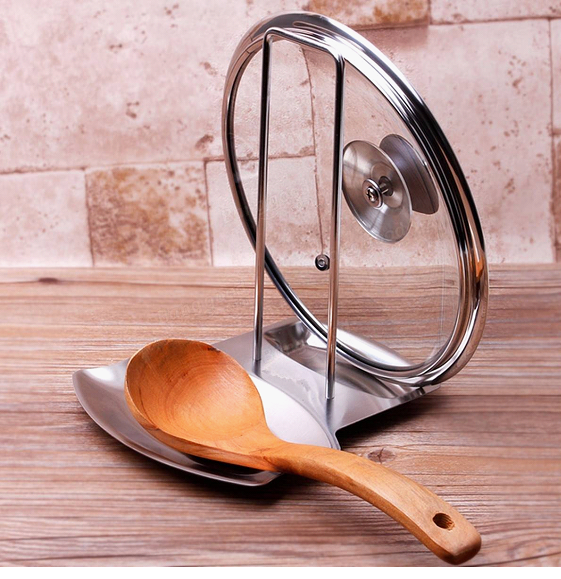 When you cook soup, it is important to have on hand a spoon and lid. Specially stand was invented for this, where you can put dirty spoon, so as not to stain the table. Nearby you can lean against the lid.
Stand Varera from IKEA
Varera - a series of supports for kitchen appliances. In this series, there are several convenient containers, that can be inserted in boxes and store them in a cover. Also in the series have support under the cover pans, it is based on vertical pins, between which are inserted into the cover.
Serving glass coasters cakes and pastries
Serving coasters cakes most conveniently stored in a compartment with trays. They do not have handles, for which they could hook, as a cover, so vertical storage is not suitable.
How to make a box on legs alone
Wooden box lids of pots can do with their hands, if you know how to work with wood. This will require several boards and decorative legs.
can be built into a cabinet drawer Ready, that he was nominated for the roof rails or put on the table as a decoration. It can simply be painted or decorated using decoupage, depending on your kitchen design.
There are many options for pots and pans. Not necessarily ready to use coasters, you can come up with your creative solution, which will be the highlight of the kitchen.
https://www.youtube.com/watch?v = d4D6Vw_-AIU