The best ideas for decorating the kitchen for the new year
With the advent of the new year, every family wants to create a holiday atmosphere. Often the question arises how best to decorate the kitchen to the Christmas and New Year. Options decor selection varied and depends, first of all, from the size of the room. After all, not every small-sized kitchen tree fit the standard value. However, for small kuhonek have suitable ideas for decorating. Consider a photo with original ideas for decorating the kitchen with his hands.
Classic big tree
Kitchen Interior Decorating the Christmas tree in New god.Oformlenie interior white kitchen Christmas tree in New Year. What could be better than a full-fledged tree, hung with balls and lights? If space permits, should choose this way of decorating. And then no other festive decoration is not required.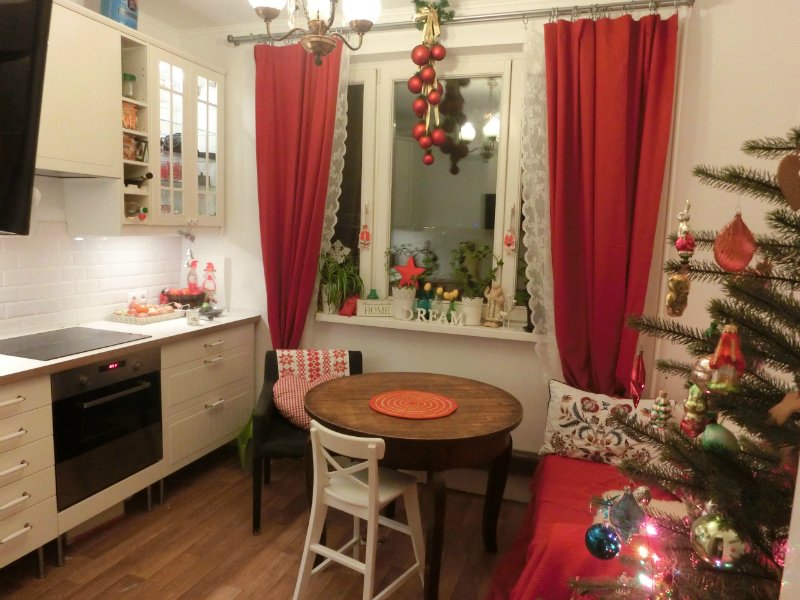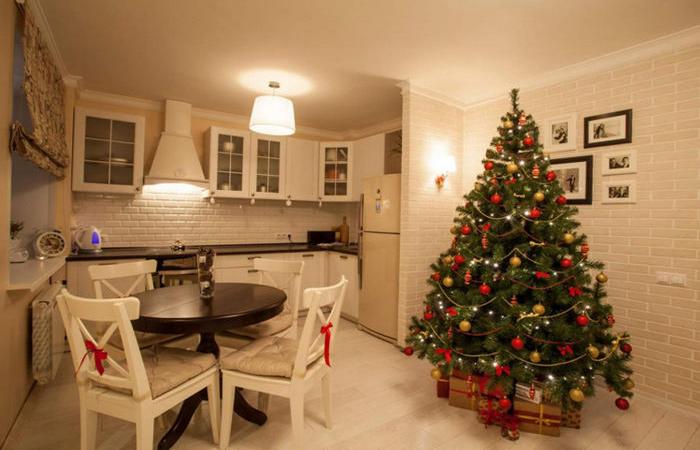 Making a Christmas tree in the style of high-tech
Creative ideas manufacturing trees with their hands always deserve special attention. For example, using the money tree. We are not talking about, that the two-meter Christmas tree should stand here but you never know:)
Unusual trees design also interesting and original.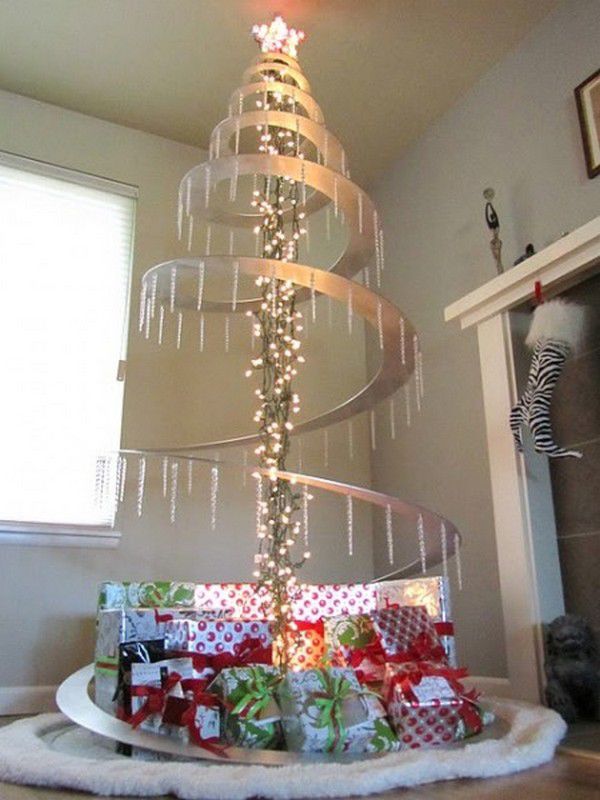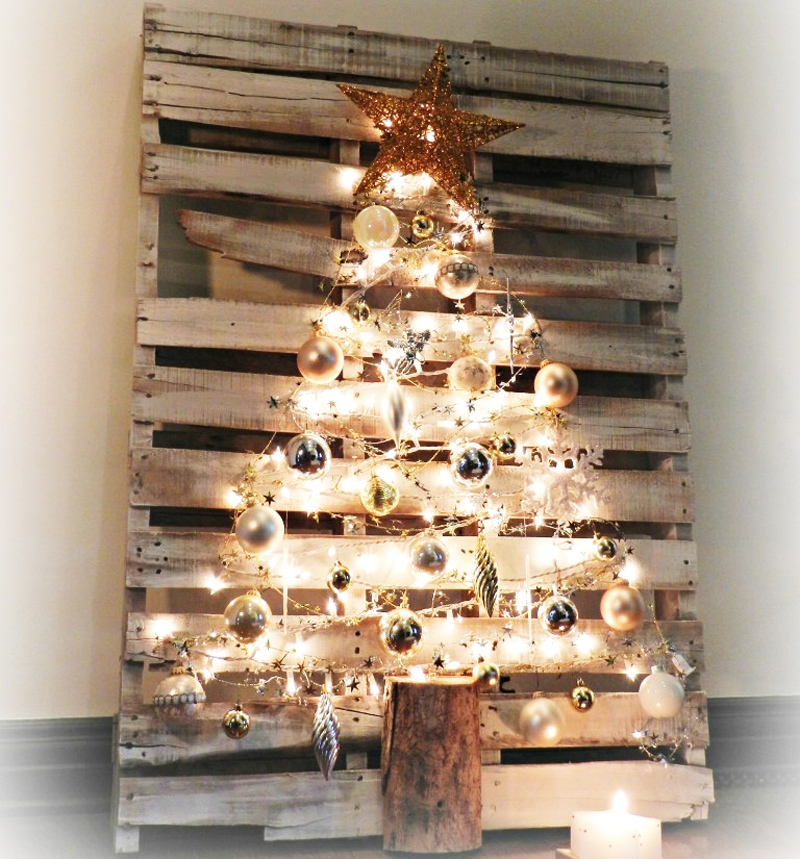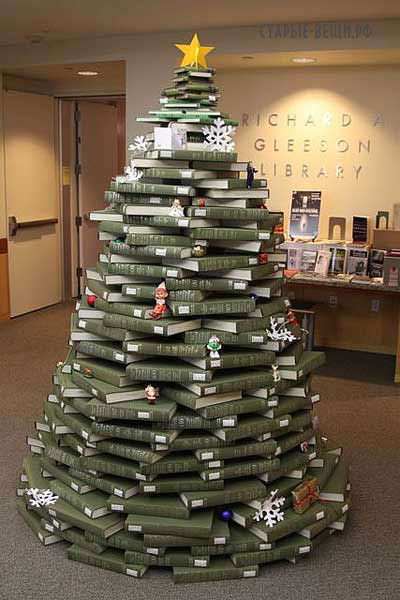 small Christmas Tree
It is economical and elegant version of the interior which can be either very unusual and surprise guests. Mini Christmas trees so nice and touching. They are good, and the, that you can place them in absolutely anywhere. For Christmas and New Year in the kitchen style is quite suitable to decorate a small Christmas tree, can, even artificial. But consider creative ideas of Christmas trees made with their own hands.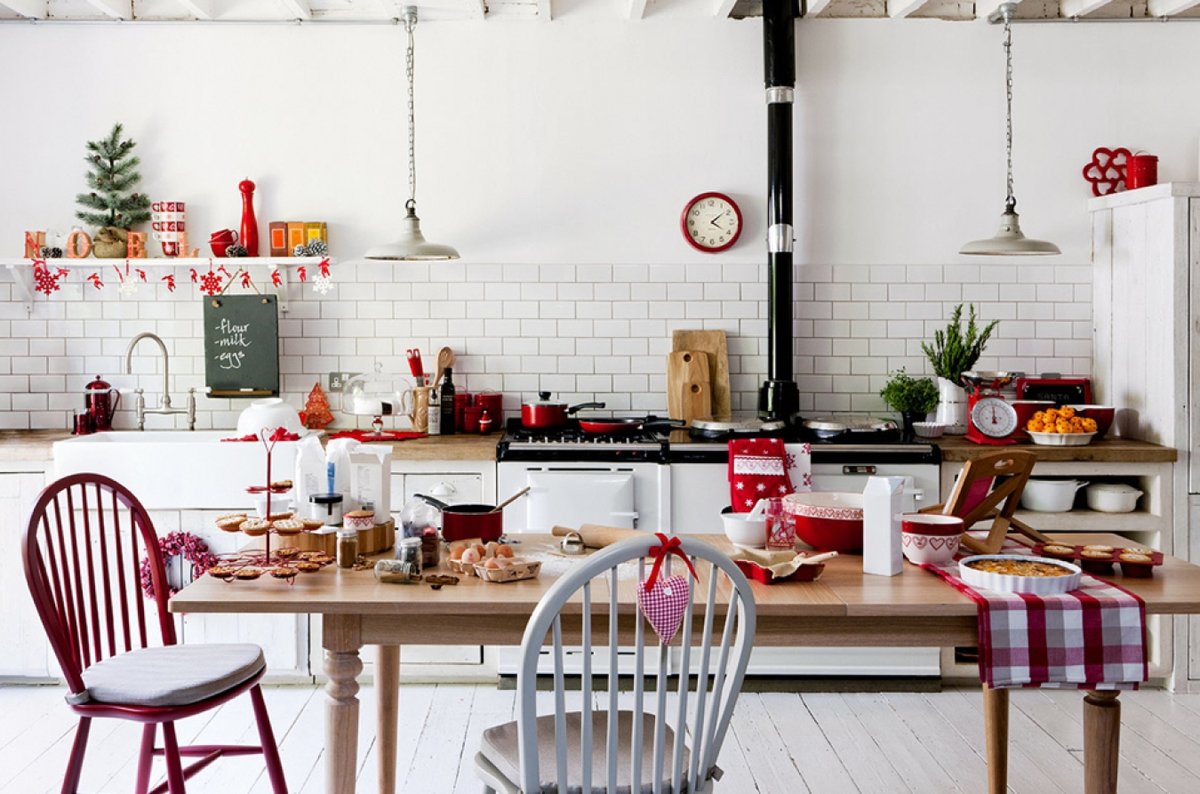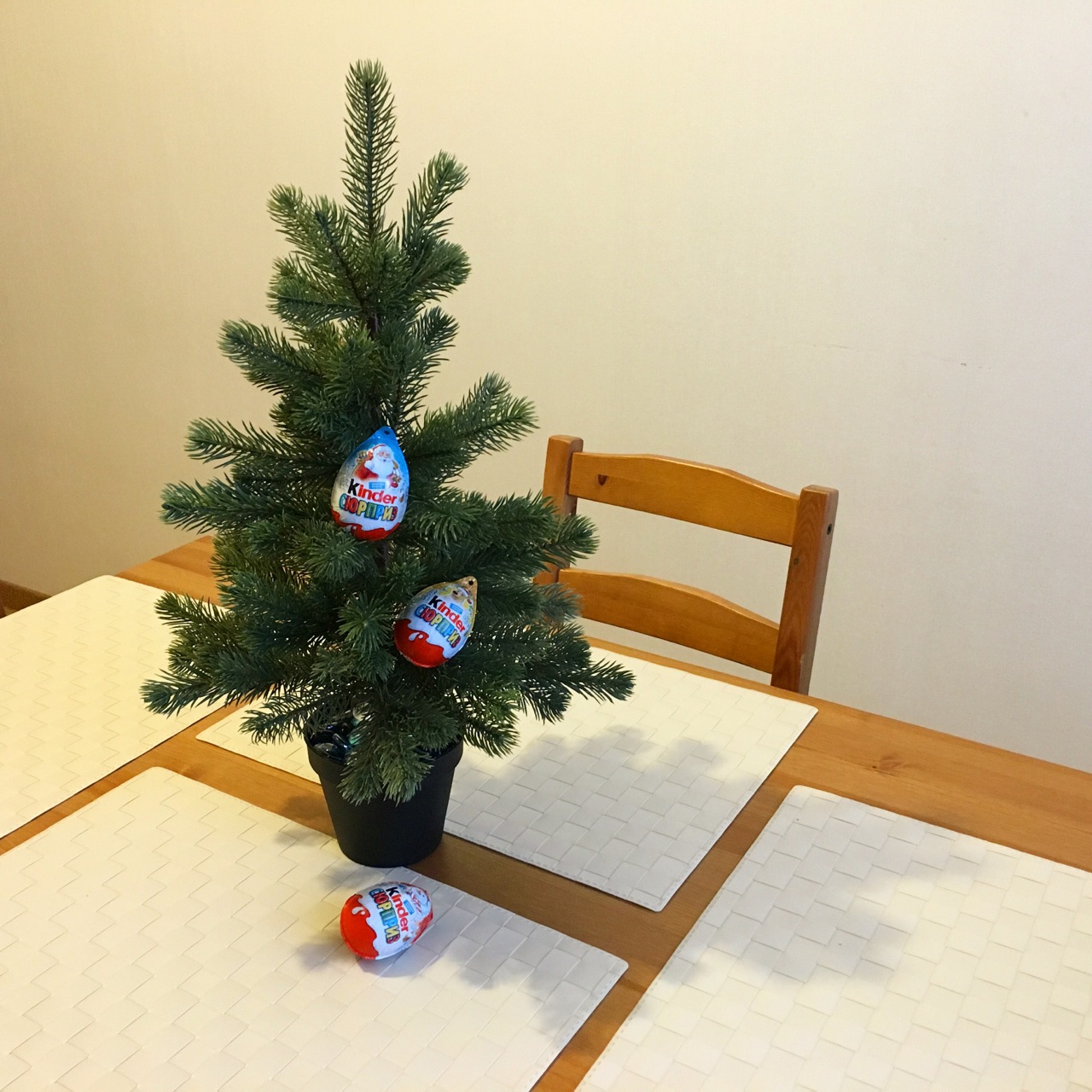 To make their own little Christmas tree for kitchen and is located directly on the working surface, countertop, on the shelf, on the windowsill, in the center of the dining table or on a small table somewhere in a corner (that is a kind of imitation of the big trees).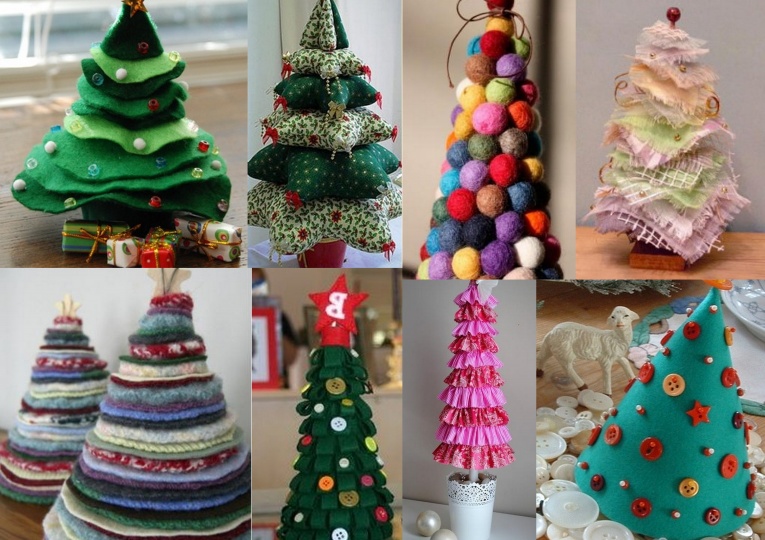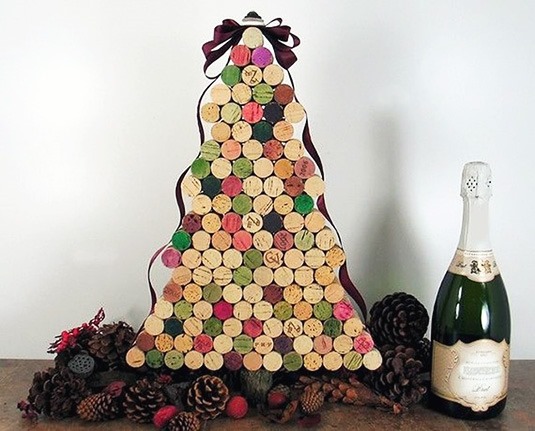 Quick photo instructions on making your own Christmas tree.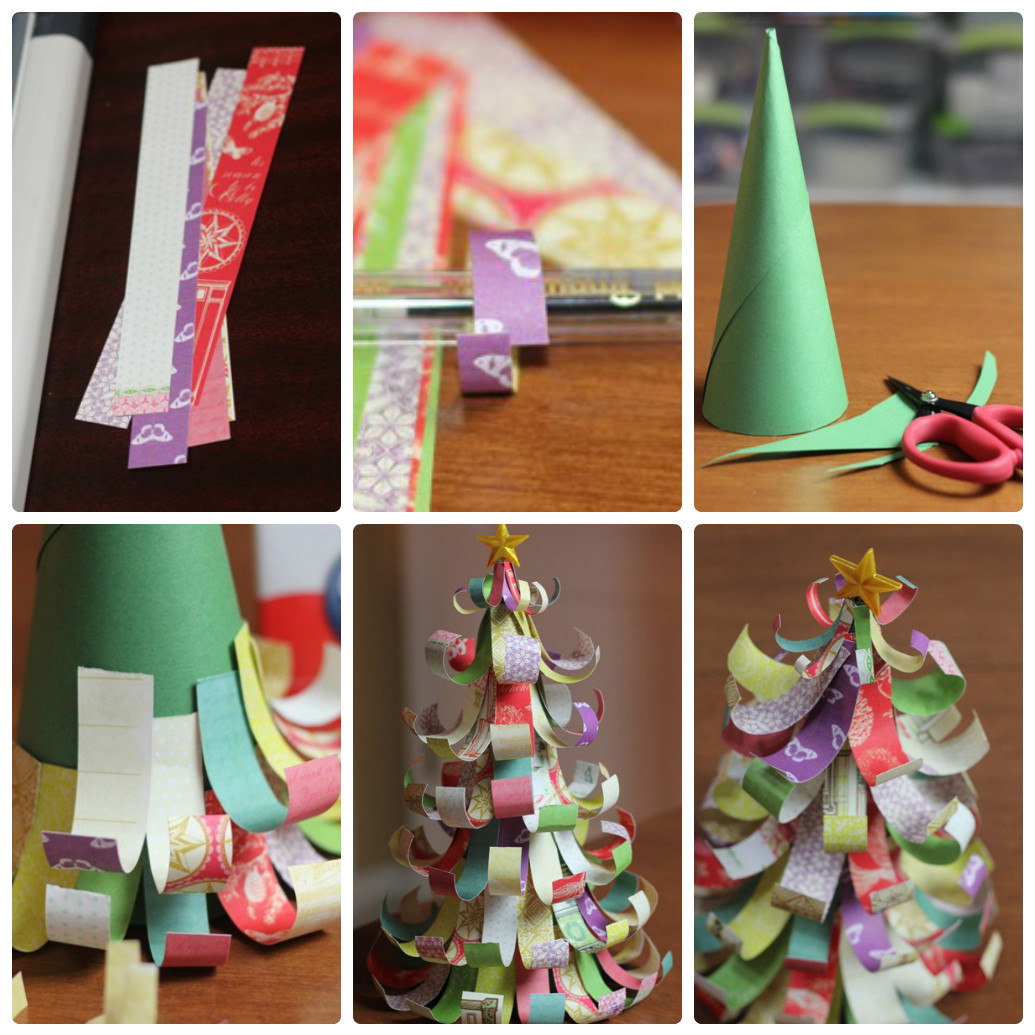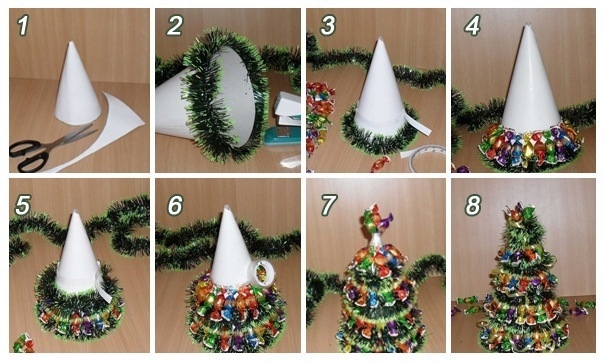 Edible decoration options
An interesting solution - the decoration of miniature spruce kitchen inventory.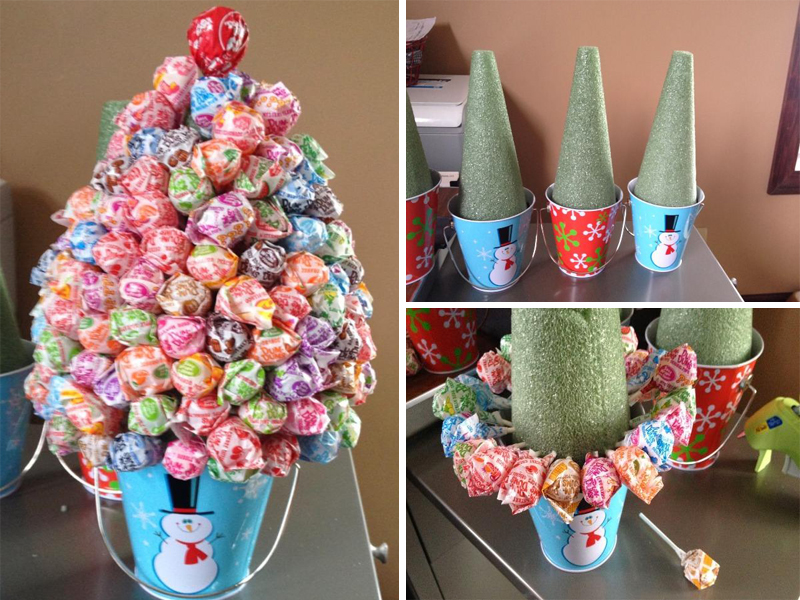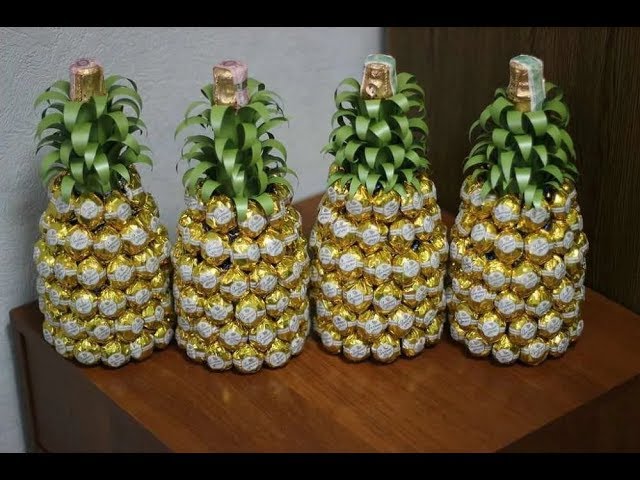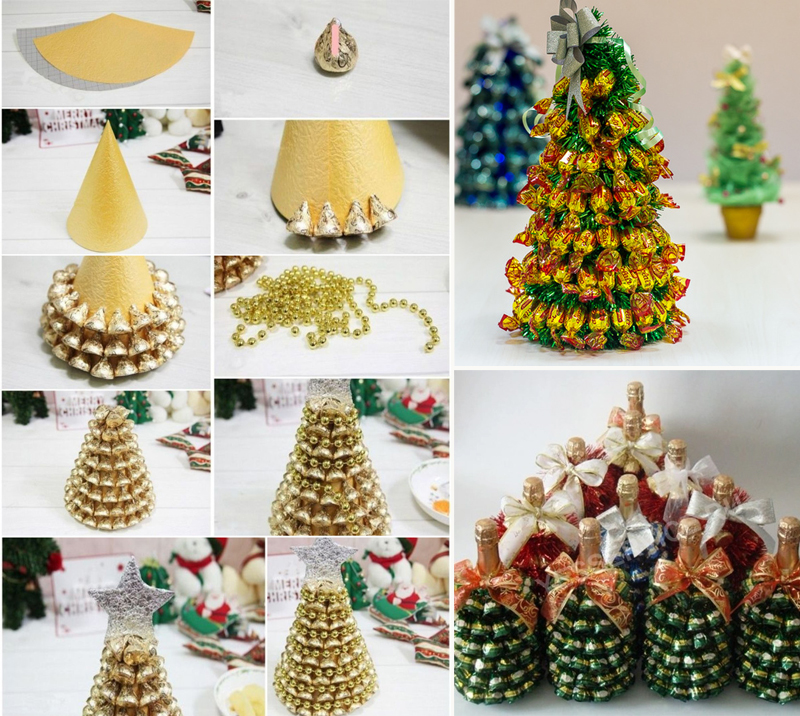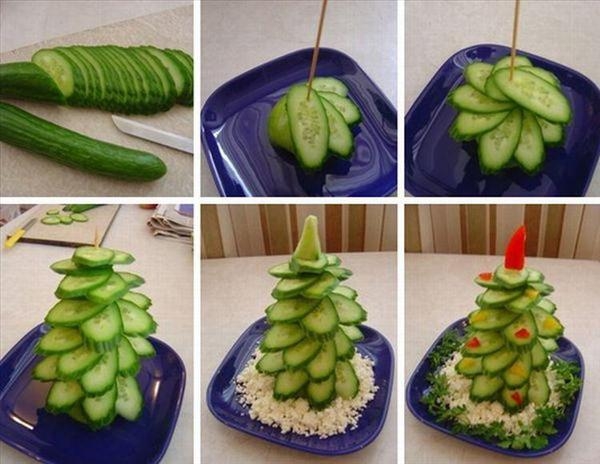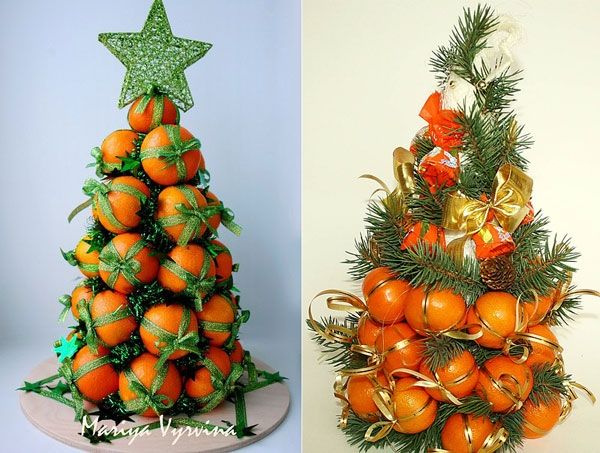 Christmas tree branch with decoration
These products are decorated with window, kitchen facades, walls in the working area. Wreath is traditionally hung on the lamp, located above the dining table. This is a charming alternative to the Christmas tree. Branches can be fluffy (fir) or naked. And that, both in its own spectacular.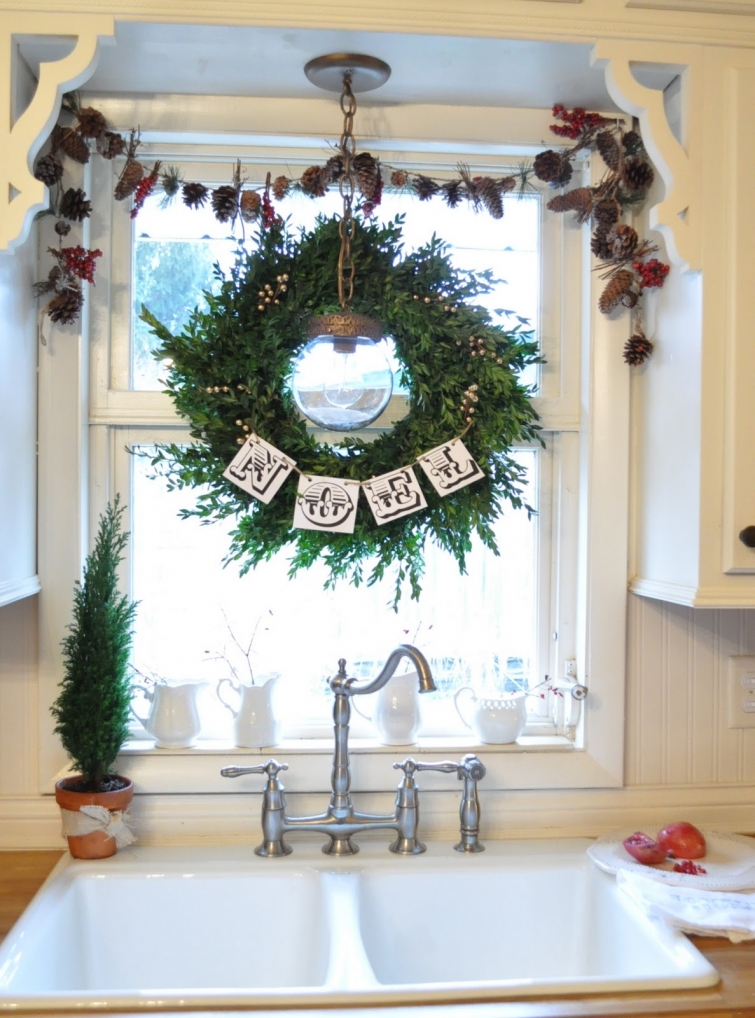 Branches without needles often do white or silver: they are covered with paint from spray or dipped for a while in a very strong salt solution.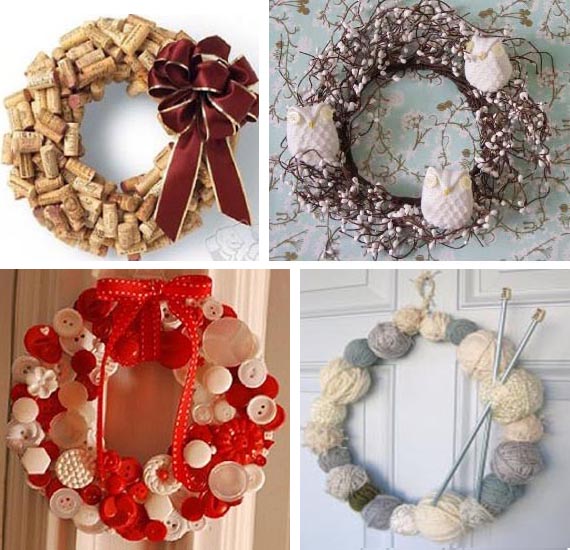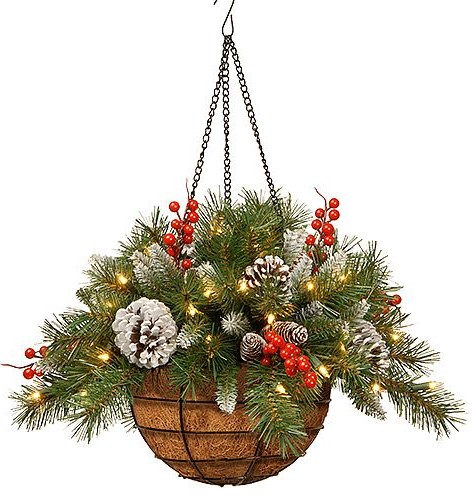 As the vase can be used even glass jar, carafe, jug, iron bucket.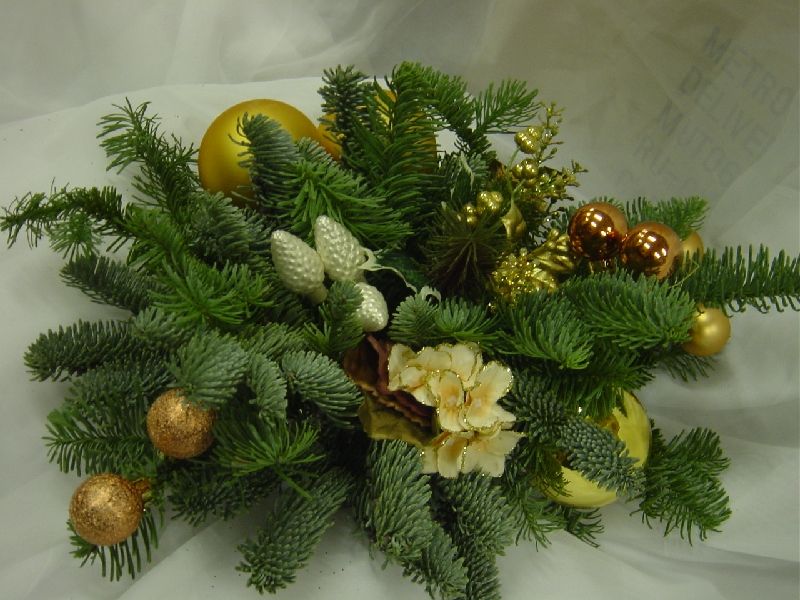 For decoration usually choose different colored balls, but can be applied to rain, ribbons, snowflakes paper, etc..
On sale is a ready-made wreaths. However, the decor make this possible, and with his own hands - this is no big deal. Wreaths made of fir branches, tinsel, garlands, Christmas-tree balls, sweets, tapes, cones, etc.. Watch the video on making Christmas wreaths.
Electric garlands of different shapes and colors
Such an alternative design of a kitchen is a universal and all-season. However, during the winter holidays it is especially good. Tiny lights create a magical atmosphere and a romantic mood. wall decorations advantage electrogarlands evident even in the smallest kitchen decoration.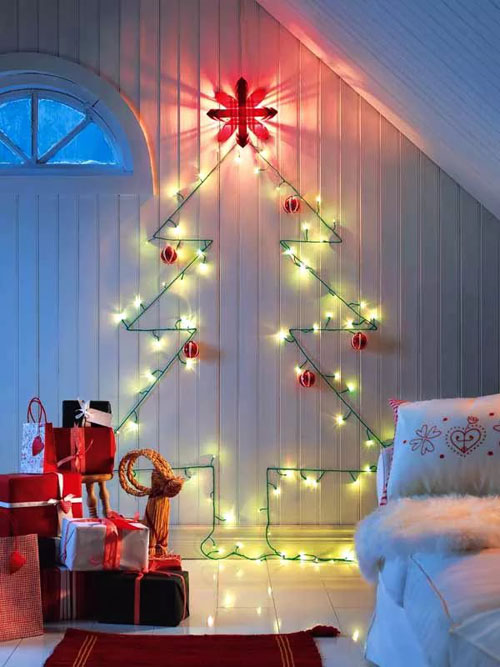 "Fairy lights" can be used in different ways: circle silhouette of a window or furniture, "Draw" the Christmas tree or star on the wall, Kitchen highlight perimeter, etc..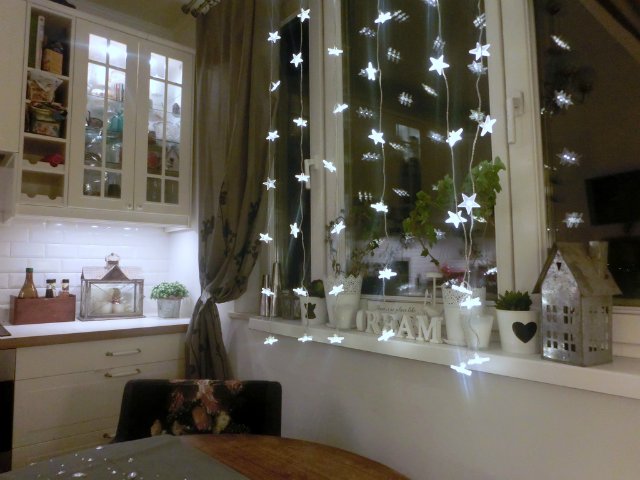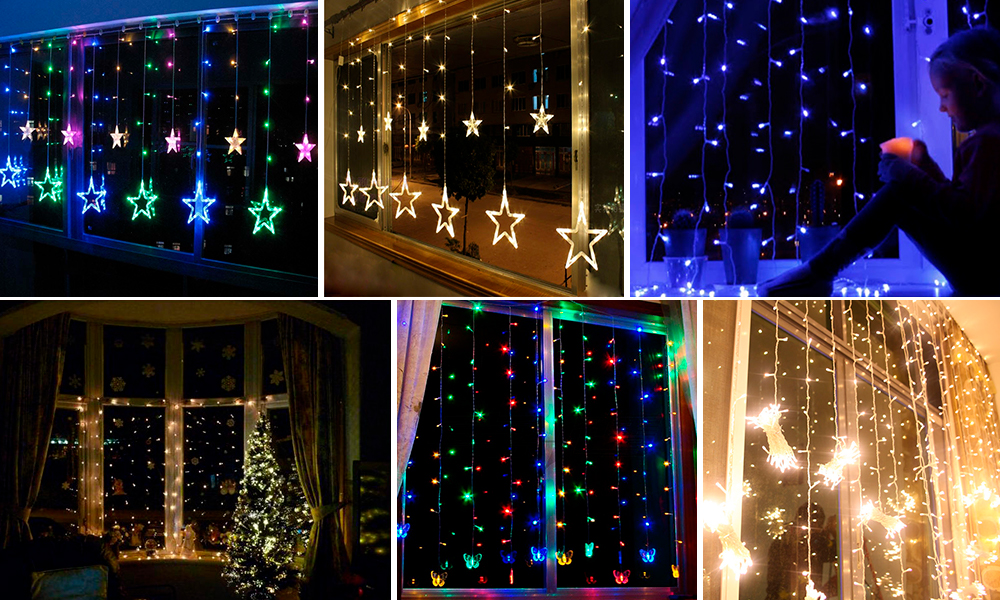 Hangers with Christmas decorations
This is a very simple and quick way to decorate any room. We need to take one or the balls of different colors and attach them to the thread, cords, tape. hung balloons, eg, on the chandelier or a cornice for curtains.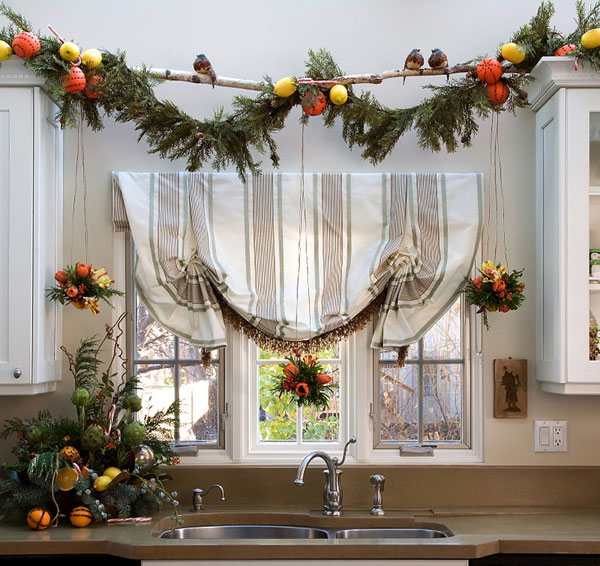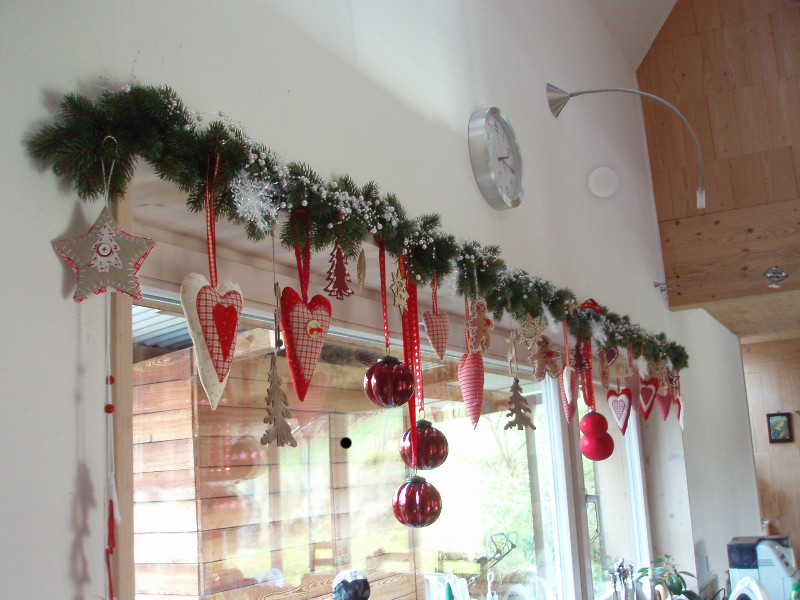 decoration chandelier
Not bad for the New Year and Christmas draw and a chandelier in the kitchen, in the dining room or living room: hang on her Christmas balls.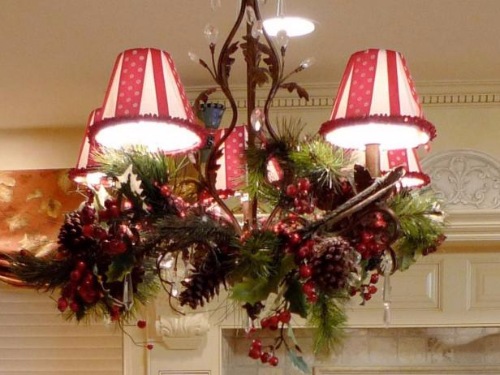 Christmas decoration for the kitchen made of threads strung on them cotton wool too perfect for this style.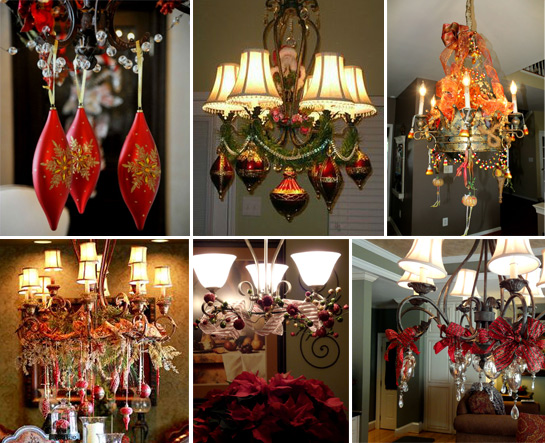 The most attractive in that the design of the, that we should not be afraid to go too far - on the contrary, you can decorate the chandelier all, what you wish!

It will be interesting to issue a chandelier for the New Year in the kitchen with his hands. For this we need a round, durable balloon, verёvka and super-glue.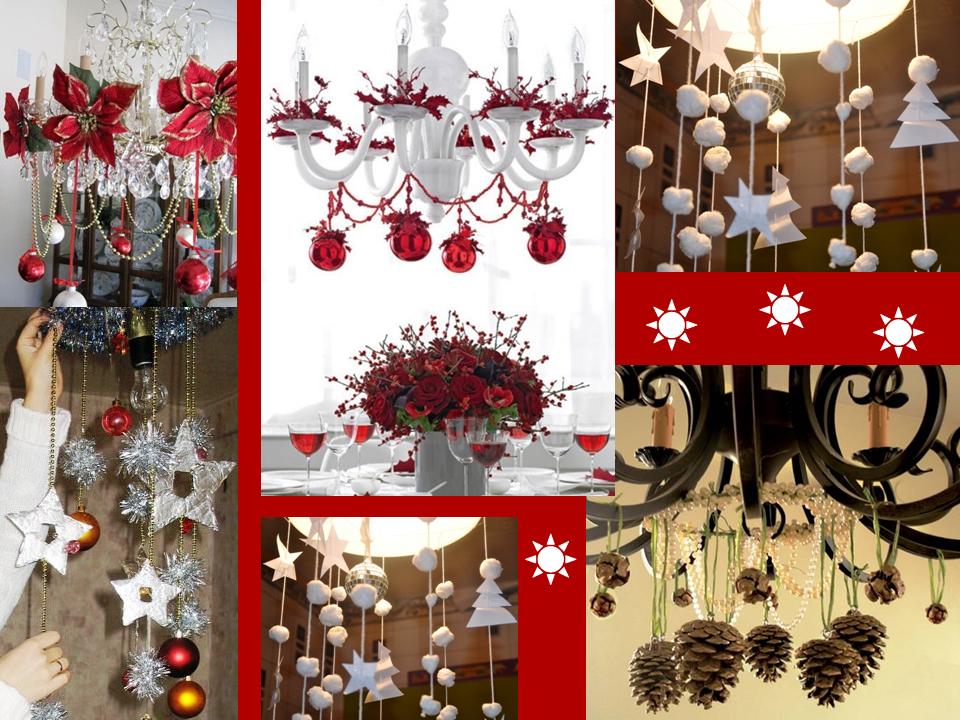 It is also possible to issue a chandelier with colored beads and snowflakes: just attach them to a Christmas rope.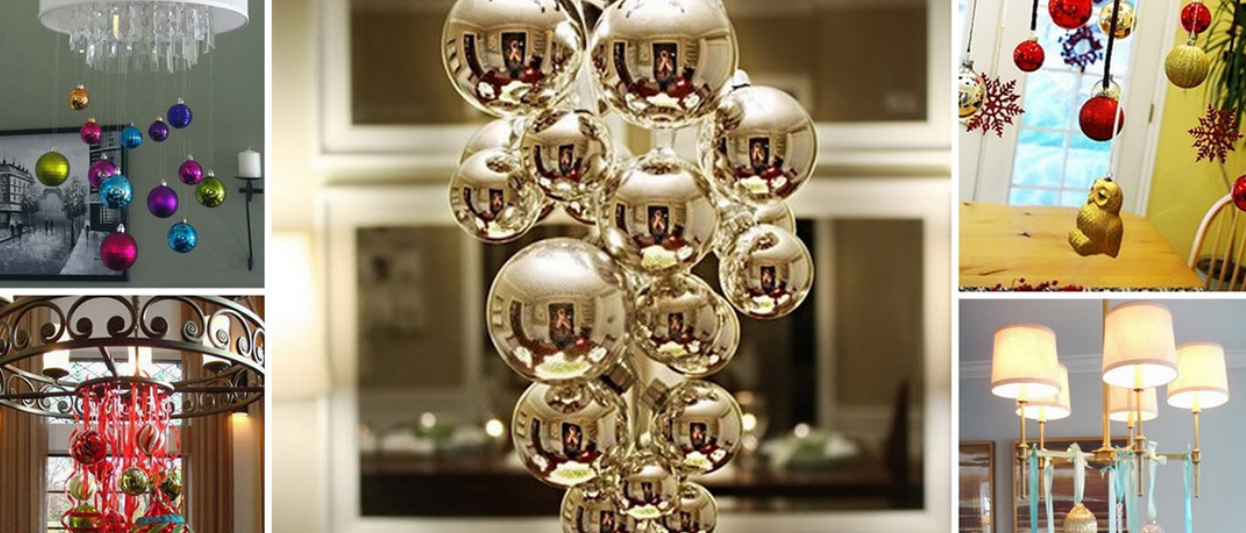 snowflakes homemade
Everyone remembers from childhood how to make a New Year and Christmas crafts carved in the form of snowflakes from paper and decorated their walls and windows.
Snowflakes give the interior a fabulous kitchen, magical atmosphere, style and comfort of the New Year.
Instructions for the production of:
Take a blank sheet of A4 paper;
Fold it in half and cut off the excess so, to have turned the square;
Fold it into a triangle and make cuts, before reaching the edge of the fold line 1 cm;
Expand the square - you can access the slots, to roll tube and glue glue.
Driving in the manufacture of interior improvised snowflakes out of paper for the New Year.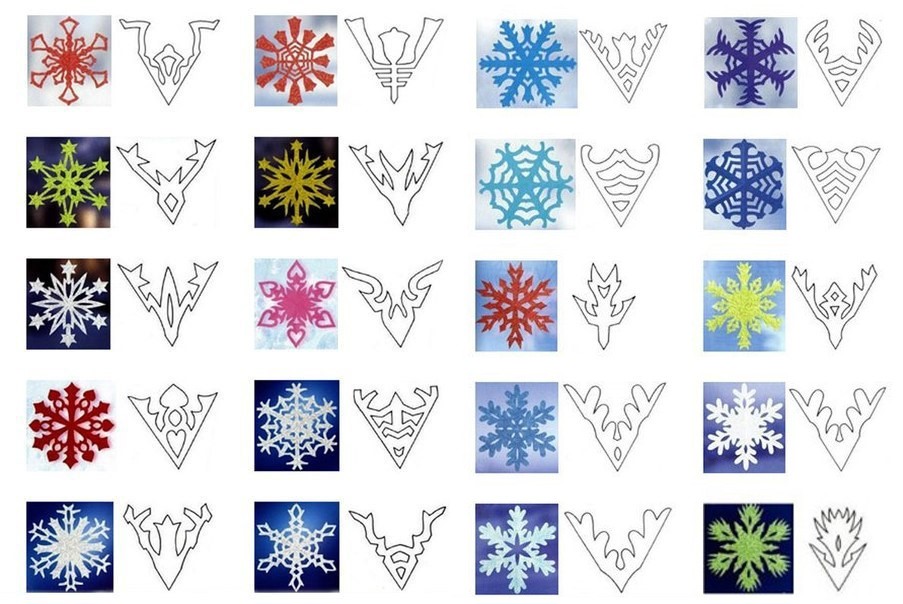 One detail snowflakes ready. Make More 6 such details, and then bind them all stapler. Volumetric snow ready! You can decorate it with tinsel and streamers.
Decoration cooler and plate
A refrigerator and a gas stove in the kitchen, too, can be a special way to decorate at Christmas and New Year. In these interiors, bright kitchen is better to use more colors.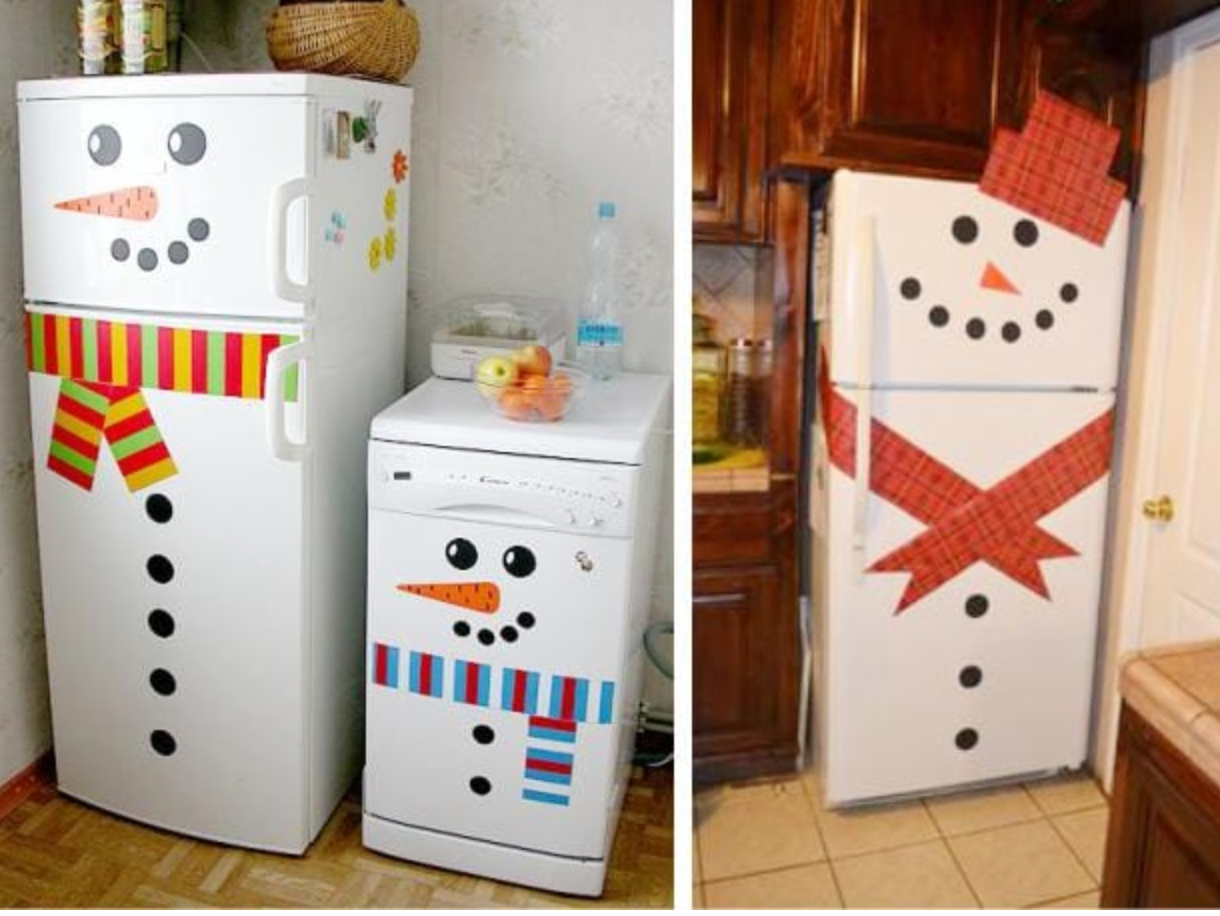 You can "convert" them to some time in the New Year's Santa Claus and Snowman. Yourself to do it very simply, we give for this one more masterclass.
table decoration
At a New Year's decoration of the kitchen have to be Christmas symbols: candlesticks, pitchers with fir branches, Christmas figurines,, of course, vases with tangerines.
Making the kitchen table in the New Year with style candlesticks and gifts for Christmas.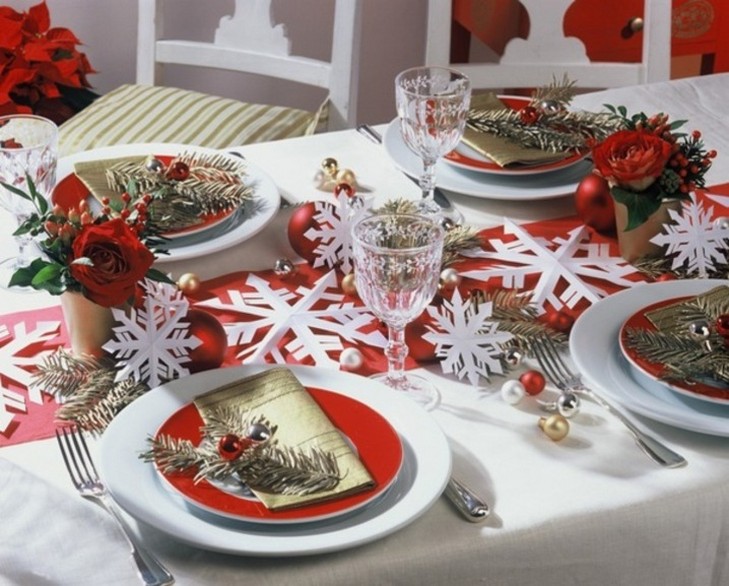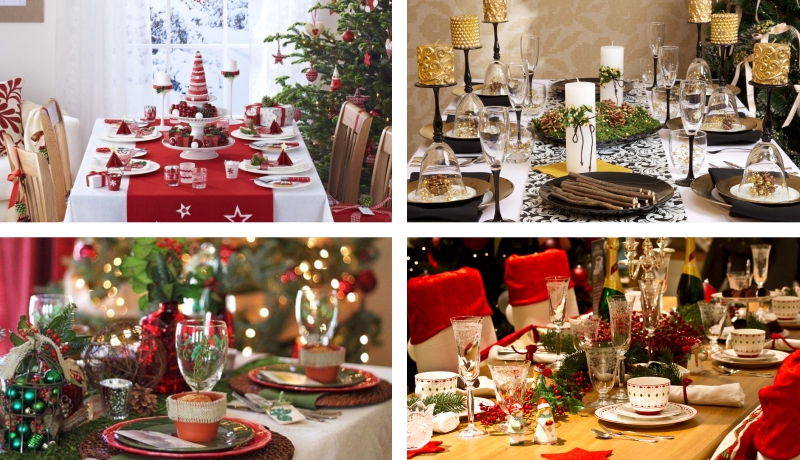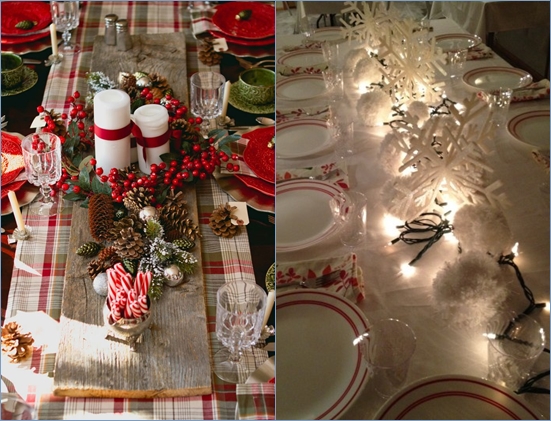 Candlestick, made by hand, great issue the kitchen or dining room, and give a sense of celebration.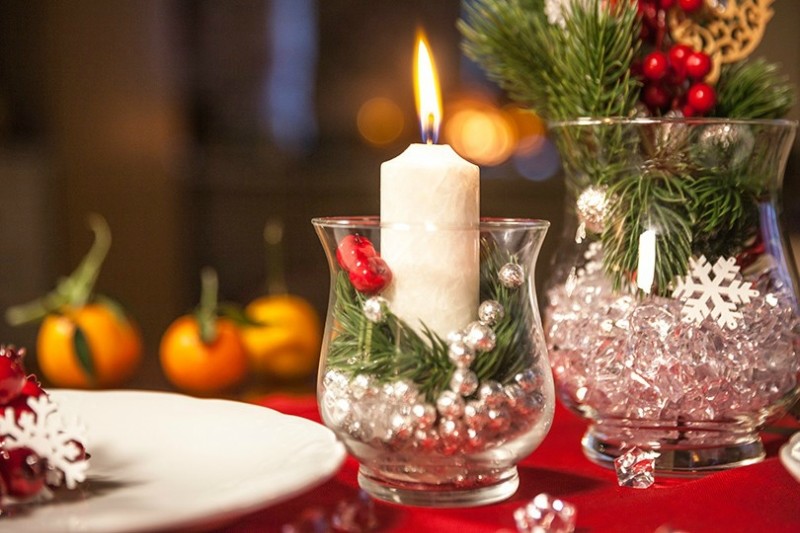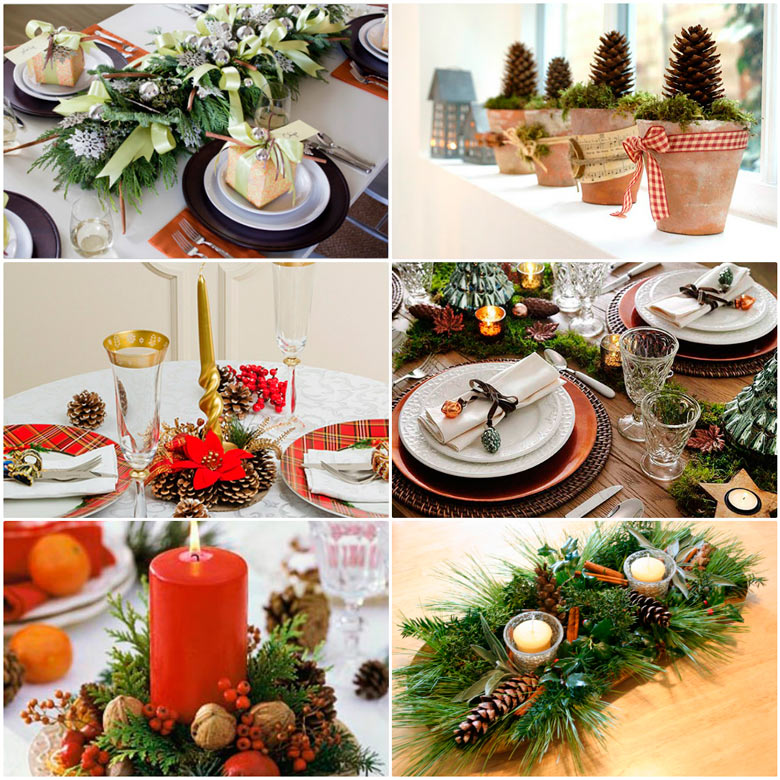 Video for decorating the kitchen for the holiday