Facades made of plastic in the kitchen - raznotsvete and practical material
Designers and manufacturers of contemporary kitchen furniture design are constantly improving and working hard to find new materials for the kitchen. It is especially difficult to achieve diversity in the economy segment. Wherein plastic kitchen It is a worthy solution. Kitchen facades plastic look is modern and bright.
Plastic for kitchen facade
Standard designs cheap kitchen sets are completed facades laminated chipboard. Sets a little more expensive - facades made of MDF. To expand the market today offers plastic facades for kitchens.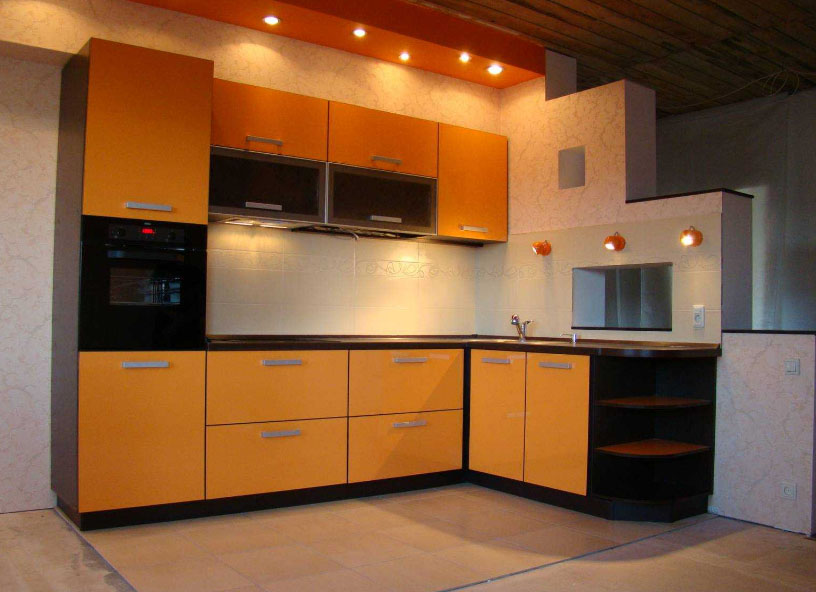 The design of the plastic facade
For manufacturing kitchen plastic sheet is applied and the web material. Plastic, sheets produced a more expensive product. But at the same time, kitchen set, plastic does not fall out of the mid-market niche.
The sheet thickness reached 4 mm. Due to this it is convenient to mount on the front panel. plastic coating has a high strength and heat resistance, which is important for kitchen furniture. Labeled plastic sheet letters HPL, which literally means - High Pressure Laminate. Translated into Russian like this - high-pressure laminate.
Actually, in the title should mention the technology of its manufacture. Such sheets are prepared from several layers of special paper (from 18 to 29), which are impregnated with thermosetting resins. The flat press, under pressure in 70 bar and a temperature 150-180 degrees Celsius, resin spread out between layers of paper and polymerisation.
Before forming HPL sheets are placed between the layers of a special gasket which give the finished products original properties, such as - dullness, "Photo" or gloss.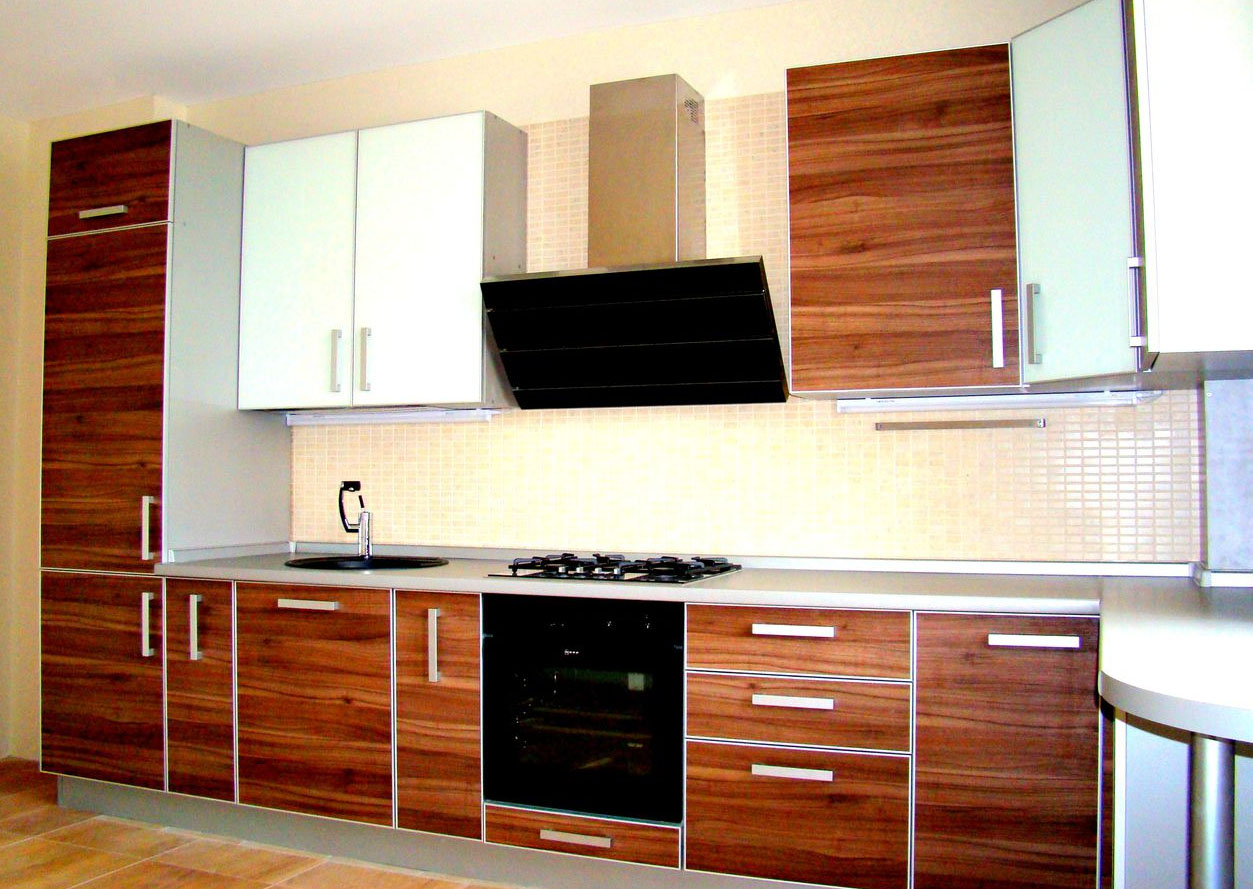 In this way, HPL plastic for kitchen fronts consists of several layers.
Lower or inner layer of white plastic.
The basis sheet of kraft paper, impregnated with phenolic resin.
The decorative layer is impregnated with melamine resin and composed of colored, different shades of paper layers.
The uppermost layer has a protective function and consists of a transparent paper layer, which polymerizes the melamine resin.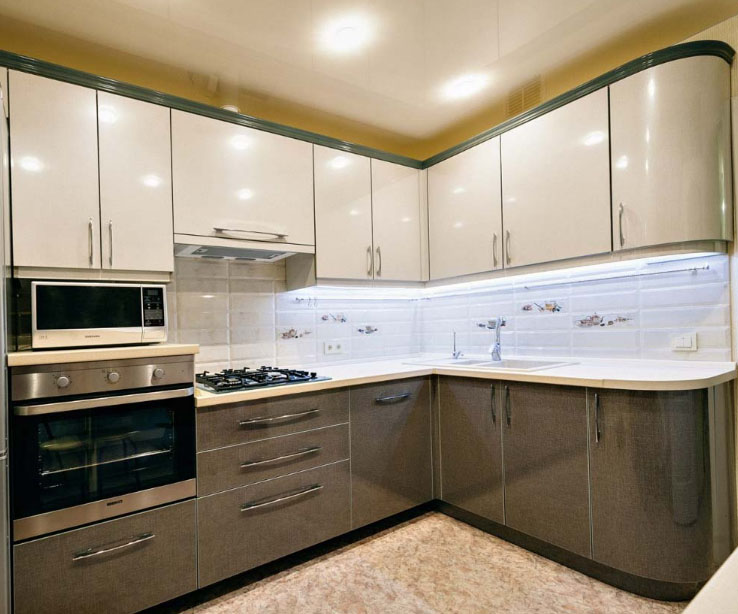 Plastic kitchen facades, manufactured in a similar way, It differs in physical and mechanical properties.
Basically, This standard plastic sheets labeled This sheet has high rigidity and can not bend. He placed only on flat surfaces.
When a temperature change is made capable of plastic for subsequent shaping. it, so-called, postforming and official marking HGP. The edges of these plastics can bend with a radius of up to 10 mm. As a result, such a sheet can be closed edge facades. This edging has no additional fixings and slots. As a result, the foundation of the facade does not separate from moisture.
Plastic kitchen facade for the average price niche manufactured by labels on MDF board or chipboard rigid sheet HPL with properties HGS. As this process takes place under pressure and with heating press, diffusion occurs and molecules penetrate such plastic base material of the facade.
The result is a durable and beautiful facades for furniture. By hardness is considered a vandal-proof plastic coated. It does not remain scratches and cracks. He is easy to clean and is not afraid of high temperatures.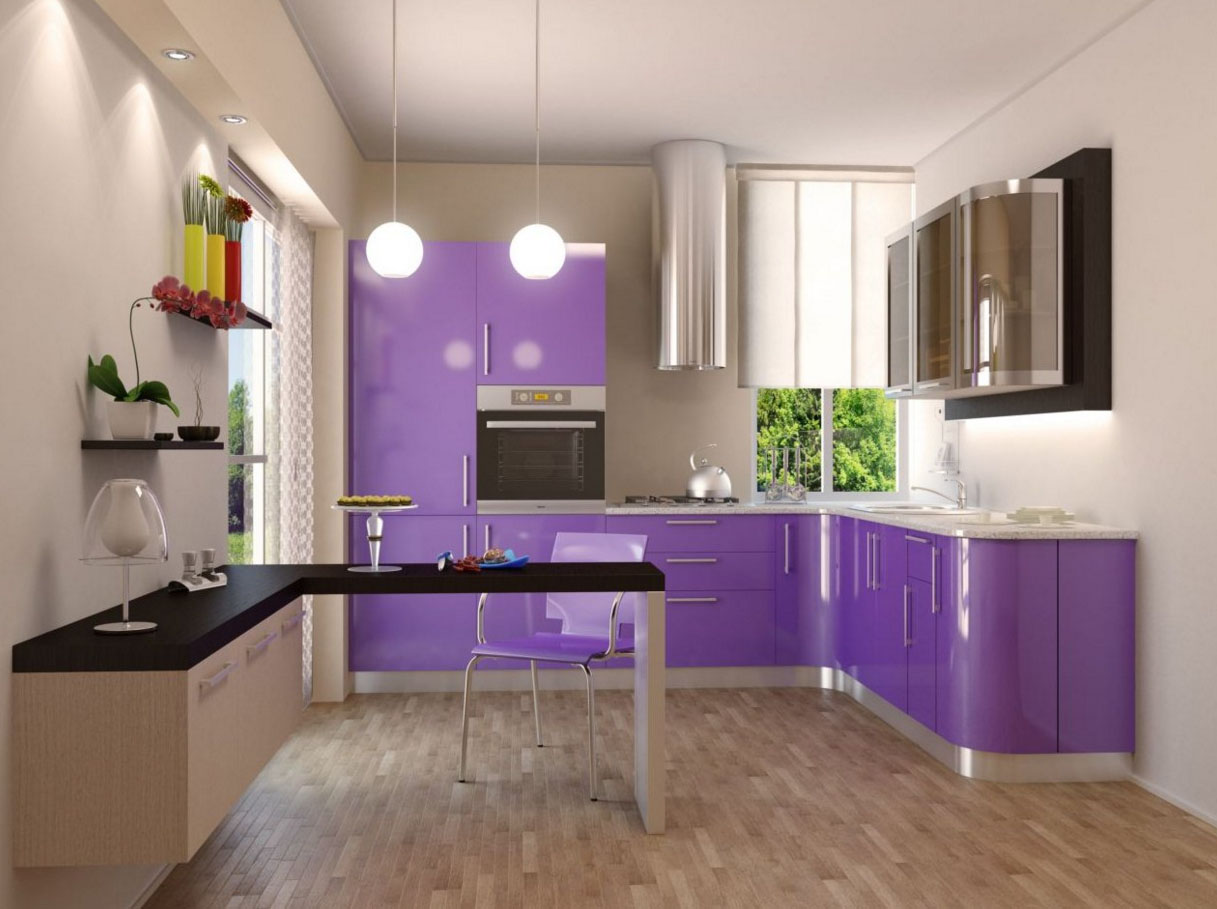 Basically, plastic facades for kitchens have a bright glossy surface. Since not all such brilliance like, manufacturers produce matte plastic. Thus it becomes due to changes in the upper decorative and protective layer in the manufacture of HPL. Matt kitchen with plastic surfaces retain all the advantages of such a coating, and acquire another - by their fingerprints and stains after wiping cloth less visible.
Processing facade ends
One of the most important kitchen plastic facade elements is edging. on, how well protected the end surfaces of the front plate, It depends on its durability. Top and side facade of the kitchen at the end of the desktop or from the bottom and side wall units are most susceptible to scuffing and damage.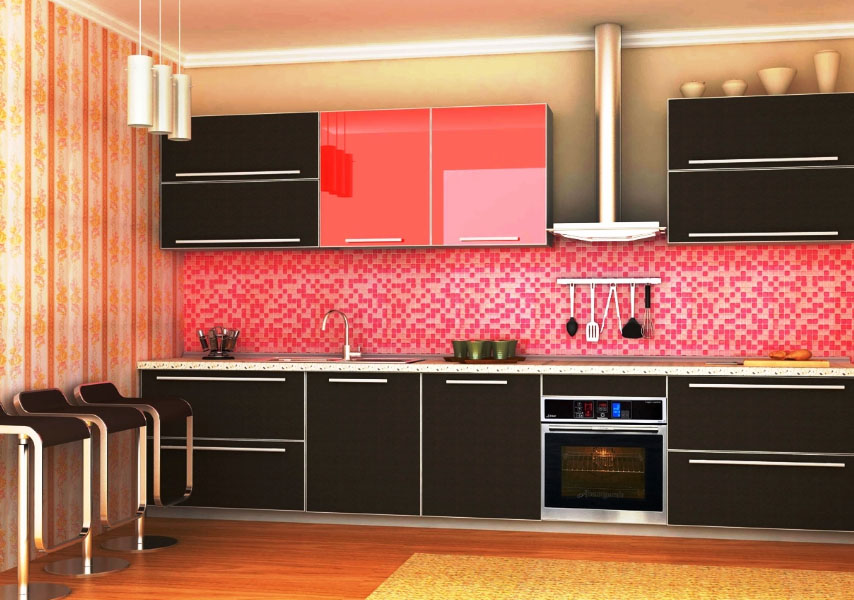 Through possible hairline cracks in chipboard or MDF gets wet, and eventually she rassyhaetsya and stratified. This door needs to be replaced, repair it is not subject to.
Most of all in this regard are in danger of plastic kitchen corner. Kitchen furniture there is located on both sides of the sink and requires particularly careful protection.
Furniture of plastic from the manufacturer in this sense, is protected by the best. All work related to its manufacturing by professional artists. The final products are subject to quality control.
However, with the purchase of such furniture is best to check the quality of border.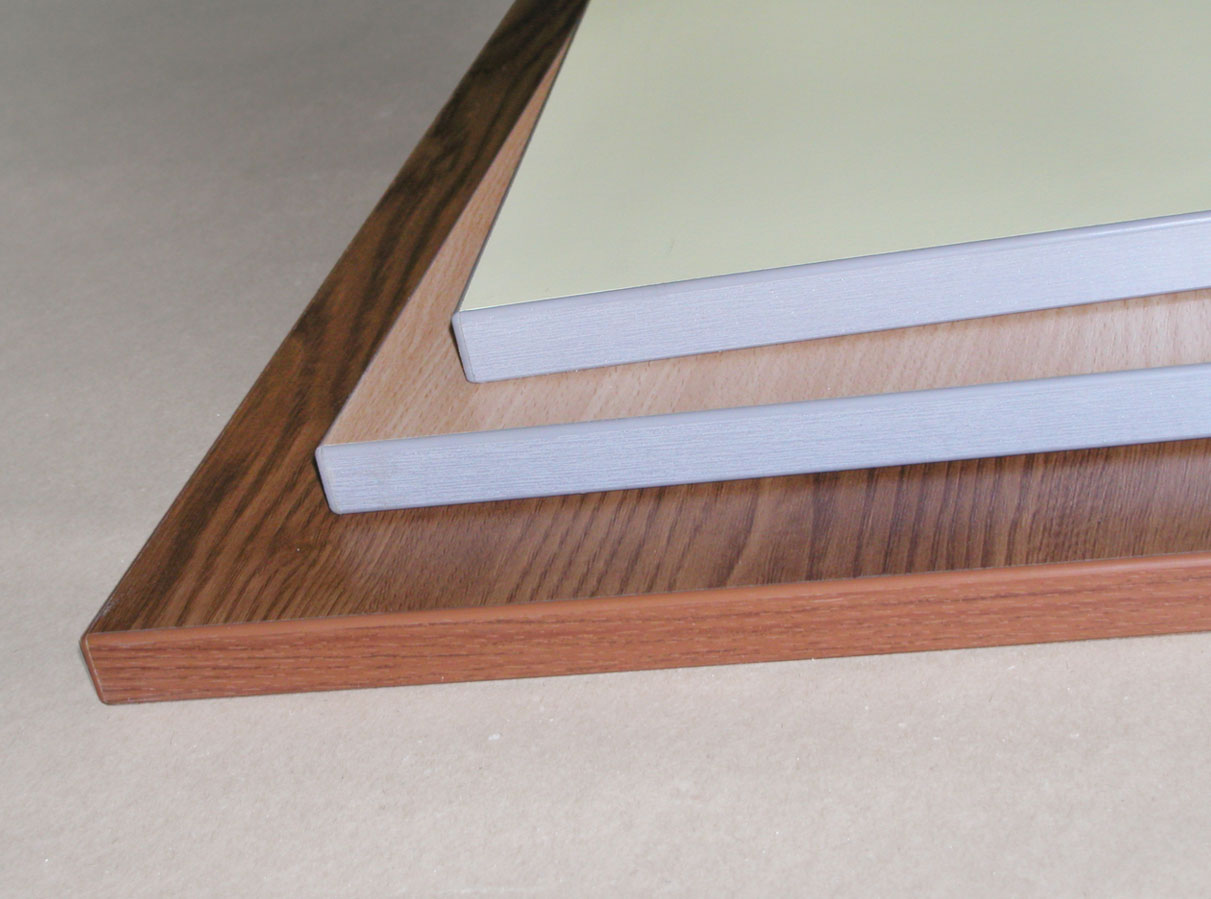 Considered the most reliable kitchen plastic in aluminum frame. Aluminum profile It gives the original look of the kitchen, it has high strength and protects the ends against moisture.
Edge treated acrylic also popular. This durable material, reliably protects the ends of the panels of chipboard and MDF. Especially good it looks transparent acrylic bezel.
The cheapest way to protect the end surfaces of the facades - PVC sticker tape. PVC tape has a decorative outer surface, usually under a tree. It is well pasted as border and at the same time easily bent. but. In this border there is a serious drawback - it is fragile and easily torn off.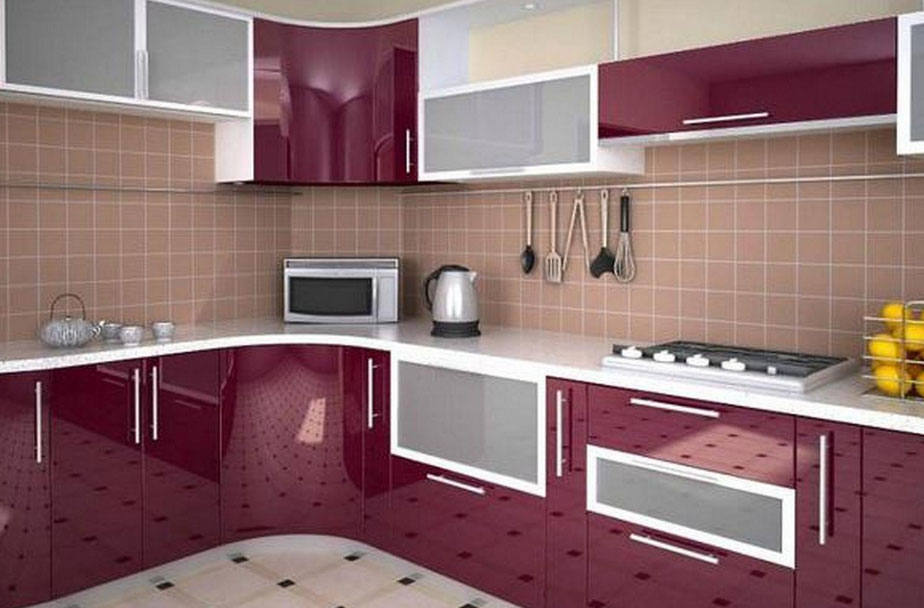 front plastic
Plastic facades for kitchens from the manufacturer in Russia is mainly made of plastic HPL Italian origin. This brand APRA and Abet.
Samples of plastic for food of these brands are more than a thousand variants of different colors and shades. For the literate select the desired color gamut special directories created, including computer programs using 3D technology.
Using these programs, you can create a design glossy kitchen facade with different artistic inserts. The result is the original kitchen of plastic, meet the needs of the most demanding customers.
With the introduction in the production of acrylic coating for facades buyers became a question - better acrylic or plastic for kitchen. In fact acrylic - it is also plastic, only produced by other technologies.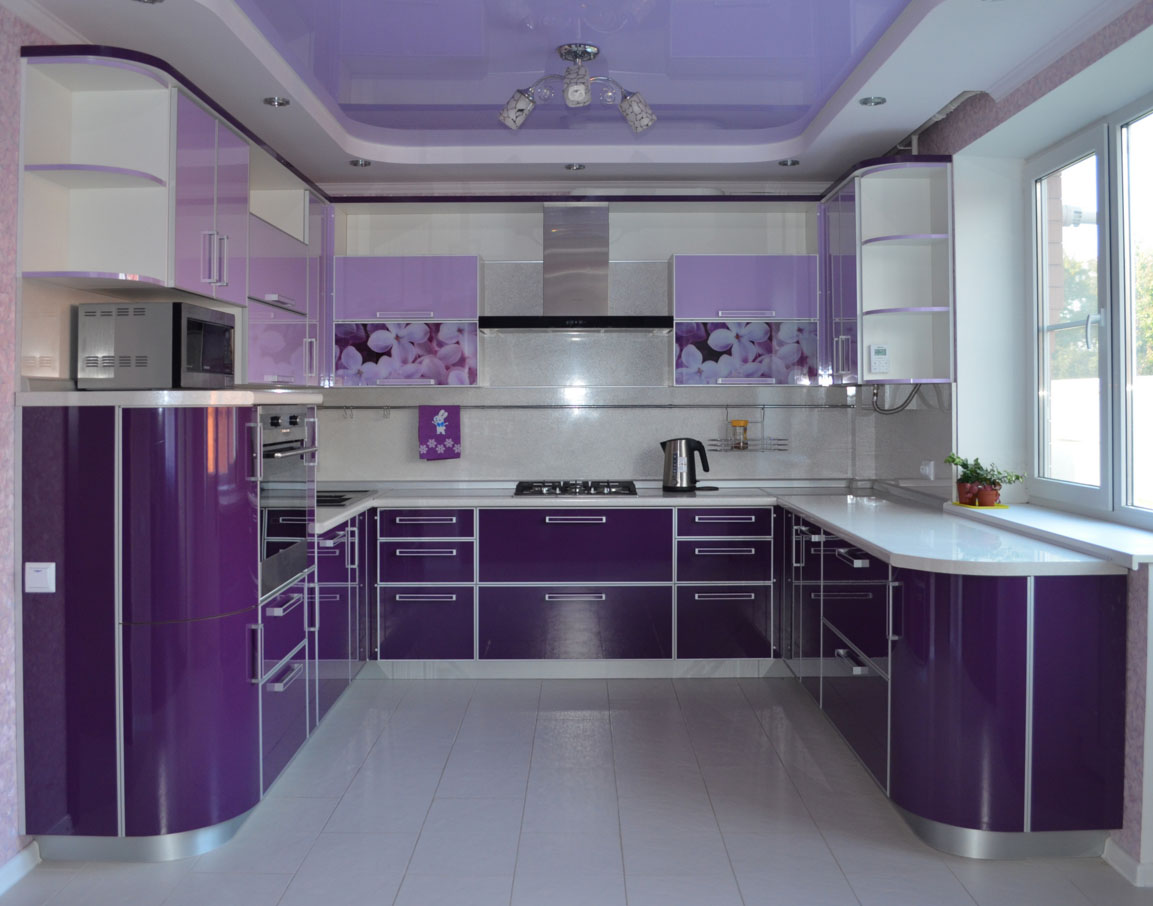 Acrylic kitchen fronts produced using acrylic plastic and German production Resopal Duropal. Acrylic plastic has a greater strength compared to HPL. But this kind of coverage much more expensive plastic to paper-based laminated resin.
It should be borne in mind, that plastic facades can not only be glossy or matte, but with different artistic and decorative inserts. it, so-called, laminated plastic.
In the process of producing the colored HPL basis stacked transparent sheet with a pattern, and the protective layer has applied to it. In the same way done photo on plastic.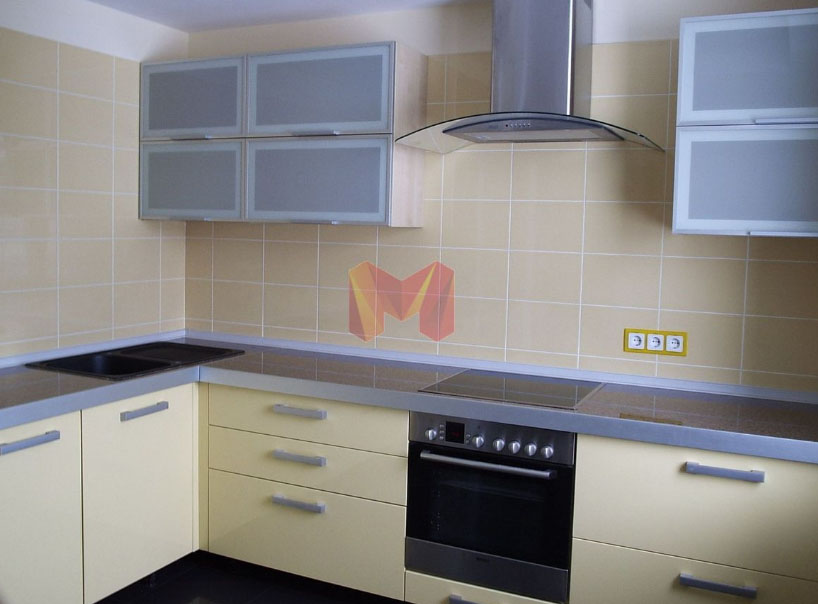 Pros and cons of the material
The main advantages of the facade of plastic for food are:
absolute resistance to moisture, this is one of the main requirements, that apply to the kitchen furniture;
It is chemically neutral material, so it does not enter into any reaction with the different products, liquids, spices and household cleaning products;
HPL possesses high thermostability, thanks to its surface can be placed next to the stove and heaters, falling on it burning ashes from cigarettes causes no damage;
plastic front is not sensitive to ultraviolet, the original color remains unchanged during the entire period of operation of furniture;
it is absolutely harmless to the environment and human;
plastic surface has a high abrasion resistance and resists any attempt to mechanical damage.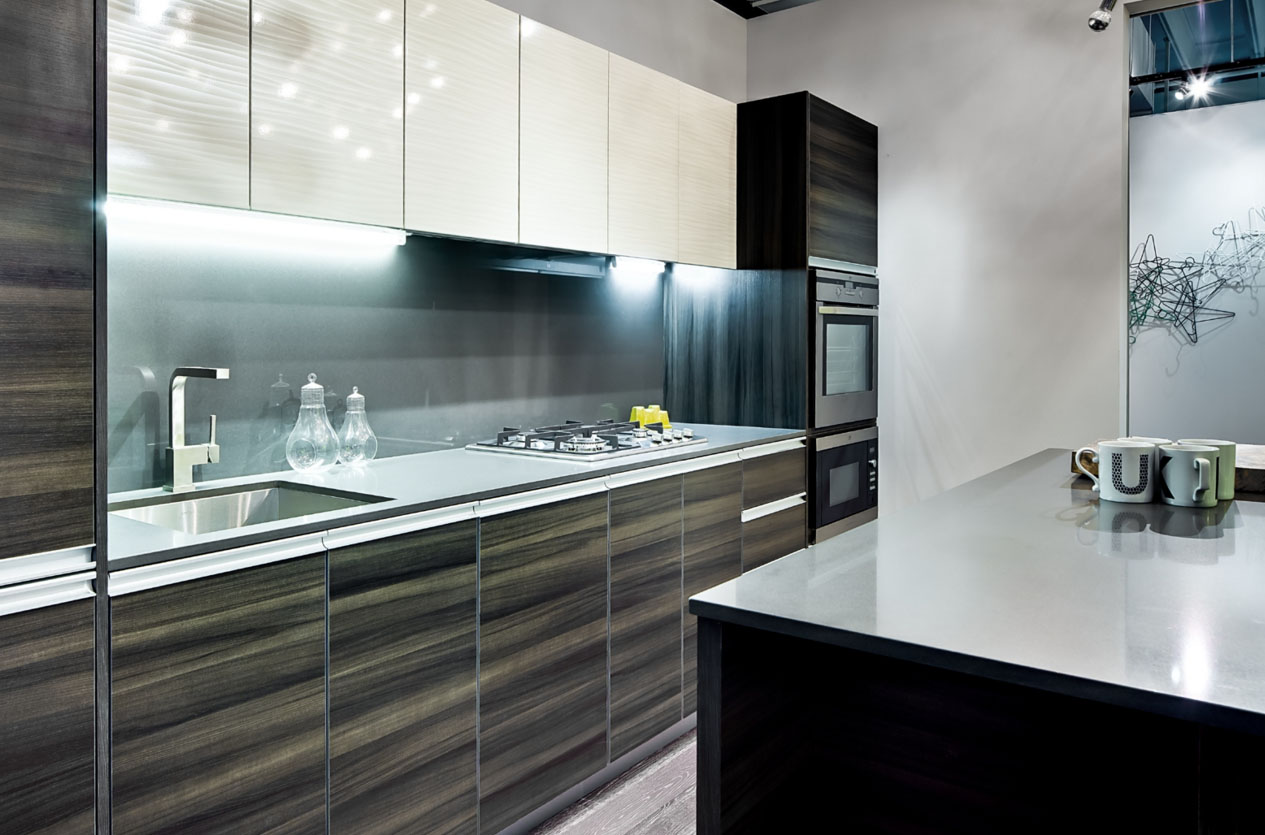 Only one can be attributed to the disadvantages of plastic facade - high gloss due to the glossy surface, resulting in the body the marks of the fingers are clearly visible on the surface.
But with proper care for plastic facade it will always look like new. And take care of him does not represent complexity, it is easily wiped and cleaned.
we do yourself
Large selection of quality semi-finished products for the manufacture of kitchen furniture allows you to make a plastic facade to the kitchen himself if necessary.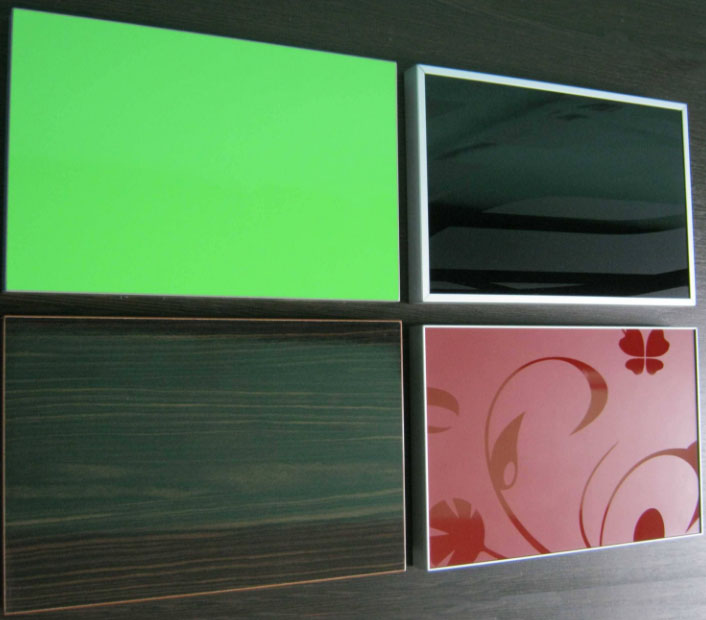 To get started, you need to prepare a blank facade MDF or DSP, Plastic on the facade surface, PVA glue or "Kleiberit", press (it can be done with clamps and a solid plate larger than the preform). For edging need aluminum profiles or PVC tape.
MDF blank is cut off at 20 mm greater than the required size.
Cut tile required rinse thoroughly, degrease and clean.
On the surface of the MDF thoroughly dried adhesive applied and laid plastic sheet, which is tightly rolled rubber roller, to remove excess adhesive and air bubbles.
Glued facade is placed under the press at the time required for complete solidification of the adhesive according to the instructions.
After that, as a plate with plastic is removed from under the press needs to be cut to size for opening the front door. It should be taken into account, that require installation on the edge of the bezel. For aluminum profile the actual size of the cut-off of the facade must be 3 mm less than the required size for the installation of the door.
Edge carefully milled and made the installation groove. In this groove are applied liquid nails and installed prepared aluminum profile. For full installation requires careful podstukivat mallet.
To the profile of good docked at the corners is required in these areas under its zapilivaem 45 degrees. After final assembly angles facades, edged aluminum profile, you need to carefully handle a file.