Painted MDF - expensive, but the original kitchen decoration
Decorative kitchen bar, made of painted MDF, It has long occupied a niche in the segment of kitchen furniture, due to their high quality and attractive appearance, over time, not changing. How can made of painted MDF kitchen and some nuances to consider when choosing ?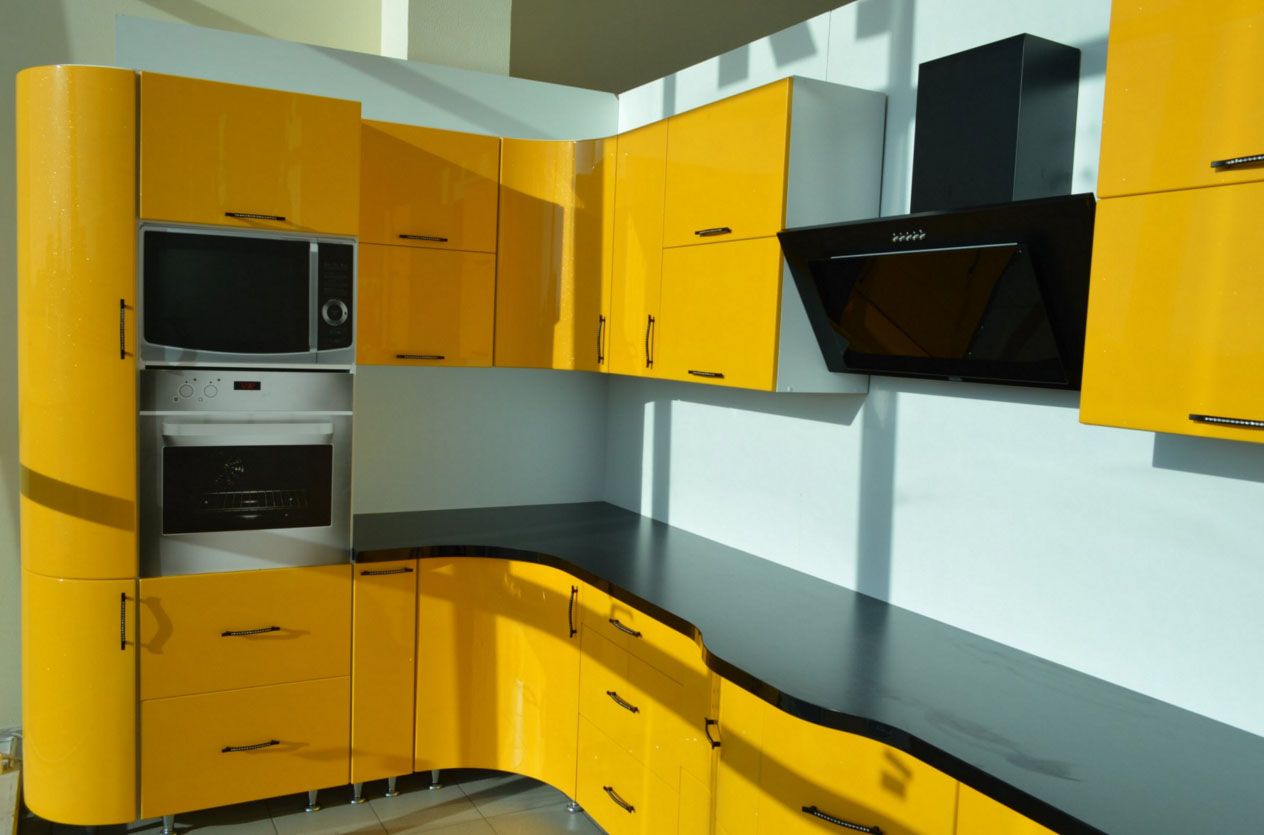 Features painted MDF
Painted MDF facades produce, using powder dyes, therefore it offers an extremely wide palette of colors of such products. The cost is determined by the selected one decoration.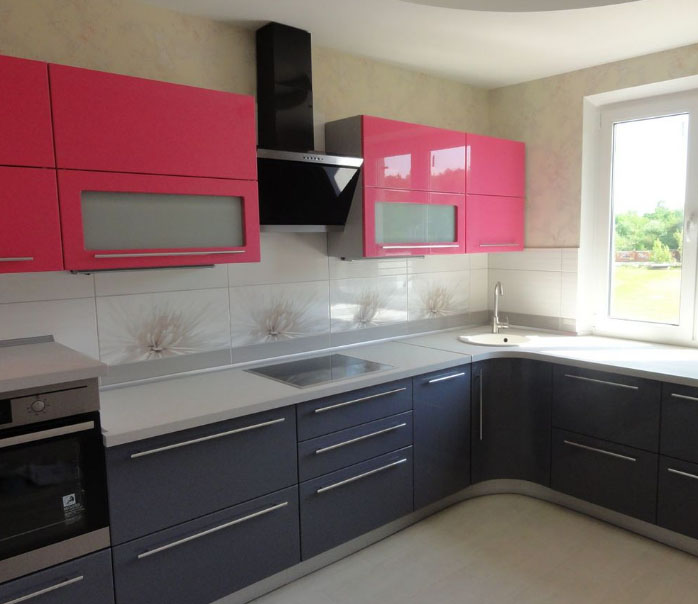 What is material
fine sawdust is used for the manufacture of MDF, fixed to each other by pressing with the use of lignin and paraffin under increased pressure and temperature. A feature of the lignin is to obtain the substance of the heating timber, so there is no doubt the sustainability of the finished product. MDF high popularity is explained not only by this criterion, but the simplicity of working with the material, which is characterized by moisture resistance and mechanical properties worthy.
Dyed MDF made on the following technology:
Pre MDF material ready for painting by cutting to desired sizes;
MDF paint can be ground after impregnation, which is applied by means of spray gun in order to equalize the surface, smoothing irregularities and scratches;
When the material is well dried primed, go to spray enamel layer. The procedure is repeated prescribed number of times;
The final stage of the process becomes varnishing surface, whereupon facades polished special machine for imparting surface gloss and smoothness.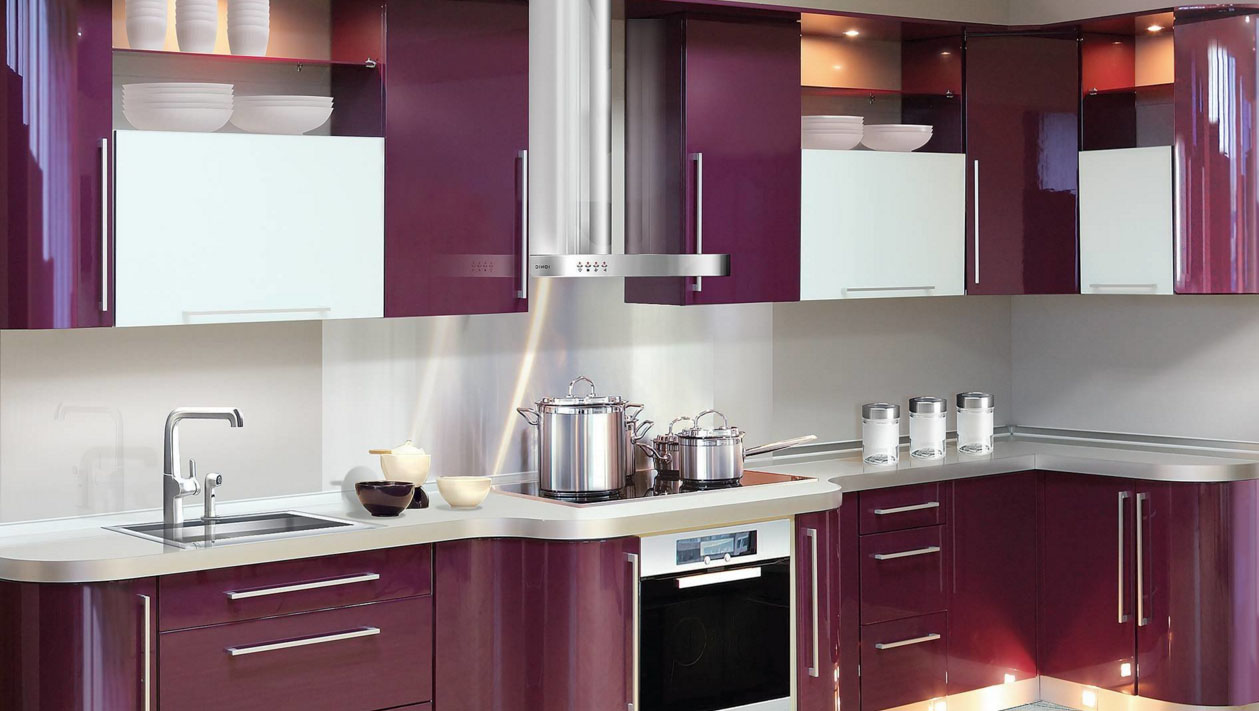 Thanks to the applied production technology can be issued not only direct, but also the angular kitchen from painted MDF, receiving stylish headsets.
Features MDF facades
Thus produced dyed dishes are not just a function of the furniture, but also a decorative element, decorating the kitchen interior. planning to finish, you can choose a suitable coating directory, yielding a smooth facade in a glossy or matt pattern or design with a special effect.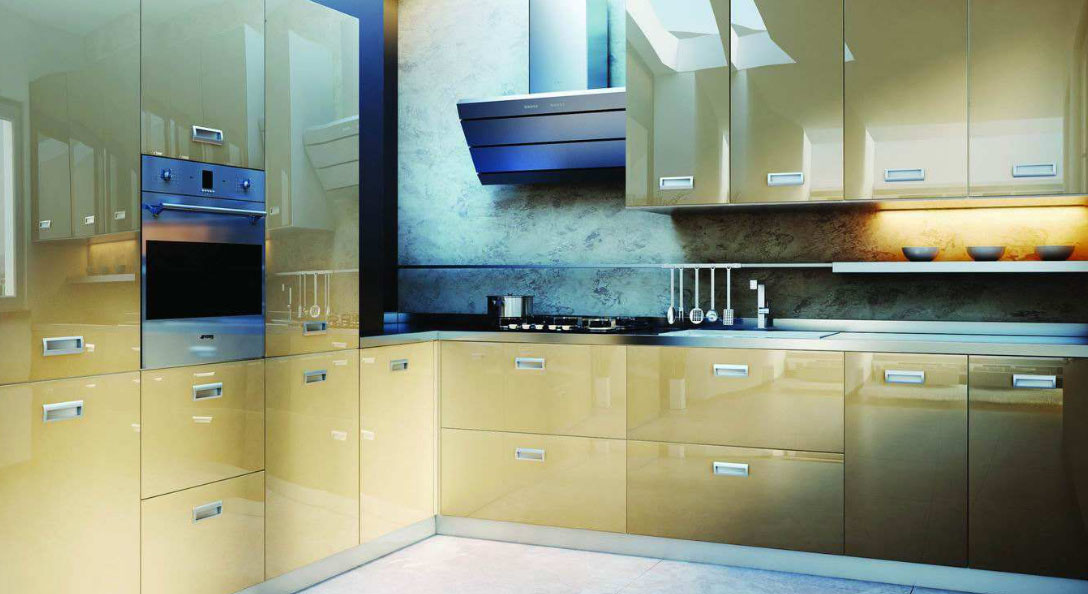 High surface quality, determining product life, possible to ascertain the absence of points, foreign inclusions, left traces grinder, polishing defects. It is unacceptable and the presence of an influx of paint, called "lip".
Selection of decorative and color schemes
purchase kitchen with MDF facades - it is an opportunity not only to choose the right shade of hundreds of possible options, but also a coating of special effect already mentioned in the following embodiments:
Chameleon. Elevations different variable depending on the angle of incidence and light shades.
Patina or crackle. Created surfaces with the effect of aging, relevant in a classical setting or style of Provence.
Mother of Pearl or Pearl. After staining of the coating composition additionally facades, providing color overflow or blurred flicker.
metallic. Enamel immediately mixed with special substances, which give a metallic sheen.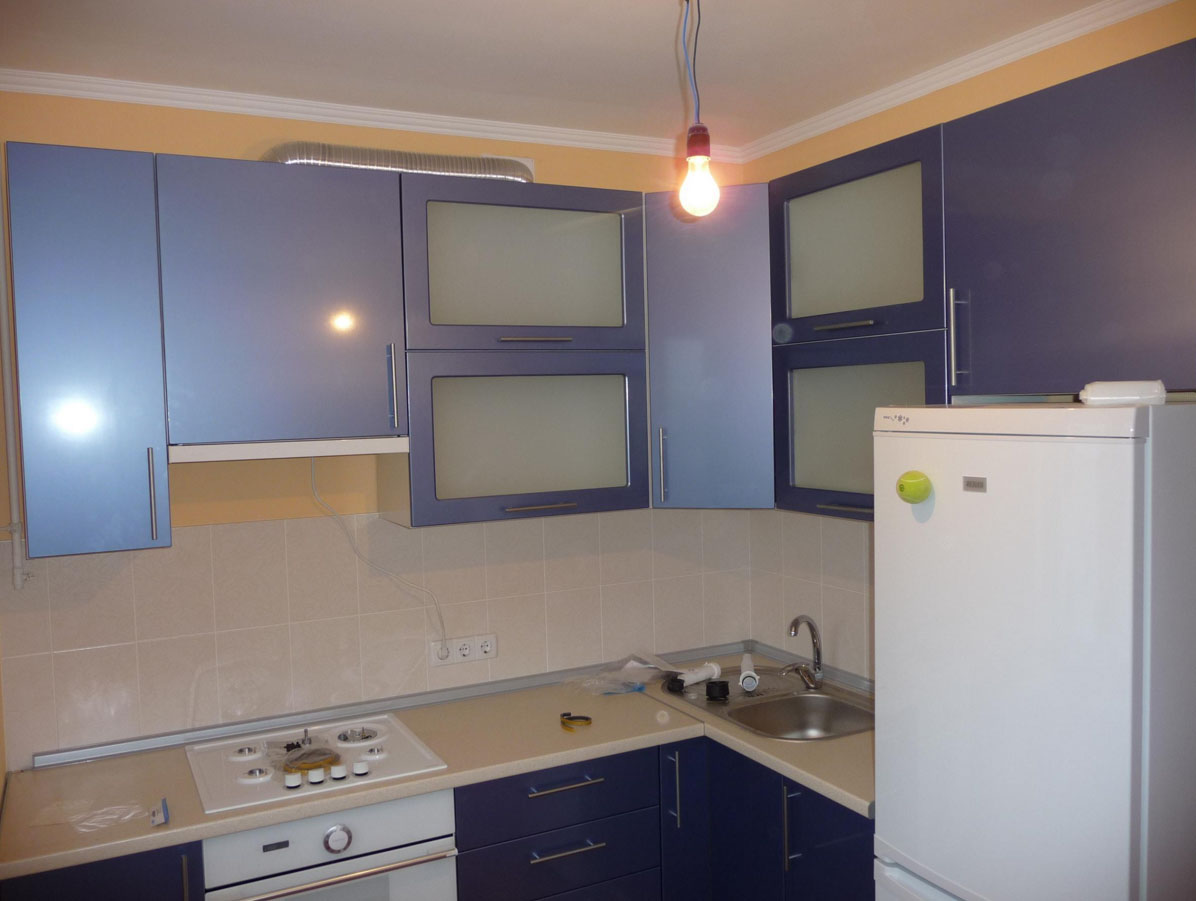 It can be used to design and facades with a pattern, which is applied on top of the enamel surface using a stencil manually. You can select color of the image individually (perhaps monotonous performance or effects). After application of the top few layers of lacquer is polished facade. The layout pattern may be customer.
Advantages of finishing dishes by MDF
Using colored MDF fronts for the finishing of the kitchen has the following positive aspects:
There are no restrictions on the shape and size Headset;
You can choose any shade, matte or glossy surface;
There is a unique opportunity to use special effects;
Caring for these surfaces just enough, It does not require special skills and tools;
Thanks to the technology used by staining the facade is protected from mold and mildew;
No deformation occurs mold surfaces under conditions of high humidity and high temperature, therefore, possible swelling, cracking and other defects;
Making facades takes no more than 3 weeks.
Still Another advantage becomes resistance to ultraviolet, thus made of MDF facade does not burn and retains the original shade, even if the kitchen window overlooking the sunny side.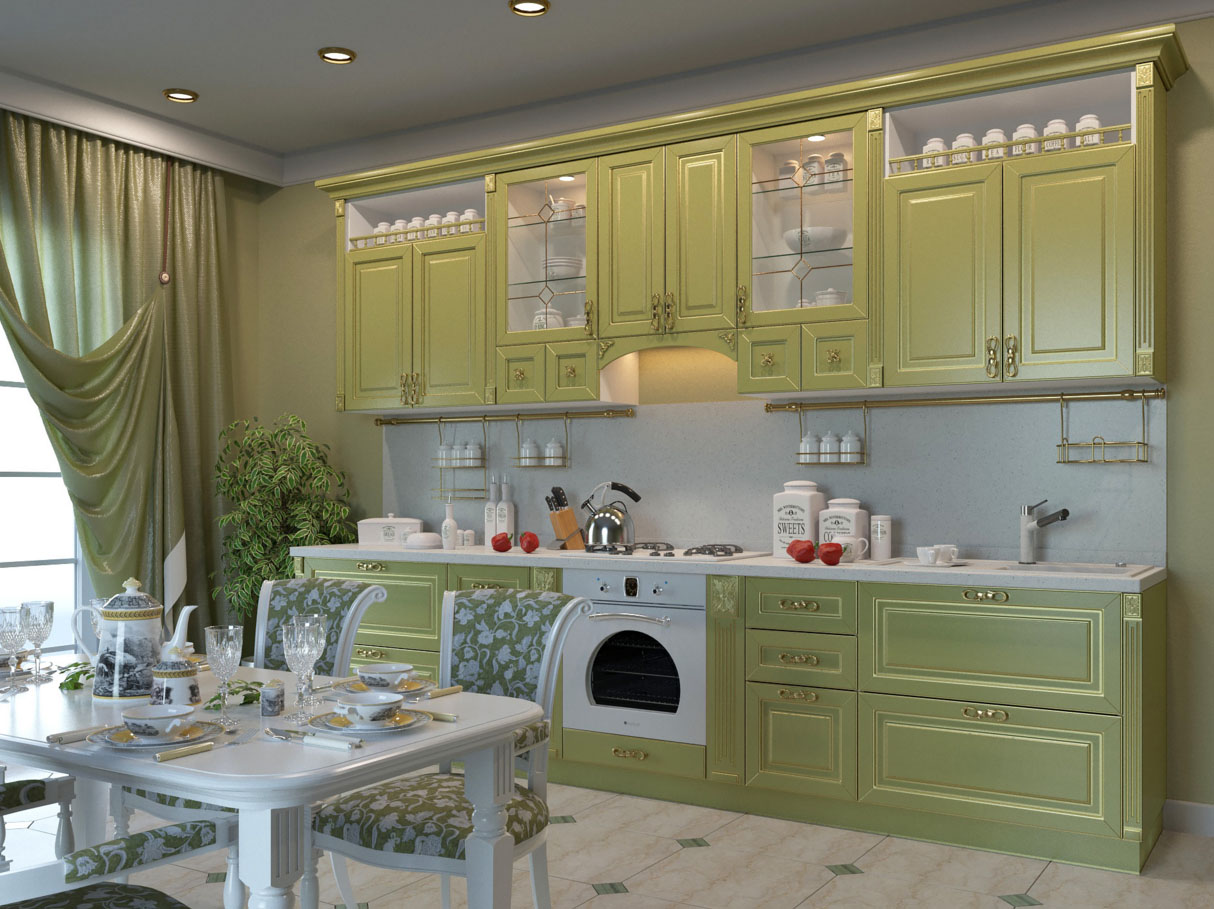 However, nevertheless desirable to have an open contact with UV-rays during the summer.
Additionally, it is worth noting the stability of colored surfaces coated with enamel and lacquer to continually present in the kitchen smells, that would overwhelm other finishing materials for sets. As a result, the atmosphere in the kitchen will always be fresh, adjusts to the use of food.
negative aspects
To be completely honest, It is labeled and disadvantages of such cooking surfaces (true, They lost against the background of advantages). It's about exposure to mechanical damage painted surfaces. Therefore, we recommend the most careful with furniture, excluding its scarring, fraught enamel spalling (generally, careful handling is required with any quality furniture). Correct this defect can not be, meaning, that the damage is eliminated only by replacing the door.
Another undeniable negative point is the high cost of the facades of painted MDF, due to the complexity of manufacture. But, if consider, with the result that is obtained exclusive (and if there are drawings of their own performance, and copyright) kitchen environment clearance, increased price does not seem so exorbitant.