How to paint facades for kitchens, to paint and do not throw ?
How kitchen update, if not enough finances to purchase a new headset? options: buy new facades, to order furniture restoration masters of the company, furniture or repaint in a different color with their hands. How to paint kitchen facades, to avoid bitter disappointment? What is the difficulty of self-recreating a beautiful coat: quality painting furniture with his own hands is feasible only after a thorough cleansing of the old long decorative layer. If the removal of paint residues produced casually, furniture surface becomes unsightly: on uneven surfaces appear accretions, stains, peeling paint and varnish.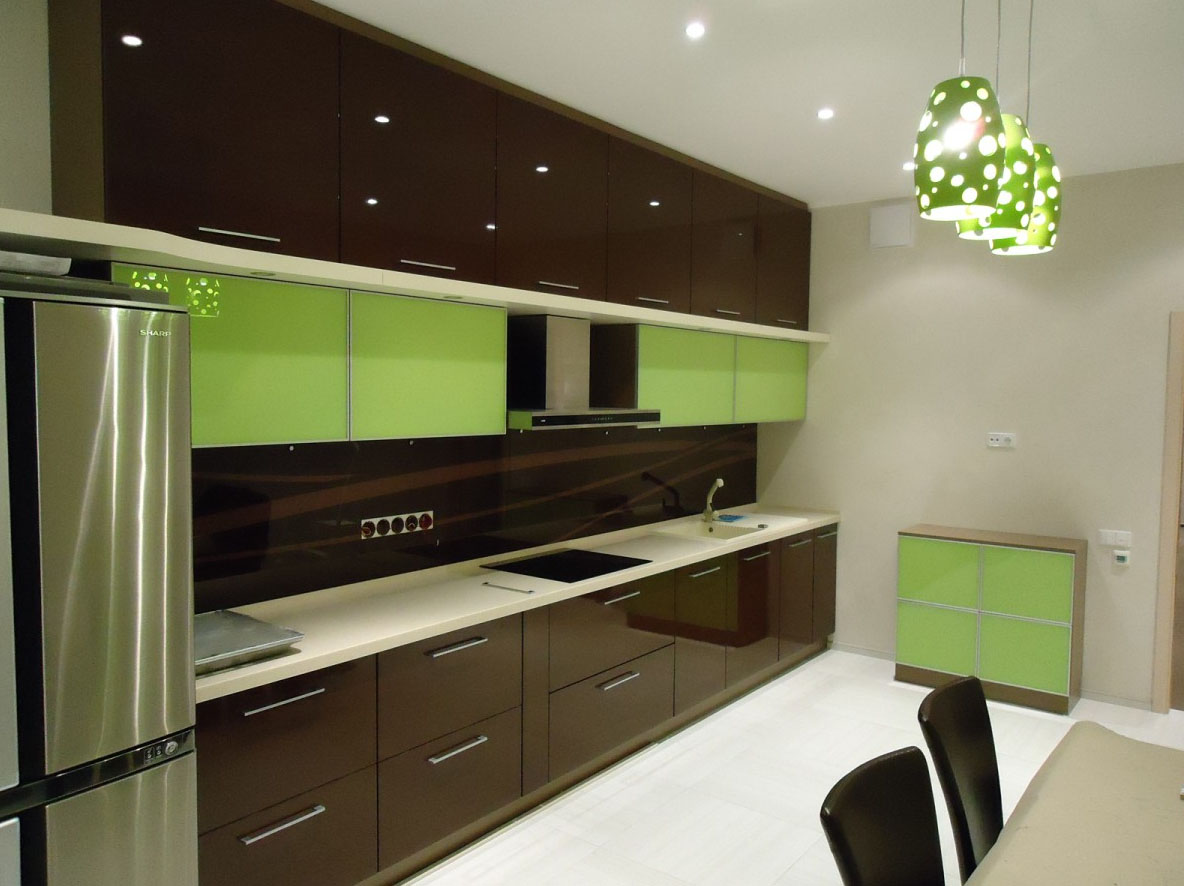 But to spoil the beauty of the facades of the kitchen can not only inadequate treatment. Another error - selection of decorative paints for individual items excluding the combination with the interior. Imagine, a sloppy appearance will, if repaint furniture French style Provence, giving lavender or milky-creamy languor and tenderness, bright orange, or poisonous scarlet shades. motley cabinets, antique painted vignettes, carved shelves, reshetochki literally hover over you stupefying weight. therefore, before starting work, it is important to figure out all the nuances: materials, which make up the kitchen, choice of paints and varnishes, Interior style definition.
Features kitchen fronts materials processing
Most of the furniture sets the budget options made of chipboard, Fibreboard, MDF. each cover, before, how to paint furniture, It needs a preparatory purification of different ways. Consider the most important of pretreatment methods.
Facades of MDF
The coating material cabinets and countertops made of MDF - a layer of polished veneer, film, plastic or enamel.
How to remove the veneer
According to the instructions to grease the surface with dense or liquid composition, dissolving wax.
After some time a spatula to smooth the softened layer of wet wood fiber direction.
The remainder of the cover to remove iron special wool, a machine for grinding.
To clean the surface at the beginning of coarse, followed by fine sandpaper.
Thoroughly clean the dust.
To remove the film will require building dryer, when exposed to hot coating depart. Then wash off the glue, degrease, clean, As previously written,.
Plastic surface can not be removed, paint and enamel furniture.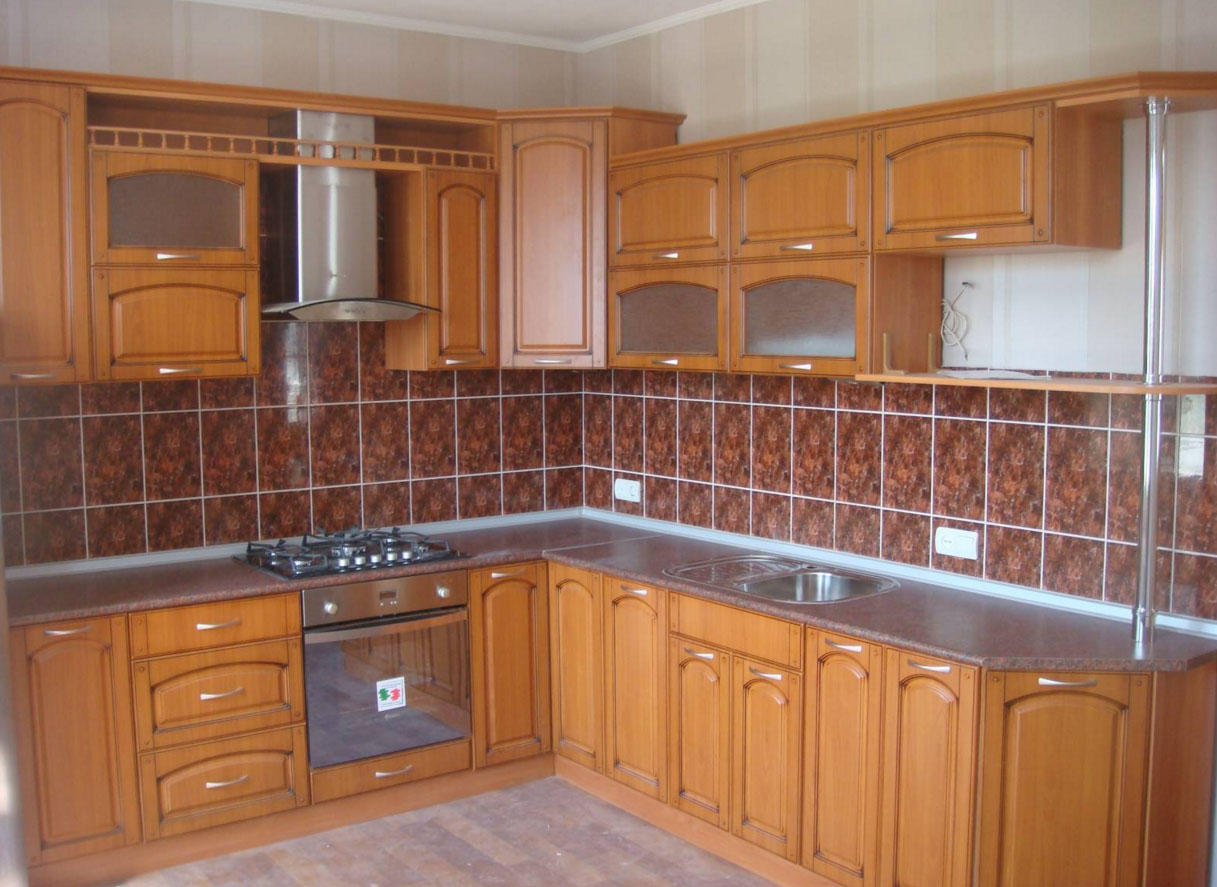 The facades of chipboard
Particle boards have less solid structure, than MDF, so the processing of the coating applied to wood sparing drugs, fan, or emery abrasive paper. Should be carried out degreasing (White Spirit, acetone). If the surface layer is not removed, the area of ​​the facade is aligned just fine sandpaper, then cleaned from dust layer damp cloth.
training methods: primer and filler
Required condition, allowing beautifully paint the MDF and particleboard products - Apply primer layers to improve adhesion of compositions, then putty, to create a level, without cracks and scratches the surface, again primed.
Shades gruntovalnogo and putty material begging for paint color, avoid glimpses of the lower layers and change colors.
The coating process:
a primer layer for wooden surfaces, to see the scratches and pits,
acrylic plaster,
primer 2 layer.
After drying, the composition can proceed to the main operation: paint kitchen facades.
Of great importance is the right choice of paint composition and quality tools.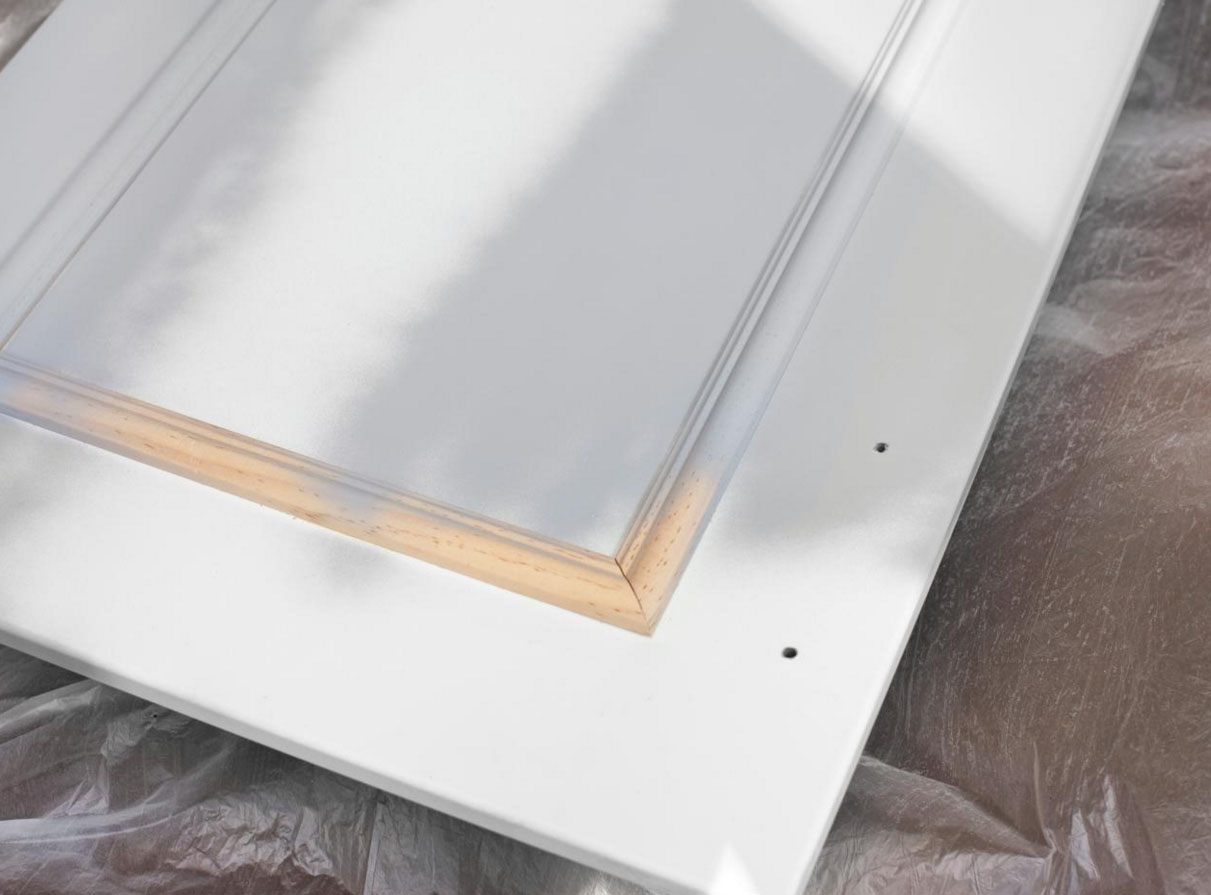 Methods for staining the surfaces of facades: coloring composition and not only
How to choose paint, to the appearance of products was immaculate flat and smooth?
How is painting furniture facades?
Paint brushes chipboard, air-brush can be oil-based paints, Acrylic with water base, alkyd enamels, linseed oil, stain, in furniture polishes. The advantages of aqueous formulations - possibility of adjusting, until they dried up: change tint, or dilute the bright color to subtle shades. But more beautiful surface obtained by using a special spray enamel composition.
Painting MDF facades a plastic made using colored enamels for car aerosols. Wherein painted MDF facades for the kitchen different water resistance, resistance to aggressive detergent compositions and high temperature, strength. Automotive enamel coating ensures smooth, without sagging, stratification.
Instruments
Achieving the perfect kitchen surfaces with painted facades is impossible without well-chosen tools and aids.
In carrying out the work will need the following items.
Brush new broad and narrow, flat sample.
Roller Velor, or foam.
Scotch masking.
Capacity under the paint.
Rubber spatula.
gloves.
soft (napless) rags.
acrylic paint, oil, or alkyd enamel, varnish.
Enamel composition and an acrylic synthetic impart a brilliant sheen, oil-based paint and stain creates a matte surface. Transparent dyes emphasize the beauty of the natural wood structure.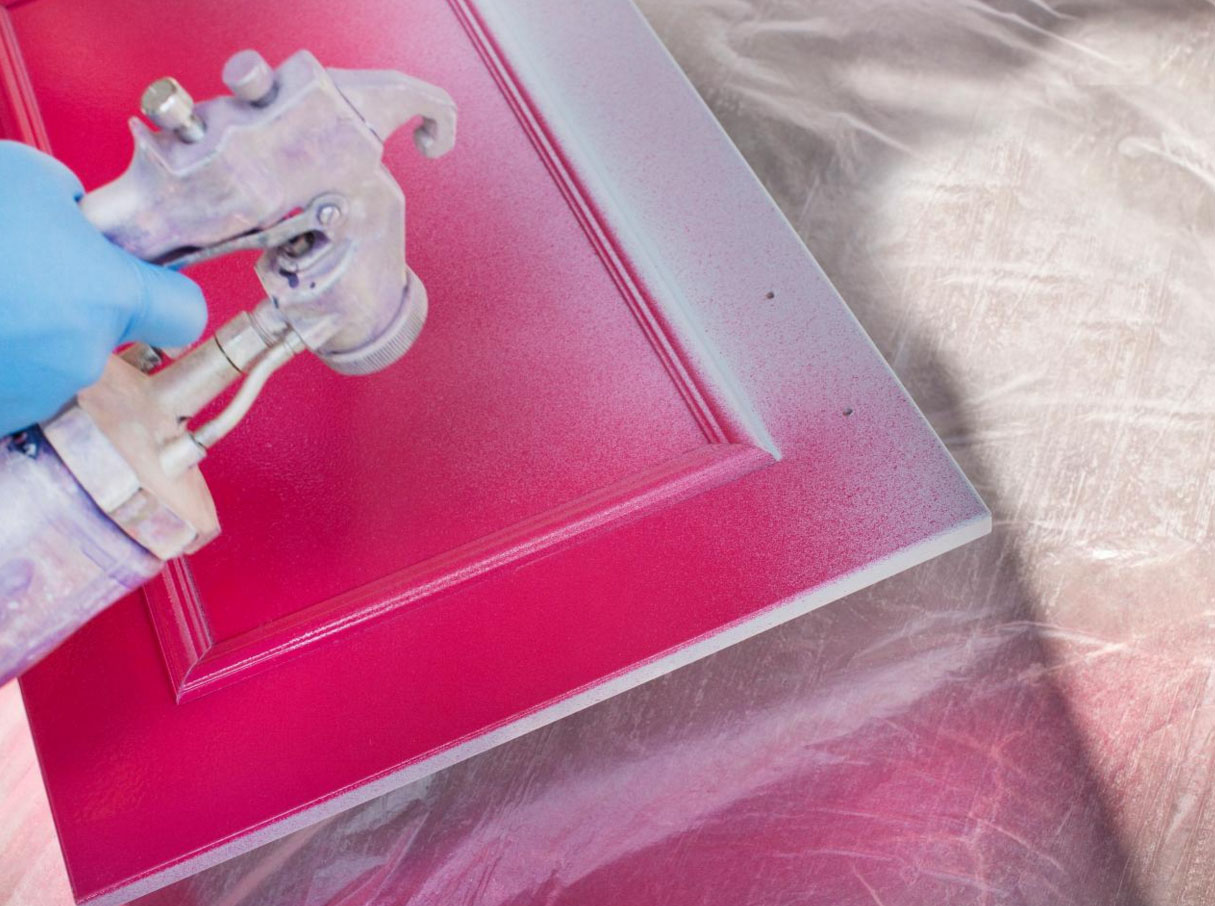 Technique continuous painting furniture
Repaint furniture made of particleboard with their hands can tassels, or roller. roller distribution saves paint and distributes it more evenly. Decorative patterns must be applied with a brush.
To paint the chipboard with his hands on the surface of produce movement in one direction. The final layer is put on all the length. Each layer is applied after drying of the first: Water composition - through 30 minutes, Acrylic - on instructions. If necessary, the color differentiation, or facade material is Scotch Masking. Front doors can not be opened before drying.
Painted MDF kitchen prepared by the following methods: dye selected according to the coating material: plastic, or wooden surface. For thickening the composition is diluted according to the instructions.
If paint roller MDF, or brush, then placed on a prepared area of ​​the initial layer, thoroughly dried.
Then, the following layers are applied one, or alternately, with two drying out, if the composition has a low coverage. Achieve brilliant specular gloss can be using alkyd, a transparent acrylic varnish.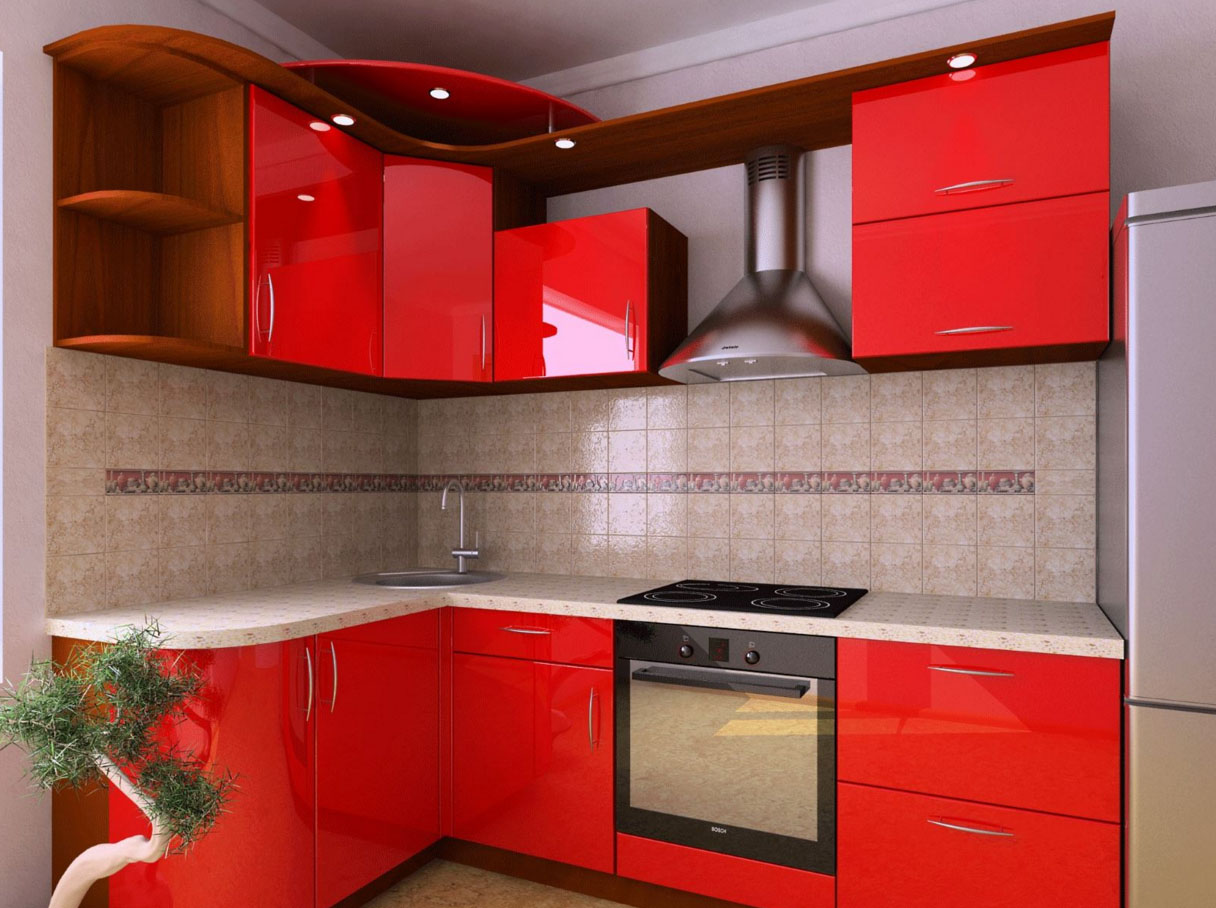 Decorative processing
Creating exquisite beautiful surface is achieved by using additional materials.
Lacy pattern obtained with use of the stencil - tulle lace.
Technique for creating embossed surface produced using glizali.
Two kitchens and multicolor painting with their hands facades performed delineation of the area masking tape products, or overlaying stencils.
Gold and silver patterns outputted fine brush and after application (dry) lakovogo layers.
3D art painting is done on sketches airbrush.
Marble surfaces are edible film overlaying, glizalit necessary with the release of the relief structure and drawing streaks.
Loach elegant embossed structure can draw a simple comb.
If you attach to the surface of the scrim, or grid, Enjoy a unique facades for the kitchen in a rustic style.
Using pupyrchatoy film creates stamping, imitating the skin Aligator.
Painted facades for the kitchen, you can highlight a thin brushes and paints for art Gzhel, in the style of Palekh, paintings depict flowers, seascapes, cute lion faces.
Painting facades for the kitchen with his hands - a process complicated, but interesting creative. The expenditure of time is compensated when contemplating open their mouths in astonishment neighbors and friends, coming to light. Besides, it's nice to drink tea in the room, where painted facades reminiscent of the splash of sea waves on the south coast, sultry tropical jungle, wonderful forest forest, if you paint the kitchen with his hands. imagination is boundless, everyone can choose the element close to the heart. Good luck to you in a pleasant creative endeavors decorations home furnishings with their hands!