The screen for the kitchen: Practical and beautiful— you left off ?
The screen in the kitchen - a first step for the protection of the walls near the stove and sink. These sites are easily contaminated, so close aprons or screens. They performed a variety of materials, desirable durable and reliable, but do not forget about decorative role. Screen, made of ornamental tile or glass photo wallpapers, It will be original complement of kitchen units.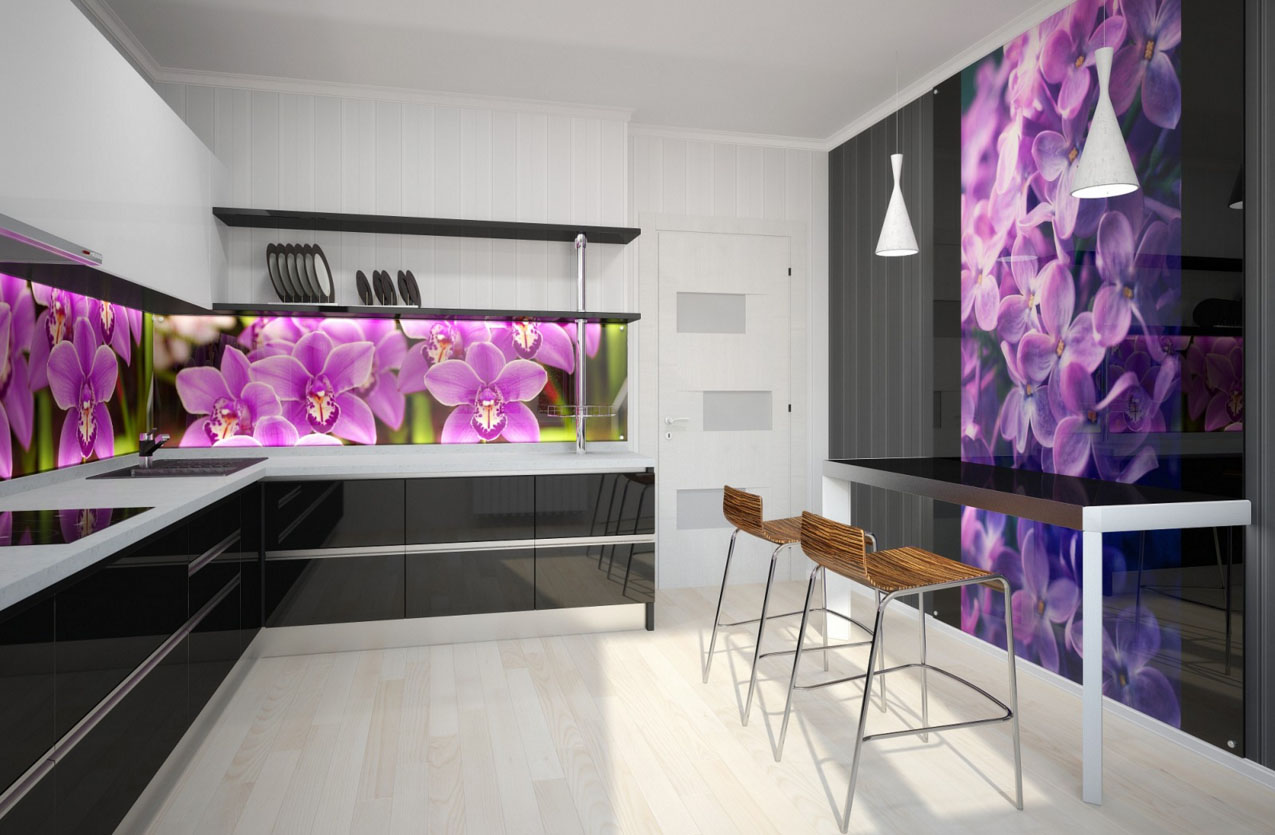 Materials for the screen: tiles and not only
Kitchen apron made of various materials. Consider the characteristics, advantages and disadvantages of common options.
For kitchen apron using ceramic and glass tiles. Ceramics - durable and popular option for kitchen screen. Tiles resistant to fat, temperature changes, mechanical damage, Besides, easy to clean and does not lose the initial appearance for decades. Ceramic apron not illuminated, so important for the owners of gas stoves, but you need to use a heat-resistant tile adhesive. As for the color, the options are many: monophonic, with an image, with elaborate ornaments, even an imitation of natural materials or animal skin.
dignity:
easy to clean;
on ceramics are hardly visible dirt and grease;
resistance to high temperature, water, fire and abrasive detergents;
use different styling options, combining tiles of different colors and shades;
life over 15 years old.
disadvantages:
sophisticated styling, therefore, it requires an experienced worker;
a long time of preparation and installation;
the high cost of the material;
dismantle the wall harder, what lay;
tile joints violate the integrity and hygiene.
Glass tile for the apron used, like ceramic, but the material has different characteristics and appearance. The store offers a glossy, matt, relief and transparent, by color - monochrome and colorful options, are combined with each other. Thus kitchen apron made out in an original and unique, but to perform complex, than gluing tempered glass.
dignity:
thermal stability (to 150);
long service life;
original appearance.
disadvantages;
tile joints violate the integrity and hygiene;
susceptible to damage upon impact and temperatures above 150.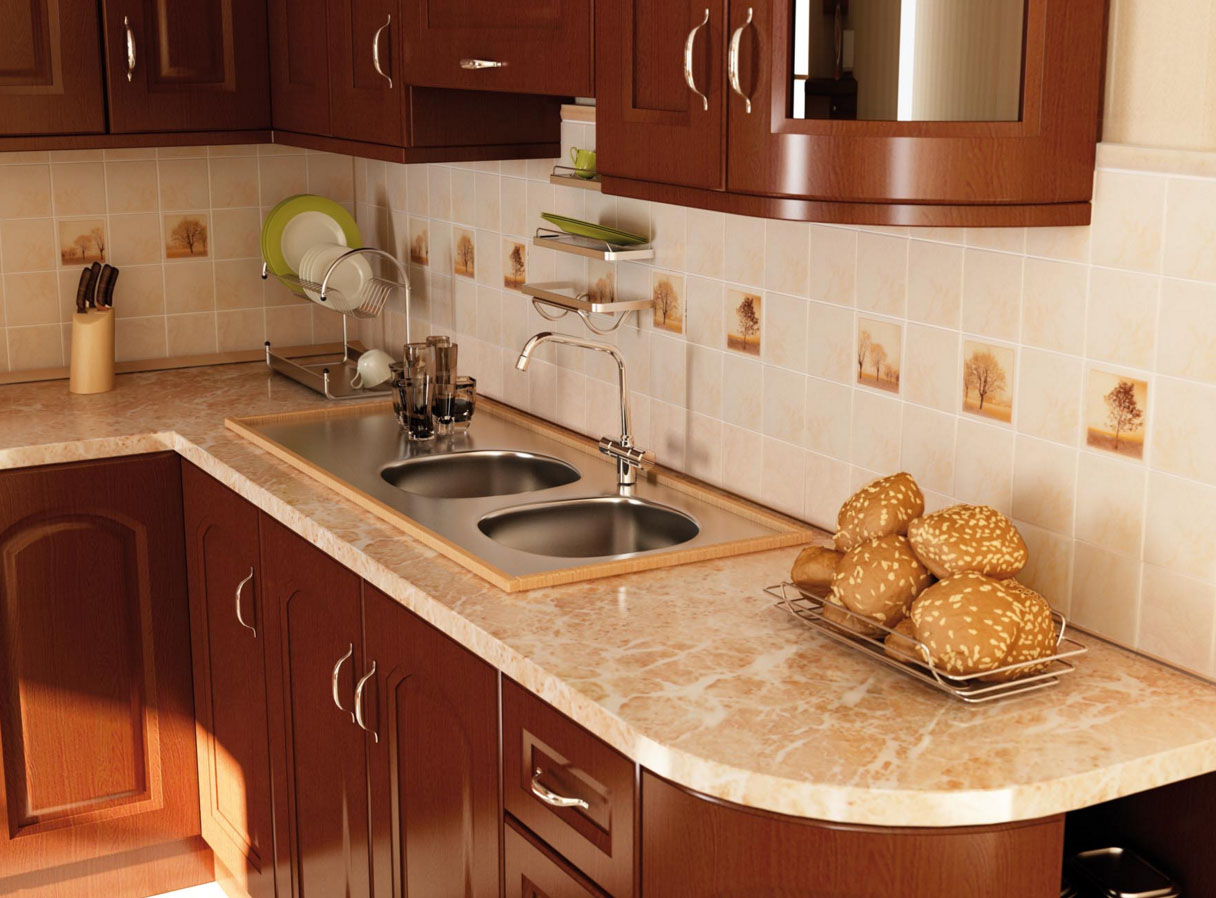 Glass
Screen for kitchen Glass practical in use and original look with any headset styles. It is made of different textures and colors, It is used as a protective coating for photowall, textured plaster or paper.
Tempered glass glued to the wall can be on the clamps and silicone gasket.
for the kitchen apron glass selected minimum thickness 6 mm, such as the thickness of the material adds a green tint. Keep this in mind when choosing a color or ornament.
dignity:
resistance to fluid;
long service life;
original appearance;
thermal stability (to 150).
disadvantages:
subject to damage upon impact and temperatures above 150.
expensive manufacturing;
It requires regular cleaning.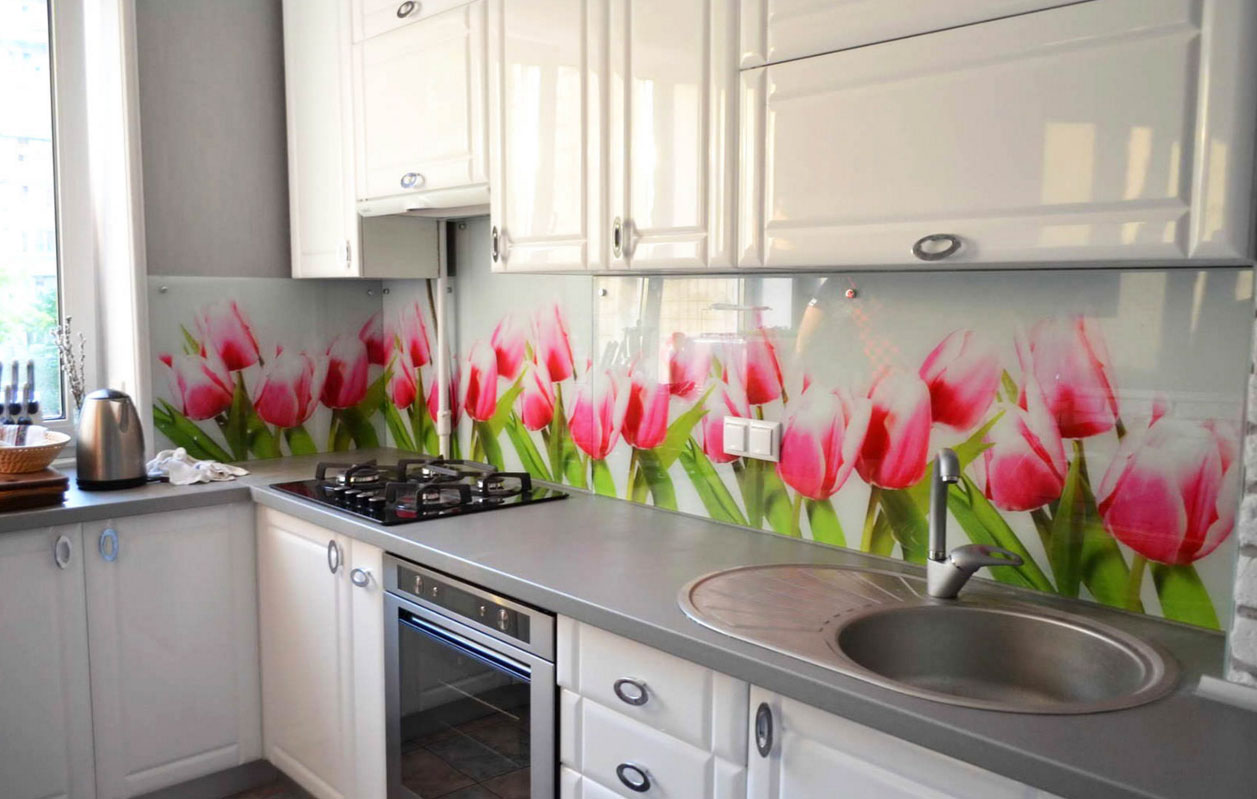 Mosaic
Smart option kitchen apron. Made of glass, ceramic or metallic elements. Despite the complexity and laying a large number of connecting joints, It is the best option for the walls with a rough texture. Mosaic screen in the kitchen instead of tiles will add originality.
dignity:
thermal stability;
original appearance;
resistance to fluid;
long service life;
disadvantages:
sophisticated styling, which requires professional order;
expensive;
a lot of tile joints;
It requires a special grout;
dismounted with difficulty.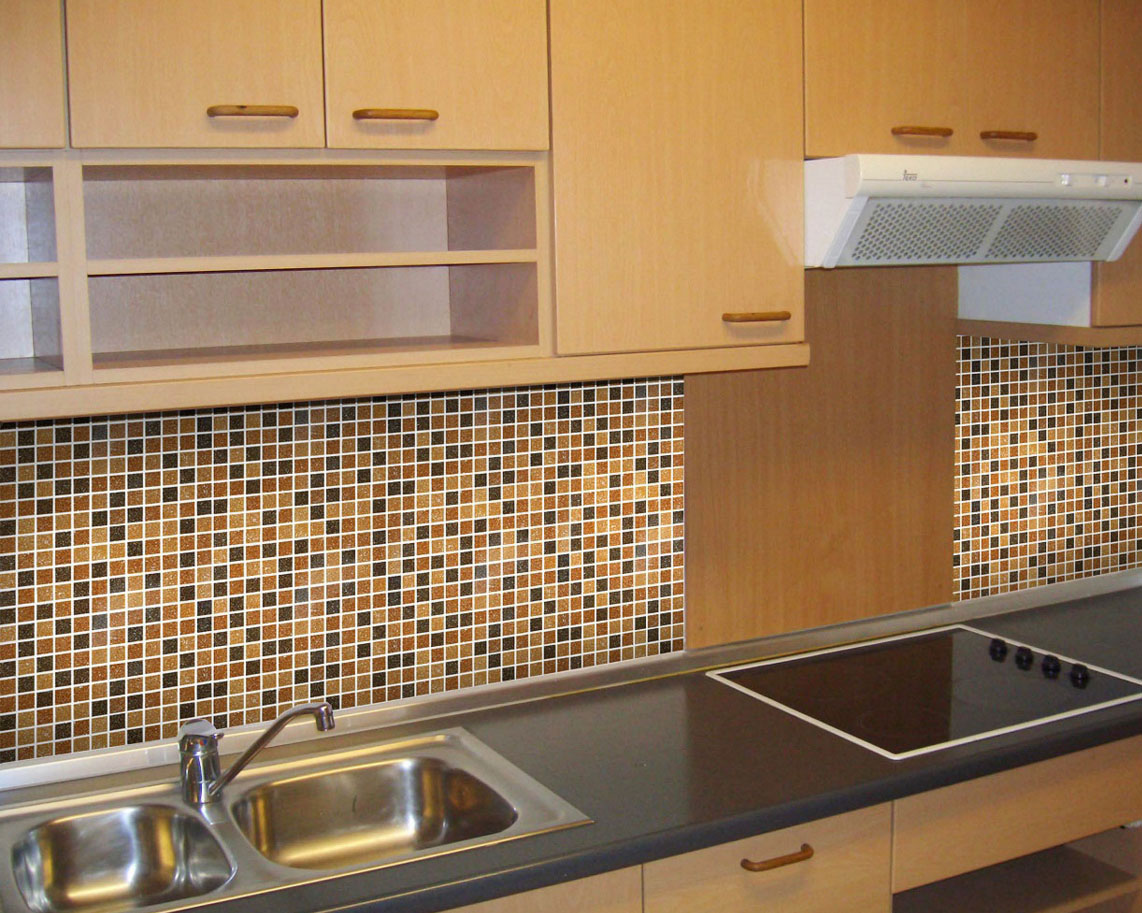 Natural or artificial stone
Natural stone for the apron is more commonly used in the kit with the same worktop. material way, but he looks excellent. To replace him, and let such an option - an artificial stone. Characteristics they differ. So, natural stone absorbs the liquid, and artificial scratches easily. But the damage to the screen surface are removed by grinding.
Established using tile adhesives or mechanically.
dignity:
the surface does not accumulate fungus and bacteria;
It does not require special cleaning agents;
resistance to temperature extremes;
shock resistance;
luxurious appearance.
disadvantages:
expensive (characteristic of natural stone);
heavy weight.
MDF panels
Tile and glass - reliable materials for screens, but MDF is not inferior in strength. Sold complete with top. Mounted on the apron liquid nails or staples.
dignity:
inexpensive;
easy installation;
resistance to water and mechanical damage.
disadvantages:
fire hazardous material;
easy to wear;
deforms.
Tree
Use natural wood Kitchen inappropriate, but performed on owners' demand. To install using patterned panels, which are made of hardwood. The performance characteristics of wood are not suitable for the kitchen, but the material is indispensable for maintaining the interior of the room.
dignity:
natural and environmentally friendly material;
suitable for decoration.
disadvantages:
unstable to moisture and temperature extremes;
difficult to care.
Plastic
The screen is made of plastic for food is done easily, at the same time it is cheap and in operation has shown its best side. From a decorative point of view,, not inferior ceramics and produced monotonous and drawings.
dignity:
inexpensive;
no experience is necessary for installation;
long service life;
disadvantages:
unstable to water and fire,;
sensitive to mechanical damage;
toxic.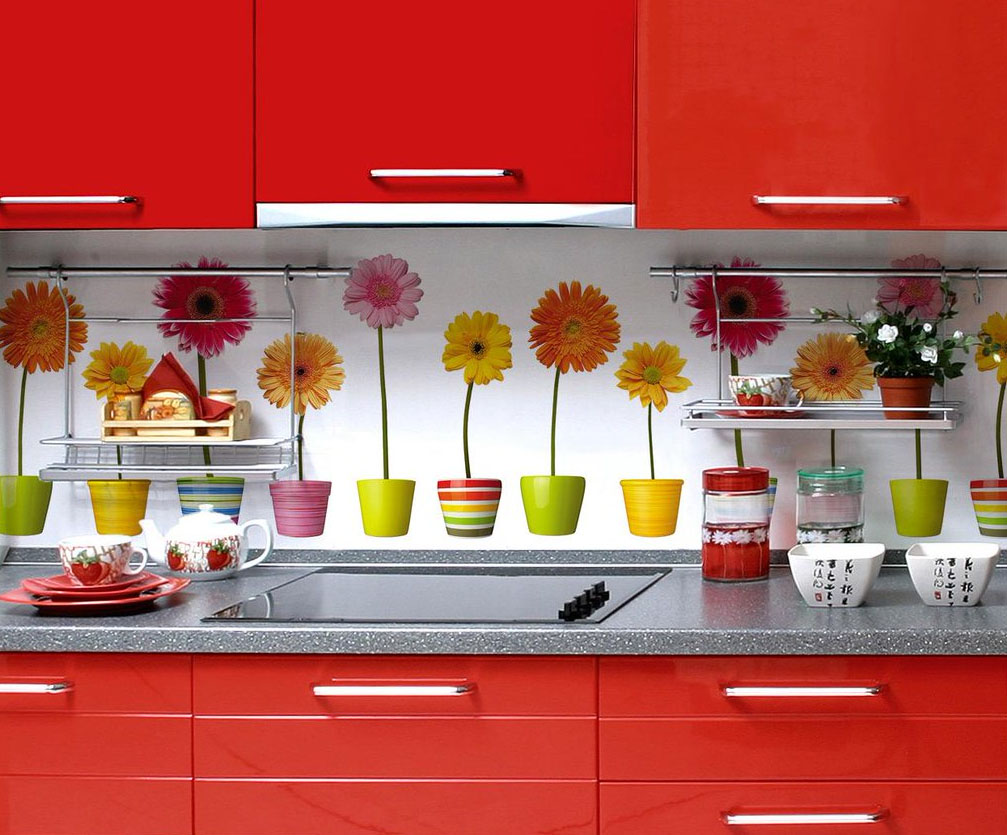 Metal
At the request of the owner, Kitchen protective screen is produced from a metal and. Stainless steel, aluminum sheets and tiles coated with a metal suitable for kitchens hi-tech. Provence Shabby-chic with a cool metallic background out of tune.
Mounted on the waterproof plywood sheets, and then to the wall with glue.
dignity:
resistance to damage;
is not afraid to temperature changes;
sanitary material;
non-flammable;
inexpensive;
stylish design course.
disadvantages:
visible spot on the surface, dirt and stains;
complex care and cleaning;
adds the room cool shade.
What material to choose
Which screen is better to choose, It depends on the preferences of the owner. Decide to start, apron should be strong, beautiful or just a little bit. If you love to cook and lots of time to devote to cooking, then the wall near the work surface reliably protecting materials, which is easily washed. The best option would be whole, smooth, without embossed surface roughness. Preferably without joints, at least, wide between the elements. In terms of durability and practicality suitable ceramic tile, but the seams between them accumulate dirt and difficult to be cleaned. If you glue the glass, such a screen less reliable, but uniquely beautiful.
If the hostess is not afraid of regular cleanups in the kitchen, aesthetic appearance and more preferably, then the material is selected only on the decorative level.
How to install a glass screen
To kitchen apron for years without losing appearance, you need to properly glue the glass and the screen in front of the order carefully to make measurements. Glass panels made by the given dimensions, therefore, after the delivery of home cut or saw off will not work.
Labor under the wall screen glue decorative wallpapers or a drawing on the back side of the glass. Besides, easy to glue the glass to the plastic, as a protective layer.
Keep in mind, that you need to glue the glass to a pre-leveled surface.
Otherwise, the screen will crack during installation.
Properly glued safety glass in two ways:
Fastening occurs on glass U-shaped and T-shaped profiles of aluminum. Such a method is used in practice, but unreliable.
When ordering a glass screen, client requests in advance to make holes in the corners for mounting to the wall. Front fastening occurs by means of plastic dowels and fasteners anchors with ample metal caps.