3 type facades for kitchens made of natural wood
Wooden facade for the kitchen units infrequent phenomenon today. Carved wooden furniture looks luxurious, but housewives scare high price and complexity uhode.Chego expect from the kitchen from wood? Let us examine, What are the advantages and disadvantages of such furniture, especially manufacturing and installation, maintenance and operation.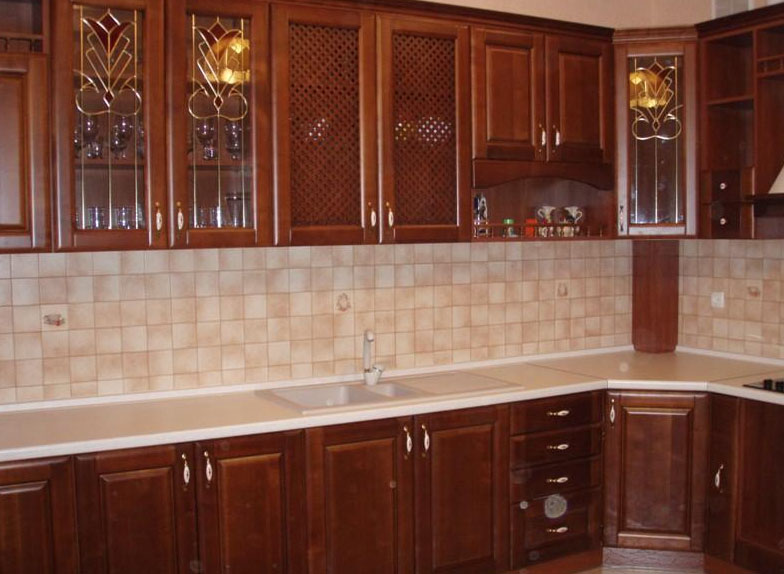 Facades from a natural tree
Kitchen made of natural wood found in stores are not so often, giving way to the MDF and particleboard. For good reason. The price of manufactured of solid or veneered façade above average. Headsets timber positioned as elite furniture for connoisseurs.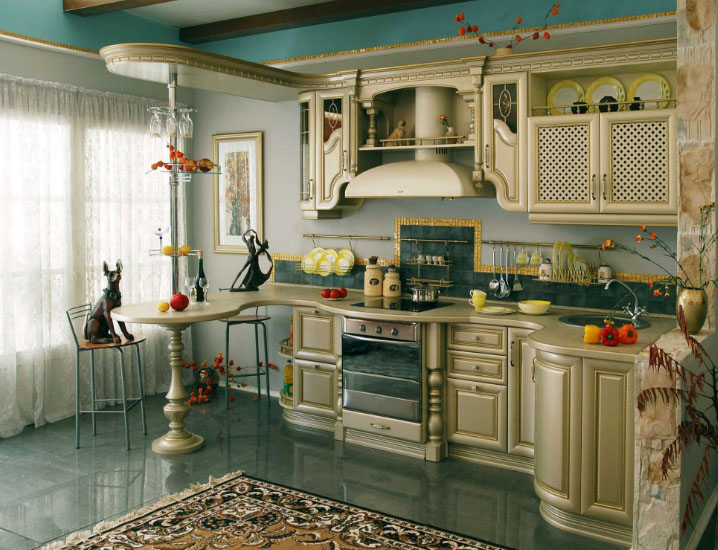 Performed wooden facades usually in a classic or traditional style and are not suitable for lovers of unusual shapes and colors, fans of high-tech and modern styles.
Styles wooden kitchens:
Classic dishes decorated with carved facades, glass door cabinets with ornaments and bars. Used accessories for copper, bronze.
The texture of the wood furniture in country style is hidden under a layer of opaque paint soothing shades.
Rustic wood is painted, furniture was aged artificially, patina and gilding.
Modern wooden facades for kitchens have strict form and covered with varnish. Their beauty in the natural texture of wood.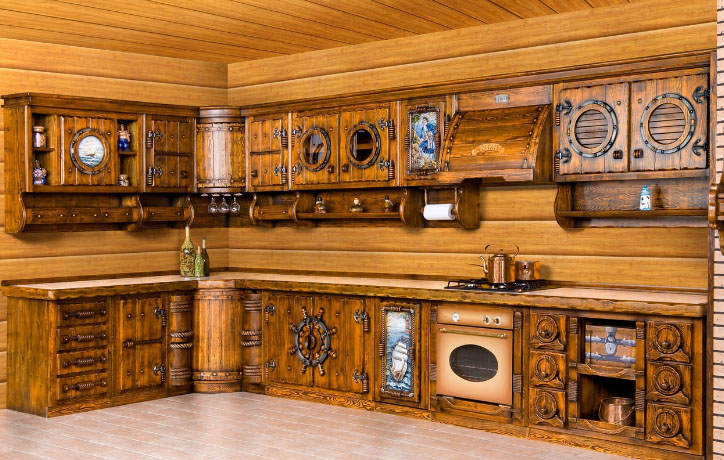 Types of facades made of wood
Behind "the facade of the tree" may be hiding a few types of furniture. You need a good understanding of, what should be the kitchen: veneer array, everywhere, or only on the facade.
Kitchen with veneered looks solid. Veneer - is a thin, millimeter thick, wooden plate. Kitchen veneer looks like a made from an array,but hidden under the lining cheaper MDF or chipboard.
The one-piece range - is the most expensive type of material, because it must be without flaws, knots, the desired width.
glued array (it is called a furniture) - a plate, consisting of bonded and spliced ​​between a wooden bars.
These materials can be combined. Often the headset body is made of chipboard, the rear wall of plywood or hardboard, and doors - from the array. A combination of the scope of the array and panels, finished with veneer. Entirely of solid produce only expensive luxury kitchen. Veneered kitchen looks authentic character set of precious wood.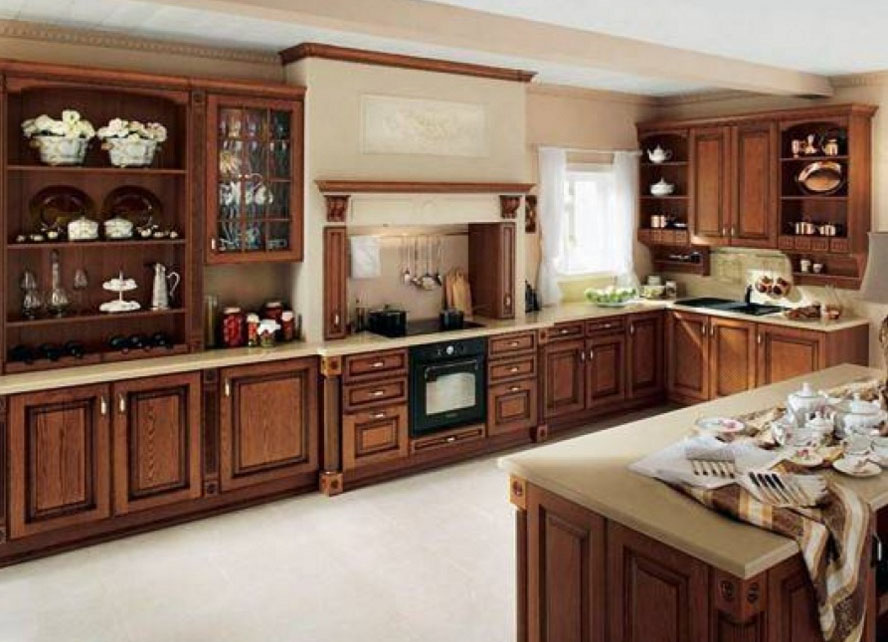 Wood for kitchen fronts: Pine, beech
wood Species, of construction for facades:
oak;
beech;
cherry;
pear;
nut;
ash;
Birch tree;
maple;
acacia;
olive;
teak;
wenge;
ebony, etc..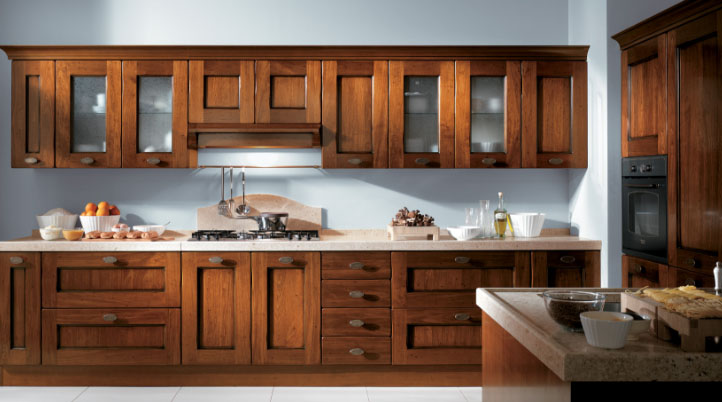 Resistant to high temperature and humidity hardwood suitable for the production of kitchen furniture.Facades of oak require special tools and skills, because the material has high strength. Pine and birch in the treatment easier and cheaper. The most expensive materials - mahogany and ebony, wenge, cedar.
Blanks for the manufacture of kitchen furniture you need to prepare and dry. After cutting, they are processed compositions by insects and rot. The varnish protects the elements from moisture. If you decide to make his own furniture, you'll have to think about the protection of the environment.
Advantages and disadvantages of wooden facades
Quality wooden facades for furniture will please the owner for decades. As any material, tree has its advantages and disadvantages, which should take into account the operation of.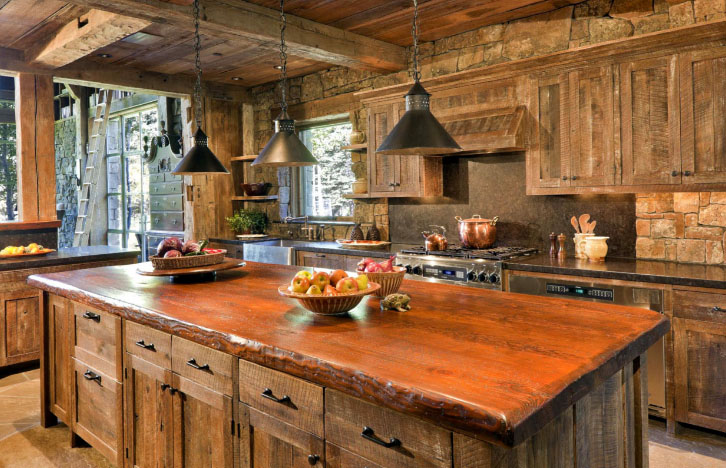 Benefits in the interior
Due to the numerous advantages of wood facades for the kitchen are highly valued. Among the advantages of natural wood:
Environmentally friendly. Natural material is safe for humans and the environment, it does not release harmful substances, which is especially important in the kitchen.
beauty. Even modest wooden kitchen looks noble. Due to the natural texture of wood and energy expressive even without additional ukrasheniy.Effektno it looks coarse furniture in country style. A particular array has a charm, stylized under olden time, impregnated with a coloring composition, patinated.
treatment compliance. On the surface, the tree can create a pattern of fine work, reminiscent of lace. Carved wooden elements can decorate any headsets.
Strength. material light, robust and reliable.
repairability. Small scratches will not spoil headsets, even give him a noble patina of antiquity. And after the major damage, chipping and scratching furniture can be restored.
Durability. Products from the array can serve for decades. With proper preparation it is resistant to mechanical stress, moisture and temperature extremes.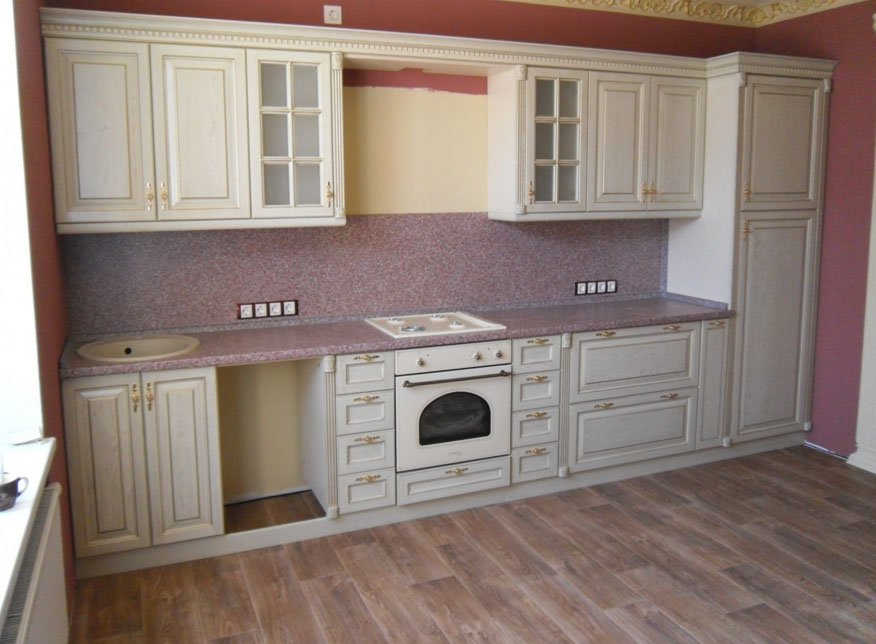 disadvantages
Facades from a natural tree for kitchens have some drawbacks.
Products made of natural wood is in the highest price category.
It is appreciated the natural look of wood, so the color gamut is limited.
For kitchens of the array requires special care.
Wood absorbs water and can accumulate zagryazneniya.Esli time does not wipe away the stain, it can leave the stain surface.
The material can be damaged by aggressive household cleaning products.
On softwood dent may remain after blows with a heavy object.
over time, the wood changes color. for example, almost white pine in a few years will become a rich brown, with ryzhinkoy. The sun lights up the tree.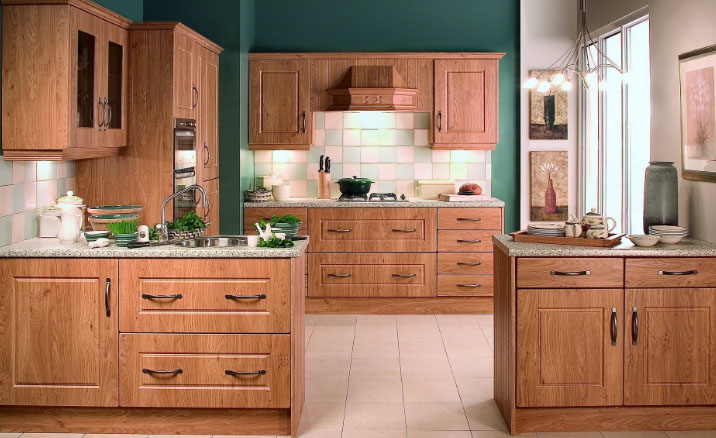 Care white suite of natural wood: than to clean out the fat, freshen up, clean
Buying furniture with wooden fronts, we must be prepared to care for them. Taking care of the furniture will retain its appearance for years to come.
Wipe clean and wash the furniture you need a soft cloth or sponge using special tools. No hard brushes and cleaning agents with abrasives - they will erase a varnish.
for cleaning tools should PH-neutral. Wax, oil or silicone in the composition protect wood from moisture. Do not use substances, containing alcohol and esters, they peresushat array, lead to cracks and deformation.
The value has even the direction of movement during cleaning. Moving along the fibers, you effectively erase the dirt, moving across - rub it deeper.
Purification treat polish countertop, it will kill bacteria and keep the look of wood.
Protect the headset out of direct sunlight, otherwise it will burn out and lose color.
By purchasing from an array of cuisine, Take care, and drawing, which will effectively remove excess heat and moisture. At high humidity tree swell, and low - dry up. In winter, you may need additional humidification.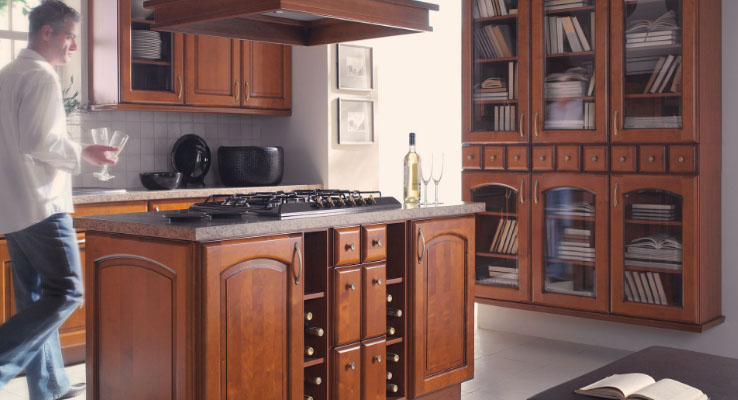 Wooden fronts with their hands: how to paint, restore, update, restore and other work
Furniture facades made of wood can be made independently. Facade - a kitchen face, and it should look perfect. Therefore, man, decided to make furniture the hands, I must have extensive experience in working with wood.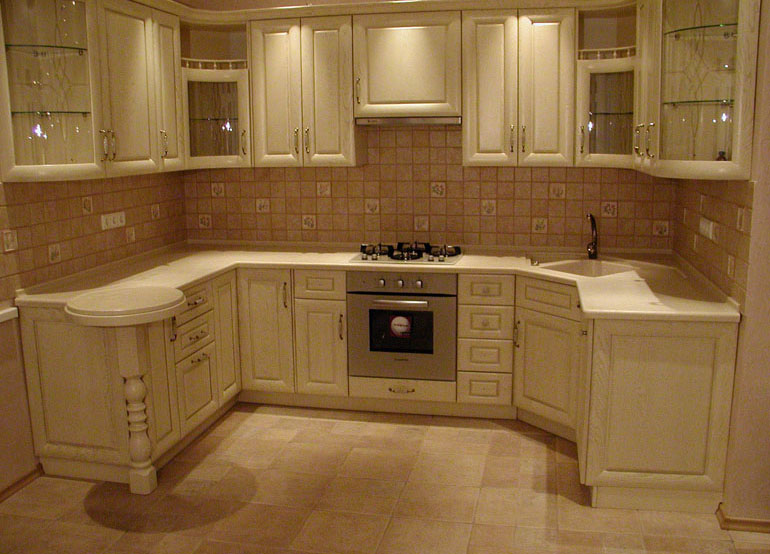 Production of the façade of an array of their own hands
Kitchen made of wood with their hands - a major project. And the tool will need serious, one can not do jigsaw. To make the kitchen facades made of wood need a professional milling machine precision and a good circular saw. The workshop should be of different types of tips on tool, glue for wood, vise, Tools for grinding, Clamp - all those little things, without which it is impossible to work.
The first stage - the production of the frame. Cut the rail to the required length of the, shaping element. Make the ends pazogrebnevyh compound. From inside the groove will need to install the centerbody. Assemble the frame, Check the size of the.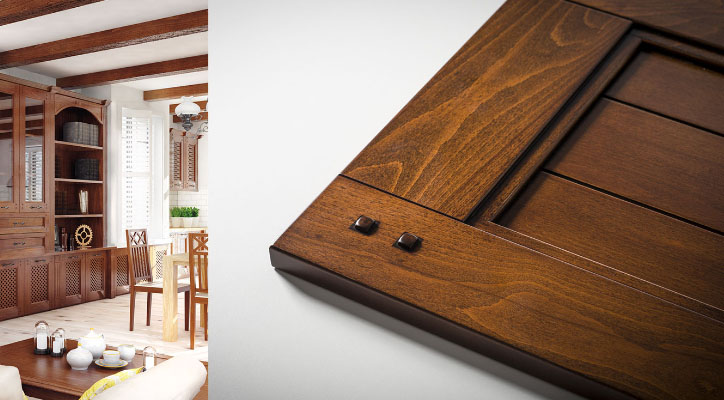 Insert into the frame - a plank with pattern. Their combined and bonded to each other, To get ready carved panel. This shield is equipped with a spike on the size of the groove in the frame. Collect shield and frame, To make sure, they are suitable in size.
Polished thin sections detail disc grinder. You can be sanded by hand, but the result will be worse. After grinding parts assemble structure with adhesive and clamps.
The final stage of the manufacture of the facade - painting and lacquering. Apply equal beautiful coat of paint is difficult, so beginners we recommend to cover the product with clear varnish.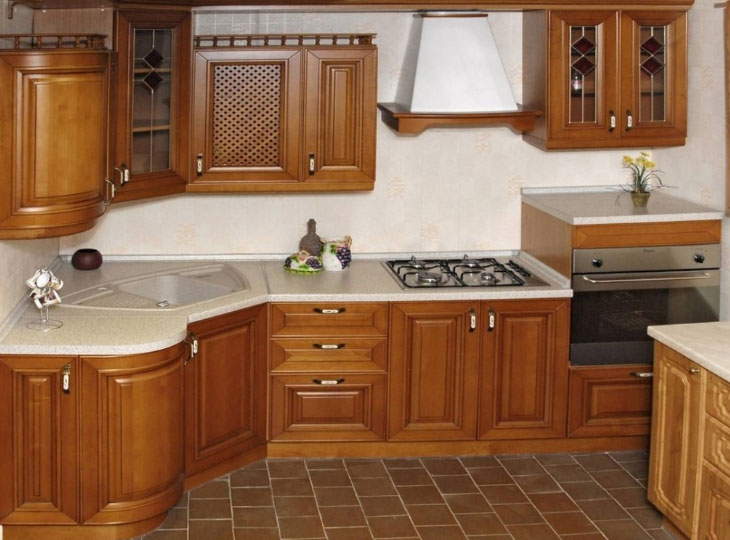 Installation of the facade of the array
Installation of the facade is made with their own hands. To begin, define, where will be located the loop for attachment. Do not place them near the shelves, otherwise the door will not be closed simply.
After basting attachment points in the facade is necessary to make holes with a Forstner drill. The standard diameter for furniture hinges - 3,5 cm.
The loop is inserted into the hole and fixed to the facade frame. Facade installed in the box and fixed thereto by loop. It remains to adjust the loop so, that the door was located exactly, easily opened and closed.
Wooden facade is expensive, make it quite difficult, and have to take care with the use of special tools. But this facade bring to your kitchen a natural warmth of natural wood, It lasts for years and retain its beauty.