The glass façade in the kitchen - the aesthetics and practicality
Among a variety of kitchen fronts - from the glass doors stand apart. They are less practical due to the fragility and constant care needs, but winning design. Glass facades for furniture adorn the kitchen. And if they are applied decoration, it gives them a more attractive.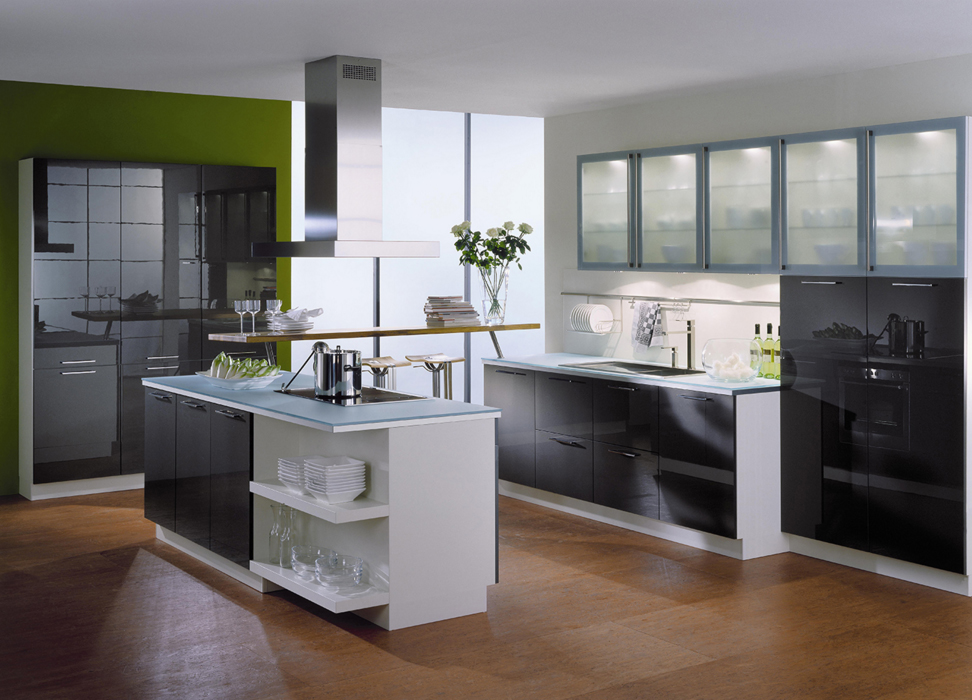 Features glass facades for the kitchen
Facades for Glass dishes are different from similar products made of solid materials, as a method for manufacturing and mounting, and mechanical characteristics. Glass kitchen fronts do not have high impact strength. Even, if this door is not broken, is cracked or chipped necessarily formed. Besides, It requires careful handling of the parts when assembling furniture.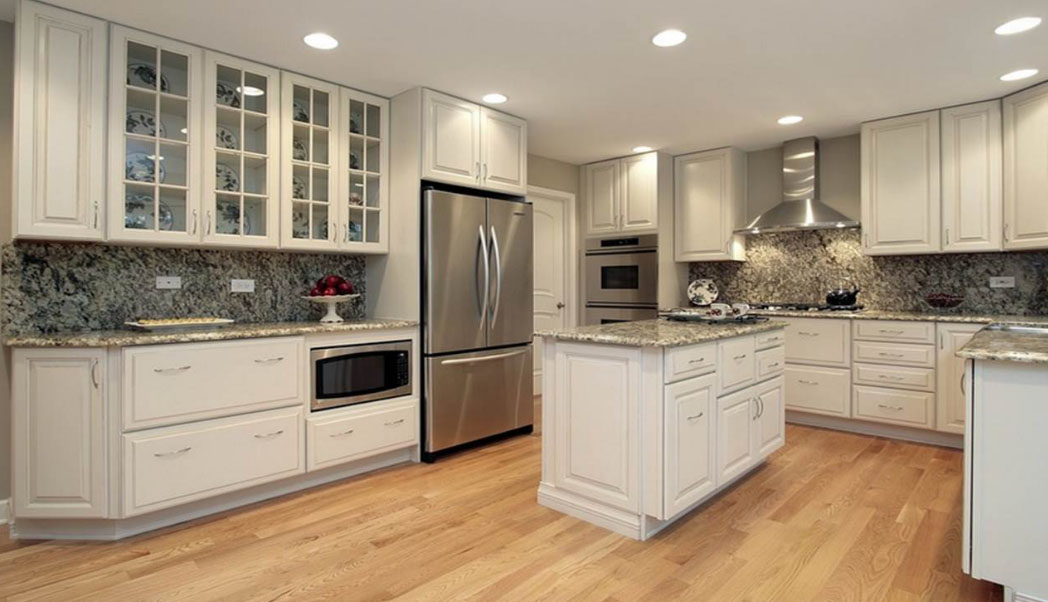 Structure glass facade
Glass facades for kitchen differ in the way the glass in fixing structure and the methods used when installing a door for kitchen furniture. As a result,, kitchen with glass facades look different. Such glass furniture attracts attention and arouses interest.
Older glass door construction, which used to be traditional - Consolidation, cut to size glass, a panel of solid, wood material. The panels are made to this already with ready proemami.Steklo in this case is set, as a normal, and with improved characteristics of strength. Besides, such panels embossed look good thick paste, and frosted glass, decorated or stained.
Framework furniture fronts Glass visually facilitate the kitchen, making it more spacious and bright. In this frame of aluminum profile clearly indicates the contour of the cabinets. Collect a door can samomu.Pri assembly is better to use tempered product, having high strength, because during installation and during further operation of the front design panel voltage may occur.
Easy and festive looks frameless facade. In the same time, to make its required job skills, special fittings and high-strength glass zagotovka.Vo the operation of such doors is required to show carefulness. Finding the slightest backlash when opening, It is required to control the door mounting. It is impossible to clap and leave the half-open, because when the door drafts can be very tilt and even derail.
The glass facade design requires special accessories. Fittings for kitchen facades, especially frameless execution, It should have greater flexural strength, than usual. Special requirements for pens, loops, magnets and closers. They should have a complete gasket, to prevent direct contact of metal to the glass surface.
types of glass
In the manufacture of glass dishes are used different materials manufacturing technology. Such blanks are made by industrial methods.
Initially, the glass facade panels are fixed pane of glass. The main requirement for such a product - the thickness of not less than 5 mm. To insert into the panel of a hard material is suitable piece.
In the manufacture of glass doors of a different design such material is better not to use. The main drawback - the fragility of impact or bending. Especially, that large and sharp pieces are formed by splitting, which can severely injure the person at destruction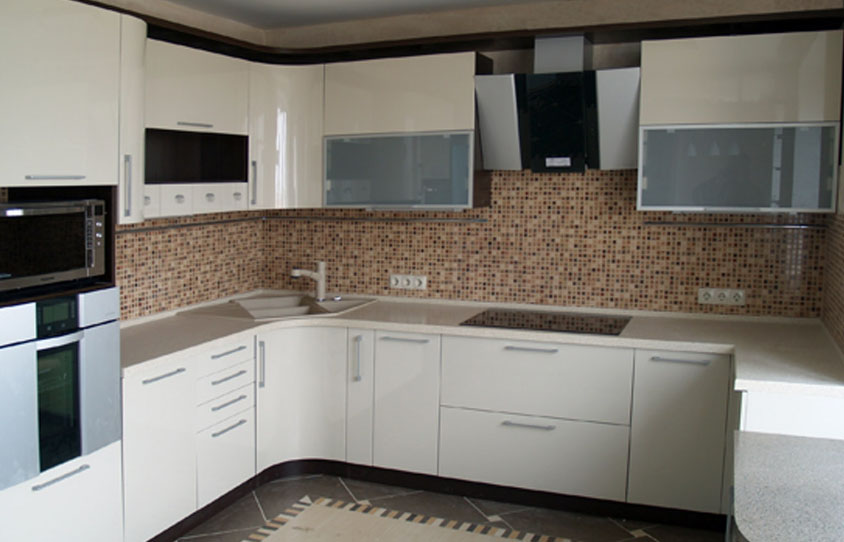 Glass façade, tempered in the production - it is the right decision. Such a material is produced to the side and rear windows of vehicles. It has high strength, It does not crack, and when a strong impact shatters into small pieces, without sharp edges. The weight of the glass is more than at the window, it is required to take into account when choosing the installation and accessories.
Kitchen with glass "triplex" one of the most expensive. The product produced by this technology is set as a head-on vehicle. By multilayered structure is therefore also has a large weight. As a result,, we have to choose accessories increased strength and reliability.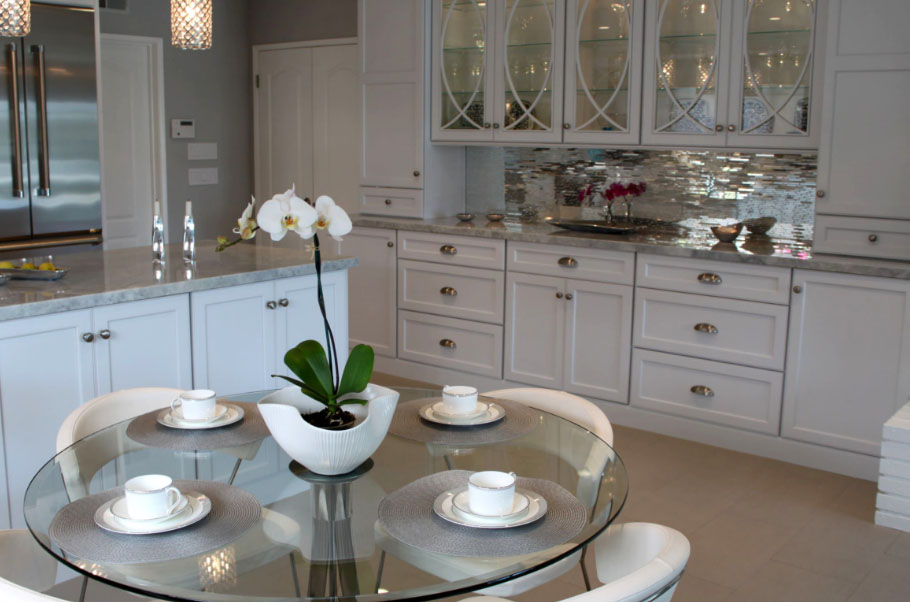 The advantage of "laminated" is the strength and nerazbivaemost. Even with the bounce "triplex" is not destroyed. It can be covered with netting and cracks not more than. Impact force, wherein, It should be significant. In everyday life, this should not happen.
"Triplex" for the front door can be ordered with an altered configuration. It's good for kitchen furniture, which has a rounded design. Besides, tempered glass and laminated glass, even in the standard version, produced with a light tint, and if necessary, the product can be ordered at various levels of transparency.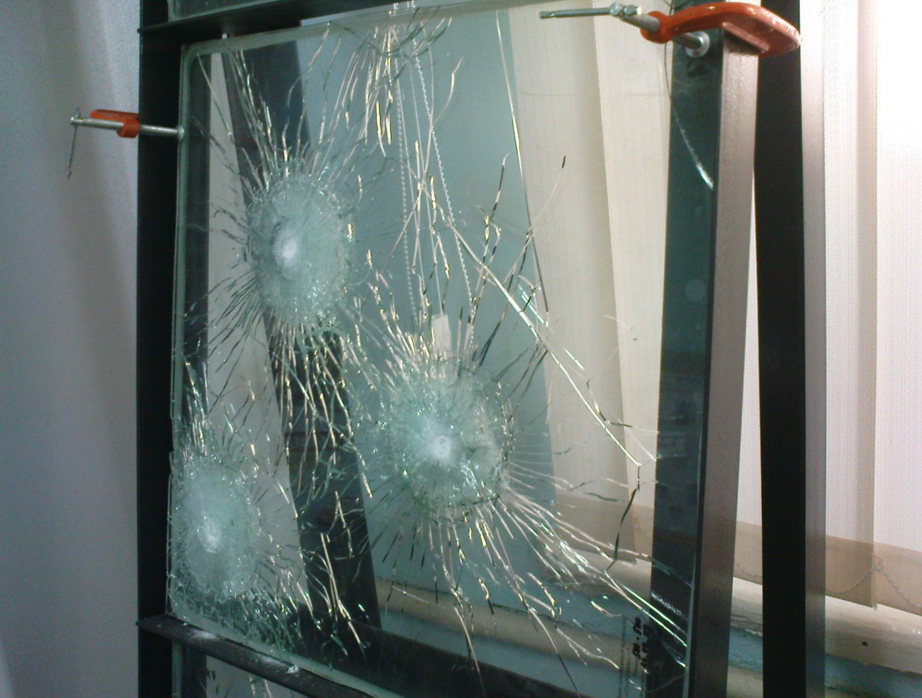 Lamination is used as ordinary glass when installing, and more durable products. For a simple window material is a procedure, reinforcing structures. This door is not even with the impact crumble into pieces, they will keep the laminating film.
Besides, lamination used in decorating. A disadvantage of such a coating may be flammable and need great efforts in caring for a door.
glass decoration for the kitchen facade
Glass kitchen facade can be completely transparent or decorated in various ways. It uses a variety of materials and methods.
The easiest way to decorate, which is accessible even to non-professionals - pasting of laminating film. It can be of different colors, with varying degrees of transparency and have different patterns, from colors to more complex patterns.
It is interesting to look kitchen of glass facades, decorated by sandblasting. In this haze can be imparted to the entire surface as a, and the individual sections, to create a particular pattern.
Another method of decorating - UV printing on glass surfaces. This pattern does not fade with time and does not lose shape and color.
Colored glass obtained not only by means of a laminating film. They are produced by industrial methods. Such doors have an attractive appearance and is easy to care for them. Especially look good stained glass, multi-colored glass.
Furniture glass facades may have a contoured surface. This complex technology. Such a coating made on special machines.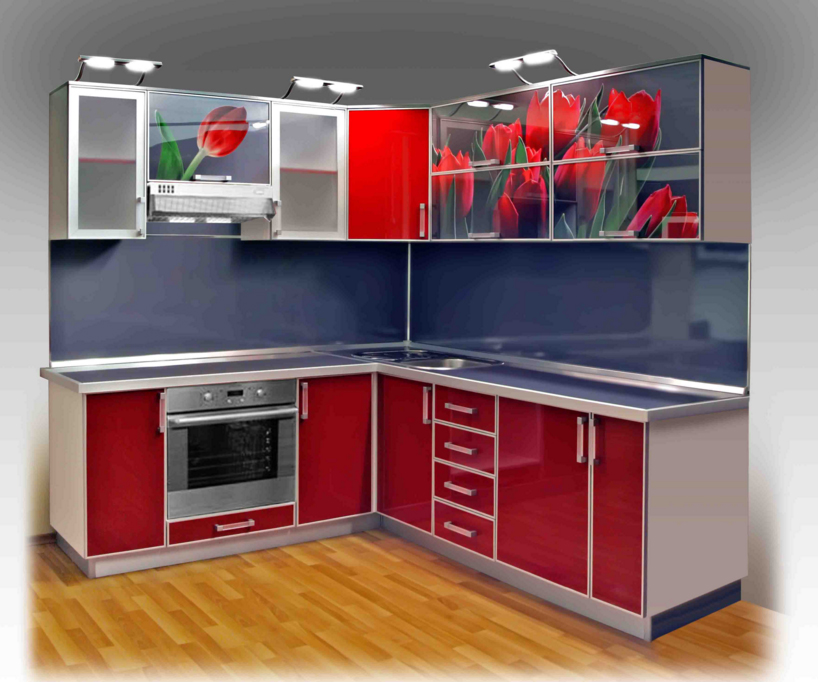 Advantages and disadvantages
Glass kitchen has a number of advantages over the kitchens of MDF and other hard materials.
Choice of different designs of glass panels, which substantially change the appearance of the kitchen.
Originality door material, creates a feeling of greater space even in a small kitchen.
This is the best material in environmentally, it is not affected by high temperature and high humidity.
Behind the glass surface just enough to care. To do this today are different tools greatly simplifies the process. Often, vial sufficiently soft and special spray dry cloth.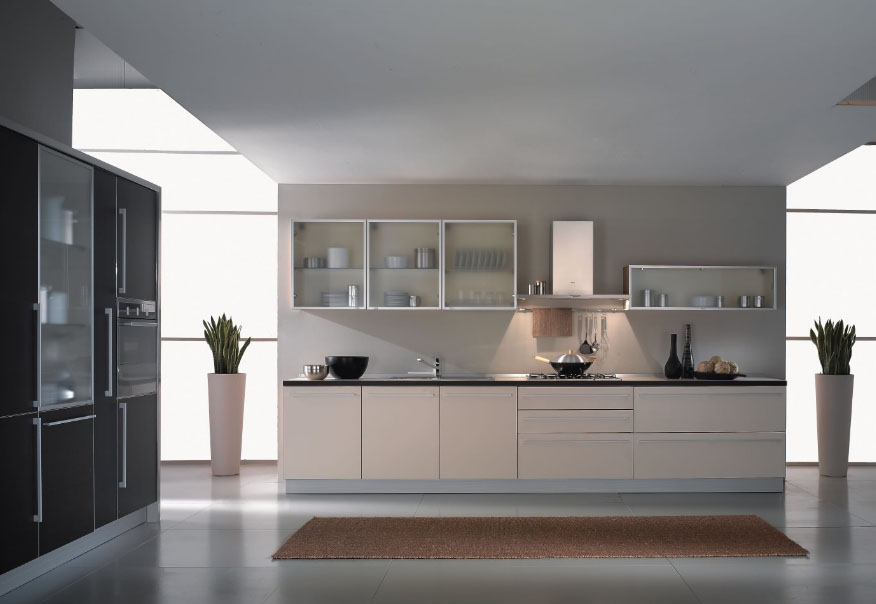 To care for a glass facade can not use abrasive cleaners, this may scratch the surface. Eliminate such a scratch is difficult.
However, glass furniture has its drawbacks.
glass door will be more expensive than a similar, made from other materials. The price effect, as the cost of the glass, and the high cost of hardware required for proper installation.
The need constant care for the glass surface. On the kitchen, in fumes, which upsets on the surface of the furniture, much fat. It sits noticeable dust and stains formed. On glass is especially evident.
Aluminum edge when the frame structure over time may darken. possible, If you care to use aggressive cleaning agents.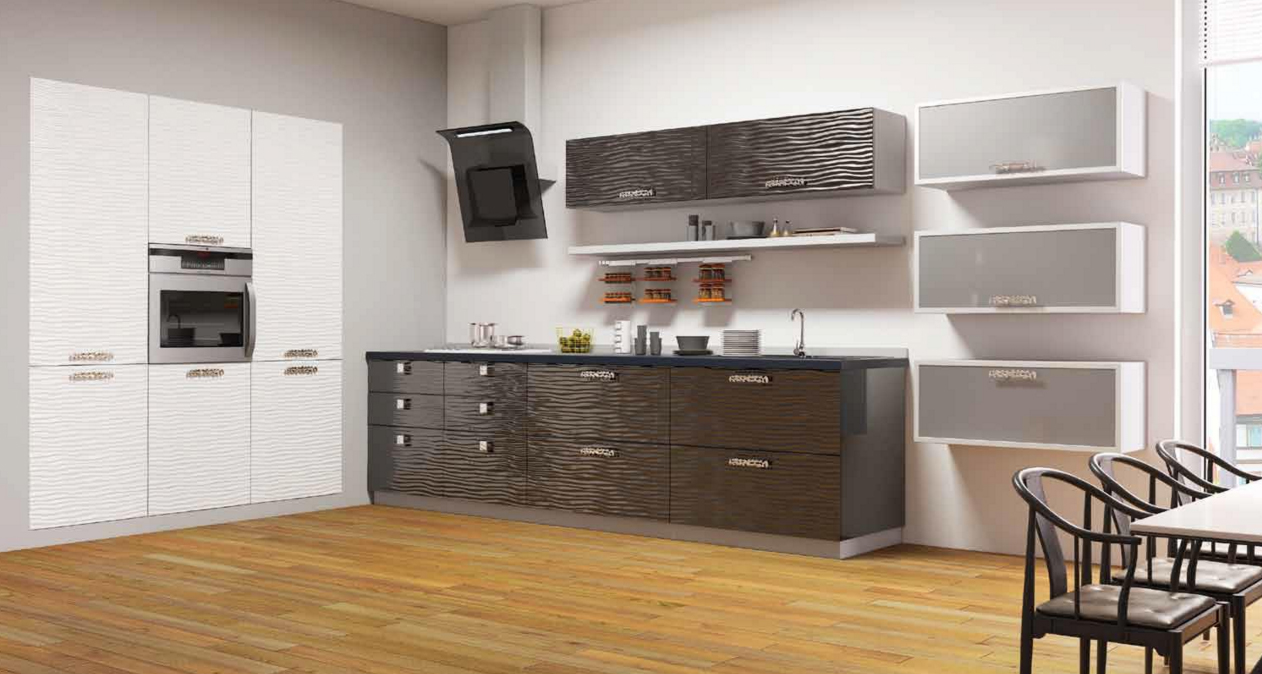 making
Most do door glass can be, although this is not an easy process. Production of kitchen panels of glass with their hands possible in several ways.
The easiest way to make the glass inserts in the available panels made of MDF, pre-cut in their windows the right size. In such blanks can be inserted even simple tempered glass thickness 5 mm.
Most do frameless glass design is almost impossible. It can only get, if you order glass for kitchen fronts in a special workshop, where they can handle the edge of the tempered glass, and in the right places to drill holes for mounting accessories.
Assemble the frame construction can be independently.
Using aluminum profile, assemble the frame of the desired size doors.
The inner surface of frame cover adhesive. The adhesive must be applied so that, to impose the excess glass was not made beyond the edge.
Pre-prepared glass requires carefully put on the adhesive base.
After drying the adhesive to the prepared door fittings mounted in the right place.