How to make the kitchen of plywood with their hands
Despite the fact that the furniture plywood concerns environmentally friendly and durable materials, find out it is quite difficult Kitchen Cooking. But what prevents to collect headsets yourself? Ready kitchen project, We are making drawings of furniture plywood, We take up the instrument and start manufacturing. This situation, and the price will be enjoyable, and last a long time - about 20 years. And you do not have to customize your headset under the typical size manufacturers. kitchen of plywood with their own hands is not done quickly, but every centimeter of it is the most functional.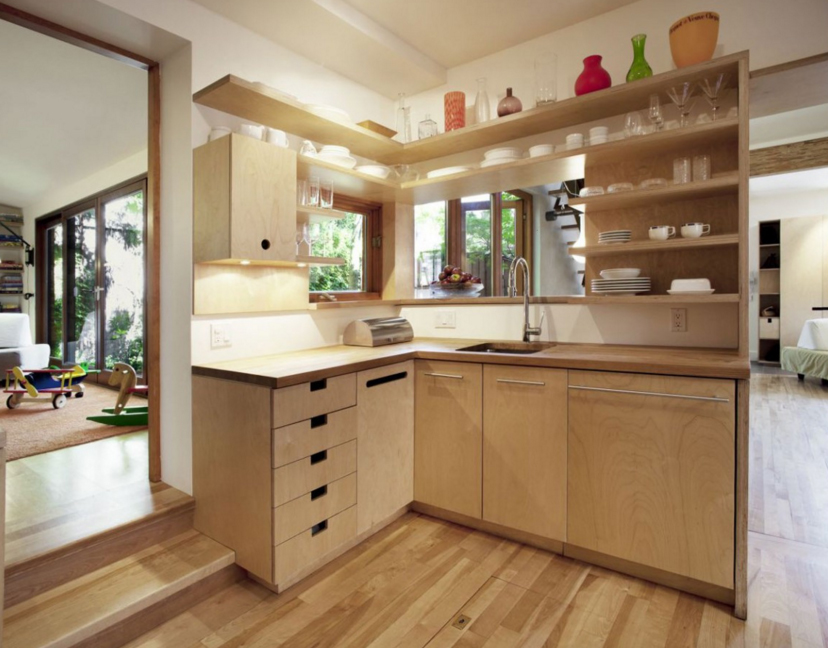 What to choose plywood for kitchen
Plywood - is glued veneers, which has always taken an odd number. Wear resistance and strength of each sheet is obtained by placing the fibers in different directions relative to each other. It is commonly used birch and conifers, wherein the inner part can be softwood (GUEST 3916.2-96), and the top of birch veneer. Hardwood plywood (GUEST 3916.1-96) It is considered to be of higher quality and is more expensive.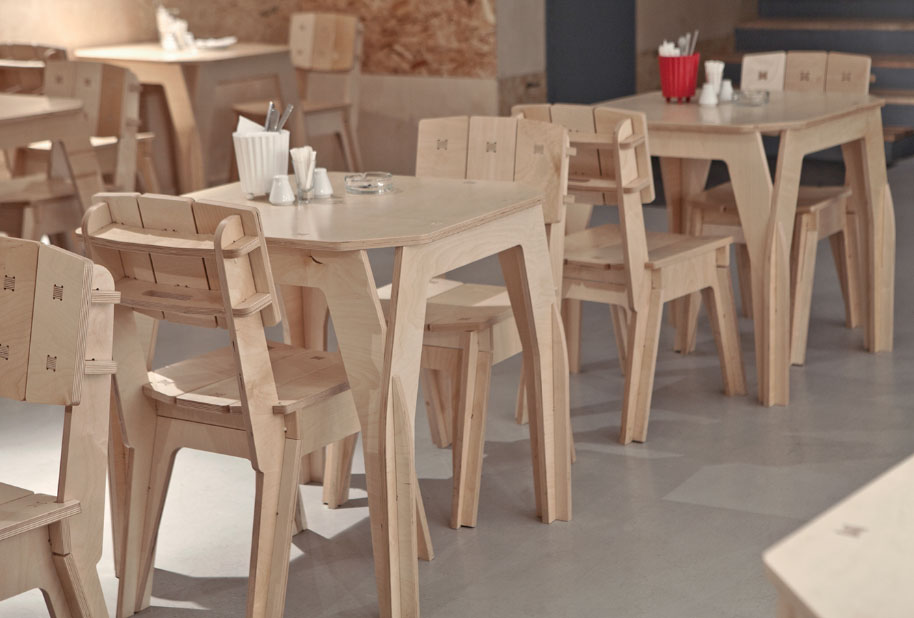 classification of the material
Allocated several parameters, which classified material:
Mark - determines the moisture resistance, the scope of. The main types of FC, PSF, FKM, FoF, FBA
Class - set in appearance of each surface. The letter E denotes the highest quality, then it goes down from I to IV grades. Grade is determined separately for the face and reverse side - 1/1, 2/2, Other combinations of ¼
Surface treatment - unsanded plywood marked with the letters NS. If there is one side polished - SH1, If both sides have ground surface - R2
The formaldehyde content - the letter E in the interval with index 1-3 talks about environmental material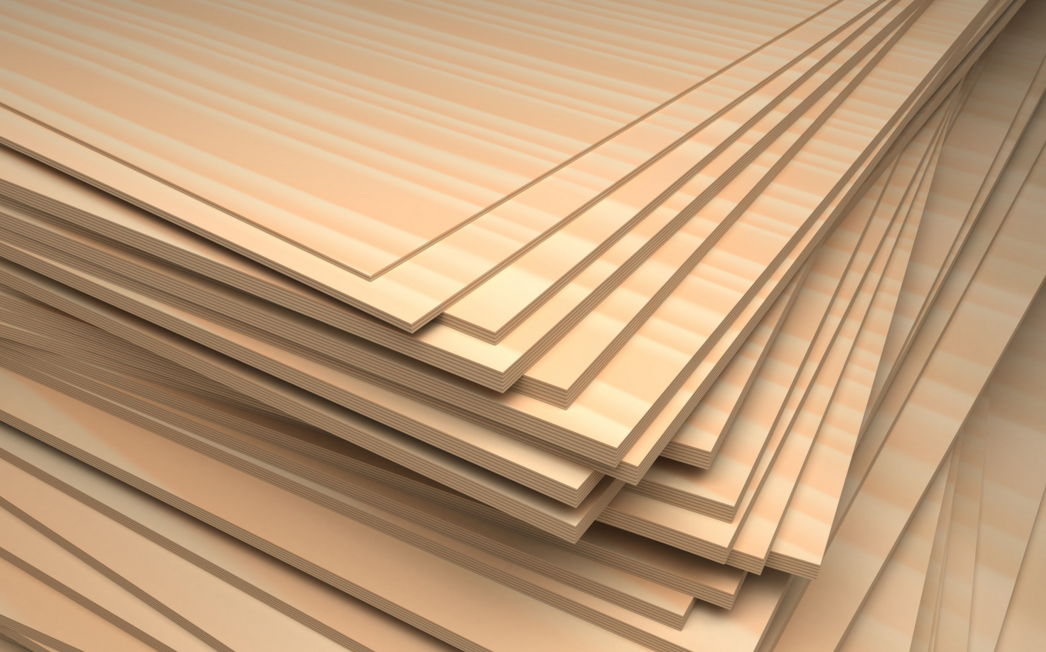 To manufacture kitchen furniture from plywood sheets with their hands are selected with an average moisture resistance and without formaldehyde.
More details about brand and size
Let us give a brief description of the main brands of plywood, so it was immediately clear, which one is suitable for the manufacture of furniture, and what is not:
FC - adhesive composition based on urea resin, average moisture, used for interior or furniture manufacturing
PSF - is commonly used for outdoor work, high humidity. The formaldehyde resins used as adhesives, so from the FSF plywood furniture is not made
FKM - synthesis FK and FSF, veneer sheets glued melamine resins, for any work, characterized by high moisture resistance and strength
BAF - for connecting sheets used albuminokazeinovy ​​adhesive, material exhibits a high degree of environmental friendliness, but low resistance to water
FOF - laminated plywood. Material coated with a film of different colors, It used in construction and furniture manufacturing, It costs more than other materials
It turns out, plywood furniture that is chosen from materials labeled FC, FKM, FoF. Various sheets are shown in Table №1.
Table №1
mark
Width, mm
Length, mm
Thickness, mm
FK
1525
1525
3

4-10 (steps 2 mm)

9-30 (steps 3 mm)

1500
1500
FKM
1220
2440
1250
2500
1525
3050
FoF
1220
2440
4, 6 9-30 (steps 3 mm)
1250
2500
1500
3000
What do the kitchen furniture
When selecting plywood for furniture, it draws attention to the following indicators:
quality gluing, wood
The general form of the sheet
Type of wood - hardwood resistant to changes in temperature and humidity
Country of origin - preference is given to Russia, as Chinese materials do not have the required environmental profile, and the Finnish plywood is too expensive
Given the standard size of a veneer, material properties, quality, grade and price becomes the best choice brand FC. Selected grade ½, sheet size 1525 × 1525 with a thickness 6, 12 and 18 mm. Manufacture of plywood products with your own hands can be of laminated sheets, but the cost of the material is significantly different from the brand FC.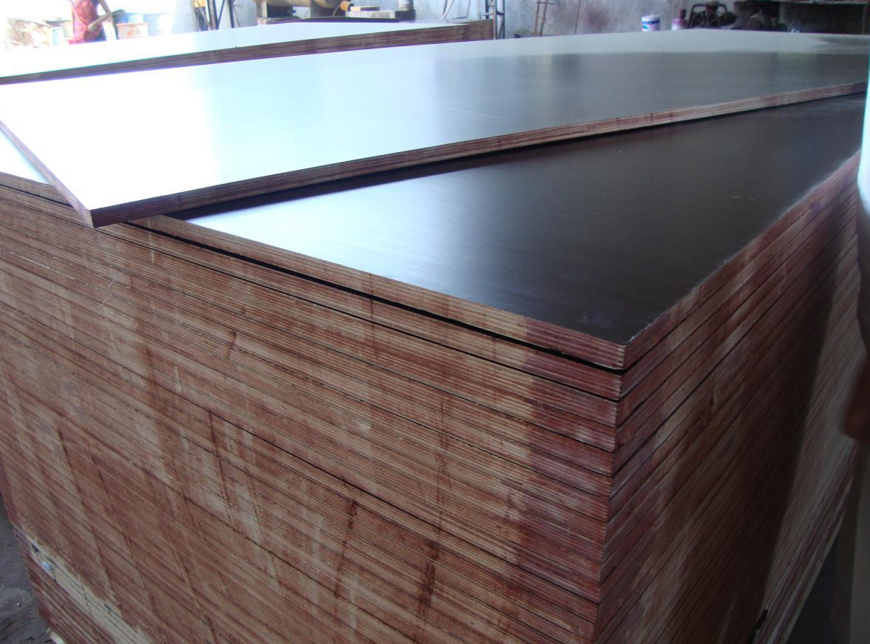 Measurements and kitchen design project
Precise measurements plus verified sketch headset will allow it to produce high quality and reliable. The main advantage of such furniture - individual performance.
making kitchen self, It should take into account the norms of ergonomics, hostess growth, kitchen geometry, wishes of family members
Stage №1 - kitchen measurements
Measured dimensions of the room, taking into account projections, niches, passing communication. Parameters are transferred to a sheet of graph paper to scale. Instead of drawing by hand, suitable use of computer programs to create 3D-sketches.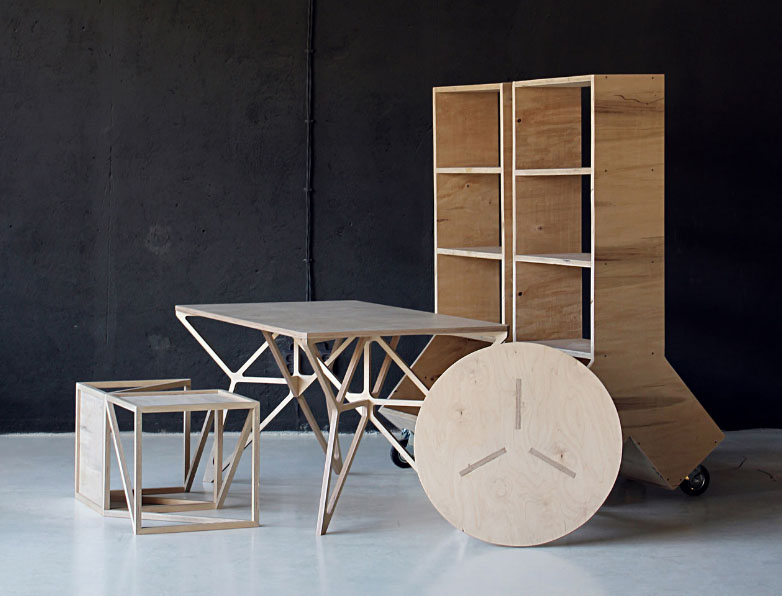 Stage №2 - Sketch development
It worked out the original version of, a kitchen looks like Plywood considering placement of household appliances. Then thought through specific dimensions of furniture sections - cabinets, shelves, boxes. Taking into account the individual characteristics of the project, stick developed ergonomic standards for kitchen furniture (table №2). Dimensions are in inches.
Table №2
Base cabinets
Wall cabinets
Height
85 (taking into account the countertop)
Height
70
Width
60-80
Width
It corresponds to floor
Depth
45-50
Depth
30
additional sizes:
suitable for wide drawers 30-40 cm
Shelves made of plywood are placed at a distance 30 see each other
Shelf cabinet Width = width - 36 mm (the frame is made of sheet 18 mm)
The distance between the upper and lower tiers - 45-65 cm
Do not forget, it approximate dimensions, which are adjusted depending on the particular circumstances.
Stage №3 - drawing up a design project
Sketch complemented verified Cabinet size, bollards, boxes, shelves. Additionally, the dimensions are calculated taking into account technological facades gaps. individual calculation is performed for each furniture unit. drawing modules done in two projections indicating dimensions, sizes technological holes and grooves. This will help you choose the size of the plywood sheet, to minimize costs for the purchase of materials.
Preparation of materials and accessories: plywood sheets not only
Consider, how to choose plywood, fasteners, accessories.
Dimensions of veneer sheets, you need to buy, It depends on the manufactured items:
Thickness 18 mm - used for frame assembly, shelf for cabinets are cut from plywood of the same thickness.
Thickness 12 mm - selected for manufacturing floor cabinets facades.
The thickness of the plywood 6 mm - suitable for doors hinged cabinets, which strengthens the rigidity of the ribs.
fasteners
The next step - to decide on the, both parts are attached to each other. Experience shows, when the furniture is made of plywood with their hands is sufficient to use only screws. Sheets of plywood are not stratified, do not crumble, no hardware is bumped in the holes. Apply for fastening elements minifiksy furniture in the home for more than problematic, since it requires extreme precision in sawing holes in three planes. Having detailed drawing, you can apply to the specialized workshops, to make holes.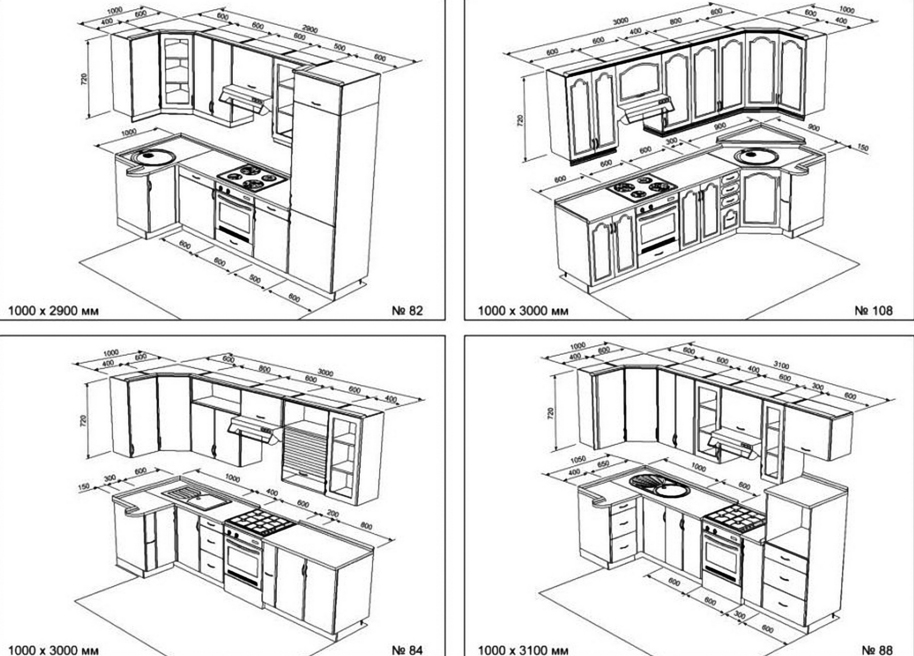 so, parts required for the connection:
screws, minifiksy or SCREW - evroshurupy countersunk head
Glue, silicone sealant
Fittings and trim
This includes pens, loop, closers, decorative caps, if not used minifiksy. It should be remembered, that the kitchen furniture made of plywood is not overloaded artsy accessories.
Painting need putty and paint, Wrapping film - coating and self-adhesive. Furniture can be covered with stain and varnish.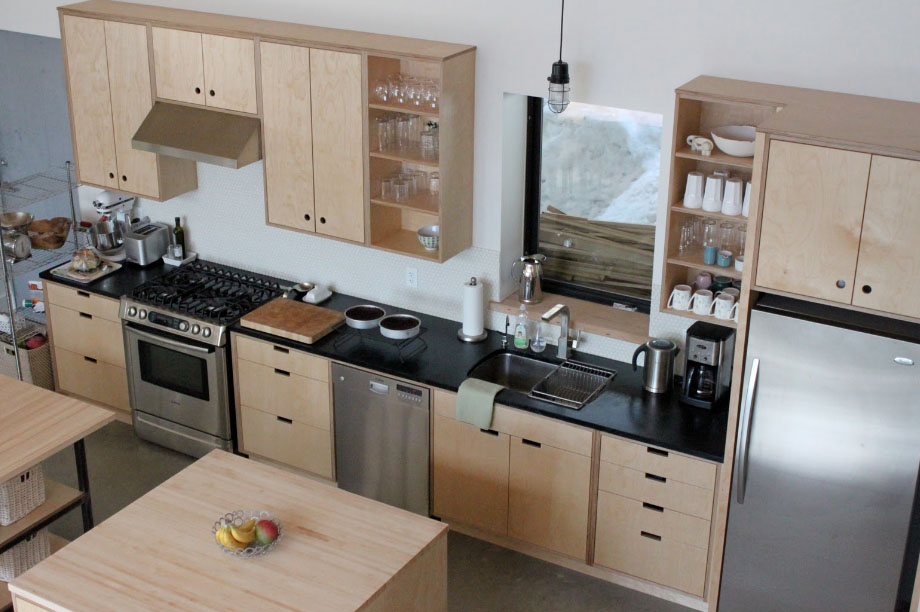 preparation tool
Kit depends on, how are you supposed to cut plywood. It is recommended to do it in a furniture workshop, since the process requires high accuracy and availability of plunge-cut saw with a nozzle for cutting sheet materials. For furniture assembly need:
Cordless Screwdriver or screwdriver, drill, drill set
Hammer, Stameska, Files, chisel, plane, hammer, mallet
Circular saw, jigsaws, hacksaw
Roulette, ruler, elbow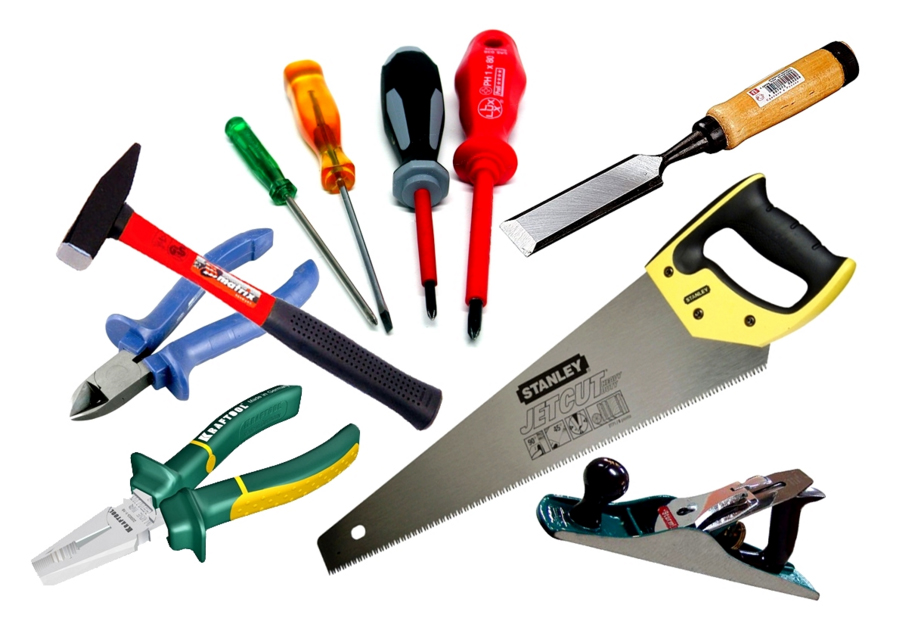 preparation details
On a sheet of plywood parts are marked. Cutting is carried out with the necessary home tool or furniture in a workshop. Bars of plywood sanded and polished. If you plan on painting or pasting film, the details shpaklyuyut in two layers, and then polished. Furniture laminated plywood used to simplify the manufacturing process - its surface is already covered with a film and does not require further processing.
Making headset: assembly of the frame and then
To make furniture from plywood, You need to collect frame, hang door, install shelves and drawers.
Plywood has sufficient strength, so the timber is not used for frame assembly. On the details held markings for screws or SCREW. With a special step drill bore holes with threaded and threaded portions, deepening on a hat evrovinta. For conventional screw carried countersinking drill a larger diameter. from the front fastening is performed using minifiksov, then you do not need to install decorative caps, but fit and evrovinty.
Before contracting the ends of the parts are coated with silicone sealant.
Assembling headset
Kitchen unit plywood is finally ready, when to hang a door frame, will install shelves and drawers. Holes for fittings are marked and drilled in advance, guides to the boxes are set up carcass.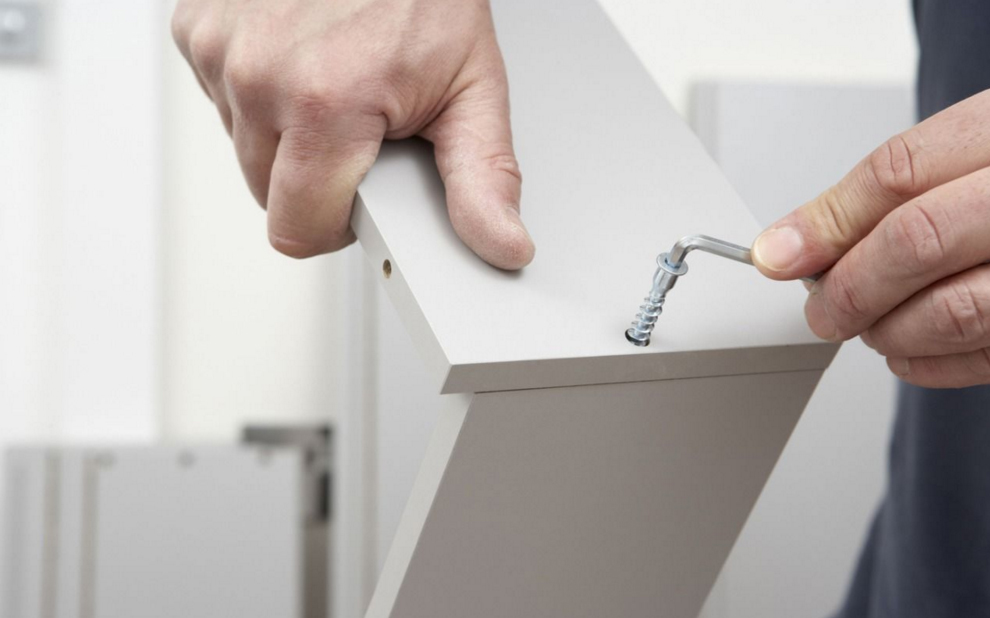 The doors are made from sheets of thickness 6 mm, they give stability ribs. To saw out of plywood shelves with their own hands, material thickness is taken 18 mm. On the front edges are chamfered, sections shpaklyuyut or sanded for painting or skin-tight film. In the treatment of varnish is sufficient grinding.
Obtyagivaya set of self-adhesive film, give preference to the expensive and high-quality material - Chinese film poorly kept and looks bad
The ideal kind of furniture is made of laminated plywood - shades of diversity allows you to choose material, which is suitable for a specific design.
Table top with their hands
It looks great work surface, made of laminate. Economical option is easy to implement on their own, picking up a tone covering headset or played on the contrast. panel joints are coated with sealant necessarily, in order to avoid the damaging effects of moisture on the laminate. The front edge is covered by a decorative metal area.
High humidity and size of plywood also can use it as a table top. The film protects the material from penetration of liquids, and the edges are impregnated with moisture repellent composition.
Making dinner table
To give the kitchen a finished look, try to make a dining table made of plywood with their hands rectangular shape on two feet wide.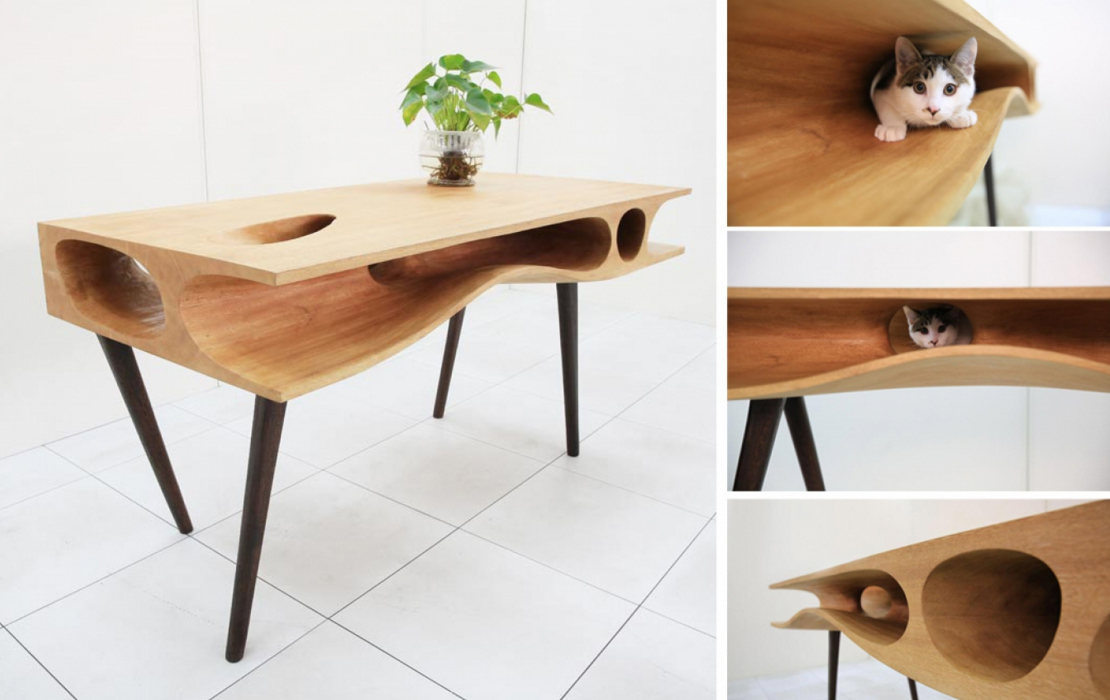 This would require the following blank:
Plywood for countertops - sheet 80 × 120 cm, minimum thickness 18 mm - 1 PC
The horizontal banding - plywood plank of 15 × 110 cm - 1 PC
Support legs and worktop - bar section 7,5 × 20 cm and a length 68,7 cm - 2 PC
Leg section - section beams 7,5 × 20 cm 60,0 cm - 2 PC
It needs to work with every detail, to make a table of plywood.
Support for table top and legs
Sawn timber along, obtained 4 parts 10h68,7 size of 7,5 × cm. elements, which are adjacent to the floor, shaped legs. On distance 20 cm on each side are placed mark, between which is held a curved line with a maximum height 5 cm. The outer part of the support for the legs is rounded or rectangular left.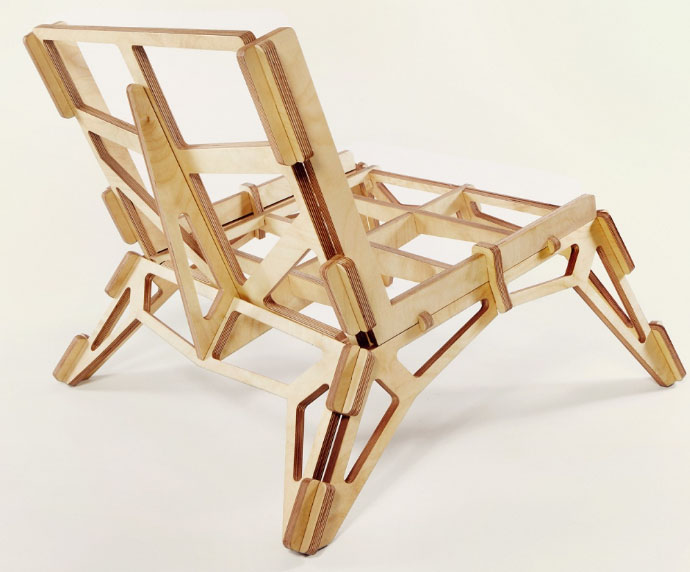 In each support for countertops in the middle part of the bar is cut to a depth of a rectangular shape 40 mm - the recess must enter a table leg. The outer edges are rounded.
table legs, horizontal piping and assembly table
Feet are left rectangular, or they give figured form. Horizontal banding keeps them together, in detail chamfer.
After sanding workpieces and processing antiseptic solution going table of plywood:
Connect the table legs with supports for the countertops and floor elements
Pull horizontal strapping structure, placing it between the legs
attach the countertop, tighten it with screws from below through the support - need at least 4 screws on each side
All parts are attached to each other evrovintami, caps which are closed with plugs. Table varnished, which dries 36 hours.
Summing up
preparation of materials, diagrams and drawings furniture, direct assembly of plywood kitchen - employment painstaking, but interesting. Headsets are obtained strong and beautiful, emission of harmful substances is minimized. Independent production structure allows to take into account the nuances of a particular room and the individual characteristics of family members. If the set is a complex structure, the table can gather for 1 day. Try to start with it, to understand, the behavior of plywood and what skills are required for the manufacture of more complex structures.