We do kuhanuyu unique headset with your hands: easy way
Furniture market today is a huge selection of kitchen furniture, It is helping to choose a model, which would correspond to the maximum all the demands and needs of the buyer. Only the production of the manufacture of kitchen furniture their own hands It gives the opportunity to buy exclusive unique cuisine.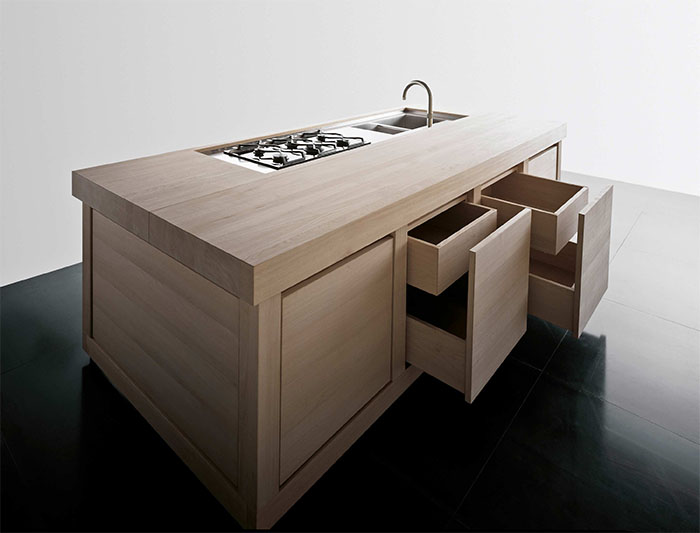 Everything, that it is necessary for the manufacture of furniture
The opening stage of the production process is the selection of the desired type and style of furniture.
raw materials
The next step will be the selection of the appropriate raw material. Today, headsets are made of different raw materials in the furniture industry. The choice is future owners. Materials for the manufacture of furniture:
Wood. Material is expensive, but also the most resistant to the harmful factors and firm. Not fit any, and thoroughly dried: Maximum humidity rate is within 10%, otherwise all lockers, tables and desks of furniture board with your hands lose their external form in the near future. It is recommended to use raw materials for facade and countertops, to avoid wasteful expenditure. Manufacture of furniture made of wood with their hands - it is a very important moment because of the use of expensive materials.
furniture panels. Any food made of furniture boards with their own hands will not only be exclusive, but also remarkably fit into the interior of a room-studio. Unfortunately, wood panels with their own hands to make impossible, because it requires special equipment.
painted MDF. She is characterized by the availability of financial matters. Characterized by good performance. Economy version, suitable for the manufacture of almost all parts.
laminated chipboard. It refers to almost the cheapest materials, demand for which use, even among Italian masters. Therefore, better use chipboard or MDF for furniture, because it is several orders reduce costs, and achieve the same result as in the wood. Quality facades headset depends on quality lamination.
postforming. Plates Postforming - a wear-resistant materials, characterized broadest color gamut and surface texture.
Uncoated chipboard. These raw materials used for making some of the side and rear walls.
Plastic, Various metal raw materials, glass.
Foam as a filler for the seats and backrests, fabric or leather (natural or artificial) upholstery. It all depends on your preferences and financial capabilities headset owners.
Kitchen furniture boards of their own hands will require additional material - lacquer surface treatment.
When choosing materials for the manufacture of kitchen furniture, it is recommended to take an interest ready kitchen sets from the same raw material. This makes it possible to visualize the future kitchen furniture.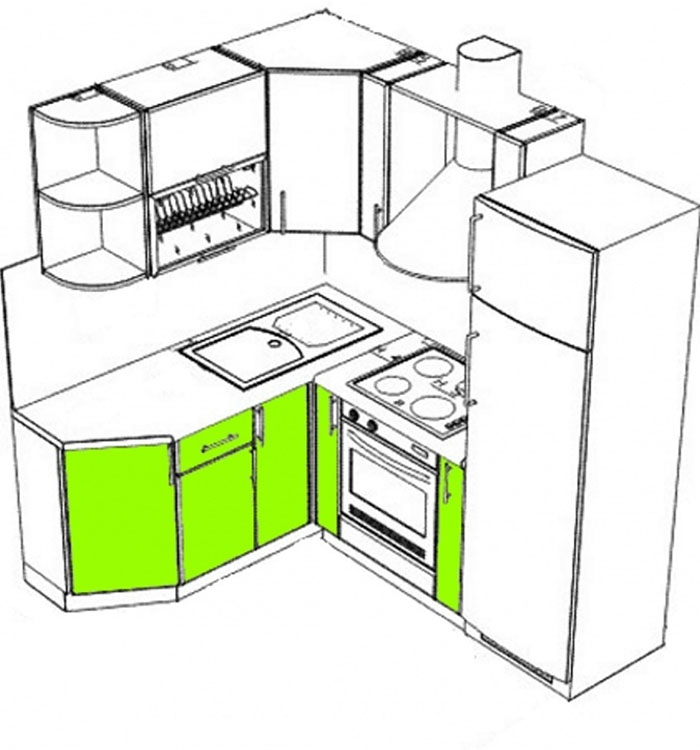 Instruments
That in relation to a set of tools, then there is a question difficult situation. Simple version of the kitchen furniture is going without too much physical effort. Having mastered the skills of making furniture, consumers will essentially save and get it he needs furniture. A full-scale manufacture of furniture with his hands is an extraordinary opportunity, if the tool for making high-quality furniture. Avoid this magnitude can be, ordering the cutting elements on the set sizes from a third party.
The minimum set of tools:
Saw.
fretsaw.
Drill, set of drills.
screwdriver, Steppler.
mill.
Plane.
Grinder.
Handmade carpenter tool (hammer, hacksaw, Reciprocating saws or disk, cutters and so on.).
A tool to measure, Conductor.
Allen key for evrovintov.
Step by Step Instructions manufacturing
Preparatory work
The initial stage is stopped. It is recommended to determine the type of headset: angles and straight. With regard to the direct location easier. Furniture parts in direct type are arranged in a line or two on opposite walls.
Due to the irregularities of the walls may be deviations in measurements, so it is advisable to do a tape measure at the height of 200 mm from the floor, at chest level and at ceiling.
It is recommended to start measuring after the dismantling of old furniture - there is free access to the wall.
Pay attention to all the subtleties, otherwise the measurements will be incorrect. Often the cabinets are manufactured in standard sizes: width kratnaya 50 or 100. Consequently, she is from 250 and to 800 mm and more.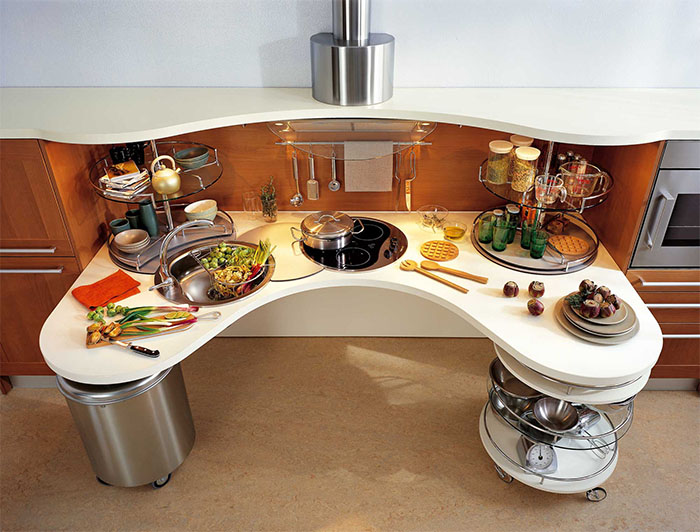 Drawing and cutting
On the computer, or an old one - on graph paper, formed drawing furniture the estimated size. Drawings of furniture from chipboard and MDF are no different from the drawings of furniture from solid wood. This results in a list of panels, subsequently produced from a base material.
In order to save raw materials and financial rear wall is made of thin plywood or fiberboard. Supplier companies perform services for cutting chipboard.
In order to avoid irregularities assumptions recommended to use cutting service, provided by these firms, so how exactly to cut the house chipboard or MDF large area is very difficult.
necessary accessories (legs, fastening elements and handle) It can be purchased in specialized firms, and for every taste and color. When all the elements are laid out in the workshop, next stage - assembly.
Assembly
It refers to the final stage, algorithm which has to be defined in detail in the head and "on the shelves". Tools for assembling furniture, as in the above set of general. In each case, the work will be a bit different, but there are common elements:
Wrapping the ends of the visible edge parts of chipboard or MDF. This is done in the usual iron, ironed through white paper. This process can be avoided, okromkovav previously there, which is cut. And firms offer a similar service too.
First, gather tables. They consist of a bottom, marginalia, rear wall and several retractable door or drawers. Connect these parts using dowels (Chopyk), and bonding SCREW. The latter refers to the reliability of fastening. For this purpose, on the end surfaces of the parts is carried out multiple pairs of holes for dowels. Such an assembly method used, when to make furniture of the shield with his own hands. The complexity of this process is pointing exactly match the holes on the connecting parts. Here help the conductor. defining openings, dowels are inserted and connected parts. The rear wall of plywood or fibreboard bonded using stepplera.
After readiness pedestals additionally held precision control assembly. Then mount accessories (hinges and rails for sliding shelves and drawers) with screws and screwdriver. Here it is recommended to take the time and clearly mention hardware attachment points.
Installing countertops. Designs come in with a different set of table-tops: from several to several separate parts headset may be connected to a single. At the stage of installation is necessary to provide a special slot for sinks, a cooking surface and the other built-in appliances.
Suspended cabinets. This requires additional actions - drilling holes for anchor bolts.
Installing the front parts (doors and facades drawers) and built-in appliances (according to the instructions). Door and shelves mounted on fasteners.
Connecting to the communication system (electricity grid, water supply, drainage and ventilation). When assembling it is recommended to follow safety precautions when working with electrical appliances, pointed ends, etc..
If you have not previously worked with furniture, specific actions are you perceived by the complexity of, but try, you learn very quickly, and, respectively, self-assemble kitchen their dreams set!