Rules kitchen assembly of modules: Tips from the collector of furniture
kitchen - one of the main premises housing, arrangement which requires the right approach in terms of selection and placement of interior elements. A good option for compliance to a kitchen room is modular furniture. It allows you to select the most appropriate wall elements and is convenient to install them. However, before creating the headset worth knowing, What are the modules of kitchen furniture, and some of their parameters.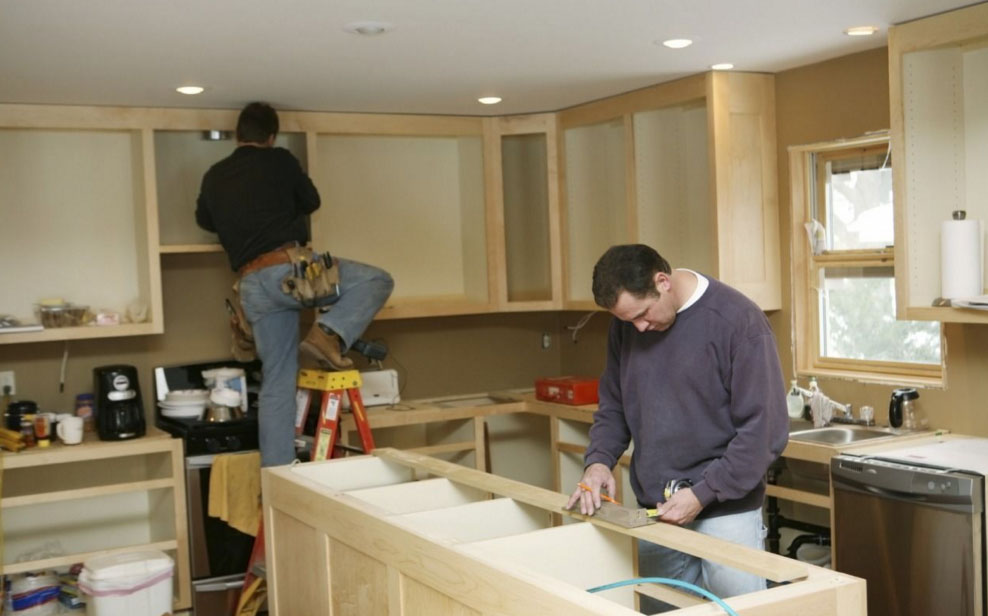 Types and sizes of kitchen units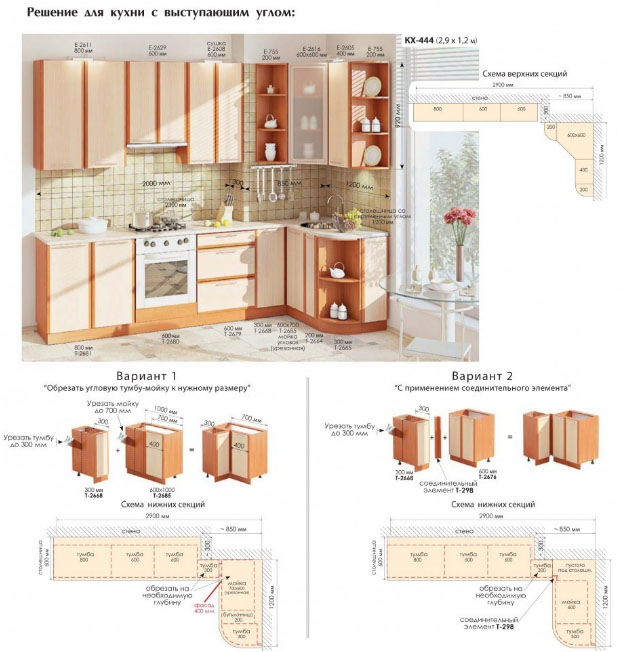 Each element of kitchen furniture to fulfill its function, so there are several types of cabinets. mounted, shallow and occupying less space, placed on the wall. Flooring is often used to embed technology, and their upper surface is used as a work area. Built-column are combined variant, хотя такие кухонные модули для маленькой кухни не подходят.
Wall cabinets Economy Class: corner, standard for small spaces
Suspended furniture in the kitchen most often used. Inside most of these modules has a number of horizontal sections - except in cases, when due to the size of the room unit made low.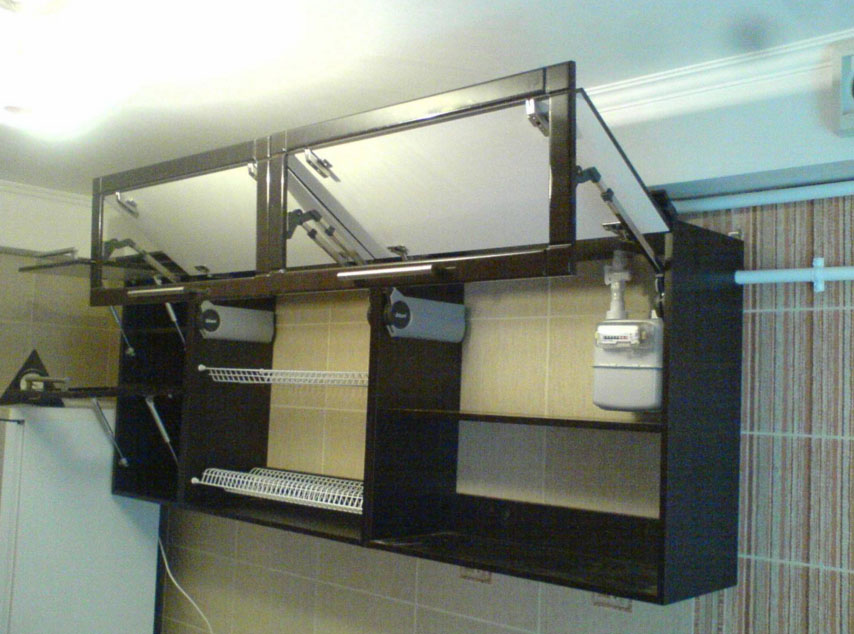 Depending on the application distinguish between the following types of cabinets:
island. These kitchen units are made up of several parts, located in the center of the room above the desk-island;
shelves. Different from other cabinets lack the facades and are used for placement of attractive-looking dishes: decorative plates and mugs, souvenirs;
elements with integrated dryer. Located above the sink and needed to dry the dishes after washing, Why are equipped with more and pan for dripping water.
Wall modules for storing utensils. There are options with a dull façade, but more often choose door with glass.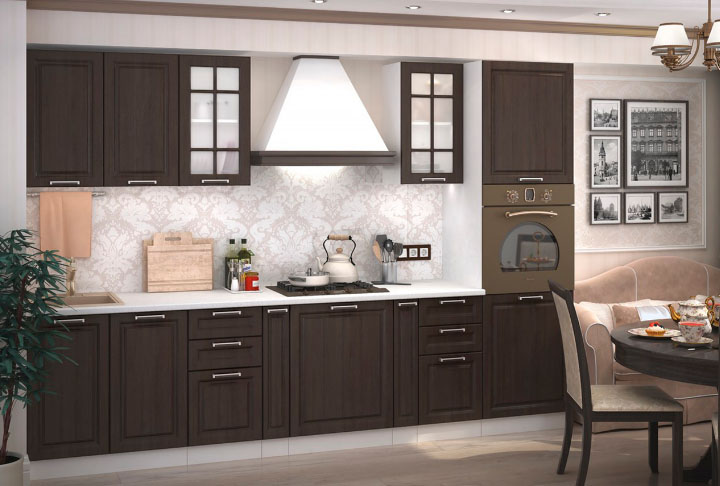 Universal floor cabinets
modular elements, installed on the floor, often used as a working surface, what their upper part is replaced counter tops. Inside the cabinets a lot of drawers and shelves. By the number of the doors are single-wing and double.
The floor modules, depending on their functions divided into:
Corner cabinets and tables for kitchen. For storing utensils or products at the bottom of such furniture mounted revolving shelves;
lockers under worktops. Legs closed façade modules. Often in such furniture Built-in appliances (dishwashers, washing machines or ovens);
Modules for utensils and food, but without worktop. The compact kitchen impractical to use such elements;
Modules for sinks. Installed under a kitchen sink and usually do not have a rear wall for easy connection to the water supply and sewerage system. In those cases put garbage pails, detergents and water filter.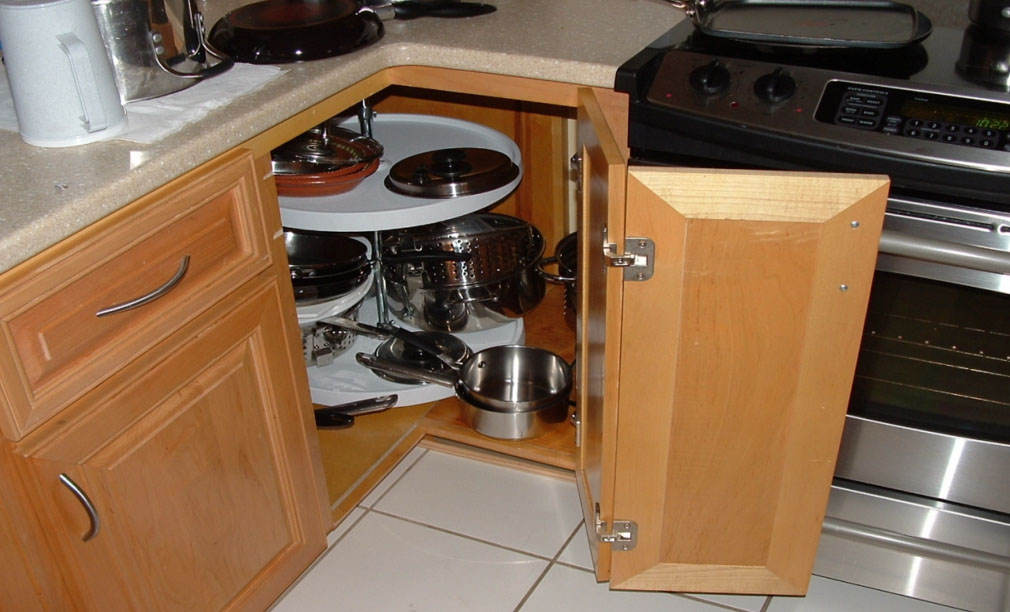 Built-column
Element, There is not all Pantry. However, if the room size allows, setting-column cabinet will allow rational use of space, occupying the entire height, from floor to ceiling. It is worth noting, that in a small room ready for kitchen units of this type look too big. But suitable option to manufacture the foam on the order.
module size allows you to install any type of built-in appliances. From the oven or microwave, disposable eye level, to the washing machine or dishwasher, which put at different heights. Sometimes inserted inside the refrigerator cabinet.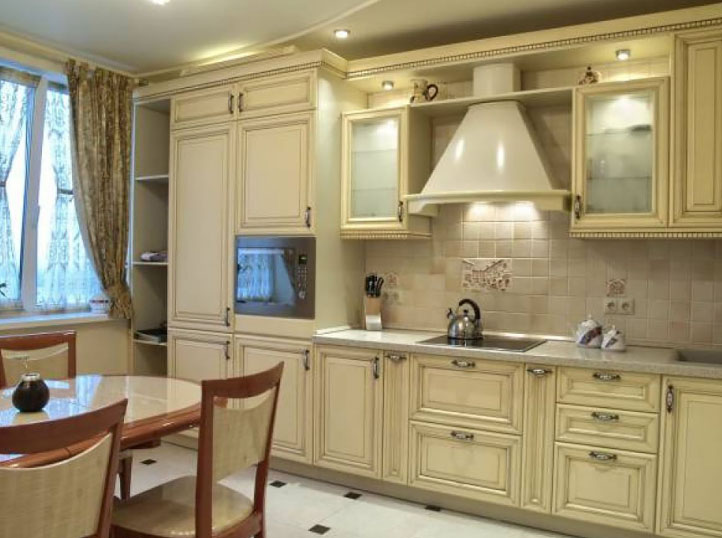 Dimensions of cabinet
Regardless of, what Modular cabinets for kitchen selected, When planning facilities should take into account their size. This is especially true of small spaces, walls with built-in appliances and bathroom rooms, when a has a value of each centimeter. For determining, how the furniture will be installed, Does it fit in the room and how much space remains for the other elements of an interior, you need to know its width, depth and, sometimes, height.
Typically dimensions for kitchen modules are standard. Cabinet takes a wide 35-50 cm for the version with one door and up 100 refer to two shutters. To accommodate the kitchen furniture is usually the mean value 80 cm.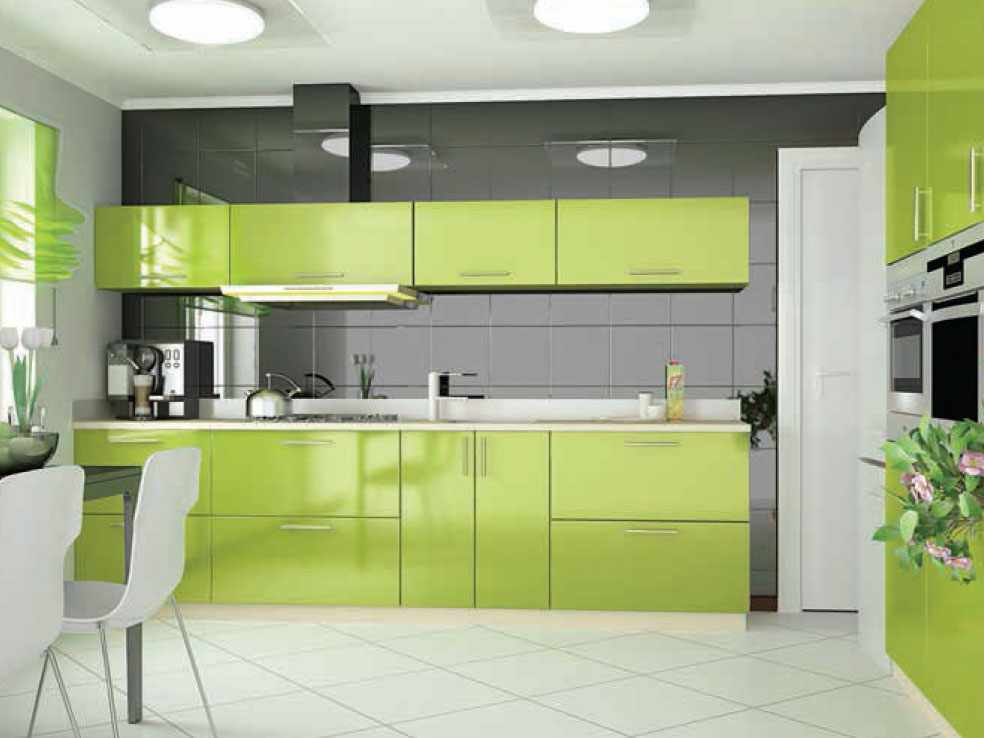 For the planning of other wall options also accept standard size kitchen units:
depth of wall cabinets 30 cm, height - 36, 46, 72 and 92 cm (depending on the dimensions of the kitchen);
floor elements produce a vertical size 85 cm (82,5 housing, 2,5 tabletop). Depth - of 50 to 55 cm.
However, manufacturers can produce kitchen furniture in other widths standards. And make the step between them and 5 cm, and 20. And one of the kitchen units with dimensions in width 45, 75 and 90 cm, and the other - 60, 80 and 100 cm. These features should I look for when choosing a built-in equipment.
Modular Kitchen with dimensions, unsuitable for washing machine or dishwasher, It leads to formation of gaps between the unit and walls.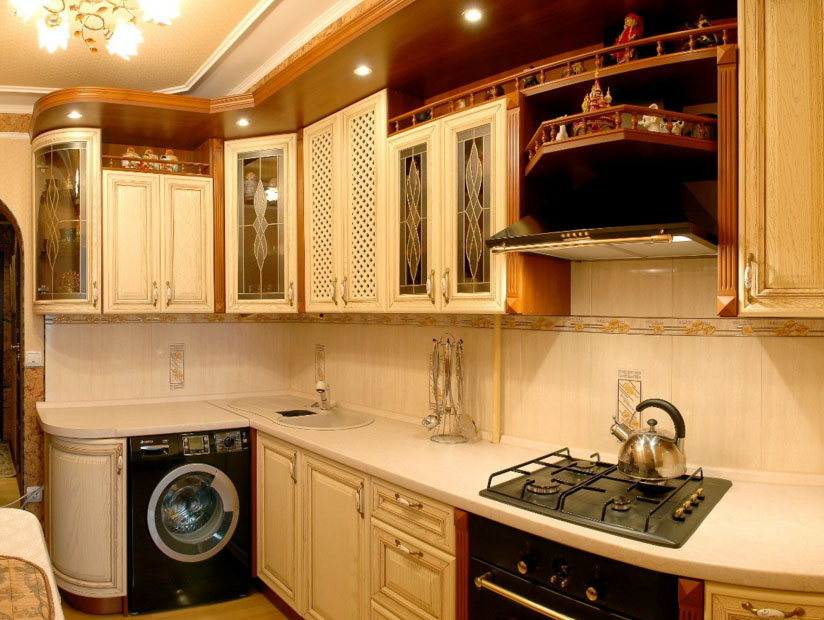 Material selection and assembly of the headset according to the scheme
By selecting packaging wall, size and arrangement of the elements, necessary to determine the material, from which will make your modules for the kitchen. And, this also applies to the front part of the furniture, and the frame, and countertops.
on the finished drawing frame
There are two types of frame - laminated and prefabricated. The first is a ready-made modules for the kitchen, privozimye customer already assembled. The second option is collected in a set of furniture in place. A manufacturing material, regardless of the method of assembly, used laminated chipboard. The use of wood for this purpose is expensive and impractical, and applies only, if from the same material and made facade.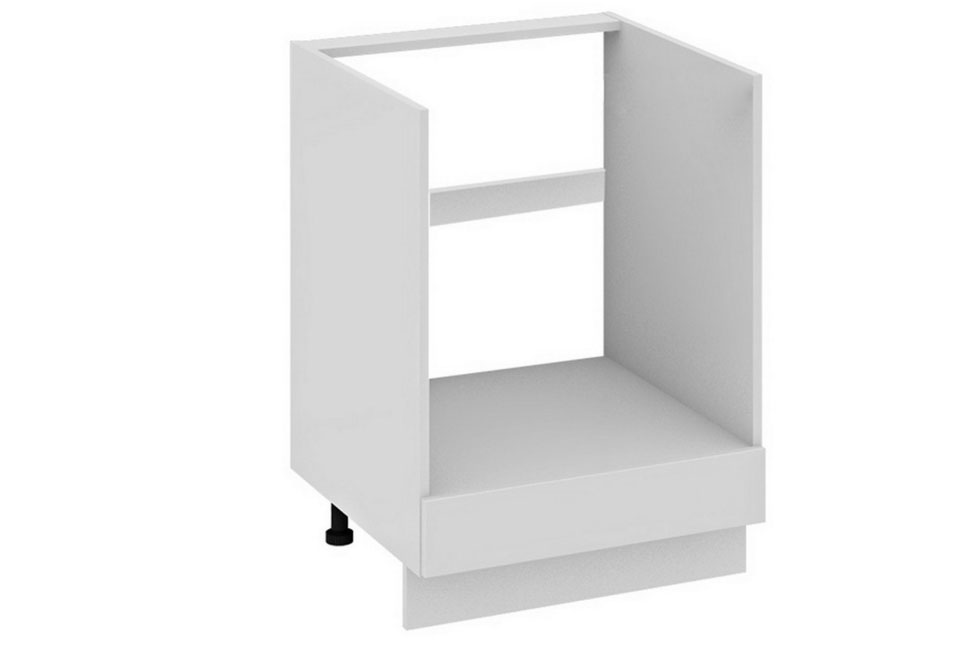 Facade
Often, selecting material of kitchen wall, mean front side. It is made of materials with different strength, environmental performance and operational life. The better options, the more expensive it will cost ready modular kitchens, a quarter of the cost of which occupies the façade.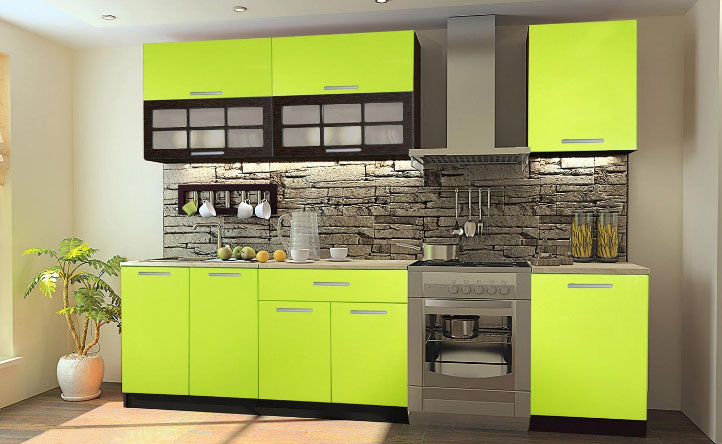 The most common kitchen wall of the following materials:
DSP. Suitable for low-cost facades and kitchens, which serves rare, since the material does not like increased temperature and humidity;
laminated chipboard. A little better than the previous version of the decorative and operational parameters, but also inferior to other materials;=
MDF. Modular kitchens of this type can withstand frequent cooking food, and available as a foil, and dyed. The second option looks attractive, but it requires special care (by rubbing powder surface is strongly scratched);
The most expensive modular kitchens from massive wood. They require and wooden frame. withstand moisture, but not resistant to temperature changes.
Other options such as plastic, glass and alumina are also used, but rarely. And their cost, parameters and type depend on the manufacturer.
tabletop
By the choice of the working surface of the material is needed, too, to treat carefully. After countertop is designed for cooking food, and for closing the floor cabinets, but, sometimes, and built-in appliances. More popular and cheaper choice of laminated chipboard. Practical - a tile, or aluminum. Dear, but stylish option - the use of natural stone countertops.