kitchen Provence: style secrets
Provence - a skillful interweaving of original antiques and simple luxury. Kitchen in this style combine age-old traditions of French village houses and the beauty of the Mediterranean nature. Despite the frivolity, Kitchen in the style of Provence are not only identity, but also functionality.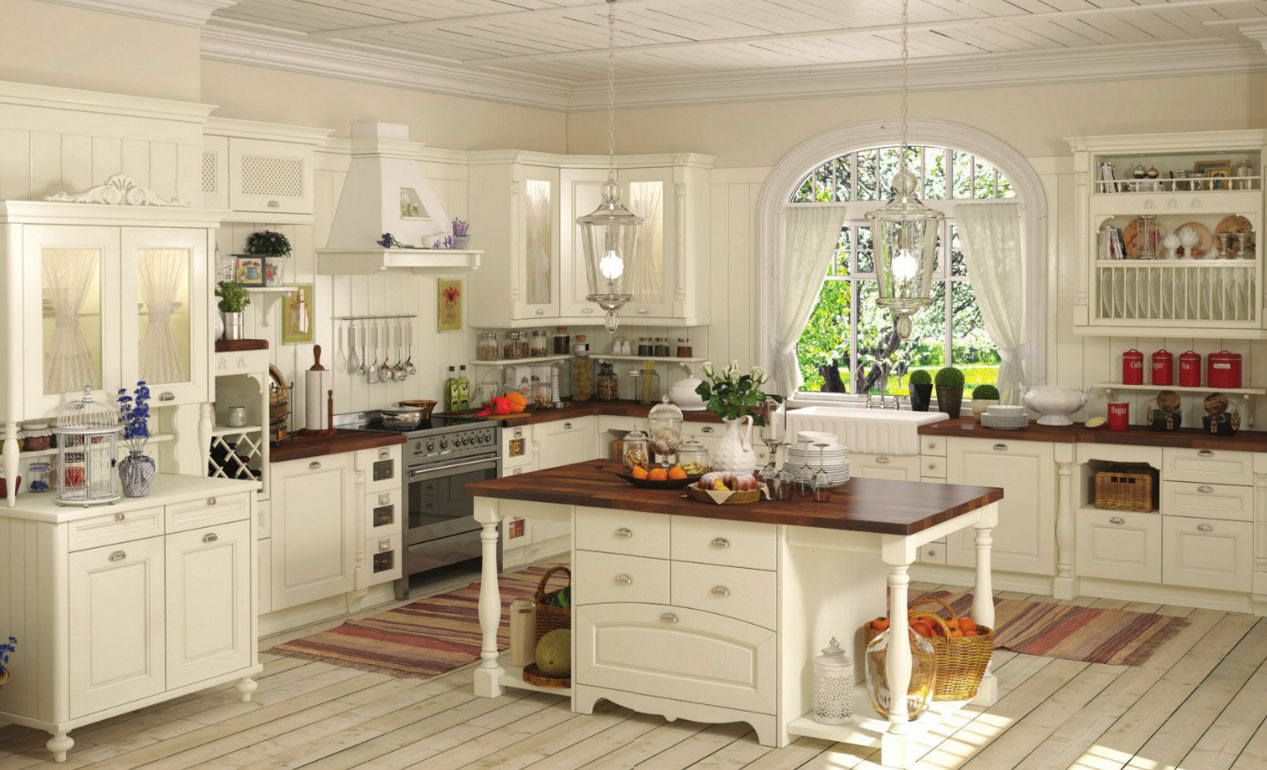 Provence in the interior
Originality of style is in the details, which in this case is given special attention. So popular in recent decoration of furniture with his own hands in the style of Provence makes us think about the transformation of the entire kitchen. Make it easy, but observance of certain rules will help to solve the problem.
natural materials. Ceramics, antique and untreated wood with a rough texture, stone and natural textiles are used to make furniture and accessories, decoration of walls and floors.
Bright hues, pastel. Inappropriate bright accents and bright colors.
Flower theme. Wallpaper with large prints, napkins and flower panels depicting fruit and vegetables.
The kitchen is always present plants - bouquets, Flowers in pots, dry grass.
Natural soft light. Kitchen Provence - a room with a large window.
A large number of decorations. Numerous details are the basis for registration of premises.
Color palette
Colors of Provence cuisine avoids bright flashy and cool colors. Unacceptable aggressive design, the sharp contrast of colors. For walls are traditionally used quiet shades of yellow - pear, sand, corn, the color of saffron, which are rarely combined with other. The most common color of the kitchen of the French suburbs - White.
Kitchen furniture Provence advantageous to look in the olive, blue or blue version. Its shade can match the color of the window frame or door. Often used in the design of these colors, like terracotta, brown, turquoise, mustard and lavender. Tiles for the kitchen these shades perfect for sex.
Regardless of the choice of color, main goal - is to create the illusion faded on the sun's surface.
wall design
For the walls designers often use natural wood. light colors visually expand the space of the panel, make the room cozy and warm. For wall design kitchen - wall paneling painted in olive green, It is the perfect solution.
Wallpaper should be textured. Wall design in the style of Provence does not allow for vivid colors. Widely used for painting wallpaper. Relevant small floral patterns or prints. The style of the room allows the use of cells and vertical strips.
An alternative to wallpaper performs rough plaster. Imitation careless execution emphasizes provincial atmosphere. White plastered walls overcame harmoniously with wooden furniture.
Masonry emphasizes simplicity interior, but not suitable for small spaces. The stone used for wall decor, in those cases, when a house is made of this material. The coarseness of stone and brick raw approach to floral patterns and pastel tones.
Original decoration will tile Provence kitchen. Panels depicting vegetables, fruit or flowers are suitable for the decoration of the apron.
Floor
Since the kitchen Provence unacceptable glossy reflective surface, floor use wood or cork. Natural wood texture underscores the provincial style. Floor linings used basswood, parquet or laminate with the effect of artificial antiquity.
Matt floor tiles dark colors as appropriate in Provencal style. Solid color for the kitchen tile can mimic stone surface. Appropriate use of mosaic.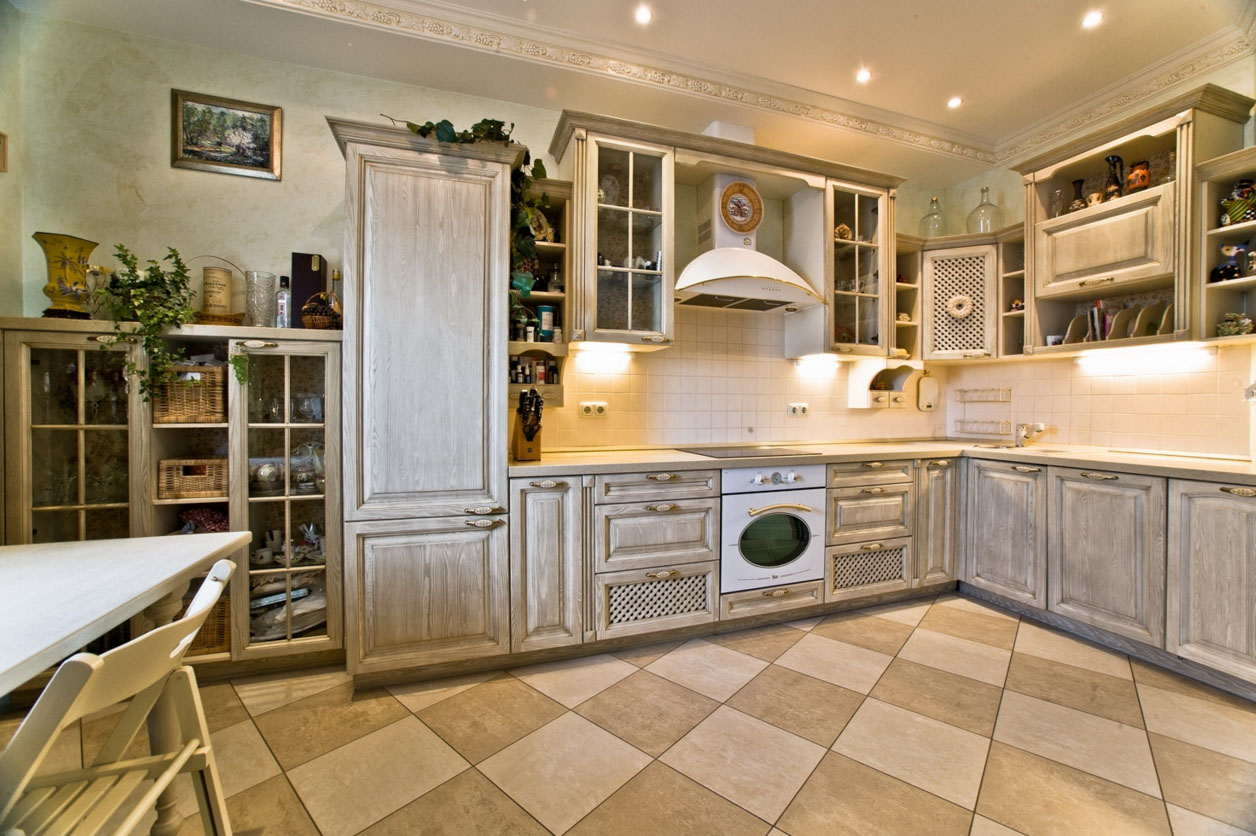 Doors and windows
Provence style It requires a lot of light, so the kitchen must be present a large window. As the main style attribute, it may have original wooden or wrought-iron handles. Plastic is misplaced. Frame painted white. Welcome effect of aged peeling paint. Some design projects and allow dark colors, eg, in cases, when the walls of the room are decorated with wood paneling.
Windows and doors in the style of Provence, usually, have a total invoice. Despite, that the surface may have scuff marks, the door has to be reliable and thorough. It is decorated with a wreath of flowers, wrought iron handles or small panels.
Furniture
For Provence is characterized by wooden furniture. Do not use glass, chrome and nickel products. Provence kitchen furniture must be rough texture and artificially aged surface. Interestingly it looks simple furniture with rough handling. cracks, chipped and uneven add more expressiveness.
Kitchen set in the style of Provence are always visually heavy, but justified. Cupboards, buffets, chests of drawers and cabinets are made of solid.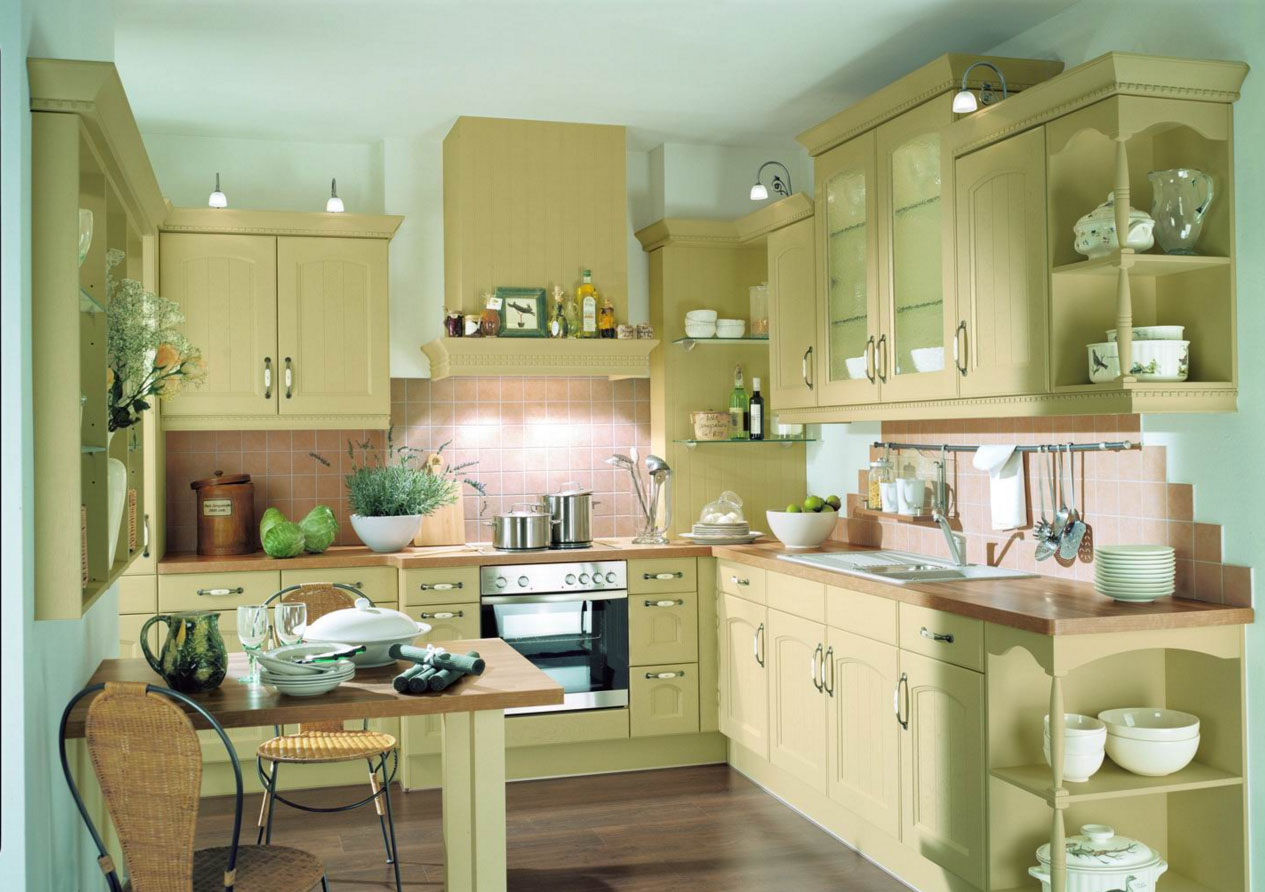 Manufacturers prefer:
oak,
orexu,
noise.
Valued decoration of furniture in the style of Provence with their hands. Renovated dining table with a long history may become the central character of any kitchen.
Upholstered furniture Provence suitable for large premises. For finishing textiles is taken in a natural tone of the walls or with a small floral pattern. Used lace and ruffles.
Dining group and headsets should create a single ensemble. Wrought iron tables and chairs look good with ceramic cabinet knobs. common folding chairs, wooden benches, open shelves in the kitchen in the style of Provence, buffets, large desks, sliding drawers. In the room a lot hinged racks and shelves.
accessories
Intereer in the style of Provence - it's a room with lots of detail and trinkets. The walls are decorated with decorative holders for collectible glassware and kitchen utensils. Inside a lot of lace and ruff. Instead of boxes for storage of fruits and vegetables, used wicker baskets and wooden boxes. On the windowsill are many flowers and herbs.
Casual dinner set should not be allocated elegance and pretentiousness decor. Appropriate quiet tones. Permissible floral ornaments and images of pets. symbols of France, lavender and red rooster, often used for decoration of tureens and trays. In the kitchen, a lot of copper and enamelware.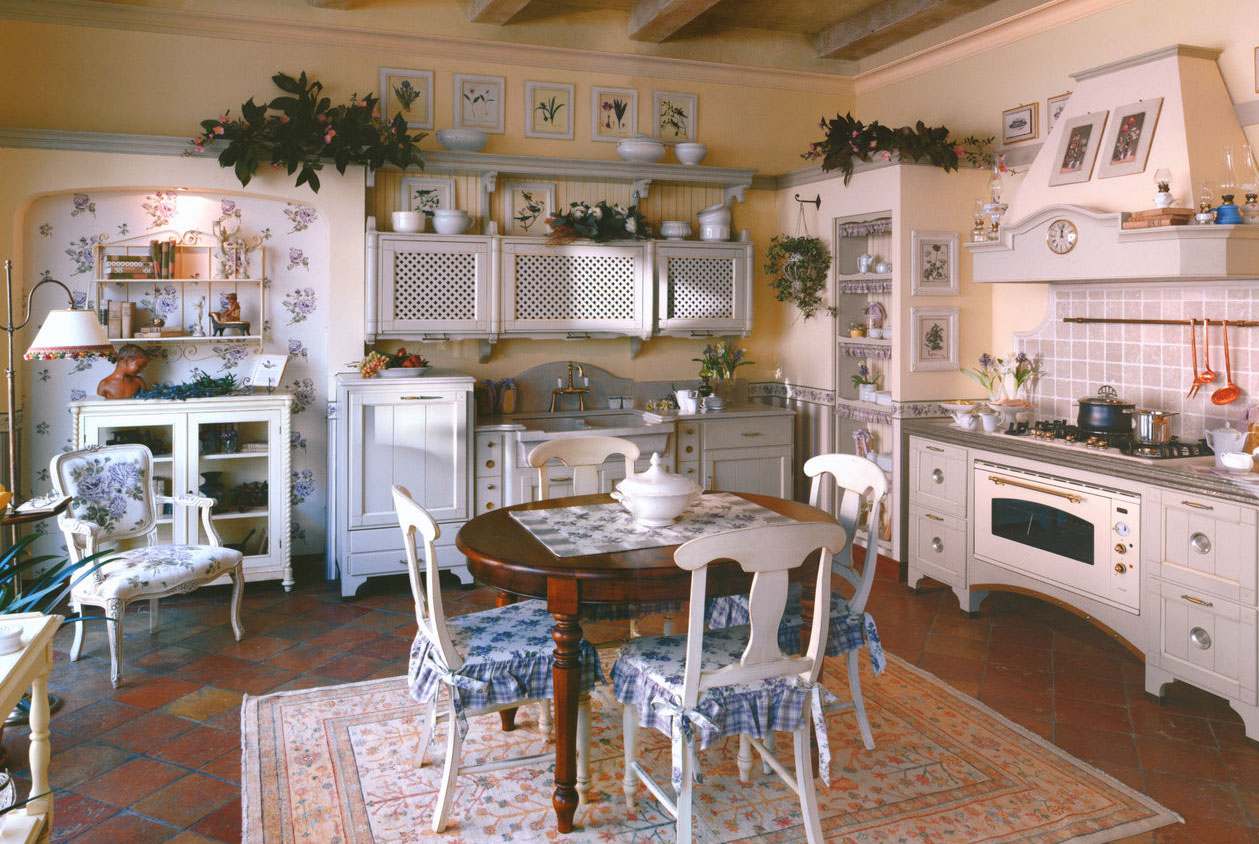 Decorate the kitchen in the style of Provence help products made of natural fabrics. Chair covers, pouches for spices, plaid curtains for open boxes decorators are used to actively. Popular embroidery and handmade lace.
In the kitchen, a lot of ceramics. On the shelves are put clay pots or porcelain figurines. In a fashion includes milk jugs and ceramic gravy boat.
In the kitchen of Provence can not do without natural textiles. Coarse linen and cotton will be harmonious look in the "French Country.
Modern home appliances market offers a range of stylized appliances for the kitchen. Chromed bronze faucets in the kitchen in a pair with a sink made of stone can be a wonderful food supplement.
Lighting
The main difference between a kitchen in Provence style from the others - it is a uniform soft light. There is no need to highlight individual items or make zoning. Not allowed contrast between bright light over the dining area and general lighting muted. Perfect Provencal specialties - a room with a large window. As the primary light source, It is decorated with light weightless curtains.
The kitchen should be well lit.. If space is a slight emphasis of lyustre with wooden elements, porcelain or wrought iron. lamps are often used with a textile shade. A large chandelier in the kitchen should not create dissonance in a small room, a lamp lost in the overall design. Wrought-iron chandeliers and brass candlesticks perfectly complement the bright kitchen of Provence.