How to make a small kitchen in the style of Provence
Provence - French provincial style, filled with romance, easily and love to free the village way of life. kitchens provence style distinguished by a particularly warm and cozy atmosphere, they are simple in design, practical, they tend not to minimalism and cold metallic luster surfaces. To visualize interiors in the style of Provence and country, suffice it to recall, some extraordinary energy has an old grandmother's furniture - a chest, dinner table, bookcase with flowers. What features are characteristic of French style and how to create it at home?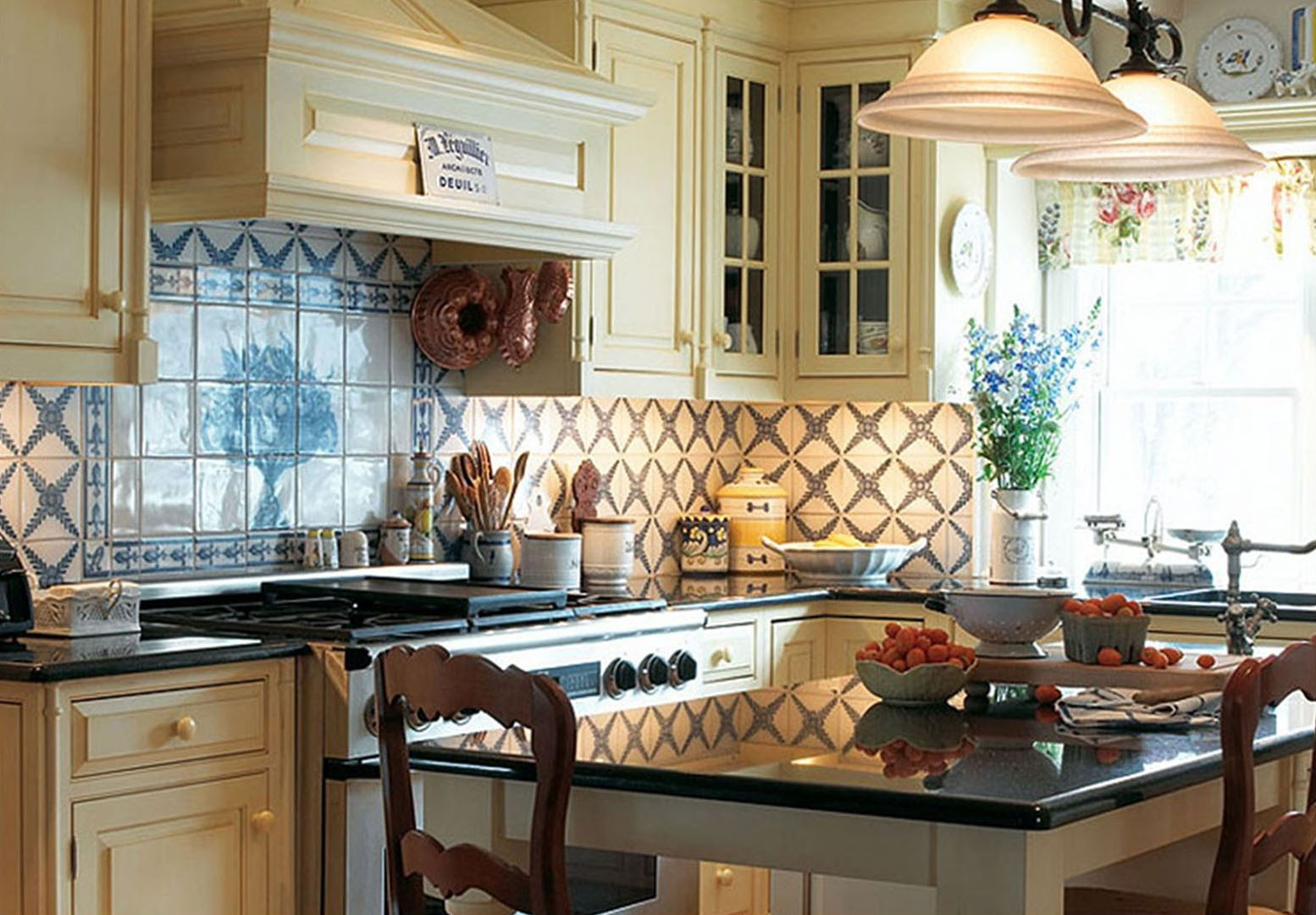 idiosyncrasy
Provence tends to be natural, naturalness and familiarity. The province has not made every second follow fashion innovations, life is measured and calm, so the interiors are not updated, but this becomes even more beautiful. Why? because, that the maximum number of pieces of furniture and decorations made of natural wood, clays, pottery, other natural materials.
Today, find antiques at an affordable price can not be, so the style of Provence cuisine involves the use of artificially aged furniture and accessories. If the owners of the house have the opportunity to find things with history, attention can be paid to the lamps in the style of Provence, wall plates, in the interior, they serve as the primary way to design the walls and accessories for open shelves. If a family has ancient ceramic porcelain dining set go, they should be put on a place of honor.
Overview
Each style is characterized by features, distinguish it from other directions in the decor. They take into account in the first place, if they are omitted, Interior loses his idea and becomes a simple mixture of fantasy. Without which there can be no French Country?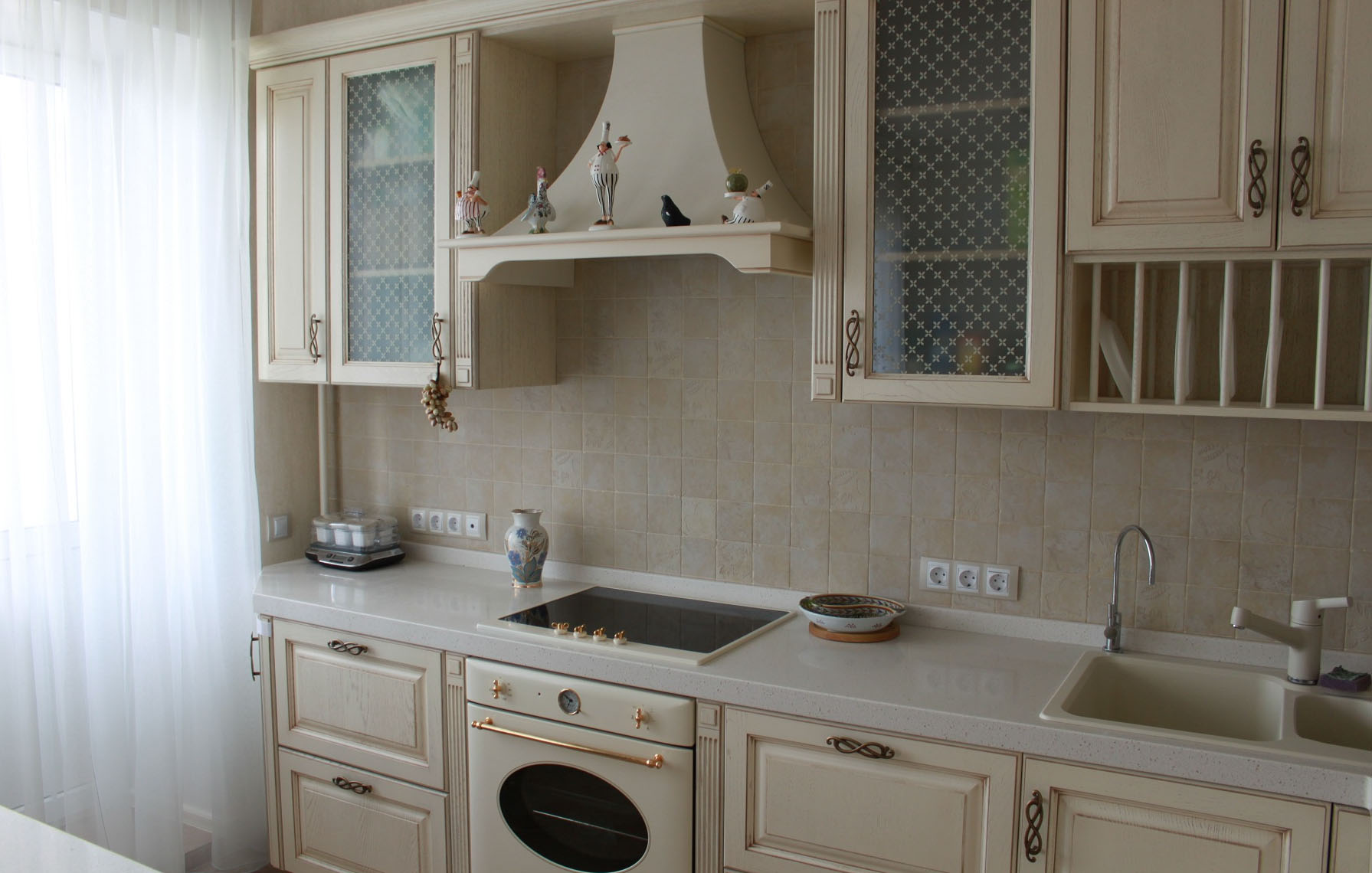 Antique furniture with the effect of abrasions, patina and even chips.
floret, which is repeated in the figures on the wallpaper, curtains, tablecloths, dish.
Beams on the ceiling.
The abundance of retro accessories.
Lots of natural light, which is amplified white and pastel colors.
natural textiles: sitec, linen, cotton.
Spacious and small kitchen in the style of Provence are no different choice of colors and decorative materials. For walls characteristic texture, which is achieved by using a special plaster, stone, brick. If the walls are decorated with wallpaper, they present floral pattern. This version of the decor is the most prominent feature of French style.
Kitchen in the style of Provence with their own hands - quite feasible task, to realize that you can use the existing furnishings and accessories. Fit the old kitchen, wicker breadbasket, old chandelier with shade, beautiful tableware in the style of Provence, ceramic pots and other containers, clay pots. Frame in the style of Provence, you can make your own hands. Suitable wooden board, even with a rough surface and the untreated glass. After cutting at the angle of the frame and joining them with an adhesive, under glass, you can put dried flowers, herbs, cross embroidered linen. Frame is put on the shelf, windowsill, hung on the wall.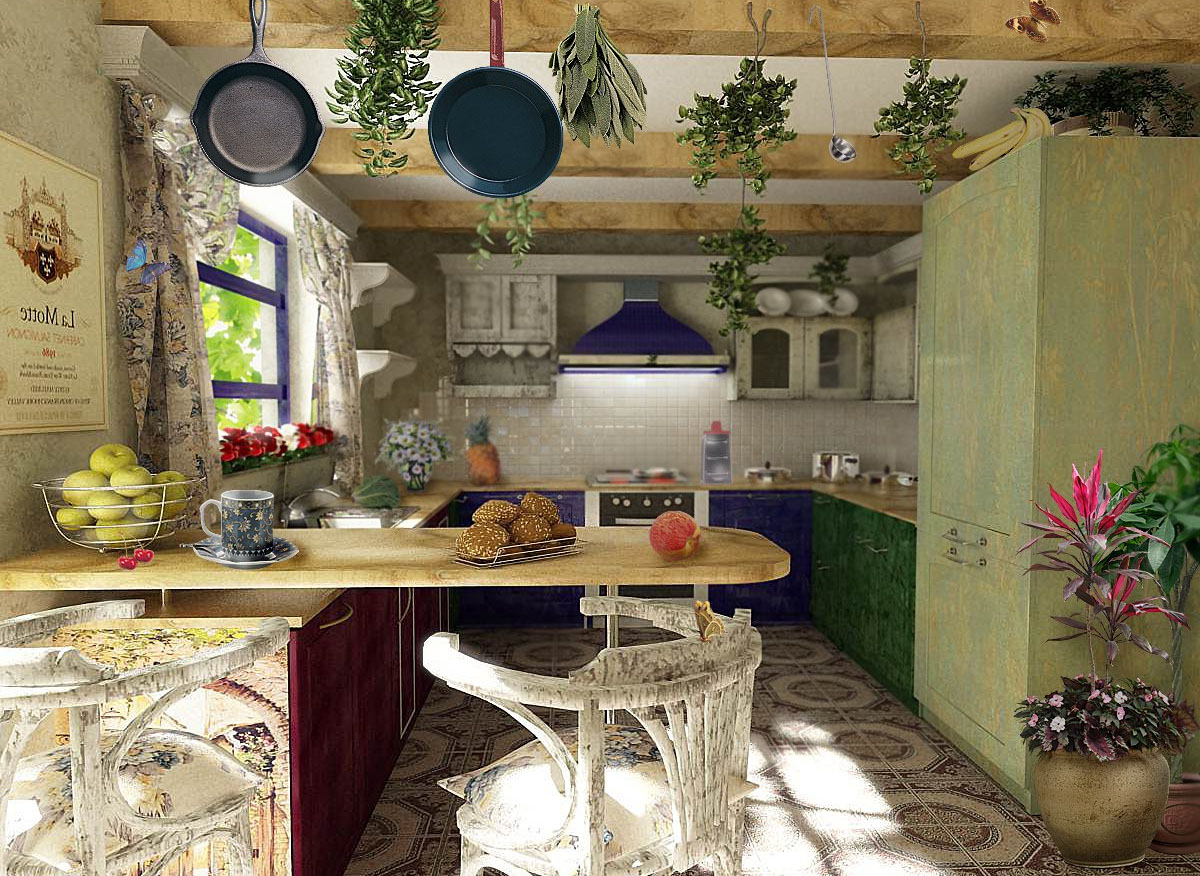 Color spectrum
Flower King in the French country is considered to be white. It is present on the walls, facades of kitchen furniture, furniture, ceramic tile. In addition to his interior use all tender, light colors warm and cool colors:
light green;
sweet blueberry;
beige;
light purple;
woody;
yellow;
turquoise;
Gray.
Of intense colors, which are used to highlight accents, can act blue, orange, tyerrakota, green, lavender, blueberry.
Recommendations for Building style
A small kitchen is ideal for implementing ideas Provence. To make it a nice and cozy, as in the famous French countryside, enough to follow some of the recommendations: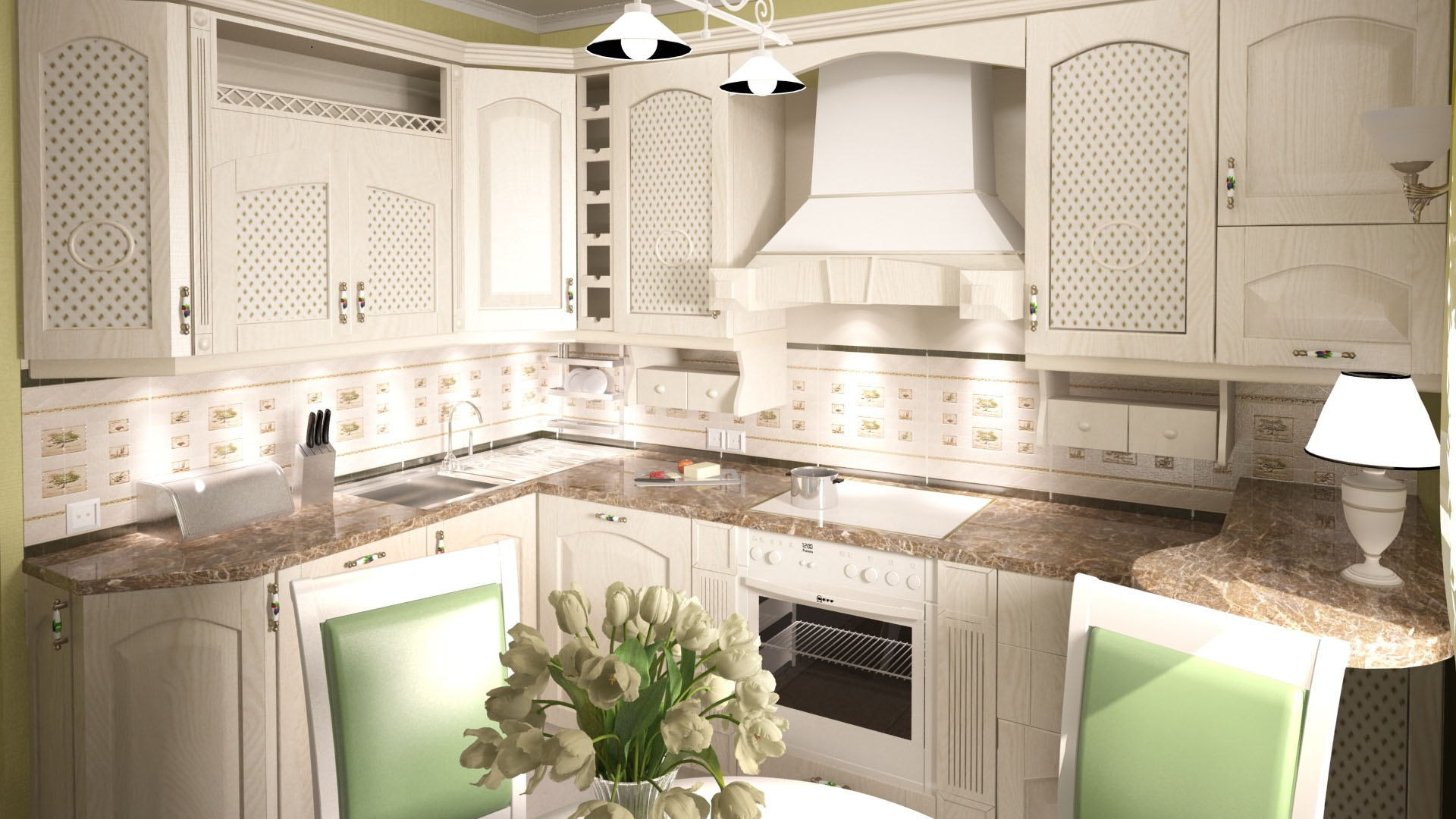 use the usual decorative plaster for partial wall decor;
use ceramic tile warm shades for your apron;
wall, in which there is a dining set wallpapered in the floret;
as an imitation of beams used on the ceiling panel PVC;
hang a wall clock for the kitchen in the style of Provence;
use ceiling chandelier Provence with several shades;
prefer white facades kitchen drawers.
Perfectly emphasize the idea of ​​dishes in the style of Provence. This is an element of style and functionality, and decorative. Ware is everywhere: Round ceramic dish on a table with food, cups and pots on the windowsill with flowers, Containers for food storage on open shelves. That abundance of decorative objects made of Provence itself.
Introducing materials
textured plaster, eco-friendly paper wallpaper, clay, ceramics, natural and artificial stone, tree, forged items, linen, cotton, bechevka, twine, dried flowers, herbs in pots, bouquets on the tables - these are the basic materials and decorative objects, which is used to create a French Interior.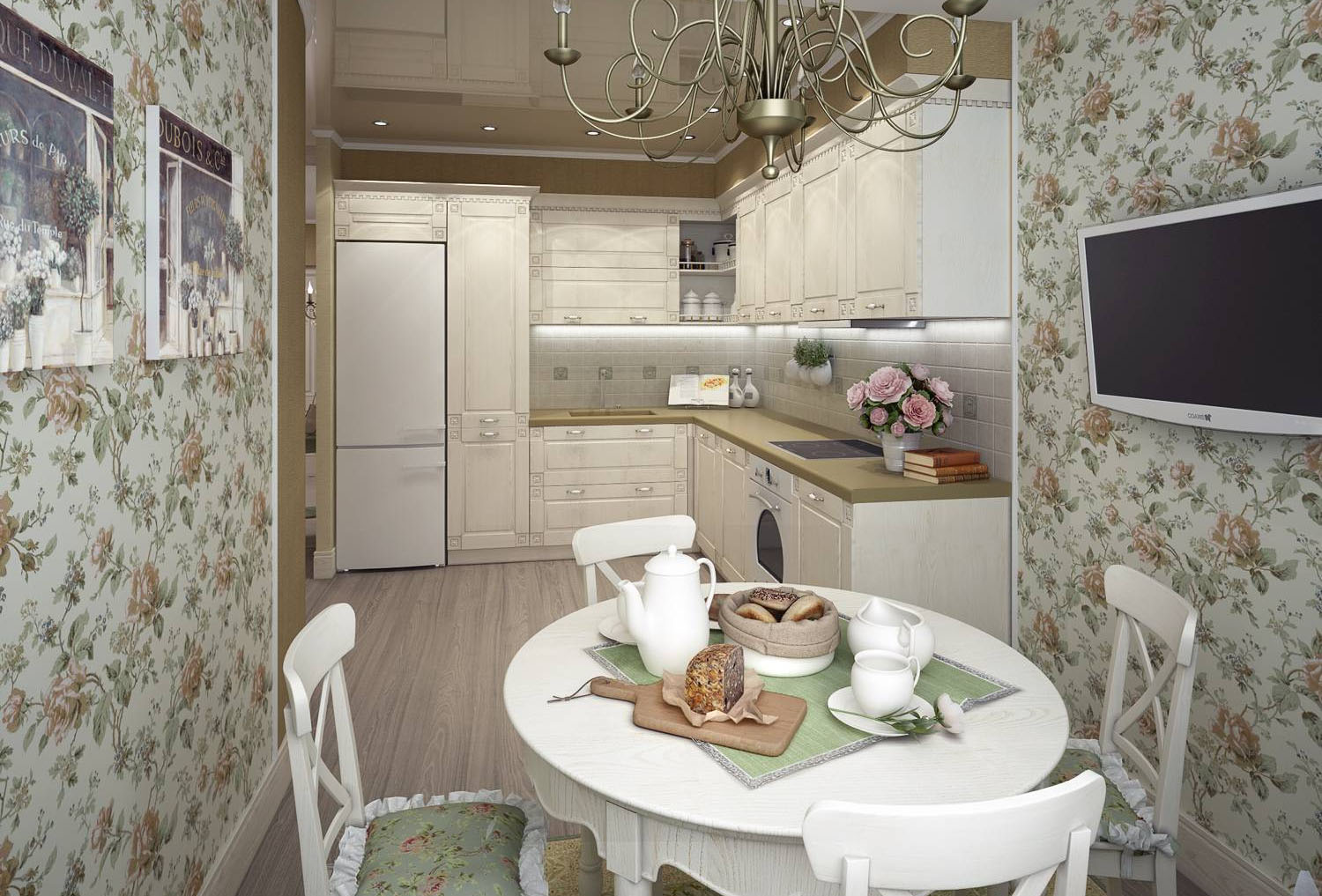 When natural materials access is limited, You can use the analogues:
MDF and DPS;
acrylic;
PVC panel.
accessories
Kitchen Provence - is the abundance of natural warm light. During the day he comes from a large window, evening it provides the chandelier in the style of Provence. These accessories have a curved metal base - frame with multiple light sources, decorate small fabric or glass shades. Provence fixtures can be woven shade, through which very nicely lit kitchen in the evening.
In a corner of the dining area, you can put a floor lamp in the style of Provence. It has a classic straight shape legs and a large lampshade, decorated with lace, tassels, artificial flowers. Typical accessories are considered wall plates for the kitchen in the style of Provence. Such items make by hand, painting the clay samples with natural colors or patterns spread mosaics. Banks for loose products in the style of Provence in the kitchen - numerous accessories. They are on the shelves, tabletops, in lockers, They have a beautiful painting.
Provence interior fit natures romantic, close to nature, appreciating all natural and natural. In this room there is always comfort, measured pace, gravity, particular relevance to detail. Having a kitchen in the French country, you can enjoy its beauty every day and be confident, that feeling will stay at home for a long time.