Ivory: 5 advice, how to make the kitchen chic
Universal ivory combined with any colors and fits organically into kitchen interier. Classic or modern, High-tech or minimalism, Provence, or country - there is no such style, which would not take ivory color. Pale beige hue becomes a primary or secondary depending on Kitchen Design, but it is never lost in the room. that color kitchen Ivory looked elegant and noble, Use simple tips on its improvement - without nuance can not do here.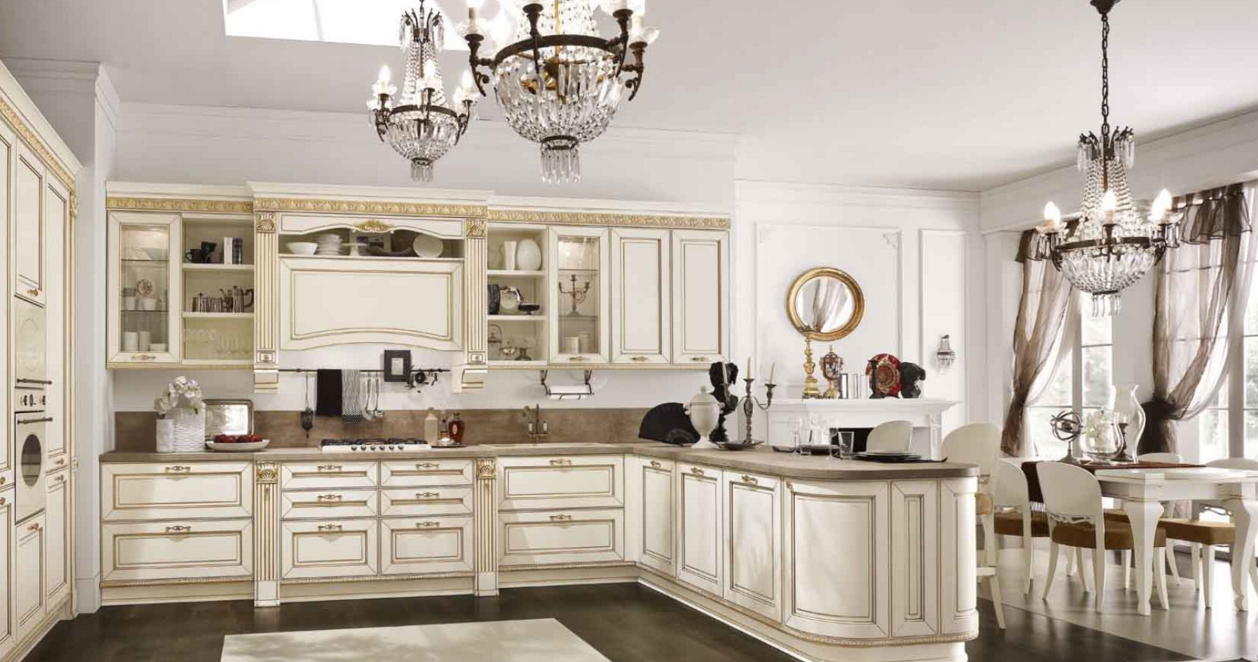 Council №1 - note especially the colors ivory and your kitchen
kitchen, decorated in a light beige tone, It looks stylish and elegant. It is a versatile tone, that fits into any size room.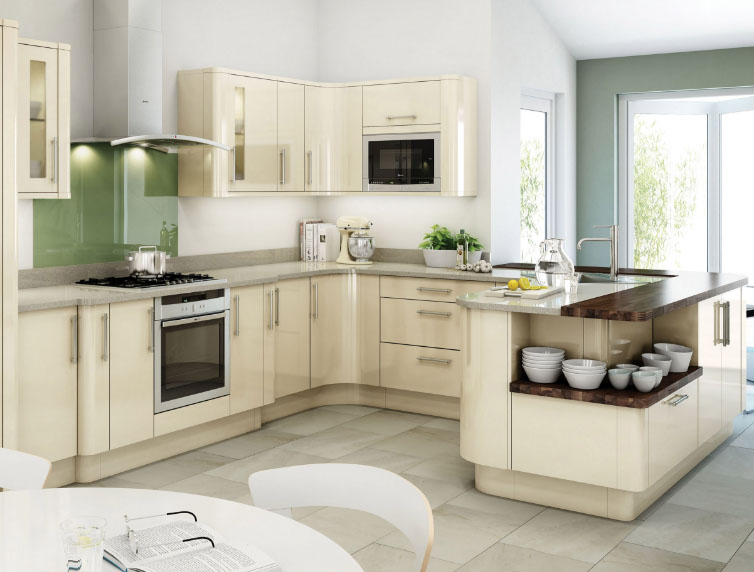 When choosing a solution for small-sized kitchen, Pay particular attention to the ivory - a warm shade visually expands the room, fills it with light, brings comfort
Ordering a door with glass for wall cabinets, you get the most lightweight version of the headset. Ivory - a great alternative to white, which is often perceived too cold or aloof.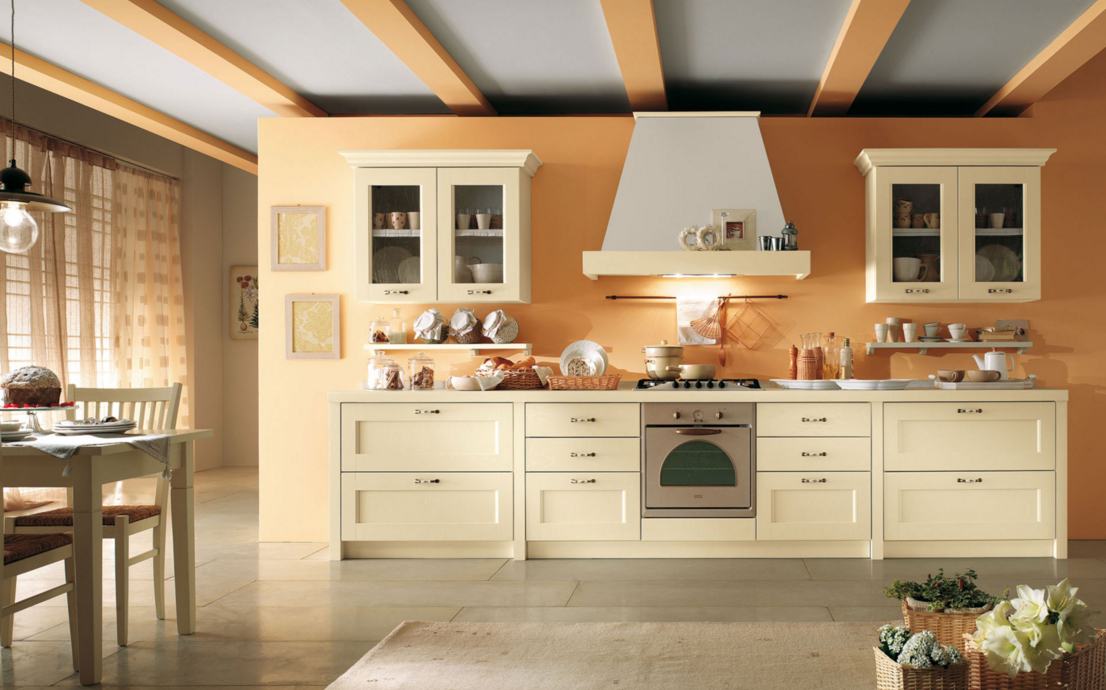 Council №2 - pick the right colors and materials Companion
The addition of other colors in the kitchen ivory color makes it possible to give it a personality and mood, while even the monochrome version is an excellent solution. Help to achieve the maximum effect the following colors:
Chocolate - Ivory in combination with chocolate or light shade coffee filled with tenderness and nobility at the same time. The colors used for companion framing and furniture parts - the upper and lower caps, Lunch, bordering glass facades.
Black - is used to create a luxury interior. Table top of black granite or dark door home appliances underscore the depth of light beige Headset, but do not look too contrastly.

White - used for finishing the ceiling and walls. The color combination of ivory and white give the room lightness and purity.
Bright colors - suitable for emphasis, They help to personalize the interior.
Pastel shades - create a serene, but not bleak situation.
Silver - a refreshing design.
Gold - gives the room warmth and solemnity.
Ivory combined with wood, stone and leather. If you can not use natural materials, the fit quality substitutes. Wooden furniture, leather upholstery chairs, surface antique, Countertops made of stone give the interior elegance and presentable. Cheap plastic or accessories will make a solemn ivory in an off-white interior.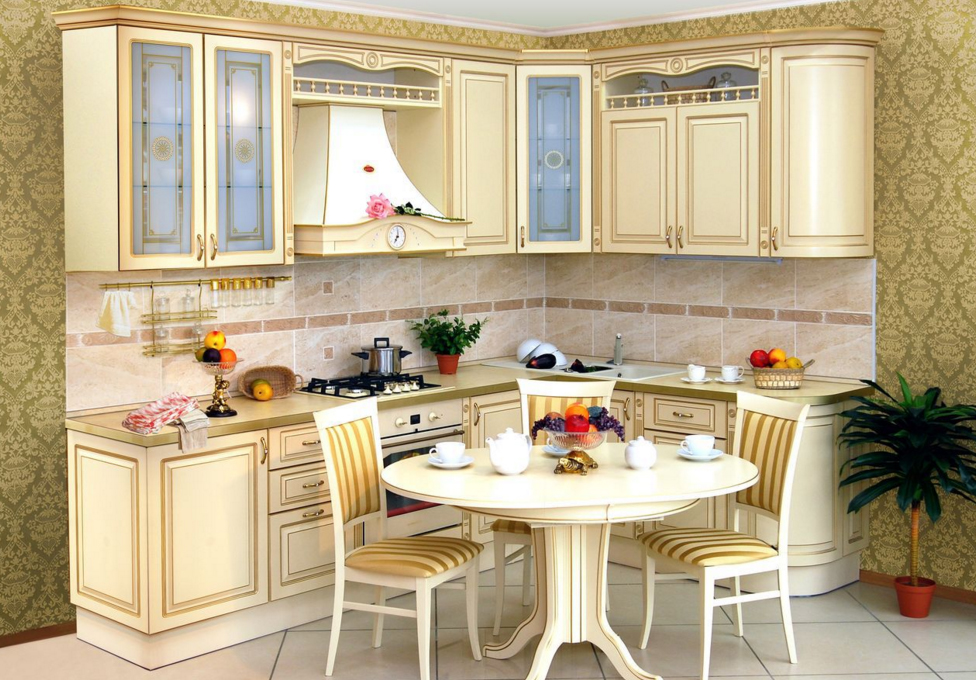 Council №3 - choose your style
ivory color in the interior suitable for any style, but there are nuances of the design of each of them. Consider the popular solutions for light-beige design.
Urban style - furniture ivory in the interior of the kitchen, eg, Lightweight headset MDF complemented by bright colors. If the selected light beige facades, the walls are painted orange, green or yellow,. The reverse option - bright door on the background wall delicate ivory.
Modern - selected ivory combination with natural colors: green, wood, blue. The quiet atmosphere of muted shades complemented by smooth lines, streamlined contours. Roundtable ivory - great for Art Nouveau.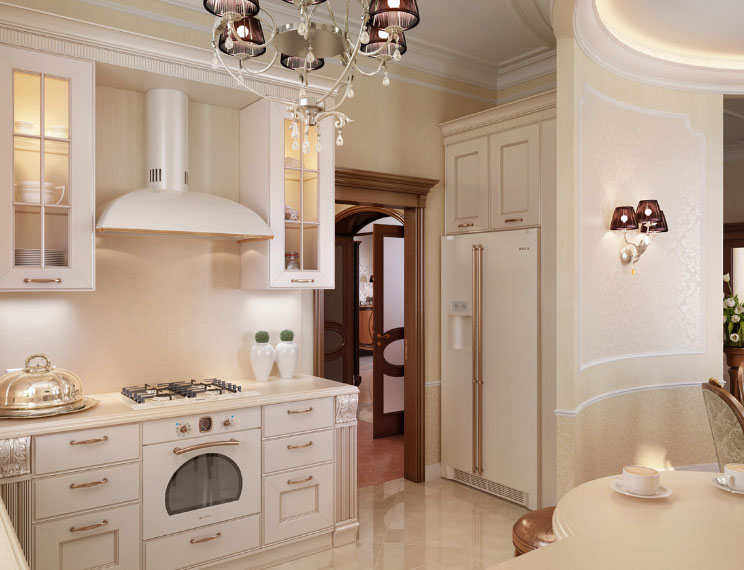 High tech - light beige shade complemented by metallic gray.
Provence - Ivory set looks great against the pale olive or pale lilac walls.
Loft - ivory combined with natural brown.
Classic cuisine color Ivory - a pastel, facades with carved decorations, gold or silver finish. Deep colors - chocolate or burgundy - give the room a touch of luxury.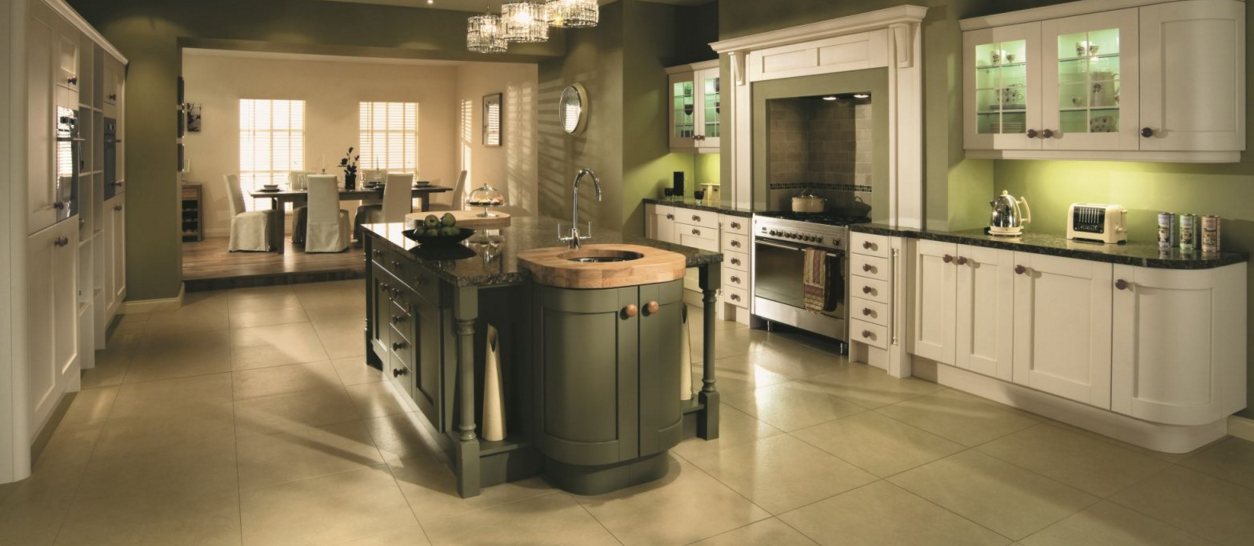 Council №4 - set the right lighting
Interior, which is decorated in soft beige tones, abhors darkness. Bright lighting design will emphasize the dignity.
Faded light turns noble interior in off-white room - Treat carefully choosing fixtures
The backlight working zone, built-in lights in the upper socket Headset, hanging lampshades dark over the island - not do without additional light sources.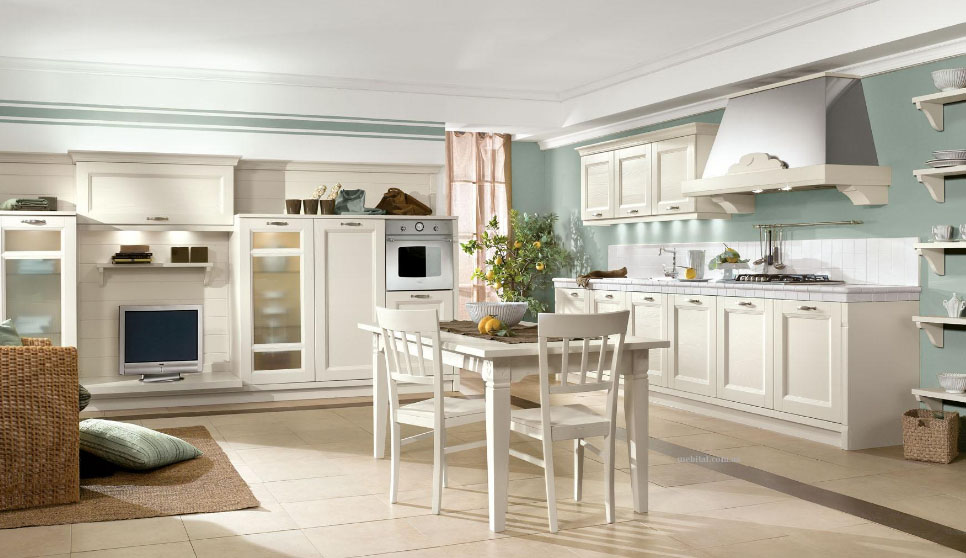 Council №5 - do not be afraid to experiment
Kitchen ivory - ideal for experiments. If you want to create an interesting and unusual interior, the light beige color will not allow to make a mistake. He is neutral, therefore dampens saturated colors, a bright accent does not allow to turn into lurid spots.
Try to implement in the kitchen here are design decisions:
Set of color ivory with transparent furniture for the dining area - the room is not just easy, and weightless
Painted in an ivory shade oak - noble tree exquisite tone is always in fashion. It is better to tell all about the status of hosts
Worktop colors walnut and ivory furniture - decision, that will bring elegance and charm
Wallpapers or painting - wall opposite the headset be issued in the style chosen for him. For a classic fit arch or floral motifs, urban area support urban landscape, Provence - lavender flowers loose
Wooden furniture, and curtains, apron or walls in burgundy tones combined with light beige suite - will fill the room classic luxury
there are many solutions for the kitchen ivory interior. Spoil it virtually impossible, but to create an indescribable feeling of warmth and comfort is quite simple. This amazing shade softens the background or perform Violin, It supports the rhythm of life of modern man, or rises in the custody of traditions. And if the selected style cuisine a bit to bore a few years, it is sufficient to change the dining furniture, textiles and accessories - kitchen ivory ready for any metamorphosis.