Kitchen coffee-colored in gloss: the best combination of shades
In addition to comfort and beauty of the kitchen has another unusual property. It can be tasty. What does it mean? Of course, no one will try to kitchen furniture on the tooth. But you come to this kitchen, and salivate in anticipation of the holiday belly. Impression goodies kitchen give shades, which made room design - from walls and furniture to towels and napkins.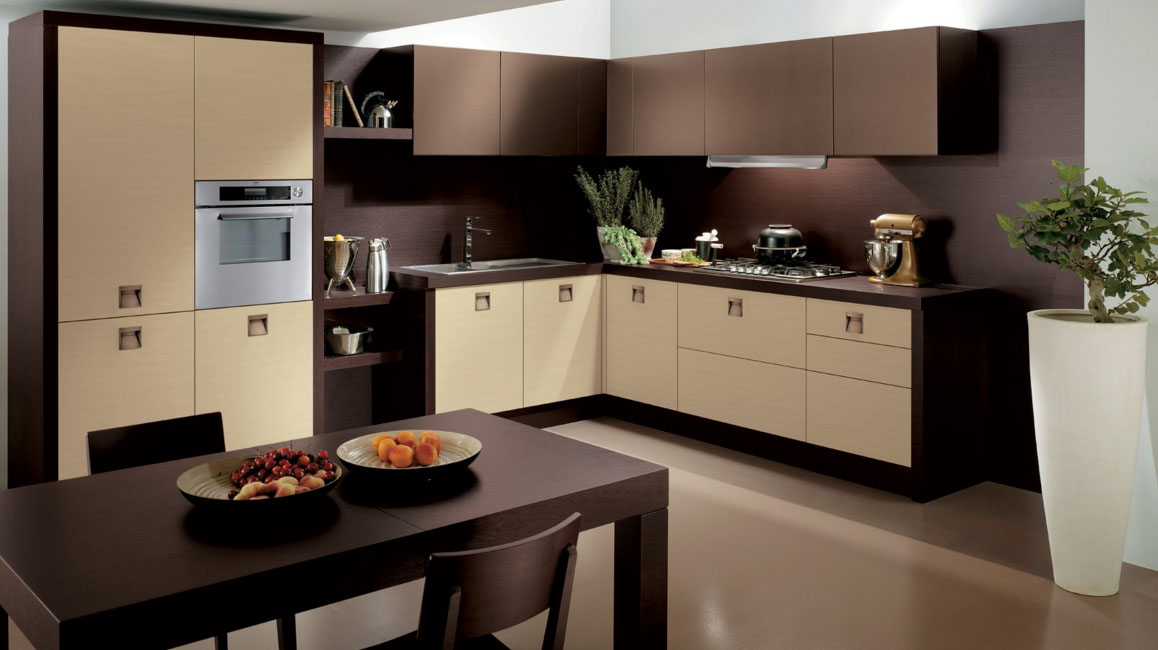 One common appetizing color schemes for the kitchen space is brown palette.
Wonderful beige shades in glossy design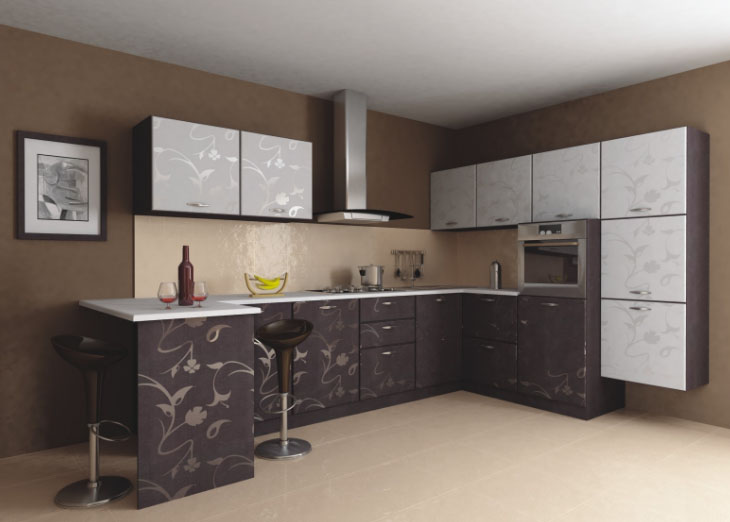 What attracts brown? Its depth and warmth. kitchen interior in brown and beige tones evokes calmness and tranquility. The softness of the brown shades gives a feeling of special comfort. Shades of colors are good for any style from classical to ethnic.
Kitchen in coffee colors suitable for large families and for the confirmed bachelor apartment.
Coffee palette in the interior: walls, floor and ceiling
Brown palette has a huge number of shades. From the color of milk chocolate to dark - chocolate-rich. All these shades are warm and cozy. Their distinguishing feature - a terrific softness perception. From them emanates reliability and the age-old dimensions.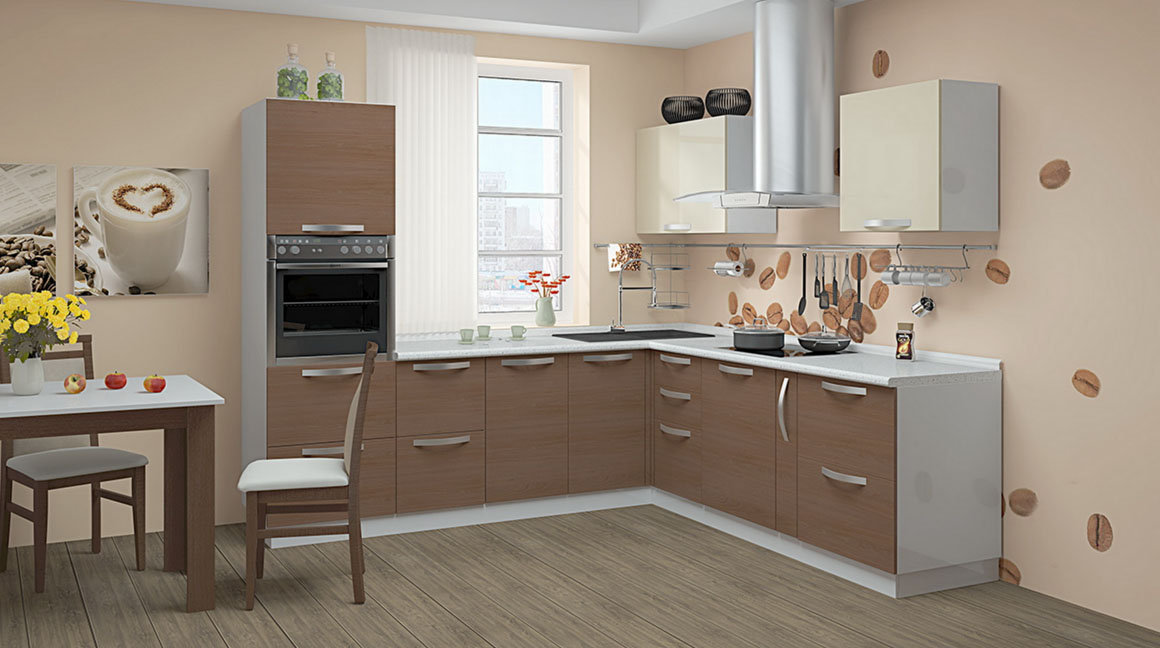 Dark brown is associated with coffee or dark chocolate. It is the color of the classical style, with its nobility and aristocracy.
Red-brown - a magnificent representative of the Victorian style, with its firmness and conservatism. Color red furniture from an array of expensive suit and a brilliant art deco.
Hazel will be appropriate in ethnic style: Russian wood, sultry African or luxury Egyptian. This is an optimistic color cheerful comfort and good mood.
Taupe or Taup - discreet background of a good Scandinavian style. An excessive amount of dullness in the decorative details will make this uncomfortable shade of brown and whitish.
Light brown shade hides a cozy and quiet. This shade has a quiet family evenings with a cup of coffee and a soulful conversations in close range.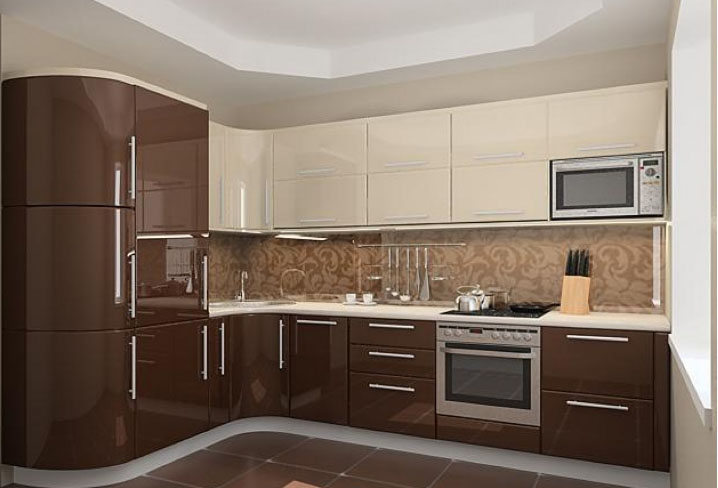 Ideal partners brown hues in interior design:
Relaxed beige and bland milk will lead to a self-sufficient union. The combination of colors with milky color comes this additional heat tint.
Optimistic orange give positive energy and add joy. Whites fit into this duo and give the interior light and airy.
Diffuse yellow fraction will regularity and detachment. It is better to use as background.
Fresh green will add coolness. Bright shades of different restraint, and dark - elegance.
Rich gold will emphasize refinement of design in brown tones. This color is best to use only for the decorative elements.
Reliable blue will practicality in interior brown kitchen.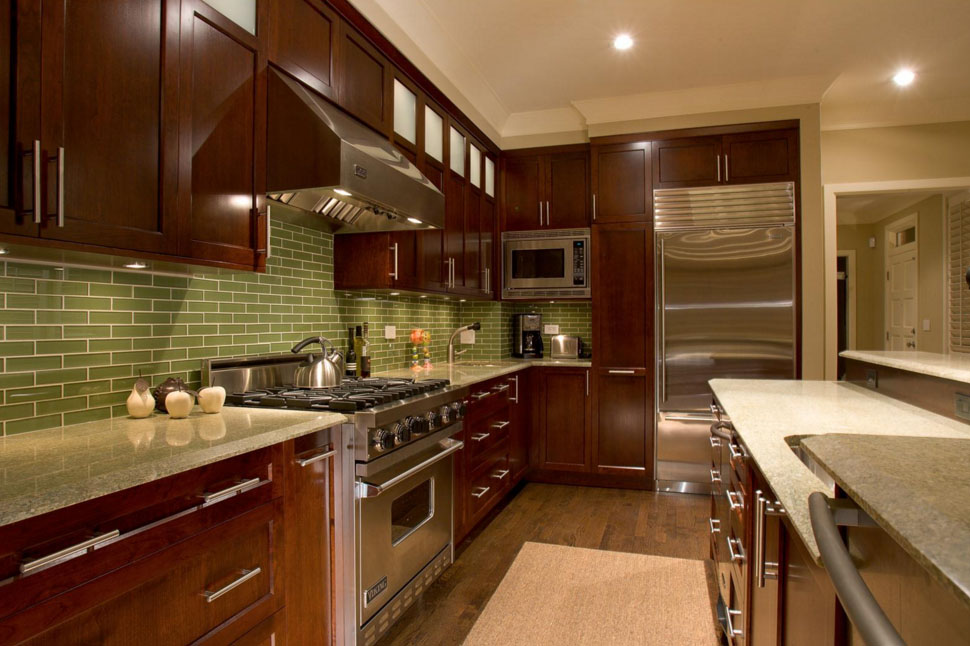 The lighter shades of brown, the richer should be blue. With dark chocolate is better to combine the bright colors of blue.
Nuances of coffee Interior
With brown shades in the interior of the kitchen to be very careful. A little too far with the dark-brown color, and kitchen depressing uncomfortable atmosphere. Designed only light colors, and the kitchen lost its individuality.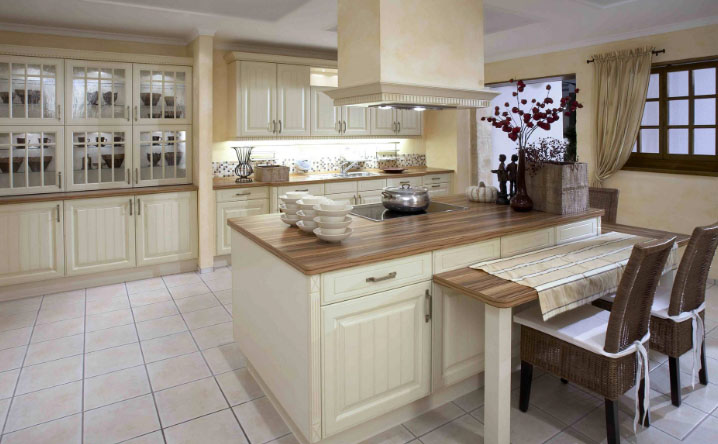 Kitchen color of coffee with milk requires a special approach. When you make a kitchen space should follow the simple tips:
It is desirable to avoid an abundance of dark spots in the kitchen - they make the room dark.
Light ceiling - the key to successful design. The kitchen should be a lot of light, so: the higher the look - the lighter tone. Kitchen Design coffee with milk ceiling - the perfect solution.
minimalist principle in the choice of main dishes tones. If the basic - coffee color, accompany him can cream. Pink, light green and dark brown - additional elements of palette.
Union of walls and furniture. In no case do not use the same shade. They simply merge. If the walls of the coffee color, the headsets and brown corner.
Determining the compatibility of objects. Curtains in the room design play a significant role. They visually expand the space or limit it. Successfully complete the design or destroy the impression of comfort. It is important to determine, Curtains should be combined with furniture or walls, and can, become an independent element of decor. Coffee color in the interior will benefit from the turquoise curtains.
Shade coffee with milk itself is very attractive, but its use in the interior of the kitchen is somewhat limited. To create a fun-filled design color of coffee with milk in the interior is better to dilute with bright inserts: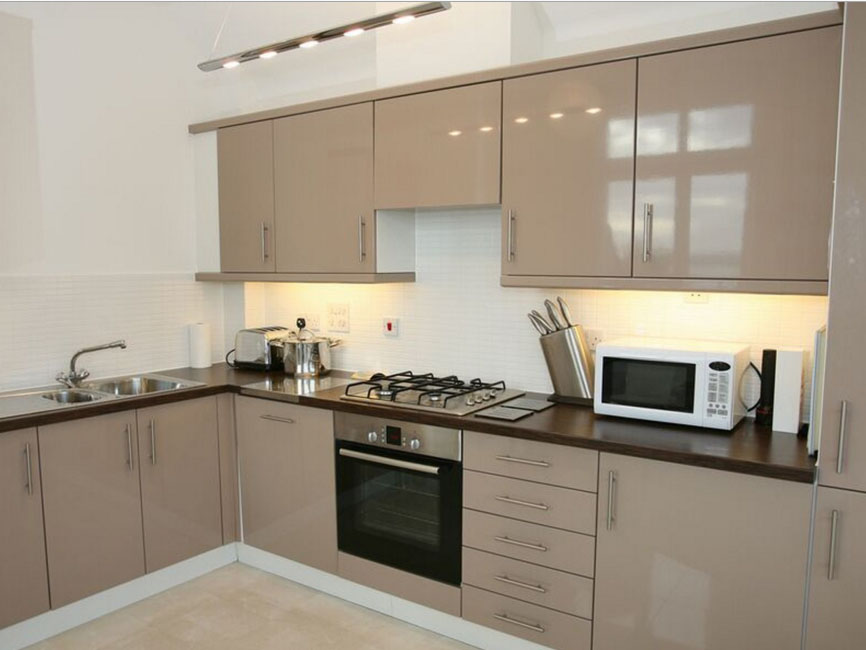 Decorative elements of soft pink color give the interior elegance.
Dark brown furniture and curtains underline the warmth of the color of coffee with milk.
Bright green blotches will be given your fine taste and give the interior a stylish kitchen.
It goes well with the color of coffee with milk and orange hues. Warm coffee with milk, combined with optimistic orange color will create a special harmony with notes of optimism.
kitchen gloss coffee with milk expands the space thanks to the brilliant detail. Glossy shine reduce excessive interior softness.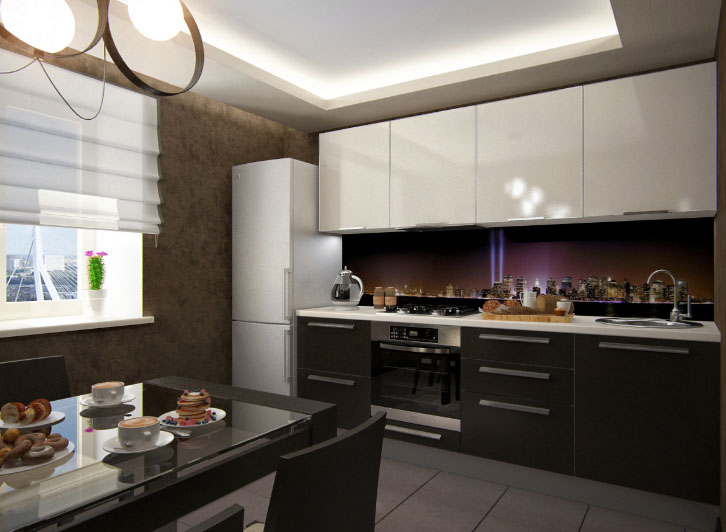 Coffee and milk, and vanilla in a food theme design
Coffee theme in your kitchen can be developed beyond the mere application of color. Tiles for kitchen aprons, clock, glass panels made with coffee beans and steaming cups. Everything, to emphasize the interior of the coffee with milk. Rich aroma of freshly brewed coffee will complement the picture.
Kitchen coffee with milk will easily fit in your interior corner of the cafe. The bar easily converted into an elegant coffee house. Dark chocolate countertop, the corresponding subject of the picture or poster on the wall, light metal chairs with twisted legs - coffee shop à la Paris ready.
Irrelevant, What style you choose for your kitchen. If you decide to do it in a coffee-and-milk color, you value reliability and comfort, and the elegance and naturalness - your credo.