Kitchen Air vanilla color: tenderness and luxury in one vial
kitchen classic colors gradually fade into the background, now the owners are competing with each other in brightness and colorful its pans: silver, lime, orange, blue interiors filled pages of furniture catalogs. A tender, vanilla kitchen, though riddled with aroma of spices, humbly waiting for the sweet tooth, gourmets and gourmands, endowed with impeccable taste and vozvedshego process of cooking and eating in an art. Indeed, vanilla color in the interior permeates all the surrounding space with warmth and comfort, It is turning into the perfect scenery for creativity and mental relaxation.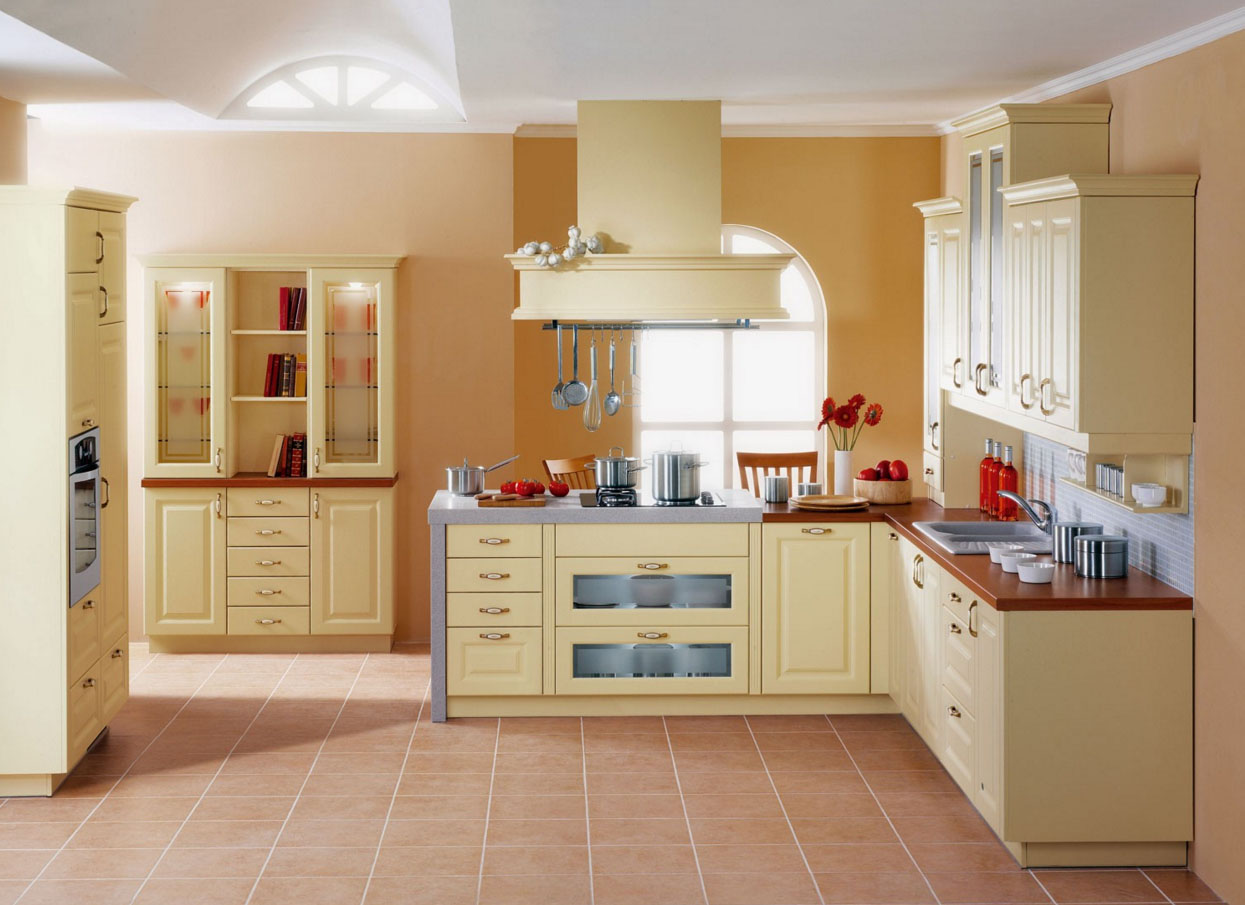 color vanilla
color kitchen vanilla heart of the home will be, This coloring if generates warmth and comfort. The very shade, balancing between the warm and cold spectrum, never boring, because, as always different, It varies depending on the time of year, the intensity of light and the weather outside. Such interior, from a psychological point of view,, a positive effect on the nervous system, soothes, It gives a sense of security.
Subconsciously, we associate vanilla color with all kinds of sweets: favorite cup of cappuccino in the morning, Baileys liqueur, fresh pastries, fruit pies, but unlike other "gastronomic" callers he does not excite the appetite. on gentle, sladok and chutok terpkovat, as the very oriental spices. It is not excluded, that because of this the shade of beige resides now at the peak of popularity.
Due to its inherent properties, make the space bigger and brighter, vanilla color is ideal for decorating small kitchens. With him will become a stylish room, well-groomed and refined look.
that vanilla color in the interior is not lost, and looked well-balanced and harmonious, when you make a kitchen to follow a few simple rules:
Remember the accents. So, vanilla-beige color headset looks great on the background of the cream wall in the presence of the brightest elements of decor - curtains malachite and backs of chairs. Furthermore said malachite, will emphasize the dignity of vanilla deep blue, fistashkovый, eggplant, Emerald, color orange peel.
When choosing furniture, scroll photocatalogues, for the most favorable combination of colors of the working surface and room decoration in general. Artificial stone or sandstone, used for the surface finishing emphasize the undeniable merits of vanilla-colored kitchen.
This appetizing shade is appropriate when you make a wide variety of cuisine styles. Kitchen sets color of vanilla made from light woods, decorated with ornate carvings, wonderful look in the classical interiors. No less charmingly combination of vanilla and dark furniture finishes. In this case, even eliminating the need for the selection of additional color accents. The good tone and modern high-tech and minimalist. Only in this case the preferred kitchen gloss colors vanilla and metal surfaces.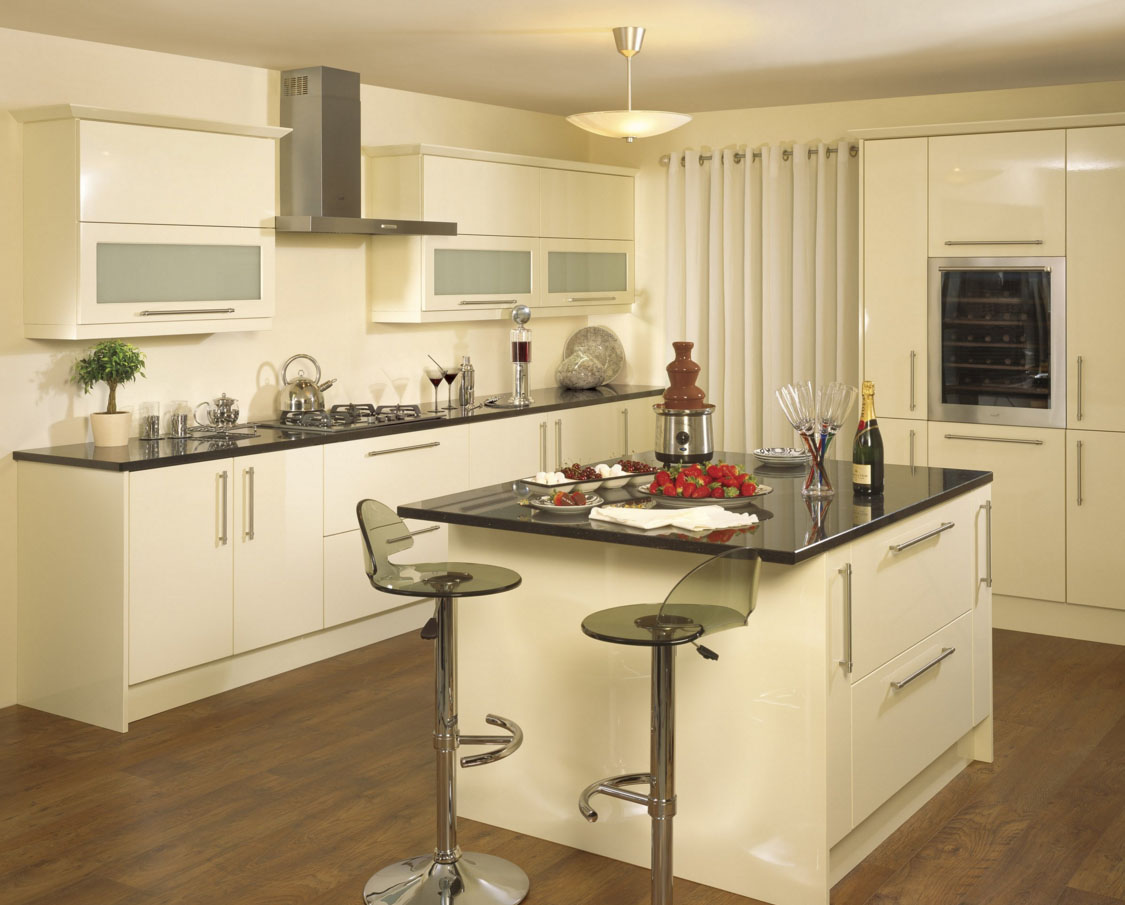 How to choose the right color
Thanks to its numerous beneficial properties, cuisine vanilla looks wonderful on the premises of any type. And for small and dark rooms the light will escape. Because of its delicate pale yellow shade of vanilla blends well with the warm tones: olive, Light Orange, chocolate, golden tones.
Write in your interior "creamy comfort" is possible with:
finishing materials;
Kitchen unit and a dining group;
Decorative elements and accessories.
vanilla finish
In all its manifestations, vanilla is a neutral color, which makes it possible to use it for finishing all surfaces. Considering, and that the furnishings are in the same colors, there is a risk to get a blur. Therefore, you should think carefully about the color palette, applying gradual transitions from light to dark.
The combination of a classic white, permissible only in small quantities, but it is necessary to add to their tandem little dark, the same wenge, Interior sparkle anew, acquiring harmony and self-sufficiency.
It looks stylish combination of beige shade dark brown shades: zebrano, rosewood, wenge, chocolate. Particularly expressive vanilla tandem with Zebrano, where colors are emphasized wood pattern.
Appropriate in any vanilla interior furniture fittings metal elements, Appliances and household items Metallic colors, brass, silver and gold.
If unsuccessful, cold light vanilla posereet and will lose all its "tasty" quality. When choosing bulbs for kitchen equipment, do not forget about it.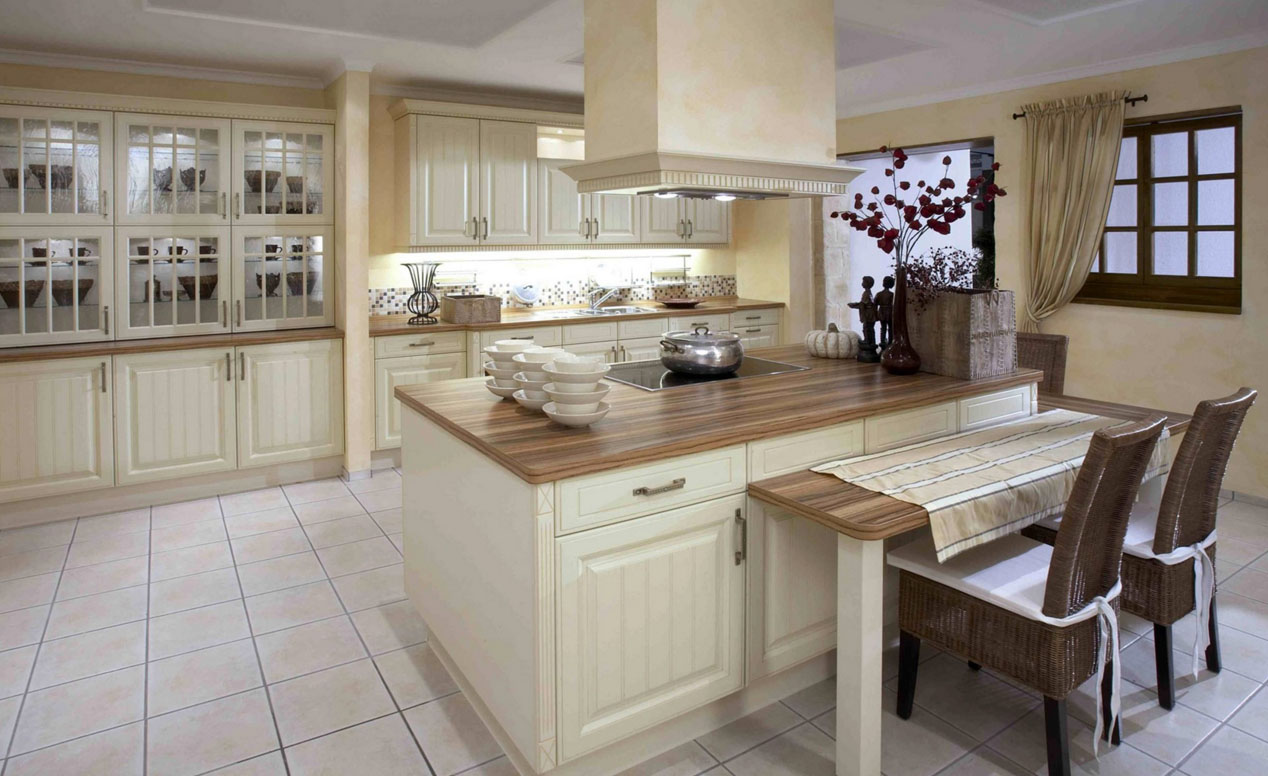 Furniture
There are absolutely no restrictions on materials for the manufacture of furniture. It can be a film timber and MDF, and plastic, the decisive factor in the selection of furnishings for you should be the quality and conformity of the chosen stylistic decisions.
Harmoniously and consistently looks the combination of vanilla and dark furniture finishes. But it is not a reference, not excluded, that more will come to taste the combination of vanilla facade with dark side walls of closets, dining group or wenge colors as bright, contrasting accents will serve chocolate-colored curtains, frame wall panels, Houseware, dishes, floor covering.
Embodiments furniture sets dark lower tier cabinets more practical, care for them much easier, and contaminants are removed by means of an ordinary wet cleaning.
design secrets
Finally dlimsya with you a few secrets to creating the perfect vanilla interior:
Be sure to install the kitchen warm lighting, no cool colors.
Home appliances are not selected in the color. White goods in the kitchen vanilla looks yellowed and old.
When designing its delicious cuisine using chocolate, coffee or tea decorations.
It is appropriate in the kitchen bright spots of contrasting colors, this role can play a rich red or eggplant clock teapot.
successful repair!