Choosing kitchen colors lime: 3 expert advice
If your interior lacks freshness and brightness, look at the color of lime. No wonder it is so popular. The positive effect of bright green on the human condition noted by psychologists. Designers also did not stand aside. Already 10 years, it is used for interior decoration.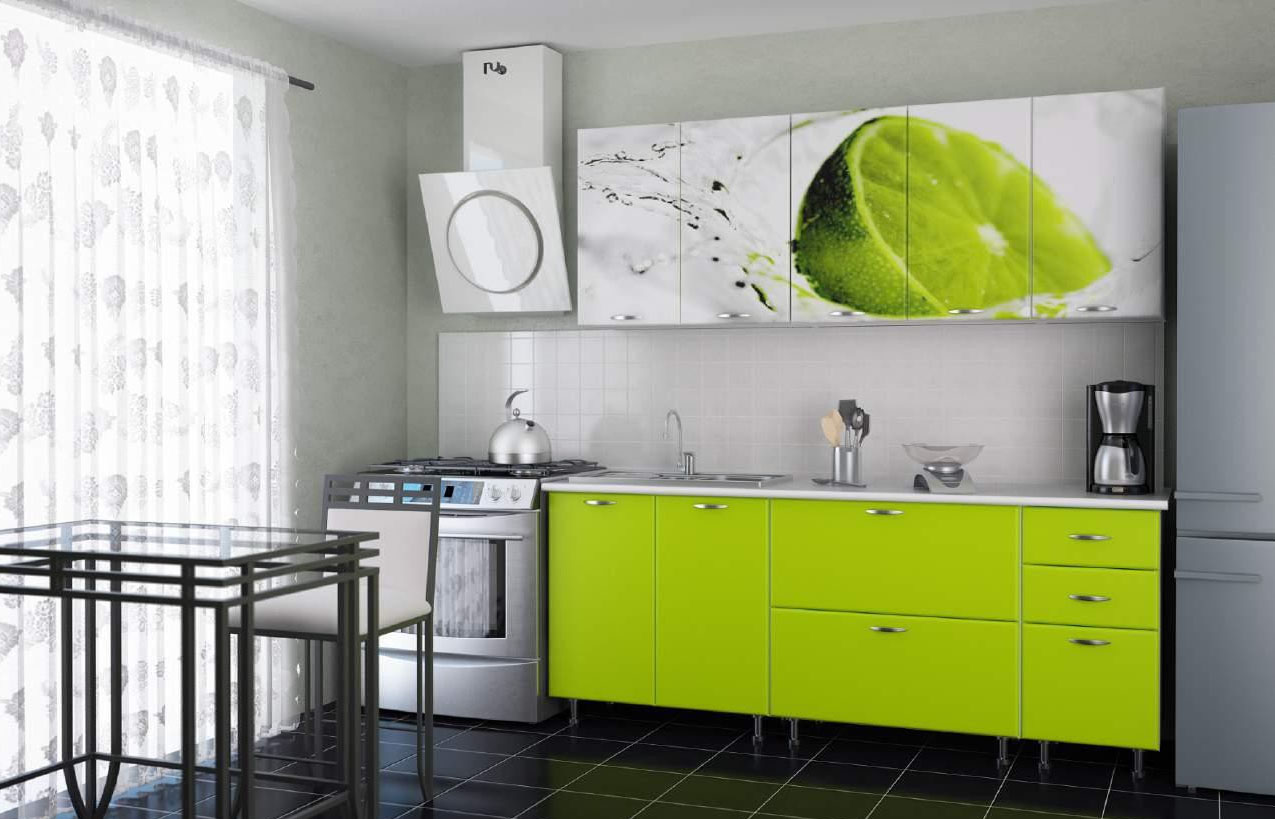 What we have in mind, when we speak, the interior is decorated in catering color lime? This cuisine is characterized by not only a bright green headsets. Lime can be wall, ceiling, kitchen apron, tabletop, glassware and other decorative elements. And even, if present in the interior of the image color or wasabi green apple, This room can rightly be considered a kitchen lime. Consider, how to decorate the room in this capricious, at first sight, flower.
Furniture Kitchen Colors headset lime: design in the interior of Stolplita, modular Valeria
An excellent choice for kitchen lime becomes natural wood furniture. Besides, use colored furniture made of MDF.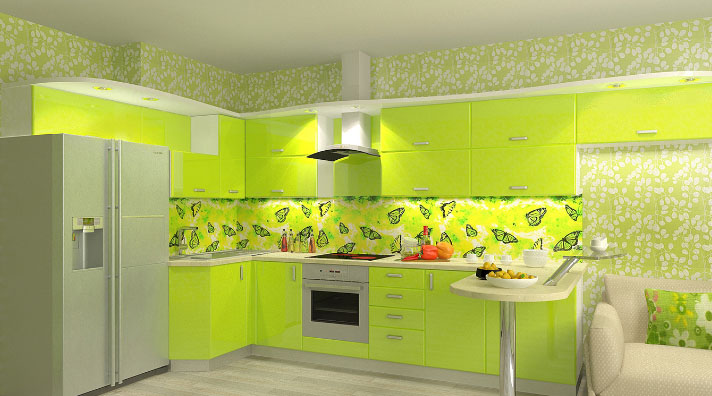 There are a few rules, the knowledge of which will simplify the design of the interior kitchen lime. If the walls in the room bright green, Pick up set of neutral colors. Facade lime color, the wall is better to issue in neutral colors.
It looks good kitchen lime with wenge. ─ wenge wood wood, growing in the tropics of Africa. Furniture made of wenge is distinguished by its high cost. To make it more accessible, use veneer. Outwardly, this furniture to distinguish from models made of wood is almost impossible. Kitchen lime wenge pridaёt comfort, helping to combine classic and modern elements.
Apron and tabletop
Apron fiberglass bright green ─ a good option for small spaces. It clearly reflects the light and creates the effect of an additional window in space.
For the apron can buy glass depicting citrus. This option is suitable, when you do not plan to make repairs in the kitchen completely, but only want to make it bright notes.
To choose the right apron in the kitchen lime, follow recommendations: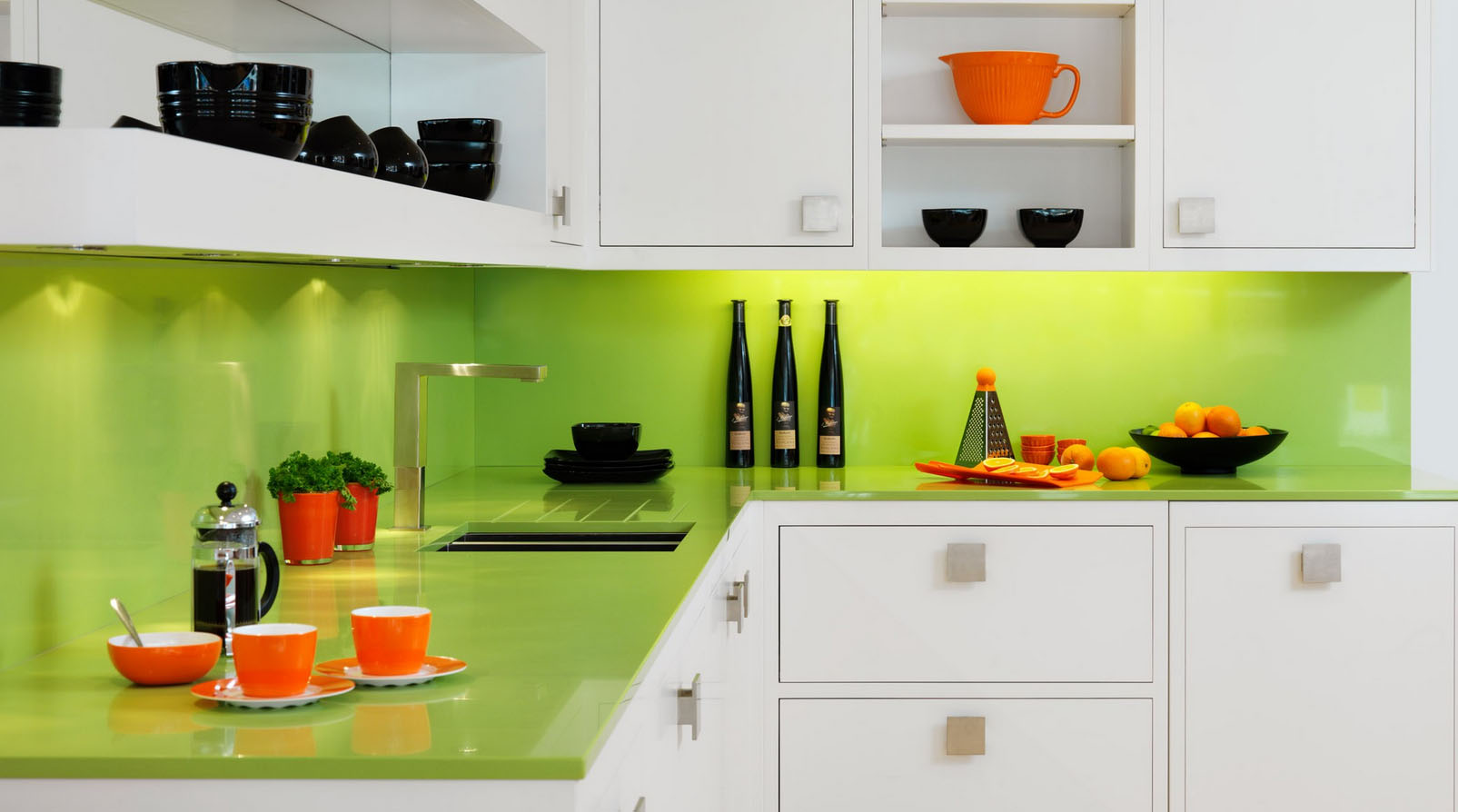 Kitchen apron lime most advantageous to look in the kitchen background in black and white or white colors.
For expression of the apron to prevent its transition to the color of the walls. Paint the walls should be in a lighter shade.
Glossy color kitchen lime combined with an apron with a low level of reflection, a kitchen with a matte glossy facades is preferable apron.
If the kitchen with an apron lime plan to include details under the tree, Choose dark colors.
Council! If you think, how to choose countertop for interior lime, then stop at the option of wood or MDF in black or gray color scheme. They will give the green greater saturation. And if you want to lower the brightness of the green, buy snow-white table top.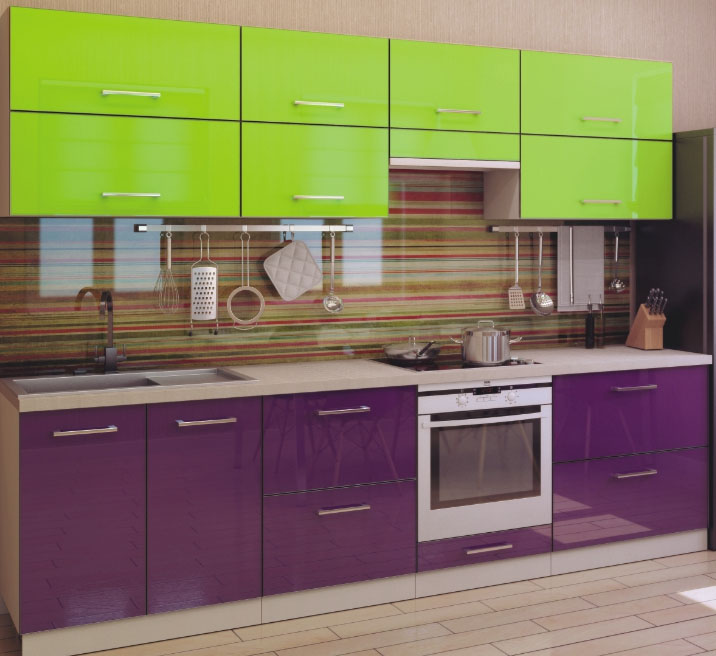 Small home appliances to the size of the 1.8 m
For our country, Kitchen Appliances, Made in lime colors, while curiosity. Foreign manufacturers of high demand for such models and are increasingly producing them in this bright color.
Dishes, wallpaper, blinds
The kitchen lime-colored utensils can play the role of a part or be a central element in the interior design. If the room is furnished in neutral shades, feel free to use the dishes Greens.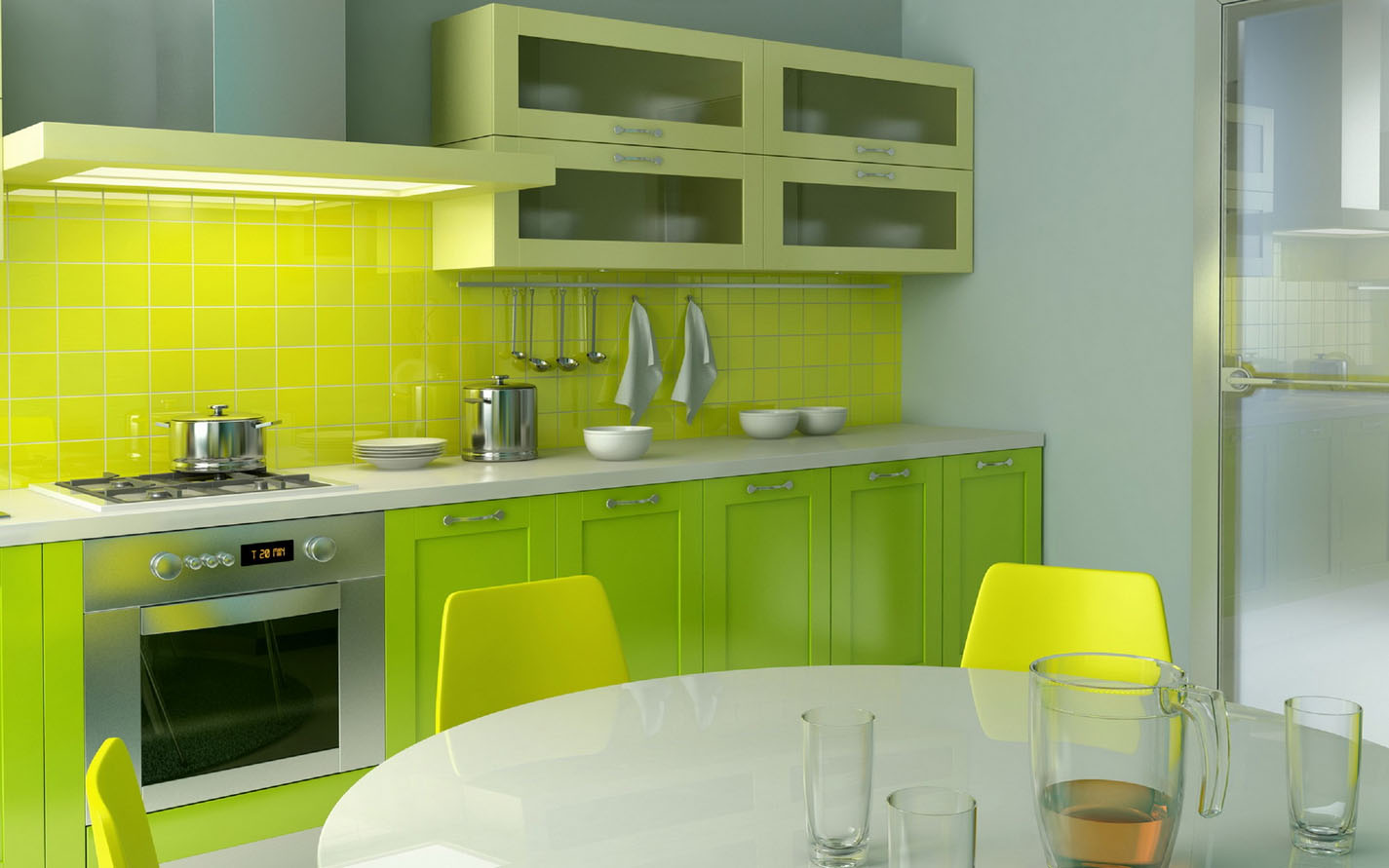 For design white and lime colors pick up utensils turquoise color or different shades of lime.
Wenge color facades, gloss, white, an Apple, chocolate, green, the black
Idea, that bright green poorly combined with other, erroneous. Lime green with white, black, brown, blue, gray, Dec., turquoise. Besides, Lime combined with the green, red, purple.
White combined with a bright green will help visually expand the area of ​​catering, make it easy with a touch of freshness.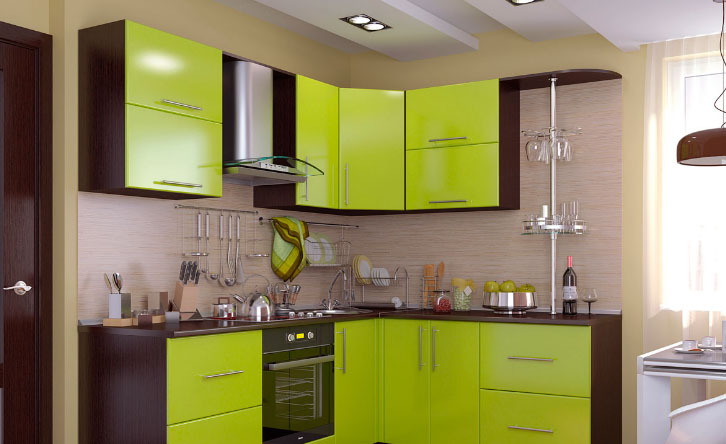 Saturated green can be combined with all the shades of gray.
The black color makes it more expressive lime. If you use these two colors, be sure to dilute their neutral shades of light colors.
Lime facades and red colors peeped from nature. What could be better than the green leaves and ripe fruits?! But to get involved in an abundance of red is not necessary. Make this color in interior design in a small amount.
The combination of a bright green with another saturated Coloring ─ turquoise, blue, purple ─ requires balancing.
Very popular with the kitchen photo printing on the facades. Surfaces with photo printing almost not fade, resistant to various damages, easy to clean.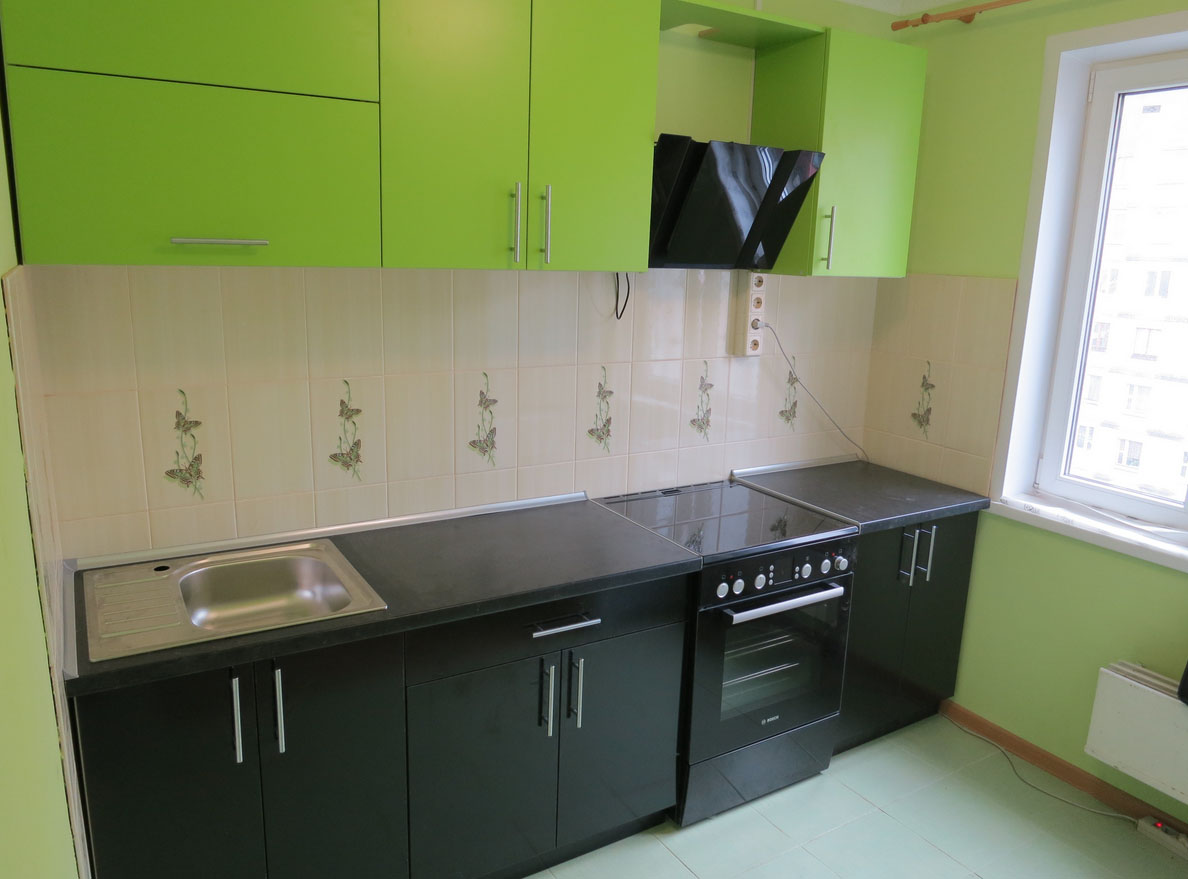 Apply a kitchen with a print on the front in the interior of his house and he will play in a new way. What are the most appropriate image for the saturated light green interior?
Citrus green color is often used in the prints on the doors of lockers fashionable kitchen sets. Kitchen with an apple on the facade also successfully fit into the interior of lime. Kitchen lime ice is suitable for lovers of experiments and vivid fashion design. Drawing can be placed not only on the facades of cabinets, but also at the dinner table. Kitchen table lime necessarily interested in your guests.
In addition to fruit flavored, use images with grass, different colors, ornaments.
If the money to buy new trendy headset you do not have, and I want to keep up with the times, Transform facades kitchen cabinets. For this we need a self-adhesive film for furniture with green citrus theme, of course, your wish.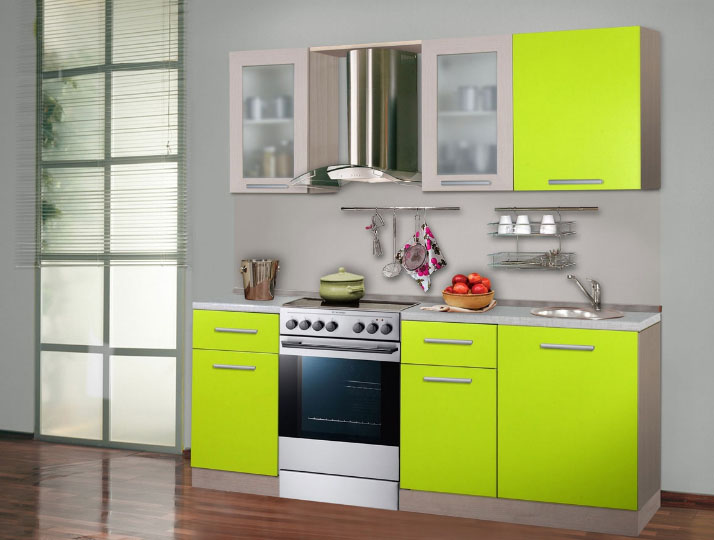 Getting Started:
Damage to seal the surface and its headset and degrease;
Apply soap solution at the facade;
cut the film required size;
slowly peel off the protective layer and stroking movements attach film to the surface;
wait drying.
Interior color green citrus sure to inspire you to new culinary feats and help gather at the dinner table the whole family, even in saturated weekday! And to help you in this layout techniques, refreshment and interior decoration and furniture set.