5 reasons, why a kitchen cream palette again becomes fashionable
Cream color is a classic shade of warm colors. If there is no basic knowledge of the rules of combining a palette of interior design, and your own preferences are chaotic, the use of a cream color when you make a kitchen interior - it's a win-win.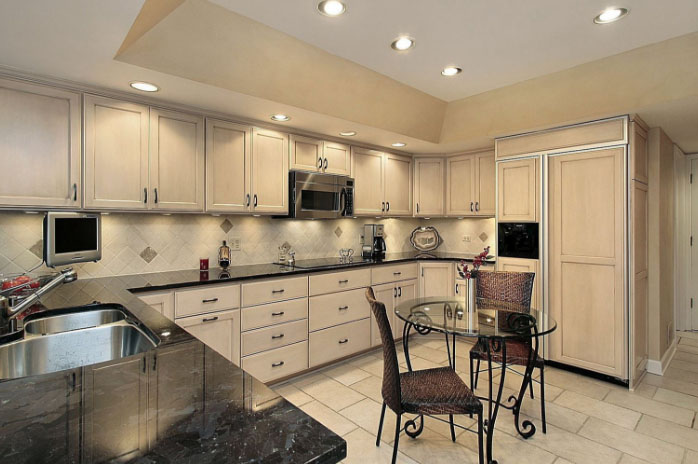 About style and design with white, brown,beige,black, gray, green, chocolate, purple, red, orange facades, wallpaper and Roman blinds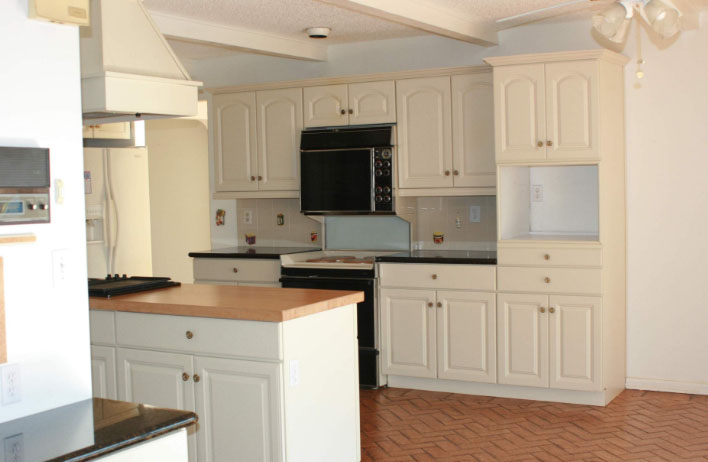 The current dynamics of life requires creating a calm environment at home with a warm atmosphere. Contrasting interior strain perception and do not contribute to the full emotional rest. Today, therefore, the fashion simple cuisine entered again with a clear and concise decor in muted colors with warm palette.
Beige - is a mix of white and yellow, ocher. It captured straw color with a greenish admixture. Depending on the intensity in yellow beige, brown or pink tone isolated peach, baked milk, pearls, cream. Cream - this shade of white with a touch of pale yellow ocher. Has a natural prototype - natural dairy cream, yellowish tint which gives carotenoids. distinguish 2 basic species: creamy-white and creamy yellow.
The interior is an excellent replacement for natural beige or white. Beige due to mass distribution seems commonplace and become familiar, and white is perceived too sterile and cold.
Initially, white-yellow tone seems expressionless, but if you look at his shades, open broad creative opportunities to create a nice interior. Halftone pale yellow is difficult to discern the untrained eye. But it allows shades to perform interior completely in cream color and does not get monotonous environment.
dignity
Kitchen cream-colored palette without risk of dissonance, associated with the use of bright shades. If the hostess temperament does not need an exotic environment with bright colors, and if the muted palette of the kitchen will not have a depressing effect on her character, then this color has a lot of arguments in its favor:
Expressionless makes it neutral. This leads to the universality of the white-yellow tones. Pastel range is a staple for any retro style, but it also fit perfectly in a minimalist interior. Pale yellow color is right not only for furniture, but also for the decoration of the walls, ceiling.
A large number of halftone design allows for diversity in the framework of the same color.
In the description of the white-yellow shades using specific terms: "cream", "creme brulee", "baked milk", "caramel", "cappuccino". Direct association cream color with a pleasant taste of man creates a favorable background, promoting food intake.
Not a categorical contraindications about compatibility with other colors.
Like all the other shades of warm palette, It has a positive impact on a person's emotional state, It creates an atmosphere of comfort and tranquility.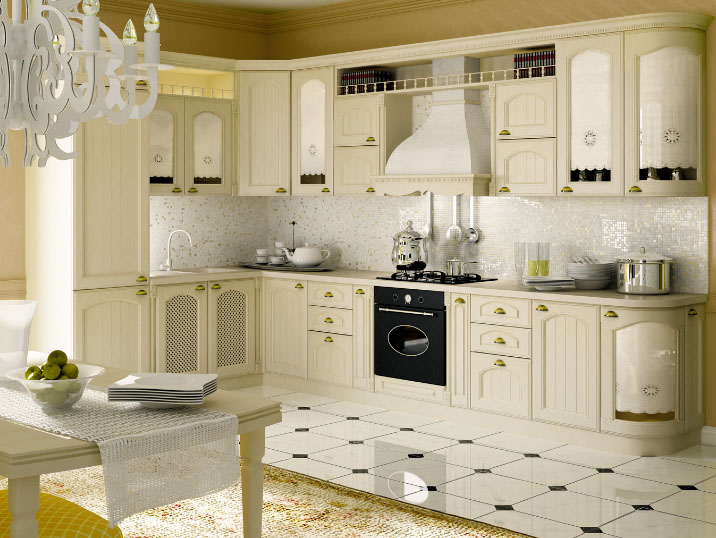 Monochrome interior kitchens Maria, Ajvori, Nicole
Cream color quite self-sufficient. Monochrome pale yellow interior palette expand and brighten a small room with a lack of sunlight.
Important! Perception monochrome pale yellow kitchen depends on the lighting. Too much light will deprive the kitchen warm shade, and cold lighting will turn a creamy furniture in off-white.
To the interior of a monochromatic kitchen has not turned a faceless and dull, you have to combine several tones of cream: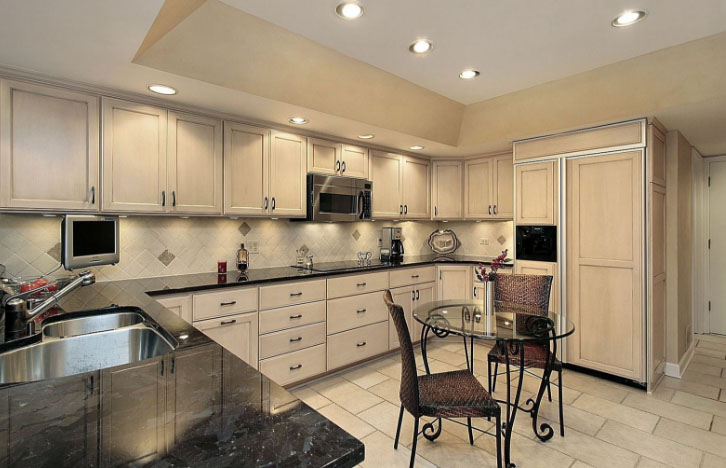 Colors partitioned on density and saturation from the bottom upwards. Against the background of a dark bottom will be beneficial to contrast pale cream color of the upper tier headset.
The bright monochromatic kitchen furniture is often interspersed with black or dark brown table top. Win-win situation - a natural stained wood, natural stone.
Cream curtains cream overload the kitchen space yellow colors, that will act on the perception of oppressive. Good will look darker beige curtains in the interior of bright white and creamy cuisine. The same applies to the built-in appliances. metallic color product is considered to be the most suitable for pale yellow kitchen.
To pastel colors do not look bleak, is used to enhance the brightness of glossy facades, a polished steel cookware, chrome and bronze accessories. Even in poor light cuisine gloss cream gives an interesting game highlights.
Enliven the atmosphere bright accessories, original apron.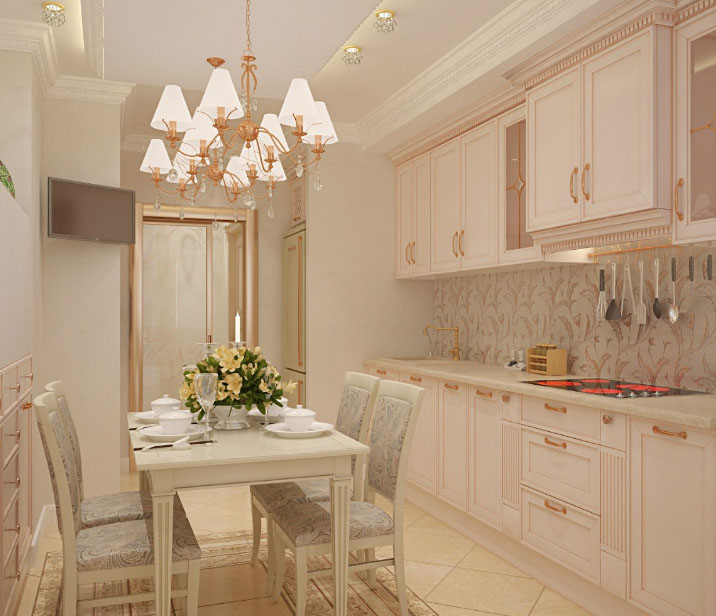 Combination with other colors
In the interior shades of beige often combine with other colors. Energy, he tends to be a warm palette of colors, from dark brown to yellow. With cold cream forms part of the spectrum of natural combinations, adding even synthetic pigments living notes. And this shade support complex "conflict" paint. With violet or Bordeaux hard work, even a professional designer, but the white-yellow atmosphere they will fit harmoniously.
Important! Designers like to use cream in combination with other colors because, that it is able to integrate into a coherent composition complex combination of vibrant colors and reduce their aggressiveness.
Cream color in the interior behaves like a chameleon: when combined with bright colors, he loses his individuality, allowing them to fully open, and when combined with faded shades, he is able to unlock the potential of the yellow hue and revitalize the interior. With it, designers are now replaced with white minimalist. Popular light gray and cold-blue color keep warm light yellowish background. Such weakly saturated colors make the yellowness of white visible on the general background.
Although with a cream color goes well with the rest of the range of shades, not all of them, he will look to fully. On cold blue, dirty gray, blue-green background material cream color will appear beige, tarnished by time.
No problem with pale yellow brown elements can be connected palettes. Shades of the main panel (red, green, blue) will be combined with a cream, if it has the same spectrum.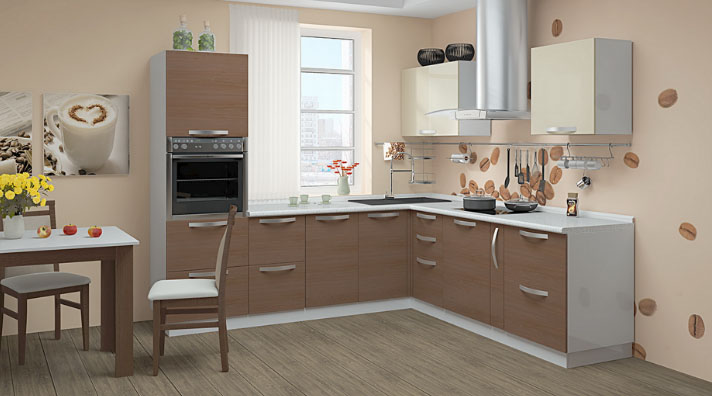 modern, Angular classic cuisine with a cream shade: apron option, glossy tiles, dark countertops
Today there is a surfeit of avant-garde style and return for new inspiration to the classics. Again it became topical in the kitchen creating a homely environment, so warm pastel range penetrates even in the cold high-tech style. Designers soften its metallic luster pale yellow tones.
Classic cream-colored interiors give the impression of weightlessness, In this room the atmosphere light purity reigns.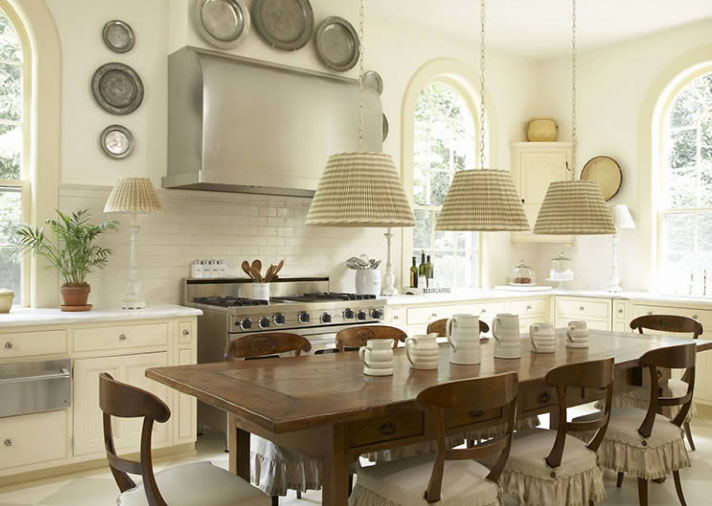 Along with the classic, It became popular cream Provence style kitchen, country. Urban Kitchen Provence - is a bit of light-hearted atmosphere in the apartment village. Pastel shades, no bright colors - the basic design method of creating ethnic interiors. All of the bright colors are replaced with muted. Also there is no pure black color. Instead, the brown, dark green, Violet. This faded palette mimics the old days, depreciation.
the, that light cream color for the kitchen is not the best solution, a sign of a lack of imagination - it is an unfair stereotype. This shade does not get tired and does not tire the eyes. It is much more practical, than white, as the small yellow of hide minor scuffs and dirt, and a unique warm shade will create a cozy atmosphere.