Warm classic home comfort: White kitchen with patina in the original design
Family hearth. homeliness. Druzheskaya atmosphere. The central concept of phrases - heat, reliability, thoroughness. Classic. It finds its place in the interior of the house. especially premises, where required to meet and converge all family members, hold intimate conversations, soars appetizing aroma of freshly prepared food. A win-win design - bright kitchen patinated classics.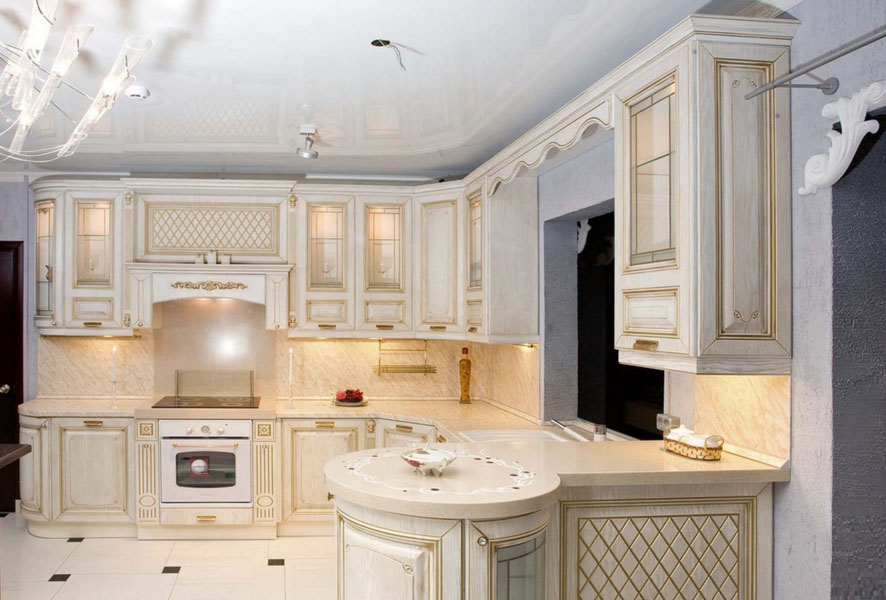 Predominant classic color - white. White - the color of primordial. It existed in the interior of the dwelling while, Only when a person has learned to use in building materials, and there will be, yet people need a roof over your head. Tradition with perennial roots. white kitchen patina - while respecting the traditions and innovations following the trend. Patina sostarivaet facade, small volume and home furnishings just enough, to give solidity and novelty exquisite charm.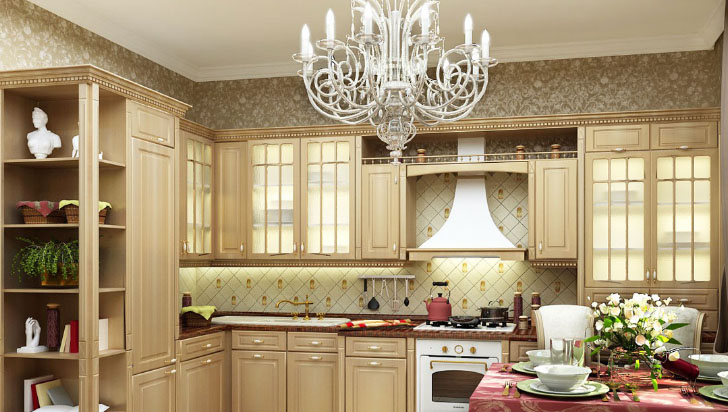 Plaque noble antiquity white, gray, brown, black tone
Pick up a bronze, copper statue or coin XVIII-XIX century. It slightly rough coating or film (from pale green to golden brown), emphasizing the rarity age. Noble metal gray. symbol time, antique value. costliness. The same happens with antique furniture, demand for which is increasing over the years,.
In order to form natural patina go decade. Artificial aging - patination takes hours and turns ordinary objects of interior in noble luxury.
There are several types of patination:
simple (grow old laminated surface, array);
gold, copper, silver (underlining noble age embossed matt surfaces);
craquelure followed patination (artificial fracture and relief monolithic materials).
Make a patina on the furniture with his own hands can be using special lacquer, primer, topcoat, abrasives for grinding, brush, pulverizer.
There is no universal recipe, is the standard:
a selected portion (!) applied to the soil surface - paint base. thin, maximally uniform layer. Brush or spray gun (last preference);
after drying the primary ground-barrier - colorless primer (polyurethane);
carefully grind the dried surface and covers it with a contrasting composition (gold patina - gold metallic paint, or water, silver and copper - by analogy);
semi-stiff brush wipes (feathered) patinated site or protruding edge furniture, some elements. It allowed for shading and coarse sanding sandpaper, metal brush;
lakiruem zapatinirovannyj (water paint, acrylic) portion or cover it with bitumen wax. This is a prerequisite to protect the treated area and prolong the life of the furniture.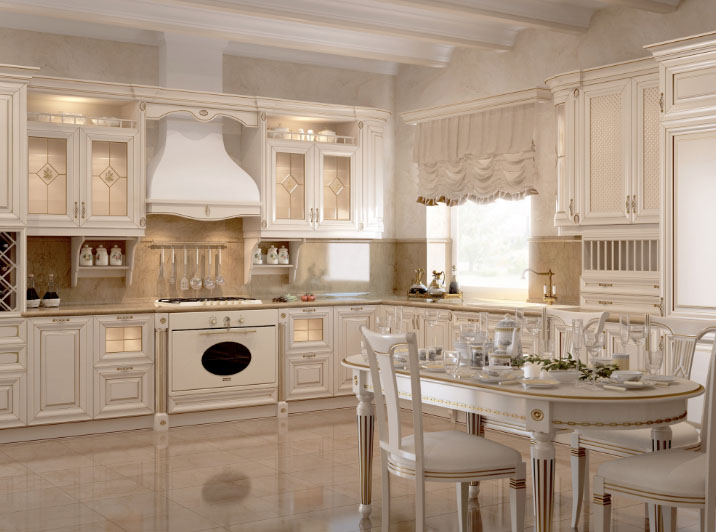 Council: beginners patination is better to use acrylic paint finishing, that have a metallic sheen - they have a strong adhesion (for kitchen, where the temperature and humidity differences are constant is overdue) and resistance to fading. On top of them - acrylic paints.
Important! Carefully secure the patinated furniture, repealing the slightest contact with an open flame and excessively heated surfaces - it can easily ignite!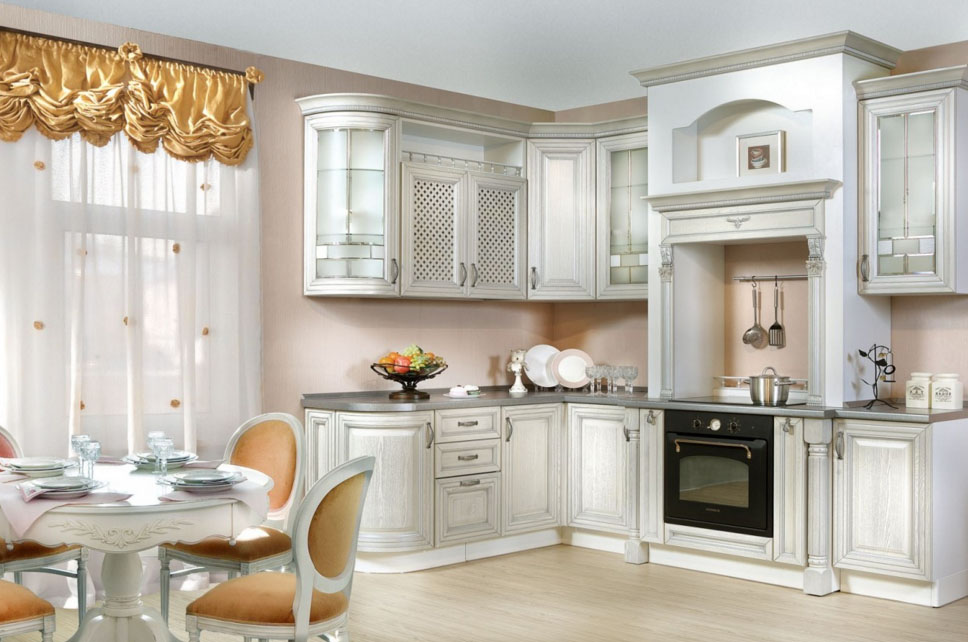 style preferences
white kitchen classics in the interior - particularly justified solution design to visually increase the room size, give it a lightness. In this classic light cuisine with a patina preferred style: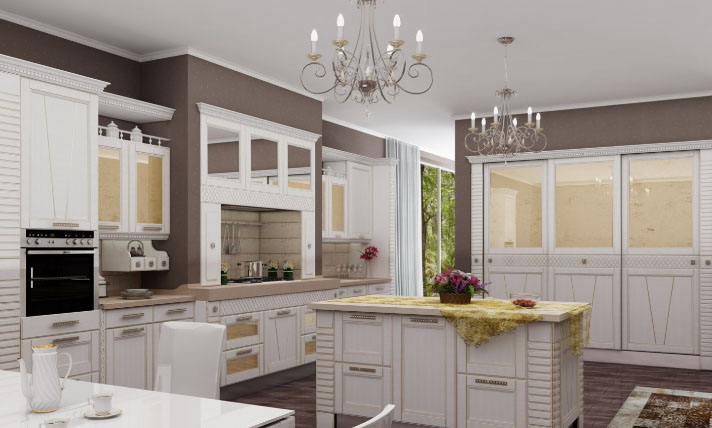 Provence;
minimalism;
conservative classics;
rococo;
country.
White kitchen with a golden patina
White classic furniture, accessories tone on tone - quickly become boring and presses, if the interior of the kitchen is not supplemented with color accents, interesting range of textiles. Classic white kitchen with a golden patina looks quite different - it is easy and at the same time thoroughly. Ideal for a naive village of Provence with soft lines, diversified weave, openwork lattices, glass doors, bindings, natural ornaments, drawings textiles.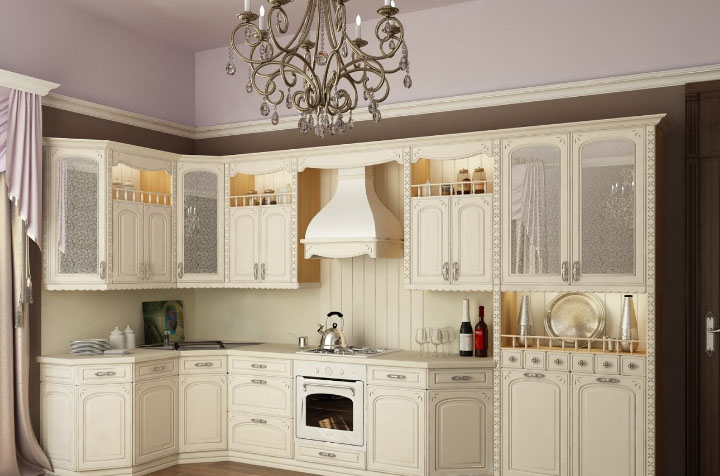 Classic interior white kitchen with a silver patina
White kitchen with a silver patina emphasize the Rococo style with its majestic and simultaneously delicate shades of cream, pink. Additional elegant style kitchen with white ash patina - natural array structure also harmonizes perfectly with the swinging silver plated embossed facade, drawers, baskets, conical hood framed windows Colon, multistage cornice moldings in the form of, creamy-pink apron, stand up from the work area on the wall in the same colors, wall paintings.
classic kitchens design light patina in an emphatically conservative classicism, reconcile pilasters, balustrades open shelves, wide massive stone, high-to-ceiling cabinets. Counterbalances the textile with floral print, relief insert facade, stone (a stone) sink and frosted apron over the sink and work area of ​​the pseudo-wild tiles.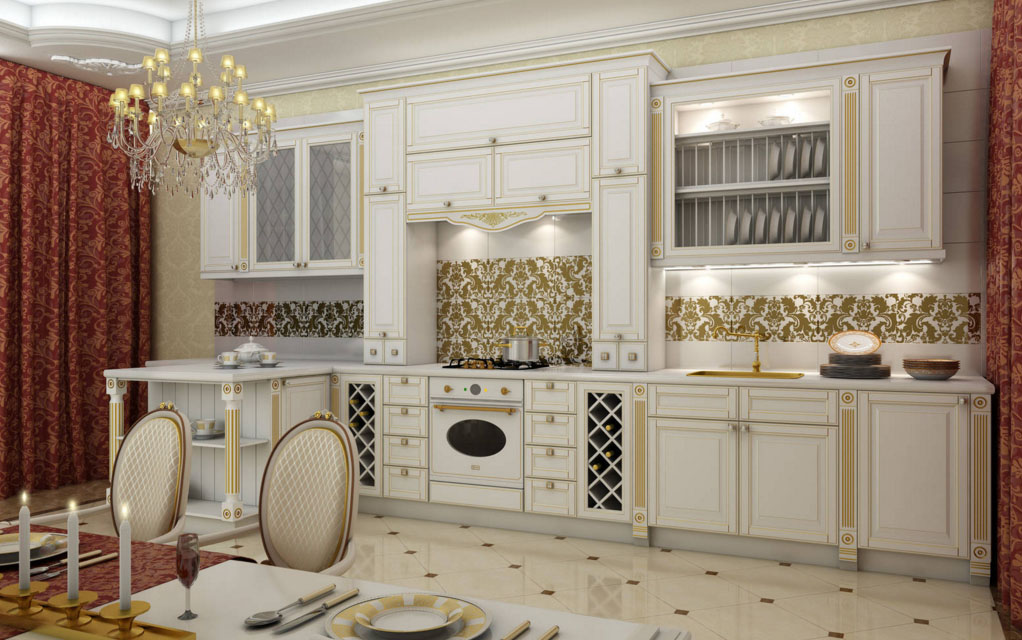 Council: white kitchen with a golden patina in preference from orthodox classics
Kitchen in classical style white and silver fit into the zoning of space in a minimalist style, with its large forms, smooth surfaces, chrome-plated steel, metallic profiles, walls, finished with mono-pattern wallpaper, decorative plaster, natural (pseudo-natural) stone, marble floor or laminate under a wooden board.
Facades of solid ash, MDF design
country style White classic kitchen with gold patina, give the isolated lightness and fresh innocence, especially if it is based on wooden furniture. relief carving, underlined patina, decorations made of natural materials, textiles in warm colors, mat matting, satin or chintz curtains. White reinforce a sense of peace, originating from a natural material in warm colors, patina give the nobility of the interior.
Even the ultra-modern youth style loft will take the kitchen with a golden patina in its emphasis aged interior design. Pseudo-rusty metal, patinated chrome, curved copper tube metal chairs, vintage mirror in massive bronze frames, Team raznostrukturnyh furniture, relief rough stone walls, fireplace with wrought-iron grilles or imitation. Patina is an opportune.
Decor kitchens democratic patina svetlaya. He distinguishes between monolithic space, smoothes the monochrome, adds individuality. And that is especially attractive - does not require special costs for interior refinement. No need to buy new furniture - patinated animates, revives the, that already have, highlighting its advantages and hide it, it is not accepted to exhibit at the show.