The elegant cuisine in a classic style: secrets designer
Classic style appropriate anytime, anywhere. This also applies to the interior. If you do not know, on which you'd better stop, choose a classic style kitchen, and you will not miss. Elegant and beautiful interior will never go out of fashion, and therefore, you can not worry about the current trends. It should take into account the important points and to choose expensive materials, restrained color palette, simple forms of furniture and related accessories. This is unlikely to fit the, who loves bright colors and unusual shapes.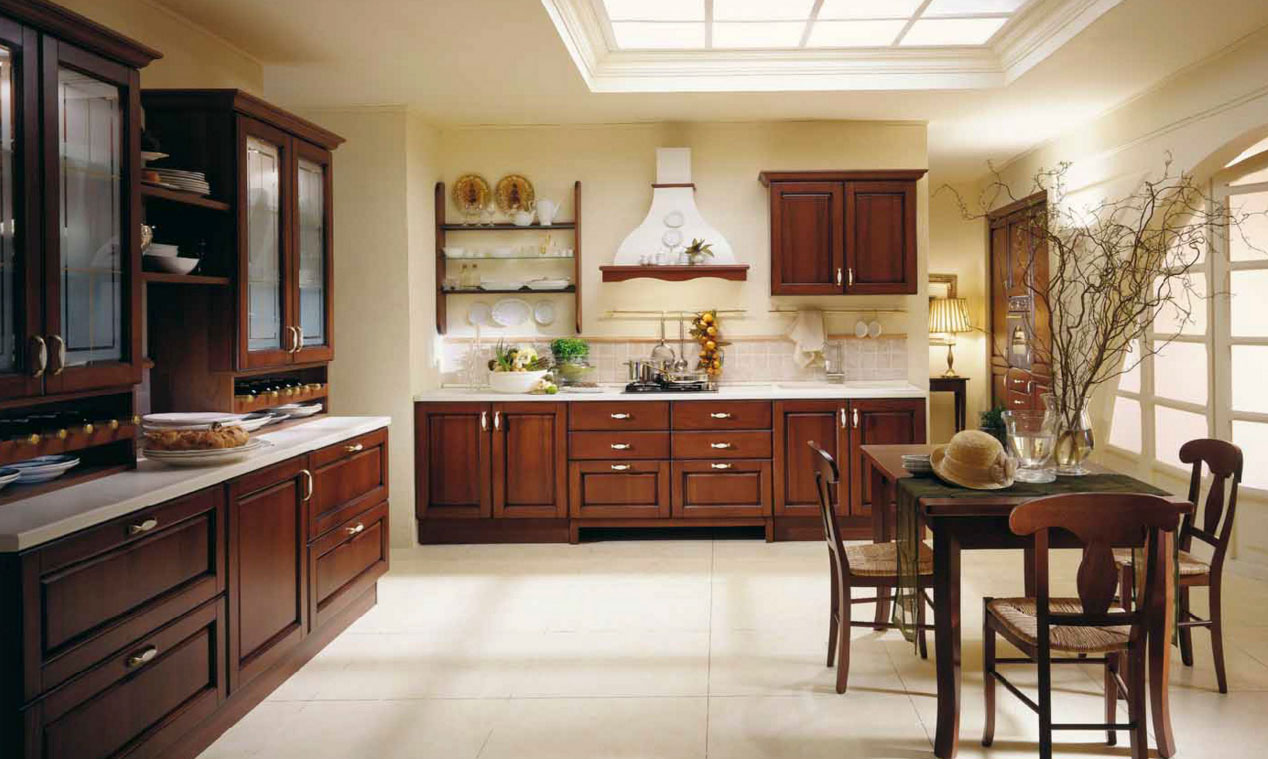 style kitchen design classics
Kitchen furniture in classic style is usually made of wood. Kitchen set "classic" and the tables are symmetric, with sharp angles and restrained colors. Getting planning future kitchen, consider the basic nuances:
Classic style best fits in a spacious kitchen with a large area, where you can realize all the design ideas. The ceilings above wherein, all the better.
not recommended for small rooms such style, since the space to reduce the visual look and such a kitchen will not be so impressive. If you do not want to give up the classics, choose a simple model of the furniture and the most bright and discreet shades.
Kitchen living room-style classic look is very luxurious. This design can be safely used for studio apartments. In this case, everything will look as a whole, and the space visually expand.
Classic style - this is the most expensive solution for a flat design, since you only need to use a high-quality and luxurious materials. Important, all materials were natural. If your budget is limited, then try to find suitable counterparts.
The color palette emphasizes the entire interior luxury. shades reserved - olive, beige, white or sand. Sometimes used emerald and blue.
Design should not be screaming, all the luxury in a classic style refined and vulgar.
The colors in the kitchen of classical style
Choosing a color palette of the kitchen in classical style, you need to immediately abandon all bright colors. Here unacceptable yellow or green facades, bright patterns on the wallpaper or wallpapers. Kitchen in classical style - a combination of luxury and restraint. Should adhere to minimalism in choosing colors.
On this kitchen a place of dark shades - black, dark gray or dark green. Blue and emerald can only serve as small accents, that do not attract much attention at the same time. To bring to life the style of "classic" in its purest form, Use natural colors. Classic colors:
White and cream. Ideal combination - white walls and cream in kitchen or on the contrary.
Brown and beige. Brown furniture like no other, ideal for the classic interior. In this case, the walls should be light, to the room did not look overloaded.
Olive green looks expensive and can serve as the basis for the classic design. But it is important to properly combine with other colors - gray or milk.
Completely white interior with small accents in the form of wallpaper with a pattern or table tops. The room will turn out bright and spacious. It is important to strike a balance, adding color with fittings or textile. Handles for kitchen can be copper or brown tint, and the curtains with blue motives.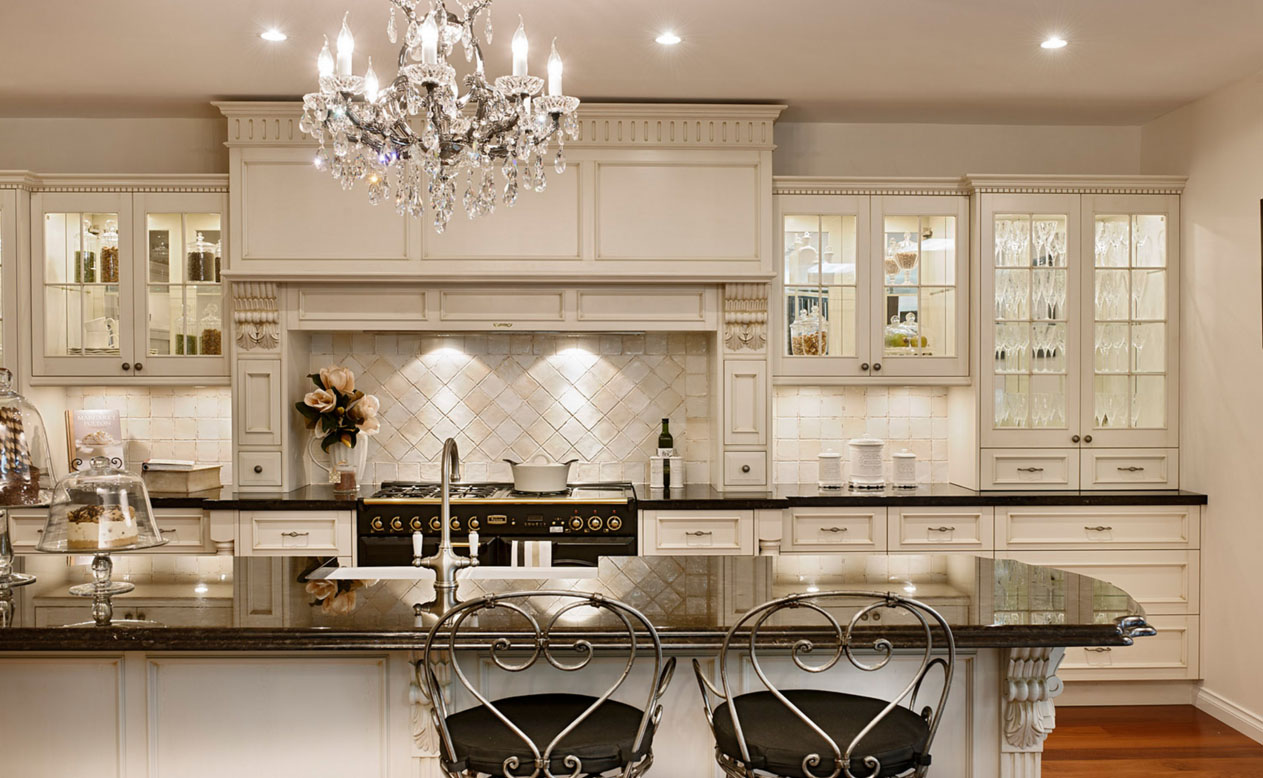 Council: If you are not sure, that will be able to choose the right color palette, then ask for it to the professional.
Decorating the walls of the classical style cuisine
Wall decoration in a classic style - a very important part in creating the interior of your dreams. You must select the right not only to color, but alone material. To finish the designers recommend the use of a relief plaster or wallpaper for painting. Sometimes used fabric, but this is not very practical for the kitchen.
If you choose regular wallpaper, which do not require painting, it is better to give preference to self-colored variants. Intrusion of pattern unobtrusive, but important, so it was not too colorful. Classic-style walls do not attract attention, otherwise there will be disrupted balance of classic style.
This step involves the replacement of windows and, that will fit the overall style. It is better to choose plastic window, that mimic tree.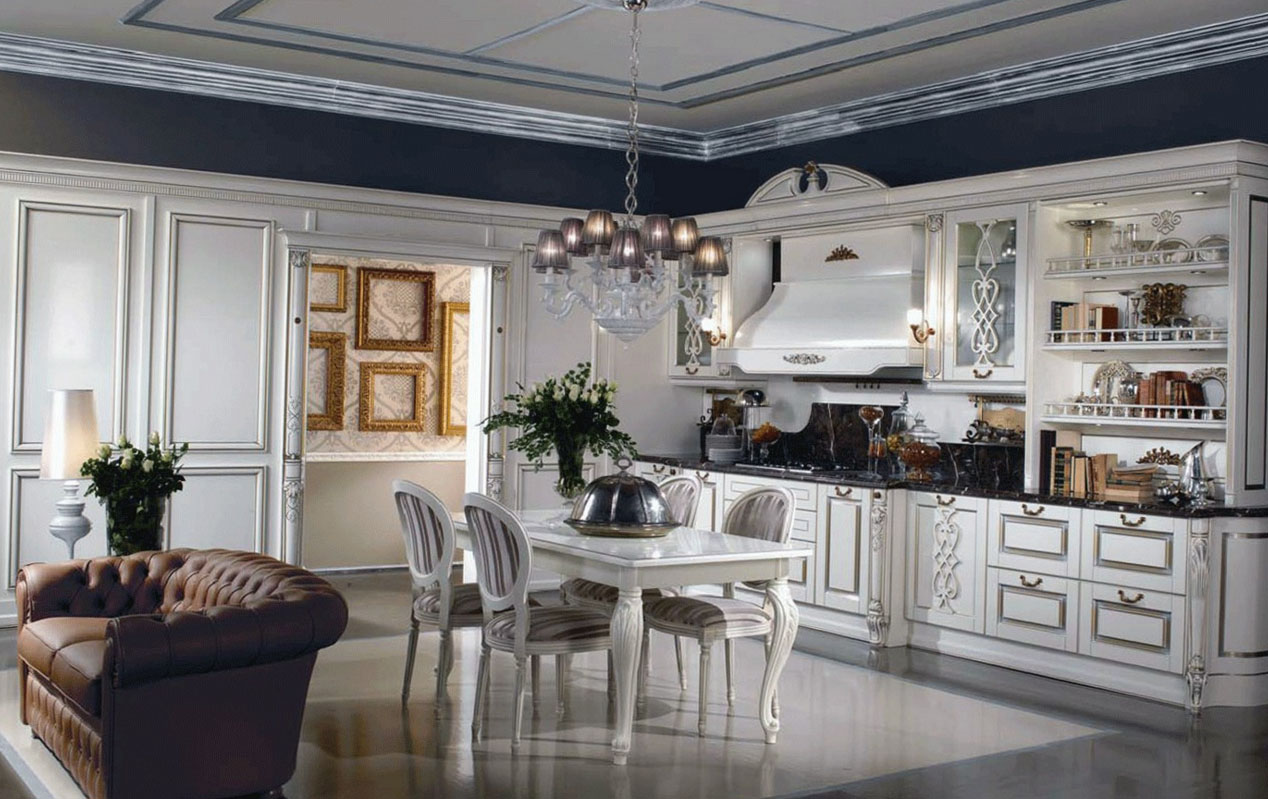 Sex in the kitchen of classical style
Choosing the right material for the floor in the kitchen, it is important to consider not only its appearance, but also wear resistance. It is better to give preference to ceramic tile lighter color without pattern. Such material looks nice and in undemanding maintenance. For any cleaning detergents may be used. Another advantage of this material is, that the bright ceramic tile reflects light, that allows you to visually expand the space.
If you want more elegant option, then choose floorboard. However, this option is not practical for kitchen flooring and conditions will deteriorate quickly. An analogue of such a coating would be laminate or plastic under the tree.
The ceiling in the kitchen of classical style
The ceiling in the classical style is usually painted in bright colors. Sometimes it is decorated with stucco, which in turn is blended with drawings on the walls. Important, to the ceiling, attracted attention and raised himself from the general stylistic ideas. Too bulky design looks cheap and vulgar, so it is best to limit the minimum number of parts.
If invited to design a professional artist ceiling, you can decorate the ceiling of the original painting. This option is ideal for high ceilings and spacious rooms.
Do not lose their popularity and suspended ceilings, in that immediately integrated spotlights, or conventional ceilings the same color. Even if the kitchen is used by multi-level ceilings, it is important to observe the correct symmetry and geometric shapes.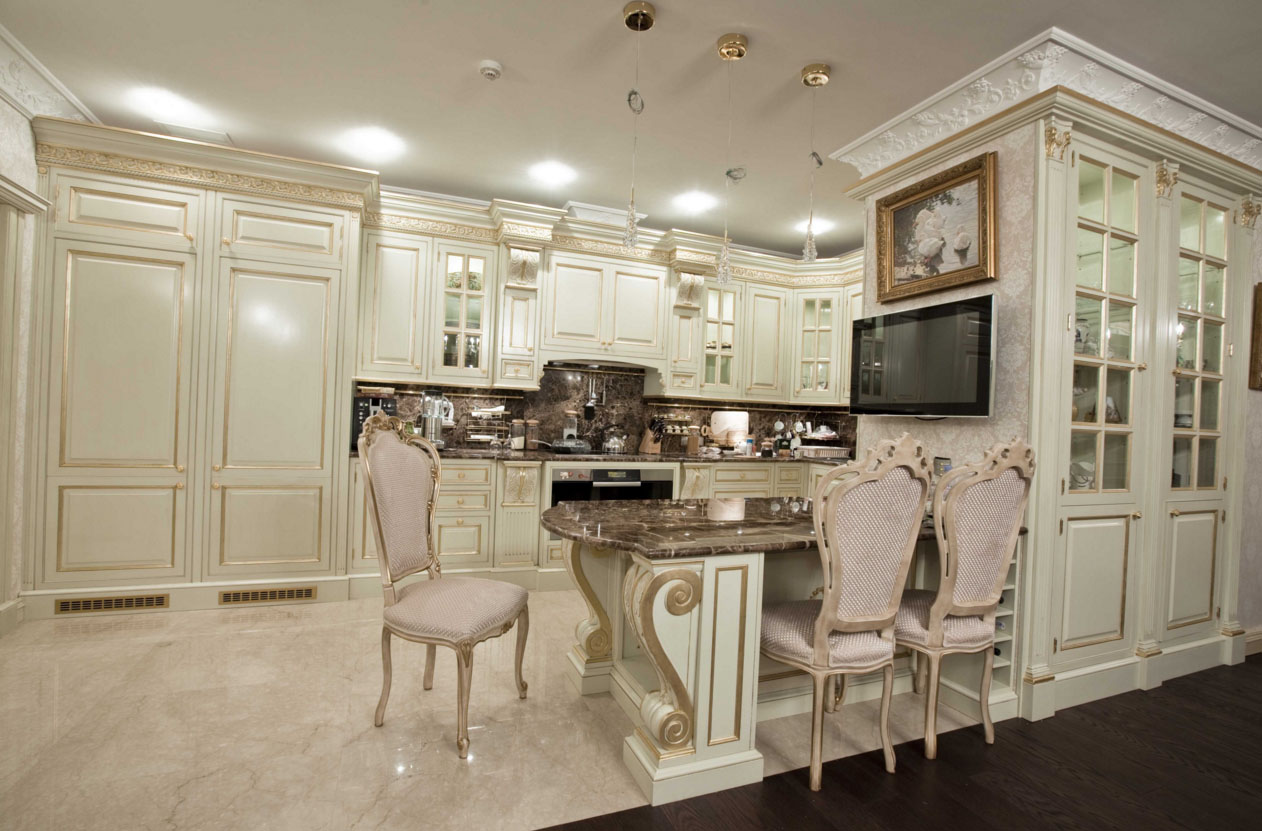 Kitchen furniture of classic style
Furniture in the style of "classic" it is important to choose with extreme care, to have it fully consistent with the overall style and design ideas. Classics in the interior of the kitchen can be traced throughout the. Kitchen set, tables and chairs combines three main points:
Elegance and sophistication.
Neat and tidy.
Elegance and gentility.
It is important to harmoniously combine the correct forms with functionality, without which no cost, no kitchen.
White kitchen in a classic style with natural wood without bright color accents - an interesting option for a spacious kitchen. Thus dazzle elegant facade elements, such as:
Glossy surface gloss.
carving.
Yarkovyrazhenny wood texture.
There are two main types of furniture for the "classic" kitchen:
Furniture with a large number of decorative elements. Kitchen obtained in this case lush and rich. But do not use this furniture for small spaces.
The second option is more discreet and suitable for all kitchens. Typically, glass windows are used for the decoration of kitchen sets. Carvings and moldings are missing.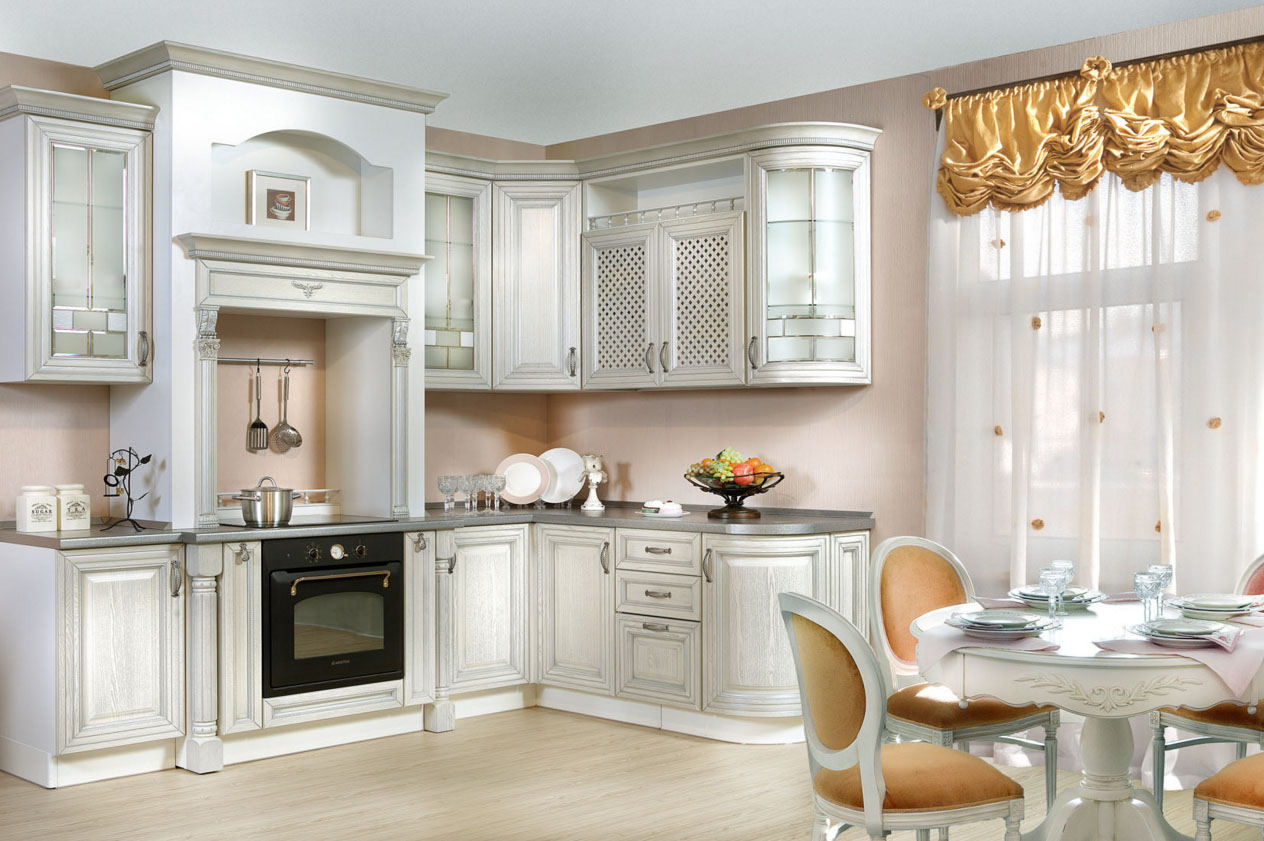 Prepare to, that for the realization of the classical style to your kitchen, will have to spend a lot of money, so as natural and expensive materials are used for such furniture. For light cuisine using birch, lime, pine or beech. Besides, kitchen sets are decorated with expensive elements in gold or copper. Feel free to use the grandmother's antique furniture, which will be a real highlight of your interior.
Classic and new trends
Should not give up and from the modern fashion trends, planning a classic interior. So you get a kind of neo-classicism. This is a more free style, which represents all the same nobility, but diluted with bright colors and unusual shapes.
To implement this style are often used frame facades. With these elements classical furniture combined with the technique of, hob and extractor fan. The combination of classic dishes and modern technology only in this case it looks appropriate.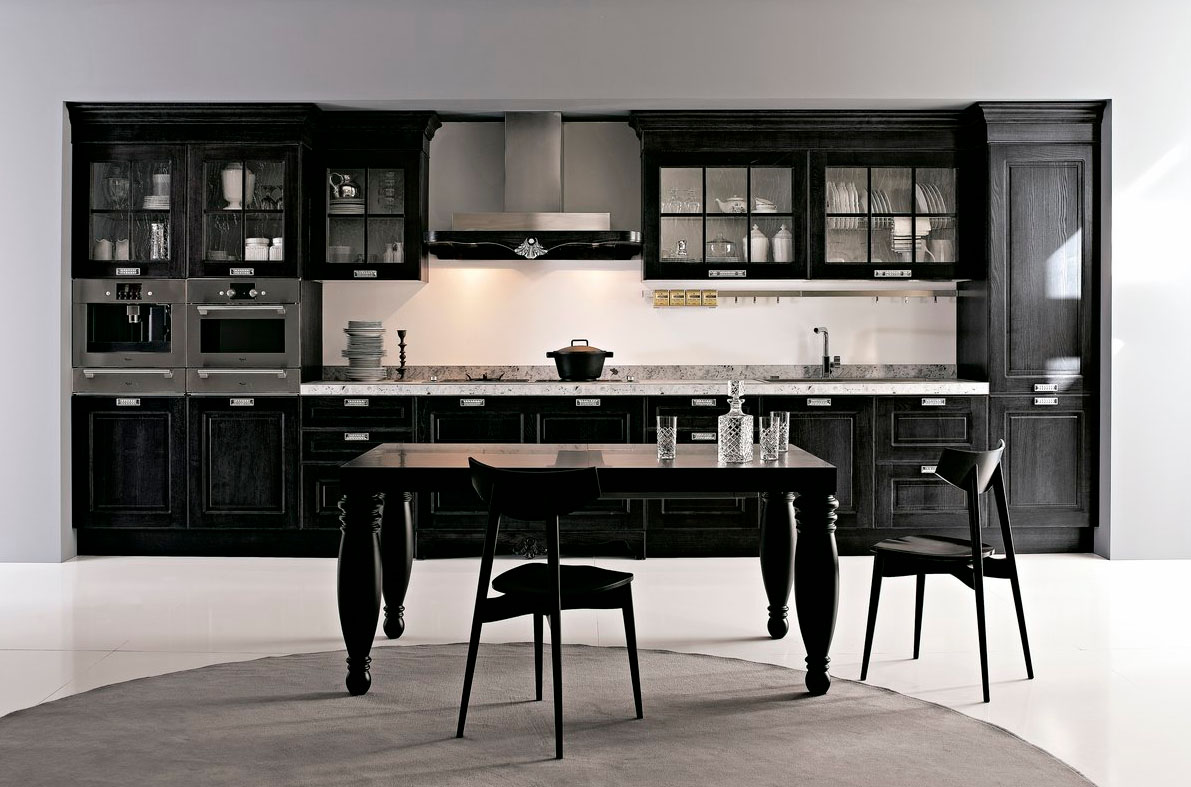 We combine the kitchen with living room
Classic wooden furniture is used to design the kitchen, but also for the living room. If you want to expand the space and build an apartment in the same style, simply combine the kitchen and living room together. With furniture and decorations you divide the room into two zones, while both of these areas will be decorated in a classic style.
Before entering radically change his apartment, consider the advantages and disadvantages of this option. The main advantages:
The space visually expand. Besides, the room will be lighter, thanks to, that window will have two.
Psychologically, the hostess will be easier, because in the process of cooking and its cleaning it is in a separate room and the "fall" of family life.
Partially eaten kitchen and living room will simplify the process of organizing family celebrations.
But do not forget about the shortcomings, which is important to consider:
Scents, which is not always good extractor hood spread, not only in the kitchen, but also in the living room.
Loud sounds by the microwave oven, sink or cooking utensils can interfere with apartment dwellers do their own thing.
Cleaning is required to conduct thorough, as it is located in the living room is visible all the unwashed dishes or a messy desk.
The main features of the classical style cuisine
To embody the classic style in its purest form, it is important to take into account the main points:
The walls are smooth with no alcoves. you can use wallpaper with understated pattern.
It is unacceptable to use plastic and other synthetic materials.
All zones are clearly separated.
Chandeliers in the classic style, made of glass. This accessory is placed in the center of the room.
Classic ceiling without elaborate and eye-catching graphics. The variant - the classic ceilings.
Plain curtains of costly material. Can dim picture.
Furniture wooden facades.
Restrained and pastel colors.
Used for floor tiles of ceramic or parquet.