White classic kitchen— a masterpiece in design art
White - the color is not practical? Nonsense! He is the eternal and universal: clothing, interior, exterior ... Isklyuchitelyno democratic and dynamic, suitable for all colors at once and separately. This is the primary color. he achromatic, and at the same time it combines virtually all the existing colors at once, in addition to its antipode - black. With it you can combine that, how and where you want - harmonious and appropriate everywhere. Including the kitchen. by the way, White kitchen interior - chic, preserving as much urgency, as there is a civilization.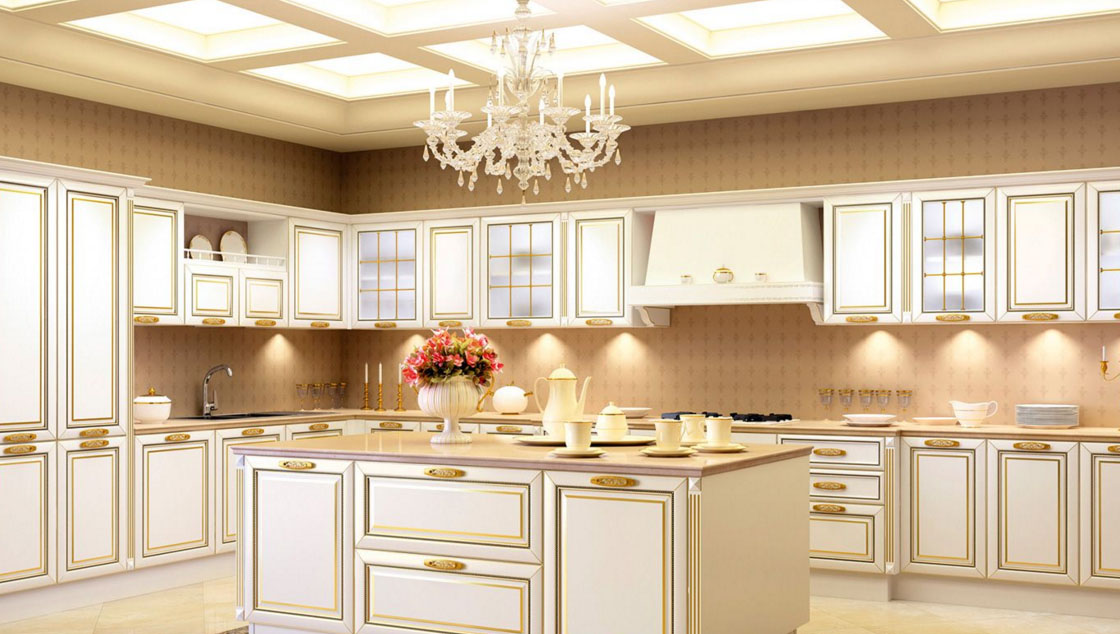 Secrets of Psychology and the influence of the white
On a purely psychological level white - pure color. So white kitchen - clean kitchen. White - a symbol of the boundless space. And indeed, even the smallest white kitchen seemed to grow, dispels space, becoming increasingly, above. A massive white kitchen furniture is losing weight and is perceived as weightless openwork.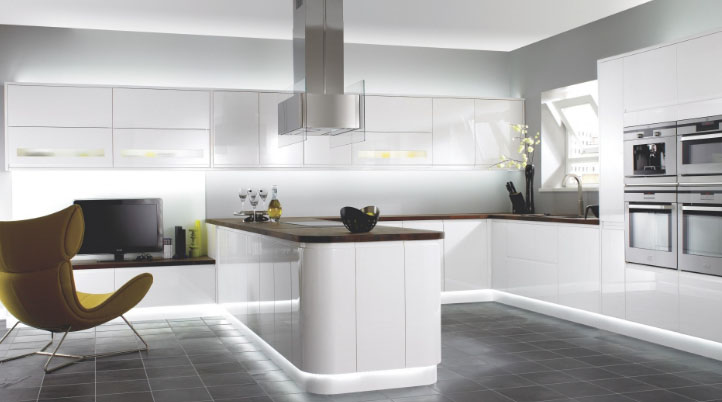 White is able to dissolve or any other make, even poisonous shade tenderness and poignancy, radically changing its. That kitchen design in white mostly preferred by those, who spontaneously tends to the purification of the painful problems, ready to take a step to a new life, get rid of unnecessary frustration and feelings.
White with black, gray, red, brown, green, blue, beige gloss, blue, purple
However, choosing a design white kitchen is important to know, that if at the beginning of contact with plenty of white people relaxing, calm down, then after a long time of his contemplation - feels unmotivated fatigue. Interior white kitchen can not be isolated, it should be complemented by, combined with other colors. Isolation and a glut of white not only sharpens the perception of the world, but also enhances the feeling of. any, including pain. proper white kitchen - a kitchen in white colors, instead of the monochrome white.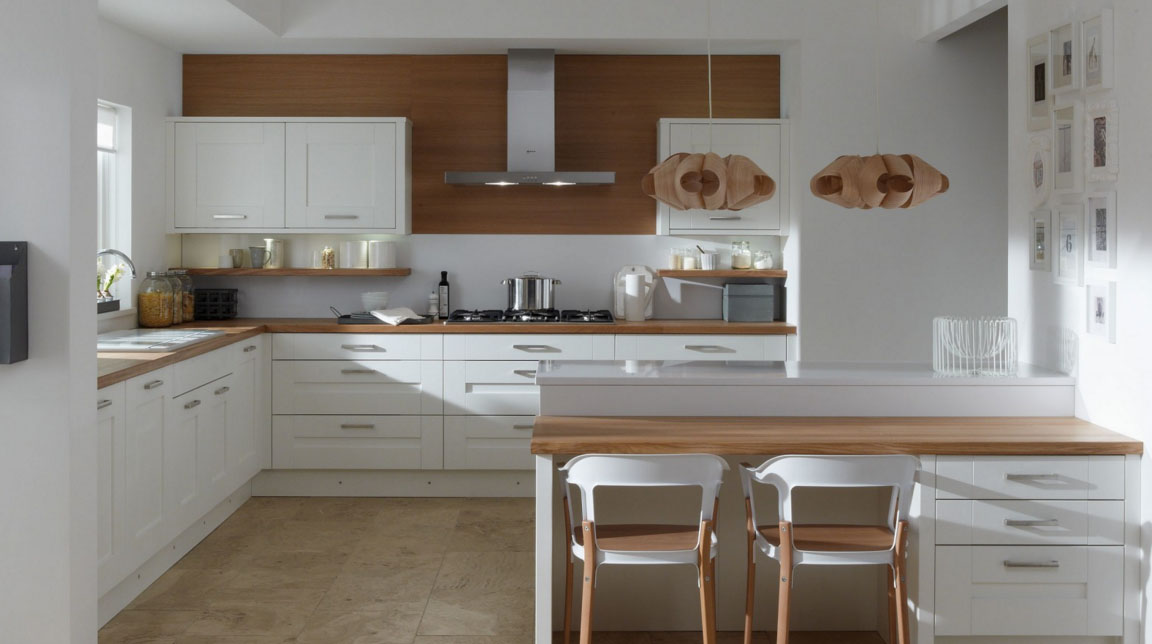 By white tones are:
boil-and-white;
pearl;
warm color magnolia;
noble ivory;
baked milk;
pearly seashells;
cotton;
linen;
lactic;
creamy;
cream;
snow;
color white cherry;
clouded;
parchment;
dusty.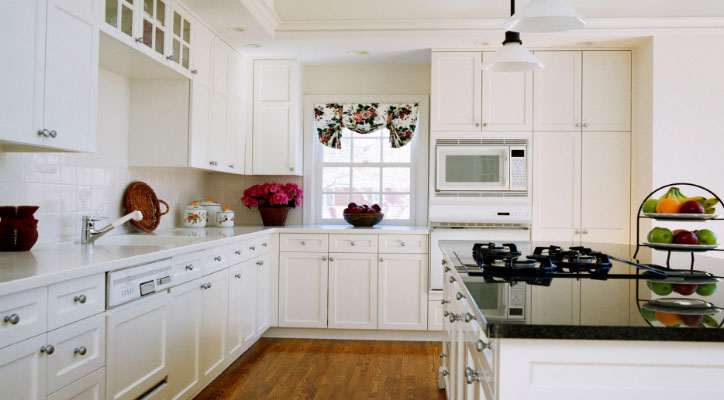 They can be used in a variety of dishes in the style of white, varying with the other shades of the color palette. The combination of bright white joins the range of classic dishes hints of extravagance, neutral - elegant conservatism, dark - surrealism and expressiveness.
Council: exclusively white color of the kitchen is allowed only if, when in the interior of all the other rooms of the apartment - full of bright colors,. Only in this case it will fit harmoniously into the overall design of the apartment, taking on the role of relaxing vents
White classic interior - the primary source of styles and designs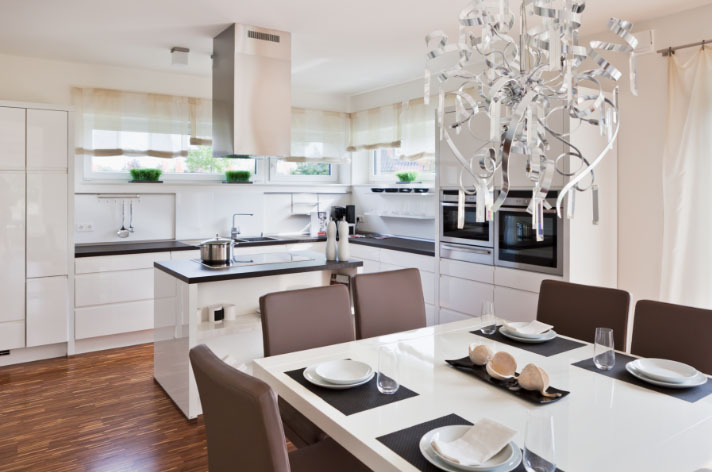 In any house, apartment, apartment, studio interior with white kitchen is impeccable. pushing the space, it creates the illusion of spaciousness, certain solemnity, adds lightness and emphasizes neatness. Besides, Kitchen in the style of a white-saving lighting resources, they do not need to supplement the light, and so attract and hold it for a long time.
The founder of the interior in white - white classic cuisine. she initially:
functional;
thoroughgoing;
elegantly restrained.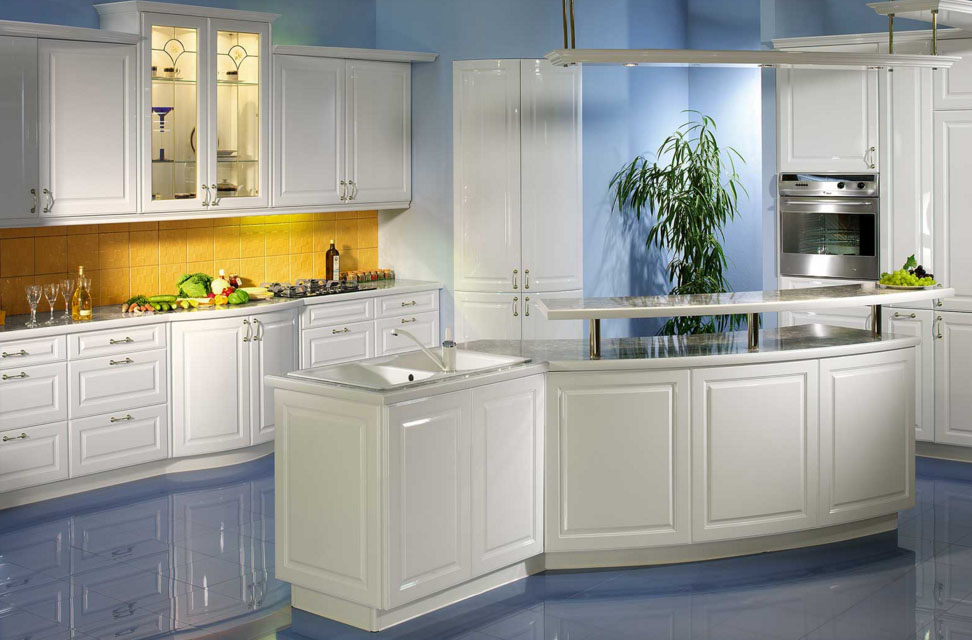 This white kitchen classics - Natural mater:
glass;
crystal;
tree;
a rock;
parquet;
flax;
cotton;
basket.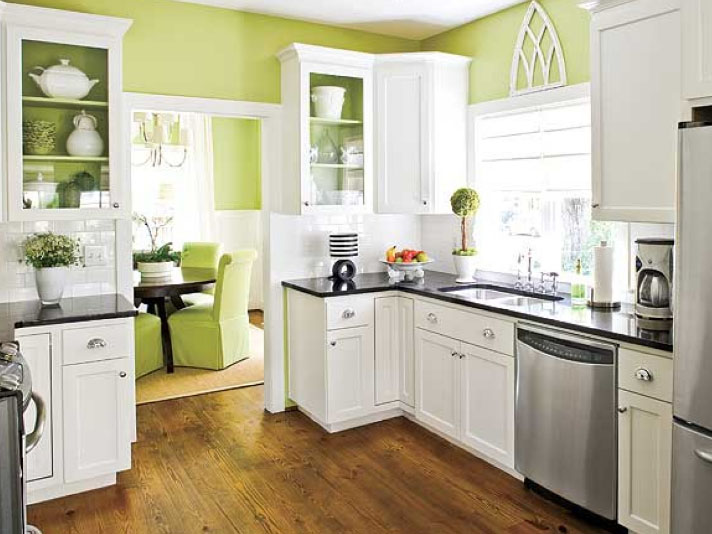 solid-color walls (plaster, wooden panels, wallpaper, tile, fabric drapery). Paul - parquet, granite, ceramic tile wood. Ceiling - whitewash, stucco. It has a kitchen classic.
Современные белые кухни в классическом стиле допускают ламинат вместо керамогранита, linoleum flooring instead, ceilings - an alternative to whitewash, wallpaper with blurred featureless or bitmap. Here are just lights do not allow liberties. Possible only one option - white chandeliers classic - no plastic and metal cones. They look, least, flashily.
She likes white classic cuisine accompanying its greatness noble accents:
gilding;
bronze;
times a;
black granite;
Black with golden streaks of the marble structure.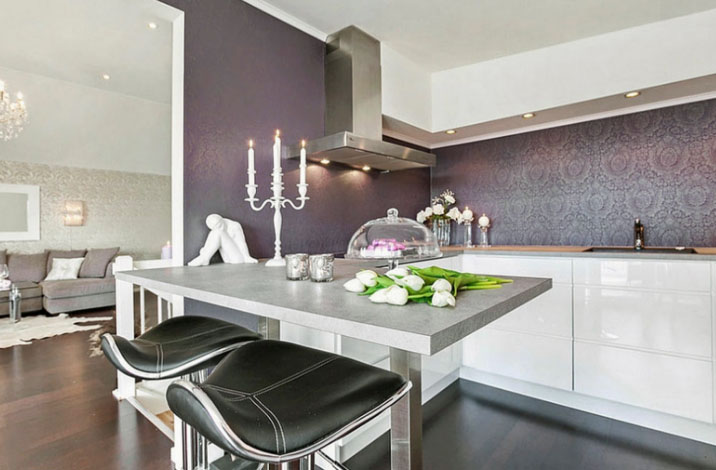 They are used for finishing pens, facades, accessories.
Council: conventional kitchen of pressed wood board turns into a classic, if it is artificial sostarivayut copper patina or film - patina
The combination with wooden top, apron
Сочетается белая деревянная кухня с антиподным черным фартуком, anthracite tabletop. Brown with good working area, beige textile, floor wenge or melted cream. Gray marble adds her fundamental. Pearl wallpaper or curtains - nobleness. Tile, imitating glossy glass, relief pattern stone, Burnt cork - originality. Cream shades of wall decoration, sand roman shades, delicate tulle or muslin color of melted butter - the quality factor of the classic Provence.
kitchen sophistication with white facades emphasize diverse threads, laths, floral ornament, gilded frame around the perimeter.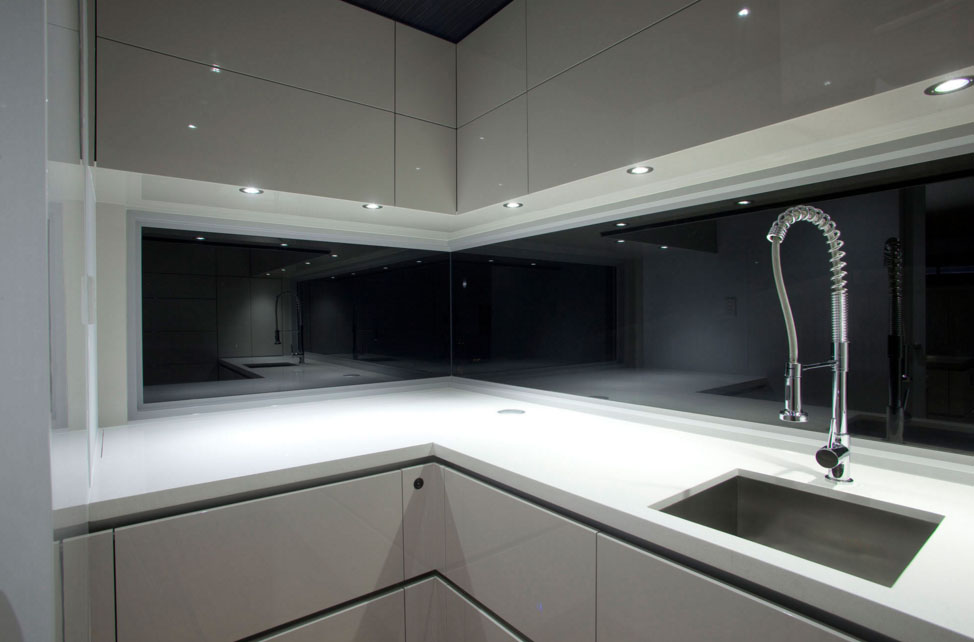 Modern classics and patina: white top or bottom
The modern white kitchen is not as monumental, as an orthodox classic, but also noble elegance. Democratic combination of colors allows you to mix styles, favorably underlining the respective colors and paraphernalia.
Country predominantly wooden (under the tree) wall covering, ceiling, gender, complements the style of Provence. The harmonious symbiosis of interesting and extensive window textiles. This eclecticism is good with Austrian, Roman, bambukovыmi, roll, and even the Japanese curtains. Appropriate classic cotton, curtains noodle with a pattern in pastel colors.
Modern with glossy, acrylic fronts, light laminate (a wooden board), moire tiles (instead monotonic ceramics), walls in neutral, metallic-pearl colors, black or dark walnut counter top bar, separating dining and working zones smoothly flows into the high-tech. Stylish addition - split-level spotlights, metal furniture accessories (a knob, Handles, reylingovye system).
Vintage with retro mixers, artificially aged or resuscitated grandmother potbellied buffet, overweight wine rack, emphasized open wall ceilings, tables with hinged doors pave a straight path in the industrial style. Charismatic mix of interior accentuate the raw brick partition or gray concrete wall, iron battery, "Frayed" rugs of coarse textiles, assembly set, potted plants.
Art deco with strict geometric lines, graphic prints natural textiles, polished stainless steel fixtures, glass, black-and-white checkerboard floor is transformed into concise Scandinavian style. The relevance of choices - laconic shapes, simple decoration materials, the play of light and shadows in simple structures.
White kitchen in a modern style - the absolute flight of fancy interior designer. It combines incongruous: monumentality and simplicity, bright flowery armrests of chairs and rough simplicity of the furniture, flower arrangements and fresh flowers ... All, that creates comfort and the comfort of home.