Burning in spain interior of the kitchen: clearance on all the rules
Kitchen Classics gradually going out of fashion. Usually, these headsets are popular with older people, who are rather conservative in their choice. For active youth perfect Spanish style in the interior catering. Create a unique atmosphere of passionate Spanish will be partially and with his own hands, - furniture and decorative elements are easy to do yourself.
The basic approach
Kitchen Mediterranean inhabitants ─ important place in the house. Here the whole family for the preparation of national dishes, recreation and, of course, communication. Kitchen interior southern people emphasize.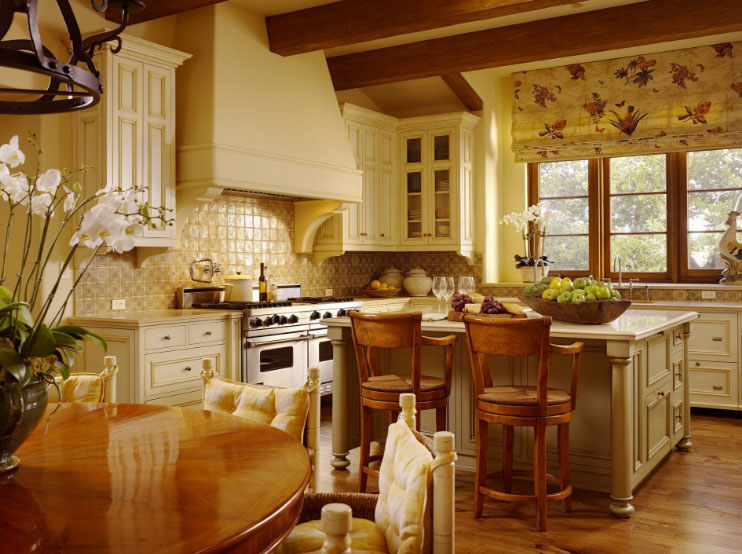 The Spaniards are no exceptions. Their cuisine at home warm and bright at the same time. If your life lacks color, add them, organizing interior Spanish style.
You can create a Spanish-style cuisine from scratch. Another option ─ introduce elements, that you like, in an existing Interior. The decision is only for you.
Forms and materials
A distinctive feature of Spanish cuisine ─ desktop Wet, Standing in the center. this implies, that the room for the kitchen should be spacious. In the case of a large desktop shortage of space and is used as a dining.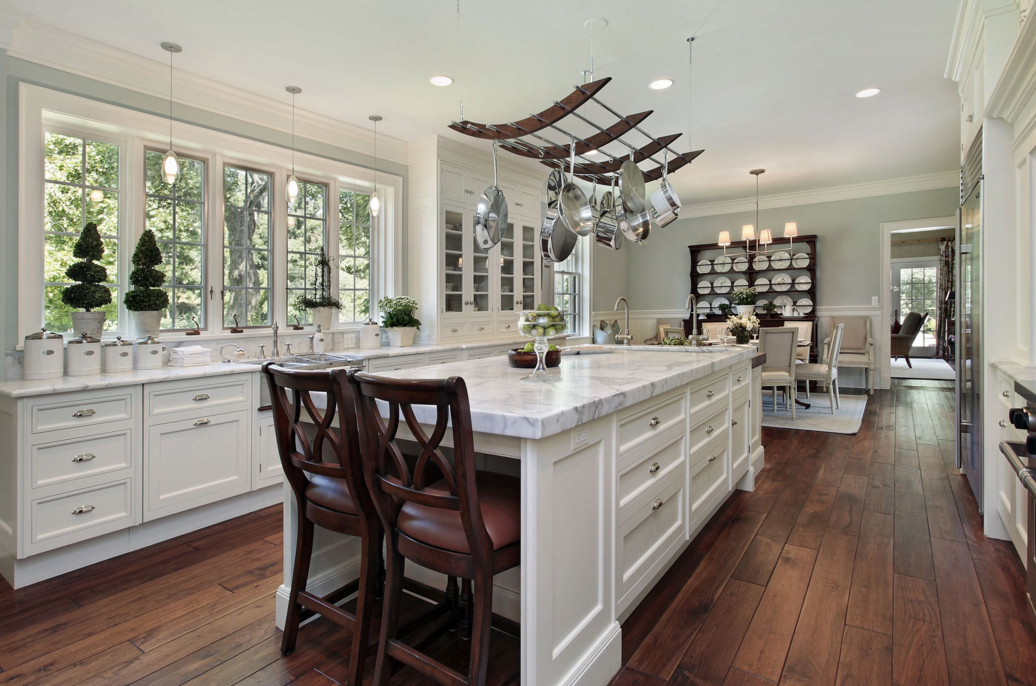 Having dealt with the dimensions, move on to the device space. To give it a Mediterranean flavor, use tips:
Make arches. With their help, you can arrange not only the openings between the door and windows, but also to make indentations in the wall shelves. Arches made of stone in an apartment kitchen used to separate zones. They will allow to smooth the rough edges and give the interior originality.
Build a fireplace. If you live in an apartment, the limit to electric. How to make a fireplace with his hands discussed below.
Paint the ceiling in white, light beige or light gray, and came to him rough beams of wood. To enhance the contrast, use a dark-colored beams.
One of the walls are decorated with stone, and the rest cover the plaster.
Pick a rough tile with simulated stone and put it on the floor. No less interesting is the floor tiles under the tree.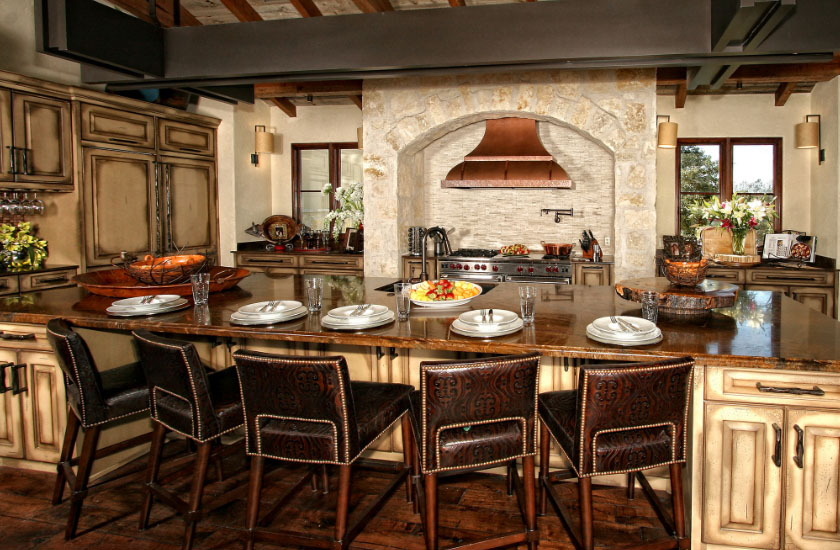 It is hard to imagine the Spanish interior without fire. But today not everyone can afford it. Residents of apartments put the fireplace at home is practically impossible. And here it is not only shortage of space. You need to have a large number of permits from government agencies.
The way out of the situation will falshkamin. It can be purchased off the shelf, or create your own. Try to make a fire to house with their hands. For this we need:
pieces of drywall;
Profile for plasterboard;
level;
roulette;
Screwdriver or screwdriver;
screws with dowels.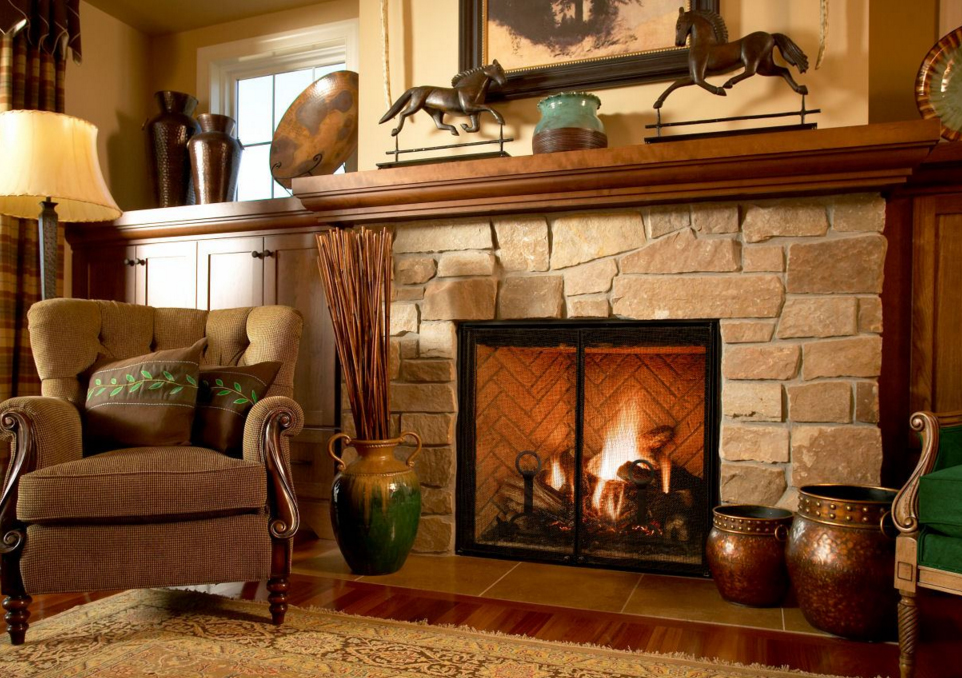 To build a fireplace in the house with his own hands can be so:
Decide on a place for the fireplace, and its size, draw on paper drawing.
On plasterboard make markings on the drawing.
Attach the frame of the profiles to the wall.
Cut drywall and connect it to the metal structure.
Zashpaklyuyte and powertrowel corners.
decoration. For facing the fireplace in the Spanish style using ceramic tiles with various ornaments, natural and artificial stones.
environment
Kitchen furniture in the Spanish style, choose from a natural tree, desirably dark shades. Table top should be made of natural stone. buying table, stop for bulky models in the shape of a square or rectangle. Chairs should have high backs, not prohibited bright upholstery. The presence of the thread and visible plaque of old furniture to give your kitchen a certain charm. But there are such a lot of kitchen sets.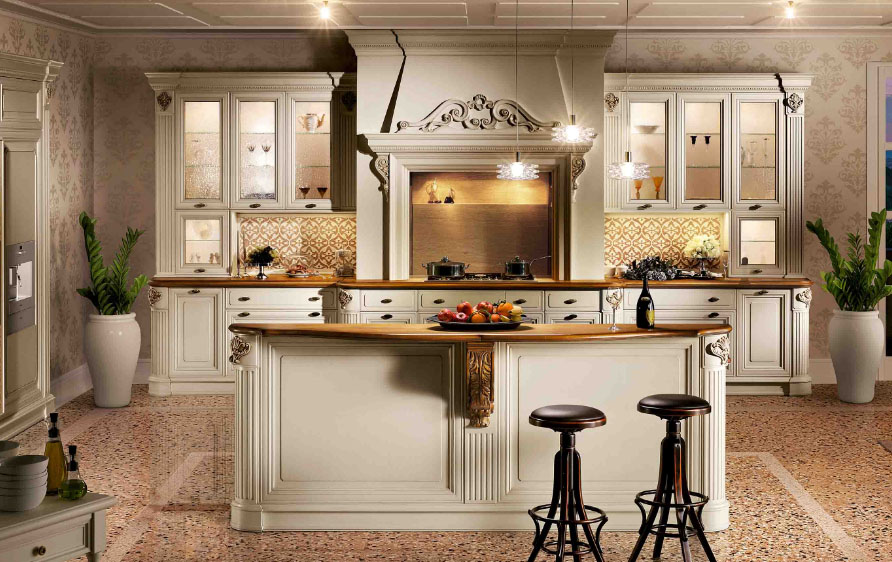 Council! Table top materials, imitating natural stone, or lined with ceramic tiles is quite appropriate in the kitchen in the Spanish style.
Sink form is not essential. Look to embodiments of copper or stone. When choosing kitchen appliances guided by options, formed in silver. Appliances with white or colored coating is unlikely to be relevant to this kitchen.
The chandelier is not worth saving. It must be massive and thus expensive to look.
decorating techniques
If you do not plan to change the kitchen overhaul, but only want to make notes in its interior Spanish style, this chapter is for you.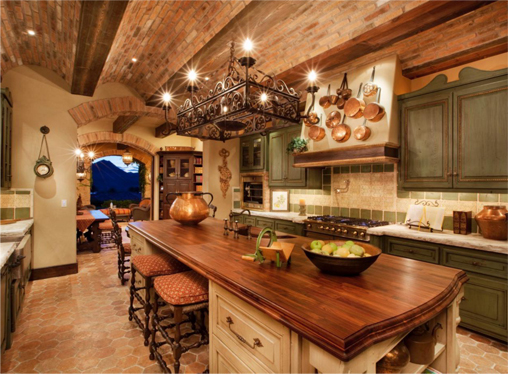 To begin, consider some of the nuances, knowledge of which is necessary to form the basis of the Spanish interior in the kitchen:
Existing furniture a little sostarte. To do this, unpack oo stained a dark color, and then go over the surface with sandpaper. Very impressive look antique chairs, made so.
Remove upper kitchen units and to adjust the shelf.
In order not to burden the ceiling, instead of wooden beams, use decorative. For the manufacture of foam cut into the required size, sheathe and beams on the ceiling can be self-adhesive film, imitating the structure of wood.
Forget wallpaper! They need to be removed, a wall paint neutral color.
Buy new fixtures. For the Spanish interior lighting needs massive objects with metallic decorative elements.
Do not forget the niche in the wall decor, which is often in the kitchen room in a five-storey apartment, after removal of old appliances or furniture. Perfect painted wall tiles or panels, self-adhesive. It will be interesting to look at the image of Salvador Dali style - bright, catchy abstract eye.
Antique lamps can be made with your own hands. To do this we need:
paint;
metal lamp;
Toothbrush;
brush;
steel wool.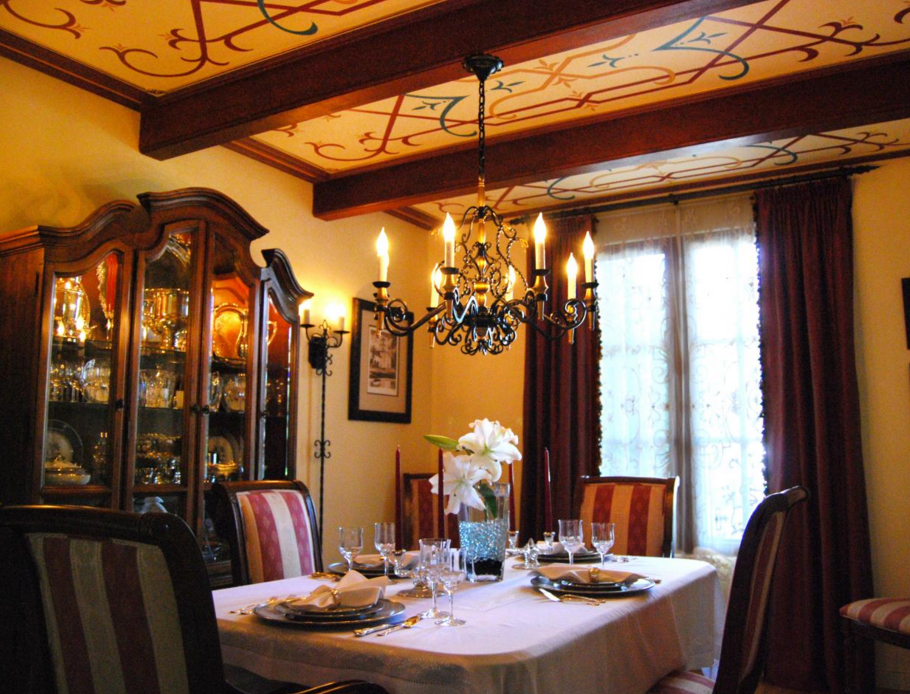 Thoroughly clean the lamp metal wool, periodically dipping it in a soap solution. For hard to reach areas, use a toothbrush. Cloth, wipe the lamp and allow it to dry completely. Then apply a coat of emulsion paint brown. After drying, take the paint light green tint. Staining produces almost dry brush. As a result of effort to turn the lamp with a slight touch.
You can make a candle with his own hands for the interior of a Spanish-style wood:
Take a wooden stand and branches, thicker candles.
Self-tapping screw vertically raised branches from the base bottom side.
Make holes for candles.
If you have made a candlestick made of wood with their hands, then paint it or varnish Reveal.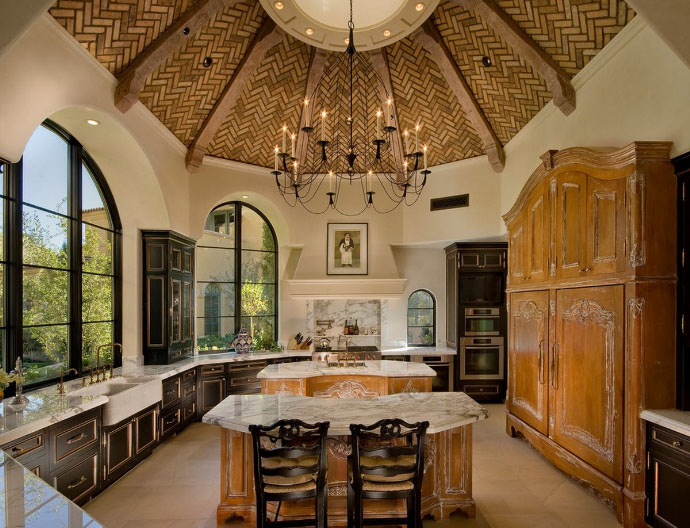 Candlestick with their hands can make improvised. it: metal pipes, glass jars, glasses, bottle.
elements of decor, made in the Spanish style, You should make the house warm and cozy with a touch of passion, vitality. Everything should be on the mind and have some creative chaos, peculiar to this people.
Widely used forged shelves are arranged on dishes, jars with spices, wicker basket with fruits. In the niches do shelves, on which place the metal and pottery, vases of different colors. Besides, emphasize the Spanish flavor, you can use the tapestries on the wall. Common themes ─ girl, dancing flamenco, nature Spain. Here's a she, Spanish-style kitchen.