The material for kitchen fronts: reliability, strength or design
When the time comes to kitchen remodeling, the most difficult choice becomes furniture set. Modern manufacturers produce a large number of materials and colors, as determined for this becomes more complicated.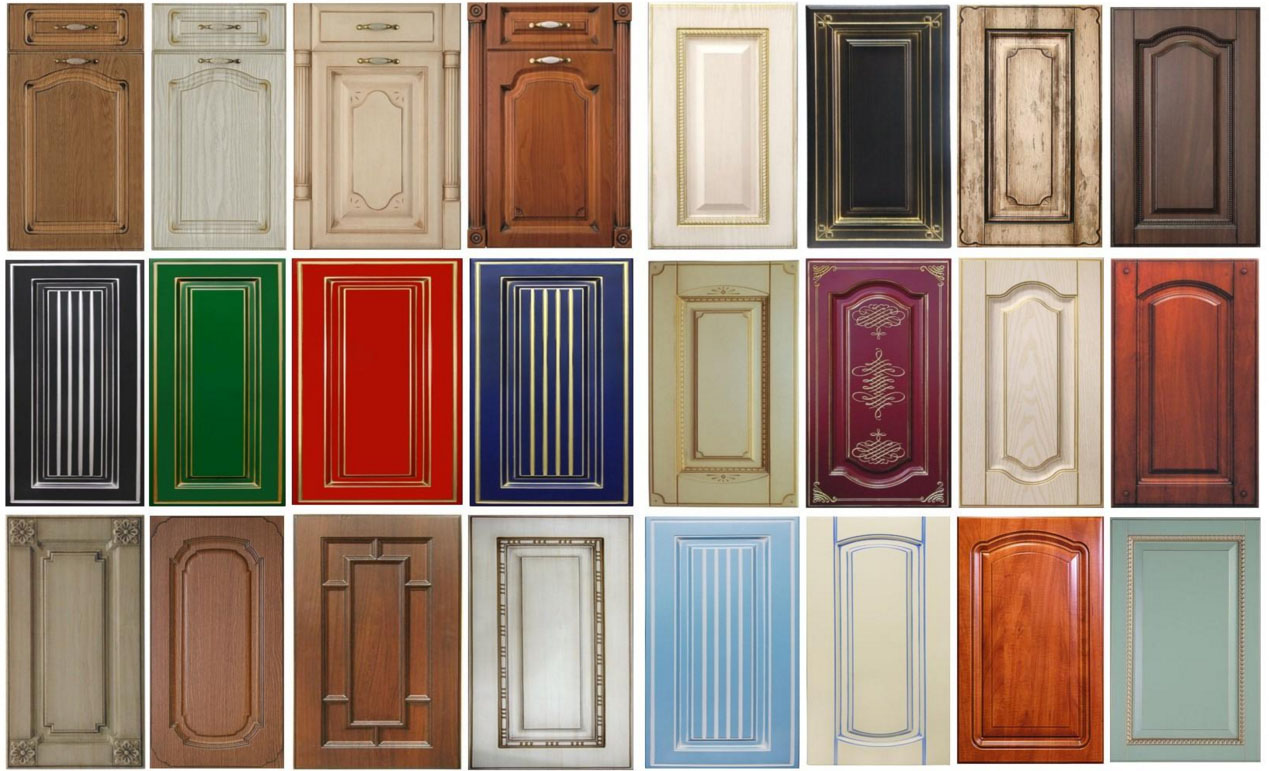 Therefore, we propose to consider the common materials for kitchen furniture, which are used for front facades, their characteristics, Advantages and disadvantages.
laminated chipboard
Material chipboard made from dried sawdust and wood shavings. Then the coated decorative layer, why and distinguish types of chipboard furniture.
Lamination - this coating chipboard paper layer, impregnated with resin. Technology is held under high temperature, so the decorative treatment completely adheres to the plate and become a part of it.
Benefits
resistant to thermal stresses;
moisture-proof material;
is not subject to mechanical damage;
a wide range of colors includes the likeness of natural materials;
It does not fade under the influence of ultraviolet radiation.
disadvantages
strength material does not perform a contoured milling.
Laminating Particleboard
Lamination - coating process is CPD plate cured film. The technology involves a lower pressure and temperature, than laminating, and compressed to a solid film on the adhesive layer of chipboard.
Externally laminated chipboard looks better than laminated, but after a few years the appearance will begin to deteriorate due to low performance.
Care for a surface eliminates wet cleaning and detergents, so you need to wipe clean with a dry cloth.
Benefits
cheap material;
at first looks like a laminated particleboard;
good assortment of colors.
disadvantages
instability to moisture and temperature;
susceptible to mechanical damage;
1-2 years it loses appearance;
the complexity of the purification.
plastic chipboard
The so-called front plastic - it chipboard, coated with several layers of plastic or melamine. Both variants provide mirror surfaces, that looks well in small spaces. For the treatment of the side edge sections of the plastic used for chipboard.
Appearance differ in color and covering (increasingly using gloss, because matte surface looks poorer). If you choose facades for high-tech style, which is decorated kitchen, plastic aluminum frame will suit most harmoniously.
Benefits
resistance to mechanical damage (scratch, pounding);
resistance to thermal conditions;
resistance to UV radiation from sunlight (Plastic is not subject to fading);
resistance to chemical compounds - for washing can use any detergents;
a wide range of patterns and colors;
the opportunity to imitate a natural material (wood, stone and other).
disadvantages
a surface façade looks, plaster shagreen because irregularities chipboard;
resistant to temperature extremes;
on the surface noticeable splashes and fingerprints;
the back of the facades in the mostly white.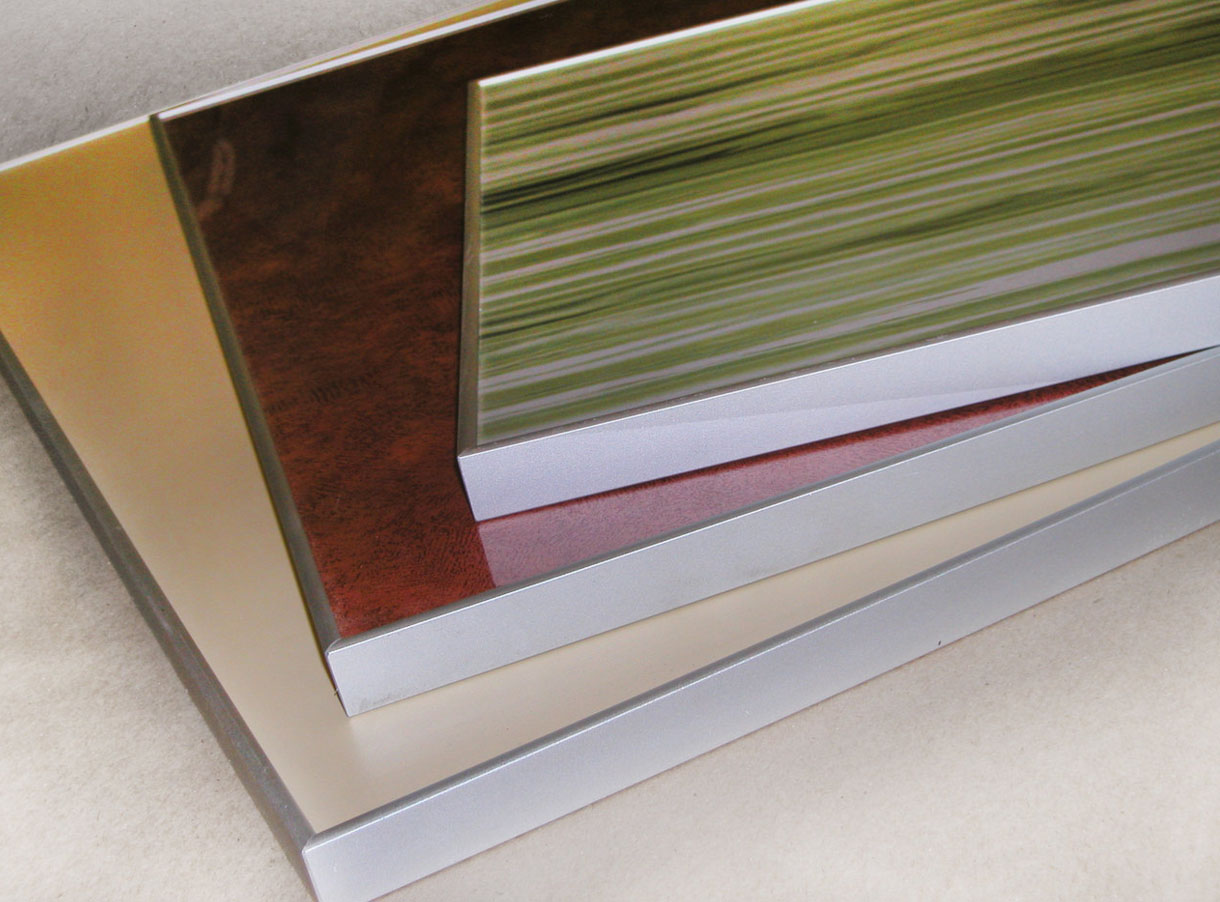 Facades of stratified plastic
The facades are different from those of plastic, that they are based no chipboard. Stratified plastic - a plurality of layers of plastic, which are framed in an aluminum frame. It looks almost no different from the usual plastic.
more popular Kitchen glossy facades, but the matte find their owners.
Benefits
lightweight material;
long service life;
easy to wash off contamination;
on the surface of imperceptible splashes and fingerprints;
resistant to mechanical damage.
disadvantages
Only the facade of the edges are framed with aluminum frame.
MDF facades
how and DSP, MDF manufactured from wood chips, but the production technology differs. If the MDF pressed dry chips under high pressure and temperature, the chipboard - hot pressing. This is the difference MDF and particleboard.
kitchens MDF gloss perfectly suited for classic and modern style. Are performed in one color or alternation with another.
Kitchen of painted MDF looks just, if in furniture design not use concave or convex shelf, Corner rounding and other decorative elements.
Benefits
painted MDF is easy to care for;
large selection of colors, are combined with each other;
topcoat frosted, gloss, nacreous or "under the metal";
manufactures curved facades for decoration;
resistance to moisture and temperature.
disadvantages
more expensive than plastic and chipboard;
visible splashes and fingerprints;
color fades with time;
the back of the facades in the mostly white.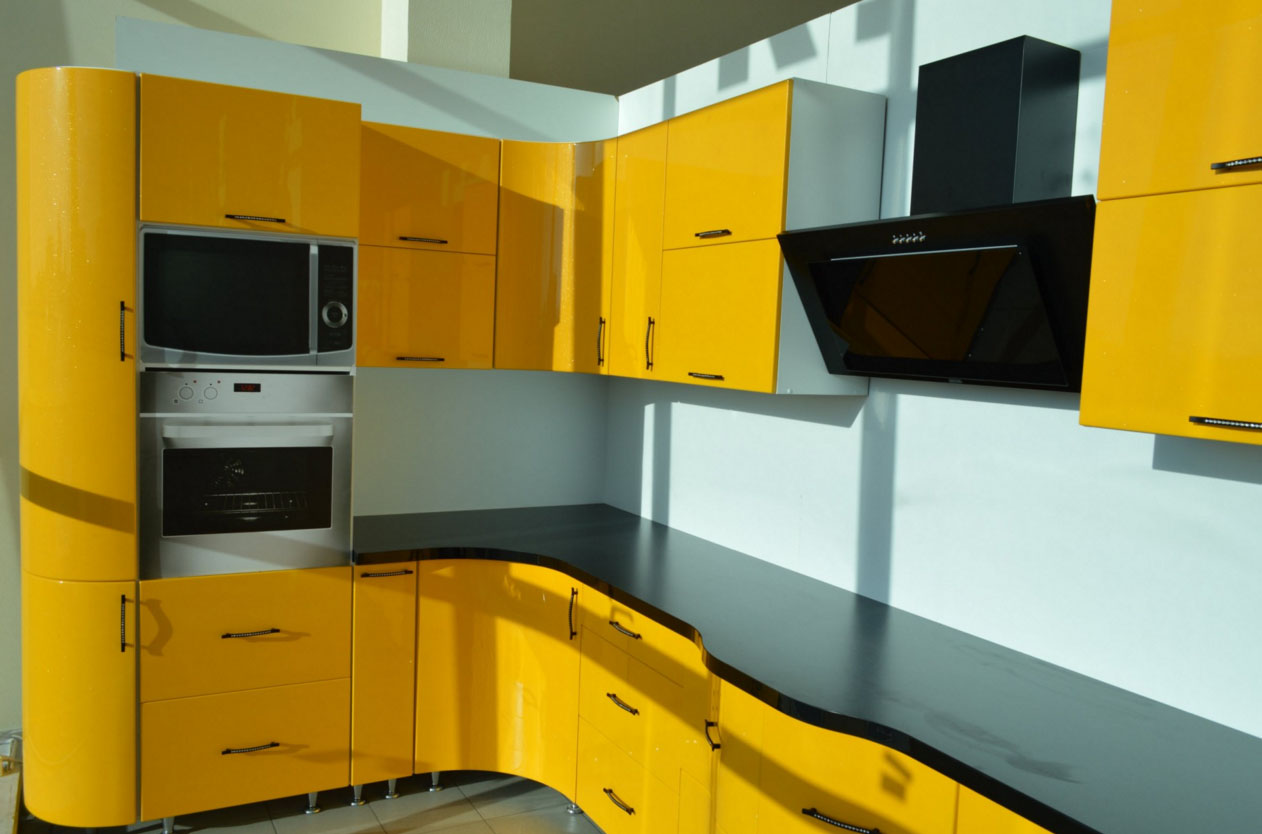 Facades with glass
To create glass facades for the kitchen, used tempered glass. It is durable and its thickness is about 5 mm. Glass produce matte or glossy, then stained or decorative pattern is applied to one side of. Hereinafter, this glass is attached to the MDF-plate via an adhesive. You can also glue the glass to the DSP. Glass facades can be made of aluminum frame or trim angle to the edge of the material.
Benefits
colored glass looks like a lacquered MDF surface, but it looks brighter and more volume;
paint layer is applied on the glass side, which is adjacent to the plate, so it can not hurt.
disadvantages
requires regular cleaning surface - on the glass remain fat drops, water, fingerprints and other contamination;
for cleaning detergents used for glass microfiber or.
natural wood
Natural wood - the most expensive material for kitchen fronts. This is due to long-term treatment of wood, which consists of drying in special premises and a surface coating protective agents.
For production use two materials. Oak cheaper and less resistant to operation in the kitchen, beech in the terms of reliability, but correspondingly more expensive. One for expensive facades considered tree zebrano. beige, brown and black shades of the furniture, They allow you to combine it with other color schemes, Zebrano texture and give the room a luxurious look.
wooden kitchen suited to the classics and country, and complement the interior of wood- Floor chipboard.
Benefits
endurance of fixing seats;
various surface decoration (reliefs, bends, aged material effect);
resistance to mechanical damage;
long service life;
resistant to temperature extremes;
when damaged to be restored.
disadvantages
expensive material;
from sunlight fade and tarnish;
wood swells and decreases when the humidity changes (~ 2 mm).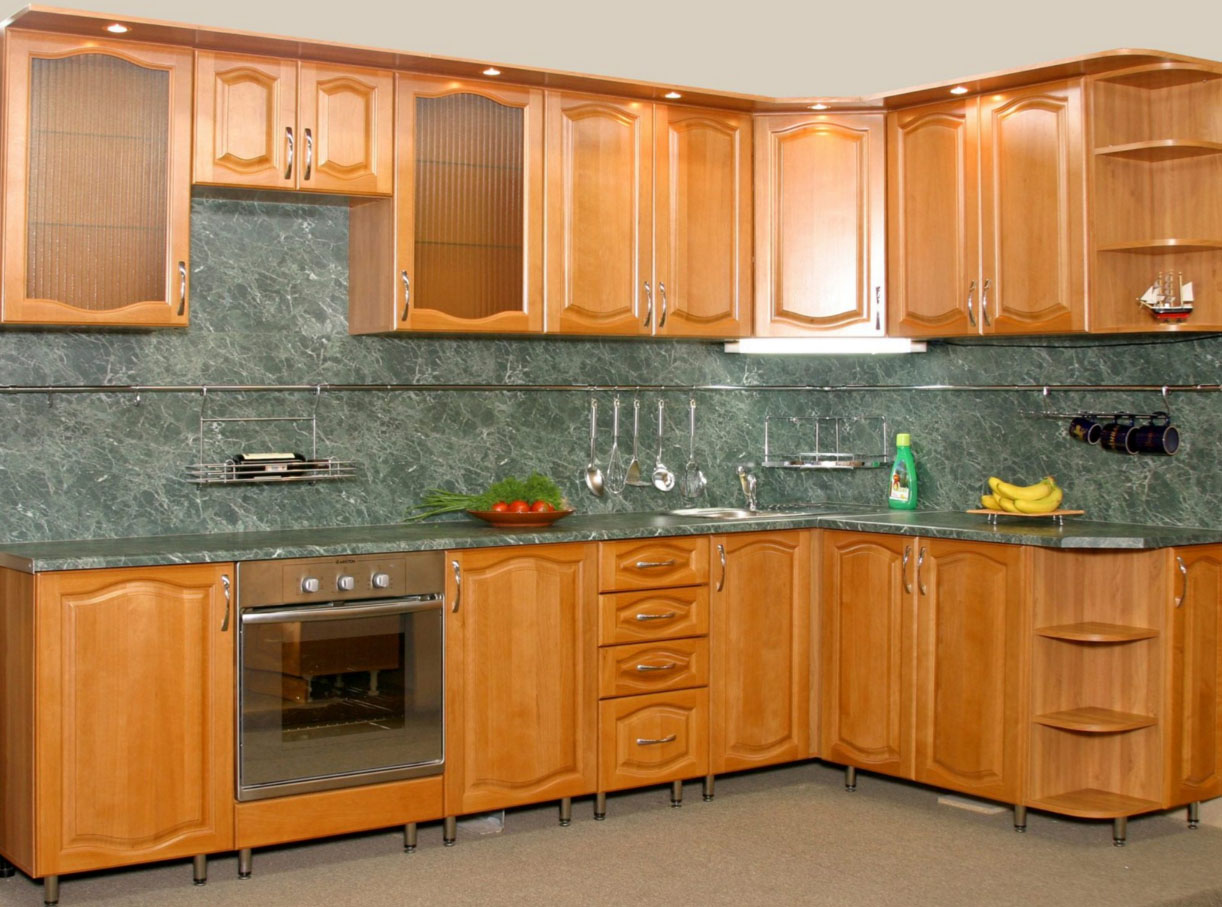 veneered facades
Veneered facades for kitchens, like regular doors, made of MDF and covered with veneer (thin layer of sawn wood). As a natural material is used: oak, poplar, nut, red alder, Zebrano and other.
Kitchen with a facade Zebrano - the most interesting option. Produced using African wood, the color of which resembles a color zebra, but it includes a greater number of colors. Natural arrays looks luxurious, but cheaper chipboard Zebrano.
Run the product veneer can be their own hands at home, observing the rules and professional advice.
Benefits
outwardly looks, as the facades of natural file;
resistant to moisture and temperature;
is not subject to cracking and mechanical damage;
cheaper natural file.
disadvantages
unstable before food dyes, coffee and beet juice will leave a mark on the facade;
Cleaning not use abrasive detergents.
aluminum facades
Aluminum facades for the kitchen - a stylish addition nouveau cuisine, hi-tech and Futurism. Excellent combined with colored panels painted MDF, glass and plastic.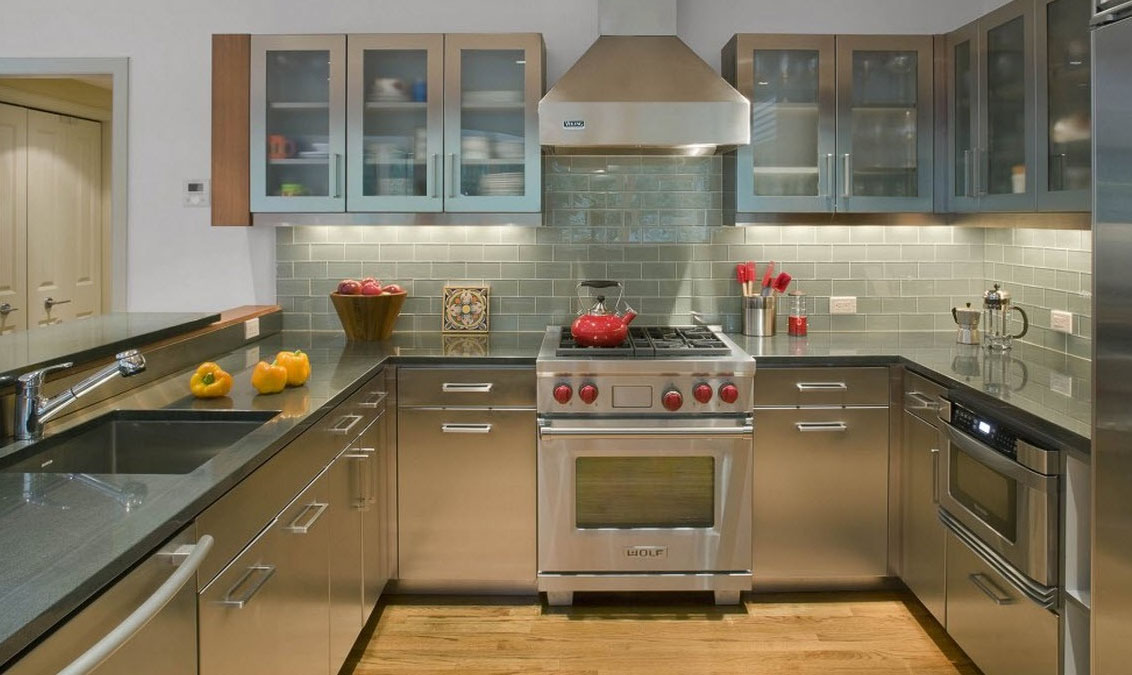 Benefits
long service life;
water resistance;
Thermal shock resistance;
sunproof;
a light weight;
easy maintenance;
allow the use of sliding front door, which saves space.
disadvantages
susceptible to mechanical damage from sharp objects or abrasive detergents;
expensive material.
Furniture made of particle board with their own hands
DSP - is a convenient material for the cost of creating the kitchen at home.
First you need to make a plan and drawings for products made of particleboard with their hands, and then in DIY stores get the right amount of layers of a first class. Buck is often performed at home according to the drawings, or an order to purchase a place.
Next you need to glue the edge on the particleboard, since the edges after cutting raw. Glue on the edge of the chipboard can use household iron.
It is advisable to handle all of chipboard edges, to increase the protection against moisture.
Glue is applied to the edge, is pressed against the sawed edge and is fixed by means of iron. How view, simple process, but it requires time and attention.
The next step is prepared elements are connected by hardware and fittings for furniture.
Besides, You can do and soft furniture made of chipboard residues their own hands, adding cloth and foam.