Cheap kitchen corners: value for money
Kitchenette - not a sofa and a pair of stools or chairs, this place, where it is going to family or friends. And it should be comfortable and as pleasant as possible. In addition to comfort and beauty kitchenette in interior of the kitchen can perform certain functions. for example, It is a place to store seldom-used items. And it does not necessarily affect the price. What affects the cost of kitchen furniture and how to buy cheap kitchen from the manufacturer?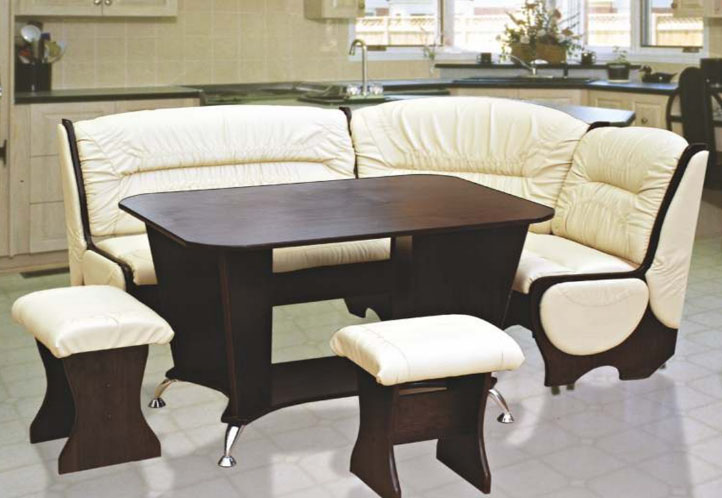 What it consists of a kitchen area
Standard kitchen corners for the kitchen consist of a sofa, stools or chairs and a dining table. Upholstered furniture from the usual kitchen dimensions different. This compact and ergonomic things. The standard height dining table – 75 cm, and chairs - about 50 cm. And stylish corners of the kitchen, and the cheapest adjust to these dimensions. Here you will not meet inflated sofas with gracefully curved back, because it is impractical.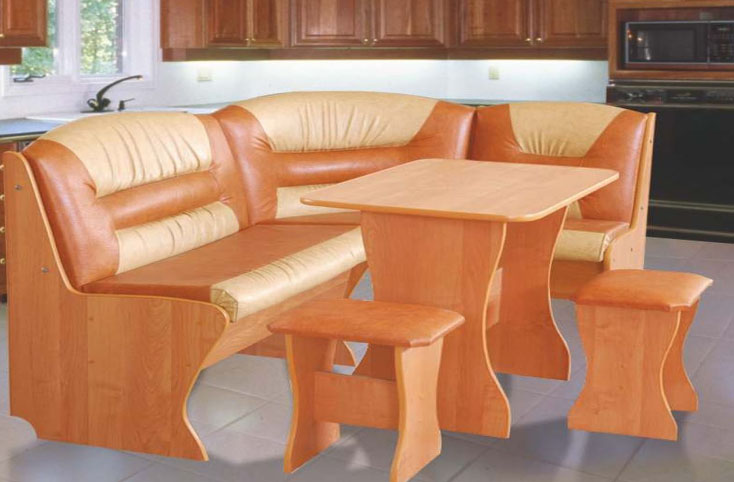 Manufacturers added to the standard appearance of the kitchen furniture various details. Kitchen sofa gets new features. Common types of kitchen corners:
Pull-out sleeper: sofa turns into a full bed, if necessary. Transforms a sofa in a simple manner: from the second half of the back rolls. It should be easy to pull the loop, and cushion rises to the top. So leveled surface, transforming the sofa into a bed. Less popular way is a beautiful name "French clamshell". Externally, it is a familiar clamshell, bolted to the sofa.

To expand the bed

, you need to pull the loop,.

With storage drawers: under the seat of the sofa is built a spacious drawer for all sorts of things. Another version of the access to the box - reclining seat. Convenient option for small-sized kitchens. Often, a convertible model is equipped with a box for storage. When choosing furniture you should pay attention to it.

With built-in elements: shelves and even lockers are installed in a corner of the sofa.

modular corner: Sofa is not a single structure, and a set of modules. If necessary, the module of the sofa becomes an independent piece of furniture - a chair or stool.

Cheap mini corners for smaller kitchens. Usually, divan is only suitable for two people (it is no more 1 meters in length).
The dining table may be round or oval, rectangular or square. Together with stools and sofa it is a single ensemble. All elements are made of the same material and in the same style.
Differences kitchen corners: choose filler
Cheap corners for kitchen different housing material, filler and upholstery. But not always price-performance ratio plays in favor of the expensive model.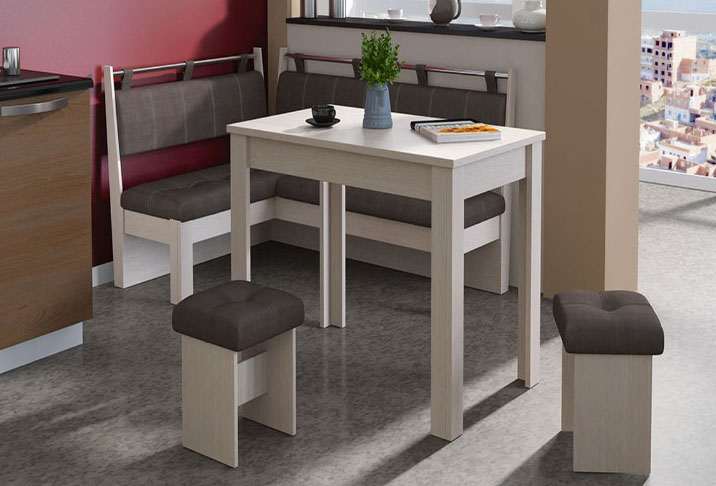 The basic material for the manufacture of kitchen furniture budget option - chipboard. As practice shows, chipboard material evanescent. Therefore, manufacturers add to furniture made of particleboard parts from solid wood.
Cheap kitchen corners are made of softwood. The most common material for budget furniture - pine.
Filler cushions
It plays an important role in pricing. Popular fillers for inexpensive kitchen corners:
foam rubber: cheap and short-lived material. From foam density depends on the life of the furniture: He denser than, the longer it does not need to be replaced. Sensitive to moisture and heat.

Batting: cheap, but environmentally friendly natural material. It is made of wool, -wool or mixed yarn. Unfortunately, It does not have sufficient elasticity and durability.

Polyurethane foam (furniture foam): eco-friendly, with increased strength and elasticity. Quickly adapts to body shape. That is important for use in the kitchen furniture - it does not accumulate dust and not moldy, not afraid of water. very elastic, quickly restores shape.
Modern kitchen corners are often filled with the mixed stuffing. for example, lower polyurethane foam layer - for elasticity and strength, and the upper layer synthetic padding - for softness and pomp.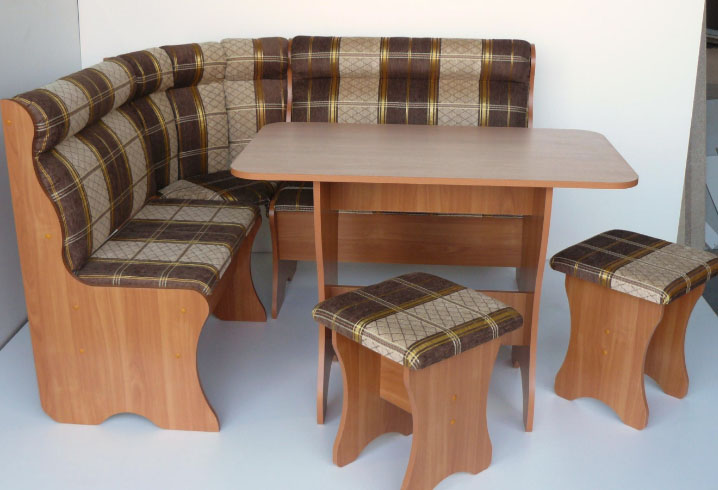 Upholstery for inexpensive kitchen corner
One of the differences Furniture for kitchen - upholstery. This practical materials, are not afraid of moisture and impurities. Here, the price does not guarantee quality. Interior inexpensive sofa will last for many years, a chic area of ​​natural materials will fall apart after a year or two.
Interior kitchen area is divided into two types: Textile & Leather, which may be synthetic or natural.
the cloth for kitchen corner It must have the same qualities, and that the filler: strength and durability. Among the important additional properties - resistance to fading and dirt. Synthetic fabric for upholstery have the necessary wear resistance, and adding natural fibers (cotton) It is making them less electrifying.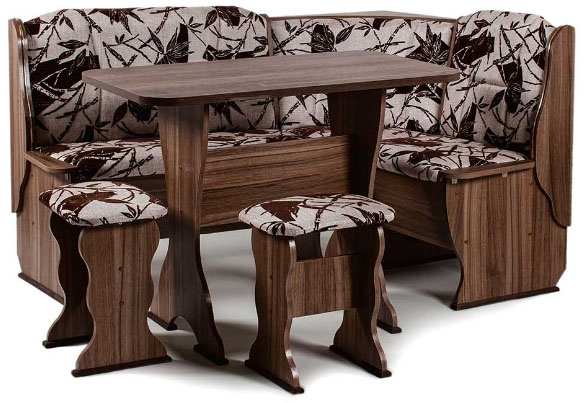 Characteristics economy tissue:
microfiber: resistance to abrasion and burnout, ease of cleaning (just clean up any contamination), wide choice of colors, strong and durable material.

Flock: practical material, consisting in the 35% cotton and 65% synthetics. easy to clean. Long retains brightness of color.

Tapestry: durable, wear-resistant material, It is presentable, but modest cost.

Basket: It looks like a burlap, is monochromatic or motley (depending on the quality and quantity of weaving yarns), very durable and reliable material.

leatherette: fade resistance, durability and easy care - the main characteristics of this material.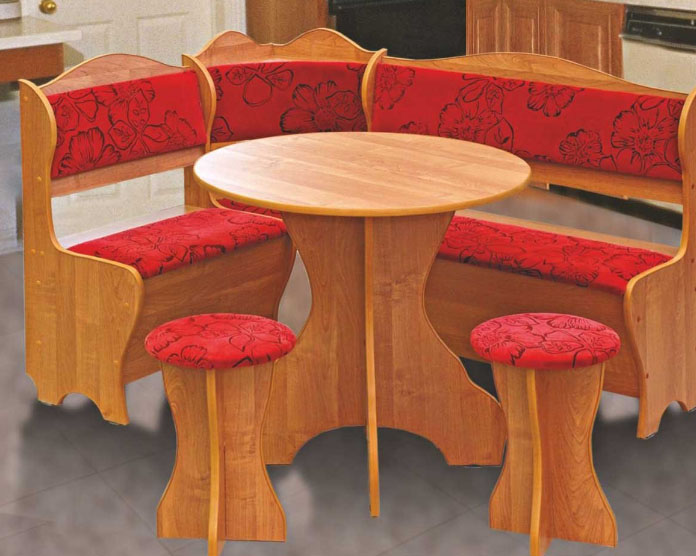 Many modern fabrics for furniture are coated with Teflon, ability to repel moisture and dirt.
Independent work: overtighten the kitchen furniture
If the interior kitchen area has deteriorated or bored, You can sheathe the kitchen with his hands Color Options.
Required tools and materials to prepare in advance:
Painting knife and scissors for cutting fabric;
screwdriver (Cordless) and the keys needed in the analysis of furniture;
stapler for furniture needs to consolidate skin;
fabric for lining;
filler (if he, too, needs to be replaced);
adhesives for use with foam (suitable building PVA).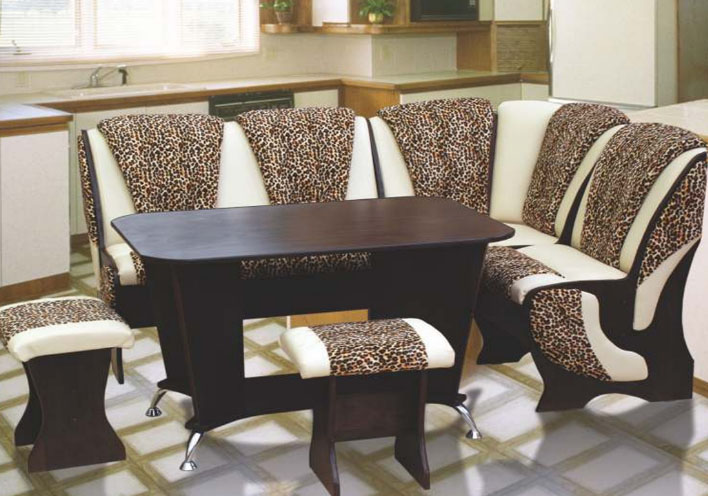 Interior kitchen corner with his hands begins with the removal of old material. Shoot it must be carefully with the help of Removers. Old interior for the new Pattern will.
To it was convenient to work, you need to disassemble the corner into its component parts. At the same time, you can check, whether damage to the frame of the sofa.
If the decision is not only drag kitchen, but also to replace filler, then the next step is gluing the new.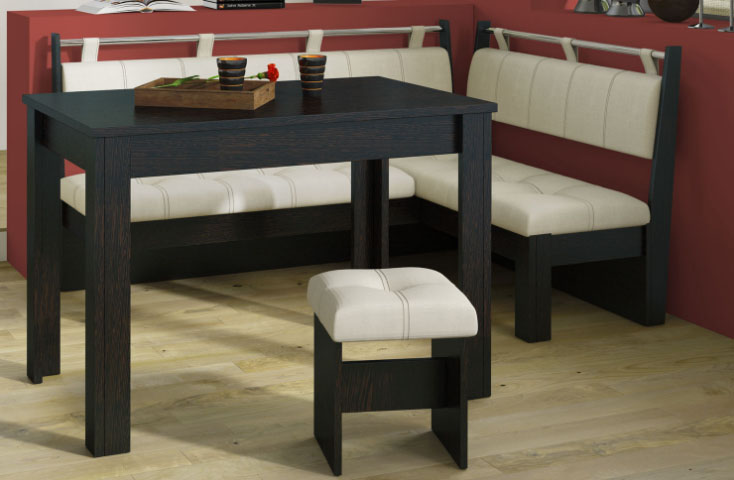 He coped with the filler, you can begin the installation of a new cover. Cloth upholstery need to be fixed without folds.
The final step - assembling parts of the sofa into a single unit.
Sheathe their own kitchen - is simple enough. Needed for the quality of the master - patience and accuracy. maybe, then you will understand, that designer kitchen corners - your horse.
Cheap kitchen corners is a reality! Ask your questions at the bottom of the article!