How to free up space in the kitchen, Using built-in appliances
In order to cook food for the room it was functional and was spacious enough, use kitchen with integrated appliances. With the right choice of devices and their installation, even a small space will ensure that all the required functions - from heating products to washing laundry. And the remaining space will be enough for use as a kitchen dining area.
equipment availability
Among compact appliances, used in the kitchen, all popular built-in oven, proposed a wide range. To her complete there can be built in electric oven or indoors only fix the panel. If the main part comes with an oven, a technique one above the other. BUT, when a gas cooker, built-in countertop, installed without the oven, saves space. Cooking will suffice panel or microwave Multivarki.
The next most popular and available for sale are refrigerators. Compact model to a depth of 60 see comfortably installed in the kitchen wall. Often, the headset has a wardrobe to embed the refrigerator.
Dishwashers and washing machines also conveniently fit into the interior of the kitchen. There are models with two sizes for each type of technology - to a depth of 45 or to 60 cm, suitable, respectively, for full, and for partial (the front part is open) incorporation.
Design solution integrated into the hood furniture saves space above the stove. A main portion of the device hidden in a closet. Available built-in models with air tap (ducts concealed in the same cabinet), and recycle.
Miscellaneous equipment - microwave, Built-in coffee machine Kitchen, Steamer or processor - is also perfectly integrated into the furniture. You do not need a special model - changes are made only in the Pantry. And home appliances are arranged, how convenient it is mistress - in cabinets or on mind (open the boot panels).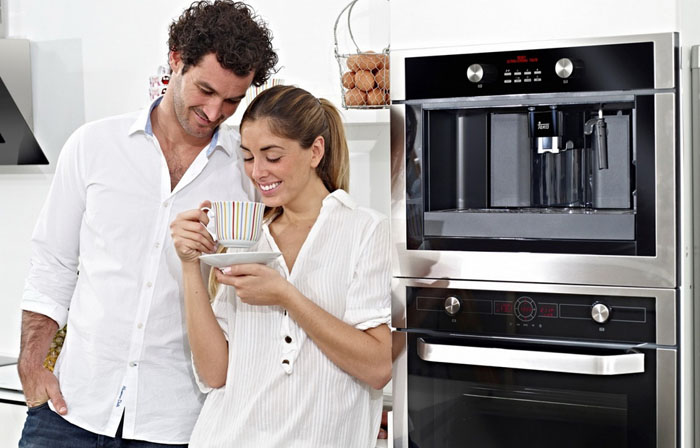 products, intended for embedding in furniture, there among all kitchen appliances. They are compact and reliable, and have the same functional, as a conventional technique (a refrigerator, and more economical, since closing its panel and block more heat consumption). It is worth noting, that embedded devices are more expensive by 10-30 percent.
design options
The most popular among the pair of built-in appliances are traditionally considered to be built in cooker with oven. it is often provided with the same intended for embedding hood.
For small-sized kitchen is recommended, to built-in appliances for the kitchen was established by the classical scheme:
Recessed gas oven, hob and extractor fan are just over one another;
Dishwasher and stiralka mounted in furniture near, have common water supply and sewage diversion.
If there is sufficient space, which is not required to save, in order to create original interior is recommended not to make the kitchen design with the standard built-in appliances. Equipment features according to the desires and possibilities. And the furniture is not only inserted plates, oven and stiralki. Elektrokombayny, Multivarki, electronic scales and other devices, not even for mounting within a kitchen wall, It can be easily installed in cabinets and niches. However, among coffee machines models have options with decorative faceplates for integration and corners for easy hanging.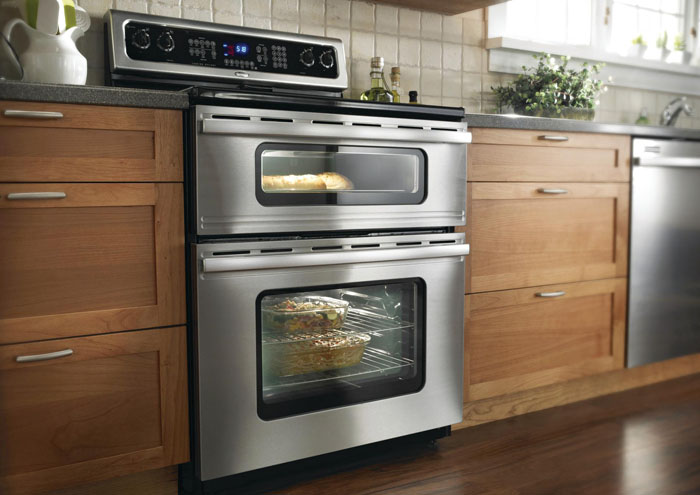 solution Benefits
Built-in equipment has several advantages over devices, Features a separate. So, built-in gas hob and the oven does not require in order to fire a long distance to the furniture - a design created so, that closely spaced wooden surface does not heat up. In this case, install an electric oven is built in convenient gas, as well as working on the network panel - do not even need to have hood.
Another advantage kitchen with built-in electrical household appliances - cracks and gaps between the elements of the furniture wall is no, and the upper part is united one working surface. Although it is a disadvantage - to replace or rearrange the equipment more complicated and expensive. And often require replacement of equipment with the same dimensions, the previous one, limiting choices.
assembly rules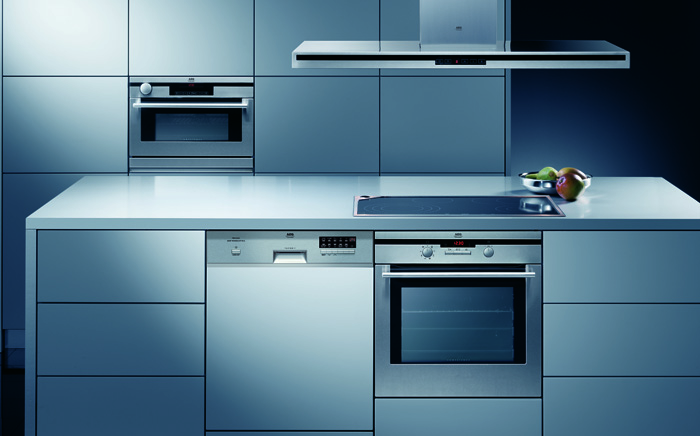 Installation of embedded devices is different from the traditional installation of kitchen equipment. Since the equipment will be inside the furniture, wall needs some work. It is advisable to provide all of the features in the order of kitchen units, otherwise the work will have to hold their own on the already finished cabinets.
Besides, Electric built-in oven, Washer, dishwasher and microwave oven require:
location of power outlets in the domestic appliance and at a height of about 10 cm from the floor;
mandatory wiring grounding.
for refrigerators, stiralok and dishwashers socket standard machines, for electrical panels, microwaves and ovens - only designed for 40A (line size 4,5 quarter. cm). Installation of small kitchen appliances, regardless of their location (built or installed separately), It does not require any change in power. standard type earthing-pin is positioned so, as it is convenient to connect equipment at a height of 95-135 cm from the floor.
When installing the built-in equipment, requiring for water connection, tee mounted on the pipe with a valve.
Each device requires a separate input - for washing machine and dishwasher only one crane.
water and sewage pipes must not exceed 100 cm. A built-in gas ovens and stoves, Safety requirements, mounted so, up to the gas pipe was no more than 120 cm.