Bosch built-in appliances for the kitchen: quick facts
According to the malls, Sell ​​Home appliances, the percentage of users of embedded devices is growing every year. The desire to create a fashionable interior leads to, that when designing kitchen space housewives tend to build the largest possible number of auxiliary instruments into a single set of furniture. The line of products manufacturers of household appliances are present options for kitchen appliances, which are organically integrated into the interior, decorated in any style. And to help navigate the variety of models sold for installation, We invite you to read an overview of built-in appliances, manufactured by the German company Bosch.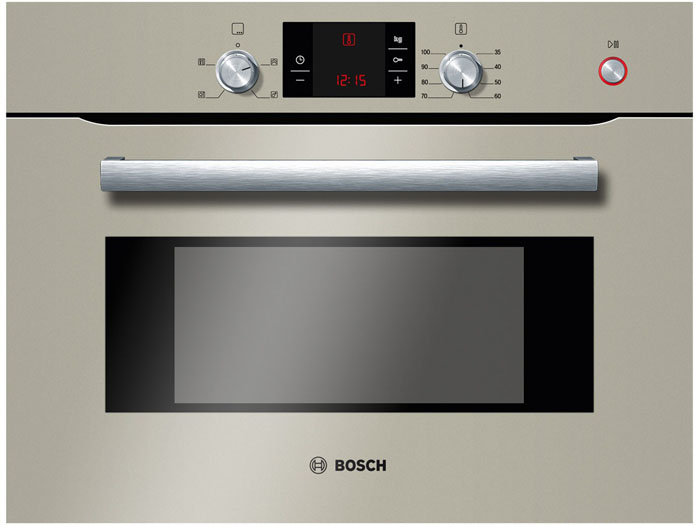 brand story
The name of the world famous group Robert Bosch GmbH has received from the founder - an electrical engineer Robert Bosch. AT 1886 year it was founded, "Workshop for Precision Mechanics and Electrical Engineering", whose motto appeared phrase: "It is better to lose money, than the trust of customers ". By the beginning of the First World War, Bosch produced a comprehensive range of electrical equipment, used in automobiles.
TO 1933 , the range of products enriched household appliances, among which are the first in the history of a fridge came. TO 1950 Bosch becomes a famous manufacturer Byttekhnika. At this time, the company produces stoves, and a little later - and washing dishwashers. AT 1962 the German company creating the world's first embedded cooker. Assortment of devices is growing and gradually Bosch is one of three companies, market-leading home appliances. AT 1984 the company released another interesting development - microwave oven with built-in grill.
Currently, Bosch - the world's largest group, producing power tools, automotive parts and appliances. Helping people and manufacturing high quality products, the company has carried since its inception to the present day.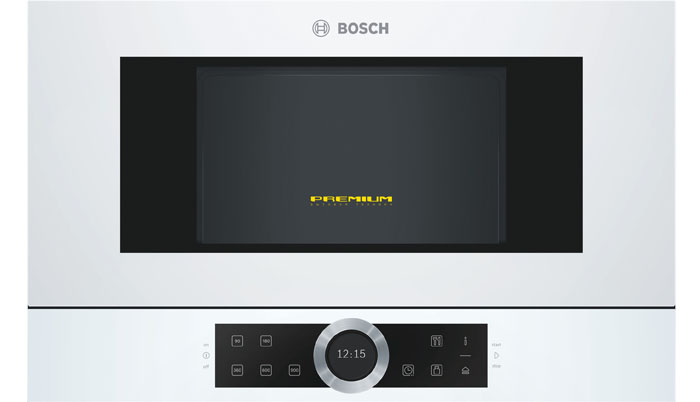 Overview of built-in kitchen appliances Bosch
The modern kitchen without household appliances can not do. It can rightly be called a faithful assistant housewives, facilitate and accelerate the cooking process. Average prices for dishwashers, refrigerators and cooktops from different manufacturers vary slightly depending on the functionality and design features.
In addition to stationary objects of household appliances, , Bosch manufactures all kinds of embedded devices, capable of harmoniously fit into a different room design. These include:
hobs;
ovens;
hood;
dishwashers;
refrigerators and freezers;
washing machines.
Consider the basic parameters and characteristics of household appliances, within the range of the company Bosch.
Ovens
Compact oven, built-in kitchen separate from the hob - probably the dream of every housewife. Separate column with mortise appliances can save space and organize the work area on the basis of individual preferences.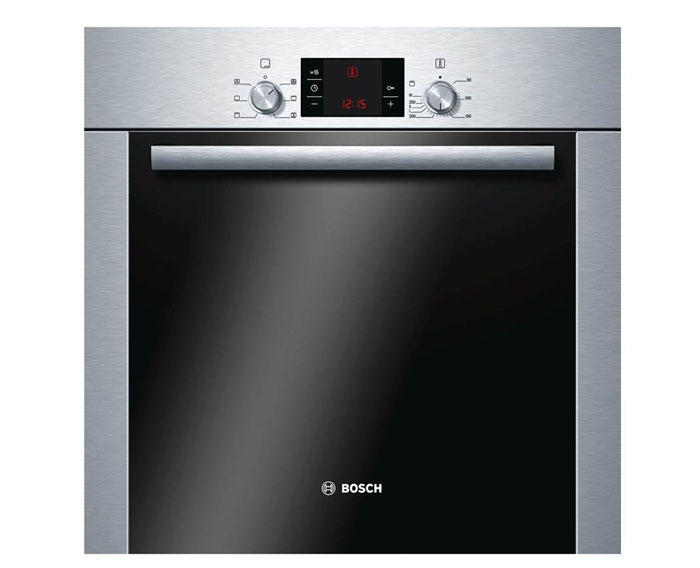 Among the products of the German company of household appliances popular oven bosch, which thanks to the variety of shapes and designs can be organically fit even in the original interior. The functionality of this device is characterized by the presence of 6 to 13 modes of operation, catalytic purification method EcoClean, regime 3- D hot air, convection system and other parameters depending on the model selected. Due to the heat-resistant glass door and locking options electric oven bosch safe for children, and friendly touch control - is easily perceived by adults.
Oven with microwave function to help speed up the cooking process, provide savings of kitchen space and functionality.
acquire an electric oven is built or it can be a separate unit supplied with the cooking plate bosh. Suite is decorated in the same style and color scheme.
Among the lineup of built-in appliances present not only electric ovens. Gas oven bosch created for fans of baking, equipped with electro-mechanical and electrical grill skewer. Thanks to the option of thermoelectric protection and three-layer glazing door gas oven, built-in kitchen, safe to use.
hobs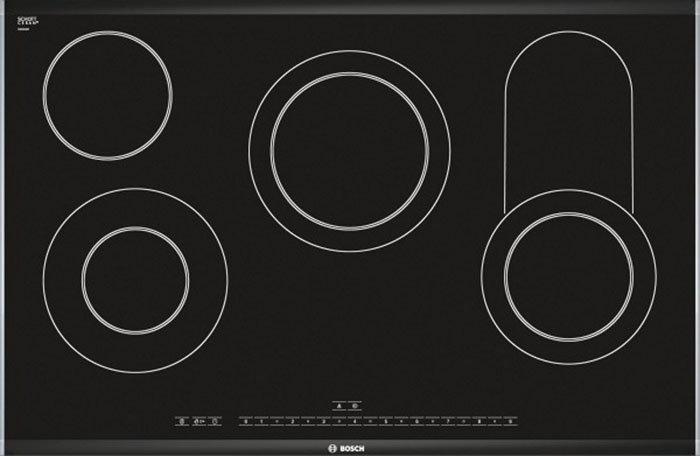 Model line cooktops Bosch filled with devices to suit every taste.
Electric cooktop bosh performed in the same style, as all built-in appliances of this company. The surface of stainless steel or glass ceramic. Number of burners in models ranging from 2 to 4, plus oval area or expansion zone for use dishes with a larger diameter. Lock function of the child protects the surface from accidental activation. The width of the cooktop ranges from 30 see in the narrow models, to 60-80 cm in the most common.
gas hob bosch represented stainless steel models, tempered glass and glass-ceramics. They are easy to use, equipped with a protective layer, prevents scratches when cleaning. Melting sensor surface equipped with protection from gas leakage: blue flame extinction when the fuel supply is automatically terminated. Electric ignition is present in all embedded panels.
Induction hob bosch is also present among the household appliances group. With FlexInduction heating zone region is adapted to the capacity of various shapes and sizes. Induction panel companies are characterized by rapid heating of the pan, low power consumption and safe to use.
Refrigeration equipment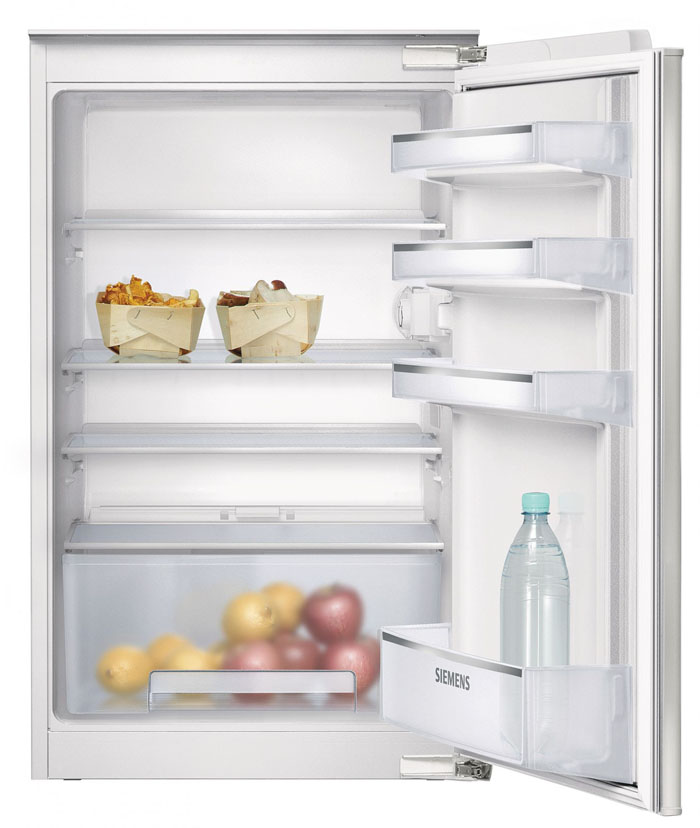 In the segment of refrigeration equipment company Bosch manufactures standard and built-in models. They are represented by single or double chamber refrigerators in several sizes. Depth of this type of technology standard - 55 cm, but the width is found in two variants - 56 and 60 cm. Height built-in refrigerator bosch has different modifications: half meter from the copies to small models, Embedded under the kitchen countertop.
Among the techniques concern Bosch occur as individual recessed refrigerators, and appliances with freezer compartment.
Functional filling Bosch built-in refrigerators characterized by the following constituents:
Department of HydroFresh Box, It maintains the moisture level, optimum storage of fresh fruits and vegetables;
TouchControl touch control system allows you to set the desired temperature inside the refrigerator and freezer compartments;
A + energy provides low power consumption class;
freezer capable of maintaining a predetermined temperature throughout the 22 hours during a power failure.
Dishwashers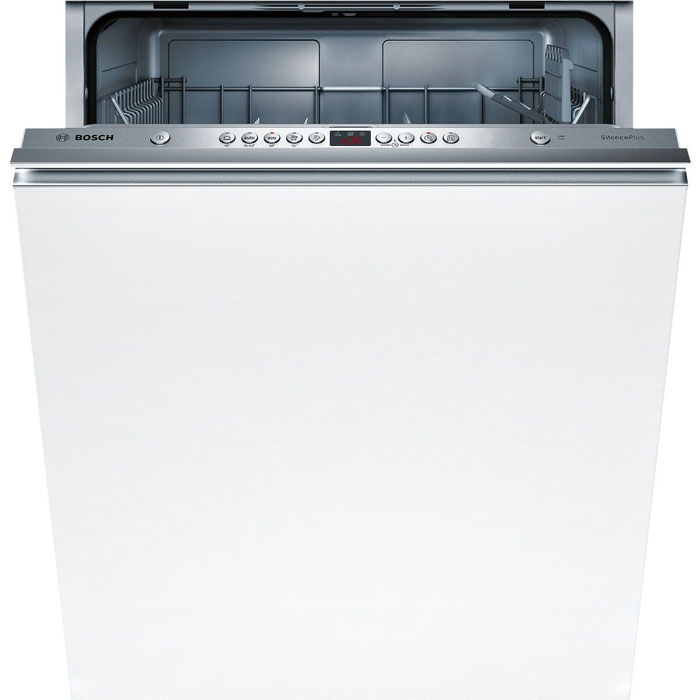 The range of home appliances manufacturing giant, there are many devices, make life easier housewives. Some of them are built in dishwasher bosch. This kind of art is available in three sizes:
Standard equipment. Dimensions of this machine make 60 cm width. She performs on 4 to 8 automatic programs. Simultaneously located in such a machine 12-14 cookware sets.
Compact dishwasher bosch width is 45 cm, which will place it in a small kitchen. As the functionality of it is not inferior to larger brethren: It has 4-5 automatic programs, able to accommodate 9-10 cookware sets.
Another type bosch dishwasher - a compact device height 45 or 60 cm, which is embedded in the at any level of the niche, convenient user. Spaciousness such equipment is 6 and 8 kits, and program content is characterized by 5 automatic programs.
All models are built-in Bosch dishwasher machines are equipped with a locking system against accidental opening and function AquaStop, which guarantees protection against leaks.
Useful small appliances
Except large appliances, Bosch company produces many kitchen gadgets, which facilitate the cooking process and make the interior a stylish and modern.
Built-in microwave bosch volume 21 liter will fit in the most modern interiors through the use of a glass panel. This clever technique she will calculate the power required cooking meals at exhibiting weight parameters and programs. Microwave bosch has standard dimensions, therefore easily be mounted in a kitchen cabinet or a pencil case.
The range of Bosch appliances, which can be built into a kitchen set consists of a double boiler, hood, washing machines. hostess, wishing to hide equipment from prying eyes and increase the workspace, can purchase the device, made in the same style and a variety of sizes. The only advice - do not forget, that the purchase of built-in appliances must be preceded by a request of the kitchen units. This will prevent problems during installation. Built-in Bosch appliances for the kitchen is fashionable and stylish.