Facades for kitchens: specialist advice
facade - This front part of the kitchen units. A variety of advanced materials It allows you to combine and use them in the manufacture of furniture fronts. Important, the material used to not only have high decorative properties, but had good performance.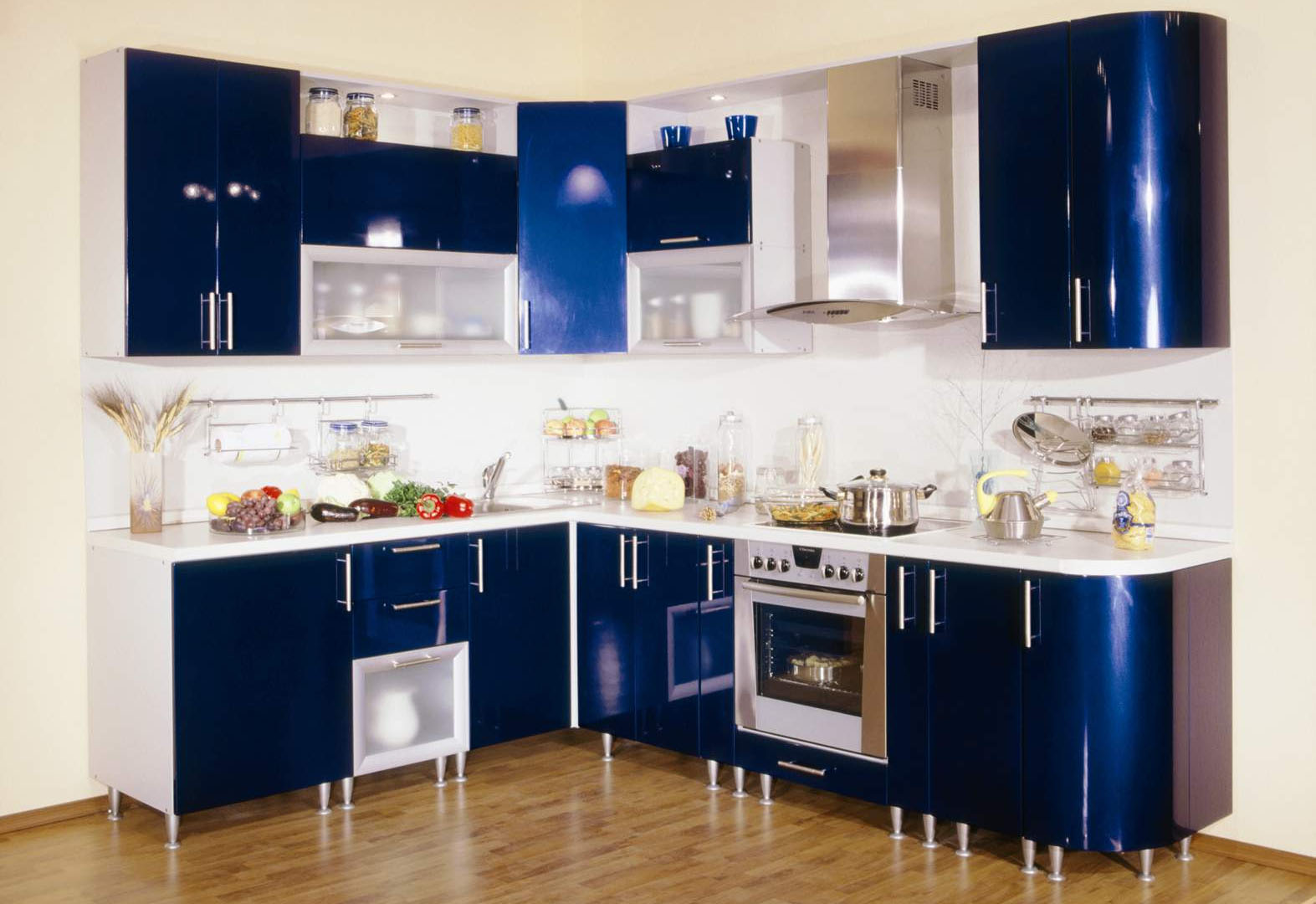 types of facades: materials and constructions
The main types of kitchen fronts:
wooden.
MDF.
DSP or LDRI.
glass.
plastic.
array
Products from the array centuries are popular. They are in the room nobleness, harmony, comfort and warm energy. wooden facades for kitchens They are divided into two types: whole (completely made of solid wood) and framed (of a wooden frame with a panel of MDF, Chipboard or plywood). Recent cheaper, but in terms of practicality and durability are inferior first. Among the advantages of the pillars of the kitchens, made of wood:
environmental safety and naturalness;
strength and durability;
the possibility of restoration.
Many people believe, What a great disadvantage is the high price. Production of wooden facades - a painstaking manual labor (drying, sawing, grinding, lacquering, assembly). Then it is not surprising, that such work corresponding price.
The facades of the array can afford only wealthy people, as the cost of raw material and its subsequent processing large numbers denoted. For centuries, wooden furniture was considered synonymous with security, wealth and prosperity. Therefore, respectable people, lovers of natural materials and antiques fans prefer these headsets. But it is worth saying, that the doors of the array are not without drawbacks: they require careful care, sensitive to ultraviolet rays, mostly manufactured in standard sizes.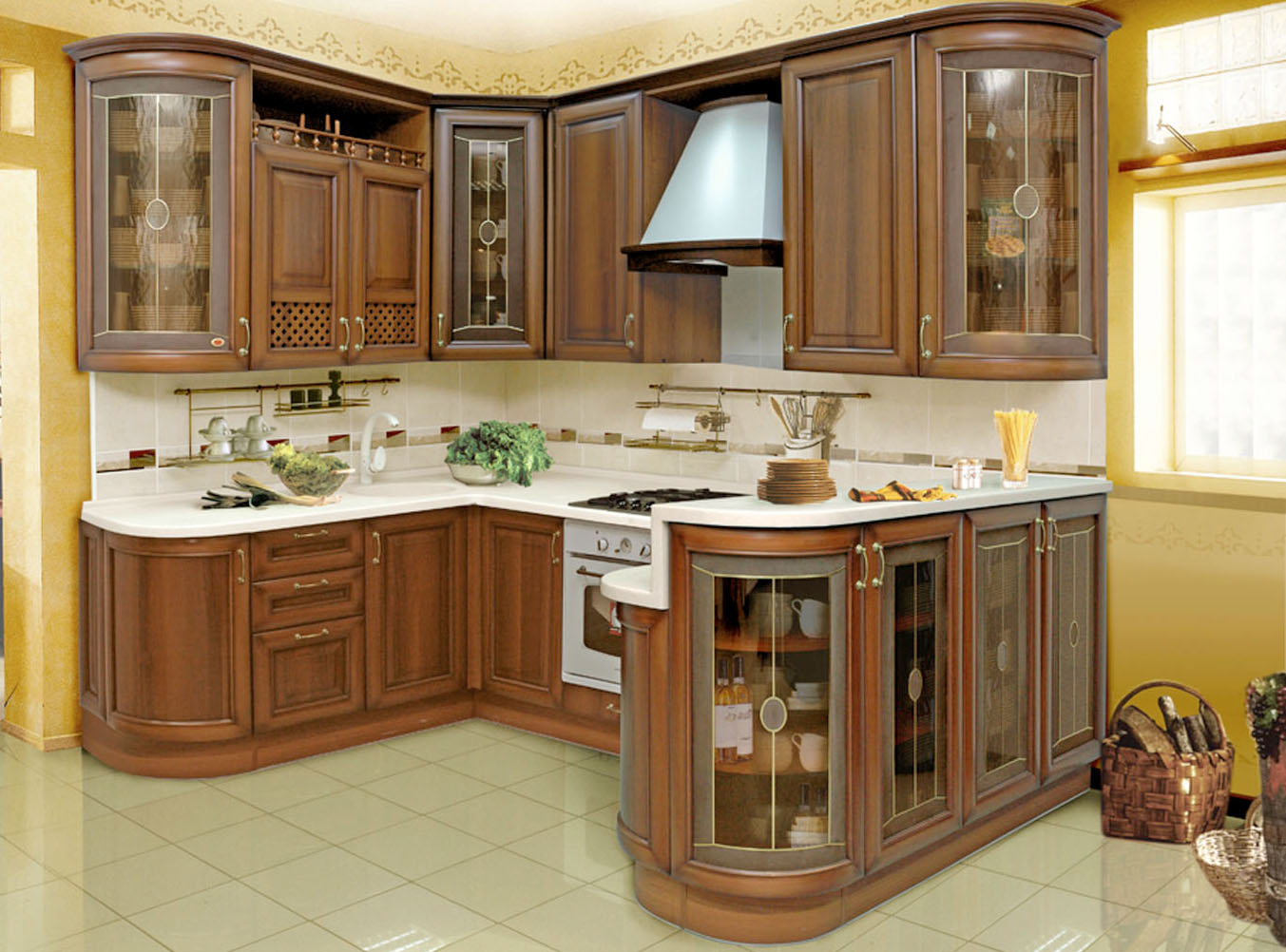 Stolplit kitchen tables made of natural wood will be a great addition to the wooden facades headset and create a harmonious ensemble.
MDF and DPS
MDF and particle board filled furniture market. They are very popular because of its high strength and democratic value of. Fragments of MDF and particleboard give any shape and trim film, inked, paste over veneer or plastic.
Kitchen Maria chipboard produced quickly, as its processing technology simple. The material is resistant to external mechanical damages and scratches, but strongly affected by moisture. In terms of processing the material can not boast a variety of finishes, it is impossible to give a convex and curved shapes or make Milling. Curved facades for kitchens made of particleboard are not made (Radius also called curvilinear facade). Dimensions curved facades Kitchen recognized consultants in furniture stores or show yourself when you make a custom order.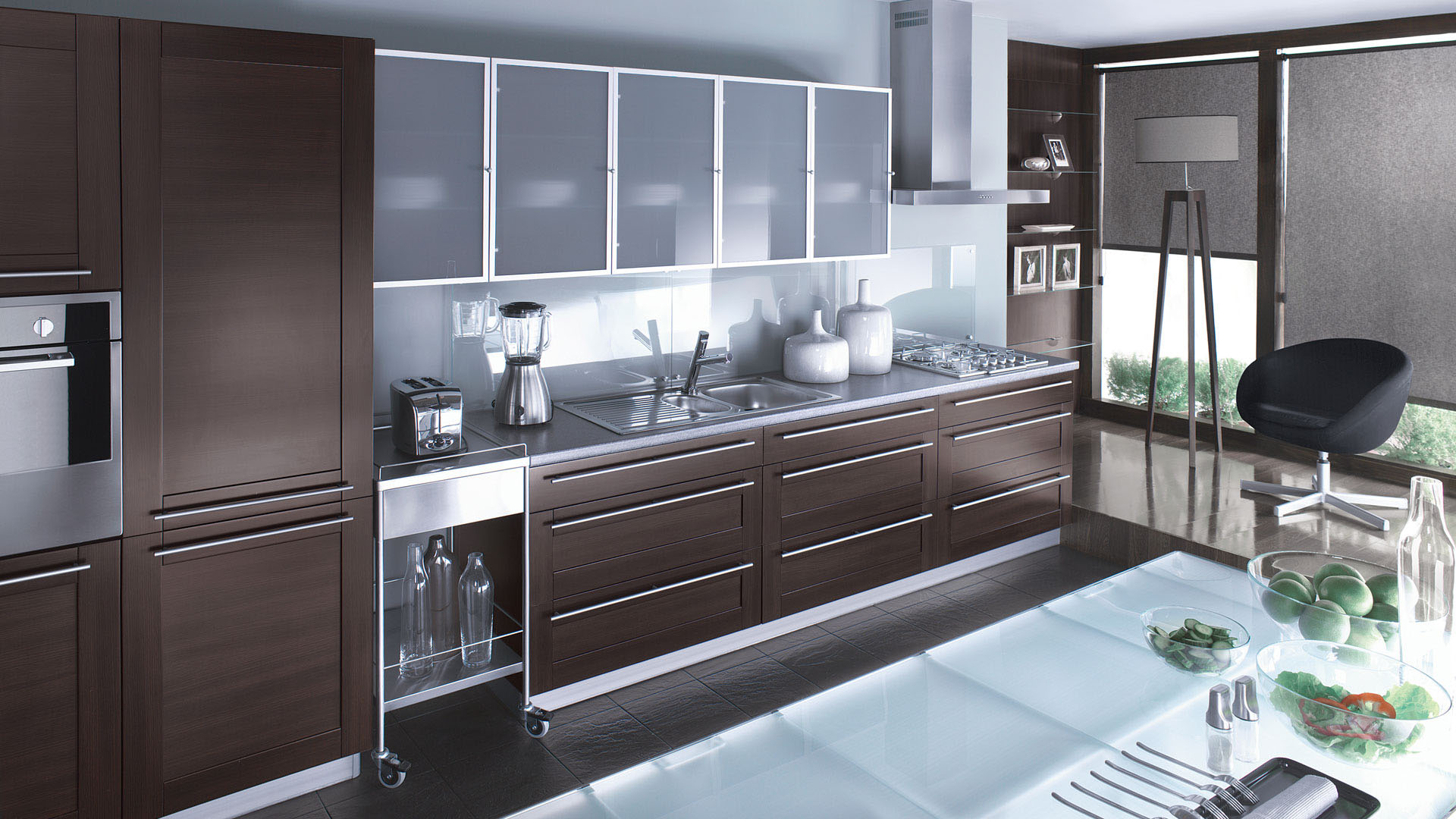 MDF in compared with particleboard has significant advantages. It is easy to art processing and intricate surround Milling. Kitchen with curved facades are usually made of MDF. Humidity and temperature fluctuations do not have a destructive influence on her. But wash such façades only soft sponges and liquid products. Production time of the headset 3-3,5 weeks.
enamelled facades for kitchens sets tested through lengthy processing steps:
padding;
coloration (Each layer is dried and sanded);
lacquering;
polish.
advantages of facades, enamelled: wide palette of colors and textures, large variety of special effects coatings, opportunity to simulate any material, undemanding of care, humidity. Kitchen odors and dirt are not absorbed in a highly protected Stolplit furniture. Of the minuses - shades of discoloration and loss of saturation, easily scratched, too visible traces of dirt and fingerprints.
Among the types of furniture fronts are distinguished panel of MDF and particleboard, covered with PVC film. This is the best solution, which connects a decorative and protective function. of the benefits: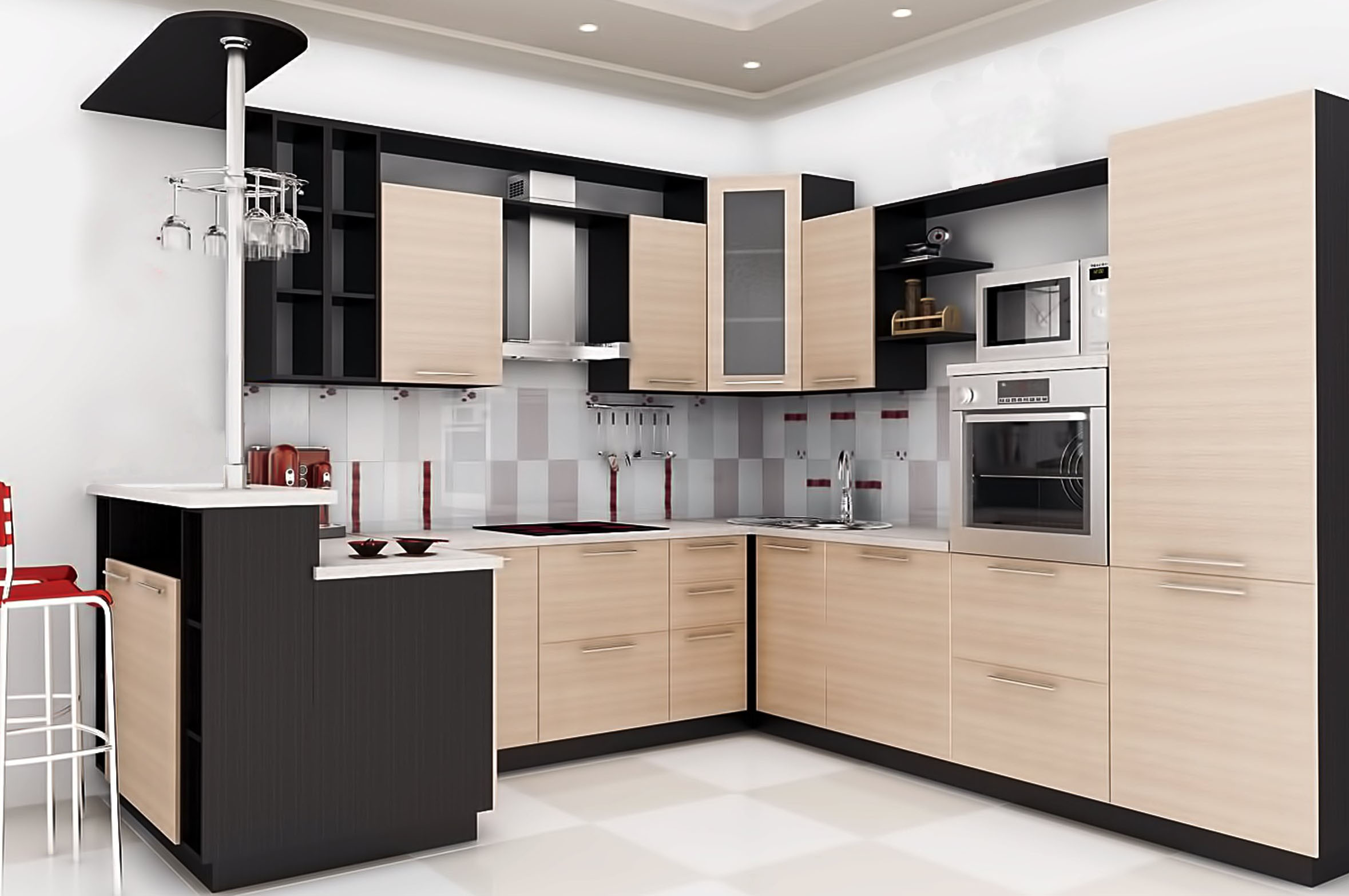 reasonable cost;
practicality;
long service life;
resistance to mechanical damage;
a wide range of patterns and colors;
health safety.
Often, these headsets (kitchen furniture Maria) made to order, so customers have the freedom to choose the form, relief, colors and other decorative elements. However, during operation and when carelessly leaving the film may peel off and burn.
Particle boards plasticize. Such doors are different waterproof, easy to clean, resistant to temperature fluctuations and strength. But on a smooth surface immediately noticeable slightest contamination, therefore, not be able to do without a regular wipe with a damp cloth. In operation, appear on the surface roughness and microcracks.
Frame and glass facades
Frame fronts - a frame made of MDF or aluminum profile with inserted glass, plastic or chipboard. Such low-cost design make it possible to combine different materials, combine colors, shades and structure. But through the open seams inside easily penetrate the moisture, and the high temperature destroys profile. In addition, the design team is, so connections weaken and become loose over time.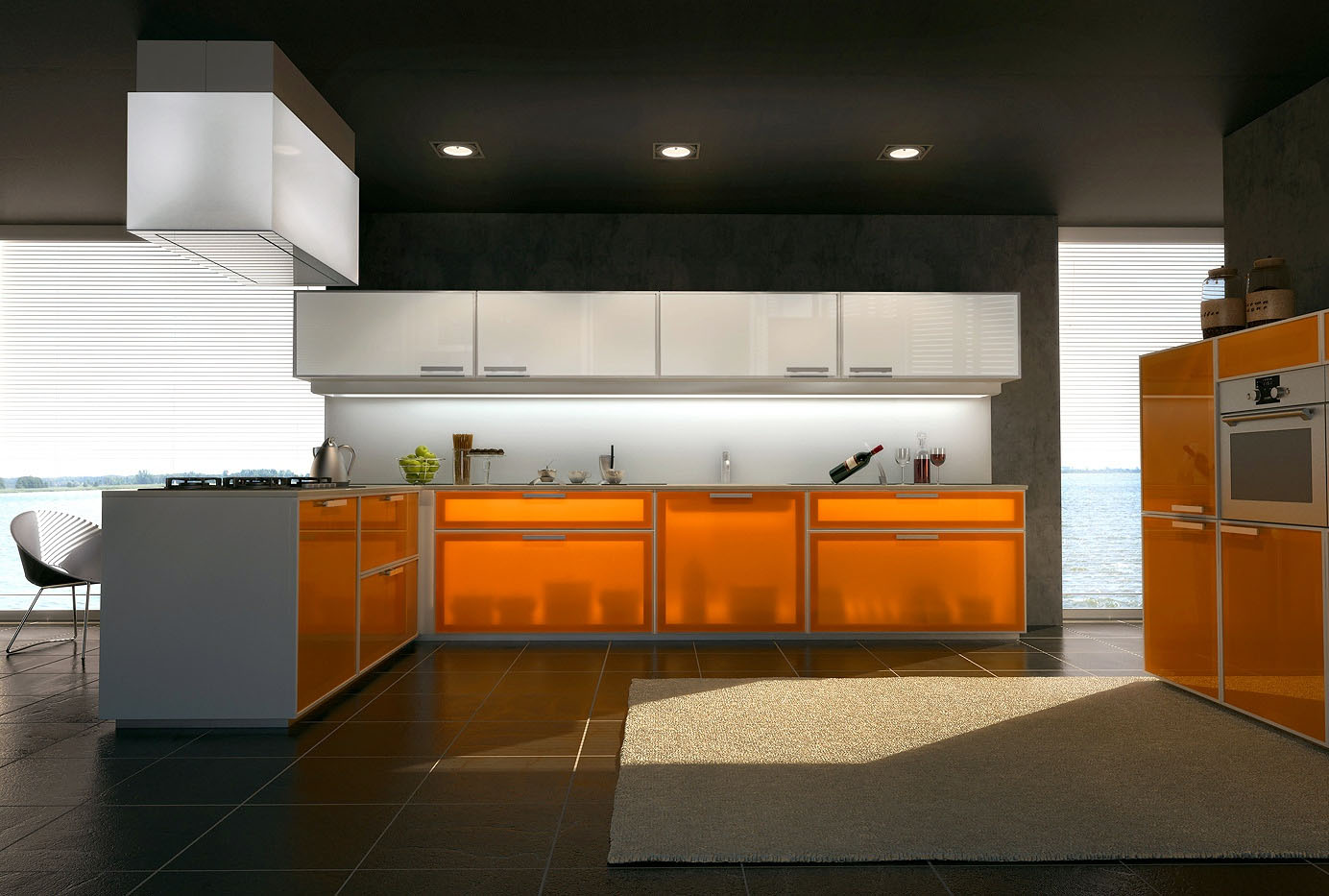 Glass facades mod look and give the room volume. Used for the manufacture of tempered glass, known for their durability and safety. It is easy to cause any painting or artistic drawing. In any case, such facades require careful maintenance maximum.
The choice of the facade
When choosing a facade must be well acquainted with the quality and characteristics of each material. Appearance, too, is of great importance, because the comfortable environment in the room depends on the selected furniture.
Expenditure on doors account for the lion fraction of the cost of kitchen furniture. Doors for furniture should be strong and endure harsh conditions without difficulty cuisine. Curbstones and lockers open on 20-30 once a day, so they have to withstand any load. Tough operating conditions require kitchen facilities, the furniture was resistant to water, steam and grease. changes in temperature do not affect the appearance of the facades. it's desirable, that during cleaning no problems, that the material is resistant to washing and cleaning agents.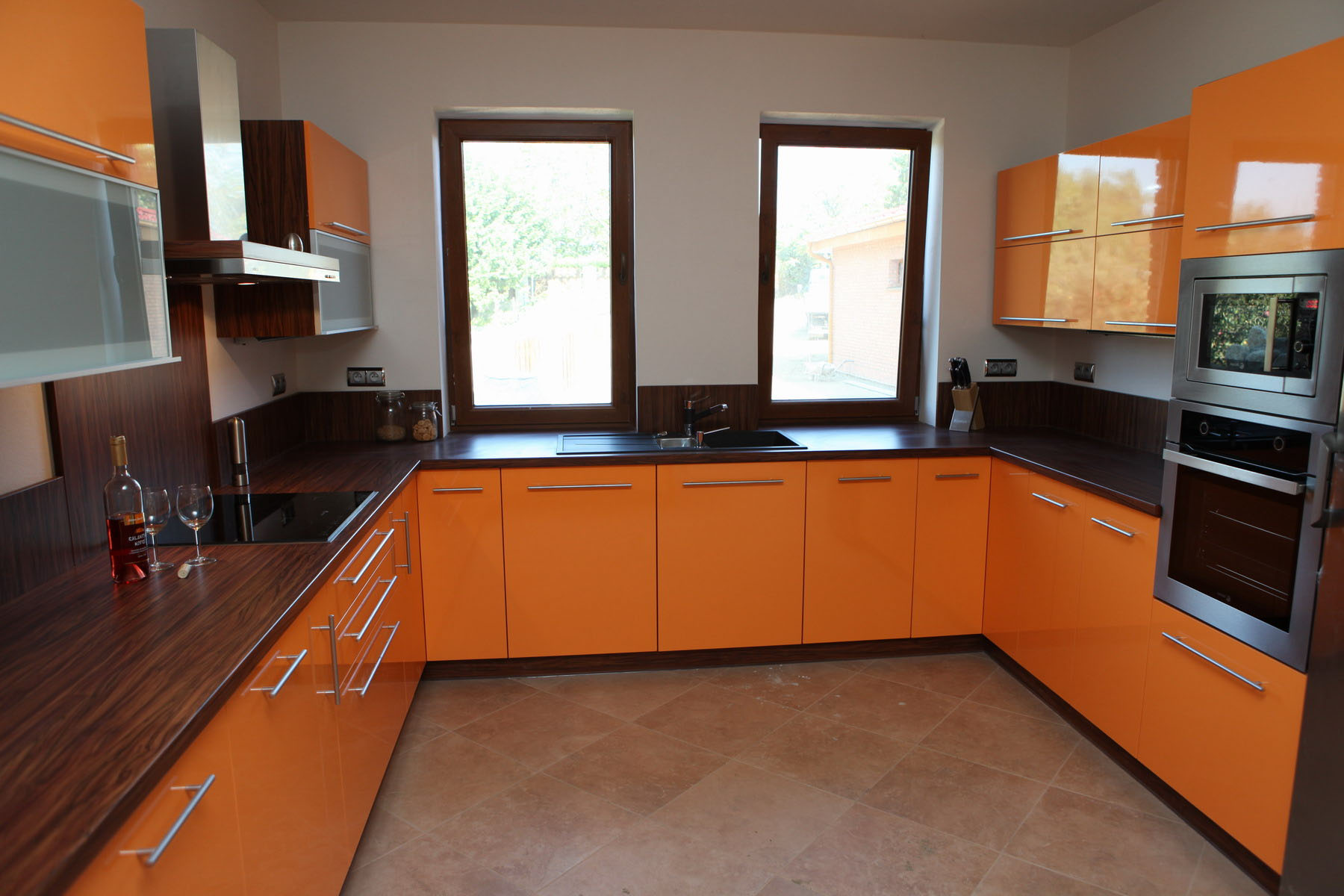 If the customer wants the original furniture, he can order dishes with radius facades on the individual sizes.
facade decoration
If the appearance of the headset is outdated or tired, the door at any time to decorate with self-adhesive film or interior stickers. qualitative vinyl is matt, glossy, translucent, brilliant, with pictures and images. The material is highly resistant to temperature fluctuations, indifference to moisture, decorative and long-life. When you purchase the material gain from the stock, without consequence to fix any errors that occurred. sticking to a simple algorithm:
prepare tools (scissors, a sharp knife, centimeter, scraper, plastic spatula) and film.
Remove the door with a screwdriver. Unscrew the handles and fittings.
Clean the surface, dry thoroughly and degrease.
Cut film fragment, peel off the paper on the basis of 4-5 cm and paste self-adhesive on the facade. Unstick the base paper series, nebolshymy measures.
In the process of laminating film is carefully smoothed with a scraper, spatula or soft towel.
Install new handles and attach updated facades ago.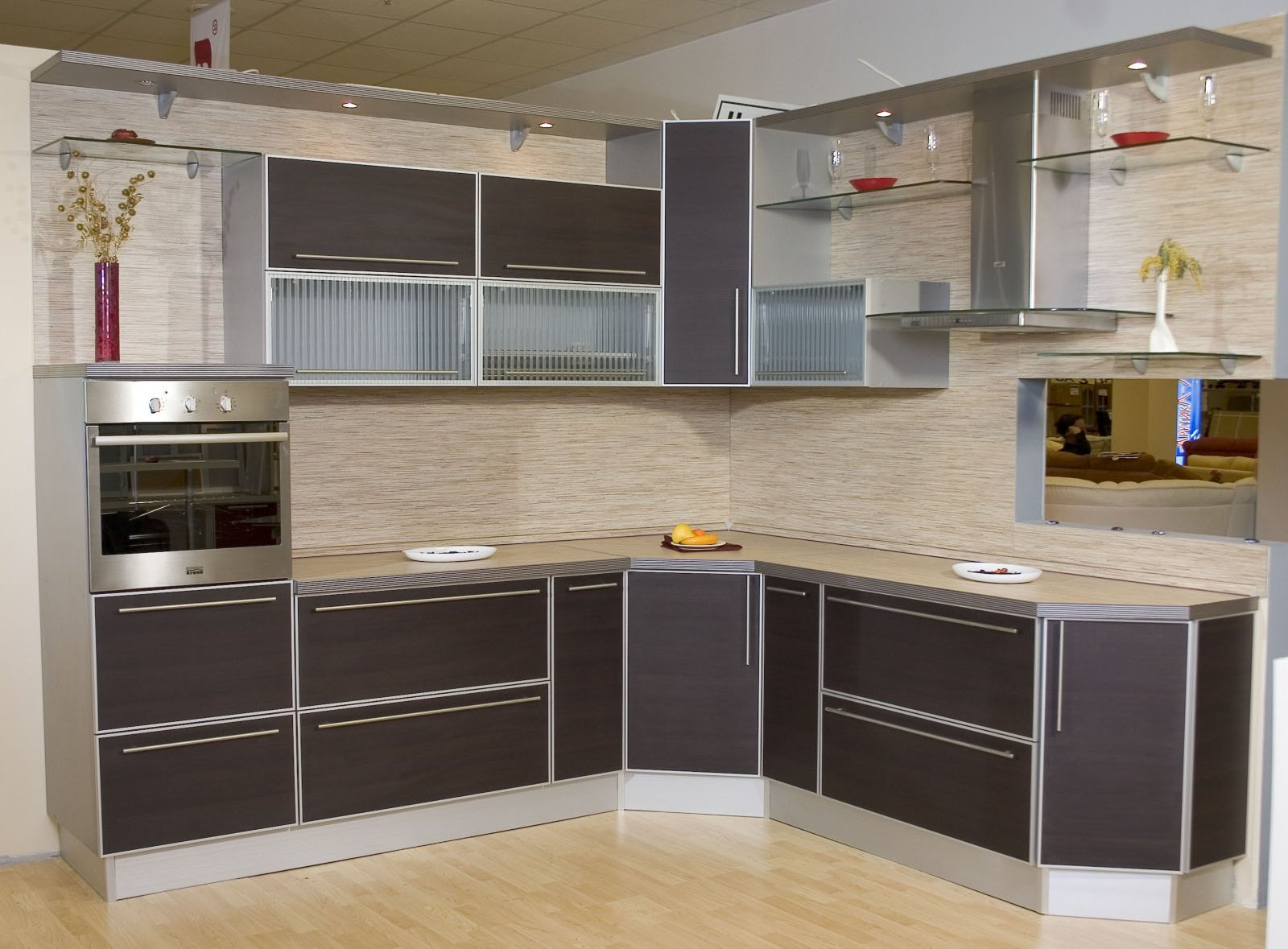 If a film were bubbles, them gently pierce the thin needle and smooth. It looks nice kitchen decoration in two colors: for the upper tier use a lighter shade film, for the bottom - dark contrast.
Lovers of experiments like the idea to decorate the door with the help of moldings and new paint. To begin, remove the door, cleaned of impurities, degreased, primed and sanded. After complete drying of the moldings surfaces mark a location of the fixed and gently adhered or. After that you can start coloring. The paint is applied in 3 layer.
the, who owns the decoupage technique, It is not difficult to decorate the kitchen intricate ornament or picture.
Replacing facade
Installing kitchen fronts - a simple matter, and to replace them even easier. Even for curved dishes can be ordered a new door. If the furniture body preserved fortress, You do not need to spend money on purchasing a new headset. It is better to simply replace the doors, as this would allow the budgetary decision to completely renovate the room. The sequence of work is as follows:
Facades freziruyut for hinges.
On the doors make the markup for the handles and fix them.
On the wall mounted legs, which hang ready facades.
If necessary, adjust the door.
design options, replacement and decorating kitchen fronts lot, so choose a suitable not be difficult.