olive kitchen: all the secrets of color combinations
Luckily, passed this time, when was the Romanian side in every living room, and the kitchen - the same greyish lockers. The current variety of materials and colors makes it possible to realize the most daring and unexpected fantasies.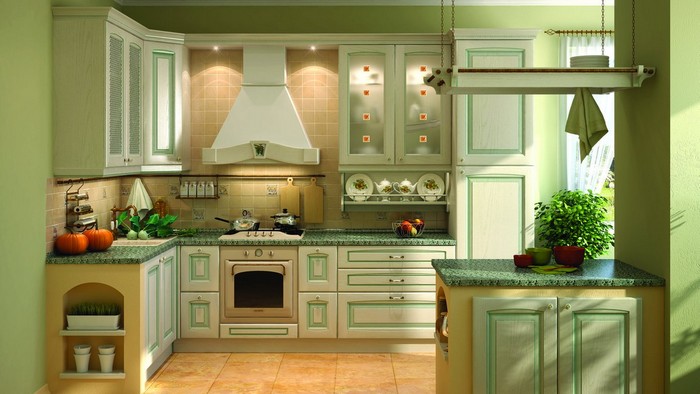 Kitchen design in olive colors create an extraordinary interior, both practical and stylish. He does not belong to the classic colors of the spectrum, It has been formed by blending appropriate proportions of gray, green and yellow. Etalon for him - the color of unripe fruit of the olive tree. Olive color shades of diversity makes us happy, which range from bright green to yellow pastel mint.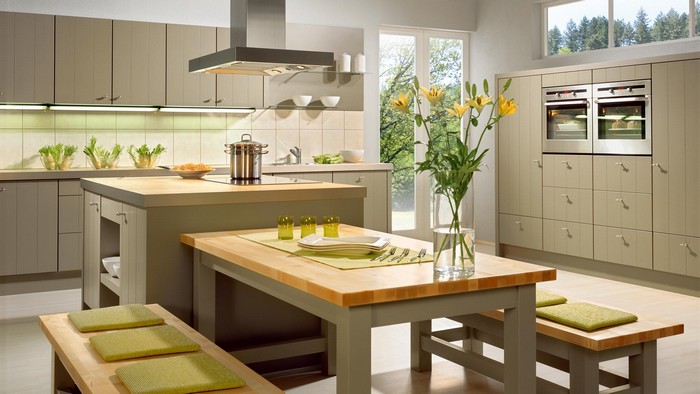 Regardless of your chosen stylistic solutions, olive color in the interior will create a feeling of comfort, home heat, saving coolness, freshness, saturate energy and dispel the hardships of the past day.
Styles olive cuisine
Due to the richness of colors and their neutrality in olive green kitchen interior looks harmonious and naturally, regardless of your chosen style.
Classical. Combination of smoky gray and white colors with the olive will help highlight the aristocratic Interior, a certain coldness of colors will help to soften the gold elements.
If drawn watercolor paint dull light green tone make your kitchen brighter and more transparent, ideal for an elegant and comfortable style of Provence Country.
The minimalist style kitchen olive blends with walls cold colors, color accents help arrange bright accessories.
The high-tech kitchens olive pistachio shade combined with saturated dark chocolate, purple, yellow, red, and they make a colorful addition chrome Headset.


The kitchen is high-tech olive green is not only modern, but comfortable
When you make a kitchen interior design olive green, do not forget to take into account the property of absorbing light caramel. To the room did not look gloomy and darkened, be sure to equip the kitchen a sufficient amount of lighting.
The combination of design
Inspired create the perfect interior, do not overdo it. Kitchen olive green, where headsets, walls, ceiling and even the accessories are made in the same colors depressing. Remember the amazing ability of olive combined with the very variety of colors: dark, light, even neon- bright.
let's consider, like olive green combined with other colors.
shades of green
Like all vegetable colors, He looks well in combination with the green and its shades: and khaki, and emerald green are ideal for creating natural interiors. To achieve the most favorable balance observe harmony in the combined colors.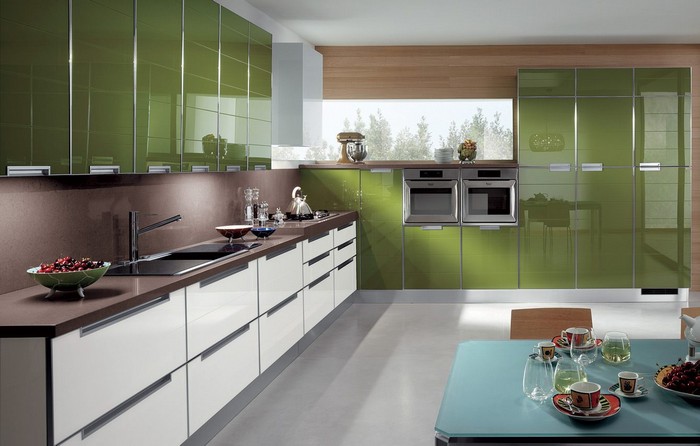 warm colors
The combination of olive color with warm shades of the spectrum, orange, red, yellow, beige, brown look harmonious and cozy, creating a suitable atmosphere for dinner in the close family circle.
Diluted with interior yellow or gold notes, you will bring a feeling of luxury and nobility.
It considered the most fortunate combination of olive green with a warm orange. This will relieve your interior color scheme from the cold formality, and the olive, in turn, will not give too much fervor to turn orange. Additional depth created image will provide brown and white tones.
contrasting colors
The combination of contrasting colors, like purple, bright yellow, orange, carrot, It allows you to create unusual interior. They will help to soften the dark olive green, facilitate the "sound" of the interior as a whole. It considered a popular and successful neighborhood olive and white. And juicier than the first, the second should be crisp white background shade. Dilute these colors can add pink, yellow and blue notes.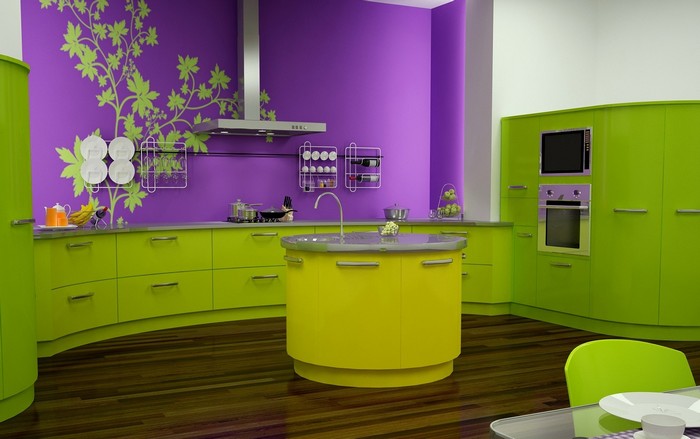 The use of black as a contrast tone is not desirable, because with such a tandem effect occurs visiting basement.
Gray-olive scale
The ideal partner for cuisine is olive gray. Such a tandem with his skillful incarnation in life is not to be gloomy and boring, conversely, he brings to the interior tranquility and style.
Bring your invented design olive green to perfection kitchen help textured variety: brickwork, unpolished stone, rough linen fabric. Bright colors details green apple, cranberries, fuchsia revive and relieve gray-olive scale of excessive strictness.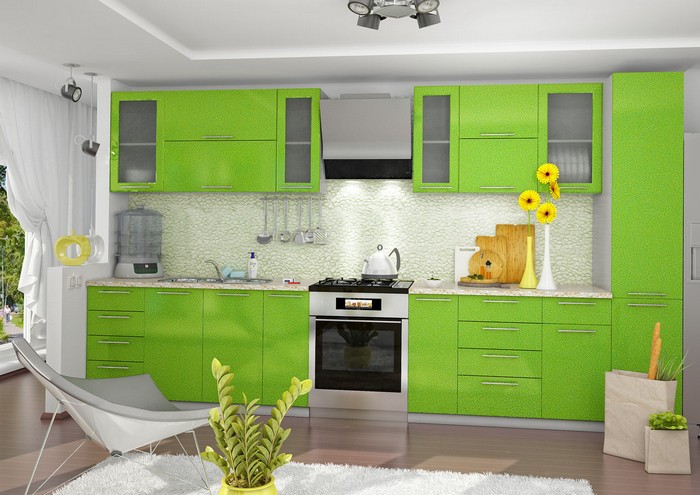 Olive-beige interior
Kitchen in beige tones, where olive pleasing to the eye wall or installed olive headsets, gets refined and sophisticated look. Such a composition will give the room a pleasant feeling of space, warm and cozy.
Supplement is a combination of, emphasizing all its advantages, help chocolate and coffee shades. Extremely finely looks pale olive color of fronts of kitchen furniture and executed in a chocolate color scheme worktops cupboards and wall.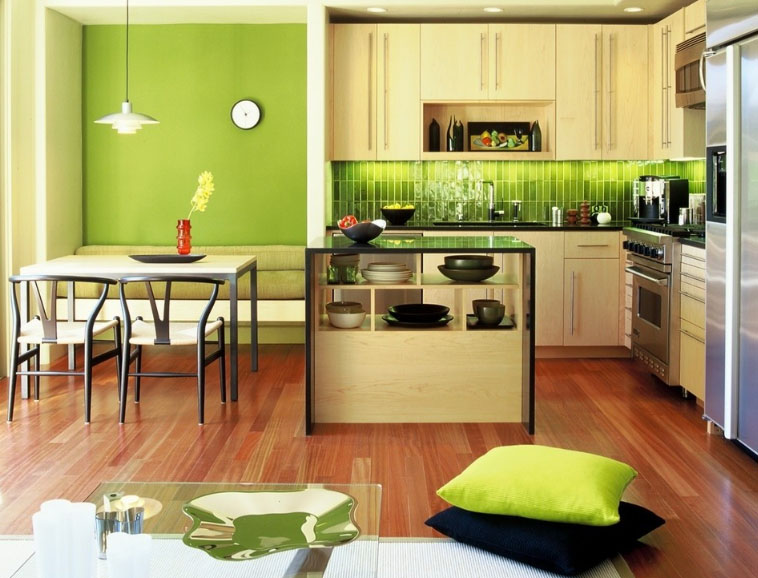 interior components
Only with proper design, color matching, backgrounds and materials otelochnyh olive kitchen in the interior of your home will become a "highlight". Versatility and flexibility of this color gives space for experiments, Do not be afraid of bright colors and listen to your intuition.
Facade
Successful and easily feasible design solution is the installation of kitchen units, whose facade is painted in olive green. Depending on your choice of his style can be made of plastic, wood and MDF. practical, bright, easily washable plastic facades usually give preference Nouveau fans.
Kitchen cabinets need not be self-colored, Combined facade - a popular decision.
The most common combination of olive green with:
white (dairy). Win-win situation when you create a classic style, it is recommended to supplement with gold inclusions. If a similar set against the background will appear blurred, add vibrant strokes.


Kitchen with white and olive diversifies the interior facade

chocolate. The most "delicious" combination, It looks natural and noble.
gray. The perfect tandem for a relaxing and peaceful interior, which is complemented by chrome elements. Equipment for olive dishes selected color silver metallic.
wood, preferably light. It is used for the setting of ecodesign. Give preference to the dark wood, take care of the additional lighting.
coffee house. Suitable only for large buildings, It gives them a mysterious charm and aristocratic.
Floor
Furniture and olive walls in the interior are the starting point for selection of the color chosen for the flooring. The ceiling is a couple shades lighter, and the floor - Dark. Kitchen with light walls in olive color will blend the floor surface, which imitates natural materials, for example, stone or wood. For these purposes the perfect practical linoleum or laminate.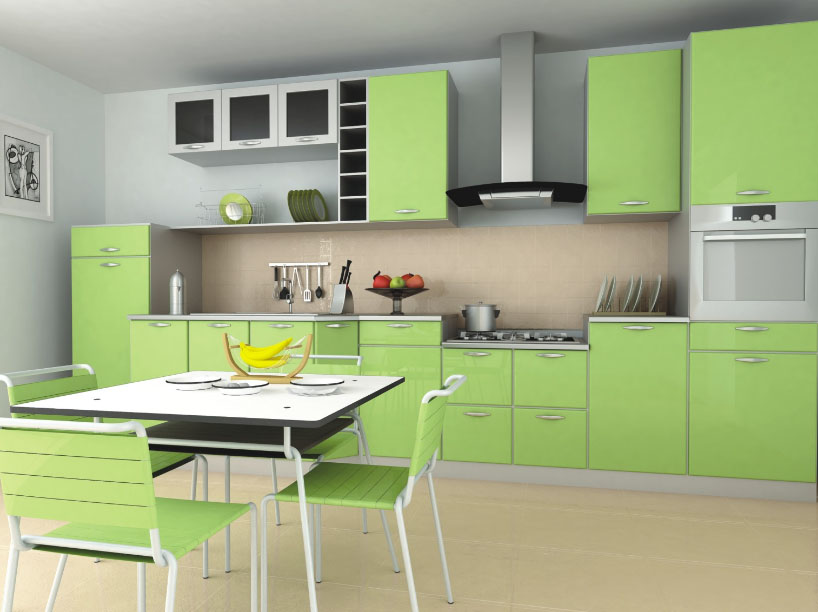 If preference is given to a ceramic tile, its pattern should be in harmony with the shade main headset. Also tile colors can match the color scheme countertops, but do not forget about safety, choose rough surfaces.
Apron
To lay ceramic tiles kitchen apron, closing the space between them wardrobes Headset, much more economical and easier, than decorate the wall.
For olive dishes chosen bright or quiet tone apron, it's desirable, that it was an intense couple of tones colors of furniture. Solid color apron will look much more interesting, if the tiles placed diamonds.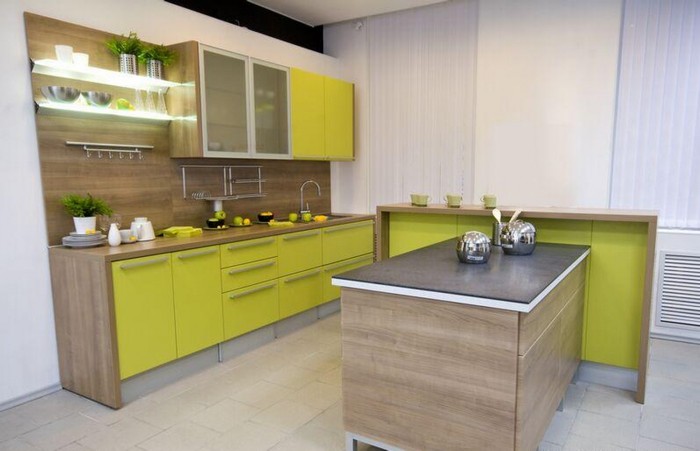 Recent years, fashion spreads for the installation of glass kitchen aprons (tabernacle). They are made of highly durable tempered glass, and the modern technology of drawing allows him to put on any photo, that does not fade with time. As well as possible the image looks more appropriate on it olive or other vegetable motifs.
Apron from bricks, particularly relevant in the interior, country-style, thereby complementing the flavor of "rustic" cuisine.
Furniture
Olive furniture fill the room with natural harmony and will be for all the inhabitants of the house a source of freshness.
When choosing kitchen countertops, pay attention to such characteristics, convenience and practicality care.
Accents in the interior
harmonious, carefully chosen accents will help complete the look of your kitchen. This role can play olive curtains, chair covers, dishes, Dispensers for liquid soap and detergent, utensil, kitchen textiles, exactly these, it would seem that, small details can transform a room without any financial cost.
Curtains for kitchen olive selected from light air light colored fabrics, they will ensure the integrity of the, tranquility and a feeling of comfort in the whole house.