Samashedshy olive green: absolute individuality kitchen
Warm, gentle and shade a home, as the olive, if it created for design kitchens. With it becomes real creation friendly, stylish and comfortable interior, located in a quiet family evenings and intimate conversations. Sitting on the border of green and gray, This classic color will guarantee a sunny summer mood for kitchen design in your home, regardless of the season outside the window, that is why he is so revered by professional decorators.
Shades of olive green are many and varied, pleased with their wealth and versatility, they include and foggy gray-green, and the bright green-yellow, which makes it possible to apply the color in all styles and design directions, except maybe the gloomy Gothic.
A similar color scheme conceals some space, therefore more suitable for large rooms. If you can not boast of an impressive kitchen area, but strive to enter into the interior of noble shade unripe fruit of the olive, We suggested to use a dot accents.
Another not very convenient feature of the shade of green - light absorption, so it is preferable, to kitchen Oliva located on the light side and equipped with a sufficient amount of artificial light sources: chandeliers, sconce, Spotlights.
Carefully chosen accessories can help make the design complete and harmonious. Themed decorations with the image of olives, chair covers, picture frames, Houseware, olive green curtains in the interior will be very helpful.
The combination of olive with other colors
The kitchen Oliva abhors monochrome. Performing in one color wall, floor and set you in place sophisticated style will get dark and dull room, evokes gloom and yawn. Designers recommend olive assemble with other colors, especially, it goes well with both the dark, and with light shades.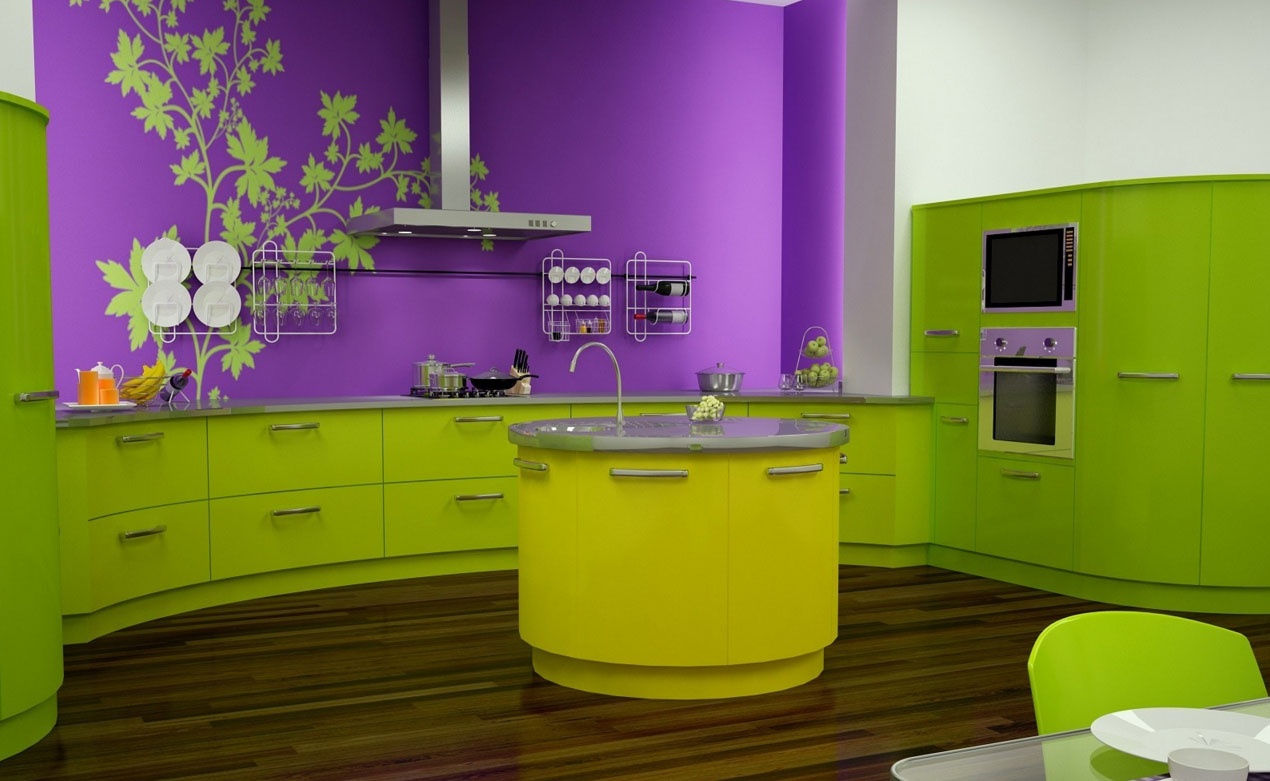 bright
To design a small kitchen Olive neighborhood should be a bright and cold colors:
Pearl;
White;
Pearl;
Beige;
Gray;
Silver.
Simple and straightforward, the duo white with olive has become a classic, giving the interior brightness and effectiveness. None of these colors is not dominant and overwhelming, whether it is set olive and white walls or on the contrary white furniture on olive background.
Soften rich olive tone can pastel blue, yellow, creamy caramel or shade coffee with milk.
People, striving for peace and life balance, They prefer gray-olive scale. For olive usually leave sets facades, but gray (metallic) make elements of decoration, shell, accessories, technique.
dark
Olive kitchen with brown or chocolate - a common combination. These colors are like made for each other, chocolate emphasizes the depth and olive shades. Usually installed two color sets and dining groups. With such a suite in an original and fresh look olive table and kitchen stools. Since both the color dark enough and tend to absorb color, they are usually diluted with bright accents - white apron or beige walls.
Avoid combinations with black, He is only allowed in some accents and a limited number of, such as a neighbor will make your kitchen olive pretty grim place.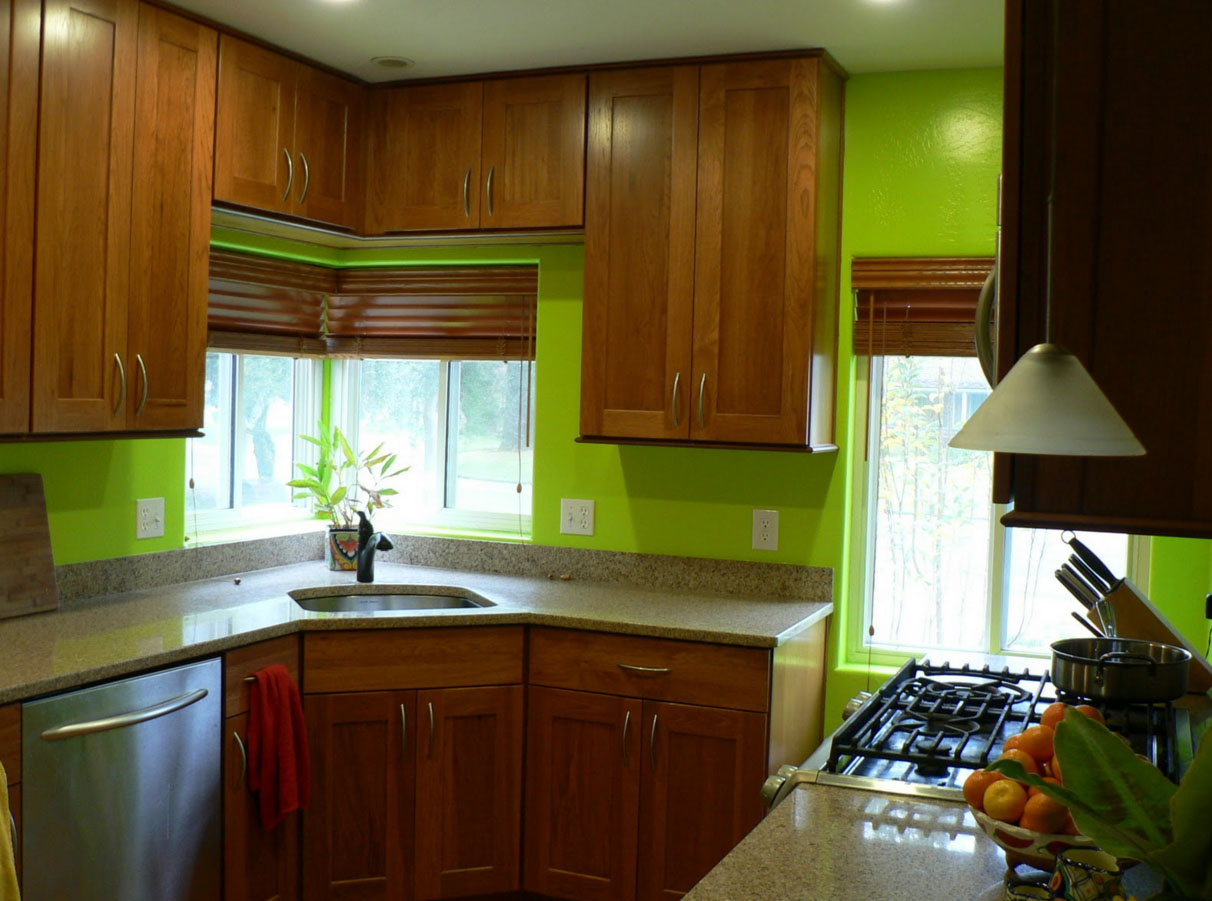 Furniture and facades in the kitchen
Material for manufacturing olive facades can serve:
Plastic;
MDF;
natural wood.
The classic design direction widespread carved wooden facades, coated with doors lockers monograms, curved legs on tables and chairs. A Nouveau fans typically selected glossy plastic facades, their soft sheen fills the kitchen light and a feeling of comfort. There are many interesting design decisions, allows you to choose an acceptable option for fans of all genres and styles.
Kitchen and dining set group preferably chosen in colors, than prevailing on the walls.
When planning the design of their olive cuisine, think about the result, which sought, consider, what:
Dark set against the backdrop of olive walls looks restrained and calm, most appropriate to this combination in Art Deco style and classical.
Milky-white furniture will fill the kitchen festive and solemn atmosphere, this combination is appropriate in any style.
Olive couch in the interior on the background of pale cream walls is good for fans of eco-style.
with walls, painted in the shade of green, beige furniture coffee blends.
Apron olive combined with any shade of furniture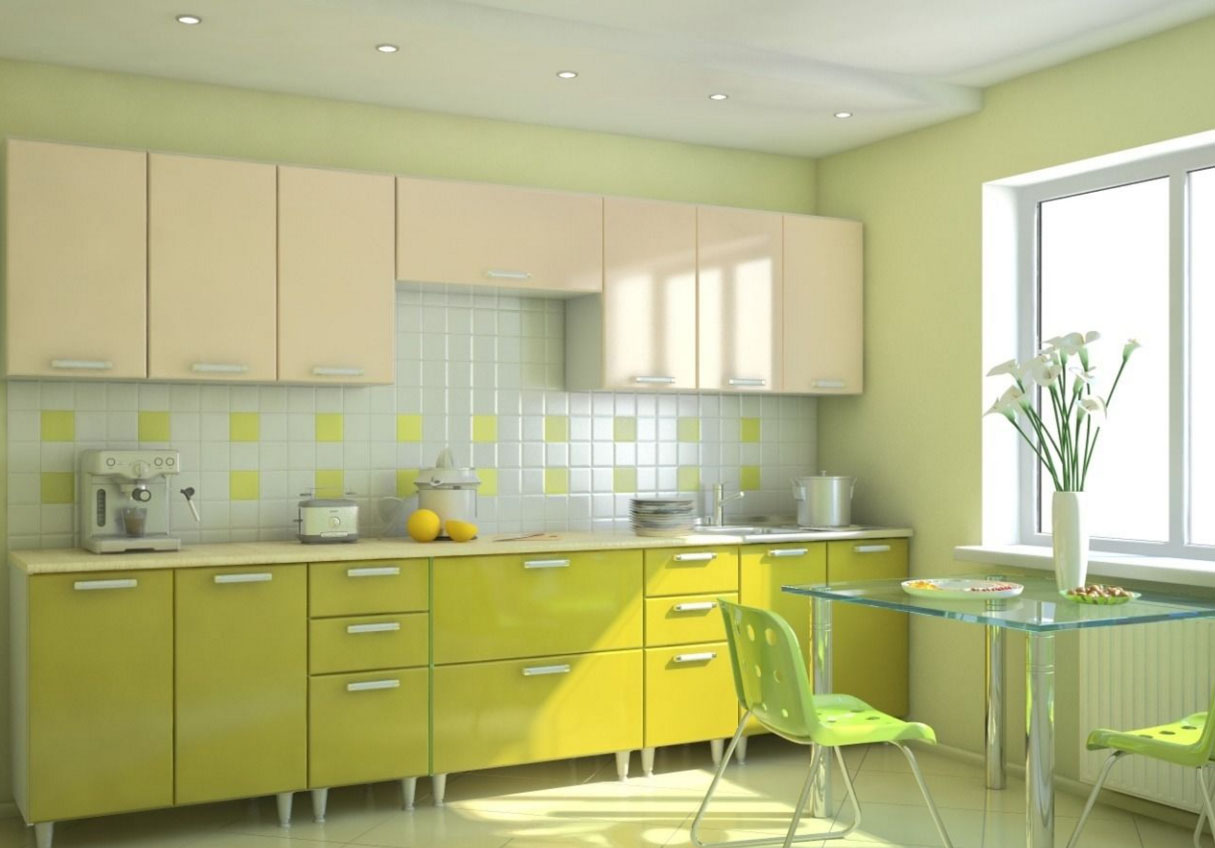 Olive color in the interior
Oliva found in kitchens are often not, as its corresponding pick the color scheme is not easy. If you approach this process is not deliberately, risk eventually get unattractive and gloomy room. But do not worry, especially if the soul asks of calm and refreshing coolness, which gives the olive, follow the guidelines, described in this article, and your interior will be unforgettable, and the kitchen will become a place, designed for creativity and new achievements.
To achieve harmony in the kitchen you need to olive:
Decorate the interior warm and bright hues;
Do not skimp on coverage;
Do not forget the olive-white contrasting combinations.
In the interior of the olive color accents are crucial, this role can flower pots, bowls for fruit, chair covers, kitchen textiles. Curtains olive color in the interior also will look harmonious and appropriate, especially if they are combined with a touch of the apron.
Fresh note in olive interior will set the white textile: tablecloth, Air and light curtains, towels.