5 basic details specialties in art-deco style
Art Deco - "decorative arts", style, who conquered the world at the beginning of the last century. The Paris exhibition at 1925 year, which introduced the world to a new direction in art fishing, It gave rise to a new trend in architecture, painting, fashion, interior decoration. Ease, grace of cubism and modernism in conjunction with luxurious splendor of the Ancient East and Egypt, exotic African art. With such characteristics, interior style Art Deco quickly became popular in the decoration of expensive European hotels and restaurants. A little later, the elements of this trend began to be used in the majority of European aristocracy houses.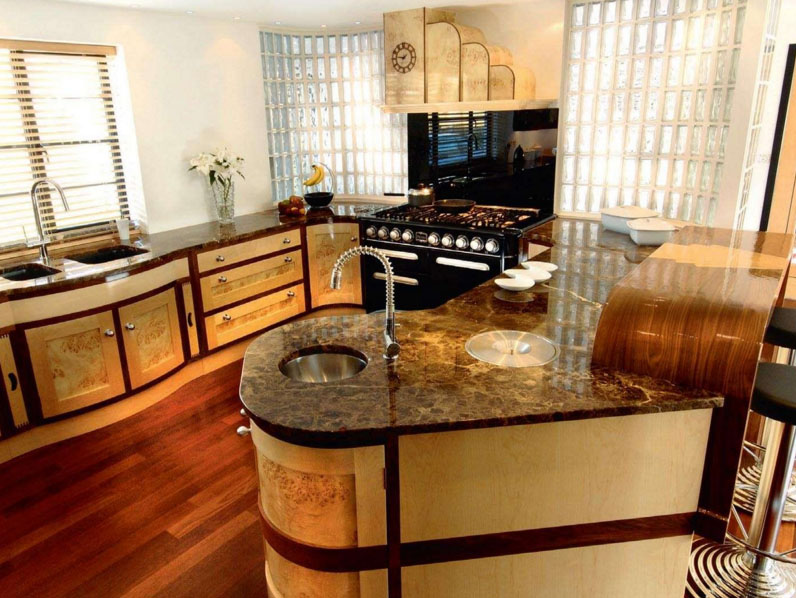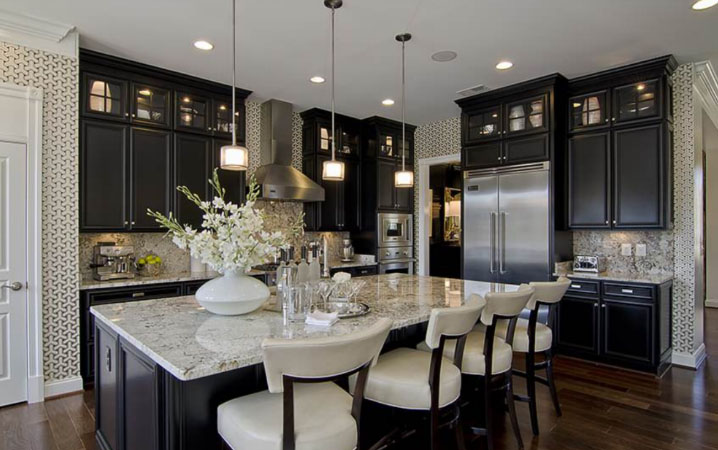 The interior in the style of art deco at this present time favorite style in the homes of Hollywood stars. Displacement of different genres without frills, harmony colorful east exotic - this generalized description of such conditions. Design art deco highlights some basic details:
Color from modern: pastel, blond or brown. There are bright moments, but only as part of an ornament or a separate element. Pronounced color contrasts to underscore lines.
Walls interior design in an art deco style takes as background for exquisite accessories and furniture sets, and because they are not welcome bright colors and large patterns.
The furniture in the Art Deco style differs rounded transitions lines with finishes of expensive fabrics, precious metals, Ivory, crocodile or snakeskin.
Decorative elements with geometric patterns, African and oriental tunes, abstract plant arabesques.
A fusion of many cultures and styles has led to the appropriateness of the use of fantastic images of animals, beautifully curved female figures in the drawings and sculptures.
Art Deco in the interior of the country, but the best way to combine the richness of exotic lines with primitive simplicity.
In the modern interior of these various methods make it possible to create an environment of individual and different from others.
Features kitchen in the style of Art Deco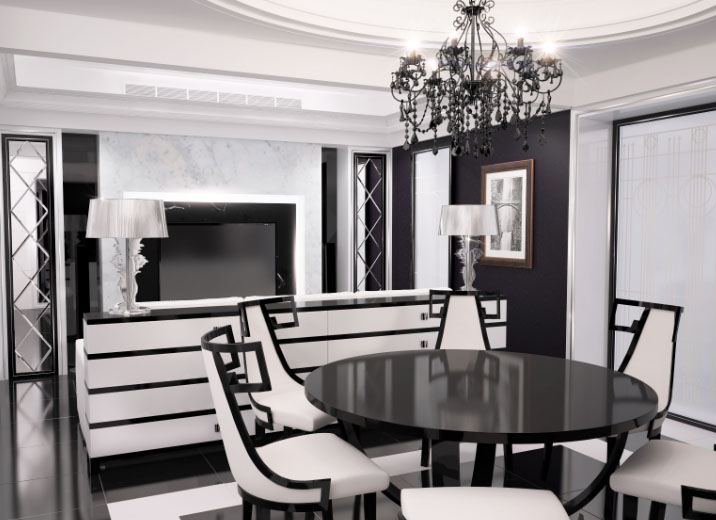 Kitchen in the style of Art - Deco for those, who loves elegance and luxury originality and however, appreciate the simplicity and efficiency. An excellent opportunity to demonstrate the high social status and material superiority. Heavy matter and decorations, festive bordering exquisite furniture, brilliant look at the spacious grounds. On small kitchen areas to create an atmosphere of grandeur is not easy, but experienced designers is also obtained good. The main rule: luxury should be present. Rough imitation of expensive materials and finishes, even the untrained eye visible. If the worktop made of artificial stone, instead of the allowed, to replace natural wood DSP - moveton.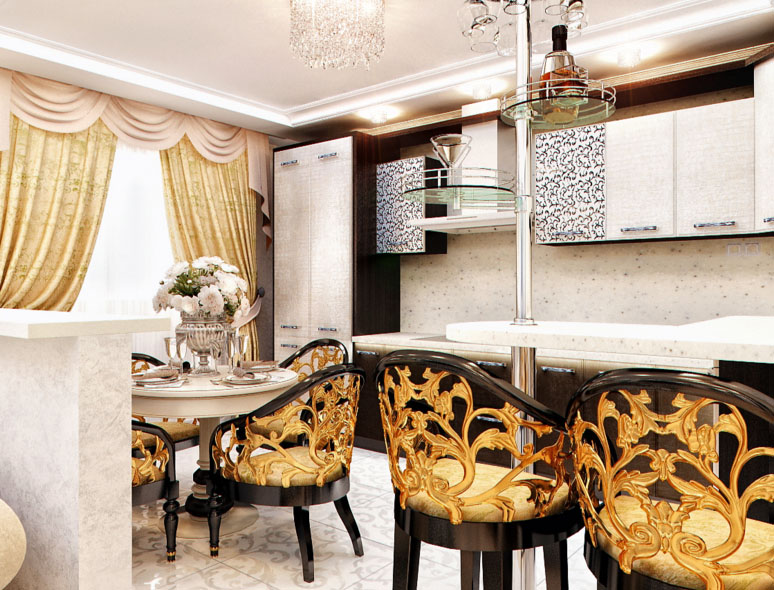 The color scheme in the appropriate design: what should be the apron and everything else
Aristocratic splendor does not tolerate screaming poisonous colors and sharp contrasts. Style Art - Deco in the kitchen kept using pastel. The contrasts of black, brown permitted only in severe finishing lines. Another indispensable attribute of the road - gilding. Gold ornament on a tile, light golden curls wallpaper, art deco curtains with gold thread - it should be emphasized, that your kitchen is not a simple, and the status.
Decoration Materials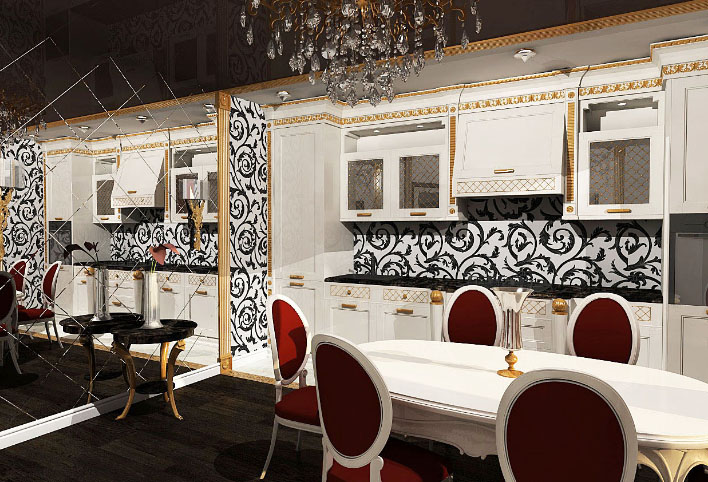 Interior design in the style of art deco requires expensive natural materials on floors and walls, Article. In this case, suitable varieties of dark wood, polished stone, crystal insert, textured skin. Yes, these materials are not publicly available list of, but the whole interior design in the Art Deco style is aimed at creating an aristocratic environment.
Paul, too, must comply with the status. Linoleum, even the most expensive, inappropriate. Kitchen Art Deco requires a quality laminate floor, parquet, marble or expensive tiles with geometric pattern.
Picture wallpaper for the walls are selected geometric, with Eastern or African motifs, striped, monophonic, with gold.
Appropriately use multi-level ceilings, the use of the most bizarre options highlights. A special feature - a mirror ceiling.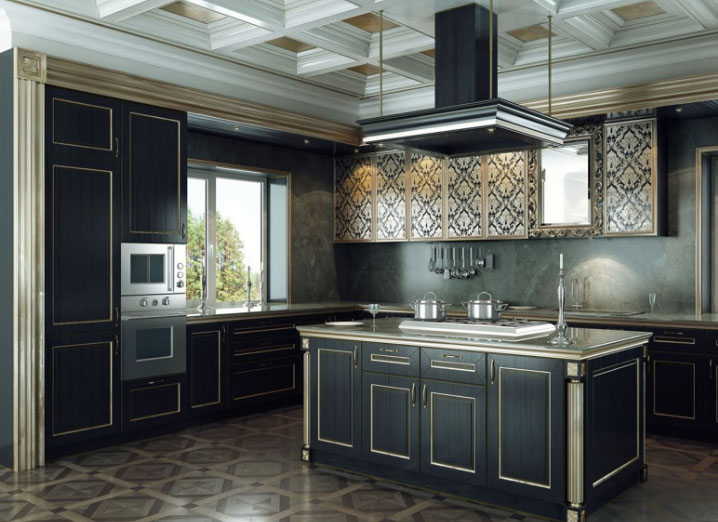 Furniture and household appliances in the dining room
Kitchen Design ATP-deco includes furniture made of expensive materials, bizarre forms, exquisite finishes, but at the same time comfortable and constructive. The combination of furniture samples of different historical periods is acceptable, if the overall picture is a harmonious combination is not broken.
Emphasizes functionality premises correct placement, space zoning. Kitchen - Living in Art - Deco - a room, which prepared a delicious meal, welcome guests and celebrate holidays. Work zone, dining and sitting area is maintained in one color, and separated by highlights, bar counters, exquisite partitions.
For lovers of decorative expensive industrial-style model is made of household appliances with ornaments antique or stressed stylish design.
Spectacular scenery in a modern interior Art Deco on white small kitchen
Typically, the window is minimalist kitchen design, especially when used as part of the sill workgroup. But not in this case,! Curtains in the art deco style, even for the kitchen, massive, long, in the tone of the general background, perhaps with gold ornament. true, in the light of current trends and an inclination to minimalism, allowed registration of light lace curtains or blinds. These decorative elements also withstand brand. Tulle from natural lace, blinds and expensive rich species.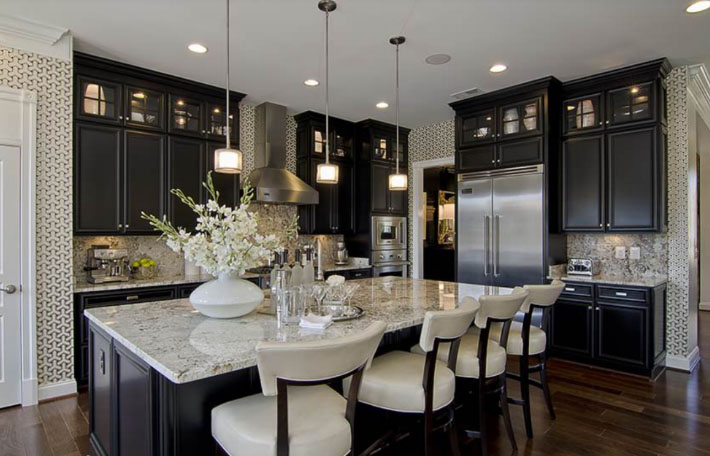 Separate words deserve lighting sources. Design art deco without an intricate play of light unthinkable.
The center of all the massive chandelier with elements of forging, imitation candlesticks, gold finish. Chandeliers in the art deco style may be the most modern forms of, one requirement - the combination of and emphasis on the surrounding road conditions.
On the walls, similar in style, sconces and light fixtures.
Supplement - Spot ceiling lights, paintings, furniture, mirrors.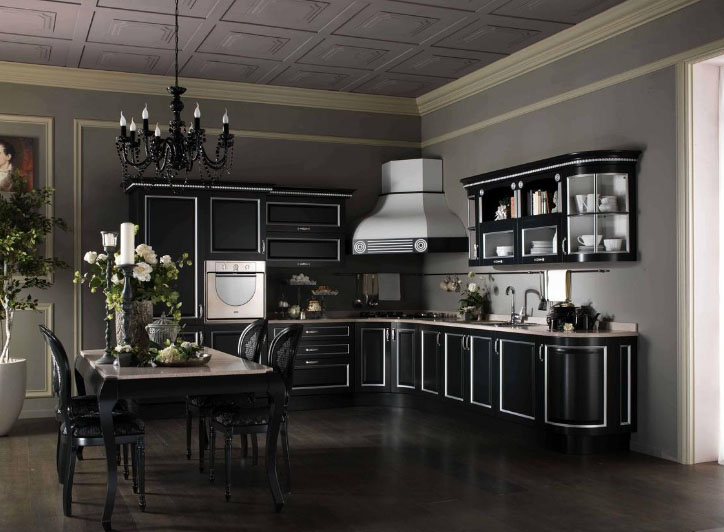 Dressing room is impossible without the use of wall hangings: paintings, mirrors, framework. Multi-style art deco emphasize appropriate use, vases in Chinese or Oriental design, figurines dnevnegrecheskih myths of heroes, beautiful female figures.
Kitchen in the Art Deco style - this is the maximum efficiency and comfort, combined with chic décor and thoughtful accessories.