kitchen interior in green color to make you smile!
Kitchen in green can not only soothe, but the tone, giving vitality. It all depends on, what shade and tone are applicable in specific interior, and, improperly selected colors are able to "destroy" all the positive qualities of green. As determined by a combination of Kolor, Making the kitchen, what techniques are best used in the nutrition unit, - these and other issues highlighted in the article,.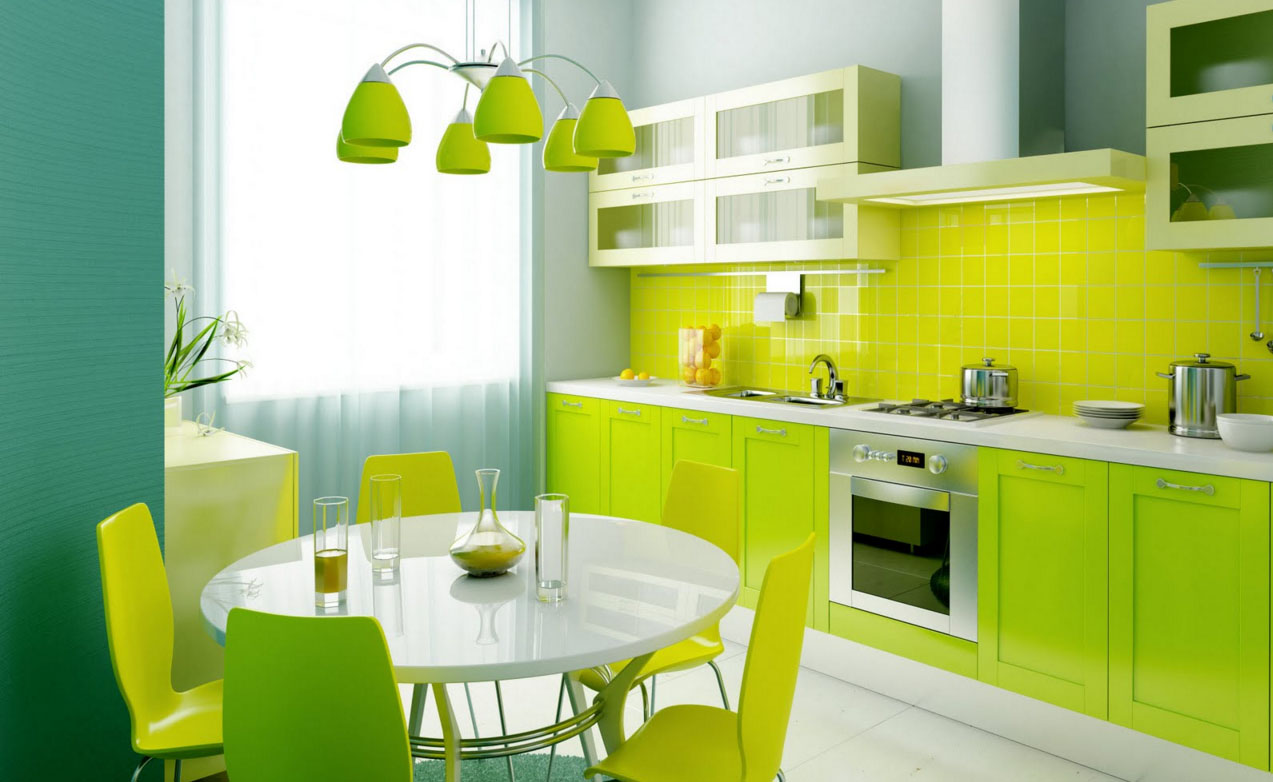 universal color
Green - nice color, colors which are used in the design of various premises, because it is universal. In addition, the property has influence on the psyche of a positive. A wide range of colors allows to perceive green and as a calming color, and how invigorating. Surrounding the man in nature, green color perceived by the human eye and the most favorable in the interior design. Versatility of color lies in the fact, that it can not be considered a uniquely cold or warm groups. Green consists of a mix of blue and yellow, If the proportions dominates blue, shade is considered cold, yellow - warm.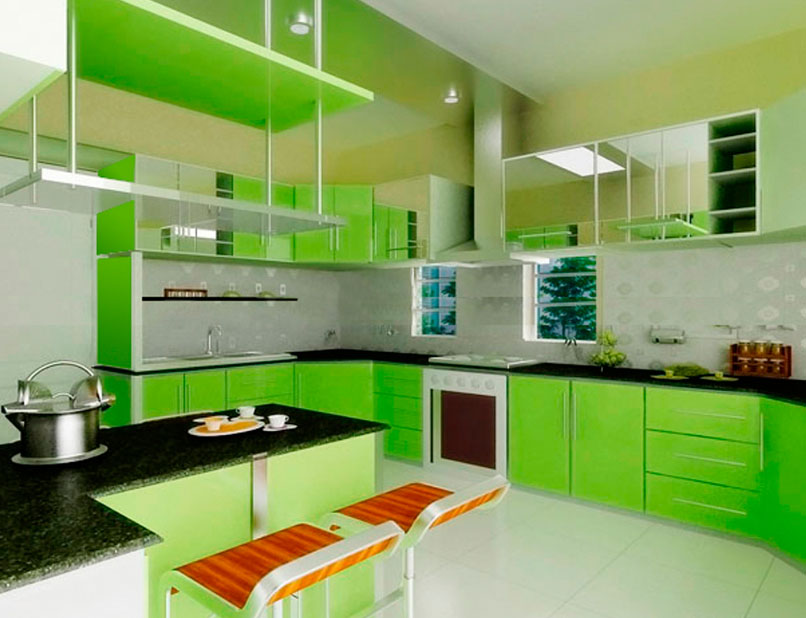 Council! Warm colors are used in the room, which faces north, cold - on the south side.
Kitchen Green warm colors looks comfortable in themselves, "Cold" same model requires balance cool tones Supplementing, to remove the "breech", inherent in cold tones.
Rules of color combinations
In colorists there is a special device - color circle. Depending on the location on it, Color compatibility are:
contrast - the colors on the disc are opposite each other;
Analog - shades are located in the neighborhood.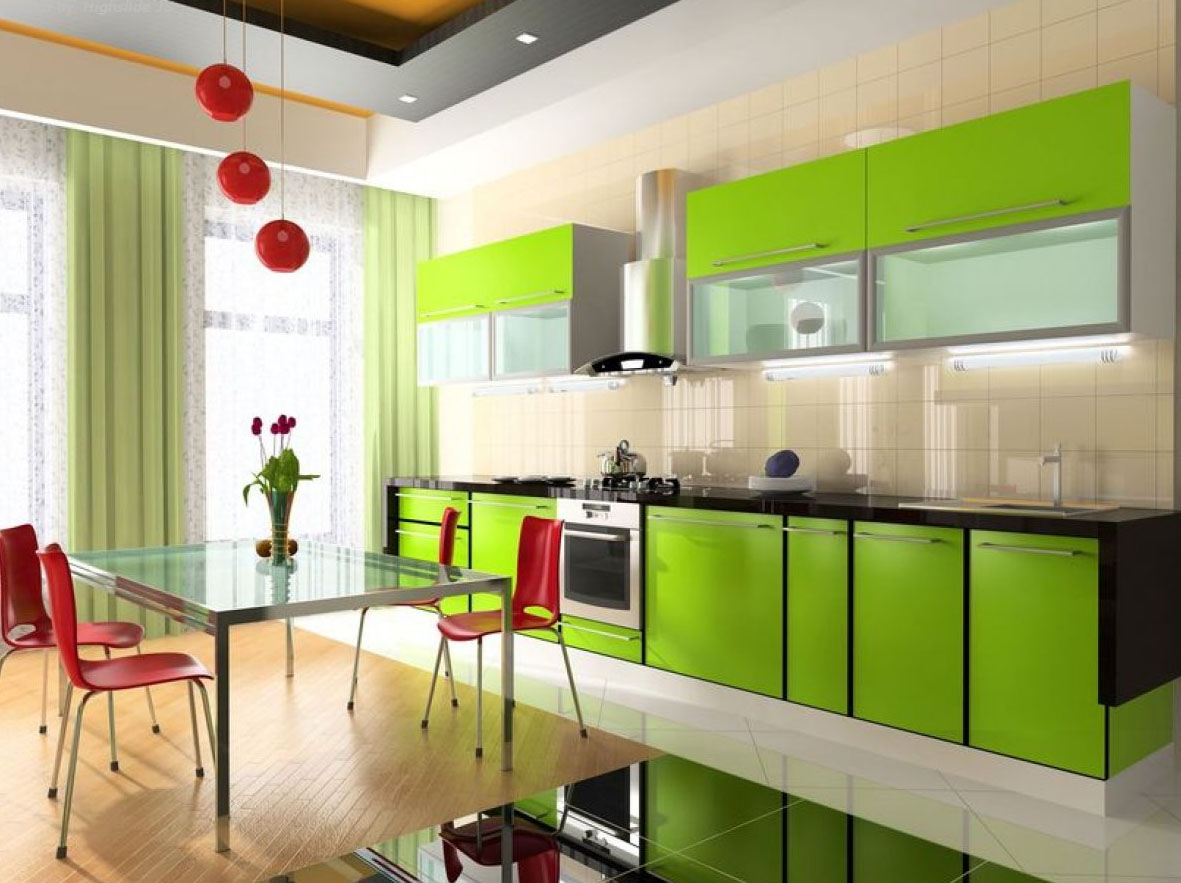 Like any device, color circle involves some skills.
The classic combination of colors different green and brown kitchen, where the green color of the walls in common with the suite under the dark wood.
The natural color of the wood or the same to him "under the tree" is perceived by the human eye is almost as positive, as well as "live" green. The symbiosis of these two colors gives the brain a signal on vacation, helps relax, It brings its naturalness of nature. Regardless of the breed, Wood is considered to be a neutral color tone, therefore it fits into any interior.
Mirror option - the green kitchen and a wall decorated with "brick". Wealthy looks green and brown kitchen which arranged kitchen green color and flooring noble chocolate brown shade.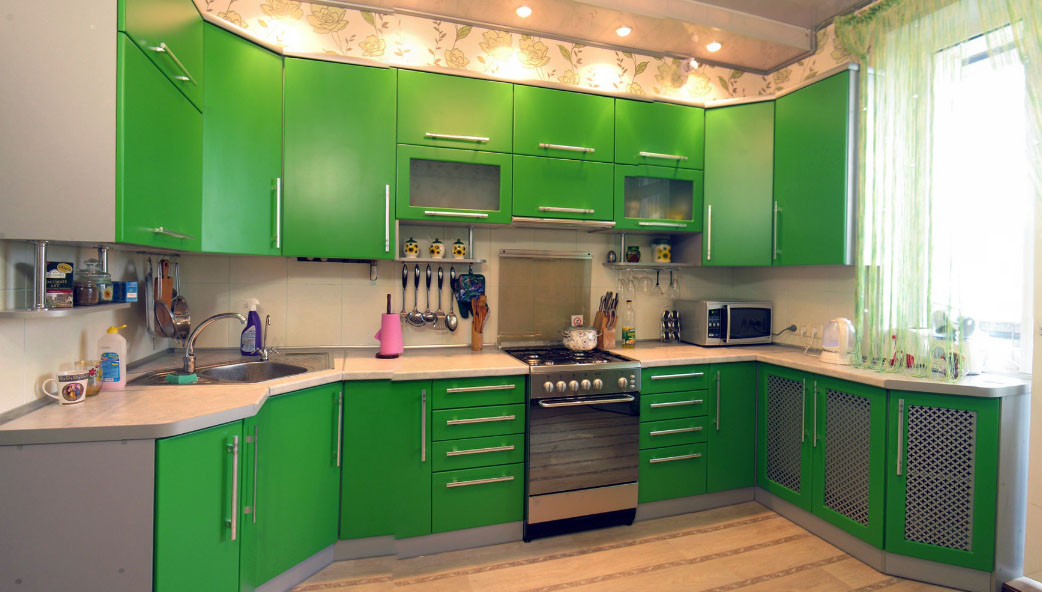 Kitchen design in green color will fit into almost any decor, but in order to avoid excessive gloom is not recommended to link with purple.
Beige and green kitchen - a combination for lovers of calm environment. Lime kitchen set in the vicinity of the soft beige walls are calming.
kitchen creamy green It will fit in the selected country style, harmoniously combining a green kitchen, dark green curtains and light wood.
Kitchen emerald - hit last seasons, but if there is a desire to make it "Emerald", preference is given to the facades of cabinets or kitchen apron, since the walls of such a tire coloring and quickly bored.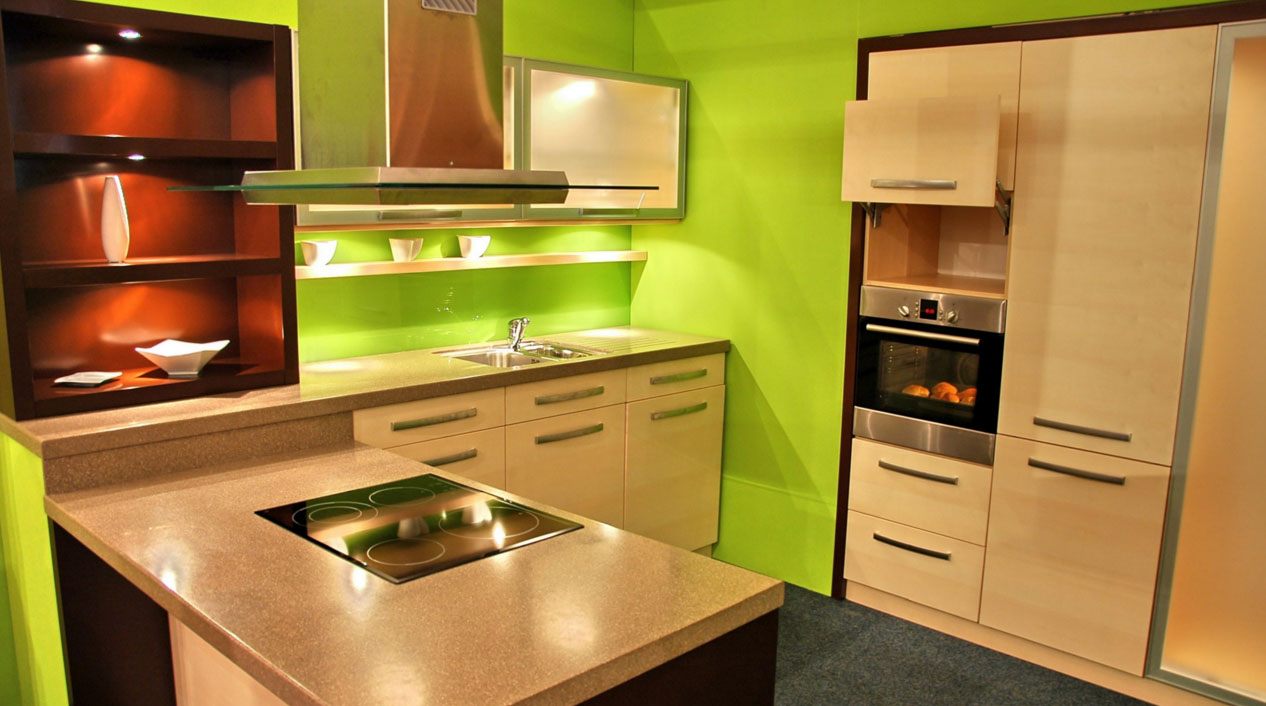 Outfits for walls with no problems
Popular in recent years, painting the walls a number of advantages, but it needs plastering of the European standard, fulfillment that only by professional. In addition to the extra material costs required to find experienced plasterers, since in this method, the defects seen walls: irregularities, roughness, mikrotreŝinki. In this regard, an alternative solution - wall-paper hanging. Such an embodiment will hide from view inconsequential flaws, do not violate the functionality of the room and carry the only visual load. Made of modern materials wallpaper, decorate the walls, hide behind a small flaws, in addition, pokleit they can be independently, without hiring a construction crew. Choose picture should be based on room size and style, which sustained environment. In small kitchens large picture will fill a room, Make eye even less, will be "press". spacious, - small scatterings on the wallpaper will create the appearance of chaos. Dark green color kitchen wallpaper appropriate as decorative elements or bands of contrasting, general background, it is desirable to choose unobtrusive shades. Green kitchen color wallpaper Olive at first glance does not look particularly impressive, but a quiet shade gives a distinct advantage - it does not cause irritation and is not boring.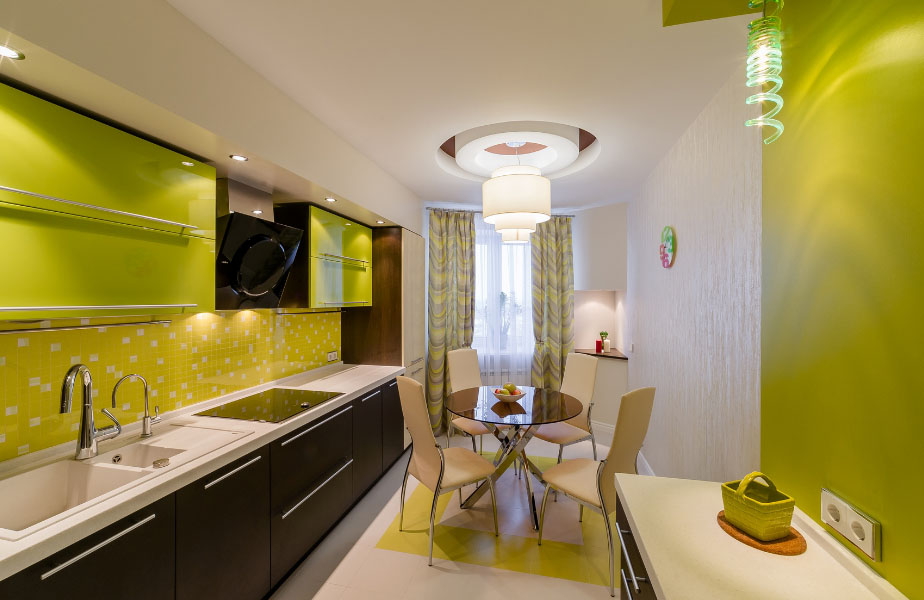 Key Selection Criteria
Selecting the kitchen curtains primarily takes into account tissue resistance to soiling, fading in the sun at elevated temperatures. Textiles with repellent, anti-dust, nonflammable impregnation - the best solution. Optimal variant tissues for kitchen - flax in combination with synthetic fibers. These curtains easy to wash, do not require ironing, since resistant to creasing. devoid of pretentiousness, out of place in the kitchen, they at the same time, They do not look rough. Practicality and ease of care are different shades of viscose and polyester, suitable for those housewives, for which the material is not critical naturalness.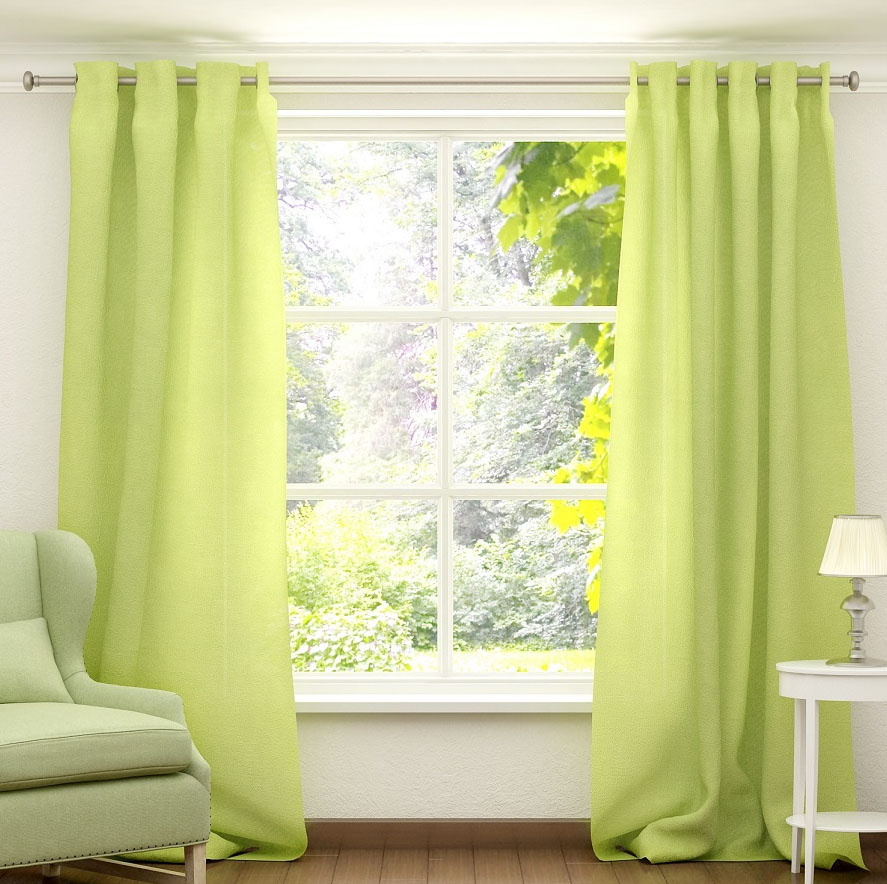 At the same parallel chosen color and style, which will complement the picture. blinds for a green kitchen taken or matching, or neutral. In this case contrasts cause dissonance and cozy atmosphere deprived.
As such,, countertop selection rules do not exist. The main rule - it must be applied in addition to their functions combined with the general background. Green walls and green curtains set off the green countertop. The kitchen neutral colors as color spots worktop allowed maximum bright or dark shades.
Design light green kitchen includes a combination of warm shades. Yellow curtains kitchen apron in harmony with green suite. Light green curtains in the kitchen with furniture of natural wood color tones are complemented by such an apron or lamps.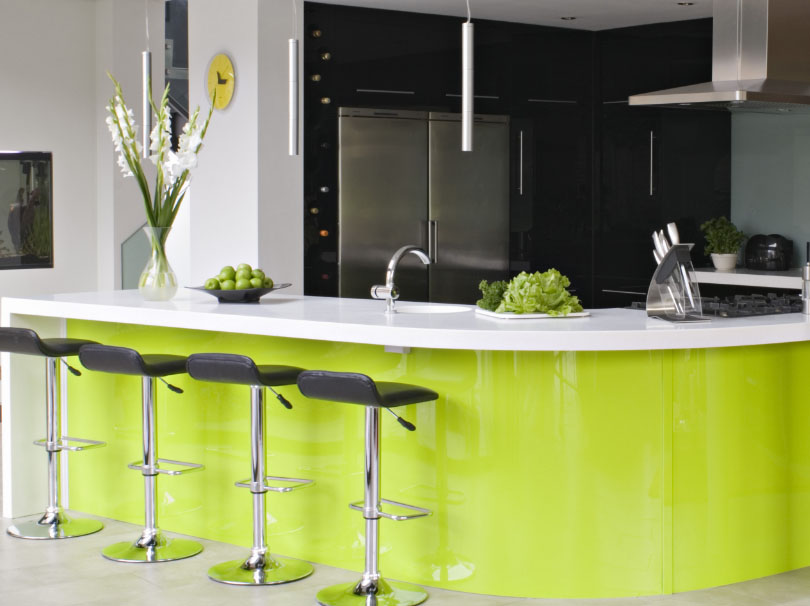 Wallpapers for the kitchen
Should choose wallpaper, first of all, For reasons of practicality:
vinyl. Combine density, moisture resistance and moderate cost;
Fleece. Camouflage wall defects, "Breathe", do not require skills for stick;
washable. Divided into water-resistant, washable, supermoyuschiesya and resistant to abrasion;
Glass fiber. durable, durable, refractory, moisture-proof. Camouflage cracks in the walls and prevent the emergence of new. Transfer to 15 painting cycles, preserving the landscape and appearance.
It is interesting to look in interior design wallpapers. For a green kitchen can be used with the image of nature, that resonates in harmony with the common color, and black and white cityscapes - depends on the style, which decorated the room.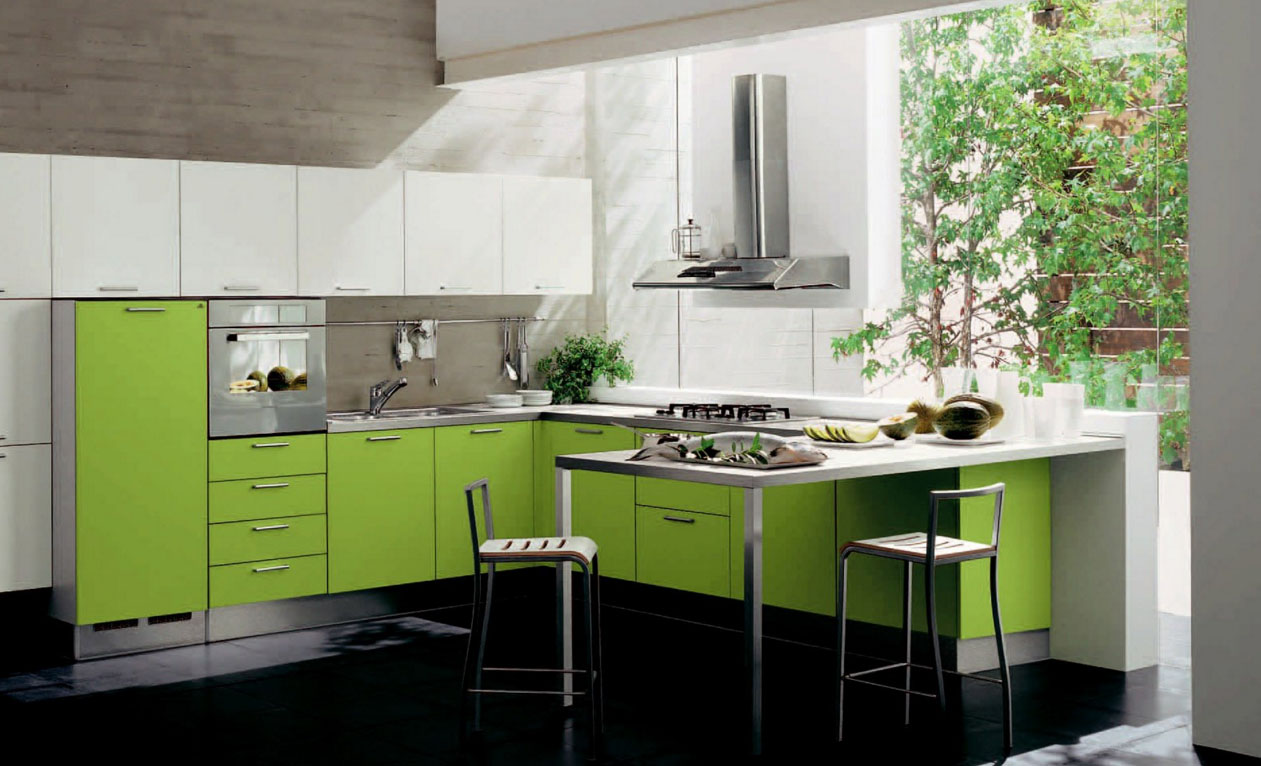 distinguish:
smooth. In its structure - tight, ready-made resemble plastic. Resistant to wet cleaning, some manufacturers such wallpapers are applied to the sheeting, can endure even the markers and marker. Among the shortcomings - the walls are sensitive to the quality of training. Defects will spoil the view of the image, photowall since texture data is not able to conceal the flaws, Moreover - highlights their.
texture. According to the relief surface are similar to conventional wallpaper. Pleasant to the touch, easy to apply. Mimic the texture of plaster, rime, skin, papyrus, silks, canvas, etc.. With the help of texture photowall achieve unexpected decorative effects, since they do not glare, well reproduce reproductions of images, ancient frescoes, scenery ancient cities. No glare can be attributed to the shortcomings and, when it comes to close the kitchen - due to glare occurs apart of visual space.
samoklejushchiesja. The photographic image on the self-adhesive film. Suitable for gluing on any smooth surface. In aids etc.. "Self-adhesive" can be updated not only the walls, but the door, furniture fronts.
Narrow fotopaneli useful doors for decor.
The box looks like the interior of the kitchen in the green with photo wallpapers on the kitchen apron. It is - quite a budget option for registration of the working zone. Thermofilm coated wallpapers are inexpensive, do not require professional skills for stick, which also facilitates cost. Maintenance of such a coating is simple-they are wiped with a damp sponge, if necessary - with the addition of detergent. Subject to the temperature is not maintained one year. If you think a light-green kitchen furniture with dark or neutral colors, Apron depicting green apples, Kiwi, lush grass helps to sustain the selected color in the interior, and give freshness.