Corner modular kitchen: a good option not to ruin the family budget
Kitchen set is always chosen with care, especially in the area of ​​the premises in 6-7 square meters and a limited budget. Members of the family spend a lot of time in the kitchen, housewife preparing lunch and dinner, so the space should be decorated with taste, but without loss of functional characteristics.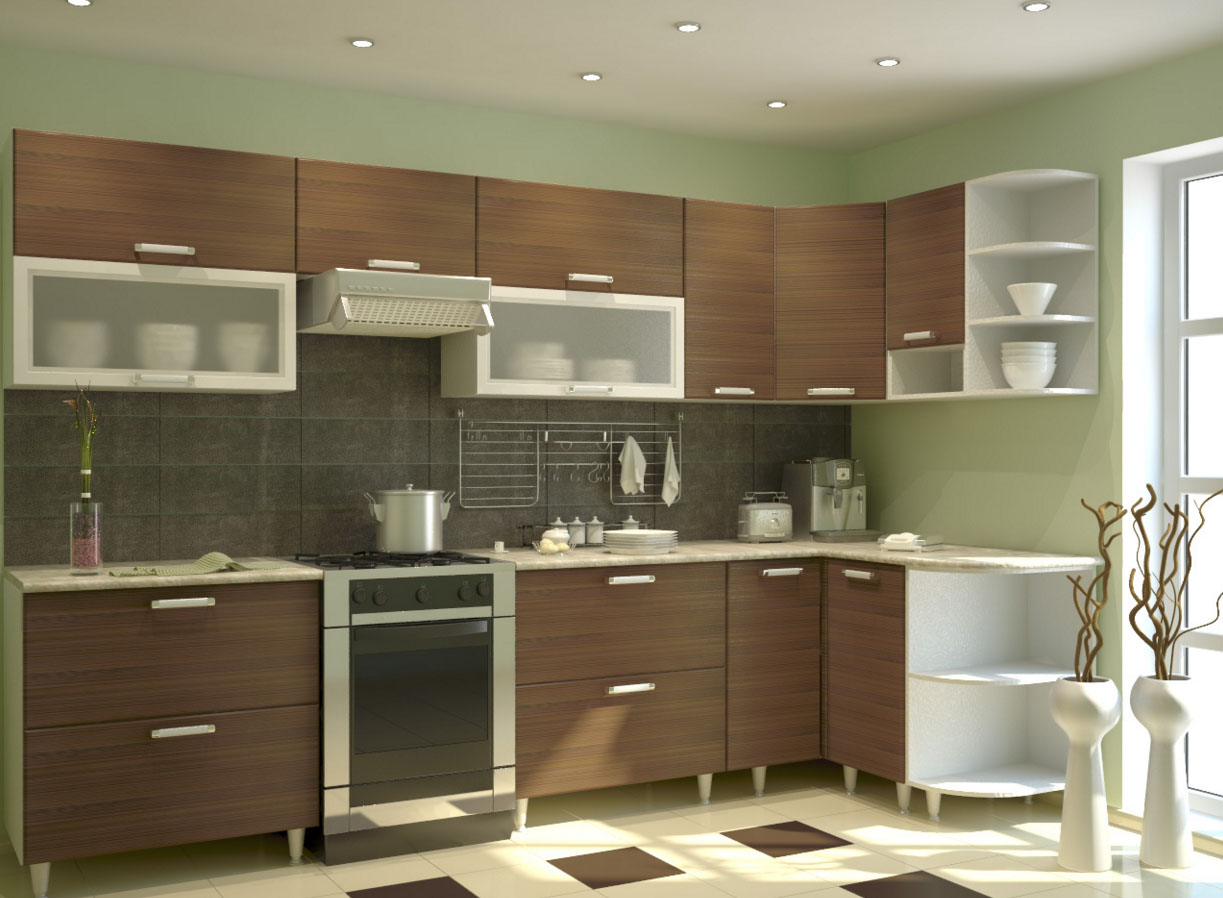 The concept of modular kitchens
Modern kitchens are often a model of the modules, which can be collected individually, depending on the size and layout of the room. Modules - elements Headset, which are decorated in the same style, the number and size of which are selected independently by the client. Modular kitchens - a middle ground between standard models and headsets, We produce custom-made. Standard sets often do not fit the dimensions of the room because of the niches, doorways and windows, and manufacturing individually is not cheap. elements, which are part of the modular classic kitchen:
corner posts;
hanging lockers with a carousel or pull-out shelves;
roomy cabinets with drawers;
sliding cupboards;
tabletop, washing.
From the set of selected elements were collected at own discretion (reminiscent of the designer). At any time, the component parts (corner modules for the kitchen) swap and get a new interior.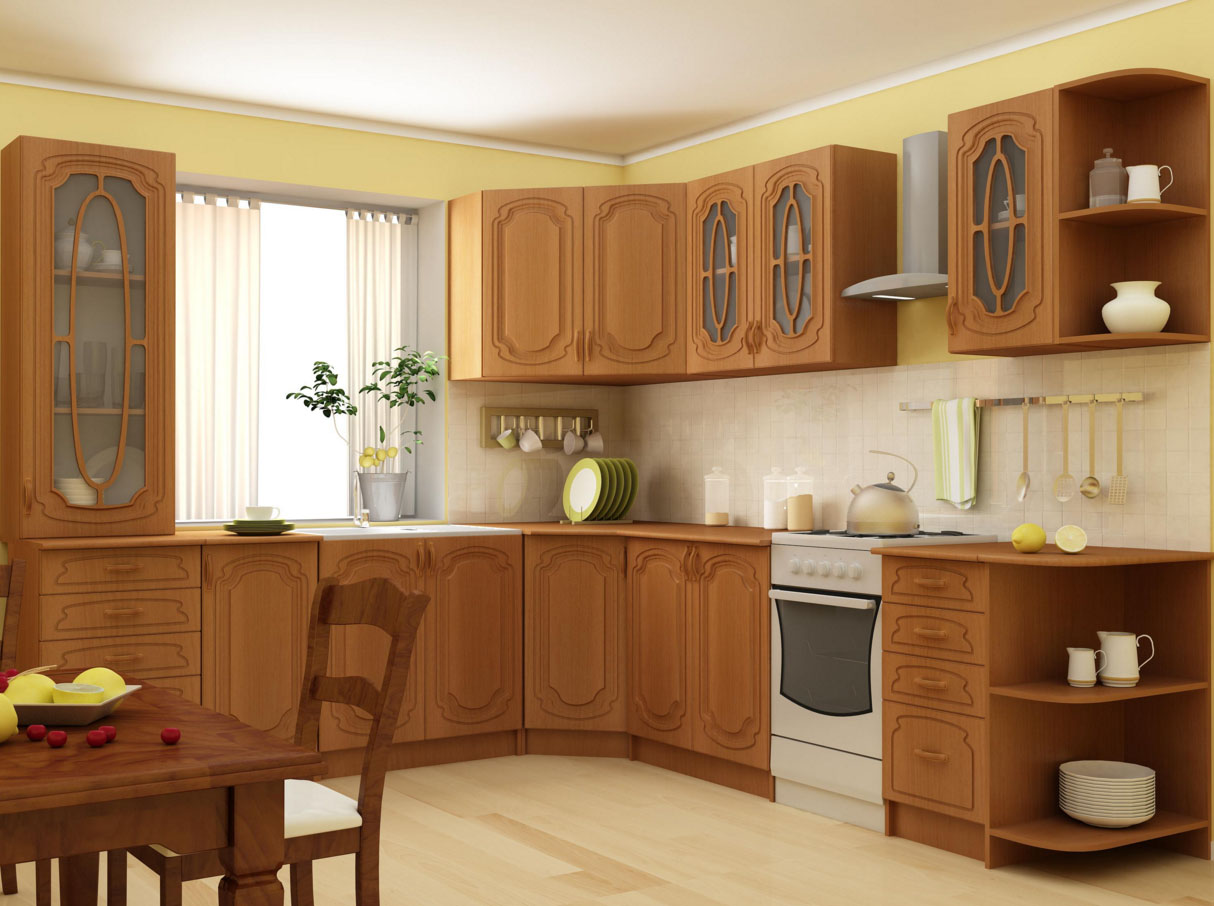 Advantages and characteristics of the angular kitchens
Modular corner kitchens boast a long list of benefits:
Impressive capacity at small dimensions (even in small sizes corner kitchen includes all the necessary items).
ergonomics (comfortable layout of the kitchen triangle).
compact dimensions (the best solution for tiny kitchens).
The practical organization of space (It makes it possible to highlight the dining area and food preparation area).
Sufficient working surfaces (between the slab and sink enough space for cutting products and their further processing).
The ability to use angle as a storage space for cookware (employ the maximum angle).
A variety of forms, Styles and colors (even if you select the corner kitchens economy class).
Compared with models straight corner kitchen sets are more expensive to 15-20 %, but they stand in terms of usability and functionality of an order of magnitude higher than their linear counterparts.
Modular corner suites - a reasonable and practical solution, is selected sensible home. corner modular kitchen of economy class looks nothing inferior to elite options, It is cheaper and does not require the services of furniture collectors. Headset materials - chipboard and MDF, that with proper care are long and flawlessly. Minimum decorative elements explains the democratic value of. For people, prefer rigor and conciseness, This option is fine. Built-in corner kitchen premium are made of natural wood, so they are not everybody can afford. Finishing is also made at the highest level.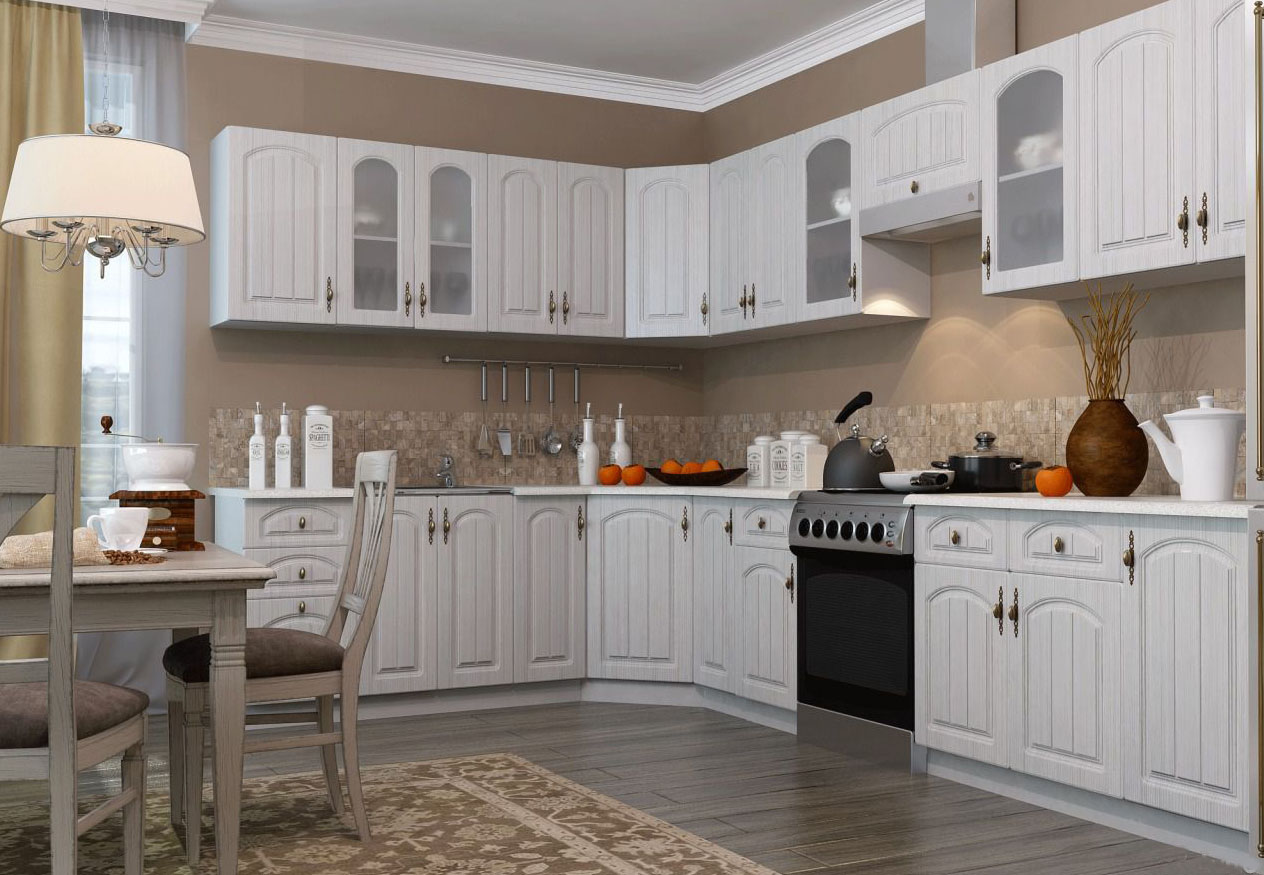 Nuances in the design
Correct placement of kitchen corner modules depends on the location of the communications:
Washing and washing machines have about water and sewer pipes.
Gas stove near a gas supply pipe. In choosing a location for an electric stove owners free.
On the right and left side are placed, modular cabinets, designed for storing food and utensils.
The sink is set at a distance of at least 50-60 cm from the cooking surface. On sale is a modular kitchen with corner sink.
Mounted under the sink cabinet, wherein the cleaners are stored and a waste container and residues.
Placed over the sink cabinet for drying dishes so, so it does not interfere with the washing up.
The standard approach to the location of the corner kitchen involves the use of two adjacent wall opposite the window. But it is possible to beat the space in a different way and use a wall with a window. The interior will immediately become more attractive and original, and countertop in the daytime will be sanctified by natural light, falling from window.
If the kitchen area cameo, it makes sense to use the facade of frosted glass go open glass shelves. This technique helps to relieve the visual space and make it visually more spacious. Roof boxes and allow free work surface. Everything you need is at hand and open eyes.
For safety reasons, it is desirable, to all the corners have been rounded, and facades of sliding or lifting. This is especially true, if the house is small children. The room should not be cluttered, that nothing prevented easy movement.
As for the style, here it is to listen to such advice:
If the room is a miniature, the best choice - high-tech or minimalism. These stylistic trends do not suffer too much and focused on accommodation only necessary items and things. Modular white kitchen without unnecessary decorative elements - a typical example. Closed facades without frezirovok, monochromatic colors (wood or metal), crisp silhouettes - the distinctive characteristics of these styles.
For spacious rooms are suitable classical style and country. Where appropriate elegant finish, elegant decorative elements and natural colors.
The Art Nouveau decorate different rooms. Characteristic differences - a variety of textures, flowing lines in combination with strict geometry, contrasting colors. With different shades in a small room to be very careful, so as not to overload the space.
Sectional modular kitchen sometimes complementary bar, which can function as a dining table or work. Her mans high chairs.
Modular corner kitchen for small kitchens in the choice of design and placement options in no way inferior to other. The main thing - to set perfectly fit into standard kitchen area.