How to choose a sofa to the kitchen with a sleeping place: comfort secrets
At first sight, kitchen and bedroom, - two incompatible things. But life - a multi-faceted thing and puts in front of people is so complex and inconsistent objectives, that's amazing. Young family lives in a studio apartment. While there were two, place lacked everything. But there is a child, and it grows. Money for a new apartment is not, country reeling crises, and what to do? It remains kitchen. Bed in it takes a lot of space, and comfort will not add. A small sofa is able to solve the problem. In the morning it is collected, and the room is re-converted into a kitchen and dining room. Small sofa to the kitchen with a sleeping place - the best option in this situation,.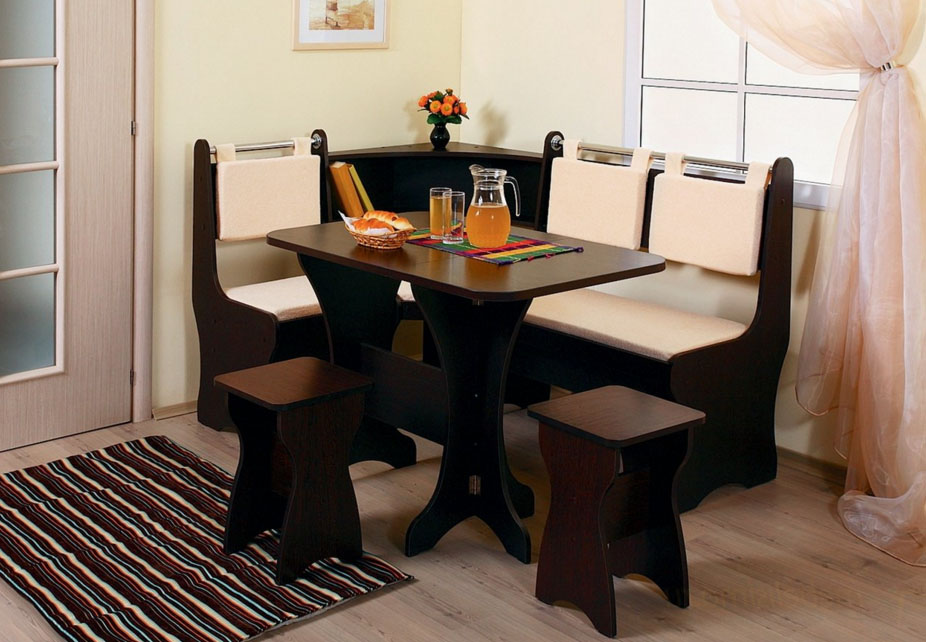 Bedroom for Child
choosing sofa Kitchen, First, measure the space, which will allow him to unpack. Imagine, where will rise a sofa sleeper, as it takes place in the expanded form. For the child, you need to choose the furniture practical, allowing lay yourself every day. He must have a mechanism, running applications effortlessly.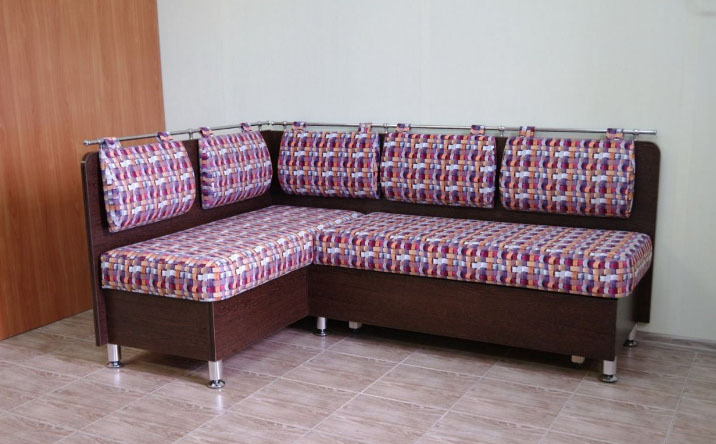 Kitchen-birdhouse
The choice of furniture is oriented primarily on the size of the room. There are in a residential Fund of the former Union of Khrushchev's kitchen, where not to, that the sofa, and nowhere to turn himself. For this birdhouse can recommend a chair cot, or convertible mini-sofa. The assembled furniture takes up little space, and does not interfere with the hostess do housework.
In such a recommended kitchenette buy table-book, hinged or embedded. Retractable table will free up space for sleeping.
important Notice: It can not be over berth hanging cabinets, no matter how you were confident in their strength.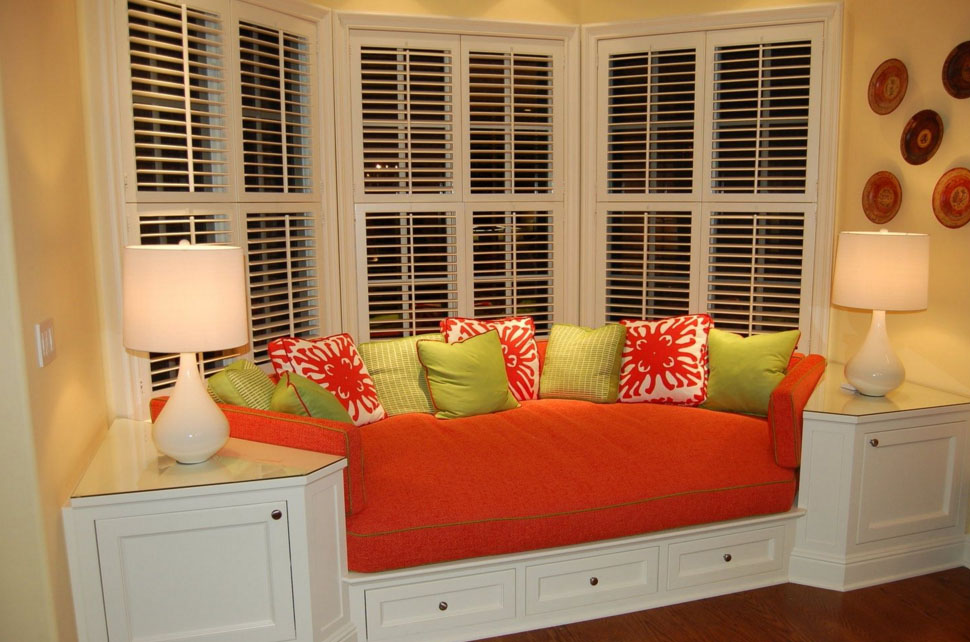 The kitchen is small, but the optimal size
The most classic version of the sofa to the kitchen with a sleeping place - book. It - Universal, practical model, ranked unfolded as little space. Kitchen should choose compact models, the width of the seat and back rest - in the range 45- 50 cm. As he unfolded form will slide forward 25-30 cm.
The second option, most suitable for small kitchens - sofa modular. Afternoon section stand area, evening they moved and placed in the bed form. The table moves to, where before there was one half of the bracket. As a result,, modular bed is not required to release additional space for himself. Section mounted on wheels, and Child with 7-8 years to cope with it on their own. To the table, to facilitate its movement in the kitchen, also possible to provide a wheel.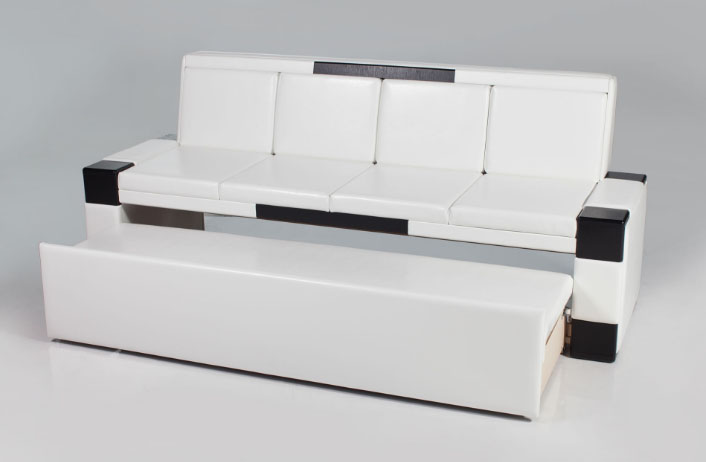 Guest bedroom in the kitchen
Normally, the guest bedroom is Living. But what to do, when the living room is transformed into a bedroom for someone from family members, by virtue closeness? It remains kitchen. And to unexpected guests are not caught you by surprise, a berth for them make sure in advance. Will help solve the problem of a sofa-transformer. It will not often be unfolded, so, If the kitchen dimensions allow, it is advisable to buy a sofa, transformable into a double bed. After all the guests rarely come alone.
Draw-out sofas
Withdrawable sofas require sufficient space. The spacious kitchen with space is not a problem. But in small kitchens, to make space for the folding couch, the table should be the same transformer, and get out.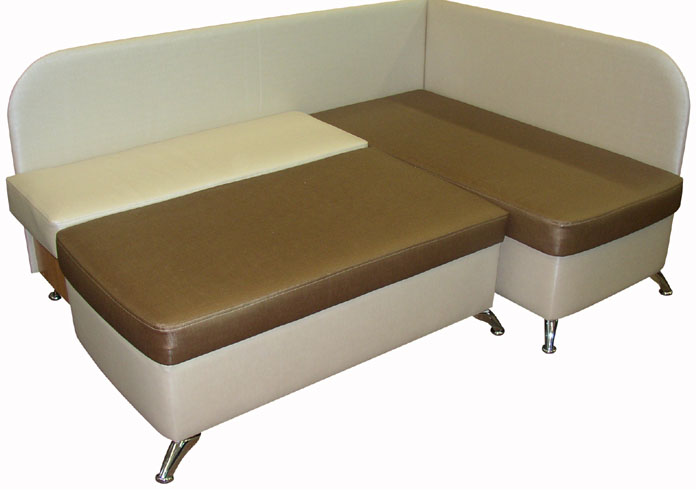 "Telewhop"
Draw-out sofa sleeper "Telescope" is a simple device and a minimum of mechanisms. more precisely, there is almost no mechanisms. Only videos and guides, do not allow, the lower part has slipped quite. The durability of this design depends on the quality of materials and proper assembly. even a child cope with this design, so it can easily be expanded.
It is important not to rush when rolling out, and to prevent distortions. The mechanism of withdrawable couch abhors violence. If something goes wrong, better to try to understand, where it touches, and fix the problem.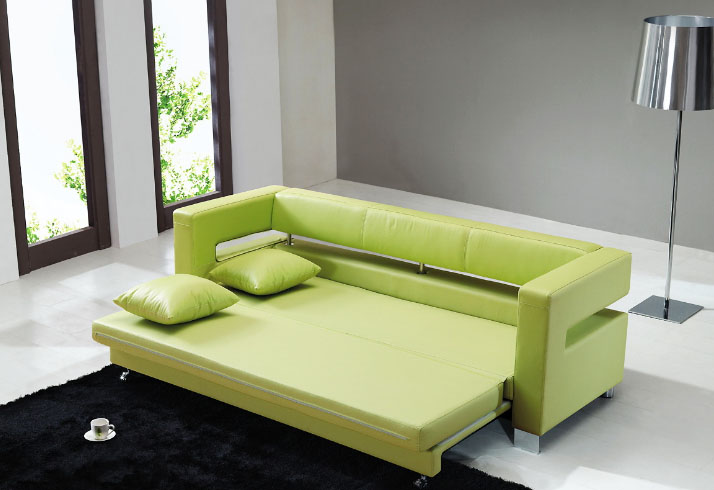 "Dolphin"
This transformer cute name. Transforming device "dolphin" is applied to the linear sofas, and on the angle. In nominating front of the sofa, first pulled its lower part, hiding inside, then special loops raised bottom and mounted flush with the seats. an association, that the bed comes up from the bottom, like a dolphin.
Transforming sleeping unit made on a wooden frame, or metal. The first embodiment is used as a guest, second - for everyday use. corner sofa in the kitchen usually it takes one of the corners, and does not interfere. Kitchen area with sleeper, provides a device "dolphin", particularly suitable for small-sized kitchen.
folding sofa
Small sofa beds as well as withdrawable, and pushed forward, Expanding, form a double bed. Manufacturers have developed several differing devices, allow to put small sofas in the kitchen.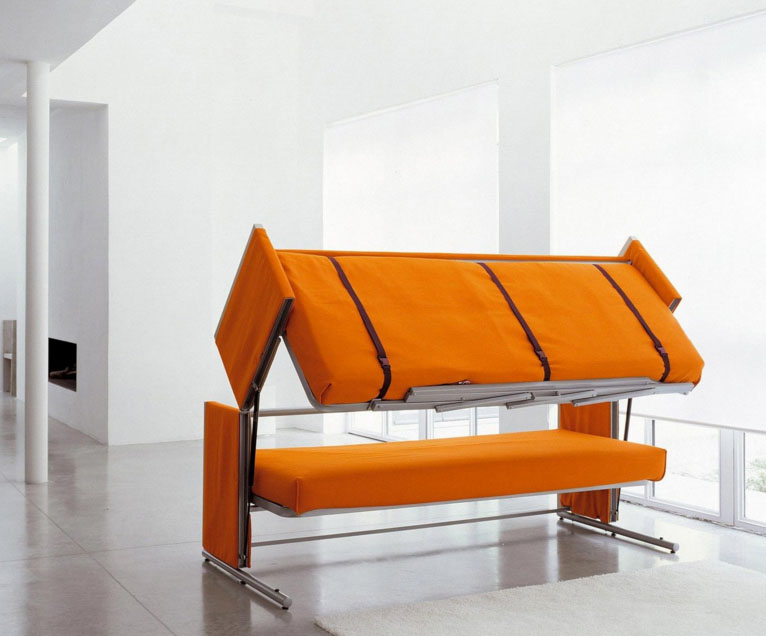 Flat-screen clamshell
Among sofas, Transformers cots are mansions. Designers in this category of furniture combined sofa and a metal cot, which once stood in almost every home, solving the problem of living space. clamshell device, equipped with its own mattress, folded three times and is hiding in the spacious drawer of the sofa. This furniture has a solid margin of safety and can be operated on a daily basis. therefore, if you need a small sofa to the kitchen with a sleeping place, you want to use every day, choose a cot. Compared with other models, the price is much higher, but the durability of the clamshell is worth it.
Among the variety of models have a double sofa sleeper cot with separate beds. Such a cot can be installed in the form of a corner, if one bed left open. Then he will not have to add each day.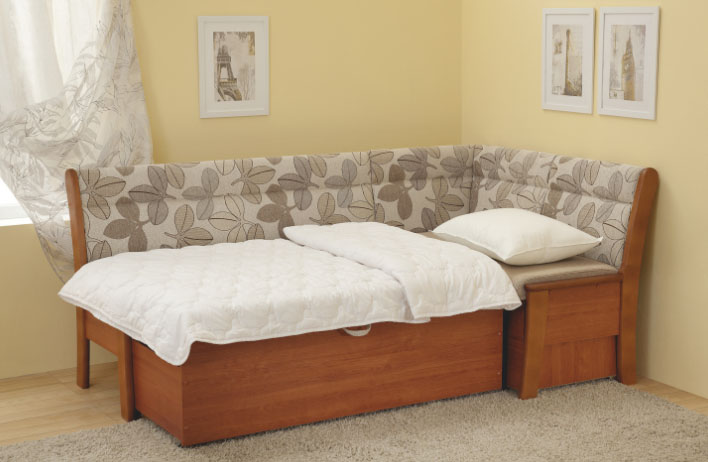 "Accordion"
kitchen with sofa sleeper , drop like an accordion - also suitable for kitchens. The bulk of the bed is hidden in the back, closed like a book. The design of the folded takes up little space, and is used even in the angular models.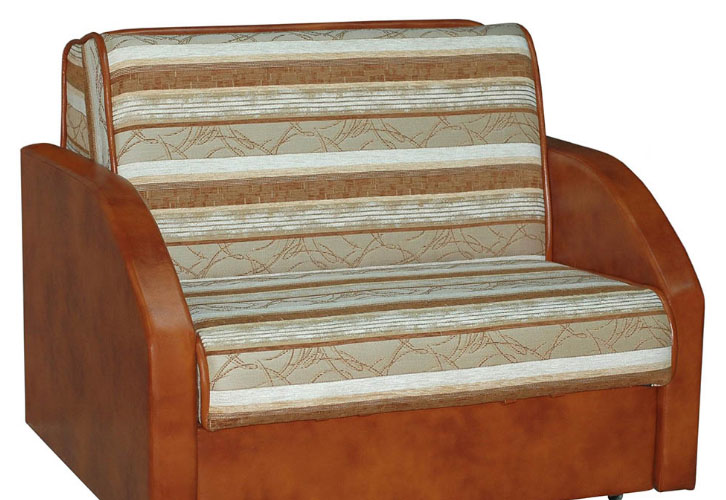 compact sofa the kitchen is sometimes performed without armrests, which saves space. It provides a box for bed linen.
When nominating forward seat, rest descends and turns like a concertina bellows. Sofa accordion is made with a semi-soft or soft filling. It is better to use as a bed in the kitchen for guests. "Weakest Link" accordion - in conjunction backs. These loops are connected by conventional, applied in small doors, or piano, and attaching strength depends on the density and quality of the wood screws.