Production of kitchen furniture with his own hands with the help of templates and layouts
When the owner of the house in need of new furniture, He goes to the store and choose the, that is in the range of. But when buying furniture need to take into account the size of the room, because in a small room does not fit a large sofa or headsets. Therefore, we can make kitchen furniture with their hands, at the same time take into account the peculiarity of the room and use every available little corner when planning. This article will tell you, как сделать кухонную мебель their own hands, sispolzovaniem all layouts and templates.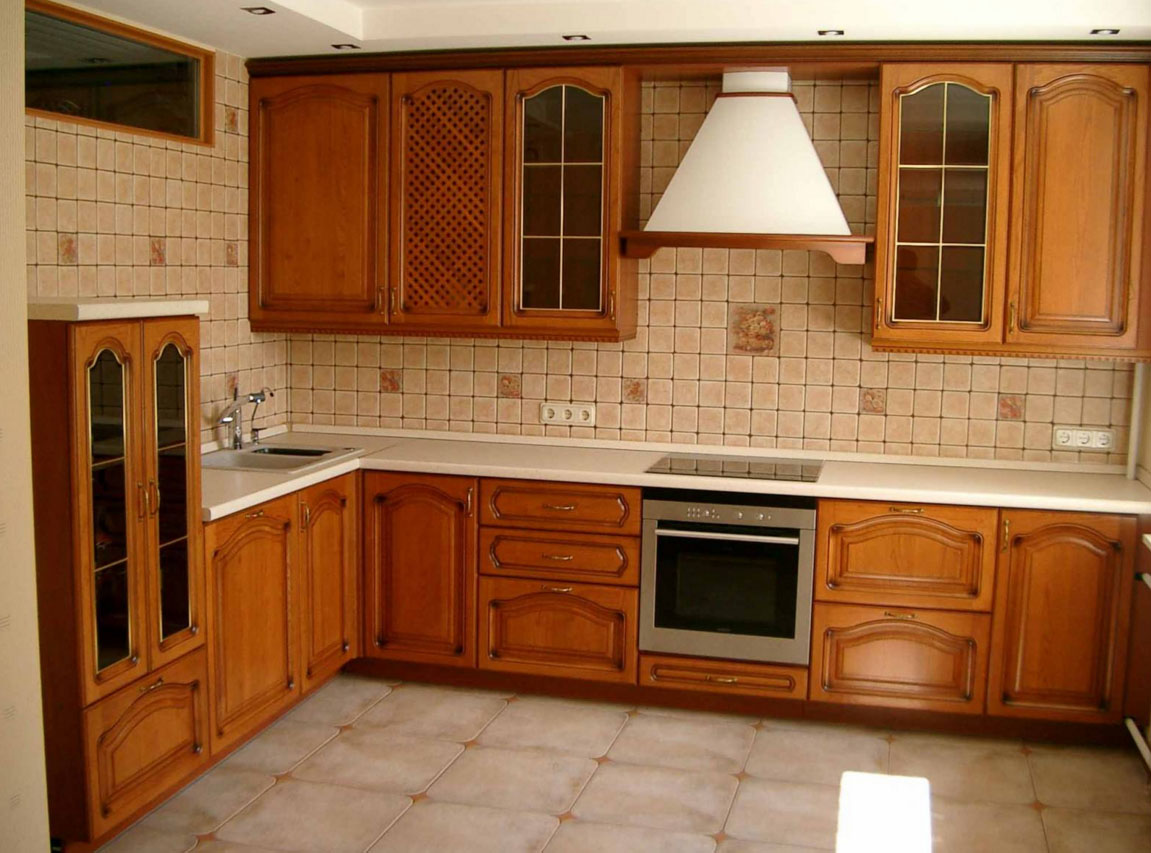 Recommendations for the production of furniture
Before you start, familiarize yourself with the kitchen space, decide, what furniture you would like to, its height and size, and only then you can make a template.
Make a template
To make furniture with their hands the kitchen It requires a long working process. Simple cutting of flat panels - it is only half way, still need to drill holes in order, to her interconnected and install accessories. In this case you have to be very precise, record all the dimensions of the product and the hole. It is difficult to do it with a caliper or liniykoy, such tools will lead to errors, and it will be difficult to collect their own hands the furniture, will have to seek professional help or remodel. That did not happen funny situations, buy ready-made template, where have all the necessary markings.
to make pattern yourself, Prepare some wooden rulers, such, used by students in the school, glue them together in the form of the letter T. Now make a mark: 0,8 cm, 1,6 cm, 3,2 cm, 5 cm, 7 cm, 10 and 12 cm, near each need to drill a hole with a diameter of 0,2 cm.
Detailed Description of the openings:
0,8 see the level responsible for the mechanical drilling for Euro screws or confirmand;
1,6 parts per cm thickness;
3,2 per cm thickness of the two parts;
5, 7, 10 and 12 see note canopy markup, and step back from the details.
The cost of such a template is low, but its functionality is on par with professional templates and does not differ from them. This provided, that everything was done correctly.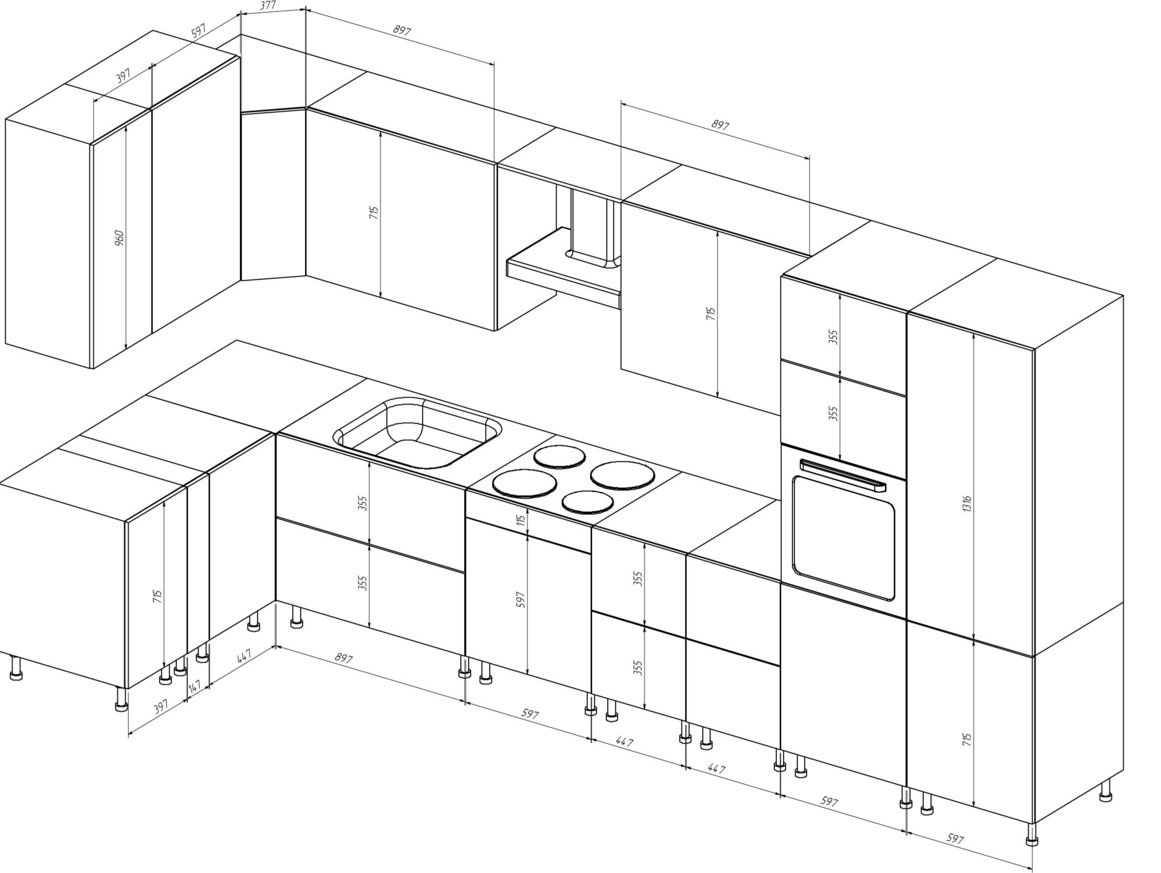 Roller guides and dimensions of drawers
Most to make furniture the hands can not everyone, this requires not only the desire, but also a certain experience. If you know how to carry out the installation of roller guides Drawer, so, kitchen with your own hands you get exactly.
We lockers modern assembly is present only such accessories, so you should try to derive a formula, which will facilitate proper installation. The exact calculation gives you the opportunity to Cabinet on kitchen with his hands, properly install it and to put forward. If you have made all of the templates are not properly, the furniture defective and must not be, it needs to make a completely new facade.
We consider more sore subject: how to make furniture for the kitchen their own hands. As an example, take a nightstand with drawers, where kitchen utensils are stored, that should always be at hand. Height 80 cm, facade has 5 Drawer, plinth height is 7,5 cm, and a gap between each compartment at least 0,4 cm - all 2 cm. Then should calculate the height of the facades: 80-2-7,5= 70.5 cm. Now, this difference should be divided into 5 boxes: 70,5/5= 14.1 cm.
Council: count everything right, in this way, to make the kitchen without further assistance will be easy, and bring you to enjoy the process.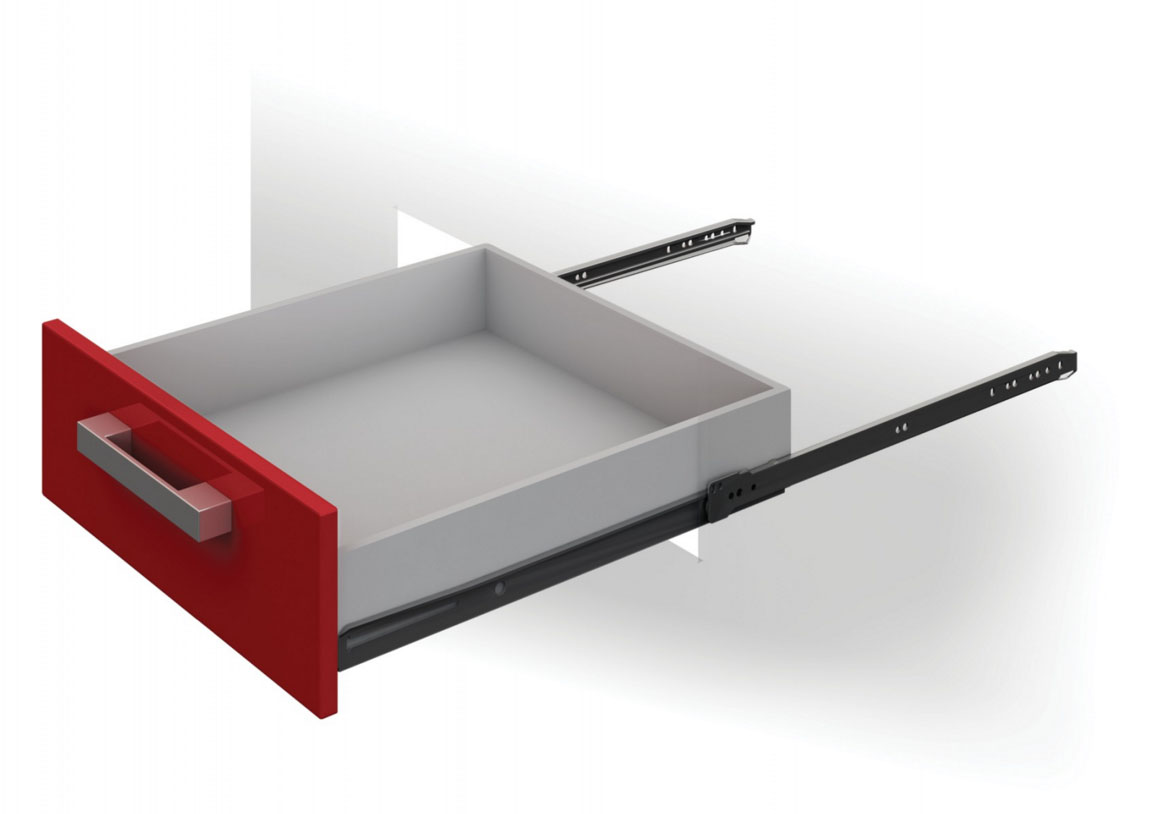 Each drawer has to be correlated with each other, consider all the nuances, eg, in what position is shuflyada, overlap facades on the framework tables. The upper and lower shuflyady will be in an extreme position, top cover cabinet countertop, and below the bottom.
Centerline and bottom rail equals 2 cm and coincides with the bottom of the boxes. The size of screw heads no longer 0,15-0,20 cm in thickness. In this case, if you decide to make furniture the hands, add another 0,5 see for not measuring plate 1,8 cm, but 2 cm. I.e, now looking forward attachment height of the first box: 2+0,5= 2.5 cm, if you calculate the distance from the floor, then 2,5+1,8 (together with the bottom)+7,5 (plinth)= 11.8 cm.
When ready calculations, it is time to calculate the constant: 2,5+1,8= 4.3 cm. To find out how far away the lower front end of the bottom, We take a constant value, and add the size of plate 2 + 4.3 = 6.2 cm.
This calculation will help to make furniture the hands without any problems and complications, important to make the correct measurement of the boxes and the gaps between them.
Council: lower drawers of kitchen sets are periodically do with facades, which are higher than for all other, these cabinets are found most often, for, To make such box simply subtract one gap, and add to the overall height of the size of the box. So to make a fitted kitchen with his hands is easier than ever.
To produce kitchen cabinet or, you need everything for furniture. You can not work without:
drills, drilled holes;
fretsaw, to drill sheeting;
perforators, to drill holes in the wall;
screwdriver;
Sheila;
Konfirmatnogo glass cutters;
Bit holder;
Strubtsin, to help pull the drill;
Konfirmatnyh keys;
level, to determine, It is correctly placed in the room unit;
extension;
Rulers;
pencil.
Collect the kitchen can be very large in any indoor or outdoor, if there is good weather. It is worth noting, it's an easy procedure, when compared with the manufacture and markings.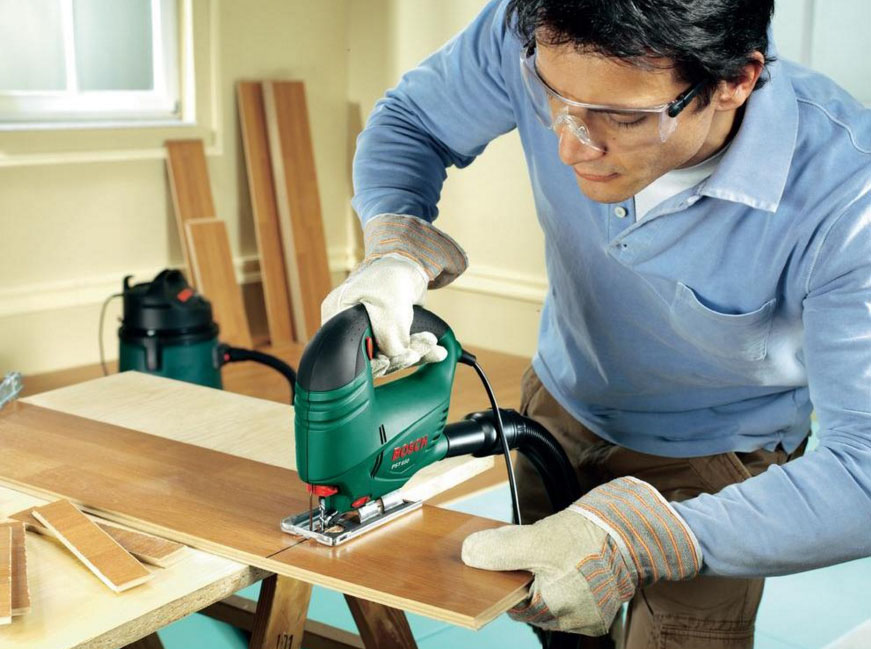 Set the finished furniture hinges
A bedside table in the kitchen with his hands will not cause difficulties in the work with care and great desire to business. before, than willing to attach furniture arcs to a friend or hang on the wall, it needs to be put on the loop. How to make the kitchen with his hands with loops? Easy! First of all take the necessary set of tools in the work. There can not do without a drill and screwdriver.
Council: Take firm Bosch or Makita Tools, It is the best option.
To drill the mounting seat canopy cook diameter end mills 3,5 cm, hammer with an awl, pencil, set of hinges for furniture with holes for self-tapping screws, a layout template.
The front edge of the doors must be from landing nests at a distance 7-12 cm, if you want to make the kitchen, no template can not do. Attach the hinges in the amount of 4 pcs, that sustain the size and weight of the doors. But it may be necessary and 5 loops.
Corner edge from the center of the landing slots should be no closer 20-22 cm, it depends on, what kind of door thickness.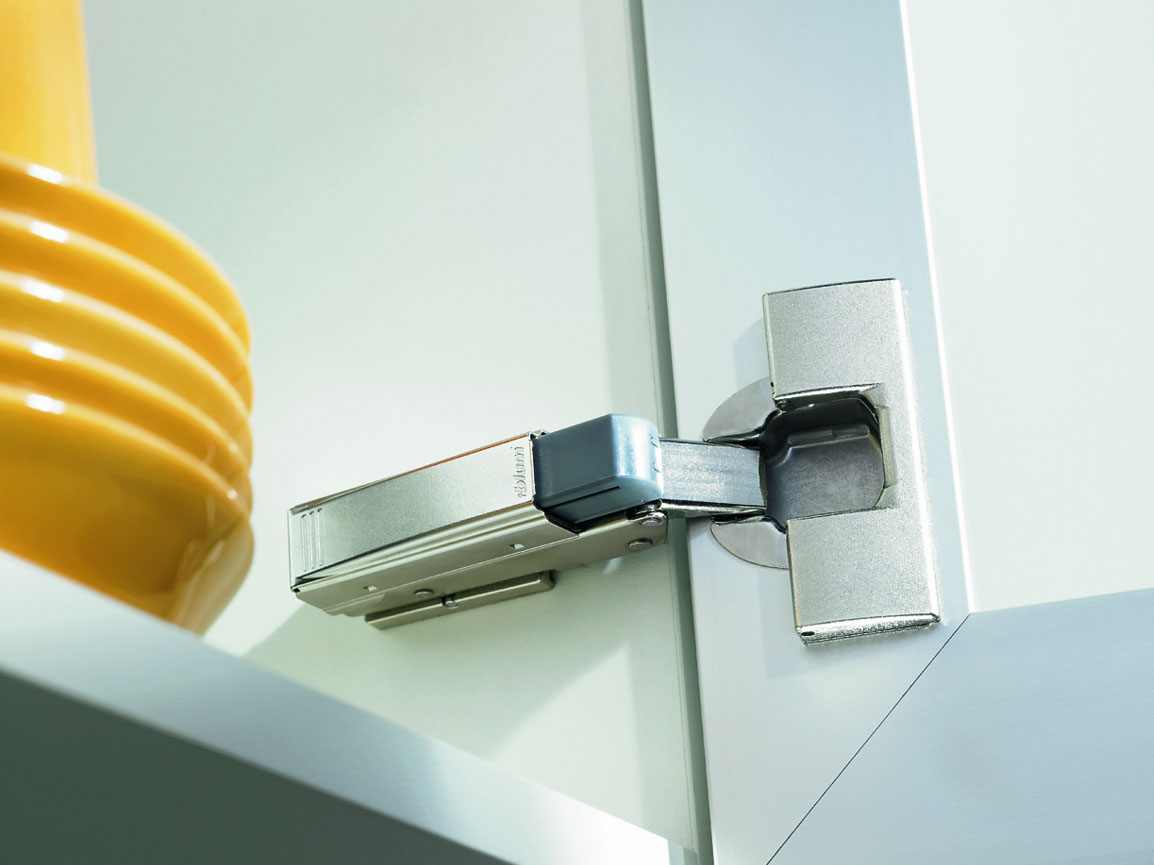 Council: If a monolithic kitchen with his hands is on two hinges dverkah, then you can get to the boxes jumper. To avoid this, should sacrifice the symmetrical arrangement, not to carry out reconstruction work tables.
doing markup, pay attention to the opening of the cutter. Make it with an awl. Slot depth 1,2 cm, seldom 1,3 cm, whichever, What thickness of panel. Work with extreme caution, so as not to make a hole on the front of the doors, their thickness 1,6 cm;
Take a sharpened cutter, press it onto the door;
Now it's a drill. Take the tool and place it perpendicular to the door at an angle 90 degrees, let the door lying on the floor in a fixed state;
Drill one time and see if everything was done correctly, if there is a place, and the loop will not fit, drill again;
The furniture with his own hands to get a quality, Pick up an awl and on the spot, where you insert the screws, good scroll. This is necessary in order, to screw it came as needed when tightening, and not to the side;
Screw the screw until it stops.
To properly make drawers for kitchen their own hands, calculations necessary for the template secured to the inner side of the mechanism, which will move the wheels of drawers. Make kitchen furniture, without involving assistance of specialists - a real feat, especially in the case, if this thing up close and does not apply to your profession. But just imagine, how overjoyed hostess, if the kitchen, a bedside table or a table with chairs you have made with their own hands - the enthusiasm is not transmitted!
We hope, article helped you and now an interesting furniture with his own hands will be for you is not a dream, a matter of time.