Photo printing on a kitchen apron made of glass: 5 the best materials for the working area
designers, making out kitchen interiors, They are in constant search for new solutions. One of them - aprons for kitchen glass with photo printing. It really is a fresh solution, especially for those, who love high-tech style. Photographic images on glass kitchen apron brings a joyful and uplifting emotions.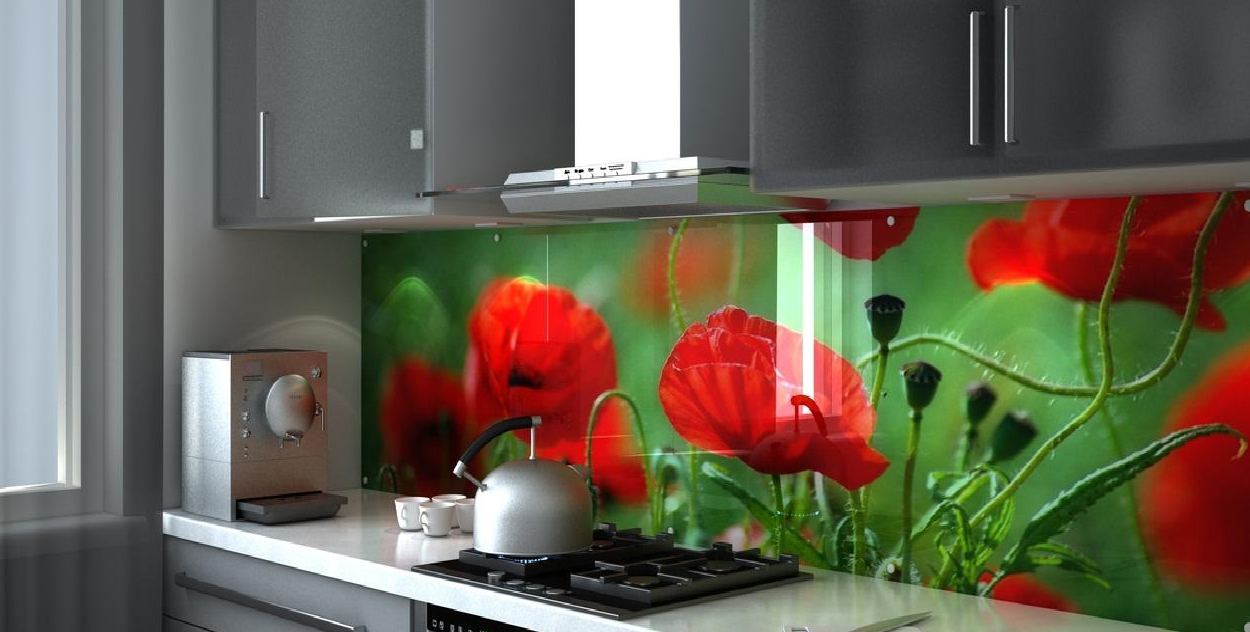 Particularly interesting is the decision of the, what, with careful attention to the process, you can make this apron with your own hands.
Fashion trends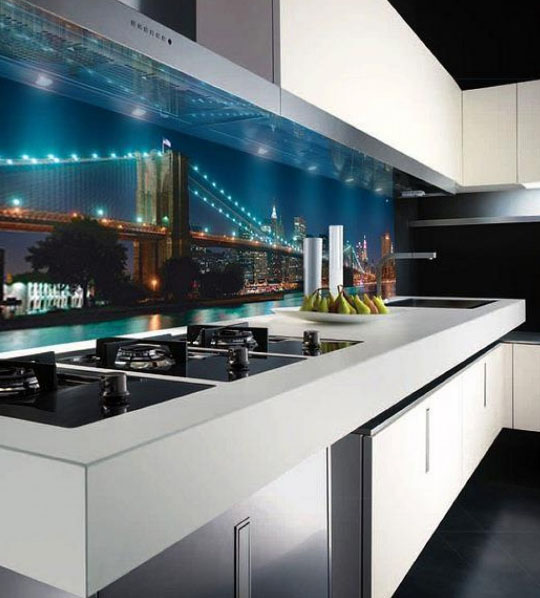 Kitchen pane of glass, or as they are called, tabernacle, become part of the package design solutions in the design of kitchen space. Today it is considered one of the fashion trends.
More clearly demonstrated this, when there were kitchen glass aprons with photo printing. bright, clear and full-color image on the inner side of the glass considerably enlivens the interior. Wherein, walls, covered by a panel, as it were parted.
Opinion does not cling to the tile joints, which are always present on the wall tiles veiled. It also creates the illusion of extra space.
Together:
glass, evenly covers the wall;
Photocopying, its bright pattern animates kitchen space;
illusion of expansion of this space, arising from the totality of the factors;
create an atmosphere of festive comfort.
Besides, kitchen aprons from photo printing are in the trend because, they are fairly easy to keep clean. They do not require complex care, clean them even easier, than the tiled wall.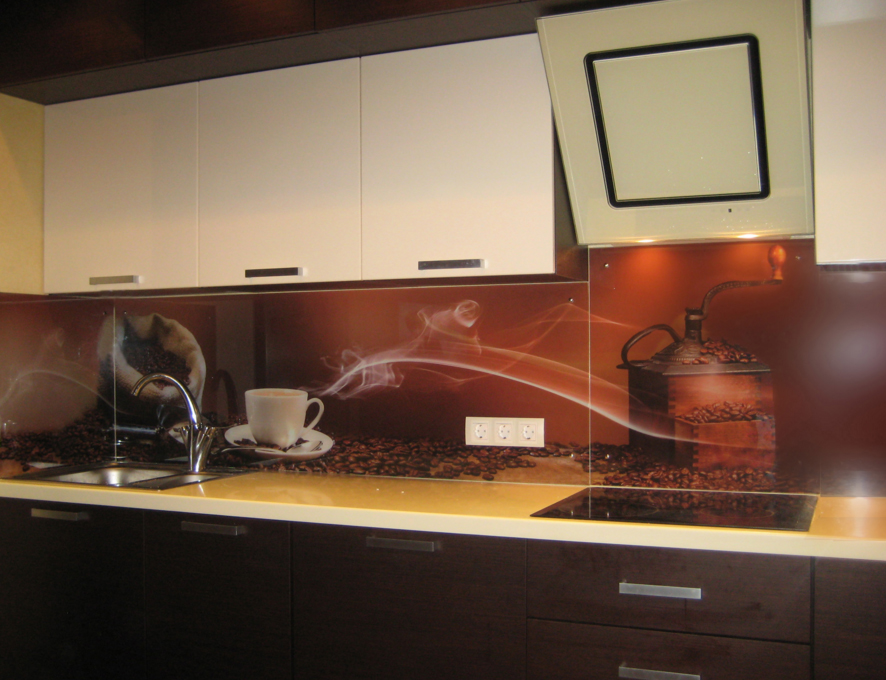 Apron
Glass apron on the kitchen wall began to use relatively recently. This apron immediately gained popularity. The material from which it is made easy to clean, He has virtually no seams. It is applied without any problems of any background, of uniform, smooth color to volumetric images of any format and topics.
So fashionable today, "skinali" - it's actually the name of the technology applied to the glass printing. On a kitchen apron of glass with photo printing volume drawings in 3D format can be applied.
Materials for aprons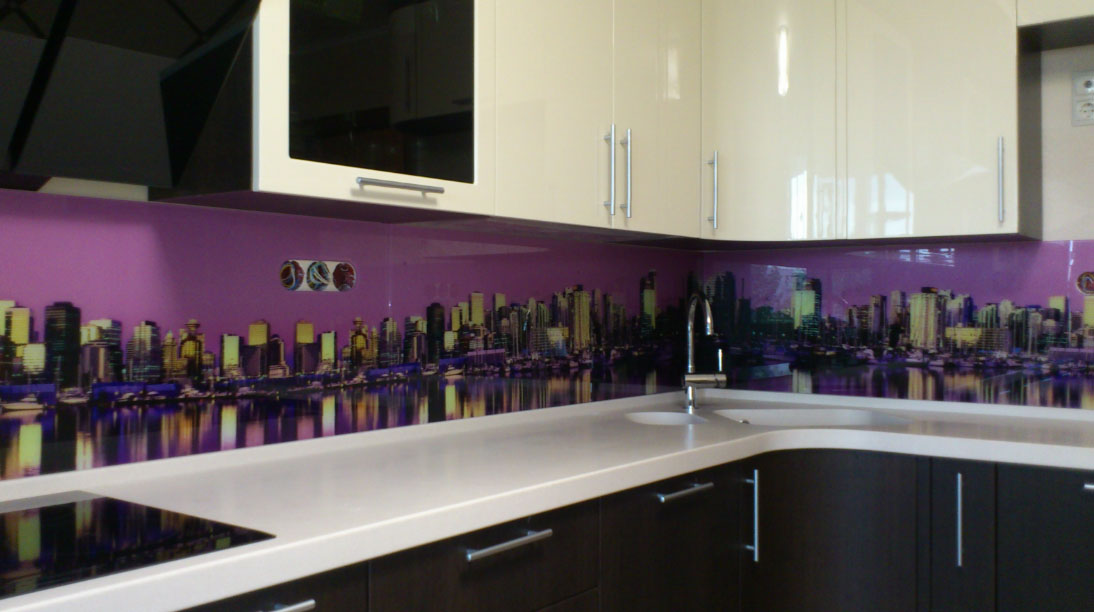 Apron for producing glass material can be used different quality and transparency level.
Triplex - like product set as windshields on cars. Expensive and heavy material. Because of, he layered, full transparency it does not have. this glass with photo printing It can be set as an apron, if you make additional illumination along the edge of the tape with the help of svetoidnoy. The main advantage of laminated glass - its strength. Besides, ordering such flashing can specify in advance the background color or pattern and the desired film is placed between the layers of sheets at the manufacturing stage of this unique glass. Apron from triplex be preordered, not less than two weeks before the deadline.
Stalin - the tempered glass. The most used material, when you need an apron made of glass with photo printing in the kitchen. It has sufficient strength and heat resistance, so that it can be positioned throughout the kitchen area, including the district boards and ovens. And, its price will be much lower than similar products made of laminated glass. On sheets stalinite, the reverse side may be applied mosaic. Often, glued film simulating decorative kamen.V mainly stalinite is greenish, it can also do a matte, using the tape for illumination svetoidnoy.


stalinite strong, it even on the floor stele

Optivayt - a cleaned glass, manufactured by stalinite technology. Its main advantage - absolute transparency. Most often glass aprons in the kitchen with a photo print made from this material. It gives a feeling of complete perception of the image, and for three-dimensional image - a man does not see obstacles in the form of glass, and immersed in a sense of belonging with what he saw in the photo printing.
Stalinite may partially processed sandblast method, to transparent areas combined with matte. Some printing options that may well fit.
Cheap way of manufacturing glass apron - use as a base material Plexiglas. These products are much cheaper, but have sufficient transparency, to be used for placing pictures. The best option in this case - for printing on film stekle.Takoy version has plus. its production time will not take more than two days of masters. Besides, for a person who owns a tool, It is not difficult to make the structure of the material.
We have a serious negative plexiglass. Apron of it is short-lived. It remains easy to scratch, and the surface becomes cloudy over time. It can not be cleaned with abrasive agents and mixtures containing corrosive elements.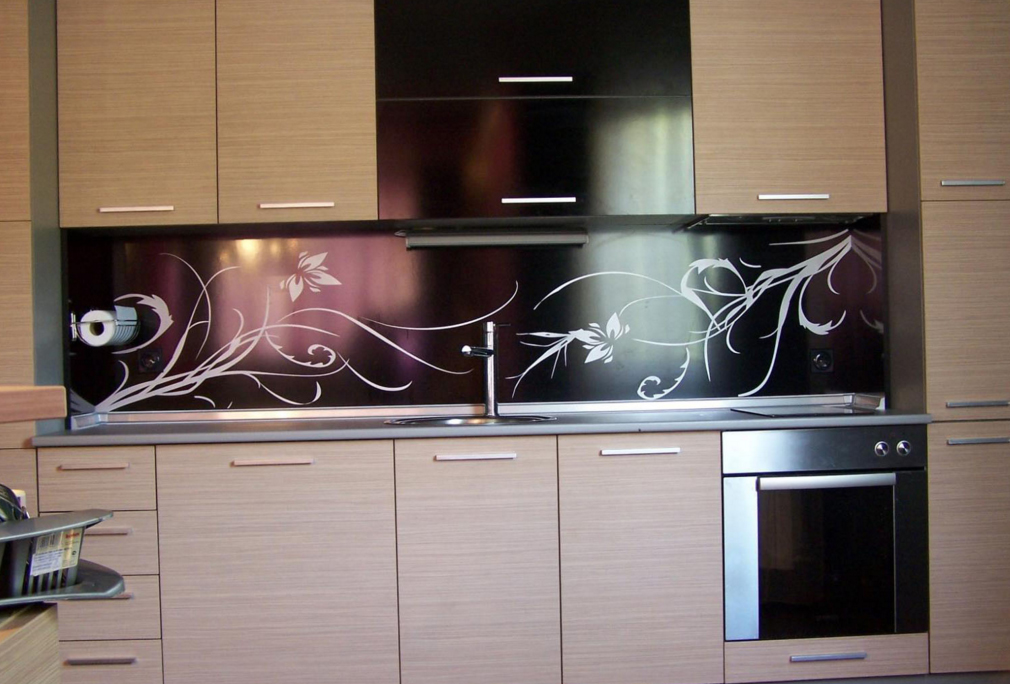 For the construction of the glass in addition to aprons, and other materials needed.
To secure the structure is required profile or area of ​​aluminum. It helps to fix the glass in a certain position.
In the lower part, from the countertop is best to put a standard kitchen plinth. It solves two problems - secures the lower part of the structure and does not allow moisture and dirt to penetrate under the apron.
Svetoidnaya tape, installed on the upper or lower edge of the lighting plays a role, and improves perception pattern.
Film with photo printing is required in the case, If the glass can not be applied using printing technology "skinali".
Of course, require fasteners, depending on the pre-made fixing points.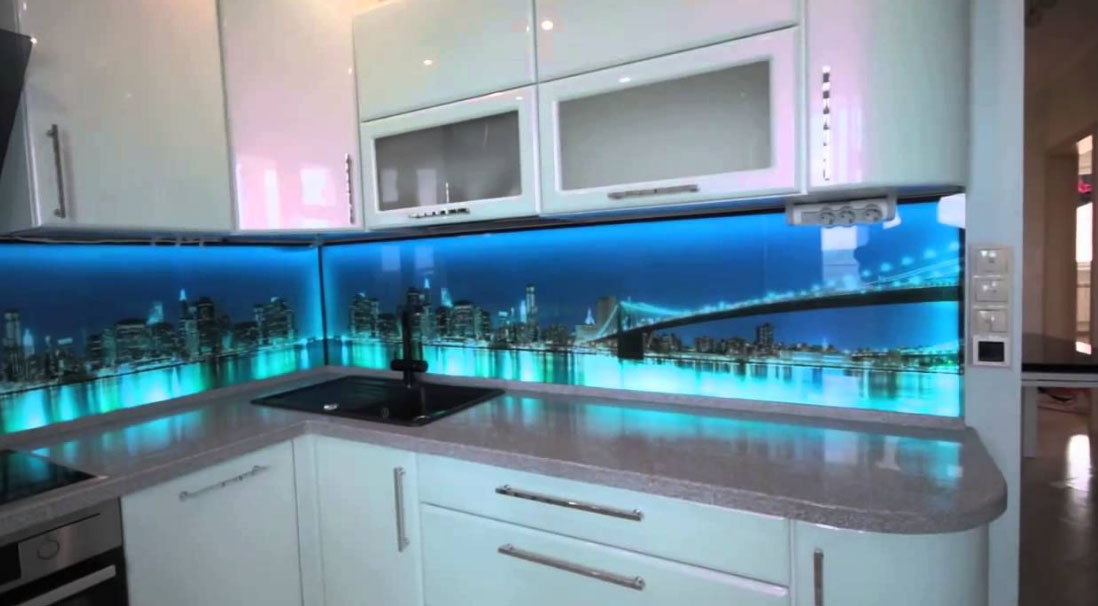 Person, who orders a glass apron with photo printing, It must be borne in mind, that the maximum glass length dimension is no longer 2,5 m. Wherein, optimal window size is considered the length 0,5 — 1,0 meter. This is due to better conditions for the construction of installation.
Besides, should be considered, that the attachment points are drilled in advance master, when preparing to install window. Also, pre-cutting out holes for outlets and switches.
What can we say "yes" glass
Based on user feedback, they are placed on the Internet, about the advantages of glass apron with photo printing, there are several, most notable, currently.
unique photos, placed on glass apron, create a personalized kitchen, often emphasize her style.
placing on kitchen glass with photo printing, especially in 3D, a person seeking to establish an enlarged space. The most significant for small kitchens.
The image on the glass, applied to the technique of "skinali", does not fade, It does not lose clarity, and it is impossible to tear or scratch. It is not washed off.
The virtual absence of seams creates a sense of integrity of the entire kitchen. Wherein, for such walls are easy to care.
Fastening glass apron is arranged such, that it is easy to disassemble and replace the boring drawing on more recent and interesting printing.
And there are spots in the sun
Deficiencies in this product very little. One of them - the formation grease, which collect the dust. This eliminates regular cleaning of premises. Another feature - not be used when washing the walls of abrasive products. If you overdo it with the efforts, you can scratch the glass surface is heavily. Also, It recommended to wipe dust from the front of the cleaning cloth dry glass.