The wash plastic kitchen without divorce
How to start a clean kitchen? With neat households, piles of heaped up detergent or, can, Work-pыlesosa? The truth was far more prosaic: pledge of perfect purity in the kitchen - the owner, armed to the teeth with the theory about the care of kitchen furniture.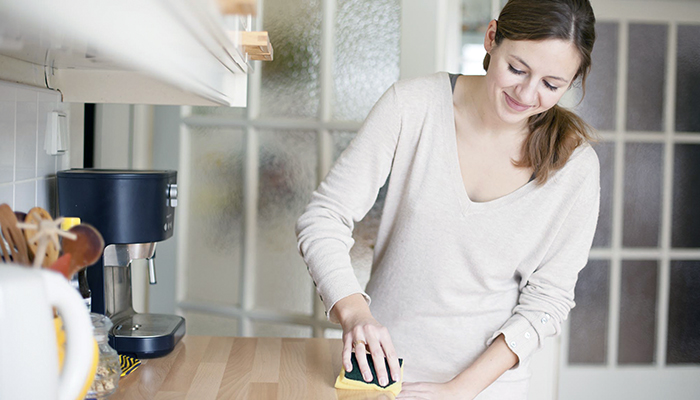 Most important of all - the weather in the house
By "Additions" in the form of kitchen units are prepared in advance, first of all providing a comfortable climate Furniture. A model for the kitchen room - warm (+16-22 ?C) and dry, with a relative humidity 65-70%. The extremes of both indicators, and especially their sharp differences can seriously spoil the appearance and functionality of kitchen furniture.
Least, regularly ventilate the room, Ideally - use stabilizers humidity. Carefully consider the location of objects: furniture should not stand close to radiators or, conversely, damp walls. For example, the minimum distance between the plate and kitchen cupboard - 3 cm.
your beautiful-kitchen delivered zero temperatures? Home urgently dispose of condensate indoor and outdoor furniture with a soft cloth.
Set of solid wood - another story. He does not tolerate long-term light, heat and cold, excessive dryness or humidity. And more than any other material sensitive to direct sunlight. Do not install this furniture on floor heating.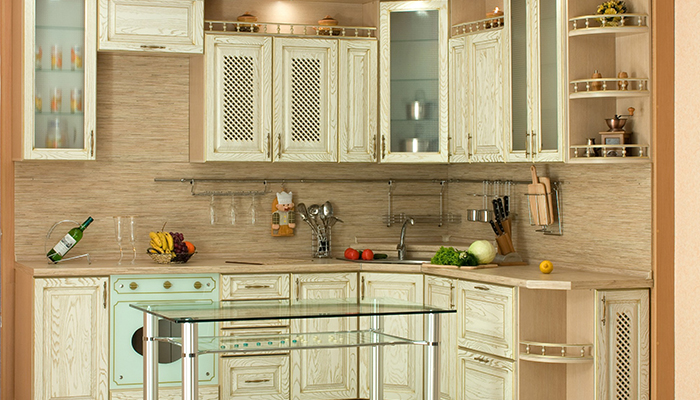 This care will assess any kitchen:
Wipe the surface with a slightly damp cloth; perfectly suited flannel, cloth and plush cloth. Remember the main thing: all kitchen parts must be wiped dry, and from spills of solvents - even immediately. Their, contrary to popular belief, It can not be used even for oily stains: Only mild soap.
Do not experiment: clean the kitchen with special means, Forget abrasives and corrosive liquids. Keep, to sponges and gloves for cleaning was not impregnation. Try to immediately remove fresh stains.
Avoid contact with hot kitchens utensils, ferry, powerful lamps. As quickly as possible to close up cracks and scratches on the surface. Periodically indulge facades of kitchen furniture wax professional solutions, each time will easier to clean up the kitchen.
"Inner" kitchen drawers and refrigerators clean neutral detergent; paying special attention to hard to reach corners. In the locker settled unpleasant smell? Wipe it with a weak solution of vinegar and potassium permanganate, leave open at night.
Plums can be processed by means of usual nearest supermarket, excluding abrasive. In complex cases take powder for dishwashers, and lime scale from hard water can quickly wash with vinegar or a special solution.
Prolong youthfulness of your kitchen: Lubricate and tighten the loop and the rail, front hardware clean with soap and dry well. Keep food in sealed jars acid - they are bad for the pens and similar items.
maybe, kitchen cabinet doors do not close or partially close to the body "due to" uneven walls and floor. It eliminates the controlled loops or sandpaper.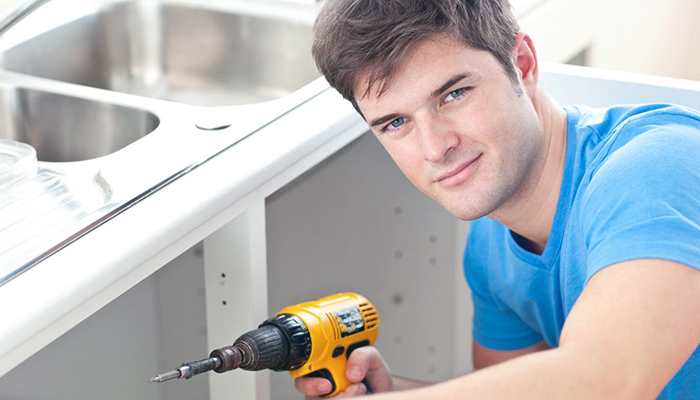 Kitchen various important
"What Russian well, then ... "- as well as self-catering. By the cleaning each of them need a special approach. It is not difficult: suite you use more than one year, Know well the theory and hone skills!
From solid wood
Wipe clean with a wooden kitchen furniture with a soft cloth; facades - in the direction of drawing. Dry cleaning can be done with a vacuum cleaner with a soft brush. Moist - not contraindicated, but it involves barely damp cloth and wipe dry.
Countertops made of an array then polish warm edible oil, leaving it dry even for a day: before the first use,, after diligent cleaning or long periods of inactivity.
In no case do not touch the wood scrapers and prickly lips. Like furniture polish - their loves your kitchen. Only use kitchen polishes.
Set MDF
Fashionable material today - a derivative of the increased resistance to moisture and density of the wood. Such headsets easily transfer any cleaners for the kitchen, excluding chlorine. The only thing - a glossy kitchen facade, as well as any lacquered, not like brushes and abrasives. Take advantage, for example, means for washing dishes and polish.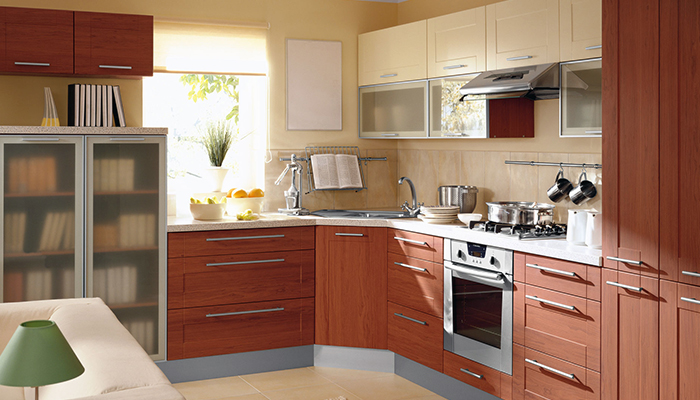 laminated
Laminate is resistant to moisture: it can be cleaned with a damp cloth or sponge. However, do not allow water accumulation on the table - the material can swell. Complicated or oil pollution clean with ammonia means. Periodically treat the laminate set special brushes and polishes for plastics. Never clean laminate aggressive sponges, abrasive and acidic means. Do not put on such countertop bowl over + 100 C?; not butchered products without board.
metal
Metal kitchen units, including lacquered, not survive the corrosive and scratching means, including - sponges with a metal or coated particleboard. Clear spots can be a simple scheme:
water plus liquid cleanser;
rinsing warm water;
wipe dry;
preferably - processing means for steel (it creates a water-repellent layer).
In difficult cases, use a special agent from the manufacturer or a hot white vinegar.
Granite or marble
Pretty dangerous materials for the kitchen - "living" stones. Granite and marble, as well as composite (marble chips) perfectly absorb liquid, and one day may absorb something indelible. Therefore, immediately wipe the stain, avoid contact with the stone acid (Do not forget about the fruits and tomatoes), Do not place hot pans.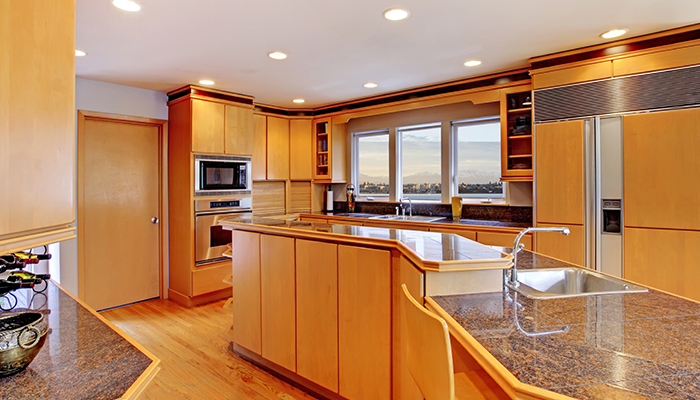 Marble properly clean with warm soapy water, granite - liquid detergent for dishes and alcohol. Soak the stain remover remains of a couple of months evaporate itself. Sometimes put on furniture water repellents, then, as well as after any cleaning, Wipe dry schepetylno. Degrease the surface may be diluted with denatured alcohol.
Glass or ceramics
porcelain, fayansovыe, Glass kitchen - fragile ballerina in the world cuisines. Protect the headset from shocks, falls and "fidgeting" weighty subjects. This furniture can be washed with denatured alcohol or a weak tool for windows. Only the soft tissues.
Her Majesty plastic kitchen
Stylish and picky, plastic in a number of kitchen furniture is a leader. Contain plastic dishes - is simple enough. If you're not a supporter of popular recipes, buy spetsrastvor, only watch, that it does not contain chlorine, wax, abrasive particles, solvents and acids. Proven tools for plastics is in the lineup, "Mr. Proper", "Bref", "Comet", "Edelweiss". They can be washed plastic kitchen, that there were no traces. To wash plastic arm or melamine foam sponge, soft cloth or brush. For glossy plastic - rubber cloth.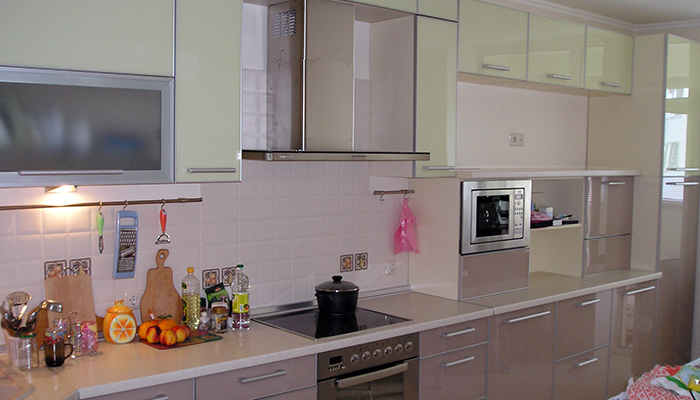 In general, for the care of such a kitchen tool better, "Mom's" you can imagine: water with soap flakes.
Chosen cleanser for kitchen? Start with plastic windows, complete countertop:
Remove the caps from all panels; a damp cloth to remove dust from surfaces.
Apply and uniformly distributed layer of detergent, Leave to act.
Wash kitchen should brush or sponge, lightly pressing.
Immediately after the rinse furniture from residuals, soft spatula walk along the joints between the panels.
At the end need a damp cloth to wash a plastic kitchen, that gleamed, then wiped dry.
Regularly use polishes for plastics: Other triggers accumulation of dust. If you want to permanently keep from spoiling any of kitchen furniture, remember important: Avoid abrasive in cleaning and specialized funds. Kitchen set - the merit of the home owner, Cleanliness Kitchen - face hostess. A proper care of the kitchen - a pledge of purity and youth of your kitchen. Now you know,you wash a plastic kitchen.