Time passes, but fashion does not change: kitchen in classical style
Most people have an idea, that the kitchen is a comfortable and cozy. It is in this room, the whole family, hostess serves the best. Therefore, there are many requirements to be placed. It creates a favorable atmosphere style kitchen. In this case can be expressed in full, but there are strict canons. Each item has its own role: it is able to emphasize the taste of home owners, but may not be a winning. Choose the style is not hard for their homes, you can focus on personal preferences, because fashion trends are, and in the house you are on a daily basis.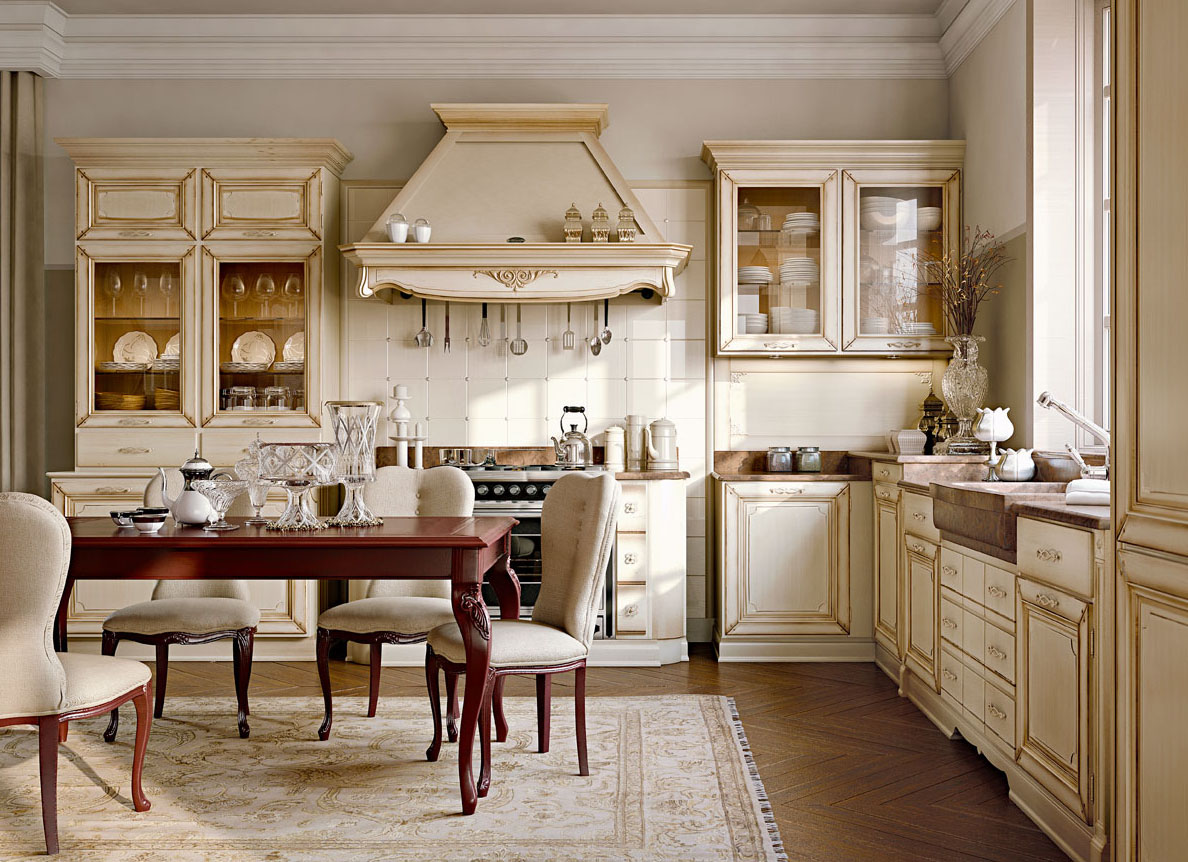 Classic in style the interior is considered to be eternal, because only motives change, but the main features remain. This design brings a sense of comfort and family. It is considered a win-win solution for the kitchen, Classic not will never irrelevant. Its target audience - almost every. Fans of natural materials and standard forms, or luxury fans appreciate the advantages of the classics in the interior. Designers actively draw ideas from previous eras, yet their designs are called neoclassical.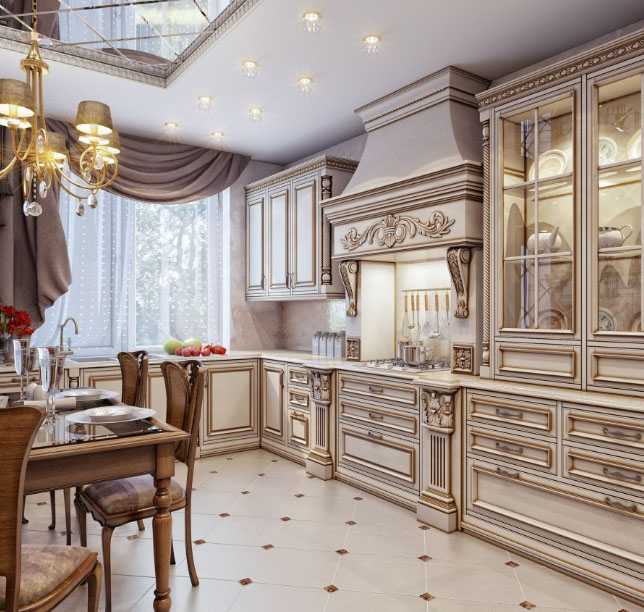 modern classic cuisine It breaks the standard views, It is a combination of current opportunities with the art of past generations. Classic cuisine in a modern interior and reasonable budget option. If not enough money for expensive materials and parts, then there are analogues and alternatives.
The classic design of kitchen space: fundamental rules
A modern classic in the interior hosts a lot of talk about the home. In housing, where the interior in classic style, people live, prefer the comfort and stability. They appreciate the examples of the art of past epochs and are able to present fashionable in modern variations and combined with modern appliances.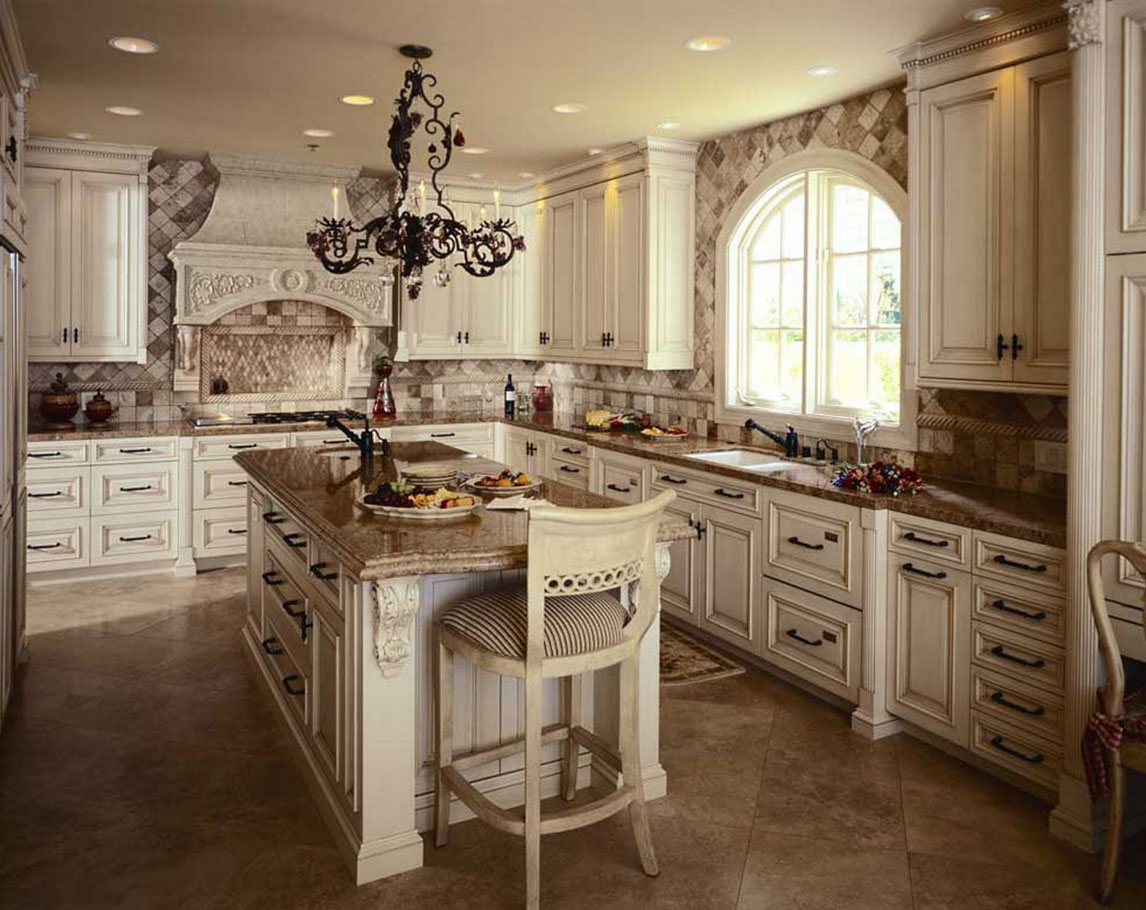 Direction in the interiors is common, but every single incarnation is expressed in the individual items. If you decide to equip their kitchen space in a similar direction, the prior planning read the basic features, which has the classic interior:
Design presented style requires a large or middle area with a high ceiling;
in a small room a classic look is not quite impressive and makes it more visually Miniature. If you are tuned to a style, then forget about dark colors and focuses on minimalism in the details;
suitable choice for kitchen-studio or from the joint canteen;
a real "classic" - it is the exclusive use of luxurious natural materials, compulsory luxury furniture, Classics also requires expensive refined accessories. With a limited budget, choose high-quality imitation, restored vintage set;
do not do vulgar luxury and do not turn the room into a museum. The essence of design in elegance and restraint. It embodies comfort, respectability and sophistication;
Sets Covering choose natural shades (olive, brown, white, beige, chocolate, shortcake, dark green, blue, gray);
using forged items, with bronze, gilded;
order plinth, imitiruûŝie stucco
discard the "acid" shades, non-natural materials, abstract painting;
use reproductions of famous paintings or sculptures, or make his own decor this style of art.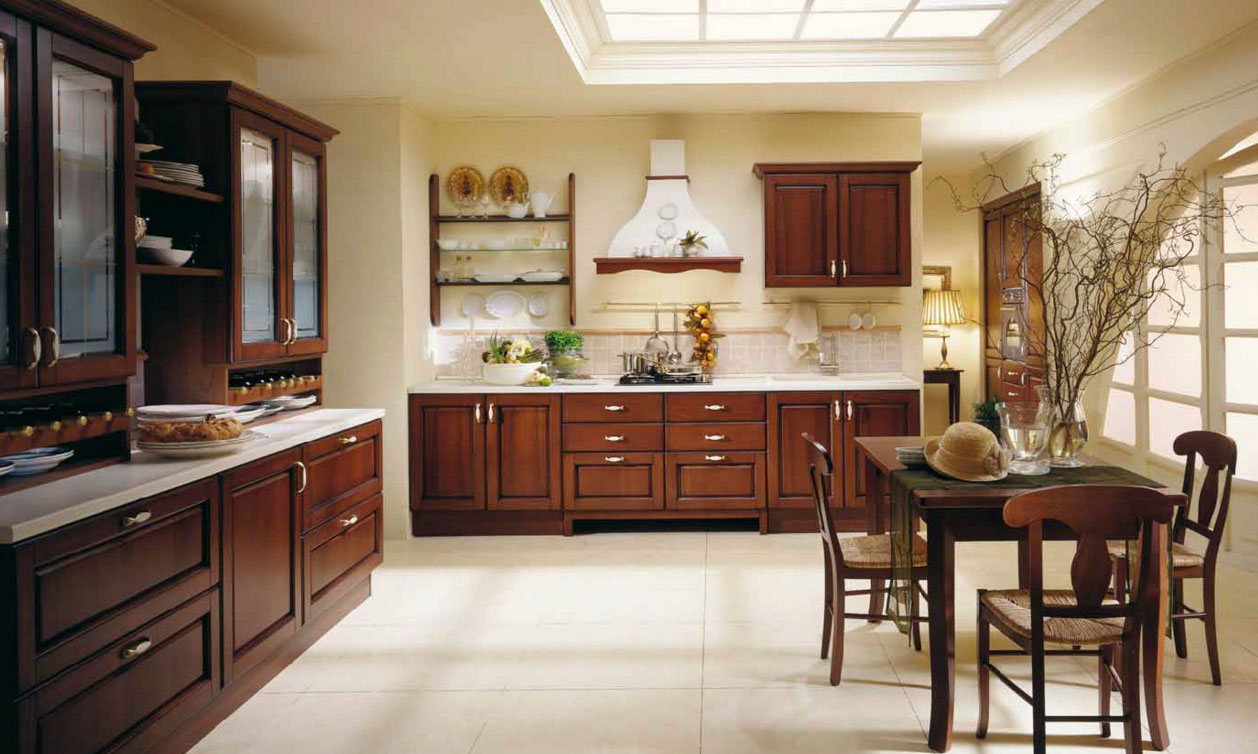 simple rules, but mandatory. kitchen interior in classic style requires the observance of these basic canons. In this article we will share important tricks, that you have designed a worthy design.
Interior
Transgress to the design project after, How to determine with the stylistic direction of the kitchen. Classics in the interior does not allow to miss, even in little things, but the main thing - initially properly plan the space and divide it into zones. Kitchen in classical style harmoniously and seamlessly fit into the dimensional space, at the same time it revealed all its majesty.
So, both in the average apartments have a tiny kitchen, classic for a small kitchen is also a viable option. Design secrets enable "write" the classics and a small room. In such cases, it helps a strict vertical geometry, keeping it, not "consumed" by squaring the room and the space involved right up to the ceiling.
Even stable classics evolved, therefore, there are two main directions:
Actually classic decor with a minimal amount of parts, strict and clear, symmetric arrangement sets.
Presentable version with attracting luxury.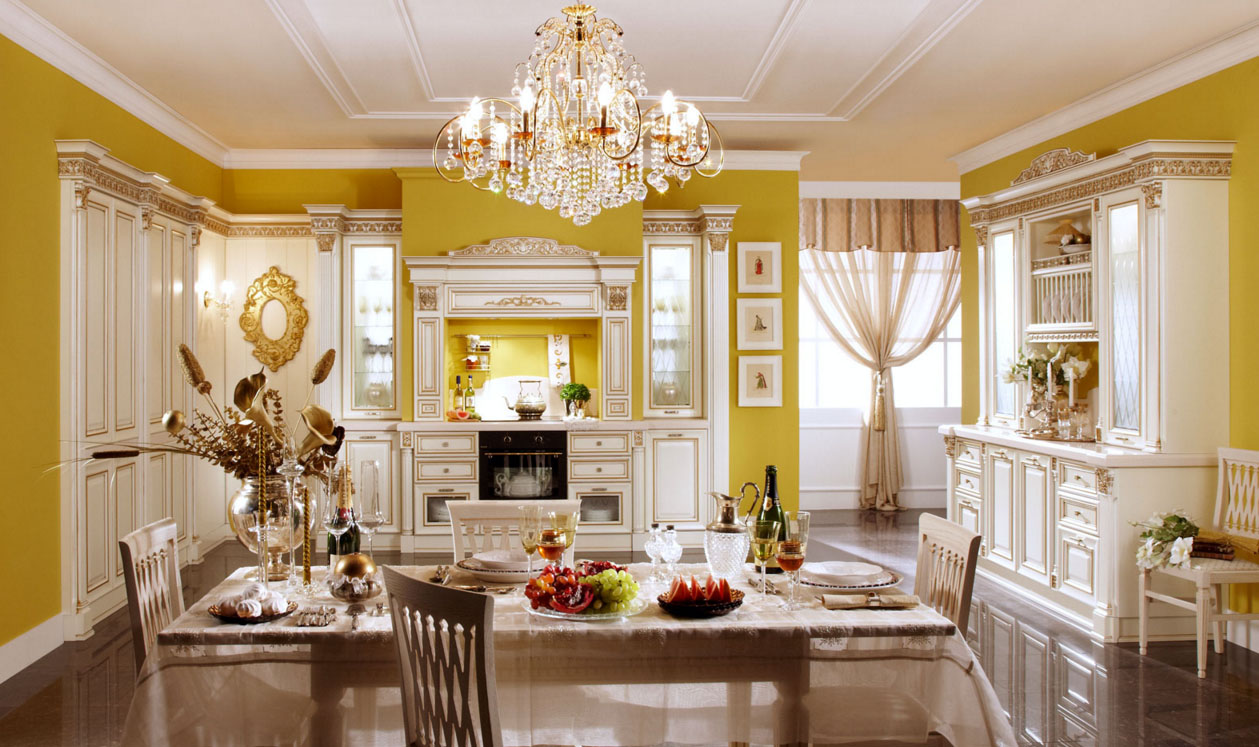 For oversized kitchens choose first direction. Cuisine in a classic style in light colors will help you. This is acceptable, and expand the space. kitchen interior in classic style does not require sophisticated facilities, therefore allowed to set as "a ruler".
Walls, floor and ceiling
During the finishing works will not miss a single detail. In classic style requires compliance with the overall style, even in the initial stage. for example, You change the window. Plastic - the preferred embodiment because of the many advantages, wooden frames almost no one puts. In this case, make these items with imitation wood, because the standard white does not fit into the overall concept.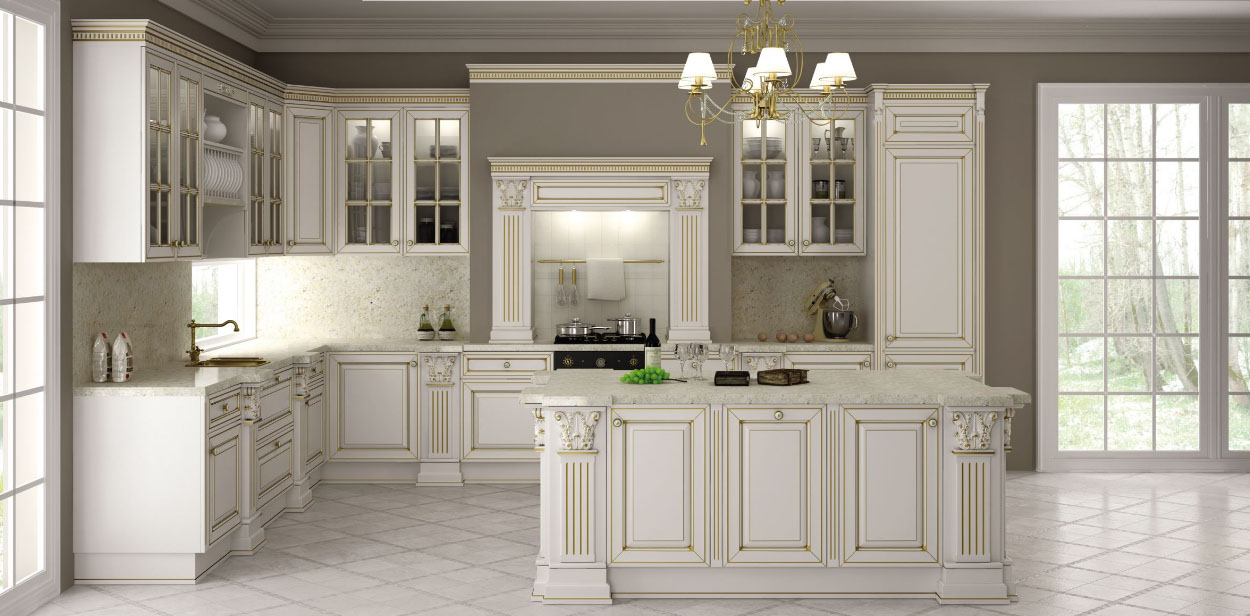 During finishing all interiors (classic, country or high-tech) already obliged to stick stylization. Keep this in mind when selecting materials. Fit in a kitchen wallpaper. With a choice of problems will not, because modern variation and abundance of materials allow them to pick up for each repair.
Ceilings in a classic style - an integral part of the classics in the interior. They are divided into the room area, make it sevenfold. Does not necessarily make a coating with mosaic. Ceilings stucco looks harmonious and luxurious. He gives the interior a special charm and nobility, that requires interior design. Ideally it welcomes, because the ceiling does not attract attention to themselves and do not overload the space, but only supports the idea.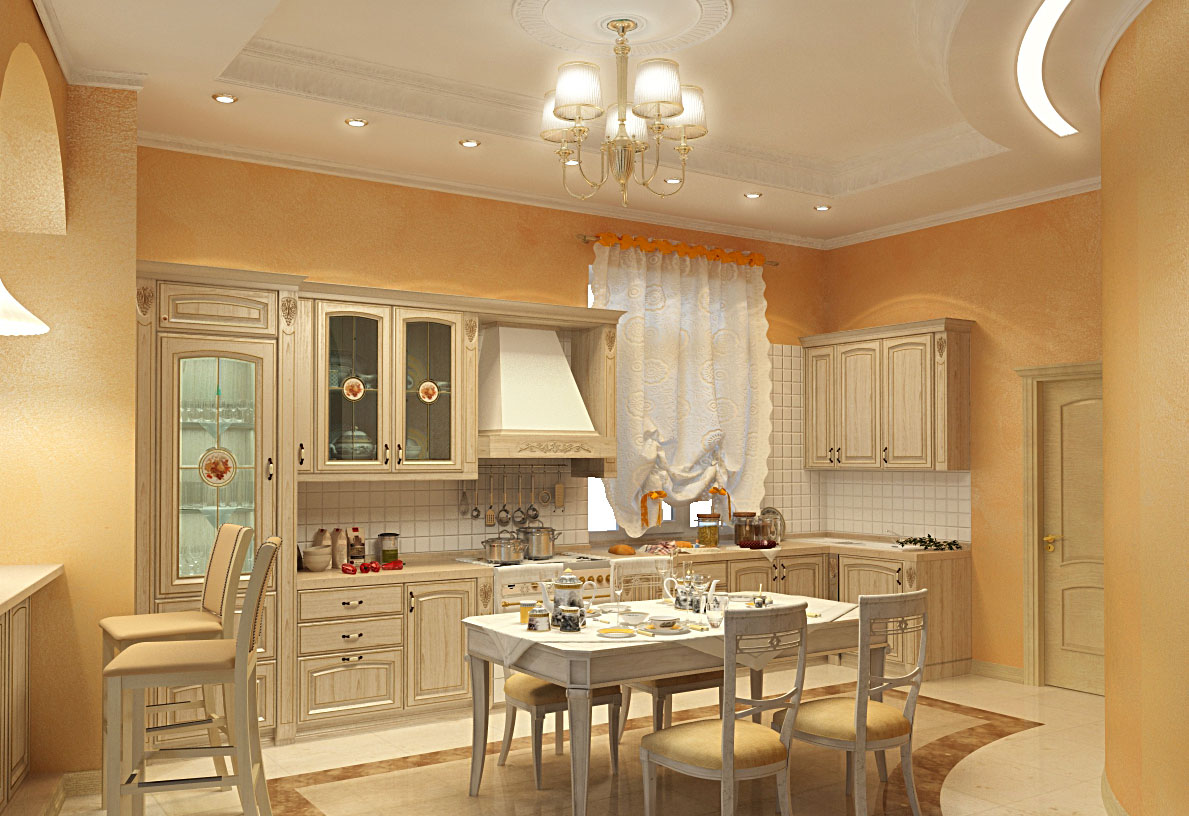 Classic kitchen interior includes marble or wooden floor. If there is no money to replace the old parquet, the use carpeted.
Furniture
style kitchen is conveniently easy to settling. Contemporary furniture stores offer a whole departments with the appropriate objects. If you have found vintage antique headset, then after a minor restoration and they will accent the kitchen. Masters remount furniture for modern demands: add niche for household appliances, make automatic door, and make a comfortable sofa.
Classic style furniture made from oak, beech, birch, acacia. Often such items heavy, and the cost can not afford. If you do not buy organic headset, that is a sufficient choice of subjects with simulated wood. Set made of chipboard, and the top cover or natural veneer, a paste film. The last way to immediately exclude, because it will give the interior cheapness.
Choose stone countertop, If the budget is unlimited, it is suitable marble or granite. But take care of them more difficult, Therefore I prefer piece materials. They are resistant to many factors. Style and comfort in the interior does not exclude the use of porcelain.
Remember the rule, when selected kitchen furniture, classic does not welcome an abundance of materials and textures. Do not use wood exclusively, metal or stones. These materials are selected wisely, so that they harmonize with each other in color.
Kitchen design in classic style allows wicker furniture made of rattan or willow, and forged segments. But their presence has to be justified in the general design concept.
Color and light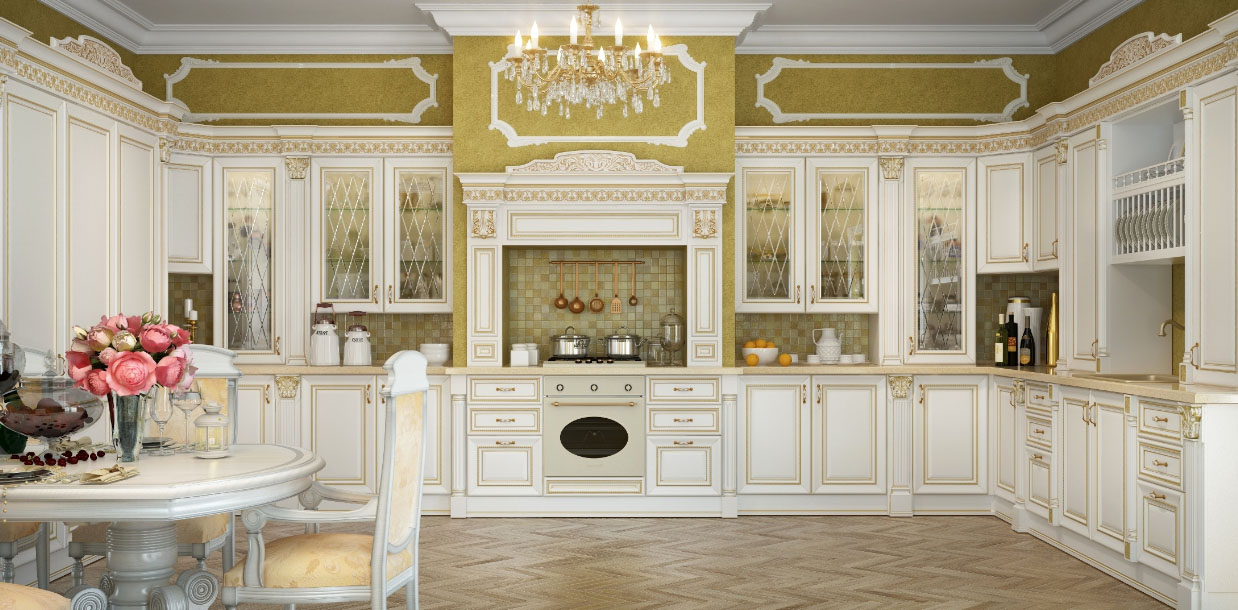 Classic dishes require bright light. Chandeliers for the kitchen in classical style look grandiosely. For the average room is unacceptable. There is a bunch of outputs. Stores offer is right for your case subject.
Chandeliers in the classical setting make the final bar. Place the device on the center of the room. Chandeliers in the classic style made of glass or cloth, Details necessarily metal. Welcome lamps and wall sconces.
Modern versions of the classics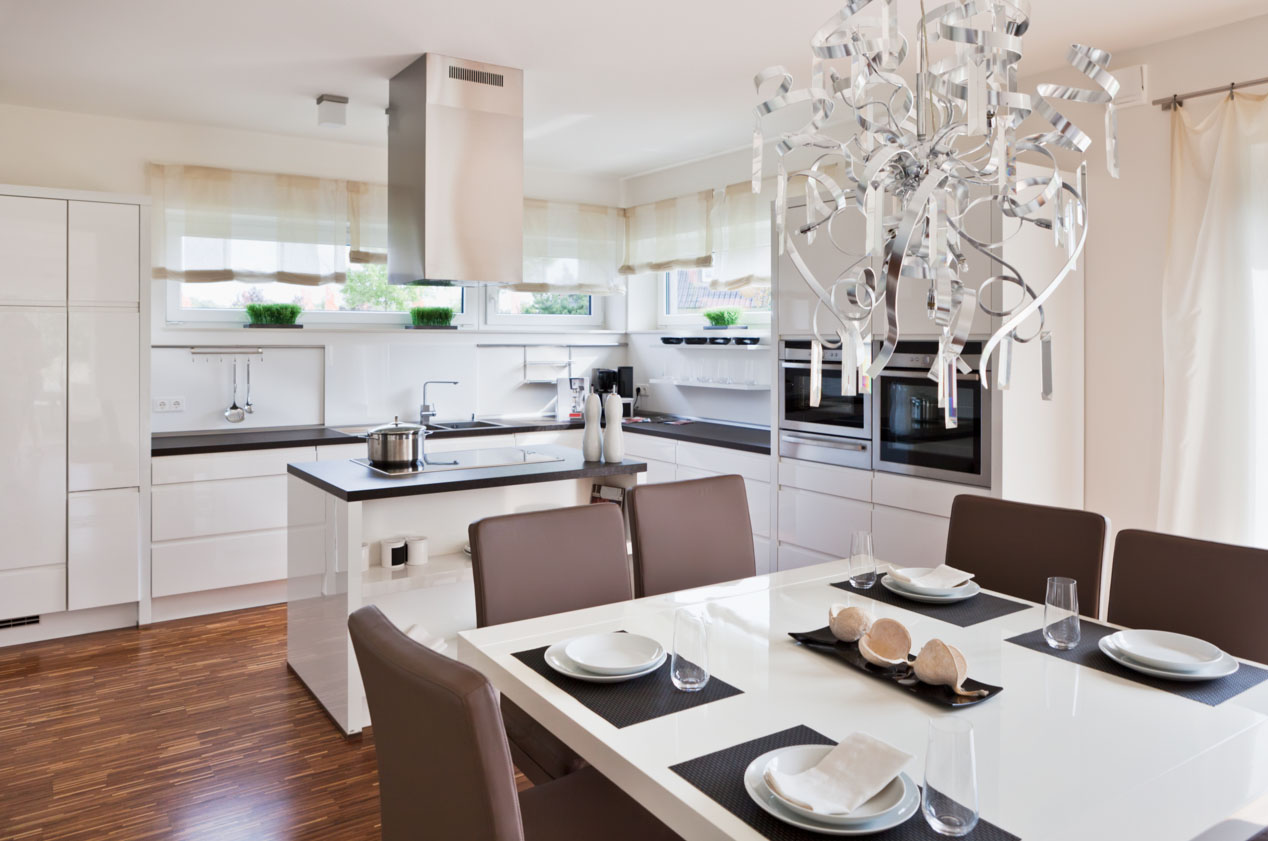 A modern classic - a fashion trend in interiors. This term has appeared recently, These indicate the current style interiors, when some details give a hint of stylization, It combines modern technology and materials (but close to natural in appearance!), but it is supported by the main classical canons.
Style and comfort - the use of technology. It is hard to imagine life without utensils, so it is built into the cabinets. Select dome hood, but you can disguise in cabinet. This trick does not clutter the room. Classic kitchen interior, modern ideas and your imagination will allow to perfectly materialize in the kitchen.
important details
Accessories play a huge role, because they create a general atmosphere. Pens, loop, and other details must be brass or bronze.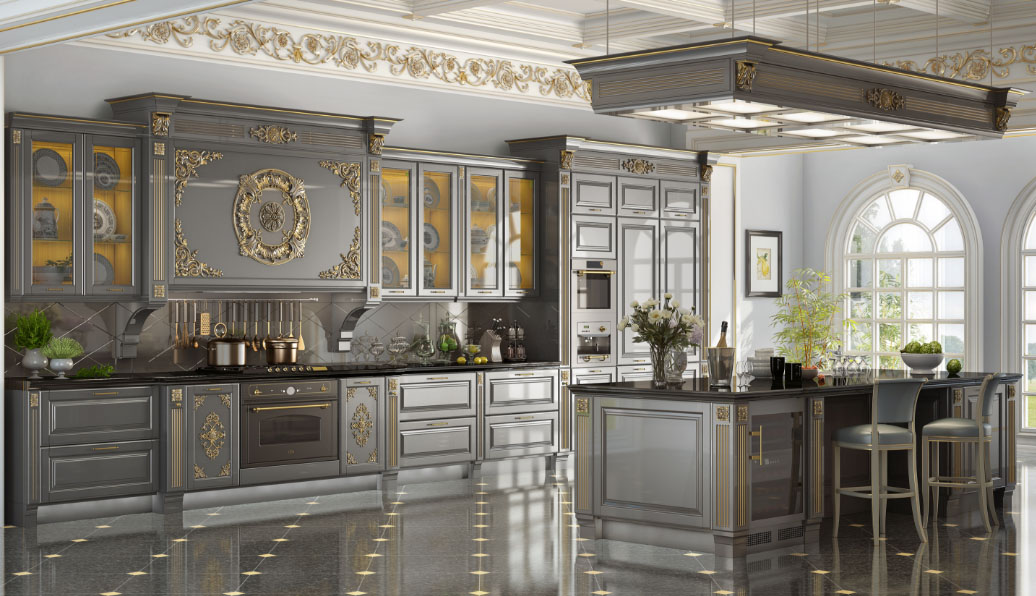 Stained glass facades add charm. Though they are contraindicated in small spaces, but several of these accents will benefit.
Use stained glass inserts in the lights, that they were combined with other objects, and the composition was completed.
Beautiful classic kitchen curtains are decorated with refined and elegant multi-layered curtains. They complete the interior of the kitchen. Classic provides robes and on chairs, but with the final touches do not overdo it.
Classic style in the interior of dictating their own kitchen trends. Assemble interior provides difficulties. The main caveat - do not overdo it with the details, use a valid combination. Then the interior in classical style will be dignified home.