color kitchens: recommendations for selection
Kitchen - the most important part of modern home, then they gather in the close family circle, sitting over a cup of tea with close friends, discuss the existing problems and make decisions. It is a place of bold experiments, where trial and error are born culinary delights, giving the owner the opportunity to feel like a professional chef and a little witch. It is therefore important, that here was comfortable, relaxing ambiance, winches atmosphere, in which I would like to do. After all, there are cases, when fashion furnished by the latest trends premises weighs, does not give the desired calm and confidence.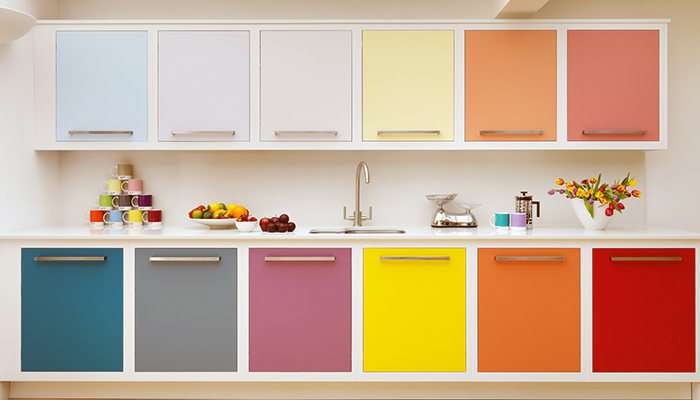 According to psychologists, it is wrong Selection of colors processing facilities often causes discomfort, It affects the overall health, mood, as applied to the kitchens, and appetite.
The choice of colors for the kitchen
How not to get lost in the huge number of color variations, selecting the current and stylish design? What are the new trends, Trendy colors for food 2019 year we will? What color, which means?
This is not an exhaustive list of issues, flashing in the minds of people, decided to surround their life, after correctly matched the color scheme It helps hide flaws, will put the necessary emphasis, emphasizing the dignity of premises, give the interior originality and freshness. When choosing colors for the kitchen, Consider the separation of colors on:
warm (various shades of yellow and red);
cold (a variety of variations on the theme of blue and green tones).
The first is better to use for kitchens, located on the north and west side, so you give the premises a feeling of light and comfort. Southern and Eastern cuisine, which is usually quite hot, cold tones give a saving freshness.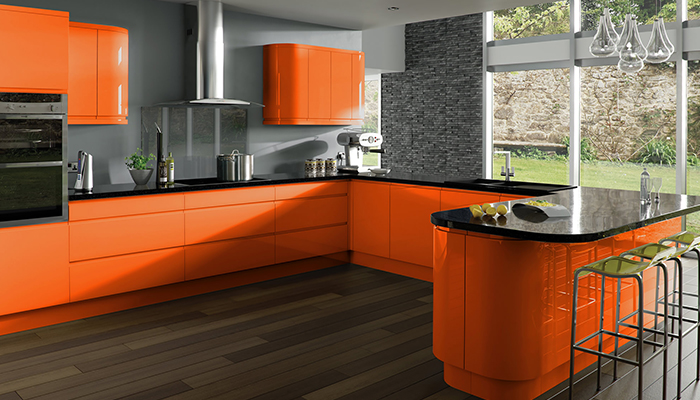 The onset of the New Year has not brought in the modern kitchen any new colors, but he pulled out of the shadow of some very interesting colors, previously disadvantaged designers attention. so, fashionable colors cuisine 2019 - this:
Black - classic and style is always in fashion;
All sorts of variations on the theme of gray - the trend of the season - versatility, suitable for both studios, and for dining and living rooms;
Turquoise - a fresh note;
Color lilies - always appropriate tenderness;
Red - the memory of the warm autumn;
flower marsala - entering into vogue 2018, stay with us, seem to be, that for a long time;
Eggplant - for lovers of saturation.
How view, in general desire for simplicity is observed, natural colors and neutral colors. but, remember, that we should not blindly follow the fickle fashion, furnished our kitchen, Your choice should be based primarily on their own idea of ​​beauty and style. After all, the end result is to please your family for years to come.
Council: avoid hateful monotony and excessive variegation help competent selection of colors, The use of simple rules of their combination.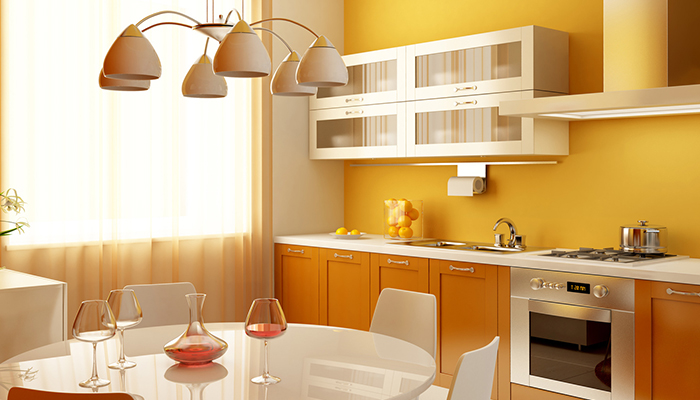 General rules for color matching
Colorful and moderately bright room awaken the appetite and create a positive attitude. It is important not to overdo it with saturation, spoil even the most successful design solution;
the, who have children, better to give preference to low-key, pastel tone. Little fidget hard to get to sit quietly on the spot while eating, if it will be surrounded by vivid colors. At the same time bright kitchen colors options energize elderly households, making them, healthy and fun;
Cold and bright colors will help visually expand the space, and the dark and give it a warm feeling of comfort;
Avoid monochrome, except for a light gray and beige, she quickly bored, irritated;
Use colors rationally, Set your juicy accents, combining primary color and one background. It looks great red-black or gray-pink combination. White, black and various shades of gray in the main panel - the most fashionable color of the kitchen 2019, According to the designers, even a neutral beige this year is not so urgent.
Play on contrasts, but do not go beyond the limits of reasonable;
If your kitchen is made in several colors, upper cabinets make a lighter lower.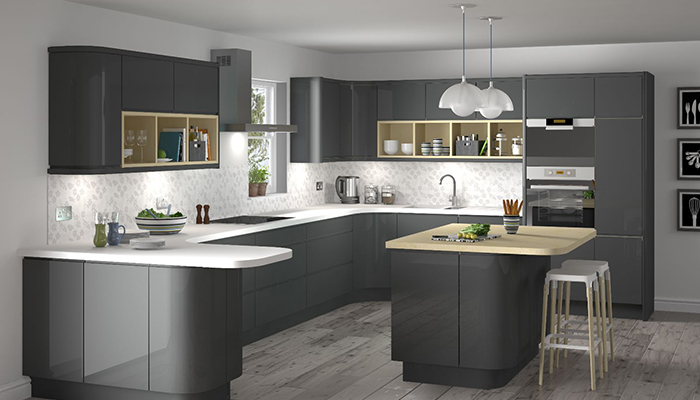 Variants color combinations:
Solid color kitchens provide a relaxing atmosphere. The walls are made of different shades of color, to give a natural room furniture is chosen for a couple of shades darker walls and lighter floor. Bright wall panels or bowl of fruit will help arrange the necessary accents and breathe life into plain cuisine.
Contrast - give a sense of celebration, improve the overall tone and lift the mood. In this embodiment, it is important to achieve a balance of colors.
Mixed - shades of the main color in the interior combined with bright, contrasting details.
What do the colors
each color, of the whole rich palette affects us. it is, naturally, not the global impact, we are talking only about the appetite, mood and some other feelings. What color, which means:
Red - increases appetite and pressure. In terms of Feng Shui color value red - fire, clearance in a range of colors suitable confident, impulsive and impetuous people.
Pink - Allows you to cheer up, get energy, reduce anxiety. With the help of its shades are light interiors with a touch of romantic.
Orange - creates an atmosphere, suitable for casual conversation, It stimulates appetite and energy fuels. suitable for people, leading active, busy life.
Zheltyesecond - provides a good mood, It gives room for creativity.
Green - gives harmony to the soul, prosperity and growth, symbolize unity with nature. The easiest to perceive color.
Blue - it allows you to relax, relax. Suitable for sitting on a strict diet, as it reduces appetite.
blueand - it is a symbol of peace of mind. Perfect for placement contrasting accents, color intellectuals and creative people.
Violet - embodies luxury, envelops the interior of a haze of mystery. Purple kitchen looks respectable and sensually.
Brown - represents the stability and reliability. Kitchen to radiate heat browns and feeling of calmness.
Regardless of the recommendations of the color choice only your prerogative. the main thing, to the selected colors in your kitchen there was peace and harmony. We hope you will choose the right color kitchens. Watch a video about the new trends in the design of kitchen design.