Practical advice on choosing sinks for the kitchen
Every woman would agree, that the sink - it is an important place in the kitchen. Near Shell spends a lot of time, even if the house has a dishwasher - you need to clean the fish, wash vegetables, brings order. If cleaning is picked up without proper attention, the hostess will continue to experience discomfort. We need to think through the design, material, configuration, depth, type of instalation.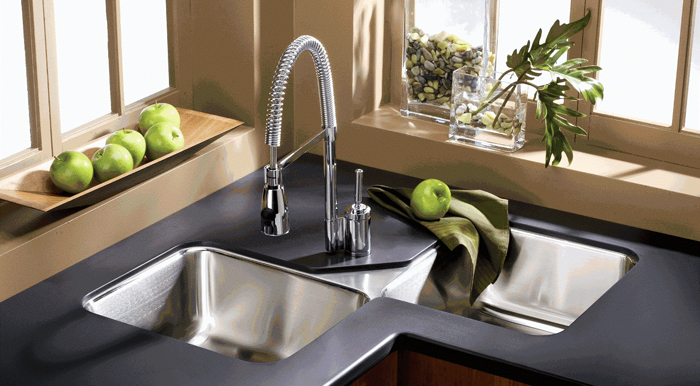 types of shells
Depending on the material, which was used for the production of kitchen sinks, you can divide them into types. Everyone has their own advantages and disadvantages, on the type strongly depends and seashell price. What requirements must meet sink?
The product should be strong, resistant to mechanical damage, temperature changes.
The shell should not react with the chemical substances and suffer from the effects of various aggressive detergents, alkalis and acids.
It should be easily cleaned of dirt and grease.
Consider the common variants of the materials and their properties. Kitchen sinks are made of:
metal;
stone;
pottery
cast iron;
composite.
The sink should be in harmony with the kitchen set and fit into the overall style of the interior. Kitchen in a modern style suitable shell made of stainless steel, composite material, granite. For classic style is characterized by pottery, porcelain, artificial, a natural stone, and for the village - metal, cast iron and ceramics. On sale is a product made of brass, copper, glass, wood. Such sinks are difficult to maintain and use, and perform more decorative function.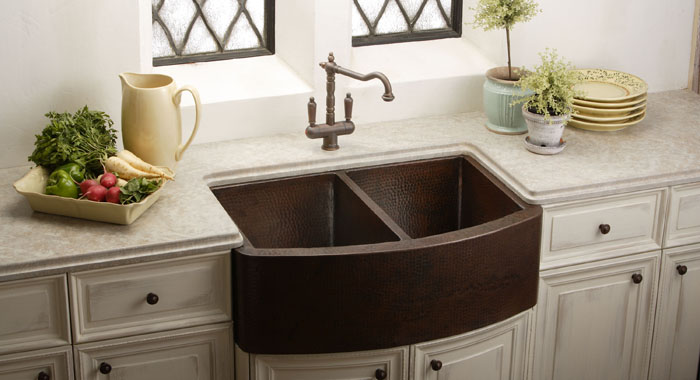 Metal
Prevailing in the market of stainless steel sinks. Manufacturers produce them in all configurations. For the manufacture of stainless steel alloy is used, chromium and nickel. This alloy is protected from corrosion and aggressive effects of household chemicals. It is important to choose a high-quality material. Cheap metal kitchen sink in a year will be covered with stains, spots, corrosion will.
But how to distinguish from stainless steel of low quality? "By eye" recognizes the high quality raw materials only specialist. Private buyer may try to attach to cleaning magnet. To the product from nickel and chromium, it does not adhere tightly, and glides. Another surefire way to - to check the documentation. High quality metal washer is made of steel 304 marked 18/10, i.e 18% chromium 10% nickel.
Metal sinks are manufactured with several types of surfaces: glossy, frosted and grooved. Corrugated stands out for its practicality - it is not visible scratches and drops of water.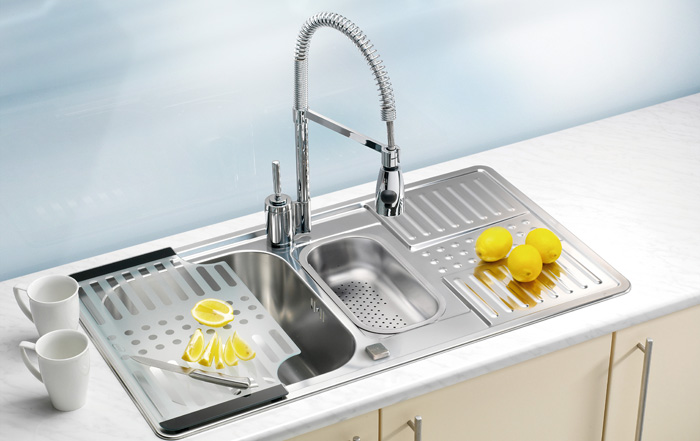 What advantages has a metal shell?
The practicality and ease of care. The sink is easy to clean.
wear resistance, strength.
The choice of models and configurations. You can pick up the product, Ideally suitable shape and depth.
Low price.
disadvantages sinks made of stainless steel:
Lack of soundproofing. The thinner the metal, the louder is the sound of falling water.
grounding, if the sink is in contact with electrical appliances.
On the stainless steel remain stains from hard water, so the shell often have to wipe dry.
Insecure attachment of the mixer. With frequent use mixer shaken, because thin steel deforms.
Buying shell of of stainless steel, give preference to options for soundproofing rubber pads.
Metal sinks can be enamelled. This is not the best choice for the modern kitchen, They have been formed on the enamel chips and scratches, which are difficult to remove. Besides enamel colored food dyes, loses its appearance.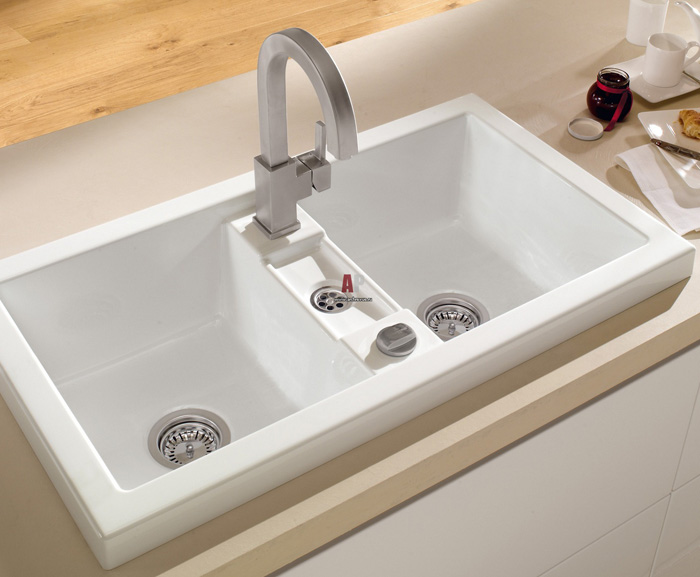 Composite
Composite - a mixture of stone powder, usually granite or quartz, and a binder (eg, acrylic resin). This material is referred to as an artificial stone. The shells of the composite material may have different shapes, texture and palette. They fit into any design.
The composite is resistant to mechanical damage as a, and chemical. It is completely safe for health, durable, It does not absorb any dye and permanently preserves pristine appearance.
Integrated sink made of artificial stone looks very organic in any interior.
Not to buy low-quality counterfeit, Inspect the back side of the composite sinks - in branded uniform material things, dense, without looseness.
Advantages of composite sinks:
The highest strength and durability, composite is only slightly inferior to natural stone.
easily restored, scratches zashlifovyvayut, small chips are stuck.
A variety of shapes and configurations.
Attractive appearance.
disadvantages:
Due to the large weight of the product installation is complicated. You need professional help and additional backup.
You can not put hot dishes.
You can split the, if you drop something very heavy.
Price at the above composite sinks, than the metal, but it can be called moderate.
A rock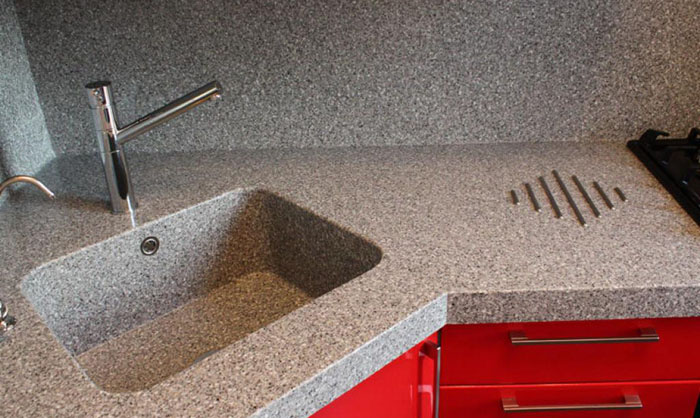 Stone washing are cut from a single piece or made of several plates. They are considered the most expensive, and at the same time, the most high-quality. Material can be granite, soapstone, marble, onyx, travertine. Such sinks are practical and durable, they are easy to wash. On the walls is not greasy coating after washing dishes, which is particularly appreciate the housewives.
dignity:
heat resistance, durability, shockproof.
Resistance to damage, strains, chemicals.
It does not absorb odors, not painted, loses visual appeal.
stone hygienic, it does not form a fat coating.
disadvantages:
The complexity of installation, the need for additional rack, Fasteners.
High price.
Ceramics
gentle, milky white ceramic sinks are suitable for the kitchen in country style, but also on the contemporary relevance. Faience or porcelain sink looks favorably, not afraid of household chemicals and easy to clean. ceramic sinks made of earthenware, porcelain, porcelain or majolica. Majolica - exclusive clay, its products are made to order. Porcelain tiles - durable material, rich color palette.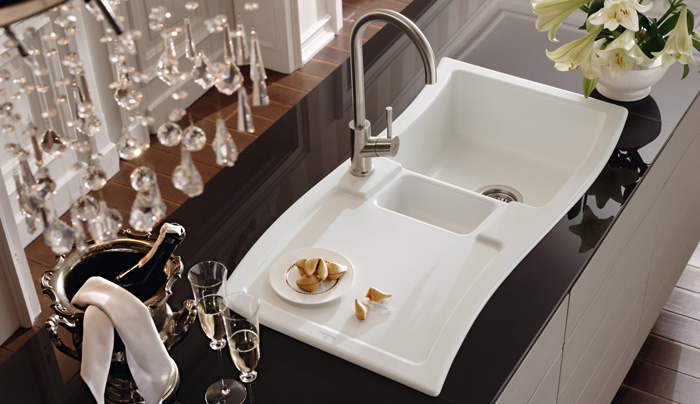 Aristocratic Porcelain is very tight. Decorated with paintings of the product it will look, as a work of art. Faience sink has the lowest price among ceramic. The porous material does not absorb moisture, it is covered with glaze. White painted or ceramic sink bill adorn any kitchen.
dignity:
Environmentally friendly, resistance to household chemicals.
Ceramics do not corrode, not deformed and does not scratch.
If you apply a decorative painting, it will not fade and will remain for a long time.
disadvantages:
complex assembly, great weight.
The design of the rigid, fragile, possible chips and cracks, that can not be restored.
High price.
Cast iron
Previously, each house was a cast-iron sink. Today cleaning of this material - a rarity. In the market you can find two options: a luxury cast iron sinks for the kitchen with a high price, or unpretentious cheap products for the garden. Costly washing are more durable coating.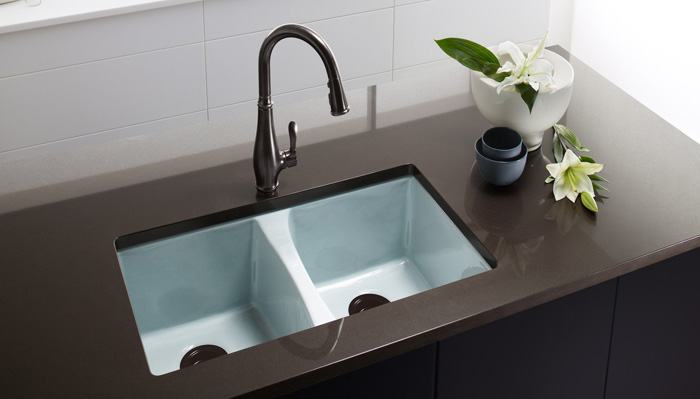 dignity:
The well-known strength.
A porcelain coating is easily washed.
Variety of colors.
disadvantages:
great weight, will require durable fasteners.
May eventually start to rust.
Do not clean with hard brushes, abrasive detergents.
If there are chips, it is impossible to eliminate them.
Configuration
To use the sink comfortably, you need to choose the right size and configuration. These parameters depend on the design of the room, preferences hostess and kitchen sizes. The shape of the shell are:
square.
rectangular.
round.
oval.
original (design).
According to the number of cups:
simple odnochashevye.
Dvuhchashevye. This is a double sink for dishes with identical cups, a complete set of one large cup, and supporting small - for washing vegetables, defrost, washing small tableware.
Trehchashevye have two large bowls full and a little extra.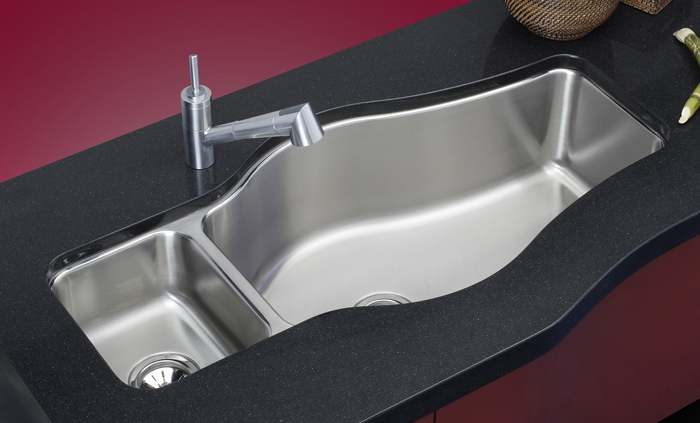 To wash dishes, and prepare food comfortably, Think in advance, wash any configuration you want. In a small kitchen sink have to do odnochashevoy, but if space allows, it will be more convenient or dvuhchashevaya trehchashevaya.
Form washing is also important. For a compact cabinets fit round sink. If the location allows you to turn around - that opted for a square or any other form of. Convenient sink with one or two wings, but if space is limited, will have to do without them.
Another important factor - the depth. The most common and comfortable depth - 18-20 cm. The higher this parameter, the more utensils fit in the sink. The water will not be sprayed on the sides. But working too deep sink uncomfortable, to lean, so sore back.
type of instalation
To the selected sink fitted into the interior of the kitchen, and the work behind it was easy and pleasant, you need to consider not only the material and type, but the installation method. The sink did not have close to the stove and refrigerator. Leave them to a distance not less than 60 cm.
Plums for kitchen sinks are divided into several types: corrugated, flat, bottle, pipe, with overflow. Draining basin with overflow avoid overflow washing, and the flat is irreplaceable, when little room cabinet. From corrugated drain for sinks in the kitchen should be abandoned, since it is more difficult to clean.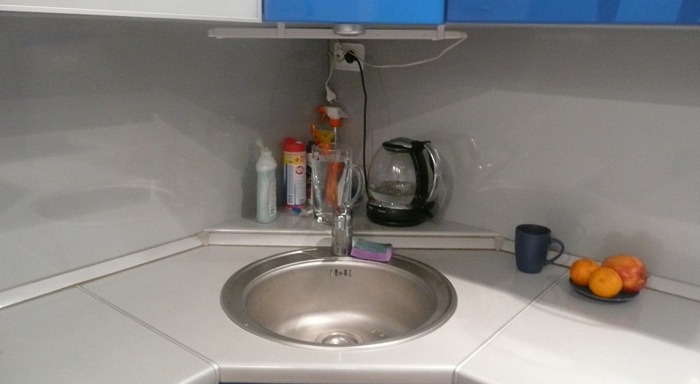 According to the type of installation is divided into shell:
overhead.
Mortice.
integrated.
Waybill and flush cleaning -dissemination options. Waybill kitchen sink is present in a simple and inexpensive kitchen sets, which consist of several cabinets, not connected to a single table top. Installing a shell of the forces of each, because it is simply superimposed on top of a specially designed cabinet. It remains to be done only for the kitchen sink drain. Two advantages of overhead sinks: low price and ease of installation. But this approach also has drawbacks: between the sink and countertop gets food and water, possible leaks.
Sink flush or surface mounted independently, but unlike the invoice, Mortise lock for mounting the sink already need some skills and tools. Flush the sink for a modern kitchen with a single laminated work surfaces, DSP, artificial and natural stone.
The shell is inserted in the hole. It is installed flush with the worktop, in a recess or above. It remains to be done under the sink drain. Underbench sink installation helps to make rational use of kitchen space, carefully look in the interior. Increasingly, such shells are made of stainless steel.
Integrated sink - an expensive option. mounted under, above or flush with the countertop. Set the sink is capable of only a professional. Worktop integrated sink looks integrally, but the installation is only possible in a natural or artificial stone.
As you can imagine, choice of washing - not an easy task. It is worth considering, take into account the possible nuances. Excellent kitchen assistant will be correctly selected sink, equipped with additional equipment: cutting board, valve-automatic machine, waste crushers, Colander for washing vegetables and dispenser for detergent. Now you know, how to choose a sink in the kitchen.