Kitchen fronts - food business card
Quality and good quality kitchen units is determined on the facade, which is the face of the kitchen. Fashionable and practical front panels for kitchen Furniture produced by the use of durable materials and beautiful finishes.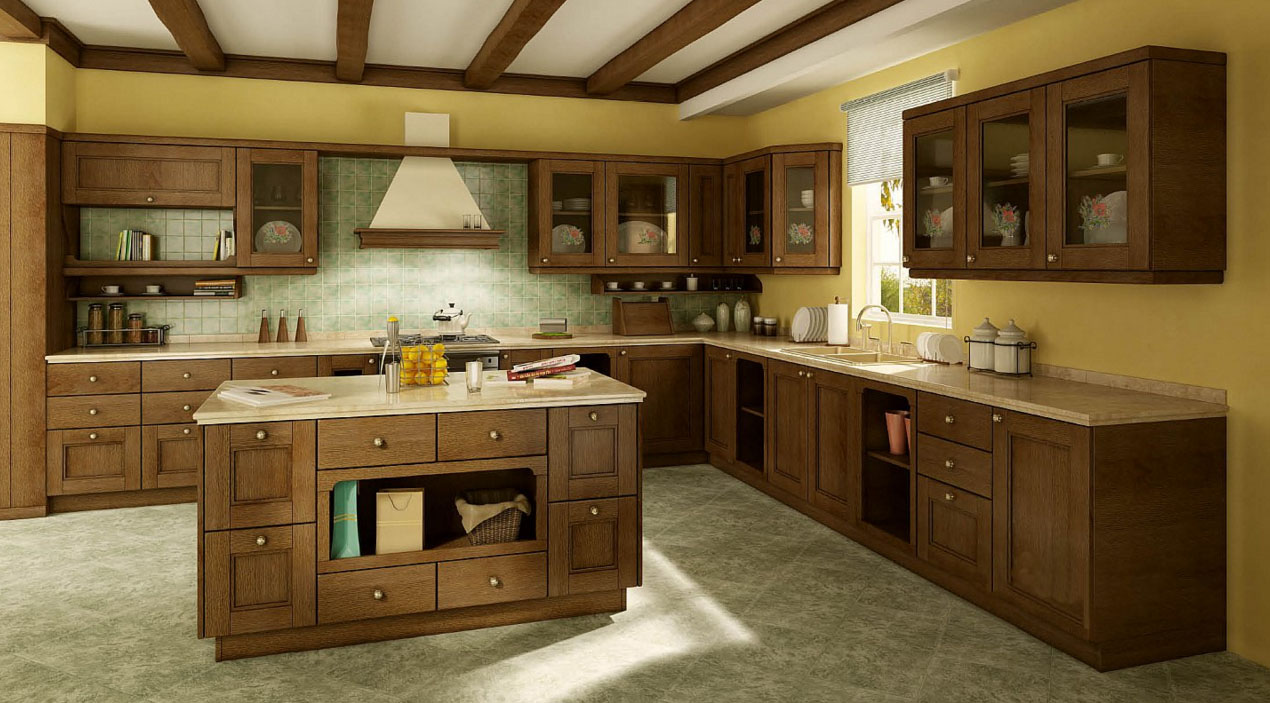 Main materials for the manufacture of kitchen fronts
Not one piece of furniture can not claim a greater variety of types of front panels, than the kitchen sets. There are many methods for manufacturing facades for kitchens, materials, of which make the panel, processing technology, types of finishes. When choosing a kitchen facade pay attention to three aspects: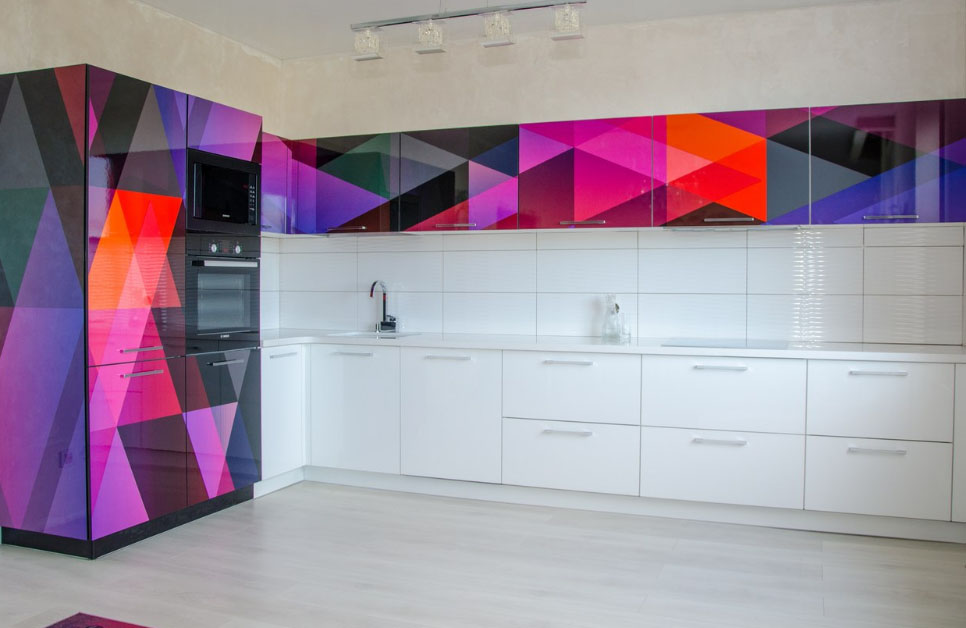 base material, from which it is made;
finishing material;
manufacturing technology faceplate.
Among the basic common three kinds of materials:
wood-based panels;
wood array;
glass.
wood-based panels. abbreviations, denoting different types of wood-based panels - Particleboard and MDF are familiar to anyone. Facades of wood-based panels - inexpensive and the most common type of furniture economy class. Chipboard made from wood chips and glue hardener, MDF - compressed with resins thin wood fiber. Kitchen Manufacturing chipboard or MDF organized at the grassroots level. It is not expensive, and the competition among the manufacturers to fill the market of such furniture is high, that reduces the cost of production. The advantages of this type of facade:
a wide variety of colors;
low cost;
wide range of models to suit all tastes.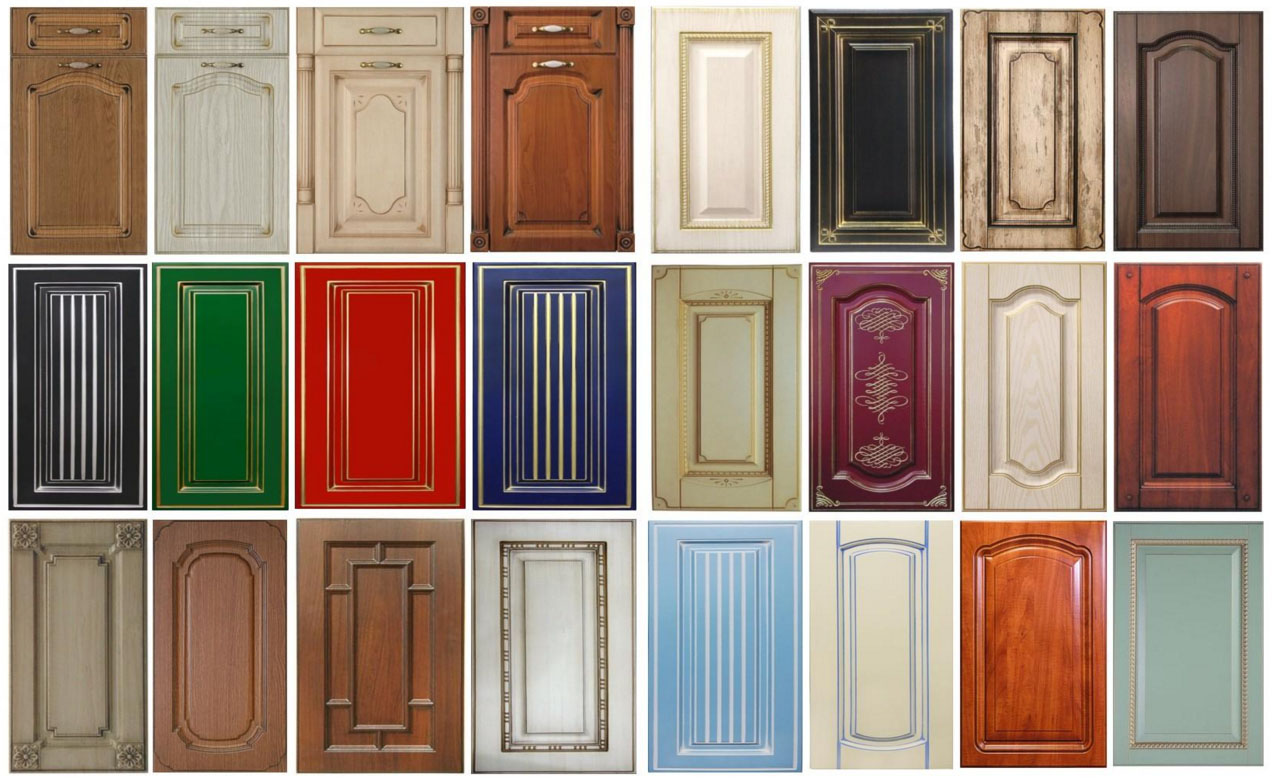 Disadvantages of wood-based panels:
low wear resistance;
fragility;
at high humidity, they swell, stratified, lose aesthetics.
wood array. Natural wood is highly valued, and facades of the array are considered elite samples. their benefits:
environmental friendliness;
prestigiousness;
durability;
handsome appearance.
At the same time, solid wood fronts are cons:
heavy weight;
high price.
Mass distribution of food from the array not received, they are made mostly to order amateurs and connoisseurs of natural. Most often the individual frames made of wood, into which is inserted the other finishing material. In the Russian market of elite cuisine from an array of produce at Beaver plant.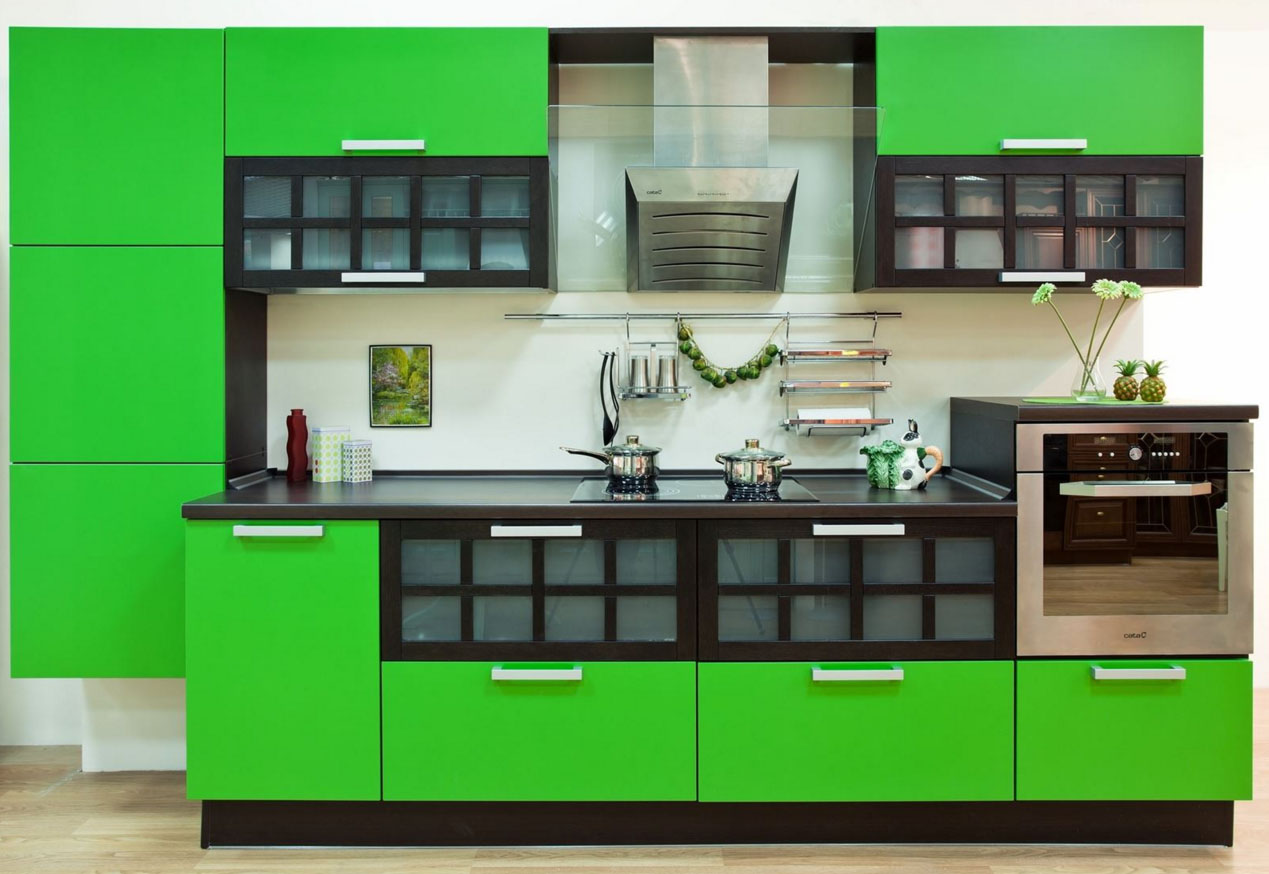 Glass. Furniture prefer to draw opaque kinds of glass - tinted, frosted, fluted, with photo printing. This is a popular type of finish of front panels, advantages which:
unusual appearance;
species diversity.
among the disadvantages:
fragility, which limits the application window in the kitchen. Most often it is made only in the top drawer inserts;
on frosted glass better visible dirt.
Matt using glass or mirror and inserted into the facade is possible to, it is enough to make sand blasting machine with their own hands.
Popular finishing materials
Profile for kitchen fronts complemented by exterior trim. The higher strength materials and perfect finishing technology of their application, more durable and wear-resistant facade. For finishing used:
Melamine;
veneer;
varnish.
Melamine. It is a thin polymer coating. It is applied to a substrate at a high temperature under pressure. Another name for the process - laminating. Manufacturing technology of laminated facades simple, so the production cost is low, low price of the final product. Melamine top sufficiently protects the foundation from moisture and damage, while possessing worthy appearance.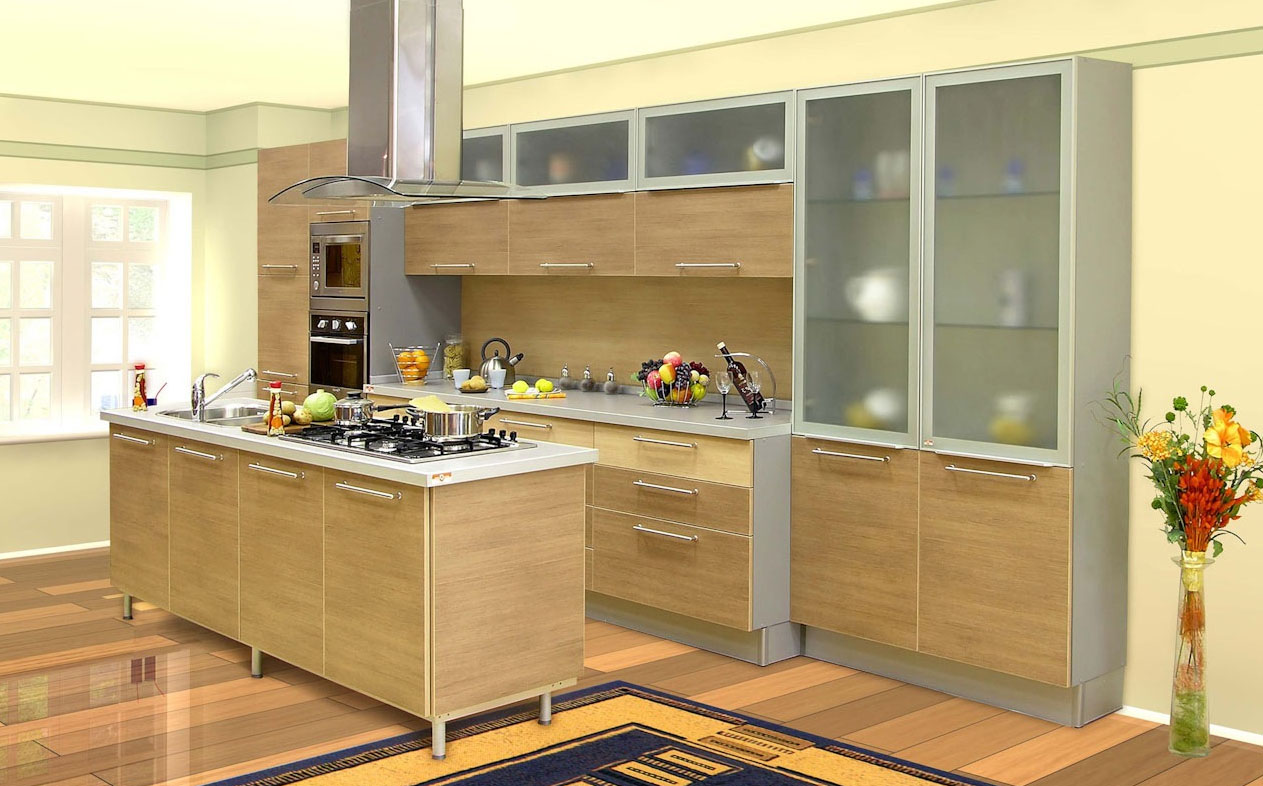 Veneer. This thin section of different types of wood, which is adhesively bonded to the front. In the furniture industry made use of veneer and exotic wood species: oak, walnut, cherries, tikka, Merab. For expression pattern tree structure, it does not yield an array. There is an artificial plastic veneer. Natural Veneer beautiful, but impractical as the material for the kitchen - peels off in wet or too dry conditions.
varnish. It comes in glossy or matte, clear or colored. Covered with lacquer panels wood, colored facades, canvas with photo printing. As a result, the kitchen design comes alive, headsets transformed into an art object. Lacquer - water-resistant material, but it is vulnerable to mechanical damage.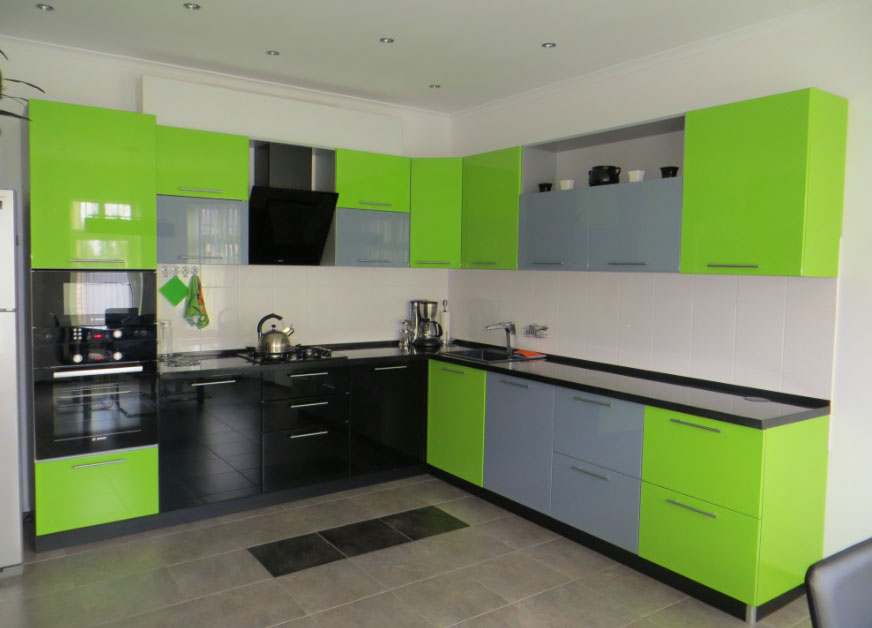 Tips for buyers. If you select the kitchen is the most important quality, then it is recommended to determine the manufacturer. Almost every decent company in the range of products are represented all of the samples of materials and finishes. Competition in this segment is forcing companies cherish their reputation.
A few tips for choosing the kitchen. We should not forget, faceplates that - it is only part of the kitchen units. The housing may be of a cheaper material and practical - moisture resistant chipboard laminated.
The smaller kitchen space, choose the brighter tone of furniture. Dark tones are suitable for spacious accommodations - they make the room cozier.
If it is difficult to make a choice in favor of a particular style, you should know, most buy furniture for kitchens available in the Art Nouveau style, since it is more practical. Classics to choose appropriate, if the house is a lot of space, a high-tech suit lovers of minimalism.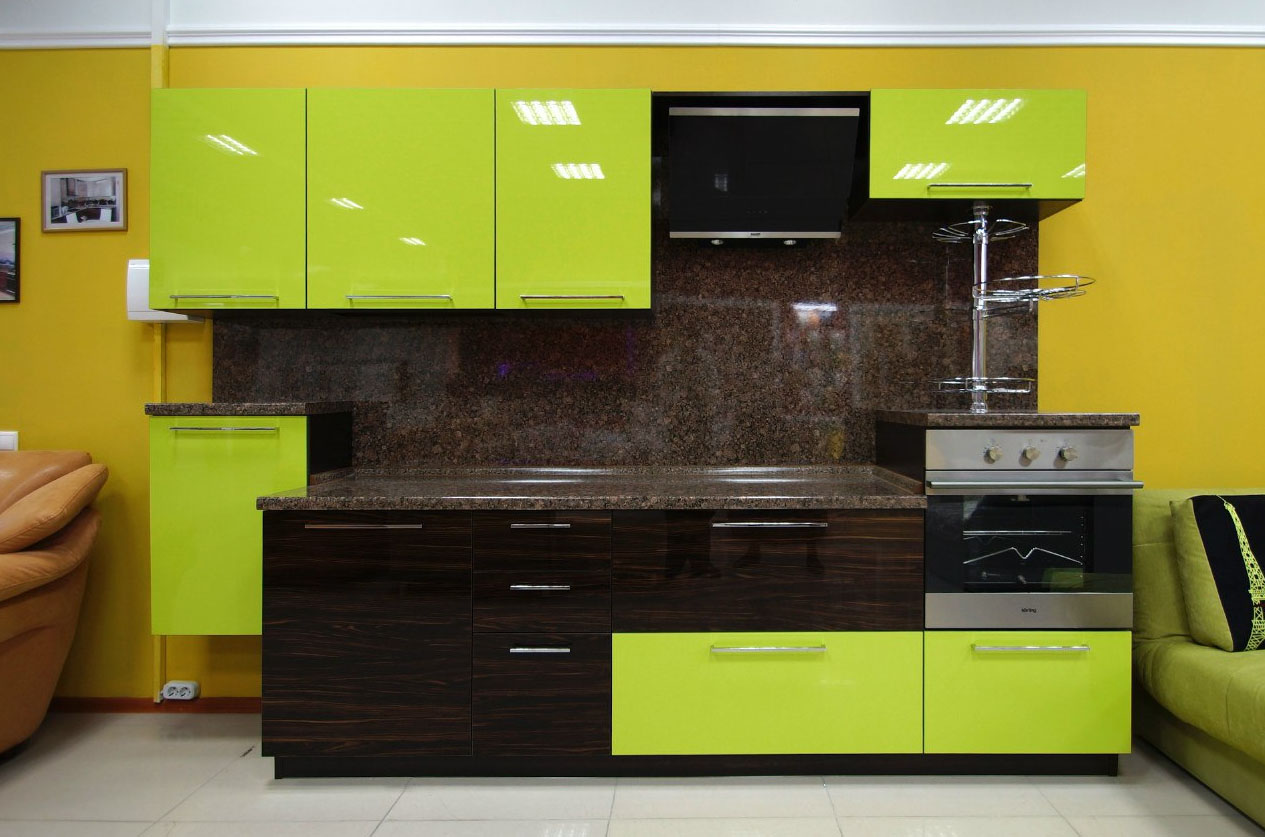 Kitchen premium
Fine cuisine made with the latest technology from the finest materials, with high quality. Exclusive options are in demand on the Russian market, although the goods are not classified as consumer. Kitchen from Beaver factories and Sidak leader in this segment.
Kitchen Beaver available in modern, classical or even the palace style of solid wood or slab. They are equipped with built-in lighting, household appliances, decorative stained-glass windows, chimney hoods and other comfortable accessories. Thanks to technological facades Beaver headsets acquires luxurious appearance.
Sidak facades for kitchens are made on the same Russian company. A variety of models is so great, the company organizes permanent training seminars, which introduces the features of its products. As a finishing technologies and materials in the production of faceplates used Sidak:
array;
leatherette;
PVC film;
coloration;
acrylic plastic.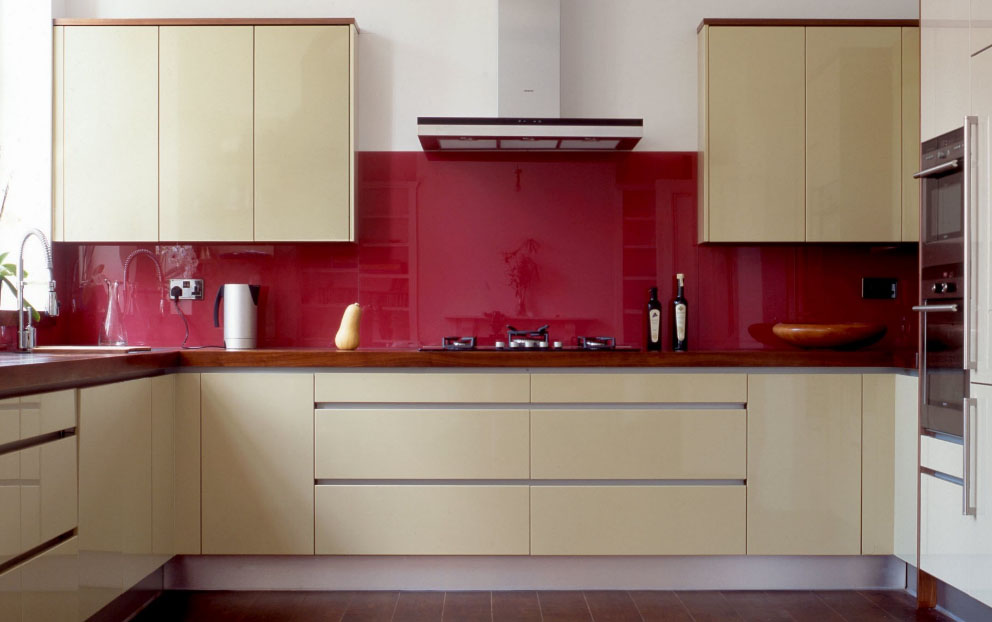 Elite facades Sidak cuisine available in six styles:
modern;
country;
classical;
minimalism;
Scandinavian;
high-tech.
Kitchen stainless steel furniture has recently appeared on the market. it is a functional, fashionable, durable and expensive. stainless steel kitchen will cost more 300 thousand. Small complexes barbecue area are cheaper.
Kitchen facades - an important part of the kitchen units. Their cost is 10-50% of the headset, and the correct choice depends on ease of use, kitchen and beauty of the interior as a whole. Now that you know all kinds of facades for the kitchen.