How to decorate a wall in the kitchen: secrets of successful decor
Wall decor in the kitchen with his hands - it's an easy way to update the room and divide the space into zones. This type of finish is suitable for large and small spaces, It is appropriate in many styles.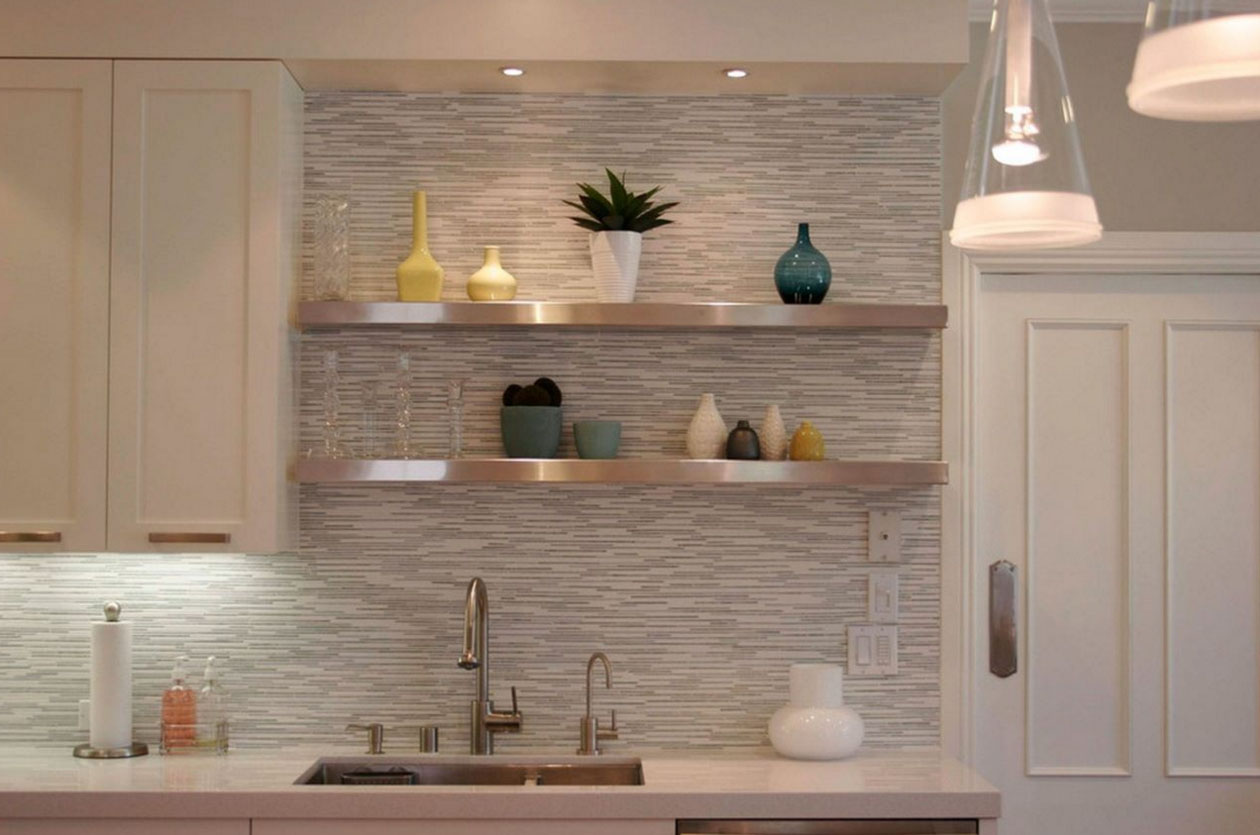 Today the accents in the design done on one of the four walls, which is released by the method of finish or color. To decorate the chosen materials other than those, that they were used for other walls. Surface, which draws attention, It does not lose functionality.
Materials for decoration
Materials are selected based on their practicality. They are not afraid of moisture and does not absorb odor. Preference is given to materials, who are not afraid of exposure to sunlight and temperature changes. Even wall in the kitchen located outside the working zone, it is susceptible to contamination. Before you choose the method of registration and materials, should think about the future care of the decor.
Wallpapers and wallpapers
Contrasting wallpaper - It is a traditional and inexpensive way to design the walls in the kitchen. The material may have an attractive pattern or texture. Rough surface can mimic linen cloth or plaster. If the choice fell on a bright color, background wall should be neutral or muted tones. When purchasing materials should take into account their composition. Paper material deteriorates under the influence of moisture, Kitchen is best to choose vinyl-based wallpaper. Usually, wallpaper is not used for decoration of the apron.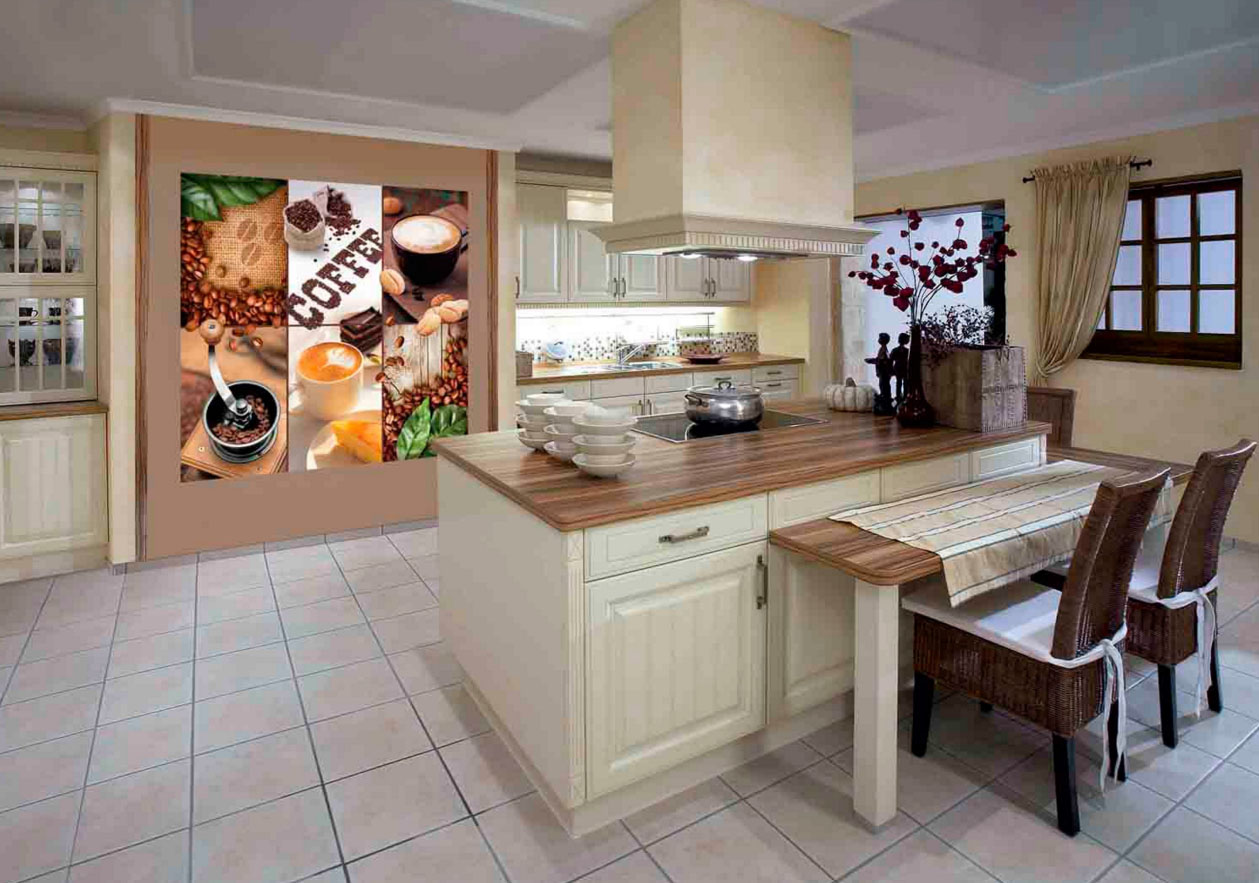 Can serve as an alternative to wallpapers. They are appropriate in small kitchens. Properly selected decor on the walls of the room will help to hide flaws, make it visually more spacious. Mural used to disguise uneven walls. Still life of fruit, urban landscape or the sea wall revive kitchen decor. For larger spaces suitable Mural depicting ancient frescoes.
Stone and tile
To decorate a wall in the kitchen, you can use artificial stone, tile and mosaics. Materials are not applied to the entire surface, but only on the part of.
Tile design pattern may be similar to the pattern of everyday utensils. Decorated tiles or stone apron extends repair service. The collection of tiles manufacturers presented a panel of kitchen topics, to help decorate and eliminate the complexity of matching colors and textures.
Stone and ceramics are combined with:
paint,
wallpaper.
Appropriate use of decorative plaster. This material for finishing makes Walls low. A plaster relief texture paired with artificial stone is suitable for rooms in Mediterranean style.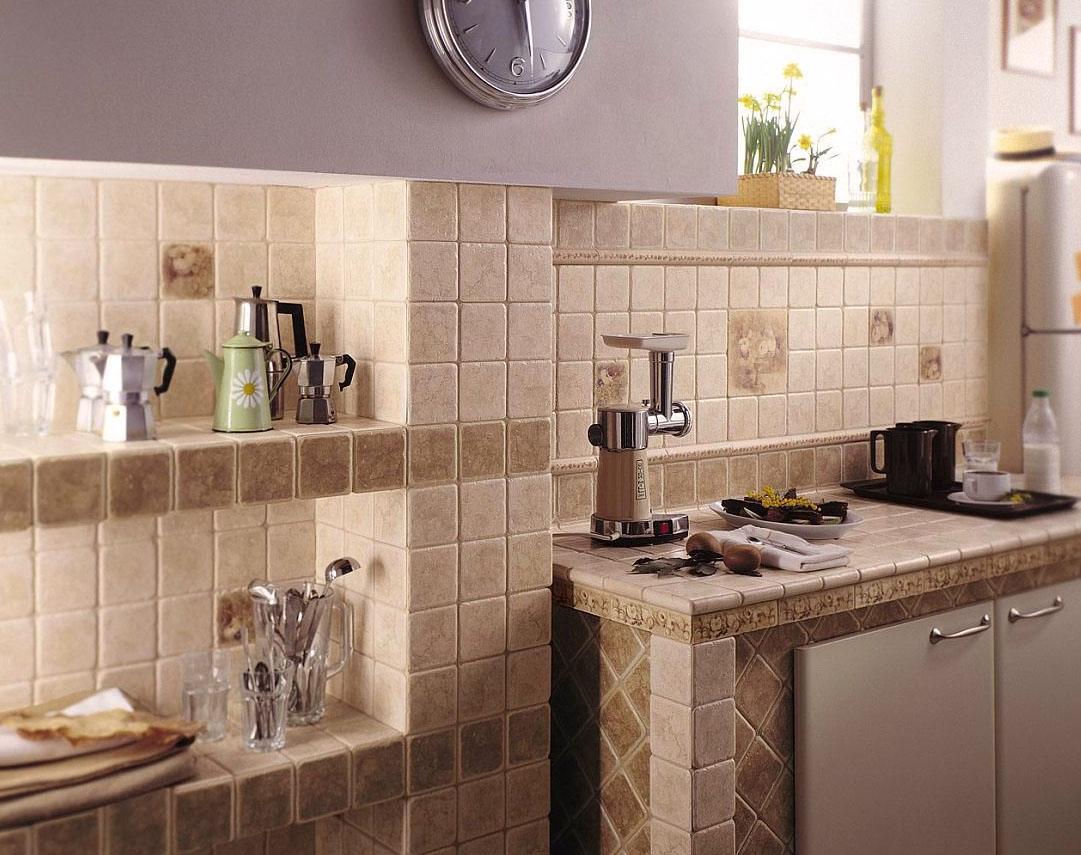 Glass light panels
it is recommended to use a glass light panels for kitchens modern minimalist style. Durable glass will last for many years and will eliminate the need for regular updates. The panels are not afraid of moisture and temperature difference. In the glass composition of a vinyl colorful stickers, drawings or photographs. Lightbar used for further processing walls with masonry or natural stone.
Installed in the wall panel - an additional source of illumination. Therefore, they are irrelevant in the light room with large windows. In this case, the glass pane is used only to process workspace or apron.
Paint
Making a dining area in the kitchen is done with acrylic paint. It is universal in its functionality and methods of application. Modern paint dries quickly, and its composition is not toxic. The original combination of colors allows to conceal unevenness surface or fill the volume of space. For background wall are selected quiet tone, for decor - bright and juicy. The paint is combined with other materials, eg, with tile or natural stone. Rarely used to design apron.
Paintable wallpaper with an embossed texture will help to solve the problem of uneven walls. In this case, the selected water-based paint.
decoration details
Original features can become a link in the design of the walls and make the interior a more holistic. Decorating the walls of the kitchen is not limited to painting or plastering, use a mirror, Photo, plaster figures and ceramics.
Here are a few design ideas walls:
The most popular way of decorating the walls - it's vinyl stickers. They are not costly and are easy to apply on any surface. Labels are black and white or color prints with subjects or subjects cooking still lifes. used labels, animal silhouettes, vegetables and fruits. For rooms with low ceilings recommended vertical image. They are visually increase the room. Horizontal designs for wall decor suitable for kitchens with little footage.
The idea to decorate the walls in the kitchen decorative plates not new, but interesting. Elements of decor combines size or colors. Plates are used to design kitchens folk or rural theme. Wall decorative plates decorated with national ornament or pattern. Of these compositions do. Antique collectible plates put on a special shelf. In some cases, use only one plate on the wall. If you can not find a suitable to the style of the collection, to do decorative plate can be ordered from your own or professional.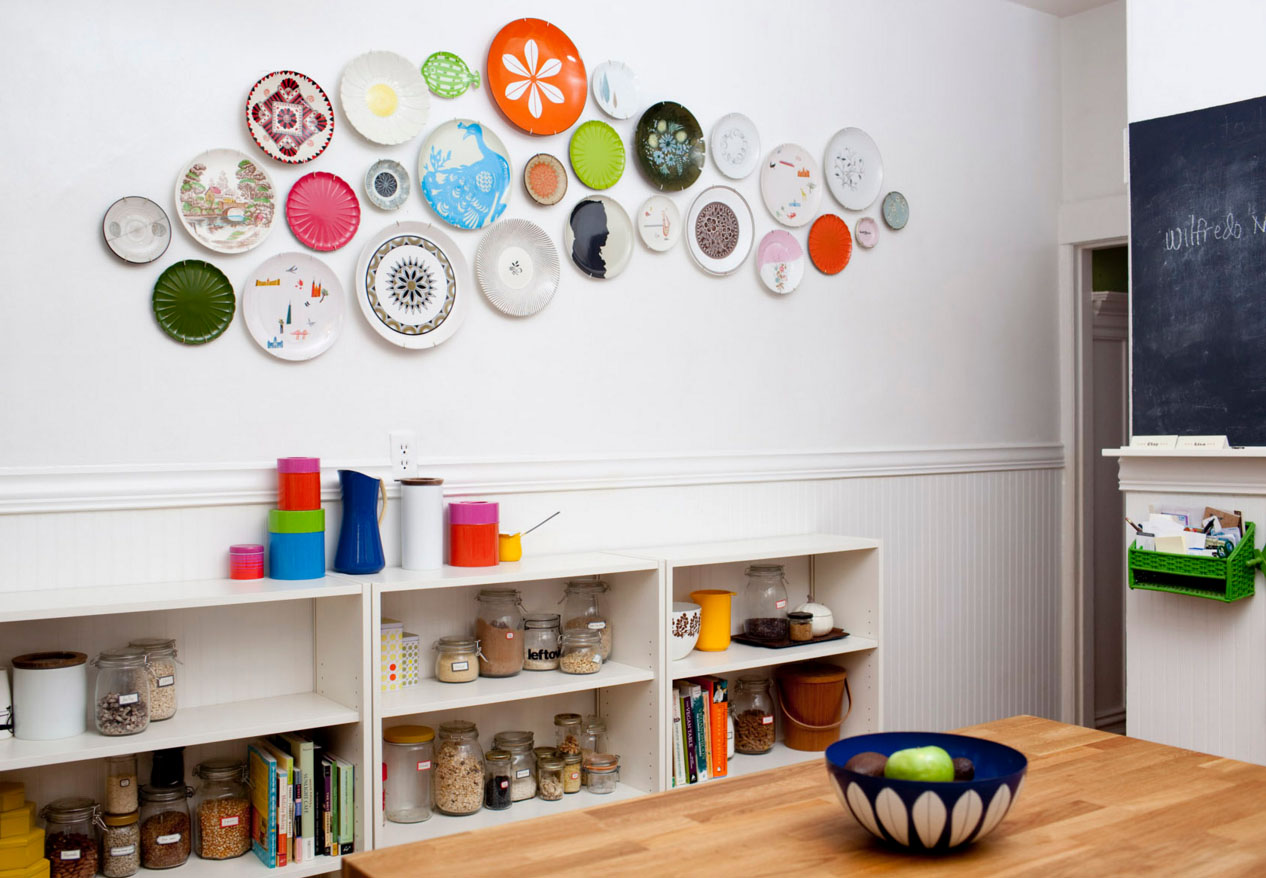 decoration plaster on the wall It looks good in the spacious rooms. For registration of used bas, removable panels and medallions. on surfaces, are remote from the working zone, make three-dimensional images for the walls. If the kitchen is not very bright, illuminated wall. fruits relief images, trees and flowers look like works of art. Often plaster decorations complement the plaster moldings on the ceiling.
Kitchen walls are decorated with artistic painting. Due to its high price, it is rarely used in modern designs. However, the art of painting on the walls of successfully coping with the original design of kitchen space. The method is suitable for empty walls in front of the dining area. Painting replaces graphics or applied with a stencil pattern.
Mirror decoration for the walls - an original way to the kitchen design, which helps add light and visually enlarge the space. It can be a luxurious mirror in the wall or a small decorative elements in a picture frame. The reflective surface is suitable for the decoration of the kitchen apron. mirror wall advantageous to look in a spacious room. The small space is better to use small details, eg, clock dial with mirror.
Narrow creative shelves on the wall for utensils and jars with spices also add the room volume. But this option is suitable for spaces with high ceilings. Shelves made of glass, plasty, metal and wood. They put the dishes or a collector's store books with recipes. Wall shelves can be arranged with porcelain figurines.
Shelves and hooks for utensils - the original solution for small spaces. ladle, glasses and openers are hung on the wall, as decorative elements. This will help free up additional space in the Cupboard.
More and more often used for decoration of walls collages. It can be a collection of photos and clippings from culinary magazines. Nearby hung a bulletin board, where you can record your favorite recipes and interesting ideas. Collage of flowers, fruits and seeds immutable attribute cuisine in the style of Provence.
Decorative wall finish It allows you to decorate the room and get rid of the shortcomings of planning and construction works. Clearance will divide the room to the work area and place the meal. A well-chosen materials eliminate the need for regular maintenance.