Modern ideas in the design of the kitchen walls: designer tips
When repairs are often the question arises: as Contents kitchen? Interior walls in the kitchen It provides a space for creativity and the possibility of using different materials for finishing. If the bathroom is the traditional solution tiling, and for the living room - Wallpaper, the for kitchen You can use other materials. Modern design ideas make it possible to combine different types of finishing, creating interesting stylistic solutions.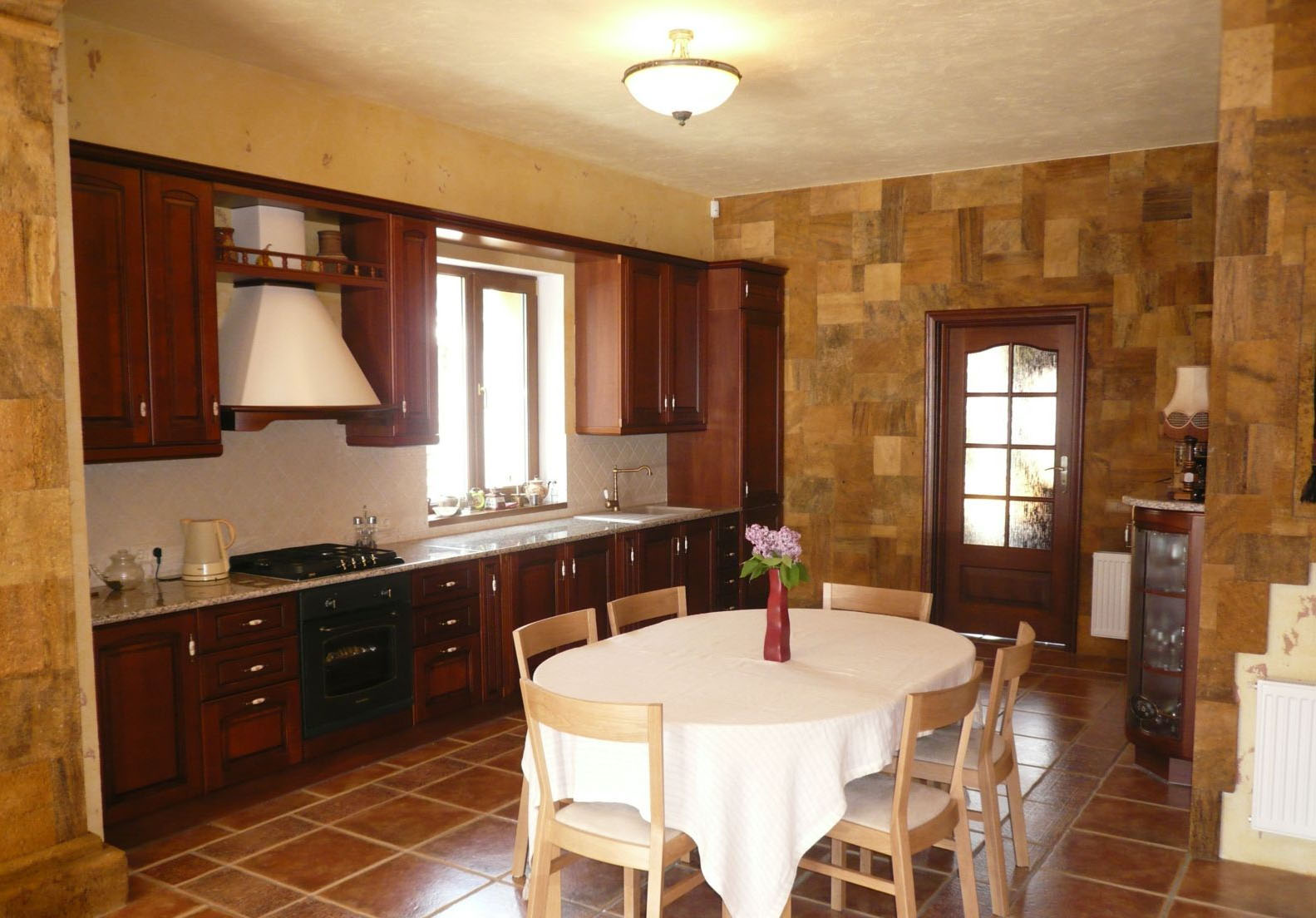 Forms of popular materials for decoration kitchen walls
Making the kitchen walls with his own hands - an interesting exercise. But in choosing finishing materials allow for the rigors of kitchen facilities. In the process of cooking the next wall of juice droplets fall, fat splashes, hot oil, therefore, such a coating surface trim, that can withstand frequent wet cleaning.
for decor the walls in the kitchen используют такие виды материалов:
ceramic tile;
washable wallpaper;
paint;
decorative plaster;
liquid wallpaper;
plastic lining;
decorative rock.
Tile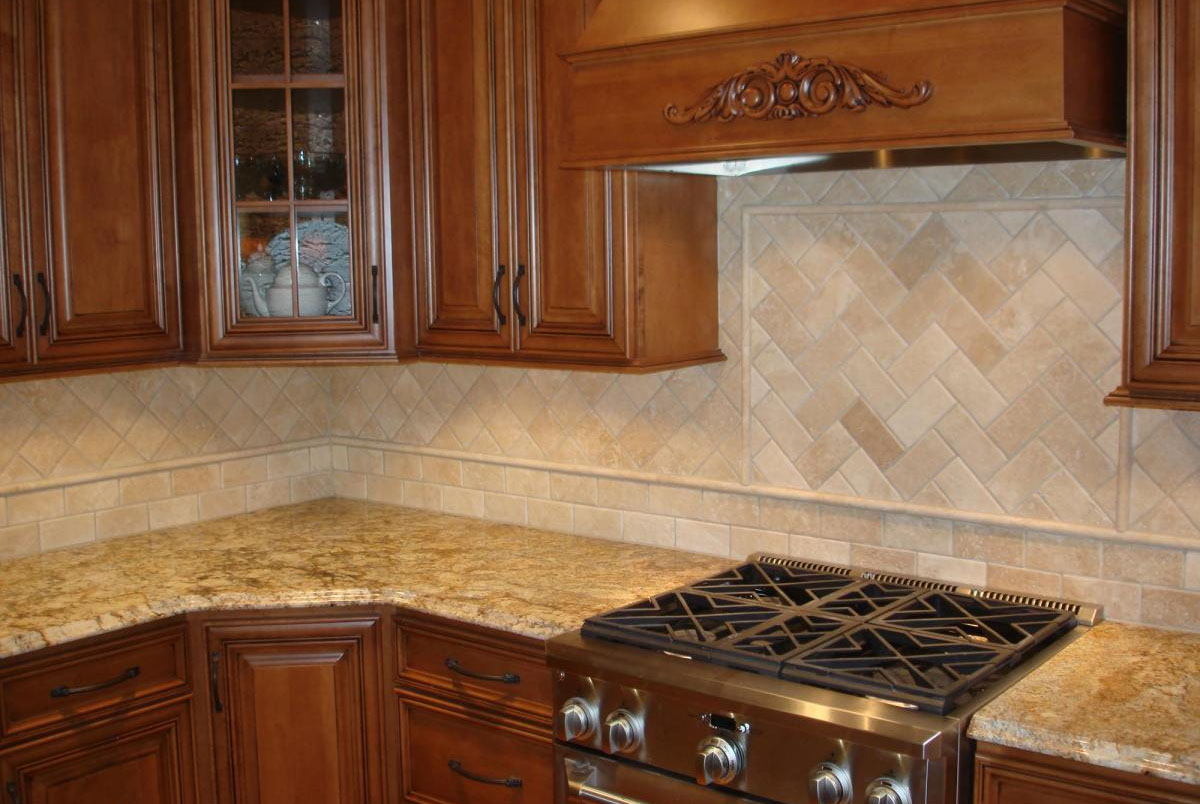 Ceramic tile - a classic of the genre. This type of finish is most common. Hostess appreciate design tiles for kitchens:
practicality;
easy care;
durability;
the wealth of choice (variety of colors, sizes and textures).
Most often, tiles in the kitchen is used to trim apron. It is near the hob and sink there is intense pollution and constant hydration, so these sites require regular cleaning. This material can easily tolerate the ingress of water and fat droplets, and clean it fairly simple. to the wall, lined with tiles, nice look, they need to be pre-prepared, clean and align. Otherwise the clutch will be uneven, and tiles can crack. Ceramic tiles can be combined with other types of materials.
Ceramic mosaic (small size tiles) spread patterns and ornaments. Creatively gifted people may even put a picture or a panel made up of tiny tiles. Working wall in the kitchen with his hands from the mosaic will decorate the premises.
Wallpaper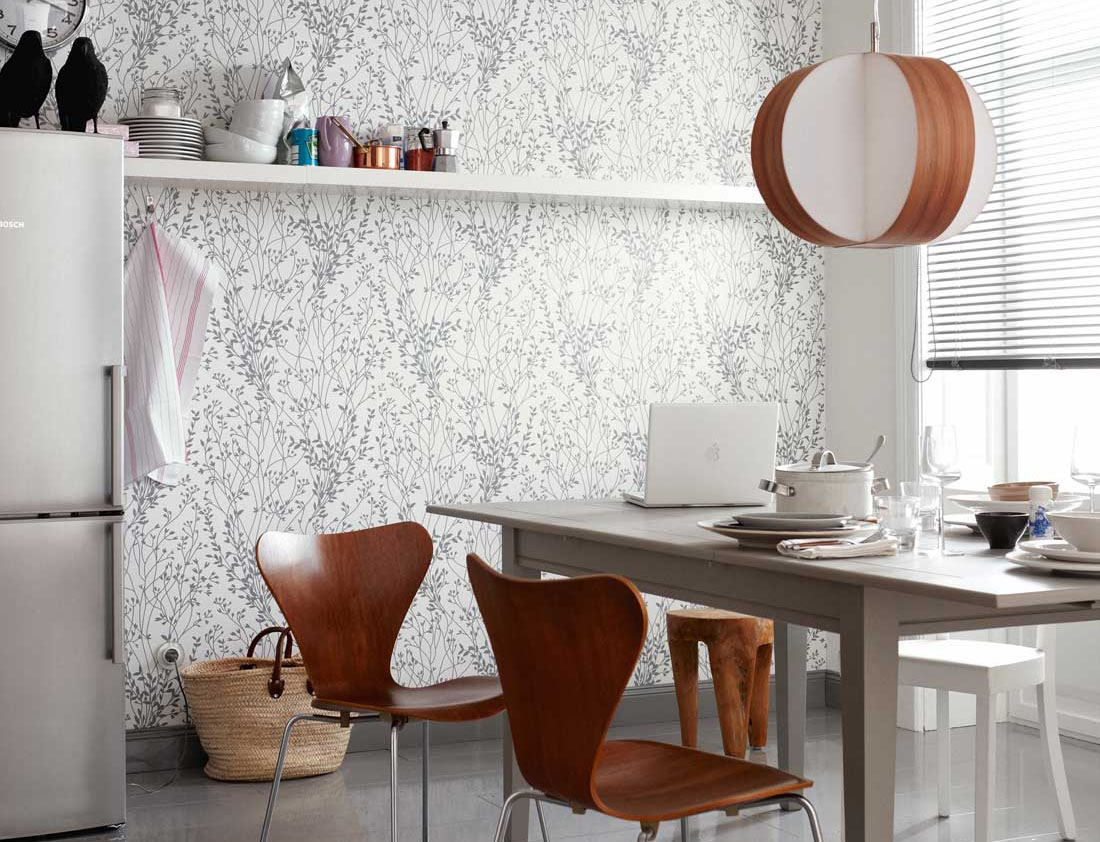 Paper wallpaper by virtue of their characteristics are not suitable for the kitchen. But today's vinyl and non-woven quietly tolerate the rigors of kitchen facilities. They are not afraid of moisture, mud, and temperature changes. A special coating protects them from exposure to sunlight, spots of fat and steam. Durable and lightweight at the same time a panel alignment surfaces and hide minor flaws. Washable wallpaper designed for wet cleaning and withstand even the use of detergents. Washable wallpaper can only be cleaned with a damp cloth or sponge. This is a good solution for the decoration of the walls in the dining room table.
perfectly suited for the kitchen wallpaper for painting, which at any time can be repainted in the desired shade. From a wide range is to provide a glass fiber wallpaper, which has high strength, fire resistance and a wide variety of textures. They create on the walls of the relief and volume coverage. The advantage of this finish - walls, steklooboyami covered can be painted at least 10 time.
Paint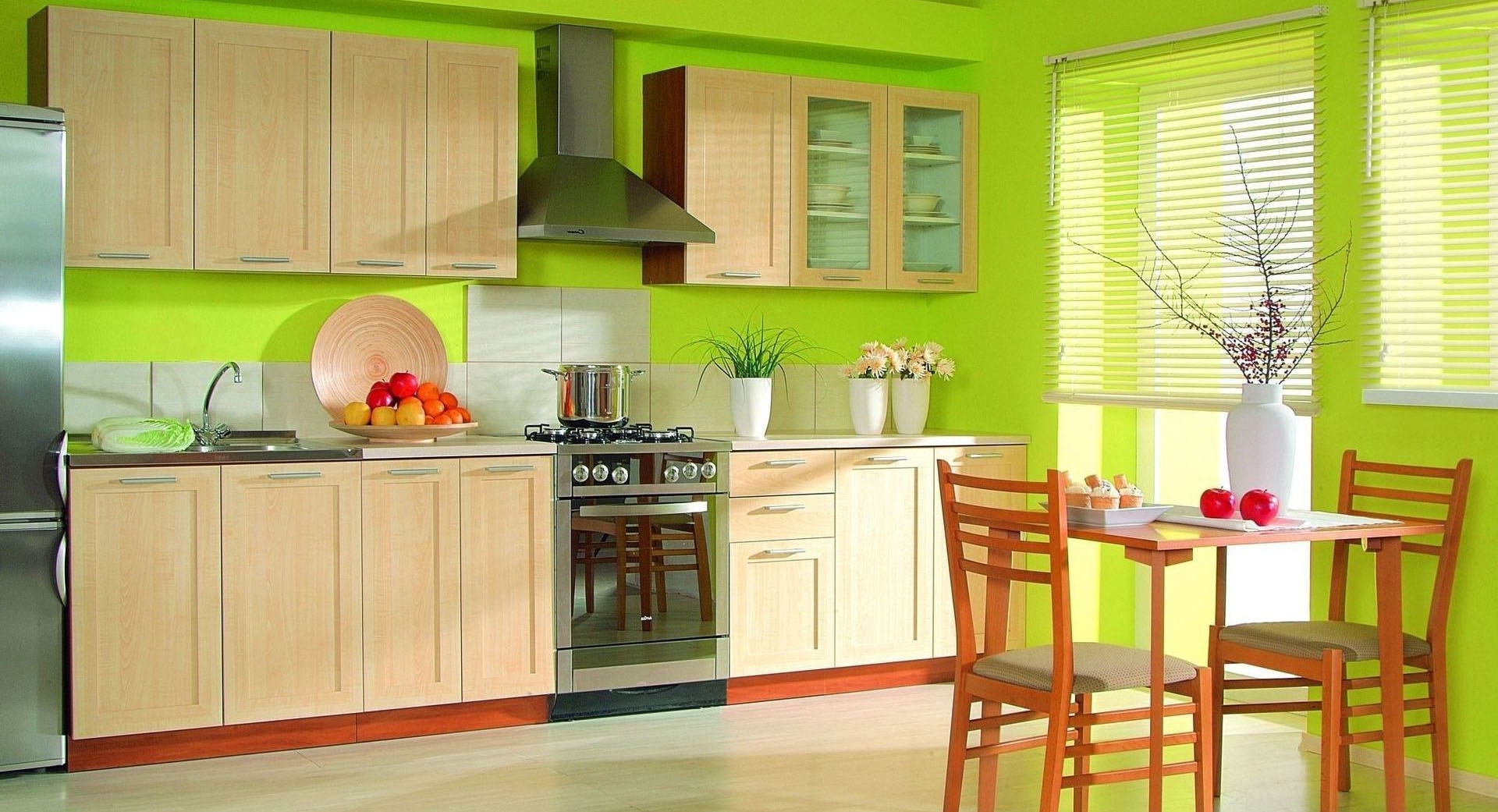 Painting - common variant finish, wherein practicality and availability. But for good result it is necessary to possess the basic skills of paint case. For the kitchen facilities are choosing washable paint, so as not to experience difficulties in cleaning and washing the walls. It is better to use a paint with antimicrobial properties.
Before painting the walls adjusted to ideally equal status, as the paint (especially gloss) strongly emphasizes even minor flaws, irregularities and defects. With the help of paints of different colors and textures can be beautifully zoned kitchen (glossy walls saturated colors in the food preparation area, and dining area in the kitchen framed matt paint a lighter color).
Plaster
Decorative plaster - an environmentally friendly and practical finishing material. Depending on its composition includes natural fillers, wood fiber, stone chippings, marble dust. The finished coating becomes beautiful stone texture, tissue and bark. Kitchen fit fine plaster, since the rough surface of the hard-to-clean. Walls, covered with decorative plaster: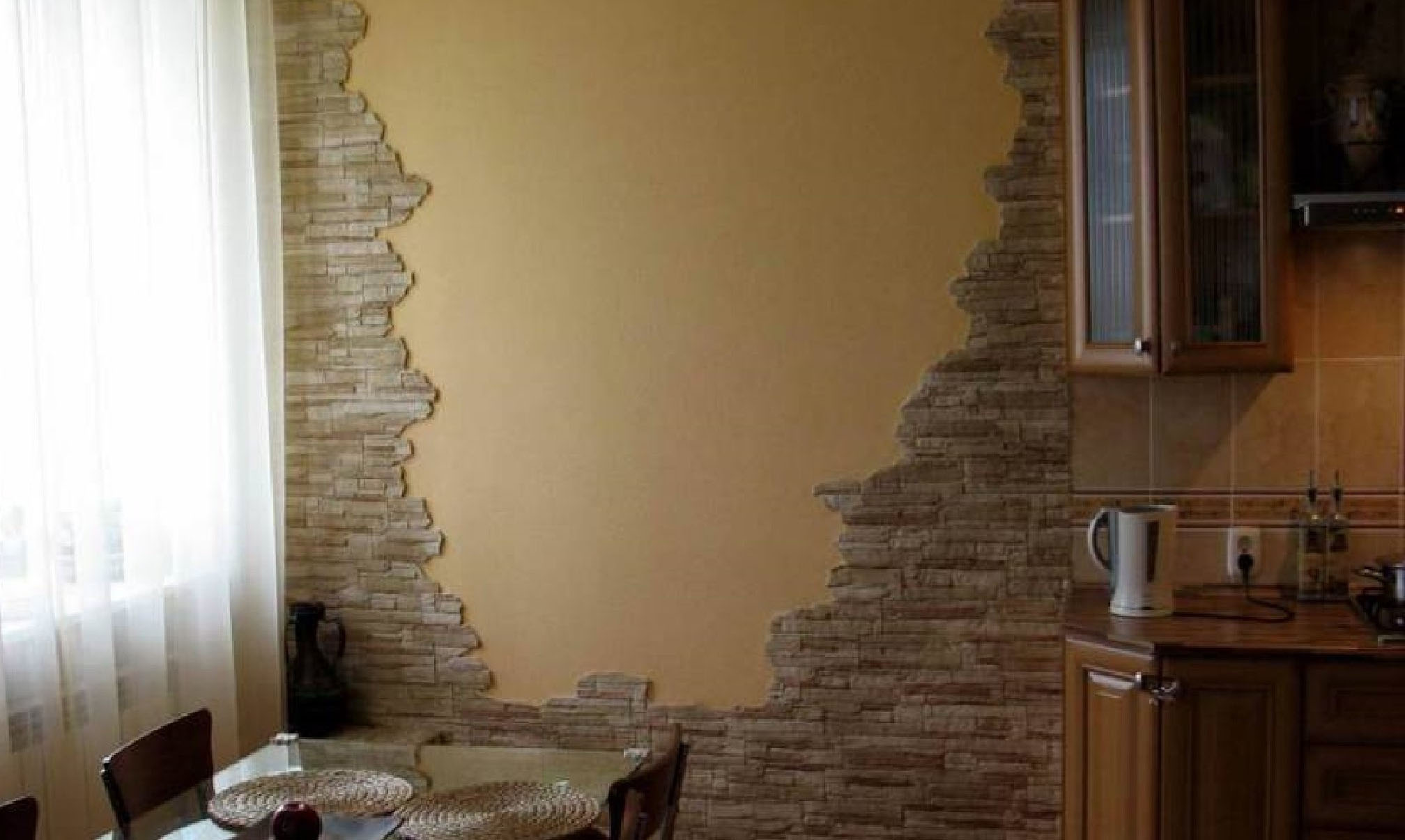 They have a high sound-absorbing properties;
resistant to steam, moisture and temperature variations;
attractive look than one year, without losing the original look.
Before applying the plaster wall of the working in the kitchen with his hands prepared: surface is treated, leveled and primed.
Liquid wallpaper
Liquid wallpaper - a kind of decorative plaster. It consists of glue, cellulose fibers, silk thread and decorative fillers. Such a coating hides wall imperfections, creating a smooth, seamless surface. If necessary, damaged or contaminated sites can be easily replaced. Of the advantages - liquid wallpaper have good sound- and thermal insulation, easy to clean and does not attract dust and dirt microparticles.
The plastic lining
Although the material of synthetic plastic siding, but it has considerable advantages. it is durable, Easy to use, easy to install. In terms of hygiene a good idea, suitable even for the walls in the kitchen over the table. On their surfaces do not accumulate pathogenic and harmful microorganisms.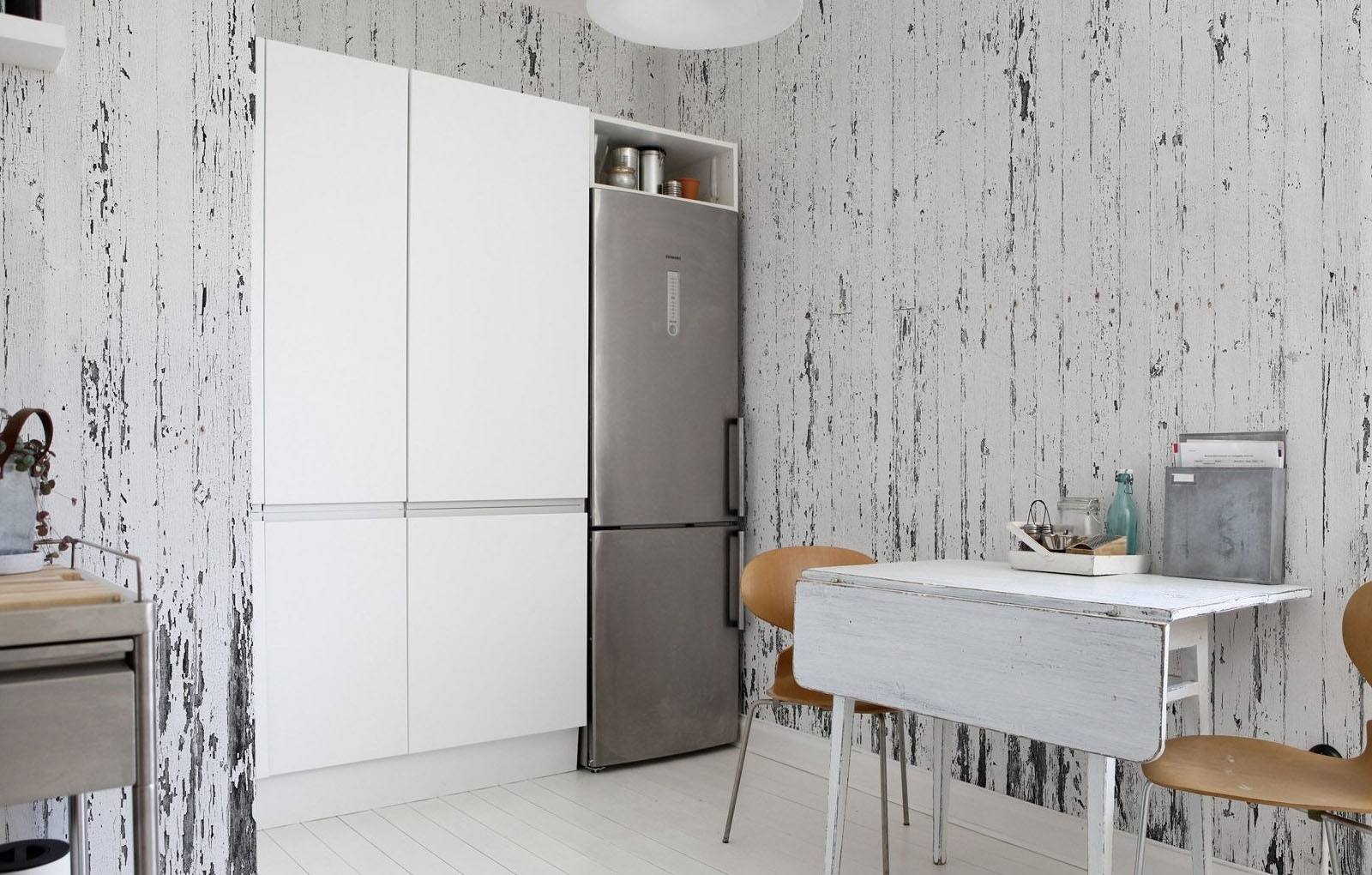 The only caveat, which should take into account when fixing the plastic lining, - Do not place it near naked flames.
Decorative rock
Finishing decorative stone is also used for kitchen design. Marble is durable, Waterproof and indifferent to temperature fluctuation. But designers are advised not to get involved and make it to the interior tidy. The abundance of stone heavier premise and makes it dark. Besides Stone does not fit every kitchen (particularly impressive it looks in the room, In the style of ethno, Provence, or country). The design of the kitchen walls in natural style also allows the use of a finish. The material is expensive, therefore use imitation of stone often (eg, ceramics).
You can decorate the walls in the kitchen with his hands, using available materials. Variety of colors, Wallpaper, tiles, plaster, great, and all of them are used for finishing the kitchen walls. The palette of colors is amazing: if necessary, you can choose any color, print or picture. Decoration of the walls in the kitchen with his own hands - an exciting experience, which under the force of each.