The best options for small-sized kitchen furniture
You small-sized kitchen and you do not know, how to put everything in it, To remain a place for eating? Our advice and the possibility of interior items to help in this. You can easily place in this room, all the furniture and necessary things.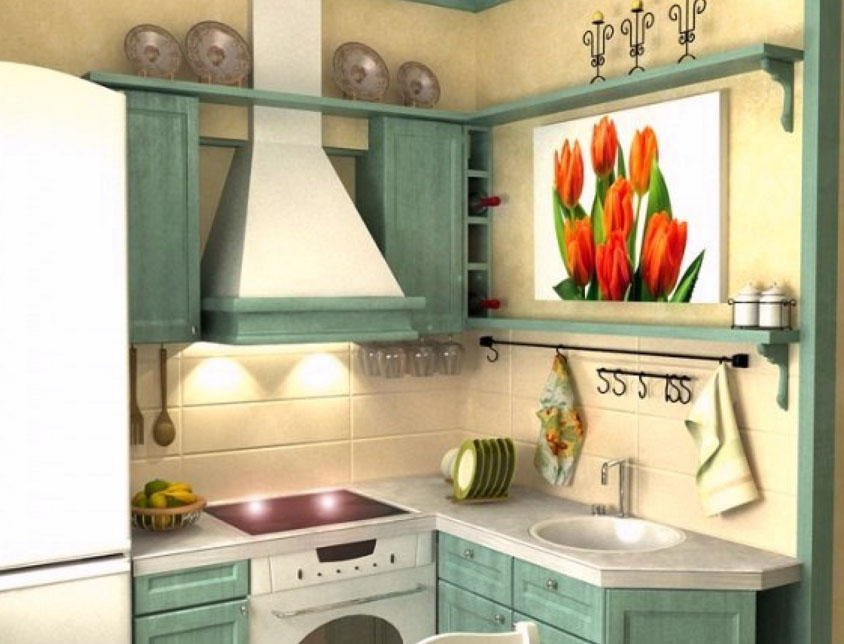 It is important to equip the kitchen area, because the requirements for this room, a lot: comfortable food cooking, pleasant pastime with family and friends, etc.. Because that is where I want to meet the company at the time and eat goodies, who prepared the hostess.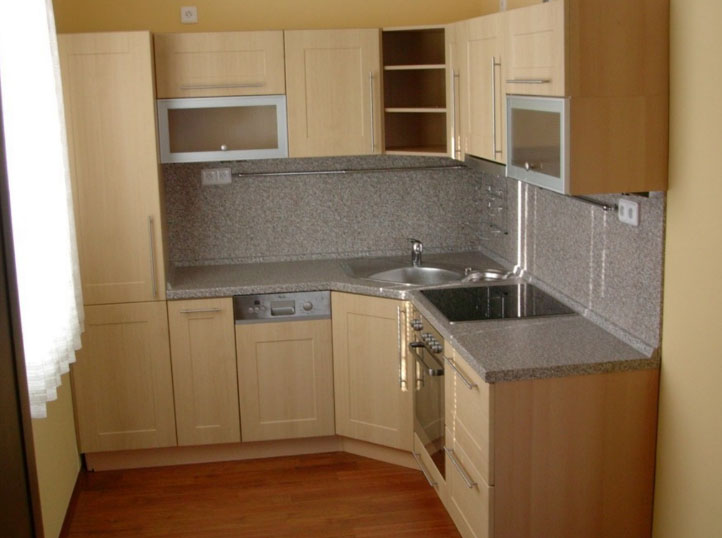 Repair small kitchen - not a simple matter, but doable. Key recommendations will help to select the headset as, that it fits in your room and was helpful. This space provides important rule - the necessary things are at arm's length. Furniture for kitchen It is of great significance, because it is responsible for the functionality of the room and its design.
Compact furniture not only saves square meters, but is obliged to make the interior a stylish and cozy. After measurement space parameters, every small detail. Its recommendations will help us in this matter!
Functional furniture - a solution for small-sized kitchen
The main attribute of any kitchen facilities -stenka. It choose in the first place, and around the entire interior Design. Dimensions of kitchen furniture for small kitchens - completely different, it all depends on the room settings. There is a square room and a more extended. This affects the configuration sets.
Corner kitchen - the right choice for small spaces! They are compactly arranged along the wall. Furniture is located in the following ways:
Corner suitable for "elongated" premises, because the furniture is arranged along two adjacent walls, and the rest are left free for a dining area or location of a large art.
U-shaped arrangement is acceptable to the square room. It provides a lot of cabinets, an opportunity to build better technology. table small-sized kitchen U-Pick up a folding or replace it with a bar counter with chairs retracts.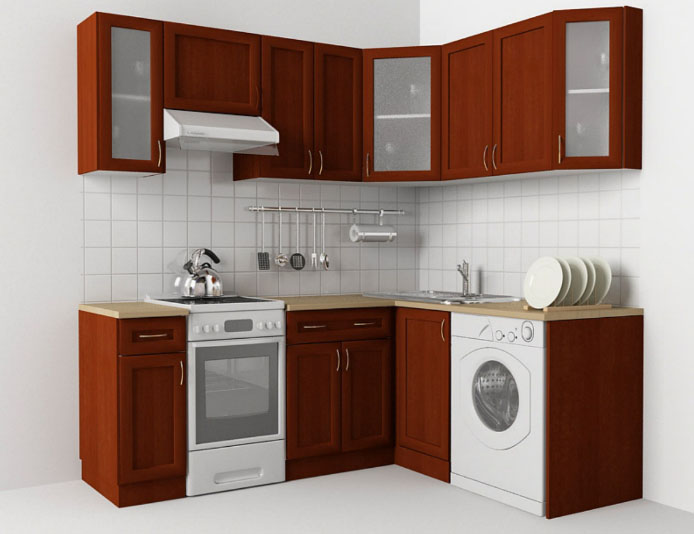 Island configuration excluded, because it is possible to arrange the furniture in a dimensional spaces. When the center of the imposed work surface, and around her settling functional delta.
Use a solid countertop, to eliminate the effect of the space division.
Next, pick up the table. large dining, for bringing together many relatives - fantastic for such premises, but you can pick up a compact alternative. Not sure it will be fixed, note on the wall a folding table with table top. Interior mini kitchens will be more functional, if you lay out for a meal and gather back. The hostess will have enough space for cooking, work triangle is not violated.
Folding kitchen tables for a small kitchen will be a magic wand, but also think over a chair. Worn with the other rooms - a bad idea, so use folding chairs. For them it is possible to withdraw a separate cabinet.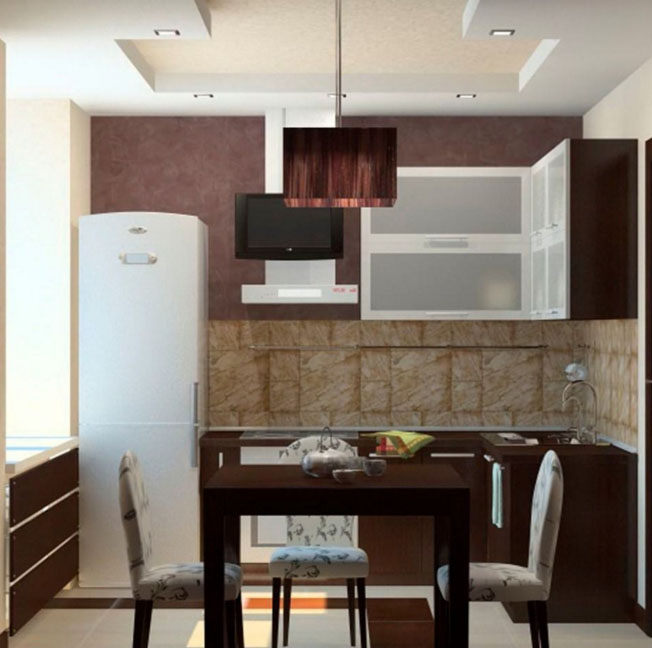 compact details, which will save space
When you have arranged furniture in small-sized kitchen, then came the stage for the placement of small interior items. It may seem a simple matter, but usually these "small details" abound, and they occupy a huge space.
blinds
Help to save space in the kitchen blinds. they are practical, than ordinary curtains and drapes, because they do not take up space, automatically fold and performed not only with fabric, but also with other materials (tree, plastic). And most importantly - with them you use and the surface of the sill.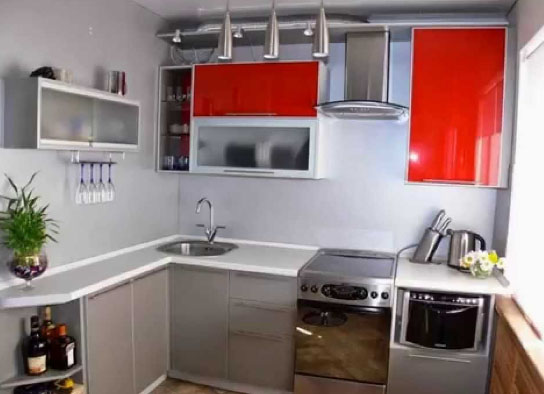 Install roller shutters can be independently, for this you need tools and accessories (level, screwdriver and screws or suction cups), as well as adherence to a simple algorithm:
Note the height of the level of, which will be located blinds.
If they are placed on the glass, then use as a suction cup mounting kits, additional holes do not have to do. If you have to mount to a window frame or slopes, it will need a screwdriver.
On the roller hooks poveste.
Remove and clean them as just. There are models with automatic assembly, but the classic version of the manual is also acceptable. A wide range allows you to select the appropriate option for your design.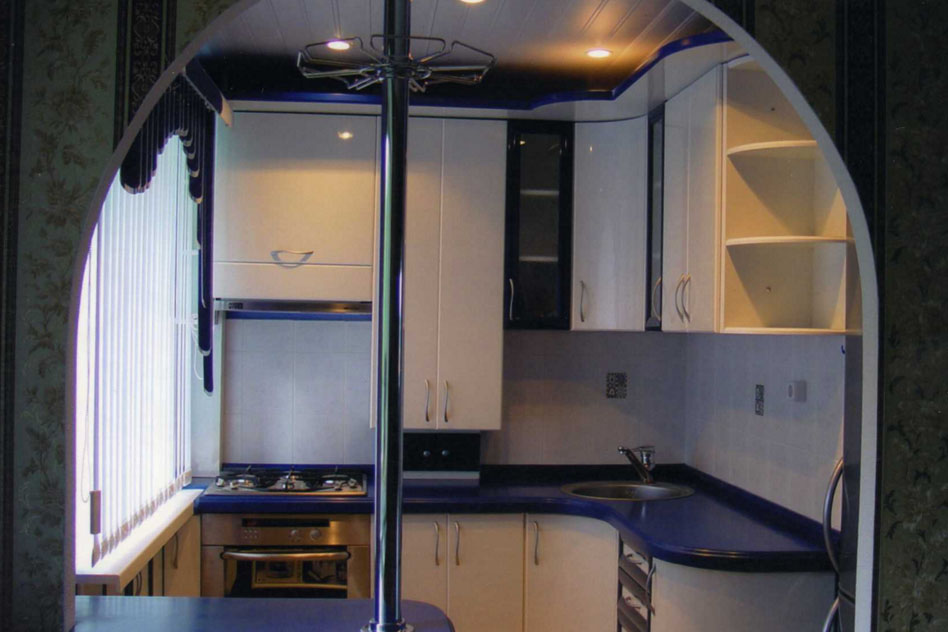 Additional shelves and cabinets in the Khrushchev: Transformers in the angular arrangement, correct placement
If you have chosen for the kitchen sofa, it can be built into it additional cabinets with drawers. They are designed for storing less sought after items. pedestals Transformers for the kitchen can turn into a desk or an additional work area, if you use the countertop.
In order not to clutter the countertop and increase the working zones, handy shelf for microwave. Take a separate closet for the rest of the fine art, otherwise the set of shelves will also save space. It is obligatory for the microwave, because a popular place - the refrigerator - does not comply with safety and operation of technical devices.
Range hood requires additional nightstand, to hide the pipe, abductor odors. Usually, owners of small kitchen hood is not used with a dome, a room equipped with a sliding one. During operation, it will be the maximum size, and when it is not useful, it will not take a lot of space.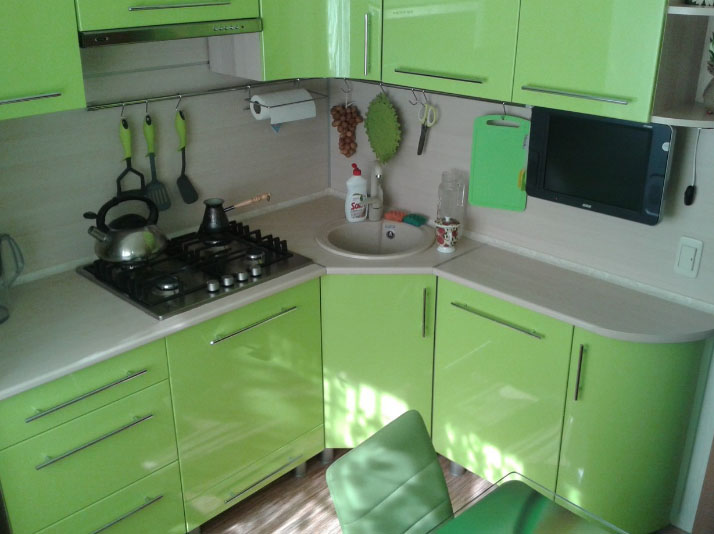 Color scheme and the backlight
on the small-sized kitchen furniture Pick up the neutral. I.e, pay attention to the simple classics, or "high-tech" with its minimalism. It is better to make a bright accent to any one piece, not to overload the room. This will have a visual effect,
Pay attention to the possibility of furniture with a glossy surface and a mirror element. To overdo it with bright reflective surface is not necessary, because the space will be difficult. Choose facades for tops in frosted glass light shades. In this way, You will make a visual enlargement of the room.
Additional illumination do not overdo it, so as not to divide the visual space. It is better to use a central chandelier and lamps for additional working area. Discard the wall sconces and floor lamps. They illuminate a certain area.
Fitted kitchen in a small apartment - perfect for the occasion. The whole set right cabinets and nightstands will accommodate numerous kitchen utensils. Small folding kitchen tables and transform tables to help break the room into zones and use them rationally. Note, the width of such furniture was 60 cm.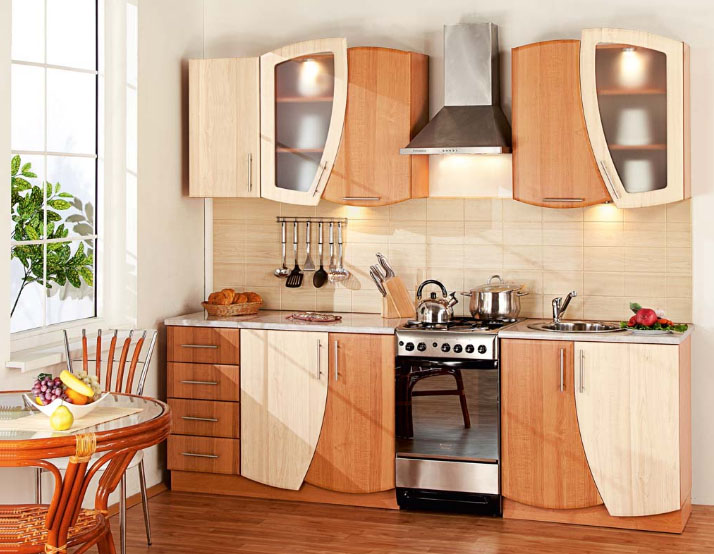 Furniture for a small-sized kitchen - an important aspect of, especially when it comes to its correct choice. Because the main thing for the hosts room - functionality, so handy were the right items and technology. At the time of planning it is important not to overdo it and do not overload the space with unnecessary interior items. The main rule - to place in a small kitchen just the right things!