How to choose a flat cooker hood for the modern kitchen
It is hard to imagine a modern kitchen without air cleaner. Today released several varieties of this household appliance, but particularly popular with consumers received flat drawing for food.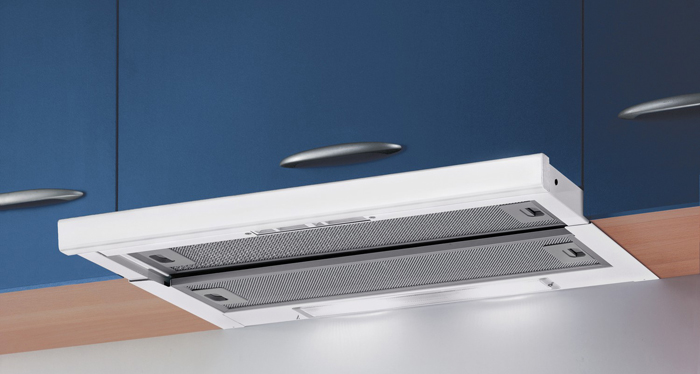 Appearance
Flat extractor hood looks like a low design (plate) without a long chimney. It is easily mounted under the kitchen cupboard, directly to the wall, parallel to the cooking surface. This design and method of attachment space saving small room.
The device has many advantages over similar devices:
flat hood - the perfect solution if you can not connect to the vent of the building. The reason may be a small channel capacity, low ceilings, not allowing for the air duct, small kitchen area, not adapted for bulk extracts dome and pipe.
The market produced many devices, made in the laconic style. They are made of metal, plasty, decorated glass inclusions. Compact, technological design provides instruments definite advantage over other types of extracts.
Devices different value democratic. For example, Dome hoods are much higher. The device with a standard set of features is priced from 2 thousand. Of course, if the model is equipped with an electronically controlled, It has a mass and auxiliary functions performed in an unusual style, it is much more expensive. But on average,, flat cooker hoods afford any inhabitant.
Another advantage is considered to be a feature installation: device does not cover the vent passageway, and therefore, It does not interfere with the natural ventilation of the room.
Kitchen device supports the temperature regime, so the room does not need additional ventilation in the summer and warming in winter.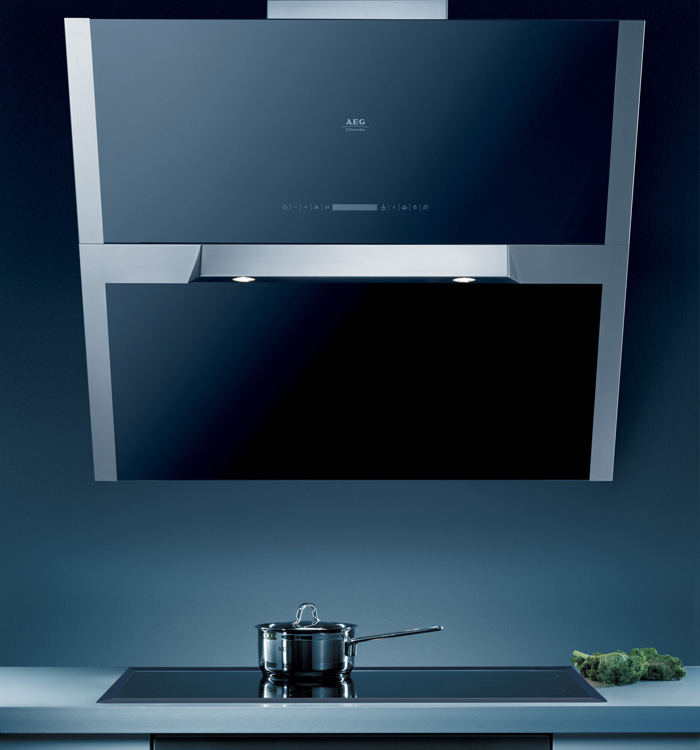 Among the disadvantages of flat hoods allocate some:
Devices are equipped with engines with a relatively small capacity, which leads to a weak performance. In this regard, cooker hoods of this format is hardly suitable for large rooms, but typical kitchen they will show themselves only on the positive side.
High noise levels. Equipment, calculated on 6-7 m2, Noise has a height 50-54 DB. More efficient appliances, designed for rooms area 9-10 m2, roar with a force 55-60 DB.
The requirement for constant filter changes. If you are drawing, metal cleaners, then only need to change the carbon. If in place of fat installed acrylic, you will have to replace them and.
Kinds
According to the width of the enclosure are three types of devices: 50, 60 and 90 cm. The most popular are considered to be drawing 60 and 50 cm.
width Appliances 50 cm - the least powerful, but the best option for a small kitchen. The design includes the lamp lighting, 2-3 and flat rate exhaust fan.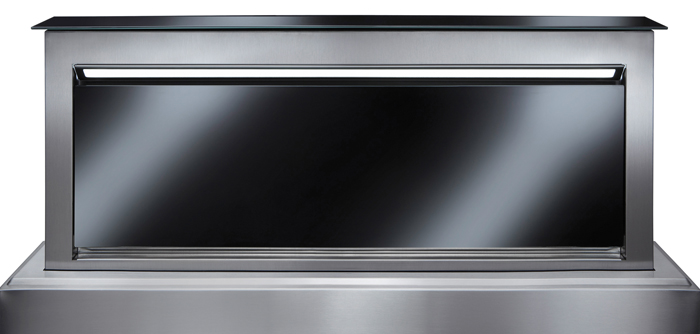 By way of installation devices divided into:
island hoods;
corner;
False;
recessed.
extract, built-in cabinet over the stove, It is considered to be the most successful option compared to other types of.
Built-in hood is equipped with a pull-out or fixed bottom panel. The first option is pushed forward, It covers all the web plates, absorbing a greater volume of air. extract, built-in wardrobe, - a good option for small spaces, since the cabinet can be used to store kitchen items.
Job
flat extracts the principle of action is different from other options. Devices do not need to be connected to the ventilation system. The technique works on the principle of absorption of contaminated air fan and purifying it through removable cartridges. Depending on the device model, treatment is one- and a two-stage.
Originally picked up by the air strikes the rough purification filters (the fat). Here removes smog particles, fat, explicit impurities soot. it's desirable, to grease filters are made of metal alloys. This will not change them every couple of months, just wash under running water.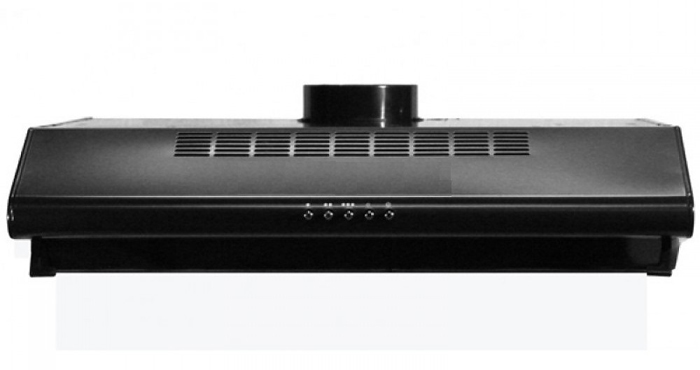 In the second stage come into operation a careful cleaning filters. They are not designed for multiple use and must be replaced when dirty (every 10-12 months). Typically, filters are second stage cleaners coal, characterized by high absorbing properties, so the free air of the microparticles, not killed in the first stage.
Mounting device does not require complex and bulky vent. It does not need to connect to a home ventilation. The device is attached to the wall with dowels, screws, fixing anchors.
selection
Choose the right hood for the kitchen help knowledge of several nuances.
dimensions
The choice of size is based on the dimensions of the cooking surface. If the plate is formed in the embodiment unformatted, the hood should be a little more.
Standard dimensions of the cooking surface - 50 and 60 cm. The width of the plate may vary for different models and manufacturers. Usually the difference in the lengths of the sides of 10 cm, but the most common sizes of plates - 50 × 60 or 60 × 50.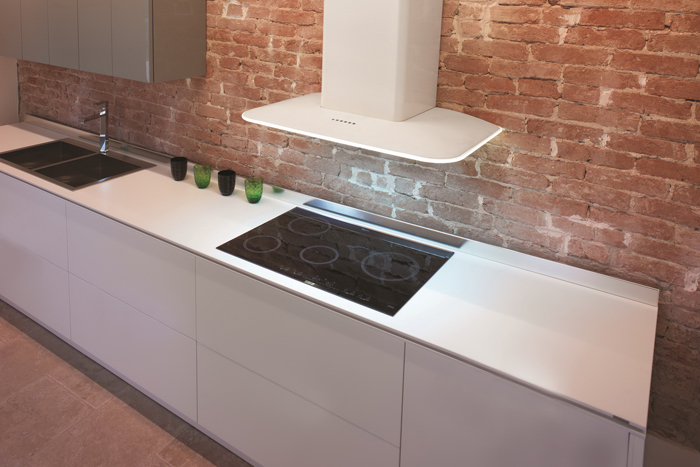 These parameters and need to rely when choosing a hood. Basically, if it is on 5-10 cm shorter cooking surface, it does not interfere with the quality of work.
Room and power
The choice of technique of performance depends on the size of the kitchen. It is only natural, that quality in clean rooms 10 m2 and 20 m2 needed hoods of different nominal capacity.
For calculating the required power of the device can use the following formula: multiply together values ​​sanitary-epidemiological norms (12 and 1,3), area and height of the room. That is, the calculation will look like 12 × 1,3xSxH. for example, if the area of ​​the room - 10 m2, and height - 2,5 m, the power hoods 12 × 1,3x10x2,5 = 390 m3 / h. When the marking device must indicate its performance, so the time of purchase, you can easily pick up the value of, close to the result.
If the home smokes inhabitants, it is necessary to multiply the calculated power for another 1,5-2.
control type
By drawing the control method is divided into simple, Touch or remote controlled. These settings do not affect the quality of the art, but they are dependent on ease of use.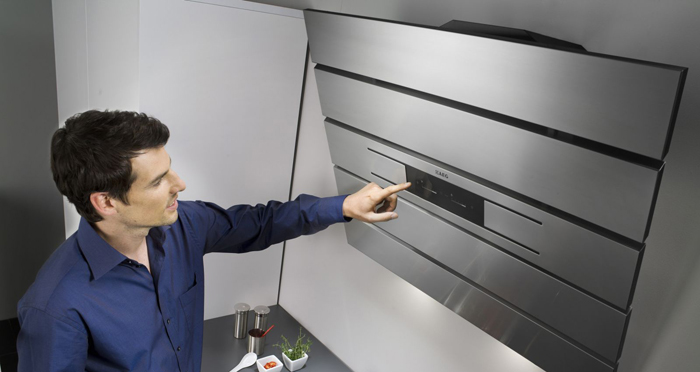 Touch options usually are flat and feature panel, operating through touch. Conventional hoods have a standard set of buttons.
If the technique to be used very often (when there is a large family or a regular house party), it is best to choose a touch panel. Lack of buttons allows you to control the work of drawing even soiled fingers. Stains can be easily removed with a damp cloth usual.
materials
The choice of an air cleaner and influence materials, from which the device is formed. They should be environmentally friendly, not release chemicals at work. For manufacturing cost models typically use plastic or metal, for costly - Steel, tempered glass and aluminum alloy. The best option considered steelwork, characterized by ease of maintenance, strength and resistance to damage.
In recent years, it has become increasingly popular glass hood, favorably differing aesthetic appearance. Such devices are harmoniously fit into the modern interior, easy to maintain and operate.
additional nuances
Most of the air cleaners are equipped with short electrical cord. Next to the connection point must be placed electrical outlet.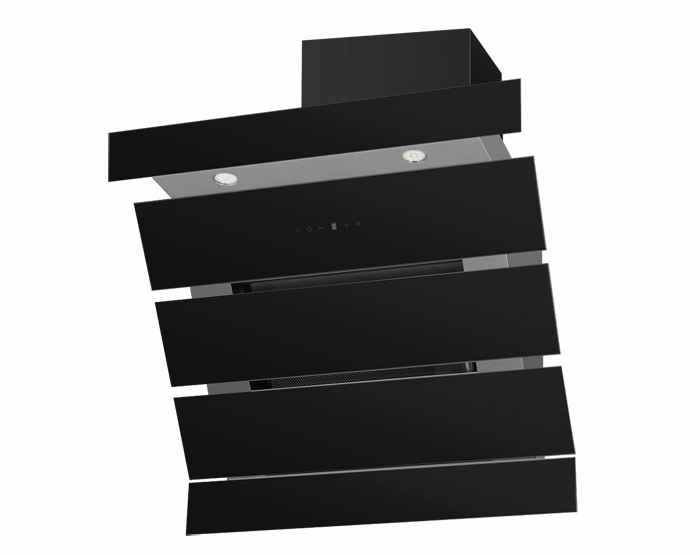 When you select a drawing note on the instrument lighting. Worktop art lamps equipped with different properties. To preserve the natural colors and design products better to choose a halogen bulb.
cost of
extraction cost depends on the design and performance:
Cheap models are made of plastic with a metallic inclusions. Dimensions art - 60 × 50 cm, Maximum Performance - 450 m3 / h. Used for lighting incandescent lamp, management - sliders or buttons.
The average price range is characterized by a different design. Models made from aluminum, tempered glass or stainless steel. halogen lighting, control - sensor. Power - up 650 cubic meters / hour.
Costly models are improved technical characteristics, the presence of various sensors and remote control.
Popular models
Great popularity among buyers enjoy the flat trim PyramidaBasicUno device. It is a budget option with push-button control, recommended for a floor area of ​​8m2. Width hoods - 50 cm, "Noise level" - 56 db, performance - 320 m3 / hour.
Praise got the T-shaped hood, eg, equipped with an electronically controlled model ZirtalRKX-SH 60 IX. Its power is equal to 830 m3 / h, width - 60 cm, the degree of noise - 58 dB.
Not less popular recessed hood smeg. Models are available in black and white, therefore perfectly fit into any kitchen interior. The devices can be made of stainless steel frame or formed as retractable telescopic devices. Structure Hood equipped with a carbon filter to pass completely purified air.
flat hood for the kitchen - is a convenient and useful device, facilitating the correct choice of life hozyaek.Pri, it will retain the air cleanliness, decorate the interior of the kitchen and "care" about the health of family members.