Modern and fashionable design trends granite sinks
Technological advances have brought a wealth of housewives kitchen assistants, one of them - Dishwasher. But the "old" good kitchen sink does not hand over their positions, remains an indispensable attribute of the kitchen.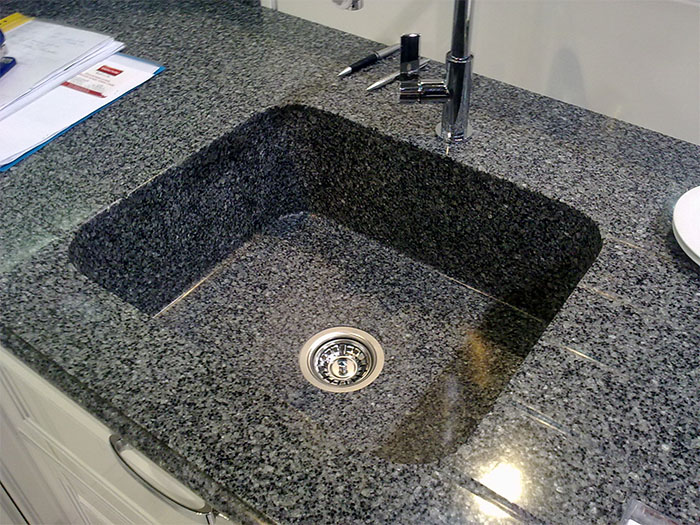 For a long time this piece was a metal, but recently popular granite sinks for kitchen. Despite, that stainless steel sinks, practical and reliable, yet they do not fit into each kitchen interier. Granite sinks can be the basis for the design of this room. They are beautiful, functional, quality, durable, comfortable and stylish.
Granite or marble sink - a universal thing in the kitchen, which took over a lot of responsibilities. Any hostess percent 60 whole "kitchen time" holds it near the sink. It washes the dishes, defrosted products, it is used for cleaning in the kitchen. Another variant of use of the product - Wash fruits and vegetables.
In recent years, the demand on time stone sink increased several times. It is groundless: stone - strong and durable material, effectively looks, It fits in almost any interior of the kitchen, easy to care for, and the price is available. Besides, This material is environmentally friendly and does not absorbs dirt and grease.
Granite sink for easy-care - simply wipe it with a tissue or cloth. It does not remain stains, divorce and other contaminants. As for practicality and durability, the sink in granite for the kitchen will serve you for a long time.
Is it difficult to care for stone sink? that apply?
Traces of tea, coffee and other foods are removed from the walls of the sink with vinegar or citric. Often rigid tap water leaves on stone washes plaque, against which is used for removing scale or conventional formulations for washing dishes in the dishwasher. To do this, dilute the agent in warm water, fill their shell and leave on 15-30 minutes, followed by warm water rinse.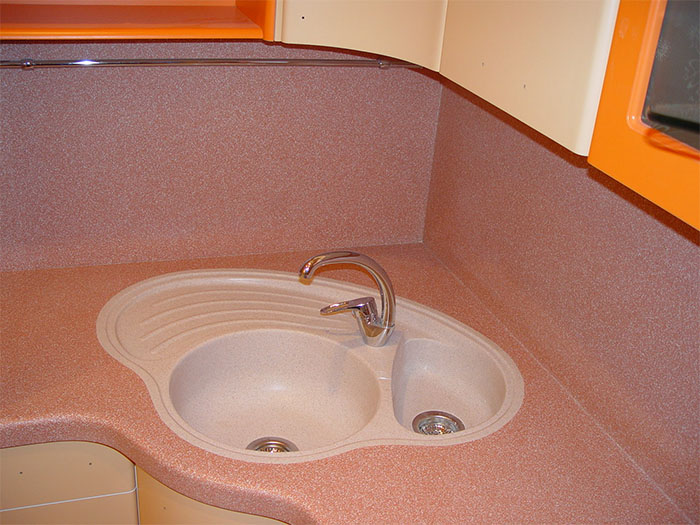 granite sinks - the embodiment of durability, presentable and environmental safety. Therefore, clean them the best eco-friendly detergents. Prepare such means can be independently. This will require hydrogen peroxide and powdered chalk, which is in the hardware store. A mixture of these components is "pulled" mud directly from the granite structure.
For cleaning sinks need to apply paste to the contaminated area and tightly cover it with plastic wrap. Under the film paste will dry out slowly and simultaneously absorb pollution. After some time, the cleaner must be removed with water and a soft cloth.
It is not necessary to clean the sink with a granite apply coating agent, containing formic acid or preparations for cleaning pipes. In their composition contains aggressive components, which alter the structure of granite and deprive the shell attractiveness and practicality. It is also not recommended to use metal scrapers.
The ideal material for cleaning sinks stone - is a soft sponge, a towel or cloth of microfiber. Sponges are best used in conjunction with conventional cleaners - this is enough, to sink looked as good as new. Recommended for prophylaxis thoroughly clean granite wash at least once a month.
What is the charm of stone sinks?
Today's manufacturers offer the following material for kitchen sinks: faience, metal, a rock. But the three-dimensional niche for the goods, take it sinks made of composite materials. The finished product consists of two or more components.
Sinks composites differ mechanical strength, surface hardness, resistance to organic solvents and heat resistance. Gidrofobiziruyushtie supplements, included in the composites, help wash the surface be clean, even with minimum exposure to water and a soft sponge.
Benefits shells of marble chips:
warm surface (due to the low thermal conductivity material);
Resistance to a point and normal attacks (thanks to the mechanical strength of the material);
High hygienic safety (possible due to the natural antibacterial and environmentally friendly material properties);
Easy to keep clean (for cleaning are available in almost all household cleaners);
Long service life;
Attenuation (during operation does not vibrate and does not rattle).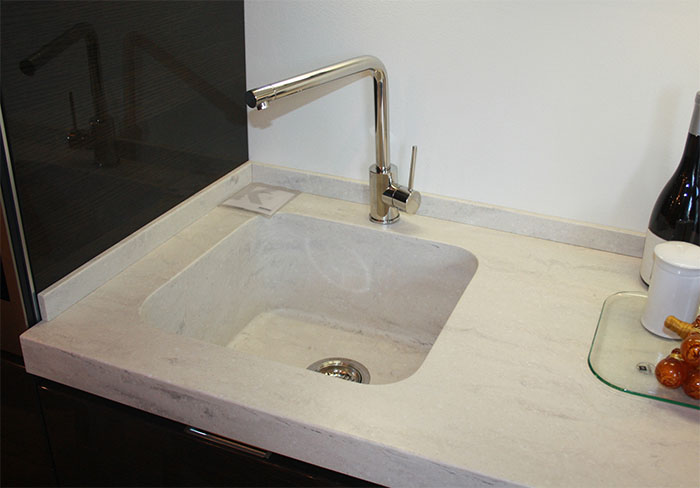 Some companies prefer?
Consumers are quite difficult to understand the first time in a variety of kitchen sinks. After all, everyone wants to make the right choice, that the product has served long and reliable.
There are many companies, producing high-quality quartz sinks for the kitchen. We offer to meet with them and their products:
kitchen sinks ulgran. The structure consists of shells: marble chips, pigments and acrylic resin. Branded stone sink scratch resistant and easy to care for. Material, from which it is made of granite kitchen sink, does not fade, not destroyed by exposure to chemicals, and withstands temperatures 1800WITH. Conch brand ulgran absorb noise. It means, that the noise of running water will be minimized. The company's products is quite loyal to price, that is no different in the quality of the goods.
kitchen sink lava. The structure consists of shells: quartz sand, granite chips and polyester resin. Lava products meet high standards of quality and look very elegant. Granite sink for kitchen lava resistant to abrupt and large temperature fluctuations, safe for direct food contact, is resistant to acids and alkalis. The structure of the shells from the collection of non-porous lava, and this fact gives them dirt repellent.
kitchen sink florentina. The main products of the company, it sinks from composite materials - high-impact, hygienically safe, sound-proofing, durable shell. The stylish appearance of products does not affect the functionality of: products are comfortable, have strong, beautiful floors and affordable. Installing florentina companies shells will not take long, to cope with it is not even an expert.
POLIGRAN sink for kitchen. This manufacturer specializes in producing products made of artificial stone. material POLIGRAN, used to make shells - development engineers. it is durable, eco-friendly and easy to maintain. Stone sink for the kitchen company POLIGRAN, made of artificial stone, It does not differ in strength of products made of natural stone. And no wonder, because the composition of these shells contain 80% natural stone 20% polymers. POLIGRAN products are resistant to high temperatures and mechanical damage. Stone sinks polingan not necessarily rigidly secured to the table top, rather "put" them to the glue. For mounting such washes can be used for kitchen countertops from granite, wooden or stone countertops. But it is worth remembering, weight that varies from each wash 8 to 20 kg.
kitchen sinks fotos. fotos products are not susceptible to chemicals, safe for food and is resistant to UV exposure. Even if contact with these shells is not very carefully, they are not much affected, as impact resistant, dirt and does not eat into the surface. Besides, they are pleasant to the touch and visually beautiful.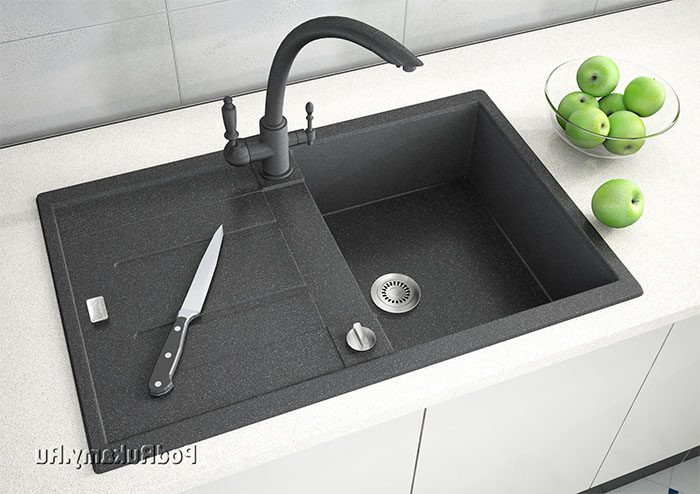 How to choose a new shell
choosing a sink, pay attention to the functionality and physical characteristics of the material, from which it is made. Contemporary arts and fashion trends suggest installing the kitchen sink of granite chips. These sinks are not just beautiful and topical, but also practical,. They are not going to the dirt, they are easily washed from fat and durable. Almost all cleaning kitchen of granite - a work of art.
Be sure to take into account when choosing a kitchen design. for example, Light on a dark sink countertop looks contrasting and harmonious, and this combination of colors pleasing to the eye.
buying shell, consider:
The depth and size of the bowl. Optimal option - 16-20 cm, which is enough for basic kitchen manipulation, a sink with a depth not take up much space.
Color wash a total colors cuisine.
Harmoniously suited to the product accessories.
Place the mixer arrangement.
Number of bowls and their location.
A damaged hole to drain excess water.
Whether equipped with a sink draining dishes?
Is there a hole to install a separate tap for filtered drinking water?
A well-chosen color and shape will bring aesthetic pleasure to the owners, and the use of granite in the interior is an indicator of taste, because granite - stone noble.