Kitchen design in classic style
Classic remains popular at different times. design Classic cuisine - a discreet shades in the design of the walls, cozy atmosphere and strict symmetry.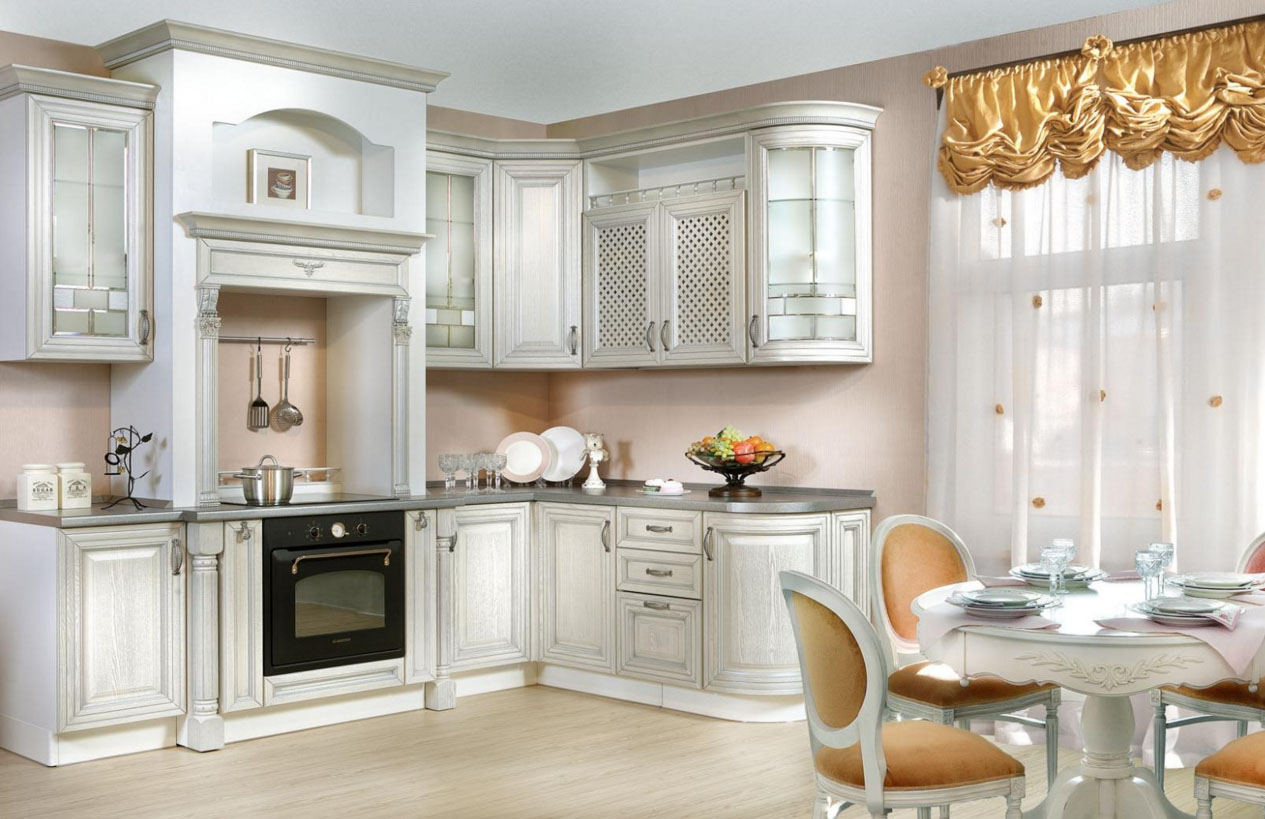 Registration in this style involves the use of expensive furniture set, finishing tiles apron and application of classical lamps and decorative elements.
Floor covering made of porcelain and tile. Creating the interior of classic kitchen, selected exquisite furniture and gilded carvings.
Do not use metal and plastic. Recommended glass lamps. Complement the interior of drawers and shelves with spices.
Nuances in the design of the classic interior
Classic style interior is recommended for an area with a large kitchen, as well as high ceilings. This design option involves the use of furniture set thorough and space utilization, therefore not suitable for small spaces.
It should be used in the regeneration of a design kitchen with a living.
When choosing a style of decoration is necessary to consider the other rooms. Classic cuisine is not suitable, if the rest of the rooms are contemporary in style.
If the design is applied to a small room, the walls are finished with light materials, that visually expand the space. At low ceilings used a vertical bar.
The classic style has the following features:
Apply light shades: beige, white and brown.
The style is characterized by symmetry, clean lines and simple forms.
The design is restrained and conservative.
Classic furniture is made of wood. It is characterized by rigor and elegance.
As the lighting used overhead and volume of glass or crystal chandeliers.
For decorative recommended nacre, bronze and carving.
They use expensive, natural and high-quality materials.
Designed in a classic style involves the creation of composite center, which is used as plate and extractor. These items are styled by the fireplace portal. Important elements are doubled and otzerkalivayutsya.
When making such an interior, the principle of balance and proportionality.
Carefully use stucco in the interior. If the ceilings are low, then it is not used for ceiling decoration.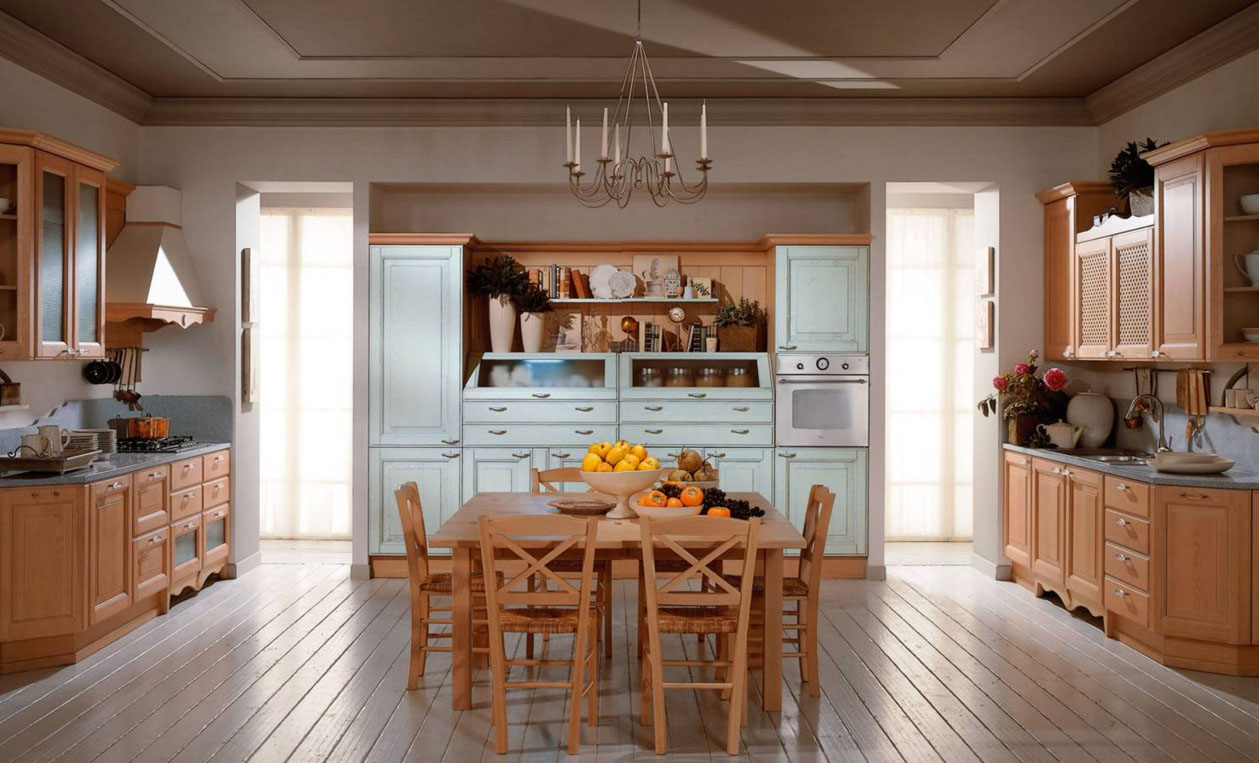 Which colors for the classics?
Classic design involves solid, quiet and muted colors. selected dairy, sand and beige shades. Welcome monochrome color palette. Often used contrasting combination of black and white, as well as light and dark shades of brown.
A sophisticated color palette includes classic interior vanilla, cream, cream and pearl shades of finishing materials, decor and furniture.
Design classic cuisine involves the use of dark colors. The interior of the relevant gray, brown and black shades.
Option in dark shades and looks thoroughly respectable. Light colors visually expand the space and make the room lighter.
Design classic modern cuisine combined with Provence, Mediterranean-style country provides for the use of burgundy, blue and olive green.
The decoration used marble inlay or precious wood, patina and decorative painting.
There are the following popular choices in interior design:
golden-beige palette is in wood colors and gold patina;
Traditional dark brown version consists of furniture in dark colors and lighter walls;
kitchen design classics, made in the milk and beige shades, It creates elegance and sophistication in the room, while bright facades are decorated with artistic painting and gold patina;
It uses a combination of gold and black colors, while black furniture looks luxurious and expensive.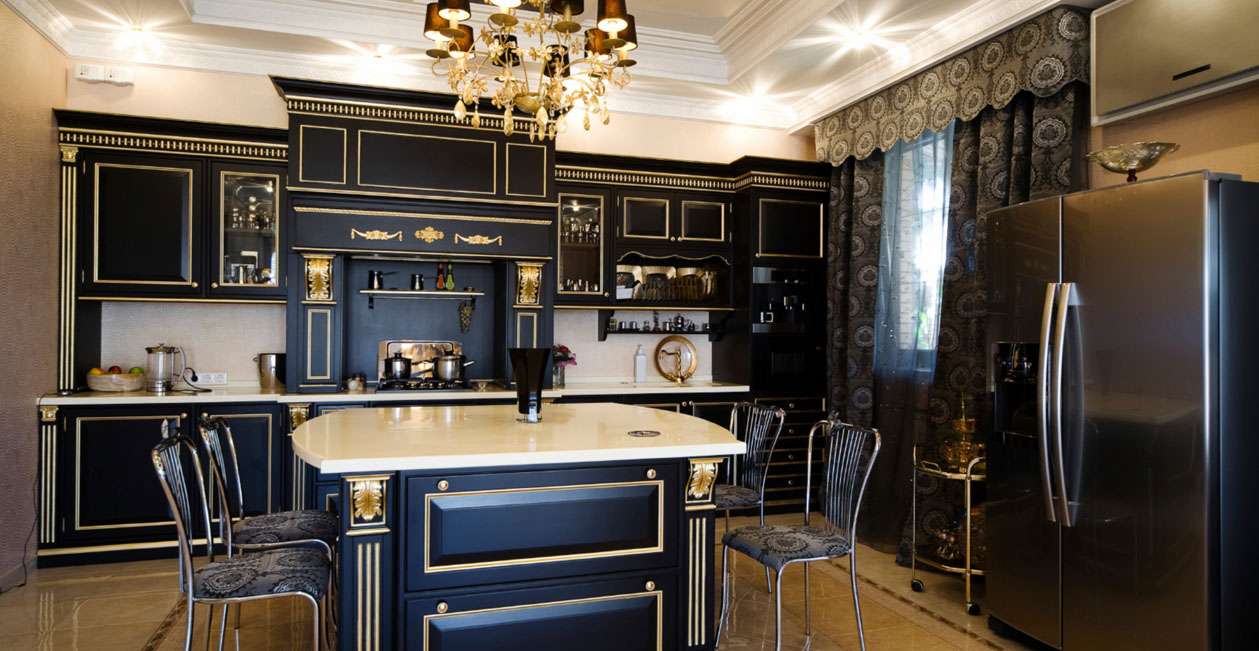 Features decorating the walls
Kitchen Classics suggest several ways to design walls. Decorating should be solid and expensive, but not pretentious.
It applies stucco on the wall, which gives solidity room. Whereby the decor is characterized by restraint and austerity.
Wall finished with the following types of materials:
Applied decorative grained or standard plaster. It is not recommended to use complex textures, which will detract. Plastering is done without irregularities.
For finishing selected plain wallpaper, vinyl with ornaments and embossed, and used wall decoration cloth with his hands. Moderately used patterns. These can be vegetable patterns or stripes.
To protect the work areas special aprons recommended.
Selected wall panels made of wood and MDF. To finish applied linings made of wood light- and dark brown shades.
A suitable material for the cladding is considered to paint.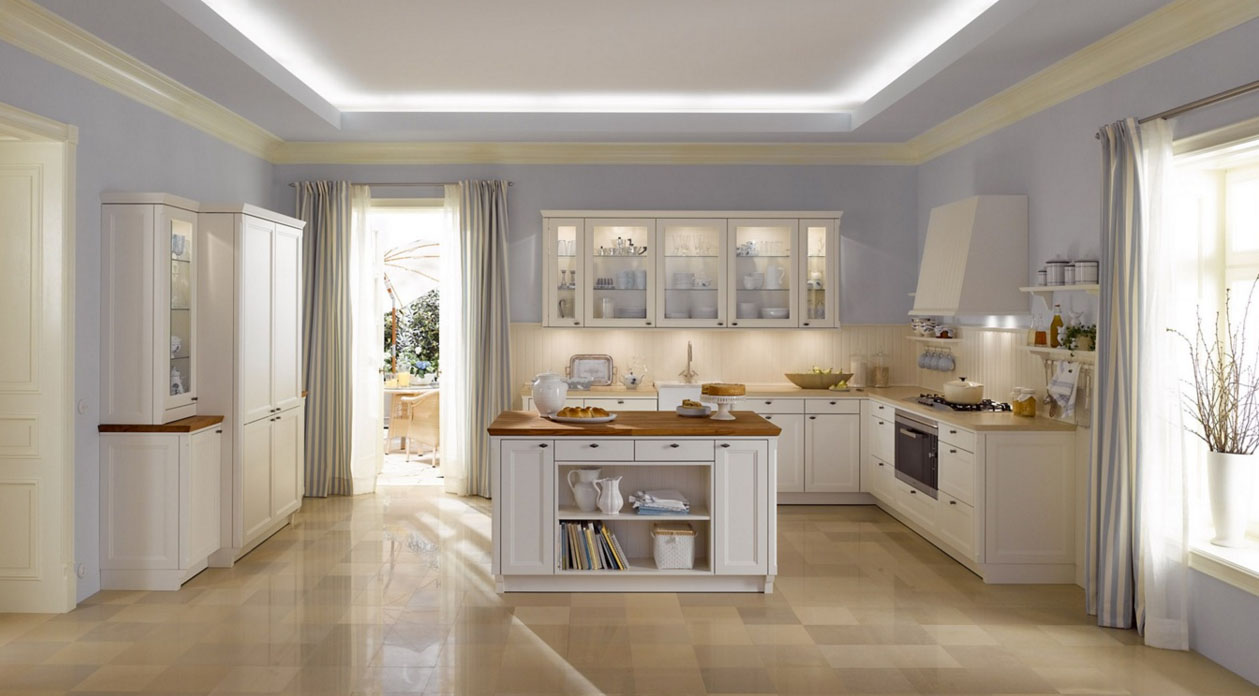 Materials for floor covering
The kitchen floor covered with parquet. An alternative embodiment is tiles, which is toned by timber.
Classic cuisine in the interior are made using laminates. For a more affordable option applies paint and linoleum. When this material is chosen with simulated texture or pattern under the timber. To create imitation stone or granite slab is used a material with a rough texture.
Subtleties of design classic ceiling
ceiling decoration in classic style involves a variety of structure. Used suspension structures or ceilings decorated painted.
If you use stucco and patterns on the ceiling, the same applies decor on the walls.
If you apply a style ideally in the interior, the ceilings have to be lighter and without complicated ornaments. Contents can be different methods:
Interior restrained classic fit whitewash.
Staining is performed matte paint.
Applied ceilings. Selected matte and plain design. recommended sand, white and milk colors.
Installed suspended ceilings. Used stacked structure. When installing the need to remember the correct lines. Alternatively apply tier of the kitchen in the center of a rectangle or square.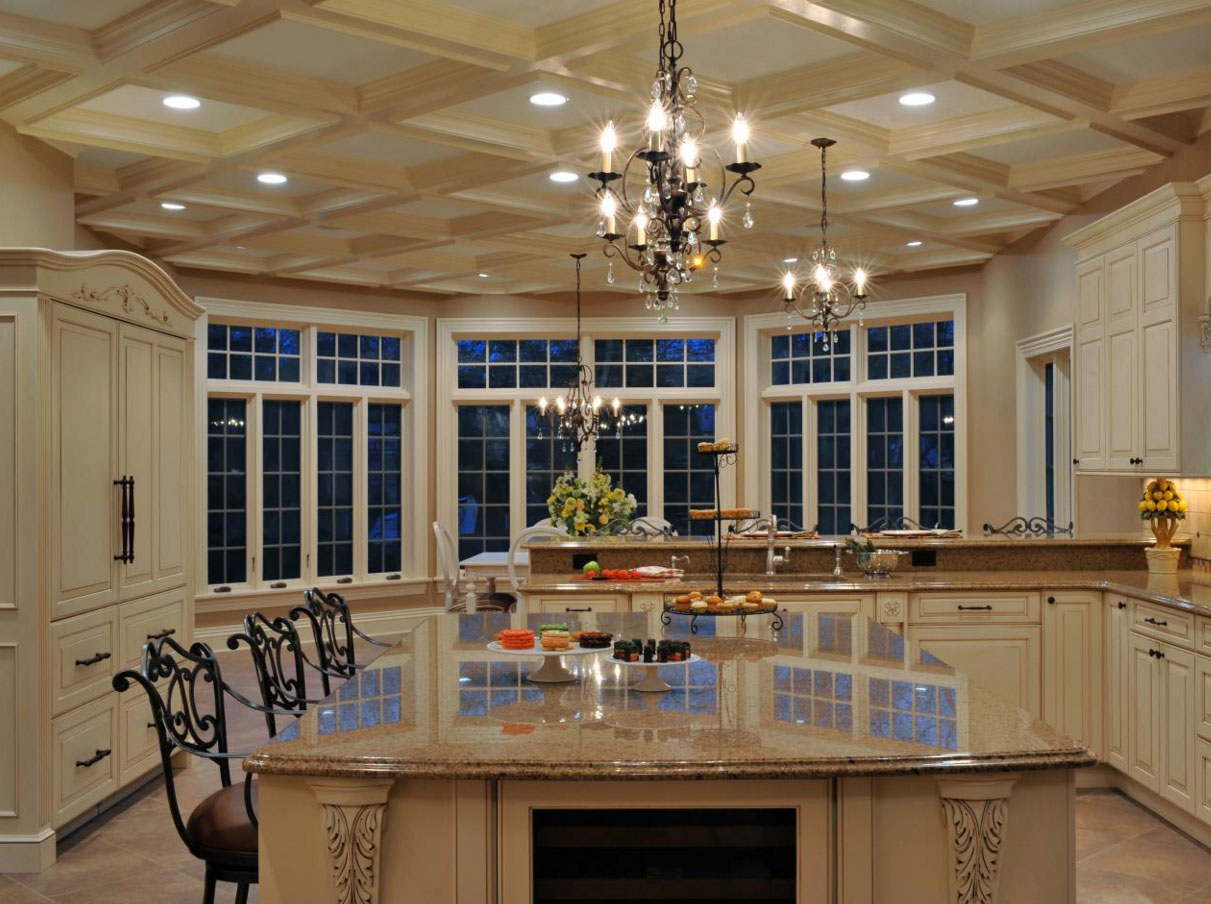 What furniture vybrt?
The kitchen in the classical style furniture design suggests luxurious with massive elements. Part of a suite of furniture made of wood.
For decorating designs used forged elements, as well as carving or gilding. At the same dark furniture is set against the background of bright walls, and bright against the dark.
Classic interiors involve the use of these types of furniture:
In the kitchen there is a table of wood, which can be round, rectangular or oval-shaped. Used paint coatings and restrained colors.
Chairs are selected with high backs, to get off the road cloth.
The interior is set to high cabinet or sideboard.
Used open shelves, and a hinged structure or floor cupboards. The doors are made of glass. Recommended hinged design.
You can buy a set for the kitchen, which is made in a classic style. At the same applies stone worktop.
Classic interior styles in modern arrangements involve setting the bar, which is made from natural wood.
If the area is adequate - used classic sofa.
Furniture Set is located on one side, and in the center is set dining composition. Furniture set located at or adjacent opposing walls. If the subject of much planning in the kitchen is done in the form of letter P.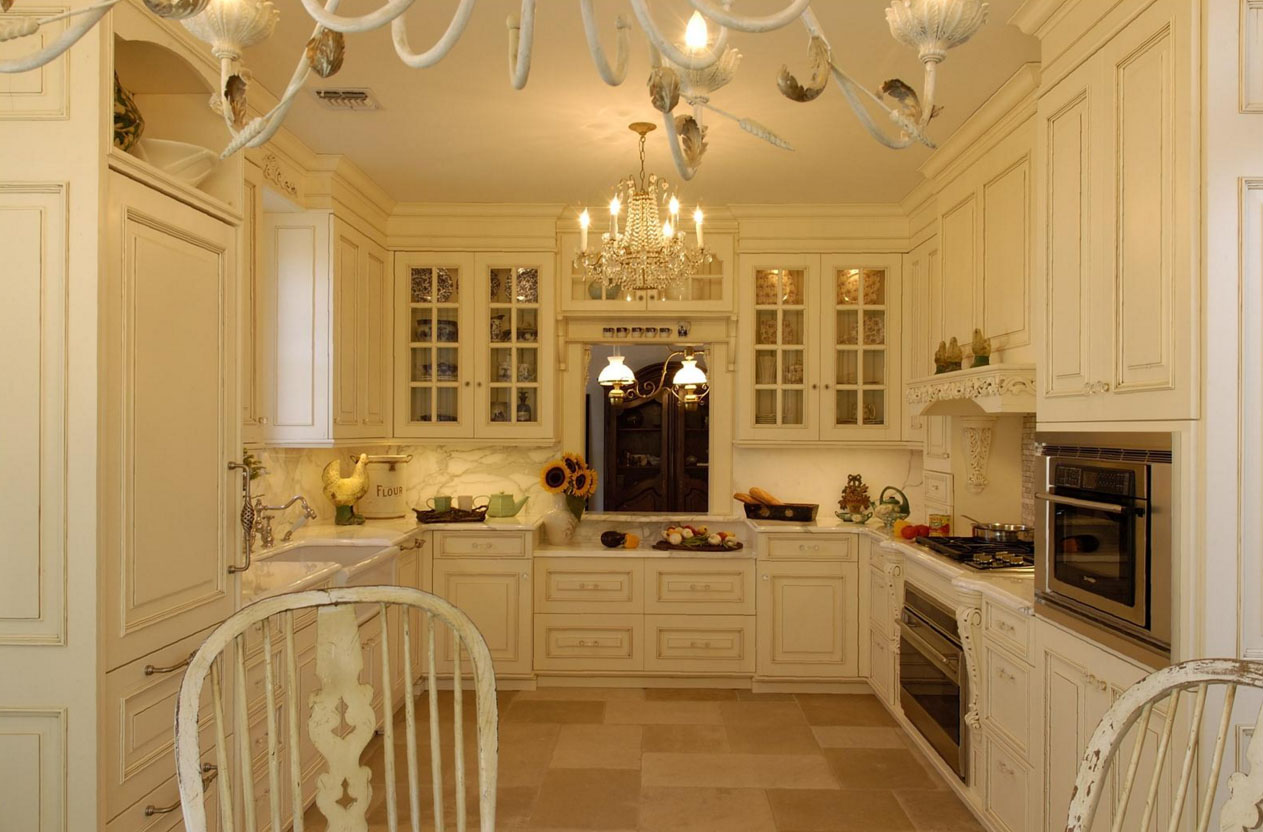 Decorating with accessories
In the classical kitchen wall finish is applied with a cloth, and used heavy and thick curtains. The porcelain vases are used as decorative elements, statuettes and pottery.
Walls can be decorated with the help of pictures or choose photogallery.
The interior welcomes the following accessories:
antique sets.
posted a picture, mainly still lifes.
Gold-plated or bronze candlesticks.
Vases and ceramic figurine, glass or porcelain.
Family pictures in wooden frames.
It applies a noble and expensive textiles for wipes, tablecloths and chair covers.
Used for decorating curtains with lambrequins and carved cornices.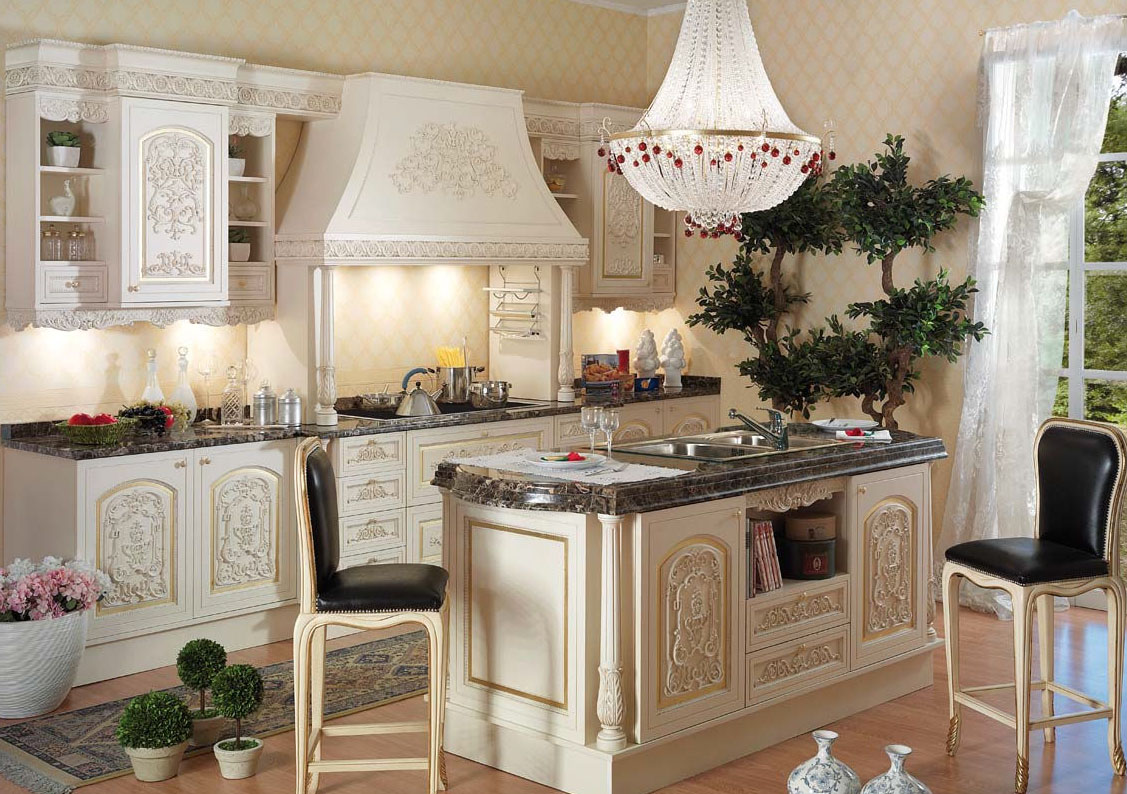 What kind of lighting to choose for the classic interior?
Lighting in the kitchen should not be too bright. Recommended soft and subdued light. Use ceiling and chandeliers with lampshade. The built-in fixtures or wall sconces are recommended as additional lighting.
The main light source is located in the center, over the table.
Windows should be spacious, to light as much as possible get into the room. For registration window openings used curtains English or French design.
The following light sources:
Fixtures with glass or crystal pendants.
Sconce with curls and horns, in the form of chandeliers.
Gold-plated chandeliers with fabric shades.
How does zoning cuisine in a classic design?
Classic style involves the structure and clarity in the interior. To do this, the kitchen is divided into separate zones. It may be noted the work, dining and sitting area.
Zoning is done in the following ways:
Practical finishing materials used in the work area, and recreation area is made with other materials. This may be the wallpaper or fabric.
Different levels. On the podium dining area set. Or the separation is performed using a level on the ceiling.
Different colors help to divide the room. In the working area neutral shades are used, a seating area and dinner is made rich colors.
Separate dining area from the work will allow the furniture - a cupboard or cabinet. Used bar.
Classic design will make the kitchen a comfortable and elegant. To do this, you need to find quality materials and advance to draft.