Kitchen trendy burgundy - Elegant luxury
Lovers drinking wine. Lovers of well-built wine - mature. Experts rich taste and bouquet - Aged. vinous color - the color of aged, combining passion red, loyalty brown, belief blue, vitality yellow. Use it in the interior - to emphasize the elite status of a true connoisseur of chic. room, with shades burgundy, gorgeous. Bordovaya kitchen - luxurious and elegant at the same time.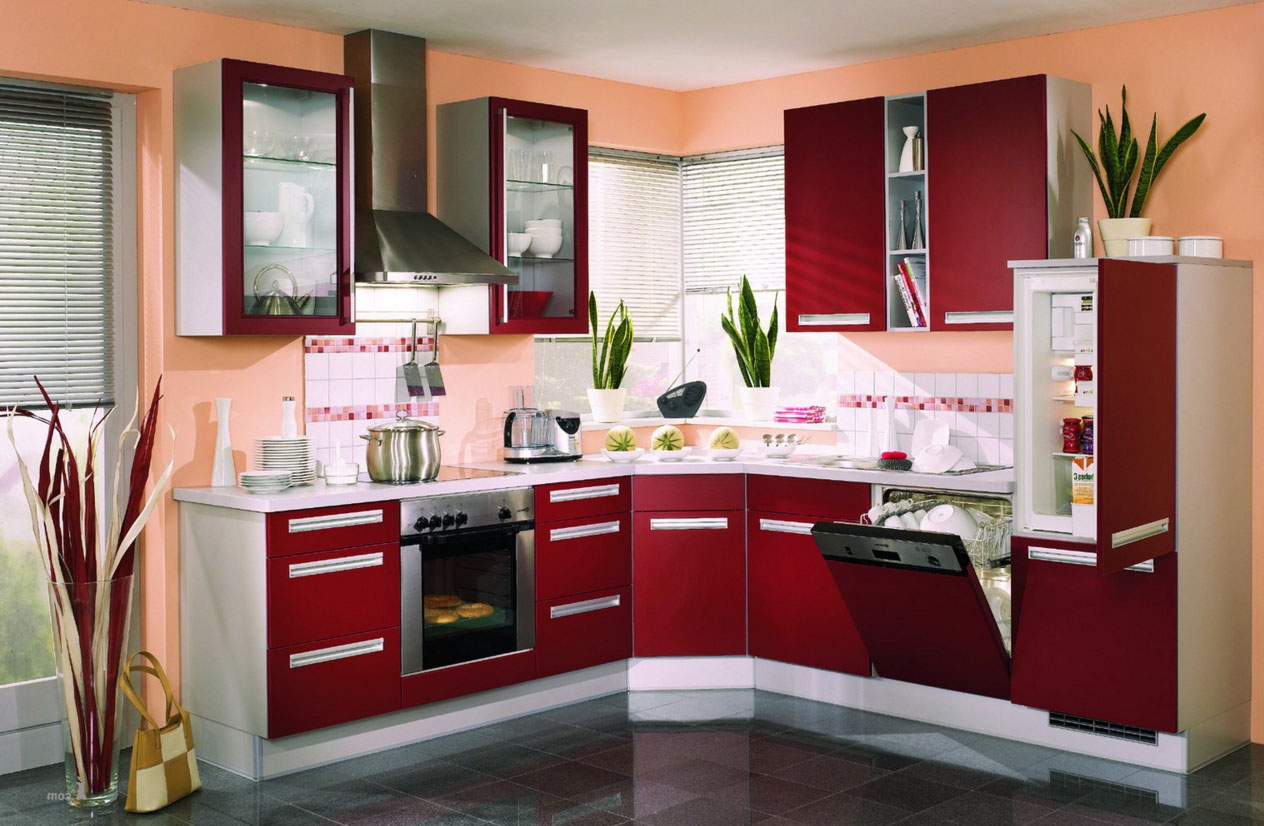 The main thing - pick up style, shades, acceptable combination.
Maroon kitchen interior - the important nuances
It is believed, что темно бордовый цвет символизирует энергичную волю, inclination to meditation. The color of ripe cherry - friendliness, feminine charm. Red burgundy color - passion, spiritual compassion. Claret brown - the knowledge of the essence of things. All shades of burgundy emotionally saturated. The overabundance of color clot causes affective explosion.
Trendy burgundy color is best to use metered, than with an excess.
Classical combination burgundy color in the interior:
white and burgundy color - timeless ease and respectability. White worktop and kitchen units burgundy facade (and vice versa) cheer up in the morning and the evening calm. Maroon and white (marble) checkerboard floor, visual section wall in the bottom of the rich, warm and milky-white top pull ceilings;
peach and light burgundy color - gentle softness. Peach working area, dark side walls emphasize style seasoned chic, without causing eye fatigue, nervous strain;
yellow (main) and burgundy color in the interior (additional) - a combination of cheerfulness leaders. Excess activity balance maroon curtains, textiles kitchen corner, unobtrusive picture framed in an appropriate;
pale pink with a touch of shimmering powder and Bordeaux - shine rococo. noble patina, gilding on a light facade, headset handles complement the interior of sophistication. Great emphasis - pillows, curtains colored vintage wine;
golden hue and saturation, dark burgundy color - the choice of self, fully satisfied with the life of people, knows his own worth. Baroque luxury. Maroon curtains in the interior, bright walls with gold piping can be very useful. Dilute pretentiousness will copper-olive shade gilt framed kitchen furniture, Carving on the door cabinets, light tulle under the heavy curtains;
Council: in the interior in burgundy colored textiles curtains should match the shade of furniture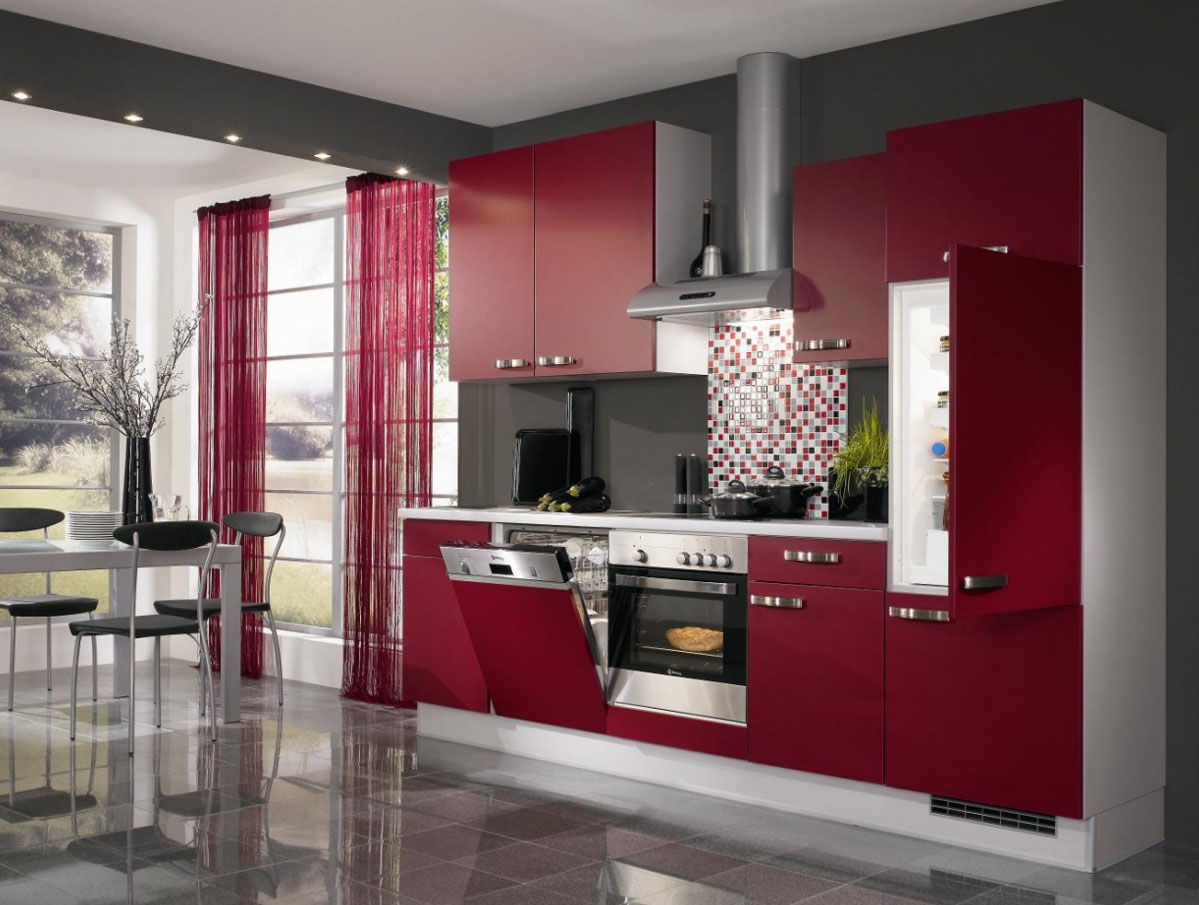 brown and burgundy - democratic combination, causing tranquility. Sand, walnut, milk chocolate floor, countertop and bright apron, cork dining area and Vinaya work - visually increase the room. The optimal combination of style - country (rustic classics, where the tree - the basic material);
Council: to expand the space of small kitchens use these glossy shades of furniture
gray and burgundy - moderate austerity. Metallized accessories bar, steel handles on a warm facade, table top color wet asphalt - stiff whisked overnight.
Modern style - the dynamics of high-tech
corner kitchen, compact, custom layout transformed using high-tech style. This style:
reasonable minimalism;
dynamic functionality;
progressive restraint;
colorful compact;
ergonomic adaptability;
austere practicality;
emphasize the individuality.
It balanced monochrome colors and bright contrasting colors, giving the room the atmosphere of coziness. There is not provided "as all", only individually, "In accordance with the perception of the world" - without pomposity and faceless standardness.
High-tech prefer shades:
variativnogo burgundy;
olive;
green;
vanilla;
brown;
dairy;
Benjamin Creme;
red.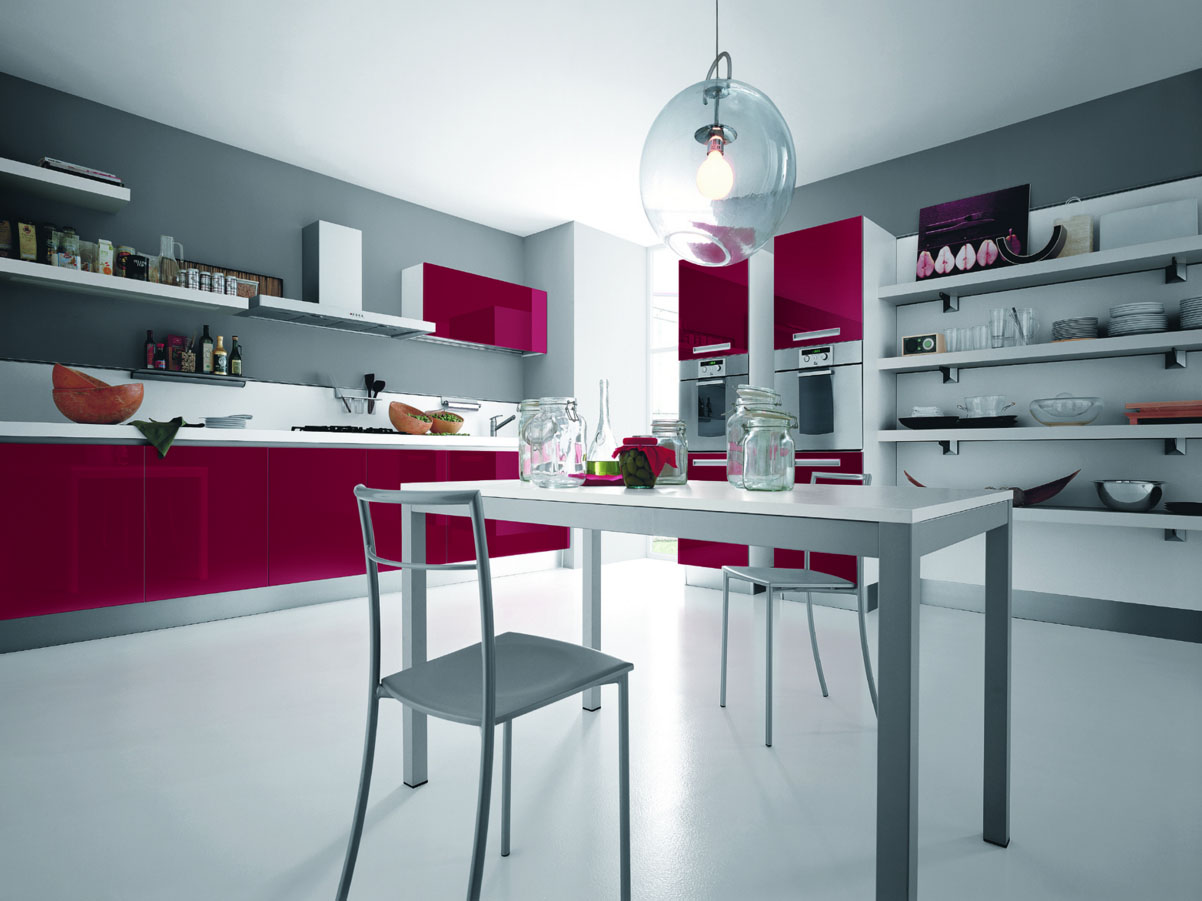 metal accessories, glossy plastic furniture, frosted glass open shelves, weightless transparent or massive tabletops - in harmony, effectively complemented. Functional contrasting sliding partitions, solid-color walls, Democratic linoleum or laminate, or suspended ceilings, multi-level lighting, straight hard lines, jalousie (vertical and horizontal) or light curtains, built-in hood, lockers, electrical household appliances - the ease and efficiency of kitchen space.
The most suitable colors for uni (smooth!) wall:
light gray or pearl (no pearlescent);
coffee with milk;
classic white;
cold sand.
Council: in the lining of the walls using large and small mirror, glossy reflective plastic, Tempered glass - they are visually expand the space
Spectacular style proaktsentiruyut chrome push-handle kitchen furniture, absence of a pattern on the floor covering, bright floral skinali, berry print as glass kitchen apron.
Special chic dynamic style - multifunction (folding, samoperedvyhayuschayasya) furniture, Designer lighting (from the built-in sconces to chandeliers hanging pyramidal), flowerpots flowers in hanging pots, performed with a geometric rigor, a large aquarium.
High-tech, dynamically using maroon shades, does not accept:
standard wooden doors (Only glass and plastic);
heartwarming figurines, figurines of dogs and cats (only steel posters, photographic pictures in black and white, abstract paintings);
suede as furniture textiles.
Dark kitchen in high-tech must necessarily be highlighted bright colors palette.
Experiment. Burgundy color prefers bold decisions. The main thing is not the, what style decorated kitchen interior, as far as you are comfortable with him. Here's a she, bordovaya kitchen.