How to make a design for a small kitchen?
wondering, Are we satisfied with our kitchen, Many of the answers in the negative. The problem with the area is the next headache in apartment buildings, and the useful space is not uncommon concealed infrastructure or ventilation ducts.
Regrettably recognize, that Russian building codes permit, that 5kv.m. an acceptable area for the kitchen. And it is such a small kitchen becomes a harsh reality for the urban jungle. What remains a challenge, so it is the people's faith in the, that their room has nothing to save, a radical change, such as the demolition of the wall, few people are ready.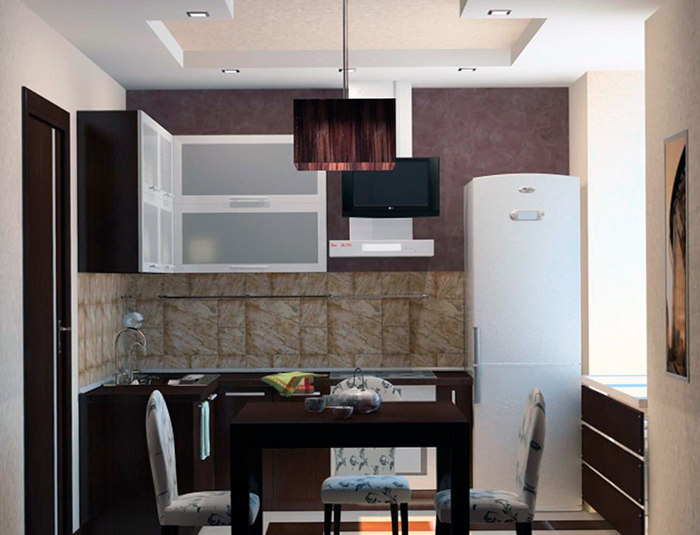 Faced with this problem know from experience, that equip a small kitchen and not to give up any equipment is extremely difficult. And to cook dinner, spinning round and round, not the most pleasant experience. Good, We found a lot of techniques to increase the useful space, that allows the use of floor space to the max. Modern design small kitchen combines a clear style and multifunctionality.
Solutions for small size kitchens are plentiful, can only choose the option on the taste and color. The recommendations relate to the color palette, the technique used and useful things. With the proper approach,, small kitchen does not become a problem, and it turns into an ergonomic and compact room with its pluses.
Of course, you can not agree, in your case too many obstacles, but it is a question only the desire and willingness to "do something" to change. All you need to cash investments, drop wit and your kitchen will be a compact and ergonomic to use. Today we give you some tips, to prompt, how to beat the design of a small kitchen in the apartment.
My desk - my friend

obviously, what design kitchens malometrazhki not accept a little bit of standard tables. small kitchen tables are in demand in such premises, and standard options only take away vital centimeters, which in our case is inadmissible.
so, let's get a look, what options allow setting of a small kitchen.
Conditionally divide the popular options into categories:
A small table for the kitchen team model. Buy them is not difficult, and a lot of places do not take, because most of them are in the assembled position somewhere in the bins of the motherland and are raised as needed. unaesthetic, but cheap and cheerful
When it comes to the fixed version, the compact table for the kitchen wall mount would be the logical choice. Fixed table with two legs and mounted on the wall. there is and folding options, but it is also not aesthetically pleasing, but small tables Kitchen better, than oak carved Mahina, hindering free to go
properly, folding type. By clever remark of one of your friends, a small table in the kitchen resembles a folding ironing board, and most of the time in the raised position. It is important the design of a small kitchen and how to disguise this table


design option: table, built-in headset

For families without children or single acceptable to use the windowsill, as a small kitchen table. You will need to trim its top and buy high chairs and a significant space savings will show up immediately. The second option - is to lower the level of the sill, but sometimes this is not possible due to the central heating pipes
bar option. And the table-stand is the same. Laconic such a decision is at the confluence of the room with the next room, or when using the rack as a cover for equipment, because for a small kitchen tables should be not only lunch spot, but also to use the space under a
Furniture technical question in the design of a small kitchen
Small area - a big problem. Small kitchen design is different from the typical footage, and even find a ready option even under Khrushchev - almost impossible. Therefore, the design of small kitchen furniture requires a custom or customized standard skills necessary for. With the proper approach,, in the design of the small room is included accommodation option corner of the working area. Thus freed space center, which houses a sliding small kitchen table.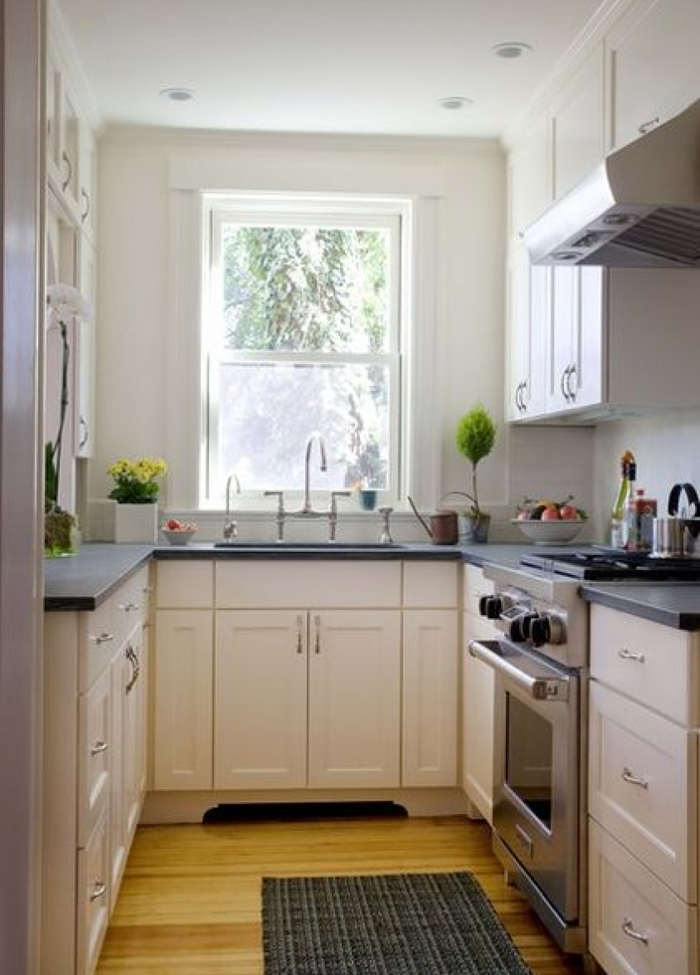 For visual razdvizheniya walls should use bright colors, in furniture, that the color of the walls. Cluttering the room is not worth contrasts, even though the black-and-white version of the skillful design to add spark apartment. Kitchen in small spaces require special attention to technology, so it is logical to equip the premises built-in appliances. Then you will lose in price, but significantly save space.
Use a magnetic strip for storing cutlery and removable beams with hooks, to place them utensils like buckets, Corollas and other master's charms. Dishwashing used corner shelf.
Small room requires a maximum of natural light, without design simply "suffocating", so you need not just a special furniture for a small kitchen, but also to the abandonment of traditional curtains. Use a light tulle and add artificial lighting.
It remains unaccounted one element - a typical Soviet radiator. Simply - heating pipe. Not cheap, that the problem, but still worth it to replace aluminum. He takes up less space, and the color of its much nicer. If this is too expensive for you, or you avoid the hassle, Cover it with a grate. Good, scenery of a dime a dozen. extreme variant, Use a small table so, so that it covered the tube.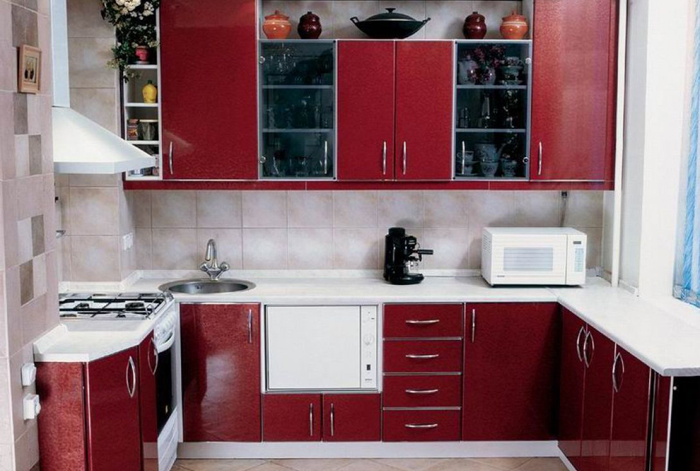 The situation is not as deplorable, it seemed. You need to carefully consider, that is suitable for you and how to achieve it. Do not lose sight of anything: mini tables for kitchens, built-in appliances, light curtains and colors - then the result is provided. And in the end give more recommendations.
The last chords
Blurted not entirely clear, but significant moments:
Use only, what is necessary. Why do you dishwasher, if you use it once a week? If the kitchen is used exclusively for cooking, the compact and no tables for the kitchen are not necessary - will eat in front of computer. Also relatively cutlery. Four plates of one kind for one is more than enough. Well, if you feel sorry to throw grandma service, hide it on the balcony for special occasions.
Use storage-efficient system. This refers to the tilt-and-slide system, which help to hide in the usual amount of a lot of things. Buying boxes and shelves of these models will cost more, but it will come in handy when space is limited. The rest of the furniture should be compact: table for a small kitchen - less than a typical, chairs without backs bulging. As an option, glass table - the way out.
Free of storage in a comfortable room, not you order! You can fill up the shelf pans, and it is possible to lay down those pots at each other and put in a box. It is not necessary to hold the whole regiments, that retracts into a small box.
Do not forget about the vertical. It is also necessary to use, eg, placing on the height of the wall cabinets are narrow. Mounted on a wall different fastening systems for the storage of cups, plates and other stuff. It is comfortable and well.
Eventually
Is it possible to turn a small space into a fully functional kitchen? certainly. Is it difficult to? In no way. Again, let's say, it is important to your desire and understanding of the desired result.
Start small, look for compact tables, and then update the kitchen. Of course, you spend a lot of time developing ideas, but the implementation will take place much faster and easier with a fully thought-out decision. By selecting the options repair a small kitchen, Refer to the instructions and use the tips as a practical guide, to design a kitchen line with expectations.